John Hvidlykke
Published

2021-08-31 - 5:00 am
Solid and nice cabinet that looks more expensive than it is. Quick processor. The price is sharp.
The screen is neither very clear nor very colorful. Slow graphics.
Specifications
Processor: 2.4 GHz Intel Core i5-1135G7 quad-core (8 threads)
Screen: 15 "IPS, Full HD (1920 x 1080), 60 Hz refresh rate
Memory: 8 GB DDR4
Storage: 512 GB SSD
Graphics: Intel Iris Xe Graphics
Operating system: Windows 10 Home, 64 bit
Dimensions and weight: 35.7 x 1.7 x 23.4 cm / 1.6 kg
Connections: Wi-Fi 6, Bluetooth 5.1, USB-C (with DisplayPort 1.4 and Thunderbolt 4), 3 x USB A 3.2, HDMI, 3.5 mm (audio), HD webcam, microSD card reader
Web: msi.com
Geekbench 5: 4.214 (multi-core), 1.277 (single-core) PCMark 10: 4.123 3DMark Time Spy: 1.002 3DMark Fire Strike: 2.242 3DMark Night Raid: 10.289 Cinebench R15: 71 fps / 906 cb HDTach: 1.333 MB/s Batteritest: 2:52 hours
Benchmarks
Price 700
Product page
We recently reviewed the business ultrabook MSI Summit E14, which offered a lot of power at a price that was not terribly high. If you still find the price out of reach, MSi also has a series called Modern for those who do not need a super cool machine to show off at the conference table. Earlier this year we tested the all-in-one model Modern AM271P from the same series.
MSI Modern 15 is a 15 inch laptop in a quite attractive design for such a cheap computer. The cabinet is in silver or titanium gray sandblasted aluminium, and it all looks serious and business-like.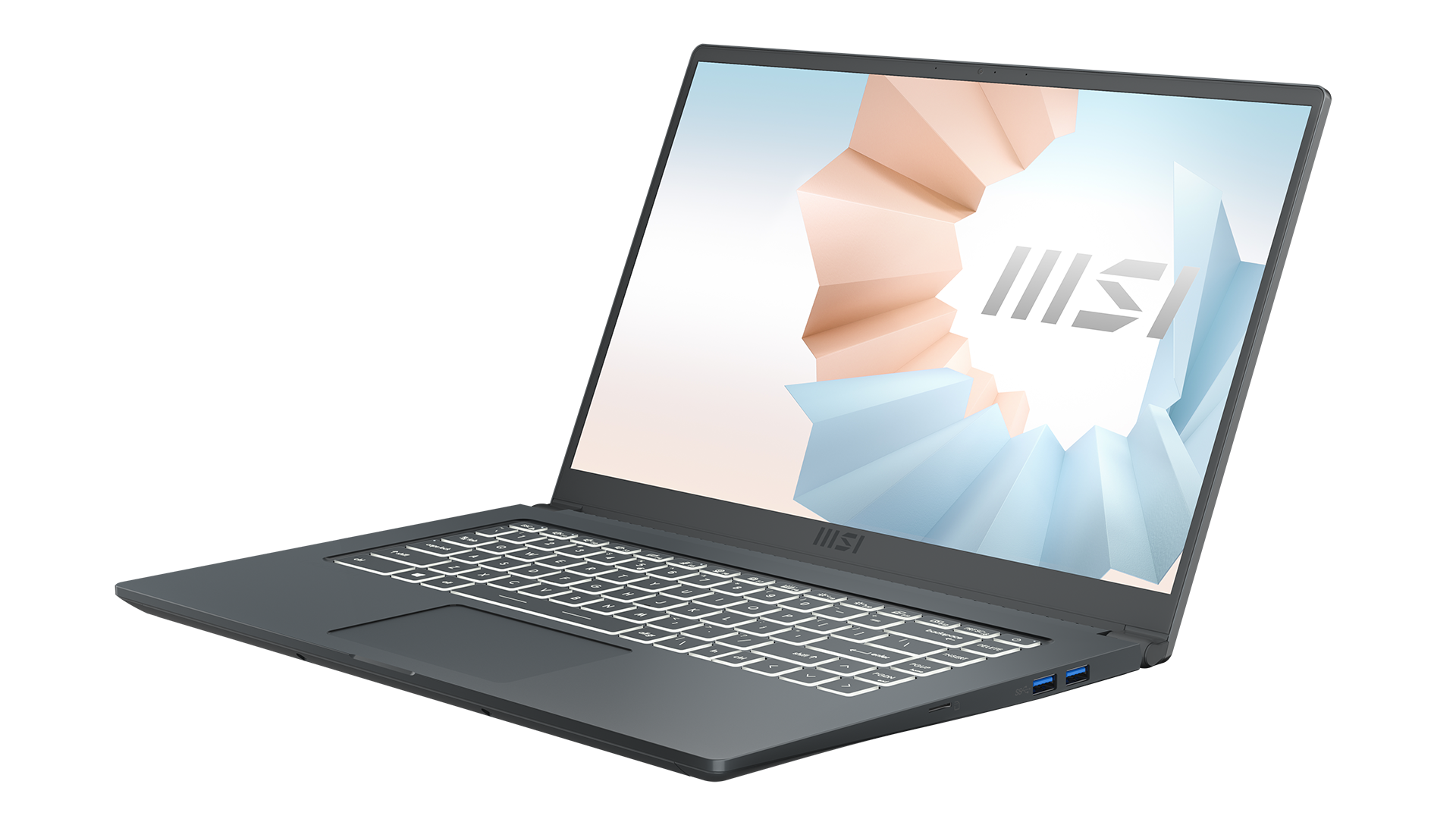 The screen is in 16: 9 format, which also works best on such a large PC, as a 16:10 screen would make the machine unnecessarily deep. Unfortunately, the resolution is only Full HD (1920 x 1080 pixels), which is a bit low for such a large screen. But it is a necessary compromise on such a cheap computer. At the price, the screen is fully acceptable, although it can in no way compare in clarity, richness of colour and brightness with that of the MSI Summit E14.
Good layout
The keyboard is large and comfortable, and all keys are full size. MSI has not succumbed to the temptation to squeeze a numeric keypad in next to it, but there are a single set of special keys.
The keys are of reasonable quality for the price. The hike is a bit soft and shaky, but it's only something you notice if you have to write many pages every day – and otherwise have a more expensive model to compare directly with. There is white backlighting and it is fully adequate. It's probably an MSI – but not a gaming computer.
Where MSI Summit 14 had to settle with having the screen output integrated in the USB-C ports, Modern 15 has a real HDMI output. It still has DisplayPort built into the USB-C port, but that's probably mostly due to the fact that it's a feature in the actual 11th generation i5 processor from Intel. Most users will probably either settle for the laptop screen or use the HDMI output for an external monitor when working in the home office.
Benchmarks
The MSI Modern 15 A11 is an economical model, and it is common sense rather than luxury that characterizes the hardware. The processor is a 2.4 GHz Intel Core i5 with four cores and eight threads. Despite the fact the i5 is considered "cheap", the processor in Modern 15 is really just as fast as previous generations of Intel Core i7.
The machine is equipped with 8 gigabytes of RAM and 512 gigabytes of SSD storage. It's not lavish either, but it's okay on a computer that's probably most likely to be used for light office work. The graphics is provided by Intel Iris Xe, which is Intel's new integrated graphics processor.
The Geekbench 5 test ends with a result of 1,277 in single-core and 4,214 in multi-core. It is by no means bad. And the PCMark 10 office software test scores 4,123. We are dealing with a PC that can solve all common office tasks and is used for online meetings without any problems.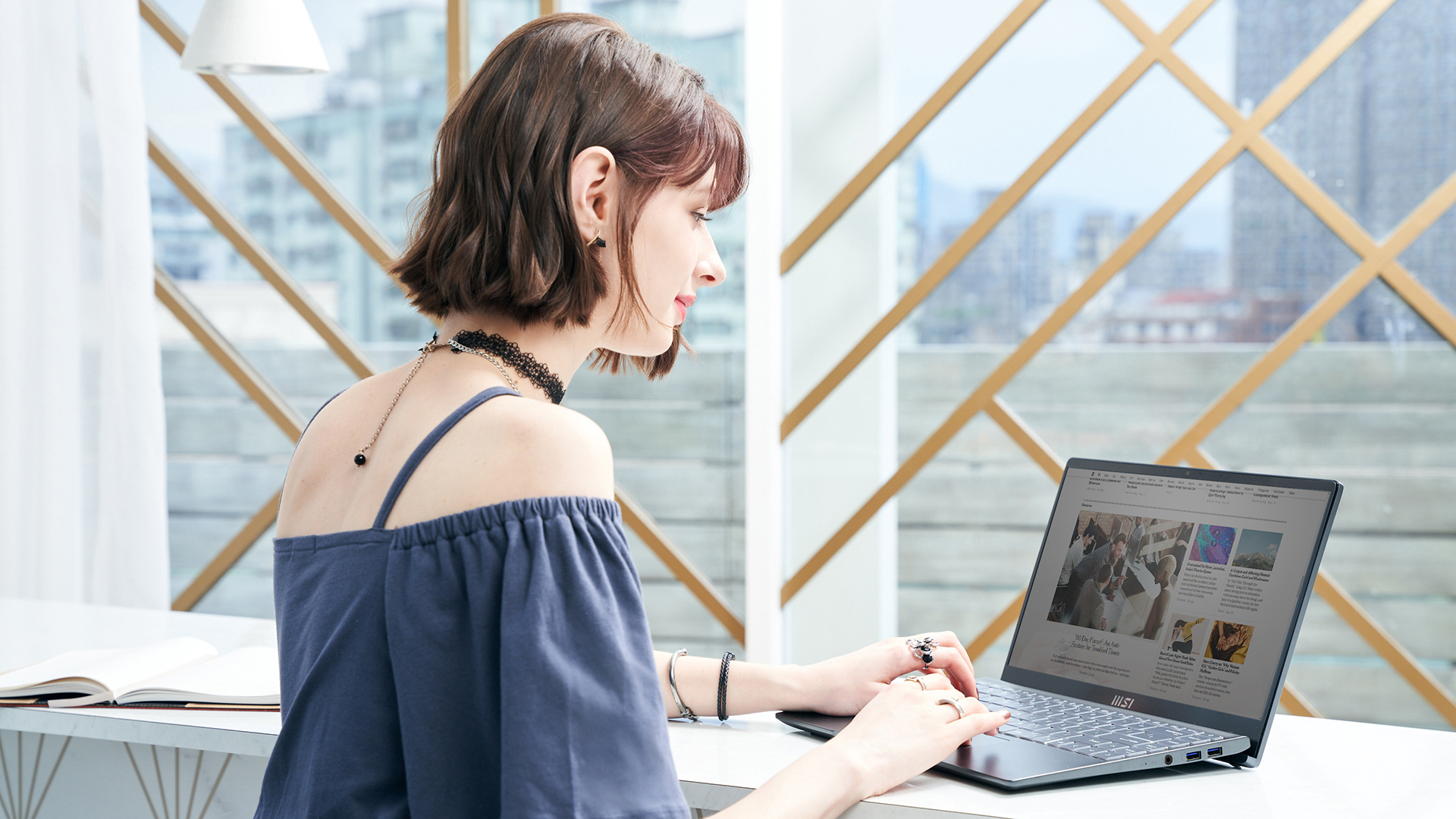 Disappointing graphics
As mentioned, Intel Iris Xe Graphics is integrated into the CPU, and it uses the computer's conventional RAM instead of having its own graphics memory. This was never a fast graphics solution, but Iris Xe has proven in previous tests to be able to deliver acceptable speed.
However, the 3DMark graphics tests from UL look far from impressive. A Time Spy score of 1,002 and 2,242 in Fire Strike proves that the MSI Modern A11 is designed for Windows office applications, but not for 3D graphics or video editing.
Like the MSI Summit E14, the Modern 15 A11 surprises with a relatively short battery life. The battery test from PCMark 8 ended in 2:52 hours. However, it is still just enough for a day at work or study without a charger. And this is especially important as you can not borrow a charger from a colleague. MSI has chosen a special charger with DC connector instead of USB-C charging.
Conclusion
MSI Modern 15 A11 a budget laptop that will probably help MSI in their attempt to get a foothold in the market for office computers. In terms of appearance, it lives up to its name, and the sleek aluminium laptop can easily pass for being more luxurious than is actually the case. The processing power is also perfectly fine for everyday use, whether it is in the office, at home or at the studio.
It comes into competition with machines like the slightly more expensive Acer Swift 3X, which is equal in terms of performance but does not have the solid metal case. The graphics card is downright dull. But unlike MSI's other computers, it's not made for gaming and heavy graphics either.