John Hvidlykke
Published

2021-08-13 - 5:00 am
Light and elegant business PC with a good touch screen, lots of RAM and disk space as well as above-average graphics.
Unfortunately, the screen resolution is only Full HD. Costs more than most will pay.
Specifications
Processor: 3.0 GHz Intel Core i7-11857G7 quad-core (8 threads)
Screen: 14″ Full HD (1920 x 1080) with touch
Hard disk 1 TB SSD
Memory: 16 GB RAM
Graphics: Nvidia GeForce GTX 1650Ti with 4 GB
Operating system: Windows 10 Home, 64-bit
Dimensions and weight: 31.9 x 1.6 x 21.9 cm/1.3 kg
HD webcam, Wi-Fi 6, Bluetooth 5.1, 2 x USB-C (with Thunderbolt and DisplayPort), USB 2.0, microSD card reader, 3.5 mm audio minijack
Web: msi.com
Geekbench 5: 3.600 (multi-core), 1.332 (single-core) PCMark 10: 4.356 3DMark Time Spy: 2.536 3DMark Fire Strike: 5.633 3DMark Night Raid: 14.77 Cinebench R15: 109 fps / 564 cb HDTach: 1.586 MB/s Battery test: 2:28 hours
Benchmarks
Price 1999
Product page
Although MSi is primarily known for its gaming computers, the Taiwanese company has opened its eyes to the existence of a market for exclusive PCs in a more subdued style.
The MSi Summit E14 is a 14-inch ultrabook in a stylish design that yells"business!". The entire cabinet is in silk matt, carbon black aluminum, and the lines are at once razor sharp and rounded. The screen is as deep black as the case, and it's hard to see where the narrow frame stops and the screen itself begins.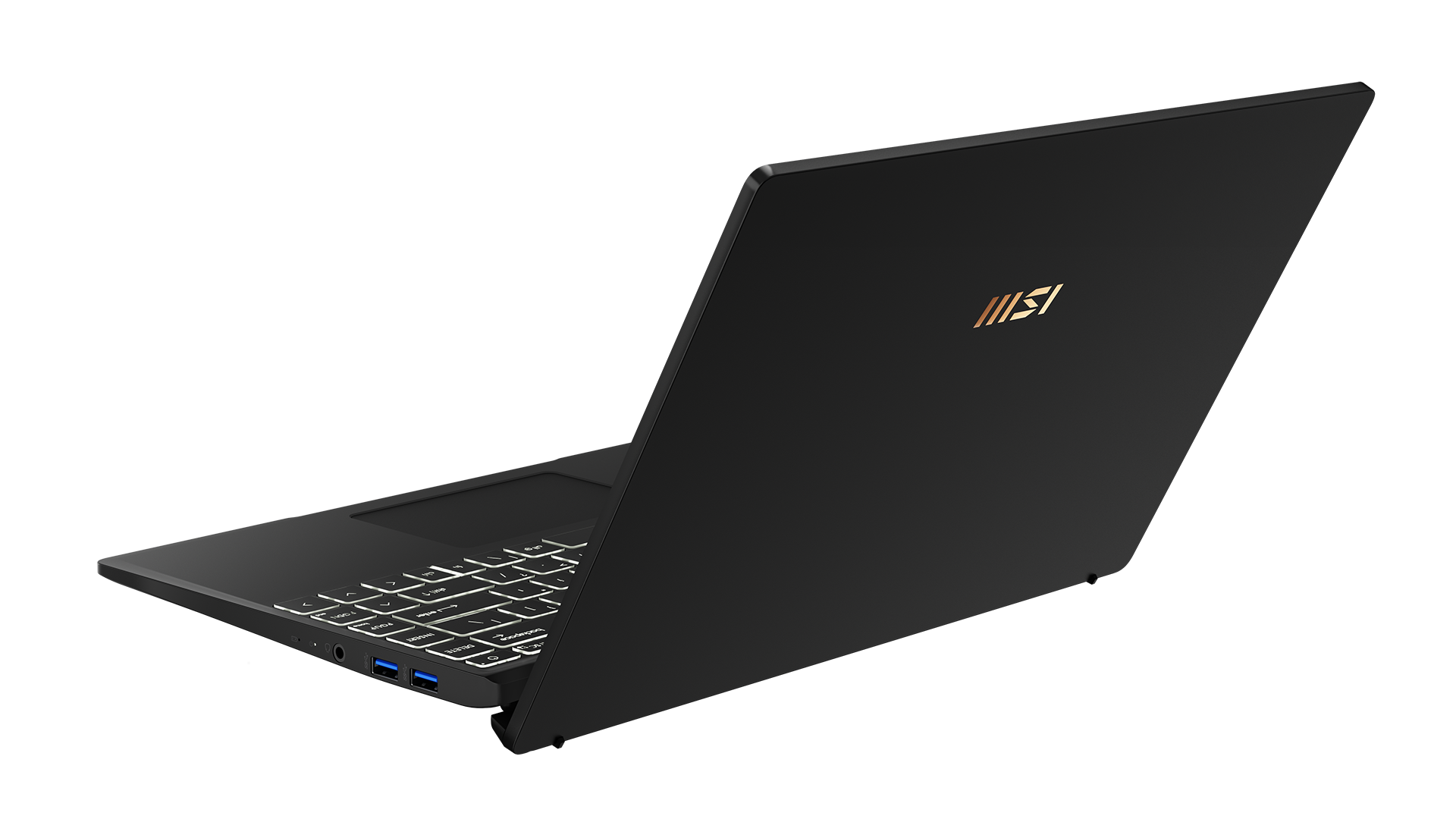 As we have seen on several other slim laptops, the screen is hinged along the bottom of the case, so that the rear of the machine lifts from the base when the lid is opened – and thus provides both better ventilation and better working position. With a weight of 1.3 kg, you can carry the PC in your bag all day almost without noticing it.
Although the screen is so sharp and colorful that you would almost suspect it to be OLED, it is only an IPS panel and the resolution is only Full HD (1920 x 1080 pixels). In return, that touch has what I see as a big plus.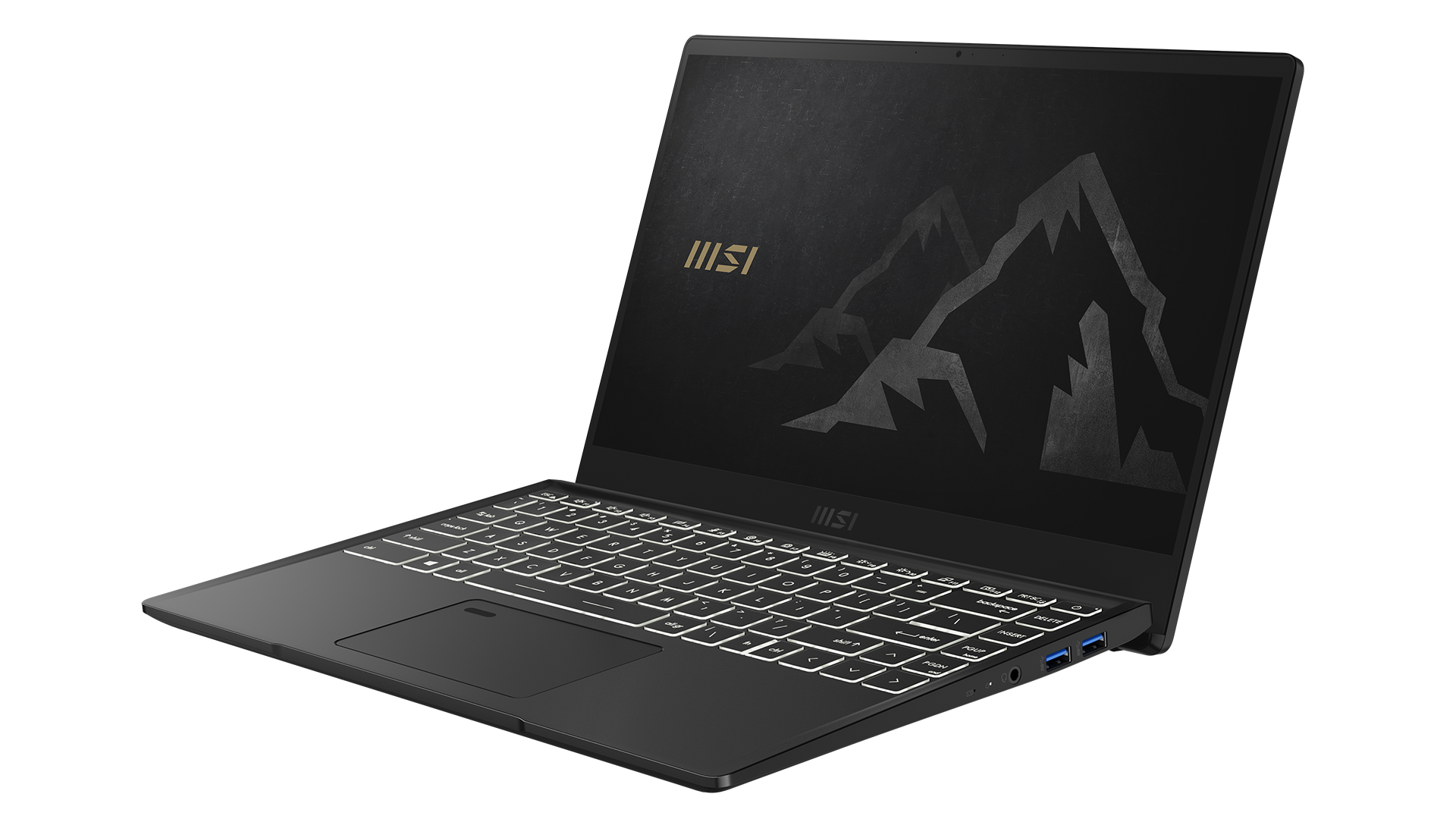 Touch screens are seen almost exclusively on 360-degree machines, where the screen can be folded around towards the back of the cabinet and used as a tablet. But touch function is a great and time-saving convenience on computer to be used for working where there is no room for a mouse; for meetings, in auditoriums and in airline seats. Here it is much easier to use your finger to scroll with windows and click in dialog boxes rather than fumbling with the touchpad.
The keyboard, which has white backlighting, fills the width of the cabinet completely. And in a 14-inch cabinet, there is room for full-width Enter and Shift keys as well as an extra column of special keys. The keys themselves are of average quality. That's okay for the price, which is also at the upper end of the average.
Discreet bragging
The touchpad is large and comfortable, and it gives a trustworthy click when you click on it with your finger. That the milling around it is golden is as superfluous as it is delicious to look at. The fingerprint reader integrated into it, in turn, is convenient.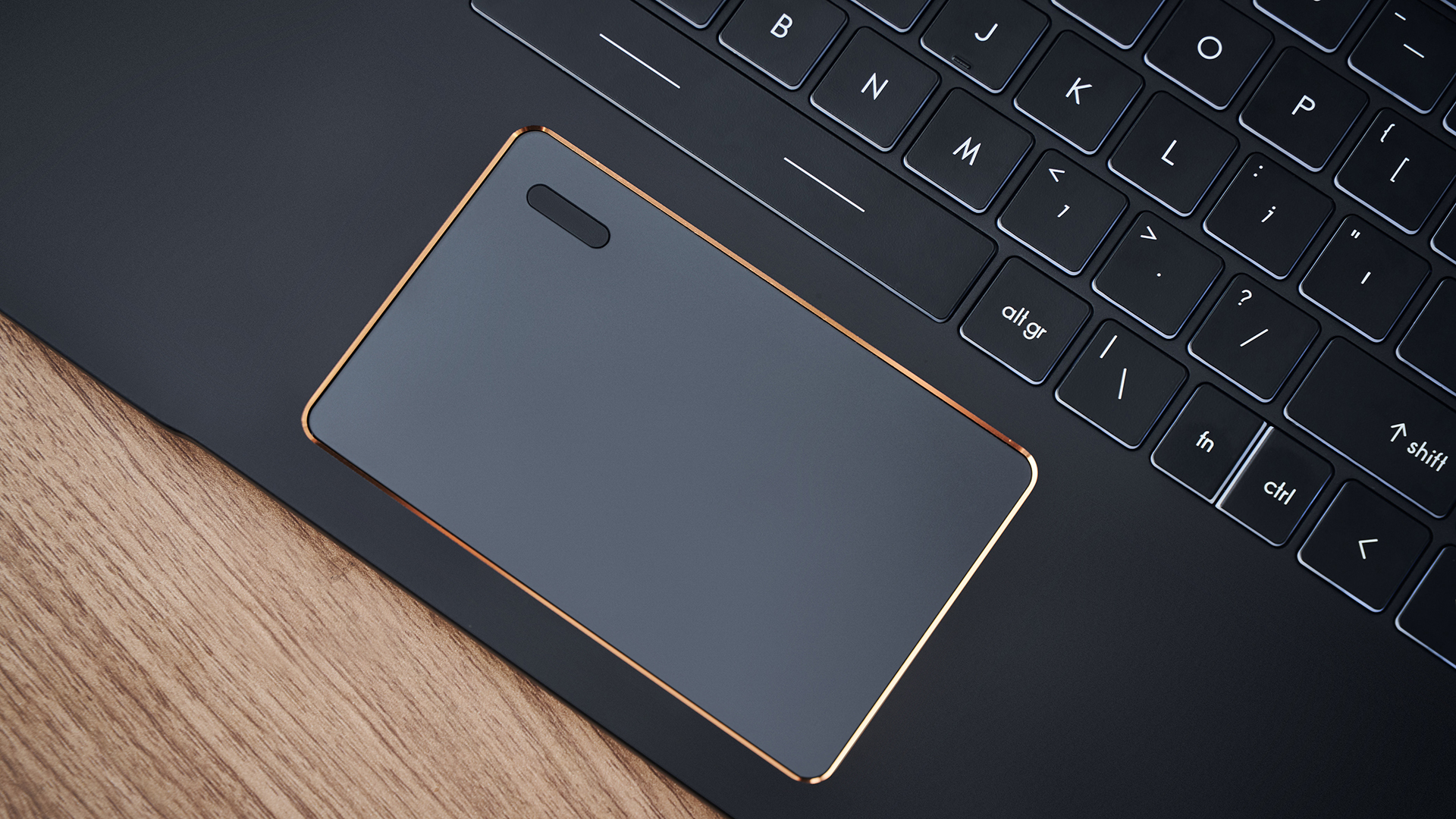 For one reason or another, the manufacturers of business laptops almost takes pride in providing them with as few connections as possible. On the MSi Summit 14, there are only five holes in the case: Two USB-C ports, an old-fashioned USB 2.0 (as a special feature for purists, it is not a 3.0 port, but a classic USB 2.0), a 3.5 mm audio output and a MicroSD card reader.
It helps a bit that both USB-C ports have integrated Thunderbolt and DisplayPort connectivity. However, if you need to both charge the PC and use an external DisplayPort monitor (the machine has no HDMI output), there are no available USB-C ports left.
Classic hardware
In terms of hardware, the MSi Summit E14 is built on a recipe that is almost classic: an Intel Core i7 processor with four cores and eight threads. However, in a new 11th generation version at 3 GHz. There is 16 gigabytes of RAM, which you can also expect in a new laptop in the premium class. The latest expectations are confirmed by the fact that there is 1 terabyte of SSD storage. It is exactly as musch luxury as one can afford to take for granted.
The graphics processor is also an old acquaintance in this segment, namely the Nvidia GeForce GTX 1650Ti. It's the typical choice when it comes to better graphics than the abysmal Intel HD Graphics – and cheaper than a proper  gaming graphics cards from Nvidia. However, it may seem a bit excessive, as Intel's 11th generation processors have the improved Intel Iris Xe Graphics built-in.
The only surprise in the hardware configuration is actually the touch screen. But it's a welcome one of a kind. There are also cheaper configurations with Full HD screen without touch and more expensive with screen in 4K resolution.
Benchmarks
A Geekbench 5 score of 3,600 is okay, but not on par with the cheaper Asus ZenBook 14 with Ryzen 7 processor. In the PCMark 10 office program test, the result is more equal. A score of 4,356 is excellent for even the slightly heavier spreadsheets. But not particularly suitable for image processing and video editing.
The graphics processor is from Nvidia, which is a regular supplier to gamers. But it's not the GeForce GTX 1650Ti they're buying. The scores in Time Spy (2,536) and Fire Strike (5,633), respectively, can be interpreted as meaning that the MSi Summit 14 will display all normal Windows graphics quickly and without delay. Also when connecting an extra high resolution monitor to the PC. But don't play something that is pretty much heavier than Counter-Strike and Minecraft on it.
The graphics score also reveals an apparent paradox in the configuration. As mentioned, Intel Iris Xe Graphics is built into Intel's 11th generation processors, and the Iris machines we have had on the test bench so far, like the  Acer Swift 3X, has not been that much slower than the Nvidia GeForce GTX 1650Ti.
Battery life surprises negatively. While most business ultrabooks last four hours or more with PCMark's intensive battery test, it only took two and a half hours before the battery on the MSi Summit E14 had been discharged. Whether it is the touch screen or the more powerful graphics processor that is the culprit is not known, but it means that the machine only just manages to make it through a working day on a single charge.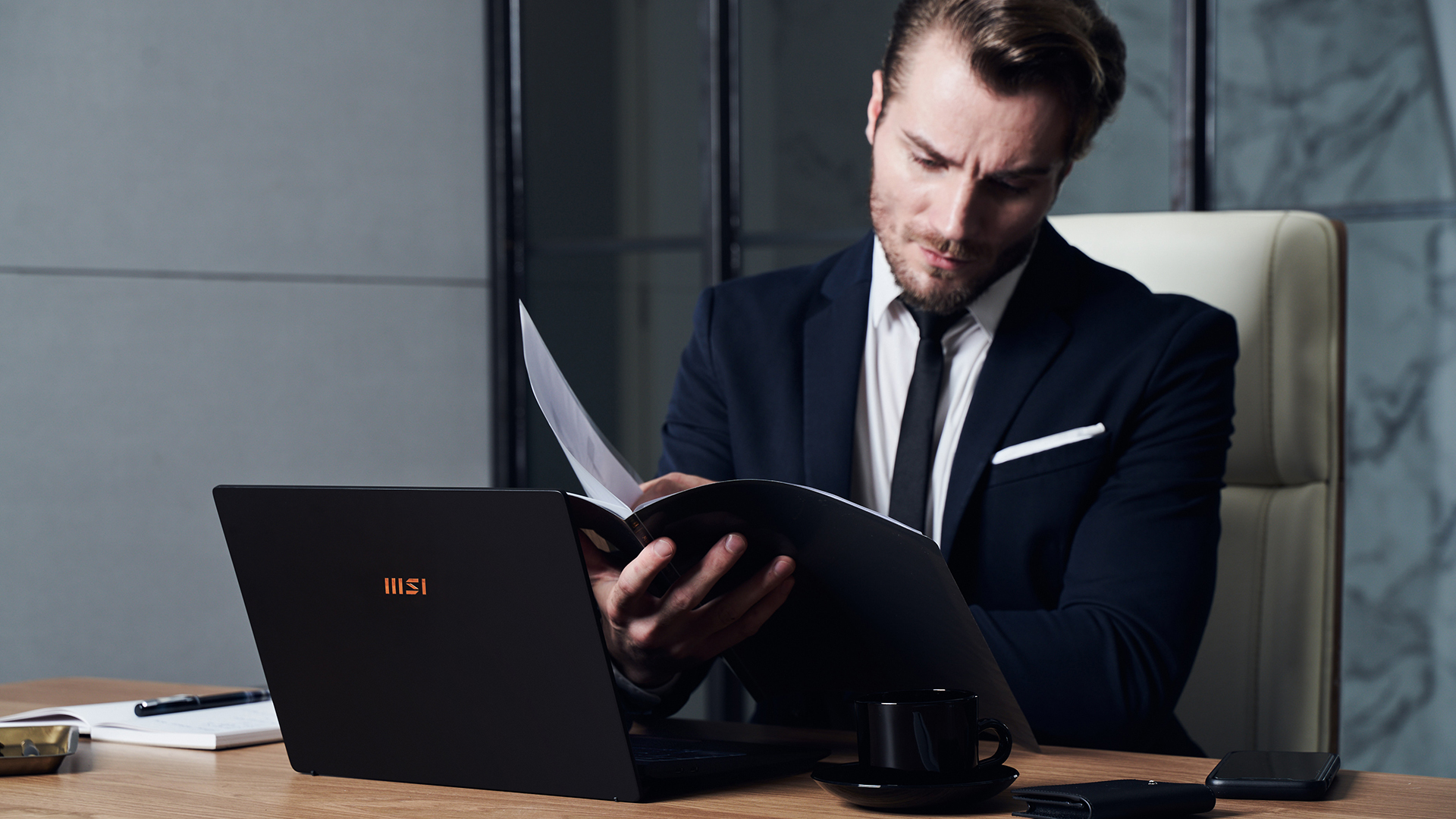 Conclusion
MSi Summit E14 is a delicious little ultrabook for the office, home office and an everyday life with travel and meetings as we remember it. The hardware is so ample that you get things out of hand in places to sit and fret about waiting for a slow computer.
It seems almost superfluous to have sacrificed a mediocre GeForce graphics card on it when the Intel Iris Xe graphics that come with the processor is almost as fast. All in all, though, you get quite a bit of PC for the money, and the touch screen justifies a price that is a little higher than the cheapest competitors.