First, a short history lesson. Lyngdorf isn't just the speaker you see in the picture. It's also Tact, Hi-Fi Klubben, Purifi, Gryphon Audio, DALI (I bet you didn't know that), and Steinway Lyngdorf.
All of these, and a lot more, Peter Lyngdorf either started, ran, or co-founded.
He also founded the company bearing his own name, which is now doing very well on its own. Like these little speakers on three wooden legs.
The Cue-100 is the very latest loudspeaker from Lyngdorf, and it's competing in the high-end class.
Not the easiest field to compete in, but then again, these particular speakers aren't just randomly constructed in a square box. Which is the most common. Also in the high-end class.
The engineers at Lyngdorf, who have finally got better space in a new building in Skive in Jutland, have turned to Danish Purifi and combined a midrange bass they have developed with their own AMT ribbon tweeter.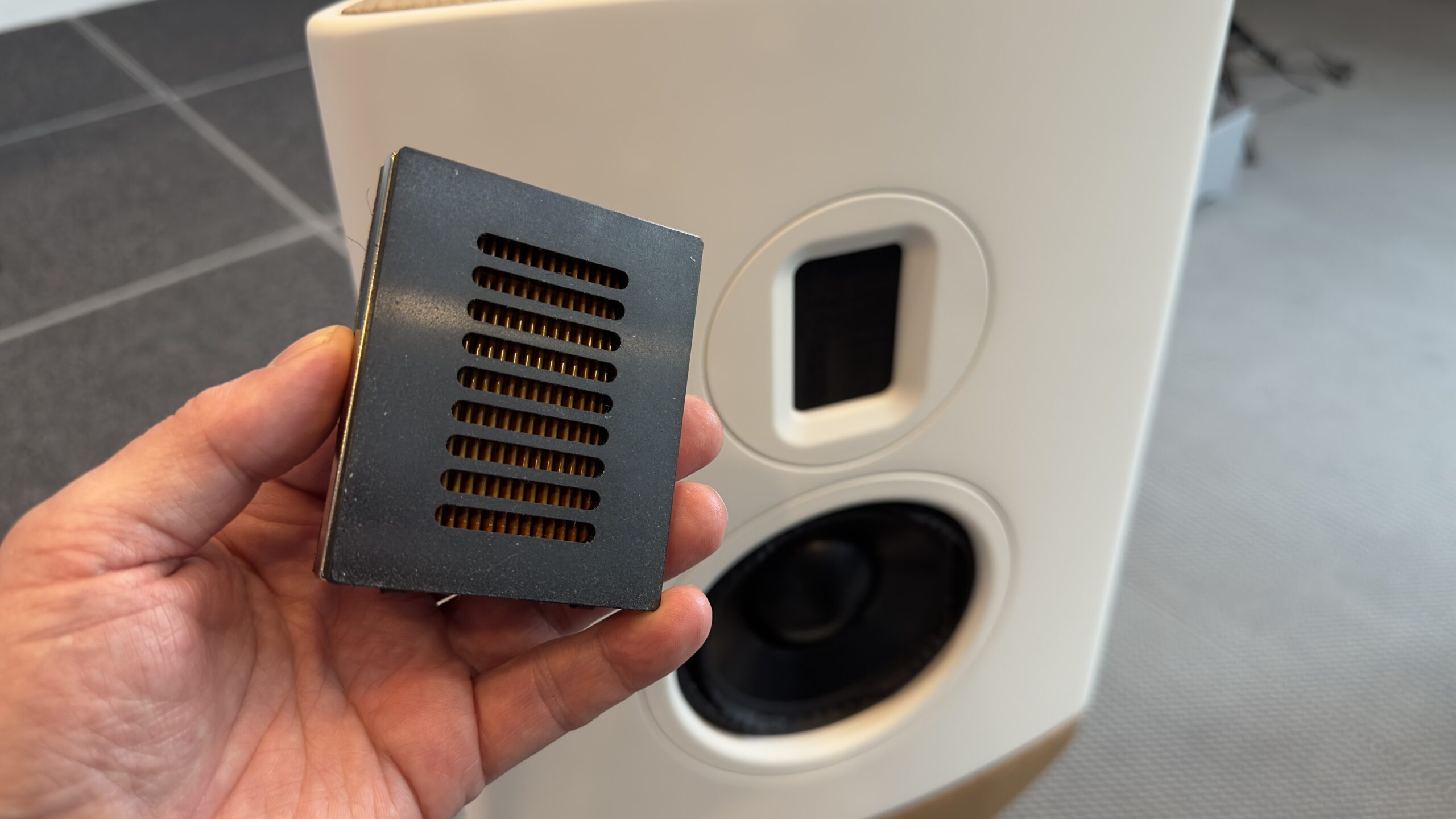 The ribbon tweeter in the picture goes up to 22 kHz, the range below the tweeter is covered by Purifi's Ushindi driver. It's an 18 cm midwoofer with an aluminium diaphragm. It also has Purifi's special edge suspension which, among other things, ensures that the surface area that moves air is the same size wherever the diaphragm is located when it moves.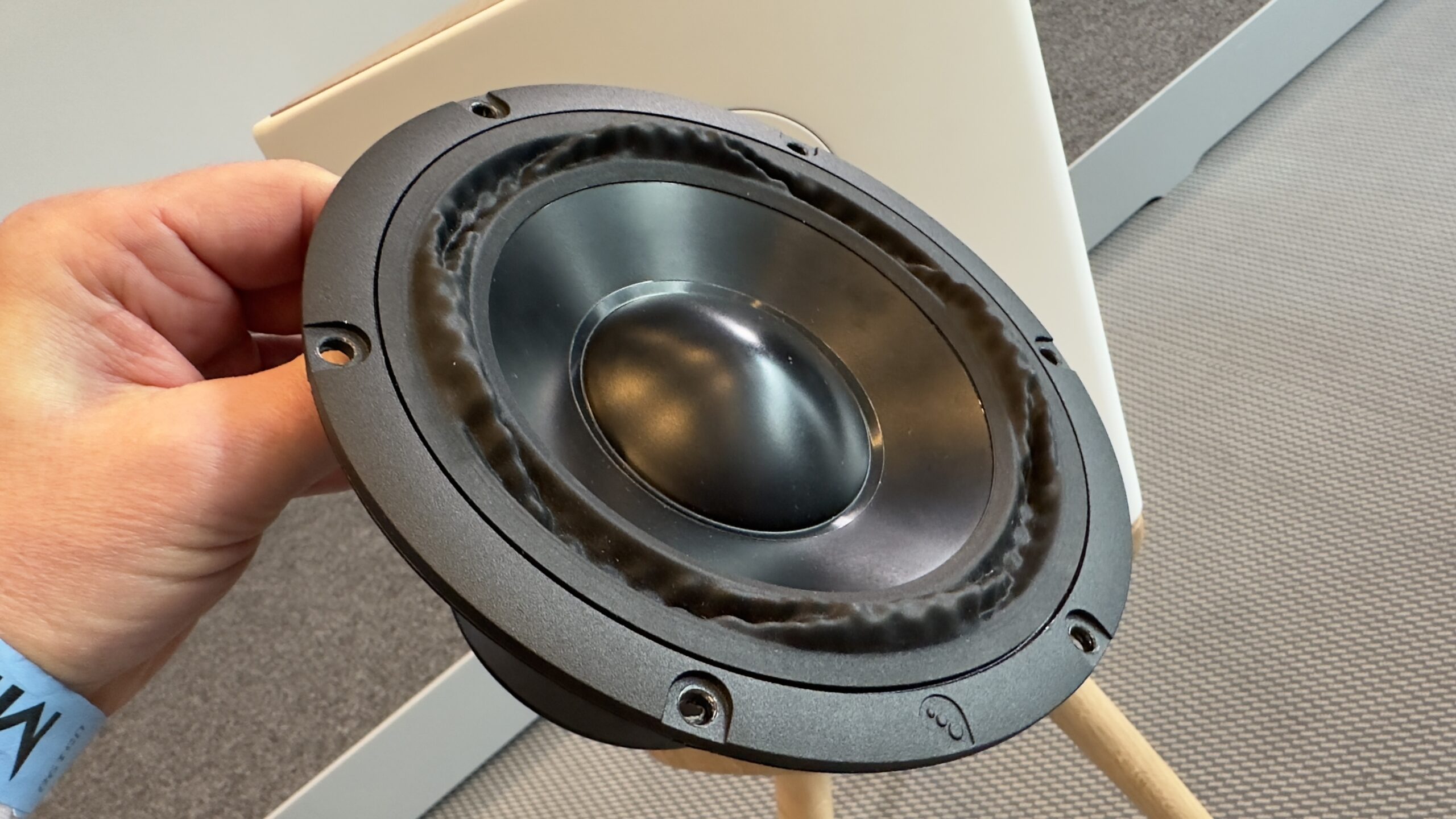 A 39mm four-layer copper-coated aluminium voice coil is wrapped around a fibreglass core, and the special basket that holds it all together is vented on the underside. This is how Purifi believes it manages to reduce resonances, including hysteresis, so much so that more of the music and less of the distortion comes out of the speakers.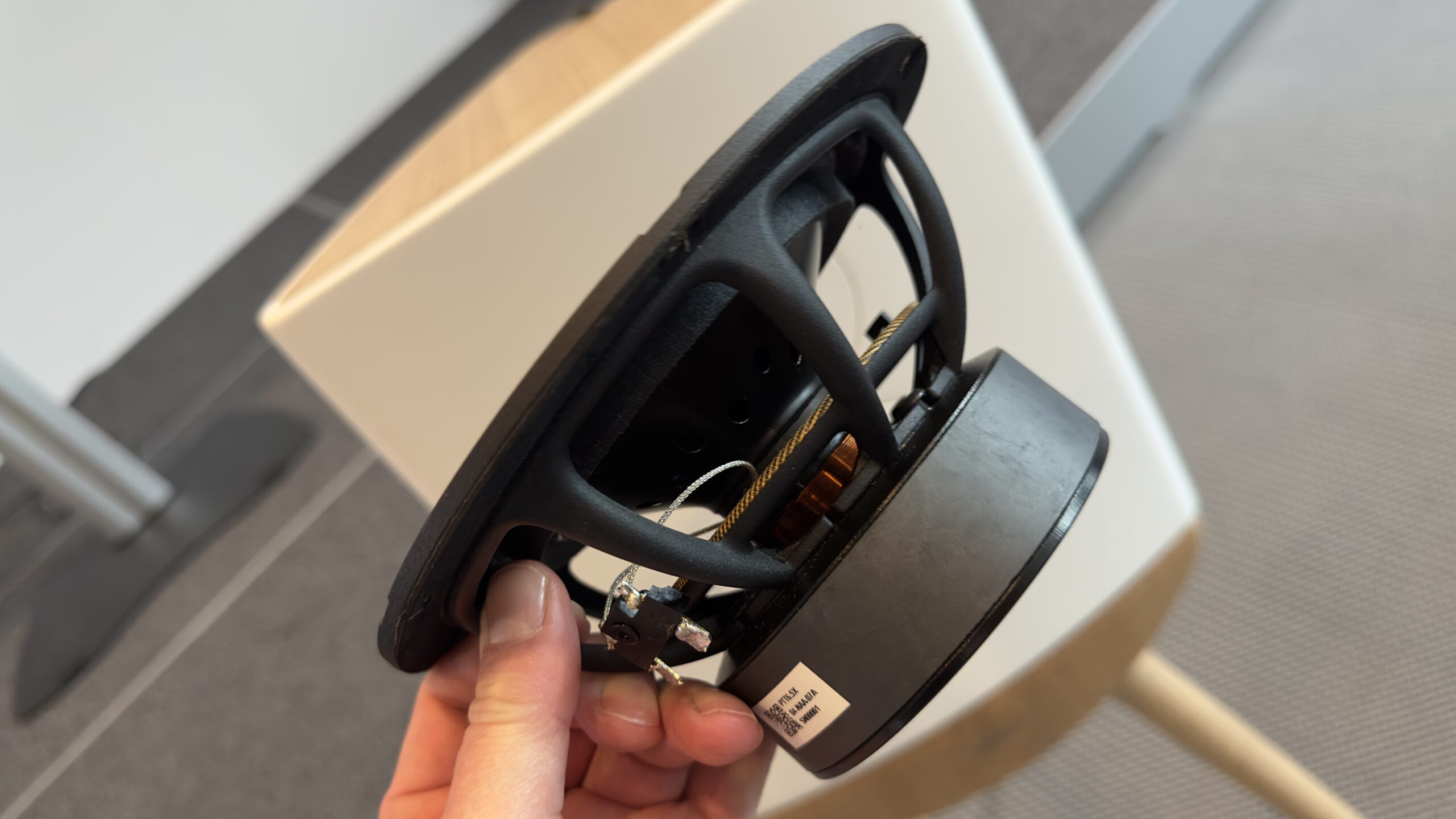 The Cue loudspeakers have two 18 cm passive elements on the rear sides, in the same material, only without the motor system of the front element.
The speaker cabinet is made of curved 35 mm thick MDF, in a triangular shape, and mounted on a base in milled oak, which is also the material for the three legs.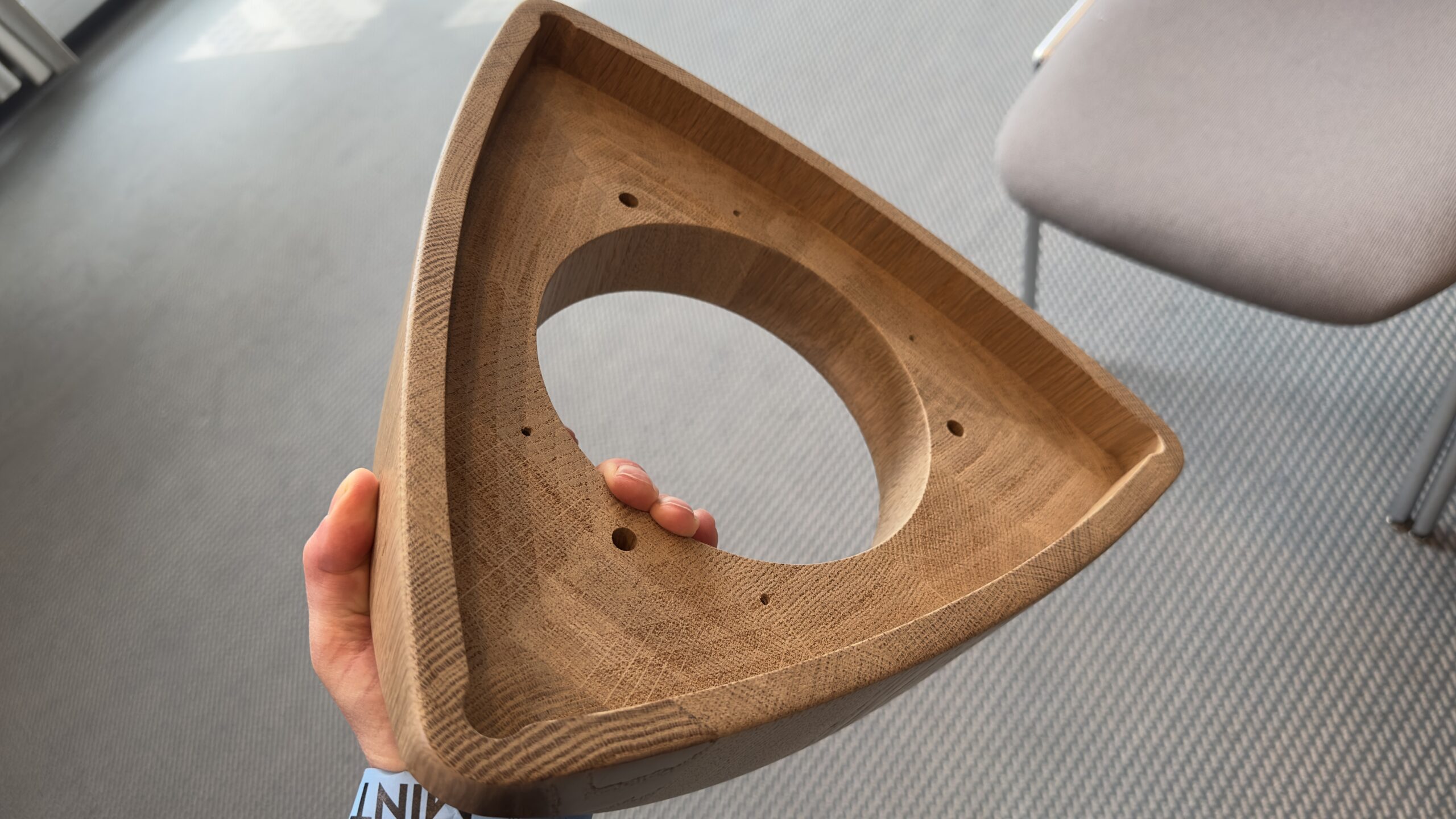 Lyngdorf states the sensitivity to be 83 dB, which is relatively low, but they should be paired with one of Lyngdorf's amplifiers. As you know, they have a RoomPerfect sound calibration system, so it should be easy to get the speakers to work optimally in the room.
The speakers are available in a variety of colour combinations. They also come with an acoustically transparent fabric from Danish company Gabriel, in the colour of your choice. The fabric works like a sock and is easy to put on and take off, and you can buy a new one in a different colour if you wish.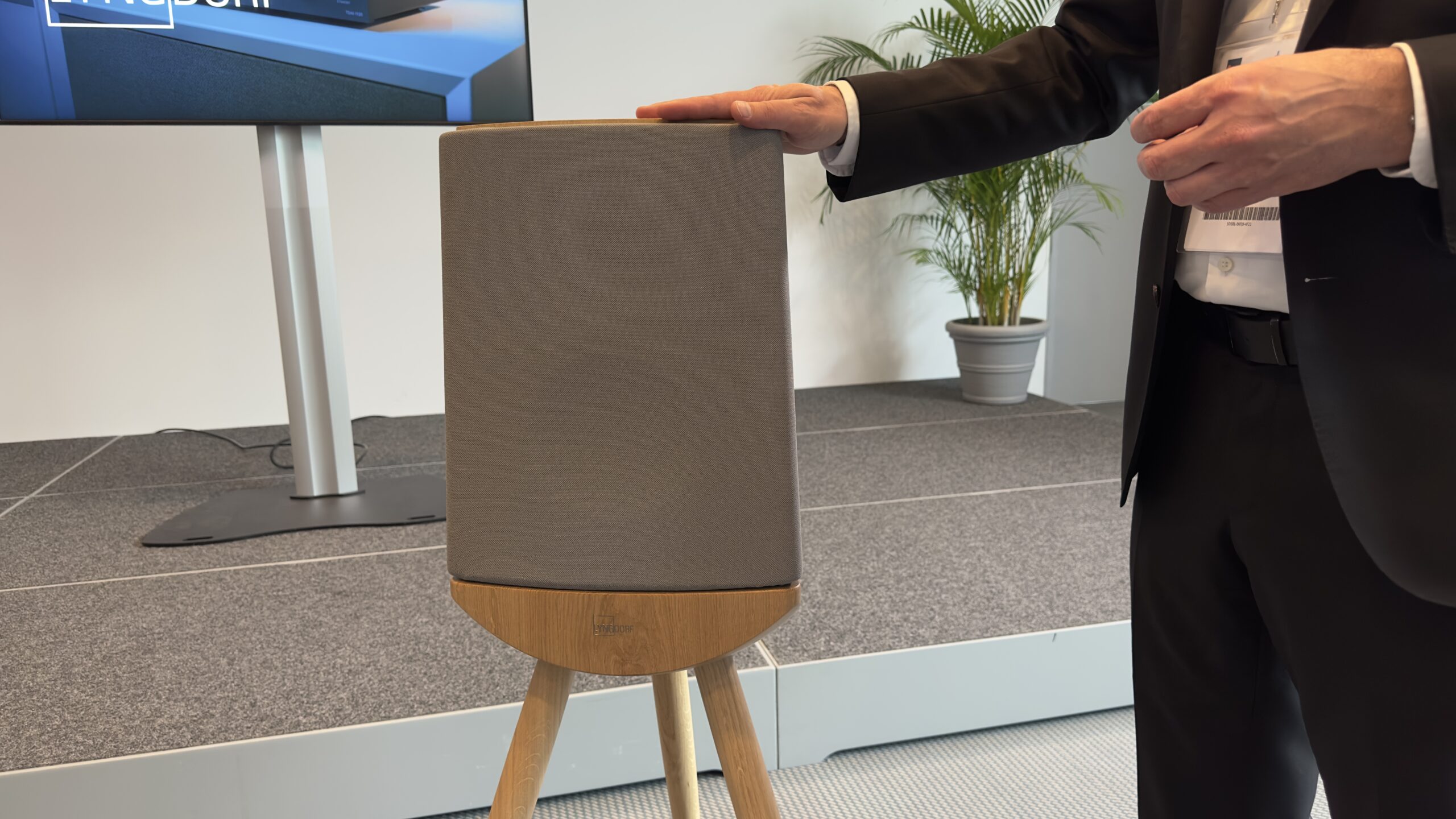 I've already mentioned that they are high-end, and so is the price. A pair of Cue-100s costs 19.980 Euro, with the oak stands, but then you have something very few others have. Hand-built speakers that don't look like a speaker.