Geir Nordby
Published

2022-09-29 - 3:00 pm
Nice, clean bass tones. Brings out the foundation and the important fundamental tones, which Sonos soundbars and speakers otherwise fail to do on their own.
Not an impressive punch. Few adjustment options. And why on earth can't you pair two together?
Specifications
Type: active subwoofer, closed
Woofer: 2 x 6″ push-push/slot loaded
Amplifier: Class D (power not specified)
Frequency range: Down to 25 Hz (tolerance not specified)
Dimensions: 30.5 cm (H) x 23 cm (diameter)
Weight: 6,35 kg
Color: High gloss white, high gloss black
Other: Wi-Fi, controlled via Sonos S2 app
Web: sonos.com
We've been waiting for a Sonos subwoofer at a more reasonable price. Their only subwoofer so far, simply called Sub, at a price of €699 is too expensive for the average user of soundbars like Beam or Ray – and especially the small multi-room speaker One – to ever consider it.
Sonos Sub, on the other hand, is excellent for adding extra bass to the larger Arc soundbar and Five speaker. Something that we here at the editorial office have very good experience with, and therefore we have also waited a long time for a subwoofer model that fits better with the more affordable products.
Based on big brother
Now we can introduce the Sub Mini. A cute little cylindrical thing that looks even smaller in real life than it looks in pictures. The rectangular big brother is already nice and compact and slim, but the Mini is significantly smaller again – about the size of a flower pot.
Two 6-inch round woofers are hidden in the center of the subwoofer with an opening out on either side. They are placed symmetrically opposite each other; this achieves the cancellation of vibrations. Where its big brother is a bass reflex design, the Sub Mini has a sealed enclosure. This prevents turbulence from a bass port, making it easier to create clean bass.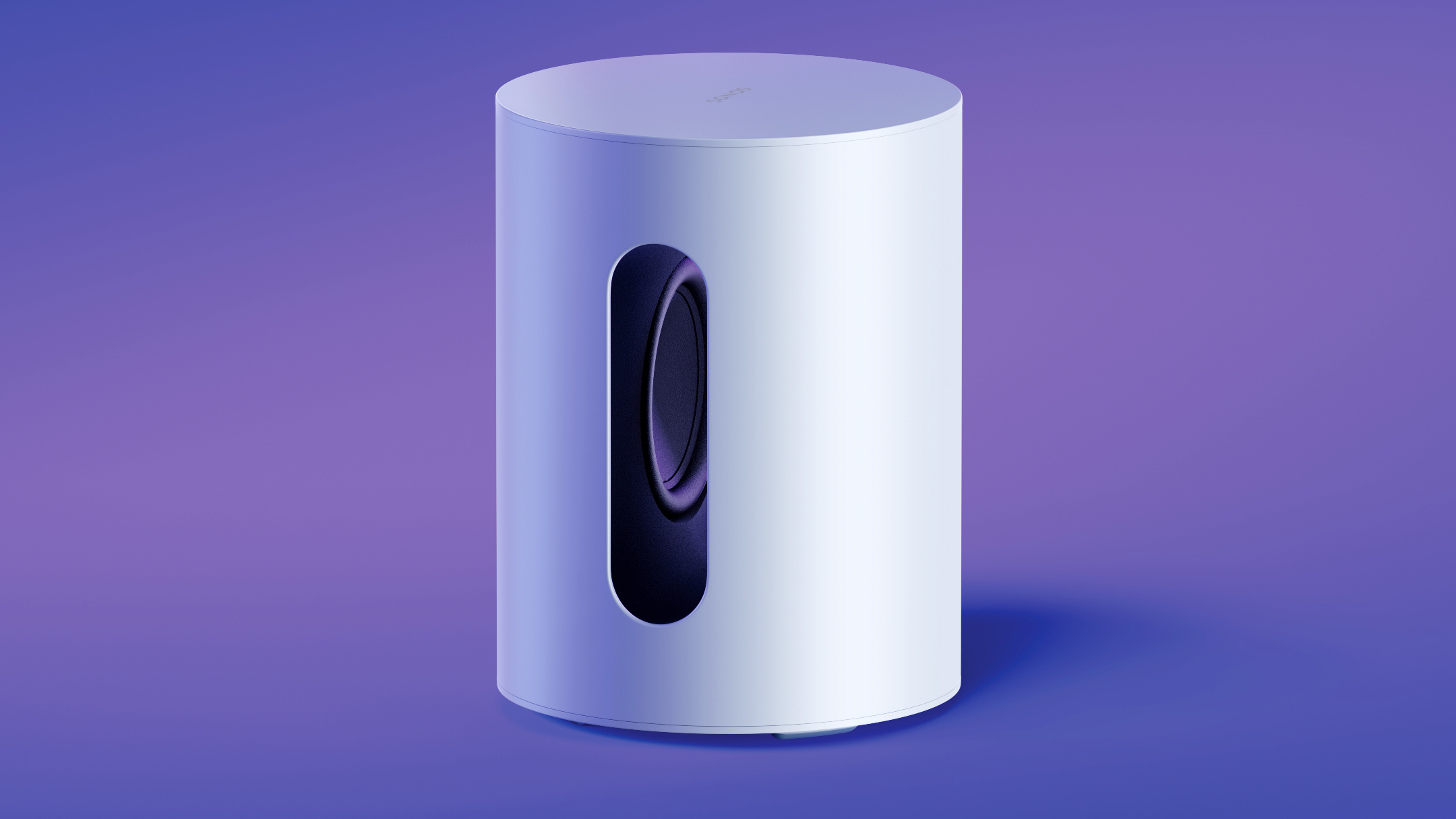 Little brother goes just as deep
The Sonos Sub Mini goes down to 25 Hz in bass; the same as its big brother. Unfortunately, Sonos doesn't state what tolerance this is measured with, but Sam Feine, who is mainly responsible for the development of the Sub Mini, at least said in an interview that it is audible down to 25 Hz. Hopefully that means it hasn't dropped more than 6 dB there.
– Developing a small subwoofer is always challenging. Bass response does not scale linearly with cabinet size, and even small changes in acoustic loudness can require significant changes to the speaker units and electronics, Sam Feine, who has been primarily responsible for the development of the Sub Mini, said in an email.
– Early in development, we tested many acoustic designs, including bass reflex and slave bass systems. We landed on a sealed enclosure, which along with an advanced DSP gave us a sound product with a surprisingly deep frequency response (for its size).
Simple setup
Setting up Sonos Sub Mini for the first time is super easy, and if you already have Sonos, this comes as no surprise. Download the Sonos app if you don't already have it, and install the main unit of the set, such as the Beam soundbar, first. I was sent this along with the sub to test them together, and it's so very simple.
During setup, you'll be asked to place your mobile phone near a special point on the Sub Mini; it will then pair and connect to the wireless network. Then you can add it to the soundbar or speakers it will be used with.
Annoying update
I do have one complaint, though: If you come home with multiple Sonos products that all need to be connected for the first time, there's a good chance they'll need to be updated to the latest firmware. The app will insist on doing this before you can proceed.
You can't connect all the products first and then update them all together. Nope, they have to be updated individually, creating individual connections. This takes a few minutes each time, and makes the initial setup unnecessarily slow. I had to update both the Beam and the Sub Mini and got a bit annoyed. Had I also had a pair of One for the rear channels, and which needed the same treatment, I would have had to restrain myself considerably not to throw something out of the window…
TruePlay: Room Correction
A stroke of genius with Sonos speakers is that they have built-in room correction, which they call TruePlay. When the system is just set up, it usually sounds full and beautiful, but with TruePlay, the resonances that arise from the subfloor, walls, ceiling and floor are dampened. The result is a much cleaner sound, with clearer voices and instruments. It also works with Sonos subwoofers, providing better, cleaner bass in the room where the subwoofer is located.
The downside is that TruePlay only works with iPhone and iPad, so if you're an Android user, you'll need to borrow one for the occasion. And you should, because the difference with and without TruePlay is pretty big.
NB! If you've calibrated TruePlay on your existing Sonos speaker or soundbar before, you'll still need to run the whole process again after adding the subwoofer to the system.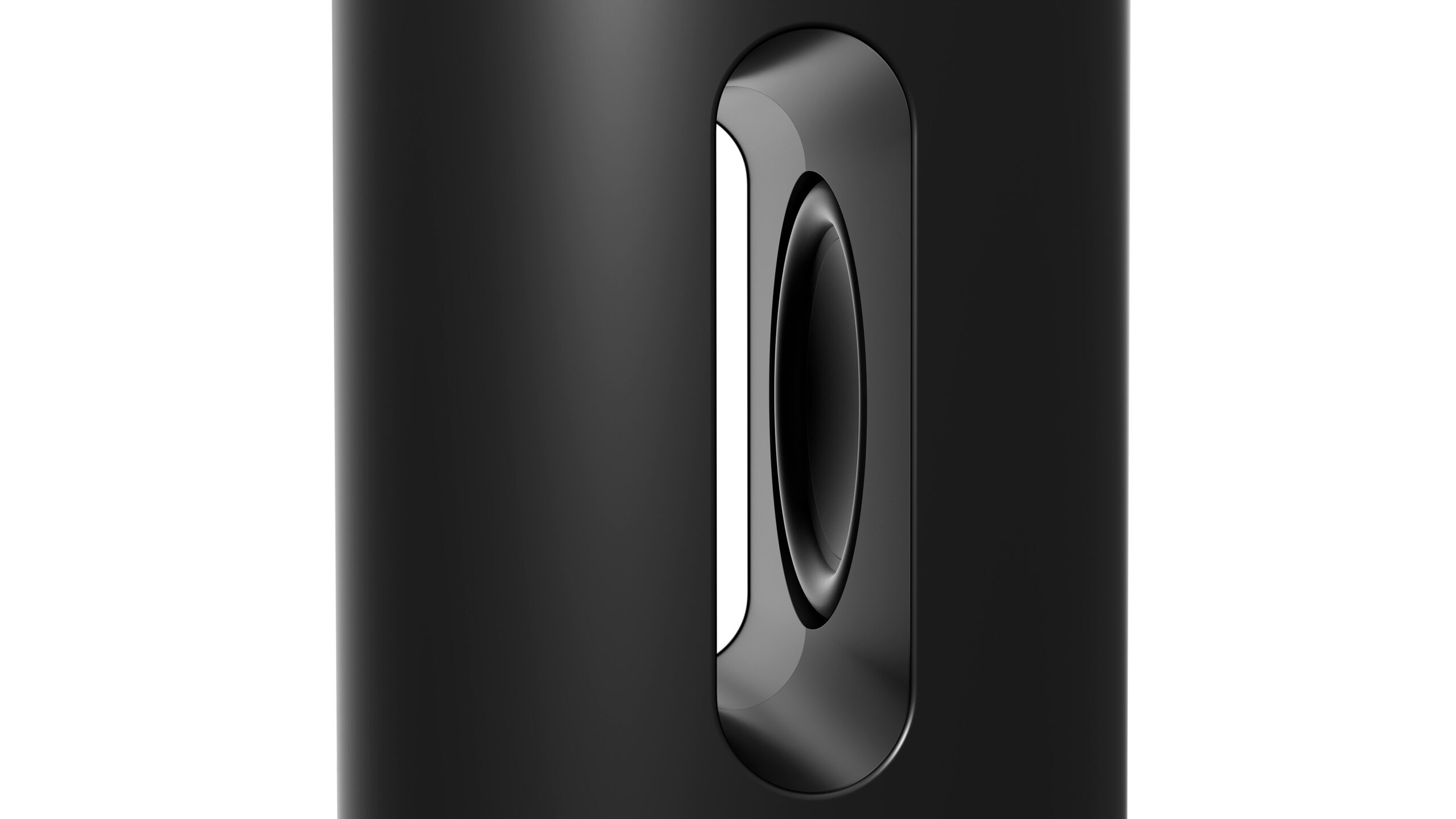 The sound of the Sub Mini – without TruePlay
When I first connected the Sub Mini in the test room, I placed my Beam on the table in front of the TV, while the Sub was positioned close to the corner wall.
It sounds pretty good, even before TruePlay is activated. The Beam soundbar has that recognizable Sonos sound, with good midrange richness, and dialogue in movies is clear without being sharp or harsh in any way. But the bass reproduction from the Beam isn't equally amazing, though you can still be impressed given how small it is.
The Sub Mini adds the bass that's missing, and even when it's playing from a random corner of the room, you get significantly better sound than if it hadn't been there.
The main complaint is that you can hear where the bass is coming from. The corner is further away than the soundbar, and temporally the sound from the two doesn't hit the ear quite perfectly. The bass sounds like it's a bit behind, and it doesn't sound linear either. A corner placement will create unwanted resonances that propagate upward into the midrange, ruining both dialogue and other sound effects.
With music, the problem is bigger, and I end up turning the bass down a few notches to make it blend in better.
Sound with TruePlay
Time to activate TruePlay. You're told to use the iPhone as a microphone, first from the sofa seat in front of the TV, and then you have to walk around the room moving the mobile phone up and down so the system measures the room's acoustics and gets to know it.
Disturbing frequencies and discolouration are automagically muted. Not only is the sound from Beam even cleaner and more open, but the subwoofer blends in much better. Now the two sound like a bigger unit, and watching action movies is suddenly much more enjoyable. The Beam actually manages to reproduce Dolby Atmos surround sound tolerably well, and the subwoofer brings out the bass sound effects in a more convincing way than I expected beforehand.
The subwoofer sounds really good, especially when playing music. It doesn't do more than it should, but you don't miss anything either. Well, except for some punch. It's not among the most powerful I've heard, but works fine if you're not after the highest sound levels.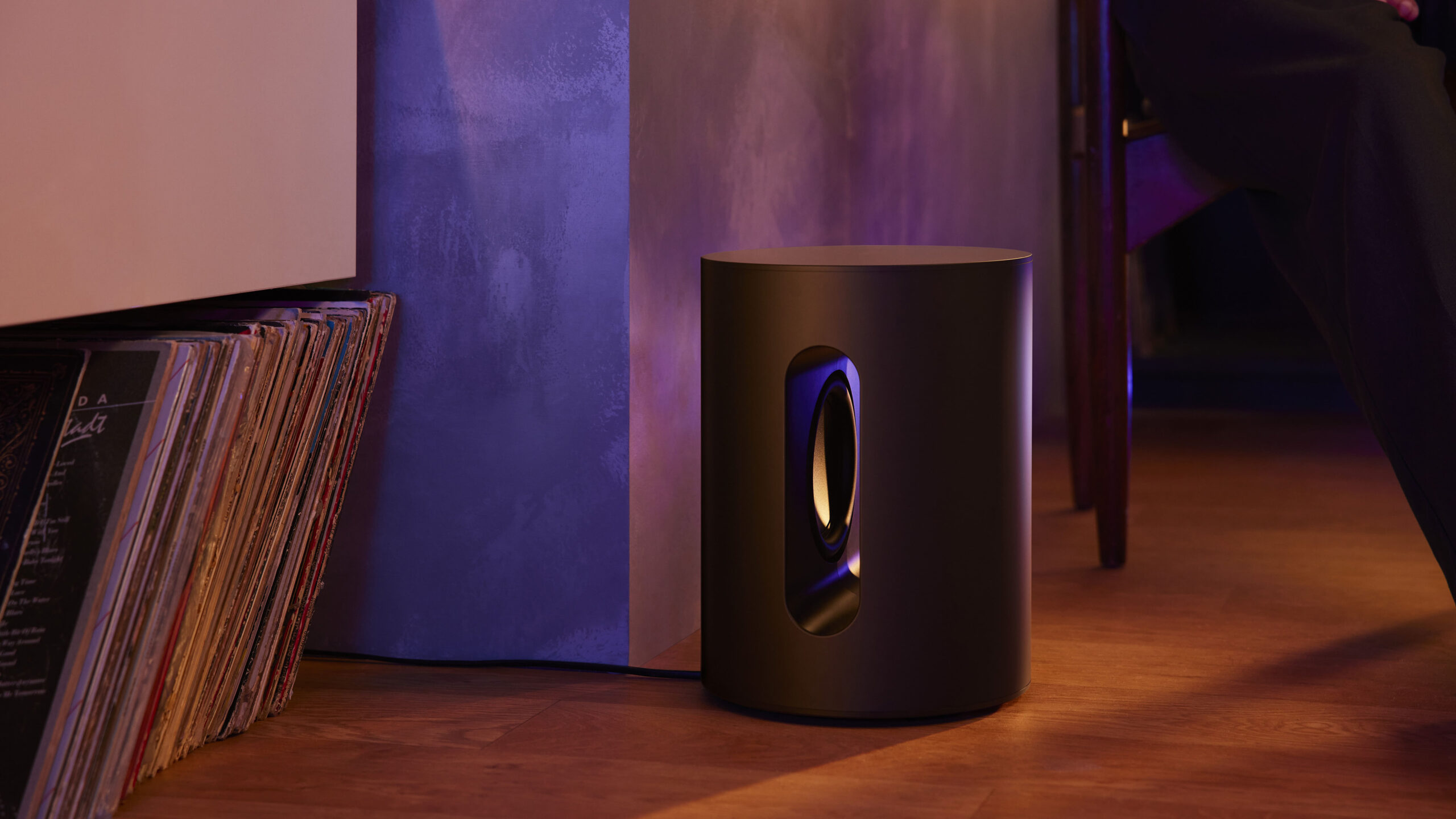 The goal is good and "sufficiently powerful" bass
Sonos' Sam Feine can also reveal that the aim of the Sub Mini is not to compete with the larger Sub in sound level, but rather that it should sound just as good at ordinary sound pressure levels.
– The trade-off with a small, sealed enclosure is, of course, the maximum sound pressure level. The Sub Mini has more than enough power to reproduce a captivating experience for listeners of all types of content (movies, music, games…), but it is not the optimal match for customers who like to listen at the very high volume levels or who listen in larger rooms. There is Sub a better choice.
I could hardly have said it better myself. Apart from that, I now don't entirely agree that the larger Sonos Sub is a power monster in its own right. There are clearly more powerful subwoofers than it, even in the price range it's in.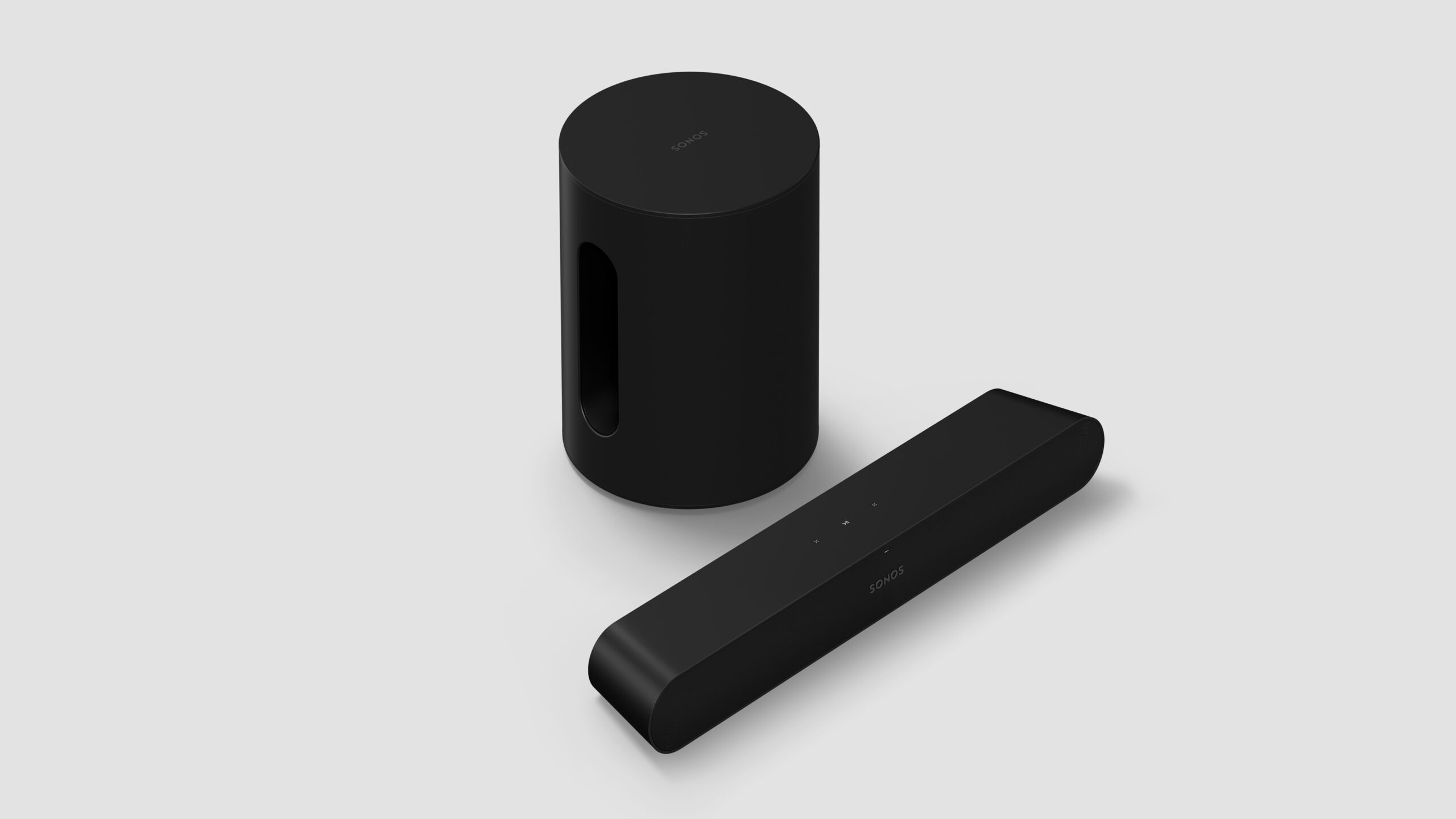 Alternatives to the Sub Mini
Talking about alternatives to the Sonos Sub Mini is complicated, except for the larger Sonos Sub. If you already have a Sonos setup, no other subwoofer will work. Unless, that is, you have a stereo system powered by the Sonos Amp. Because it has a subwoofer output, and if you can live with the cable, you'll get a lot more punch and fun out of an SVS-SB1000 Pro or B&W ASW608.
If you have a larger Arc soundbar or a pair of Five speakers and want more bass, I'd go with the larger Sub. Then you get a subwoofer that goes all the way up to the highest sound pressures you expect from the speakers.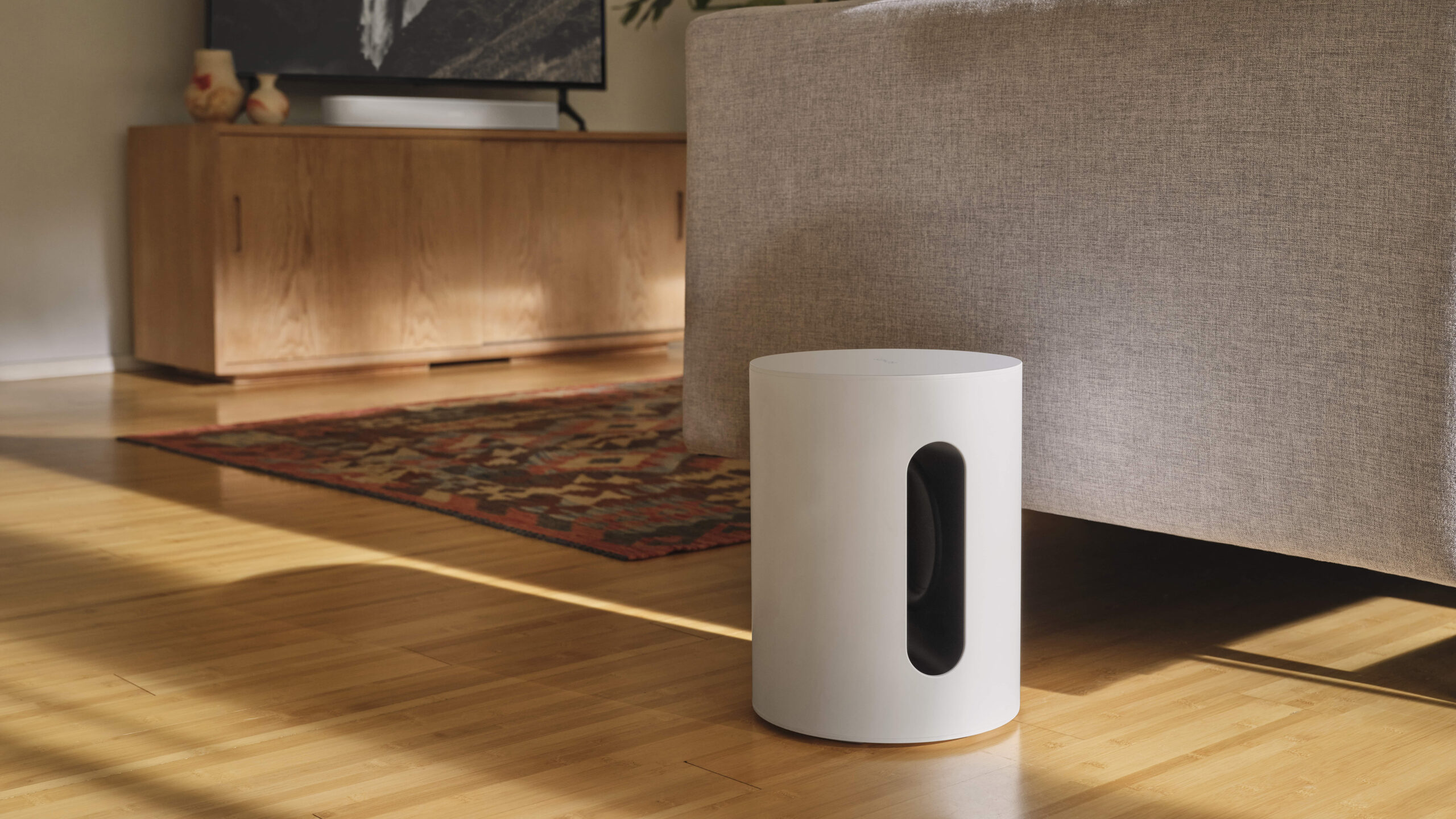 Reasonably priced?
On the other hand, Sub is too expensive for users of smaller soundbars like Beam and Roam. Or if you have a couple of small One SLs. To be honest, I also think the Sub Mini is a bit expensive for these. Maybe not compared to what it delivers, because it sounds really good.
What I wonder is if owners of a Beam are actually willing to double the price by adding the Sub Mini. The math gets even more skewed for Ray users, as the subwoofer is nearly 70 percent more expensive than the Ray soundbar.
This is also why I was skeptical before getting the Sub Mini for testing. But then you can turn it around a bit: you get both the Beam and the Sub Mini for the price of the larger Arc without the sub. And while the Arc has more convincing surround sound, the overall experience is much better with the Beam and a subwoofer. That's how much good bass really matters.
If you connect rear speakers to both systems, for example the One SL, then the Beam system comes even closer to the Arc system because both now have separate rear channels. Arc has separate tweeters for Atmos sound and has a larger holographic bubble of sound. But with the Sub Mini in the bass area, the Beam system is still a much better overall package.
Put another way, the Sub Mini will open up an audio experience with Sonos Beam (or Ray) that was previously unavailable – without having to increase the price by an exorbitant amount.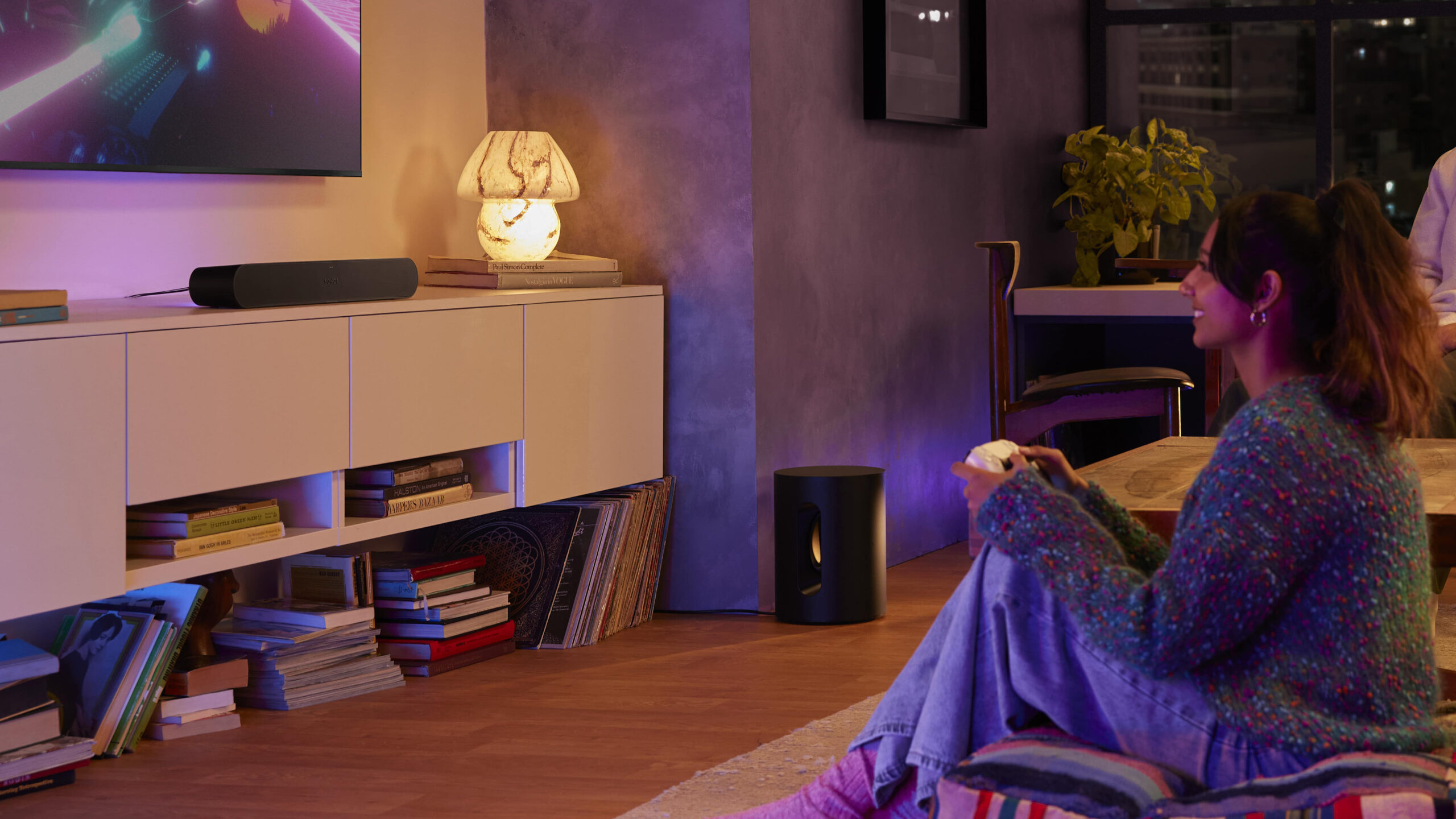 Two Sub Mini cannot be paired
Finally, a little sigh: I had hoped that two Sub Minis could be an exciting alternative to one Sub, along with the more expensive Arc soundbar. But where Sonos relatively recently opened up the possibility of two Subs, it has opted to lock the Sub Mini to one in a setup. A missed opportunity, in my eyes.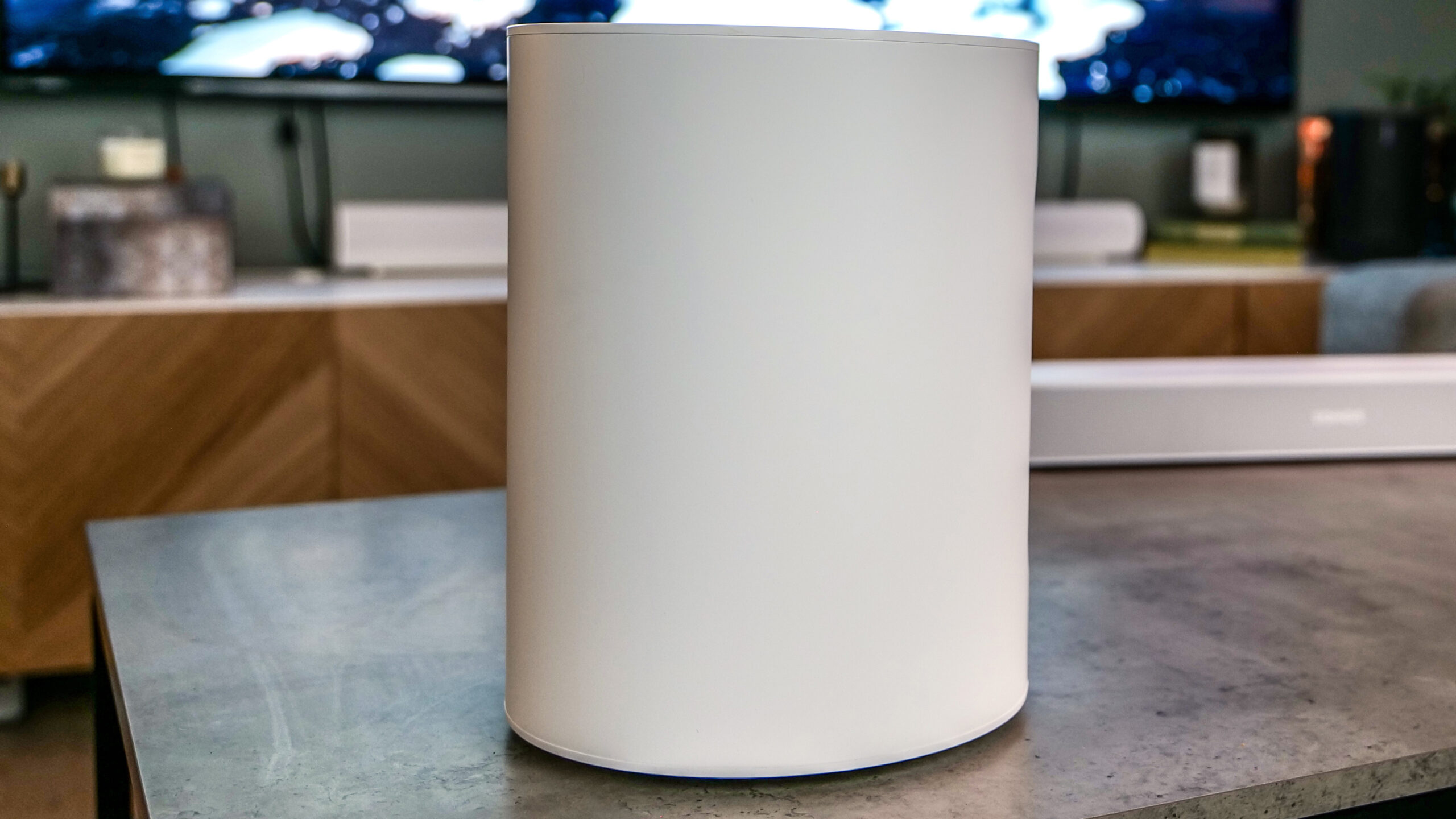 Sonos Sub Mini: Conclusion
I was initially a little sceptical about the Sonos Sub Mini, as it turned out to be somewhat more expensive than I had hoped. Those who have bought the Ray soundbar, or cheaper Sonos speakers (or the IKEA Symfonisk), will probably feel that the price is unreasonably high. If you have a Beam, however, you should strongly consider the subwoofer. That's how much it actually elevates the experience.
Although it doesn't hit hardest in its class, it plays bass with such exquisite tonal consistency that you can't help but be impressed. And let's face it: most of us just use our sound system for general house needs when watching movies and TV. Most people never get to deal with cinema sound levels anyway, and in an ordinary living room the Sub Mini works quite brilliantly.