Geir Nordby
Published

2020-06-03 - 8:00 am
Open and nice sound, very impressive surround effect - not least with Dolby Atmos. Ease of use is in good Sonos style.
It never bounces off the dynamics. We want to be able to adjust the TruePlay effect.
Specifications
Width corresponds to screen size: 50 "
HDMI: 1 out (ARC)
Digital input: Optical (HDMI optical adapter included)
Network: Wi-Fi (2.4 GHz), Ethernet
Wireless: Spotify, Tidal, Apple Music, Deezer, Bandcamp, SoundCloud, TuneIn, YouTube Music, Storytel, Fabel, AirPlay 2, m.m.
Voice control: Google Assistant, Alexa
Analog input: No.
Subwoofer: No (wireless can be purchased separately)
Dimensions: 114.2 x 8.7 x 11.6 cm (W x H x D)
Color: Black or white
Web: sonos.com
When Sonos comes up with a replacement for the aging PlayBar and PlayBase, it's not a trifle they stick under the hood. The Sonos Arc is large, 114 cm wide, which is equivalent to the width of a 50-inch TV. It is available in both black and white, where our copy was white. It would look better in the style of the TV if it was black, but it's always nice to have the choice. As many as eleven amplifier channels are hidden inside, distributed on the same number of speaker elements. This is to best simulate both surround sound, and maintain the dynamics and purity of the sound image. A total of seven audio channels provide simulated surround sound – including two speakers pointing upwards, which will provide "sound from the sky". In this case, it is Dolby Atmos, the most common among such audio formats. Arc is Sonos' very first Atmos plank.
Be aware that shooting the sound up to the ceiling, and then reflecting it back down on the listener, will never be able to have the same effect as actually mounting speakers on the ceiling. The effect will also vary depending on whether you have a flat or sloping roof, low or high. The best is a normal flat roof, about 2.5 meters above the ground.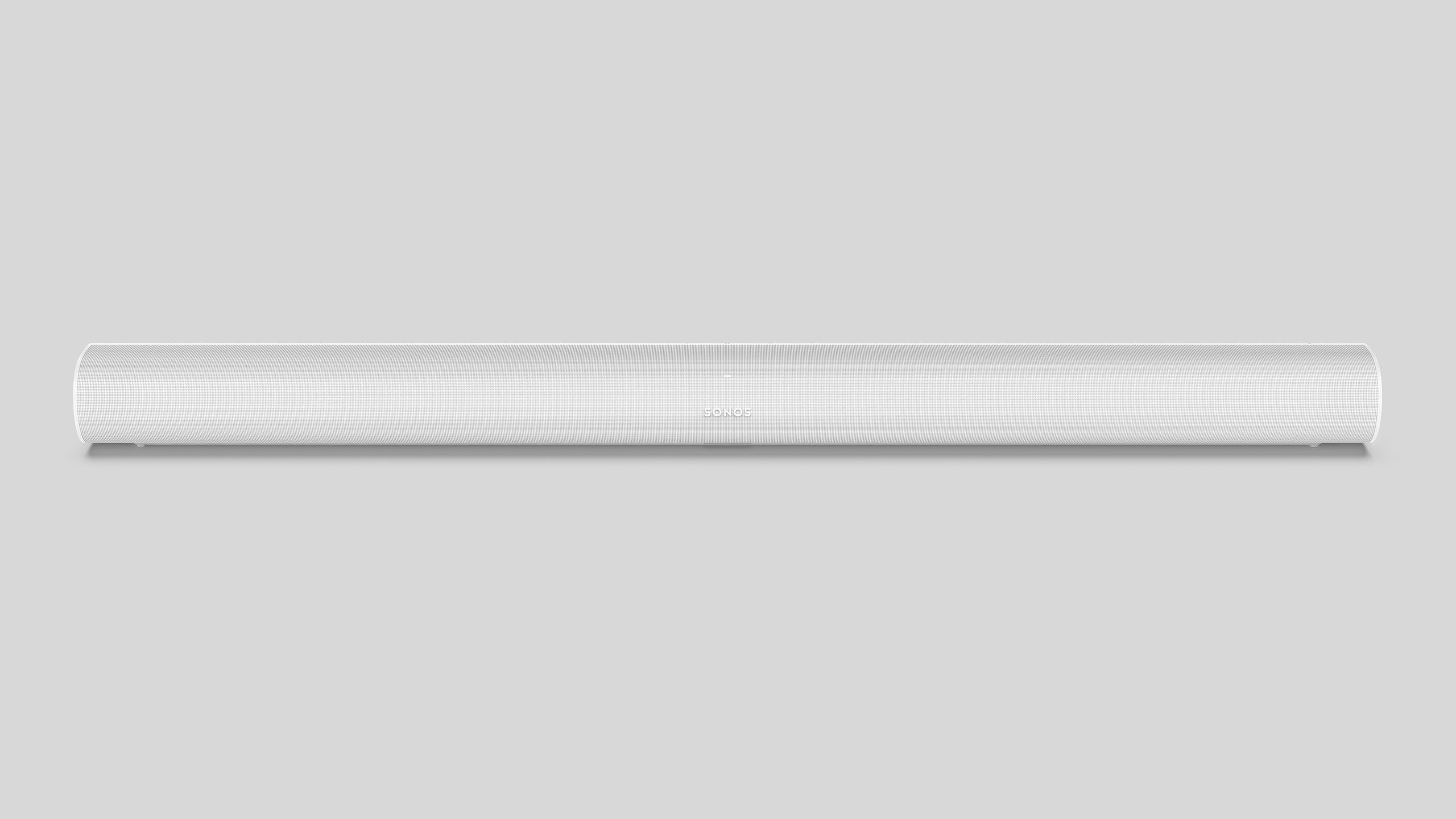 Sound from the sky
At its best, Dolby Atmos sounds fantastic. The extra dimension you get in height adds an extra degree of realism, where you move into the film.
Dolby Atmos is so-called object-based sound, where sounds are placed in a three-dimensional room, instead of being addressed to a specific channel. In this way, a helicopter hovering from left to right, and over the head of the listener, will be more accurately and credibly placed in the soundscape. The same with raindrops from above, which fall down around us.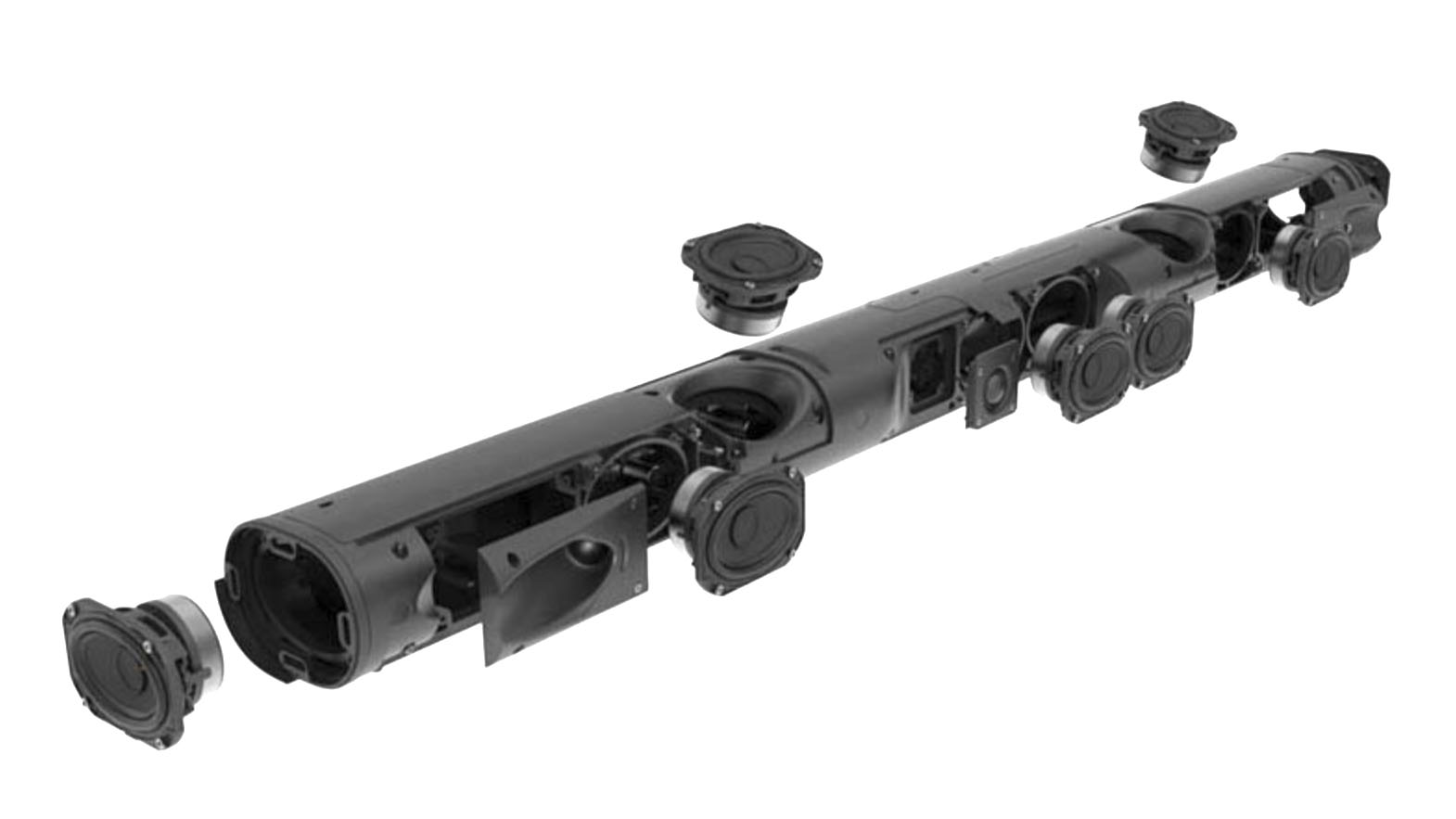 Improved sound return
The old PlayBar and Playbase are now retired, not because they still do not sound good, but because they lack HDMI and thus many opportunities you get with newer TVs. Sonos Arc has HDMI in the form of a single connector, which both sends and receives signals from the same HDMI cable via the audio return channel. Also known as Audio Return Channel, or ARC. Which hardly has anything to do with the name of the soundbar, as Arc probably got its name from the geometric arc shape in which it projects the sound.
All audio and video sources are connected directly to the TV, while the HDMI input marked ARC on the back is connected to the Sonos Arc. The soundbar then takes over as the speaker for the TV, and will also let you control the sound level with the TV's remote control.
Sonos Arc has an eARC sound return, where the e stands for enhanced. It supports higher quality sound, in this case Dolby TrueHD. But only if the TV also has eARC, otherwise it will only be Dolby Digital + anyway, which compresses and reduces the sound quality.
There are still no video streaming services that offer high definition audio, so if you want to take full advantage of eARC, then Blu-ray applies. Then you get Dolby Atmos in TrueHD format through the sound return to the Sonos Arc. And hopefully better sound, with eight times higher data power than Dolby Digital + on Netflix, which has the highest sound quality among streaming services.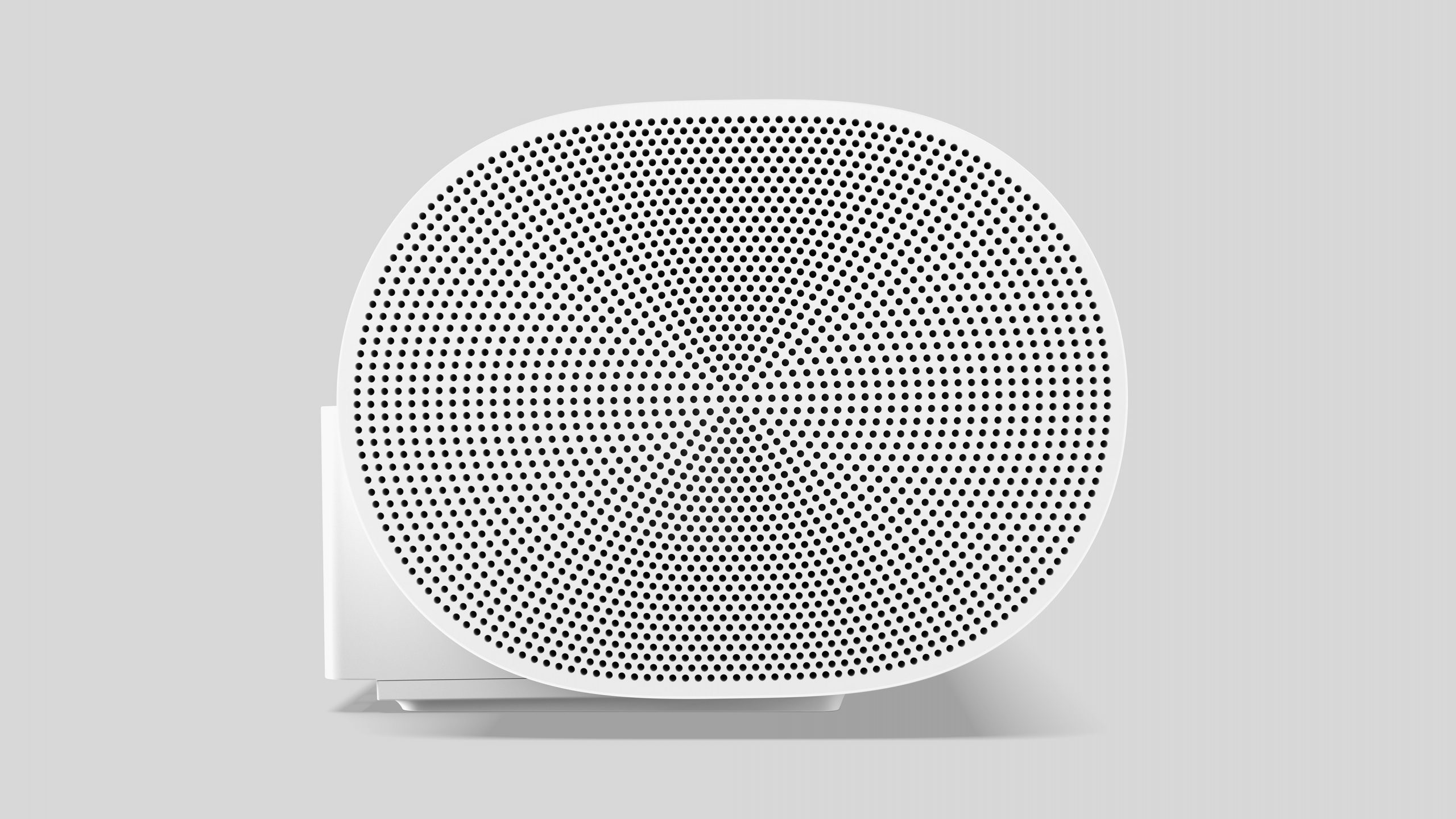 The Sonos Arc lacks DTS and MQA
DTS's competing audio format for Atmos, DTS: X, is not supported by Sonos. Cullen Harwood, regional marketing manager at Sonos, explained the reason during a video conference ahead of the official announcement of the soundbar. And the reason is simply that no power services use DTS. If this changes, you will be able to update the software to support it later.
Launch also does not support high-resolution music audio formats, such as MQA. The answer from Harwood was once again if the need arises in the future, it is easy to update the soundbar to support it. The entrails are there, namely.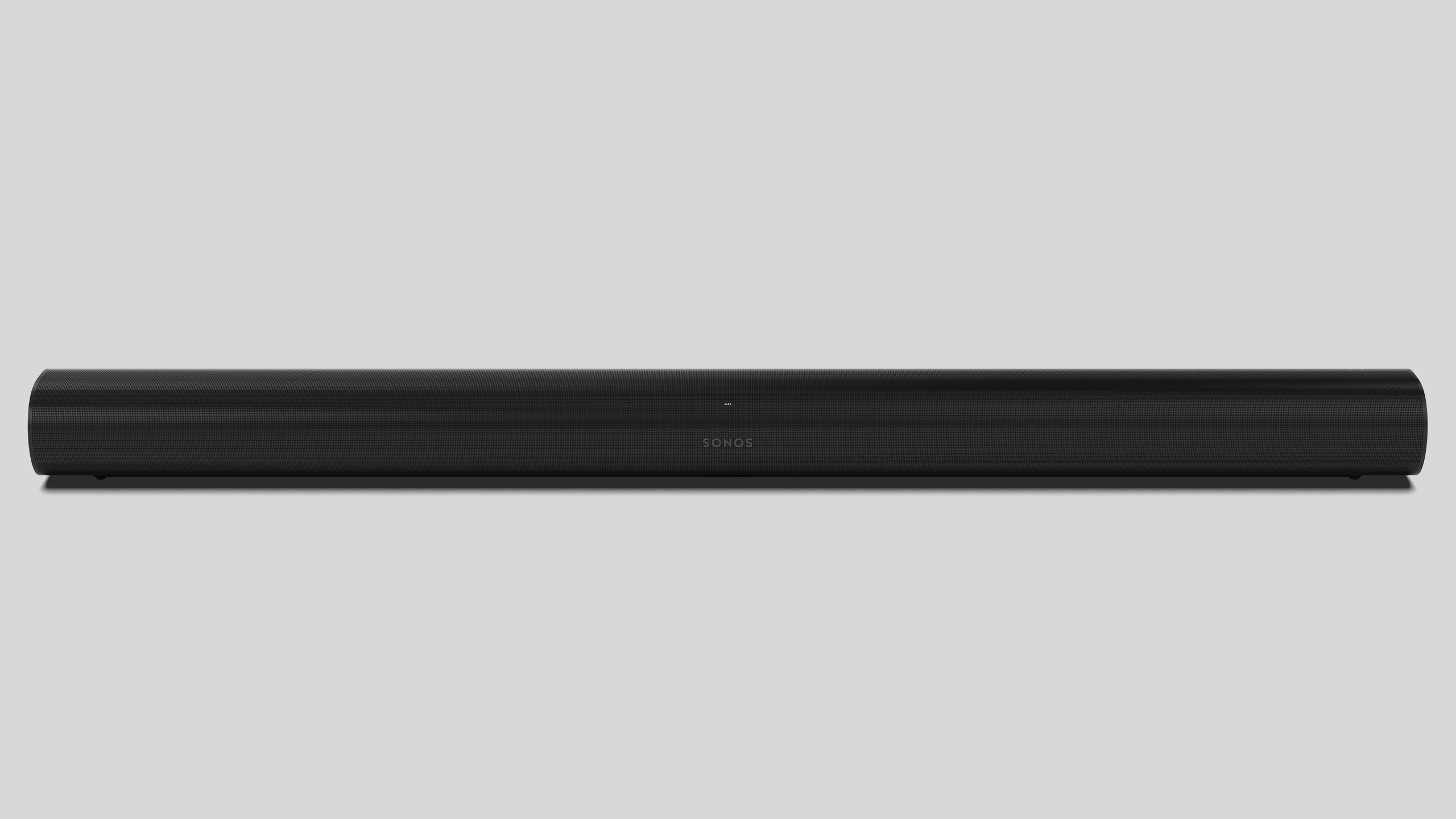 Room correction
Sonos has its own sound calibration called TruePlay, which corrects for acoustic biases in the room. Once TruePlay is calibrated, you have simultaneously enabled advanced digital processing to provide the experience of true surround sound. Without TruePlay, you will not get the same surround sound experience.
This is because the TruePlay calibration provides the system with important information about how each speaker element sounds. And when a sound comes from the left channel, the Sonos Arc is not content to reproduce it from the left speaker. It also sends a time-shifted, carefully calculated counter-phase signal from the right speaker.
Then the sound from the left speaker will be picked up almost only by the left ear, and ditto from the right. By separating the channels in this way – not only in the soundbar, but also in the room – you will be able to experience a larger room with a better defined placement of the elements in the sound image.
A pretty big ape regarding TruePlay: it only works with Apple iOS products. Not Android. This is because Sonos has to know the microphone in the phone, which becomes difficult in the Android world, because there are so many different ones. If you are an Android user, be sure to borrow an iPhone to make the TruePlay adjustments. It's really worth it and only needs to be done once.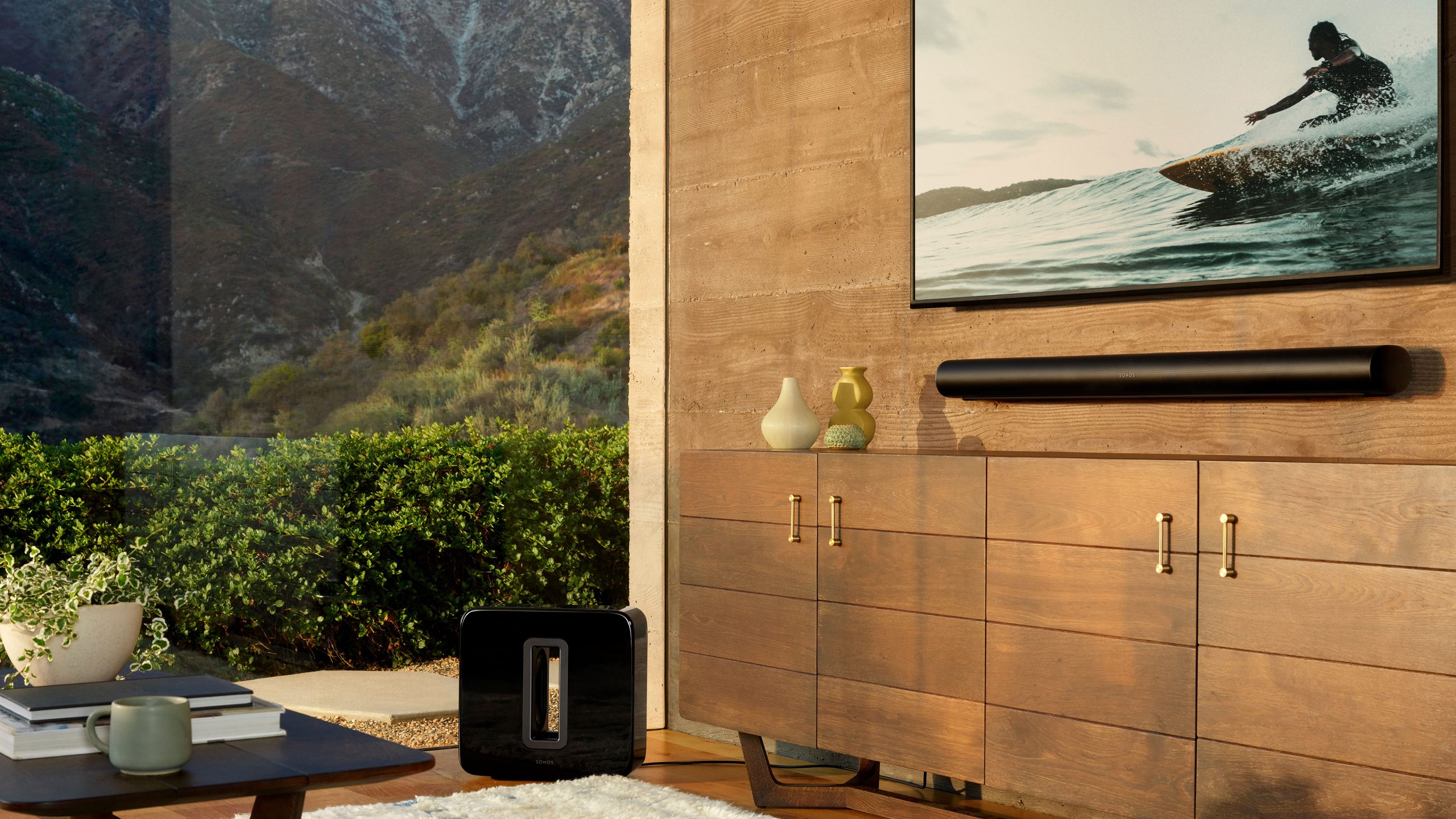 Very user-friendly setup
The actual setup of Arc went very easily. That is, since the product was not officially available during the test period, I had to go through an obstacle course to set up a beta app on my iPhone, but then it all went very easily.
The beta app is relevant to mention here, because Sonos strongly advises against setting up existing products in a system with Arc, as these products are also put into beta mode. In other words, it was not free to try out the Arc with an existing Sonos Sub at this time, nor try out a pair of Sonos One as rear speakers.
I have therefore this time tested the soundbar all alone, so we will at a later date come back to a test of Sonos Arc together with a subwoofer and rear speakers. Because where I think the cheaper and smaller Beam will to a greater extent be bought to be used all alone, I would guess that many Arc customers want to pair it with the subwoofer. And maybe even with rear speakers.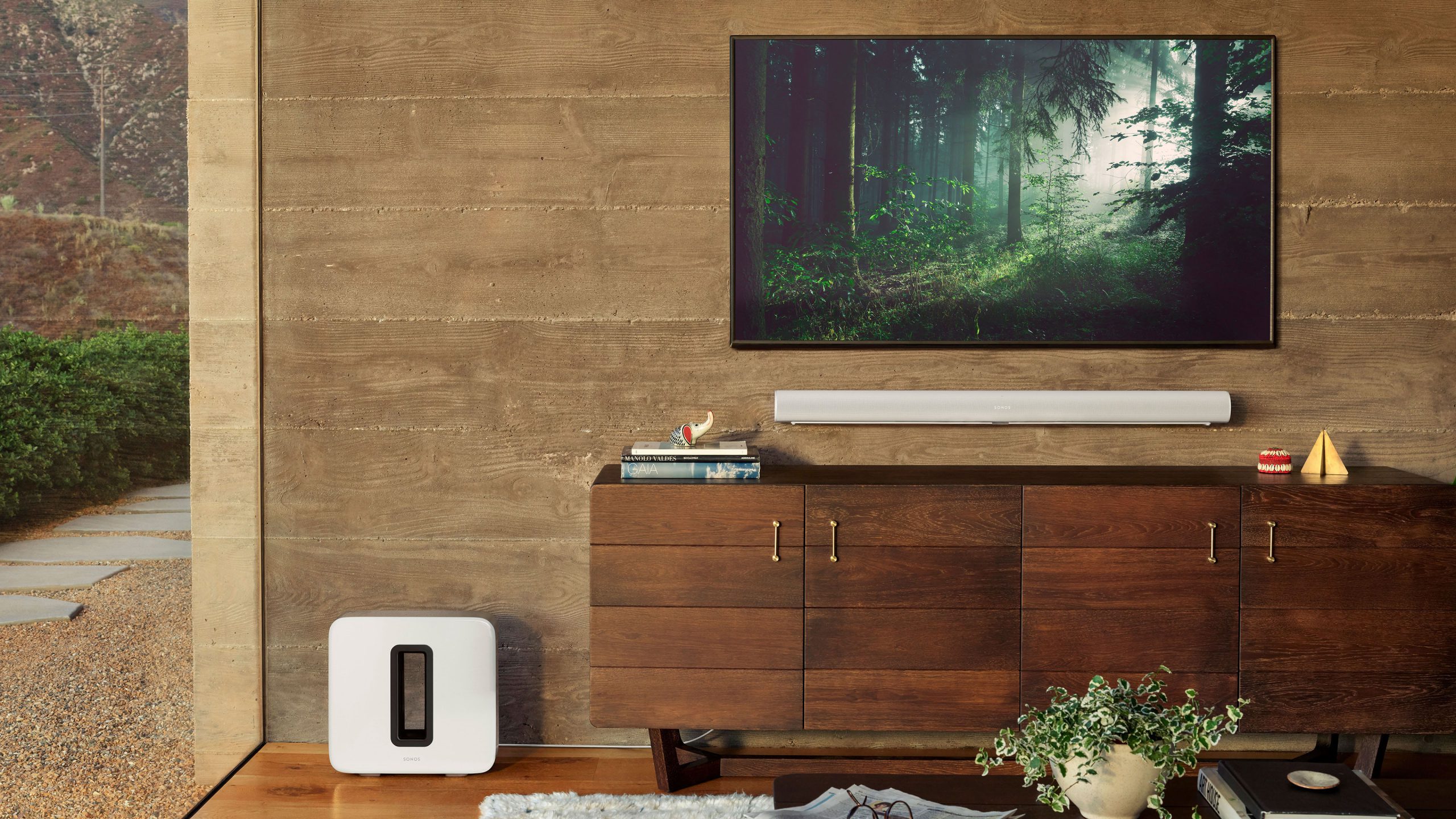 Convincing surround sound
Once everything is set up, including TruePlay, just spin the movie on the TV. Or listen to music, with one of the many streaming services supported directly in the app.
With the Netflix app on the Samsung Q90R TV, I was impressed by one thing in particular: the surround sound. In some car scenes in the documentary Formula 1: Drive to Survive, it really sounds as if the cars are coming from behind, and driving around me. In a big soundscape, where the speakers have actually disappeared from it all. Sometimes it is almost difficult to understand that there are no rear speakers connected here. Or speakers in the ceiling – for the Atmos effect is definitely impressive.
The DSP does an impressive job, because where most soundbar manage to stretch the sound image a bit in size, it is at the expense of sound quality, dynamics and general credibility. It often sounds sharp and metallic, and without the surround effect being particularly impressive.
Crystal clear dialogues
It is never a problem to hear what is being said, the dialogues are not woolly, but instead crisp and open. That is, with TruePlay disabled, it sounds rather sad and woolly, especially with the plank laid on a TV table that resonates a lot. That is, most TV tables. But with TruePlay, the tumor disappears in the upper bass area, and the voices come out clearly.
High definition audio with Blu-ray
Of course, in addition to various Netflix content, I also had to check out Blu-ray with high-definition Atmos audio. And with Gemini Man in the drawer, I felt that the soundscape breathed more. There was more air, a larger and more transparent room, as if a fog I did not know was there had suddenly settled.
The dialogues are impressively clear, and I suspect that the very enveloping surround sound is only beaten by the over three times more expensive Sennheiser Ambeo. If you do not count with sound boards with separate rear speakers.
The bass is also fuller than expected. Sure, it would add extra speed with an external subwoofer, but I do not really miss bass here. The sound is very nicely connected.
Unfortunately, I did not get to check out the same content on Netflix and Blu-ray, because none of the physical titles on the shelf were on Netflix with Atmos. But even if the evidence thus becomes quite anecdotal, there is little doubt that high-resolution Atmos has something to offer. And that even a soundbar like the Sonos Arc is able to portray it.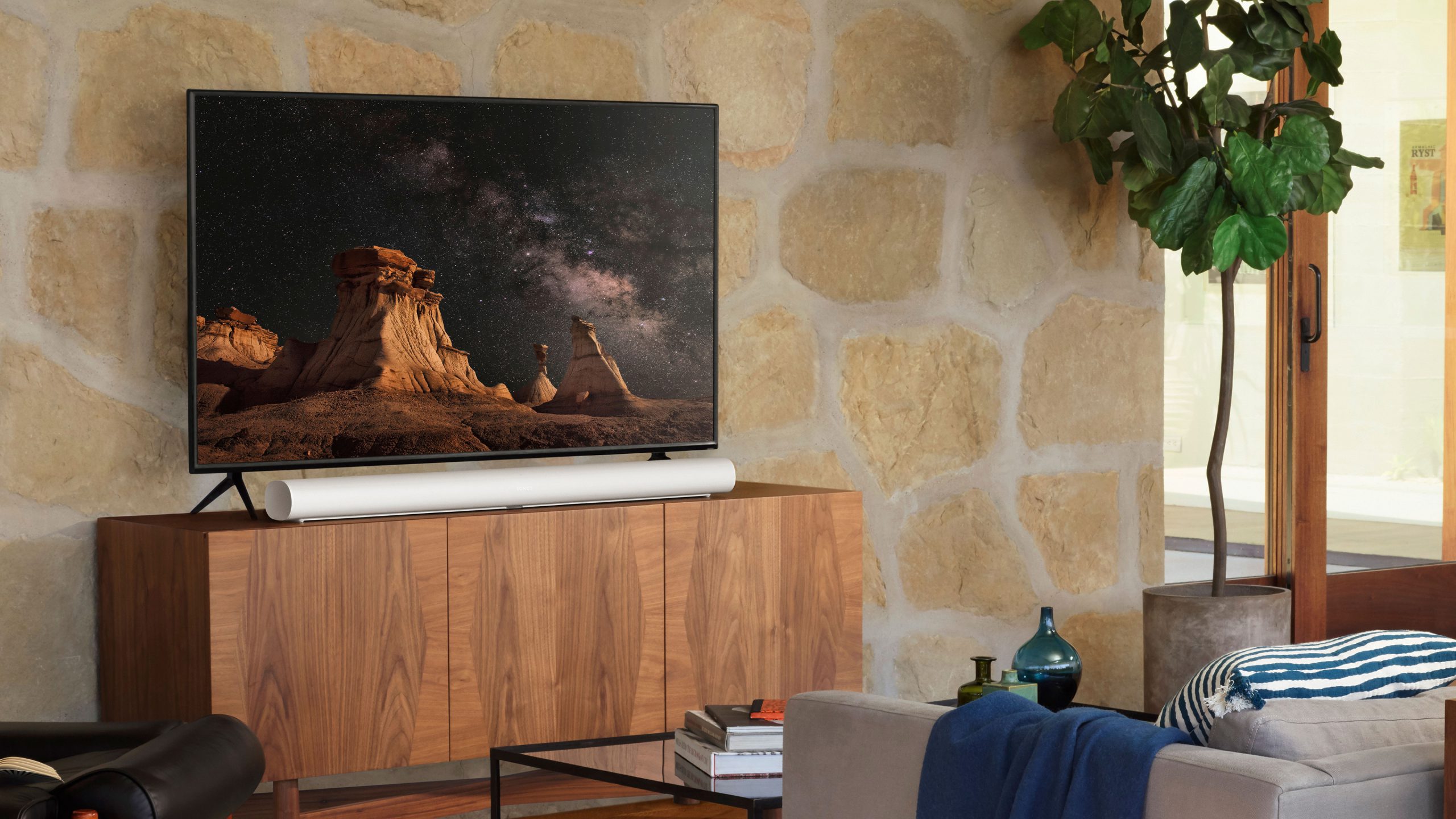 The Sonos Arc has limited dynamics
As good as the sound is, I gradually notice that the Arc has neither inexhaustible amounts of power, nor infinite dynamics. In fact, the dynamics are the least impressive.
It sounds a bit… dare I say it… tame. First of all, you have to turn up the volume almost to the maximum if you are going to approach a proper cinema night in the living room. But even then, it lacks a little touch. It sounds nice and clean, and impressively large.
This also applies to music, so that being said. I have listened to a good deal of both electronic and acoustic pop, and also classical music, and it happens again that it gets a little anemic.
Tamer than Samsung
The arch-enemy of Sonos will be Samsung's top model. Currently it is called HW-Q96R which includes wireless rear speakers in the system, and if you do not need this you get the same sound from HW-Q86R. Which you get for about the same price as the Sonos Arc, and then you also get a wireless subwoofer included in the price.
The aforementioned Samsung soundbars play with much more impact than the Sonos Arc. There will be more thunderous home theater experiences. Sure, the subwoofer gets its share of the credit for this, but the Samsung boards also have a higher gain, meaning they have the ability to play louder – especially with recordings with a low average sound level. With classical music, for example, you will quickly have the Sonos Arc at maximum volume, where you still have plenty to do with the Samsung boards.
But the two planks from Samsung will be replaced soon, and then it is perhaps more real to talk about the Q800T. We have not received this in a completely finished version, so the sound may change when it arrives in the store. But this one also had more speed than Arc.
Arc on the other hand sounded cleaner, much bigger and wider and with better surround illusion. And add a subwoofer to it, and you get an overall better – and much more expensive – solution. But even if you then get much more power in the bass, a subwoofer will hardly fix the tameness from the midrange and upwards. We'll see.
Why not adjustable TruePlay?
Although the TruePlay feature cleans up, removes tumors and provides cleaner sound, it also removes some fullness, especially in dialogs. The chest sound becomes smaller, voices and film music become thinner. It is surprisingly good with foot down in the bass, but further up in the bass register it is quite tame. I got better results at work than at home in the living room, but even there there is a lack of fullness and impact in the lower midrange.
There is also more than enough energy in the treble area. I can adjust this in the tone setting, and it helps to pull down the treble a bit. But there is nothing that can be done to get the pondus back in deeper male voices.
One solution could be a stepless adjustment of TruePlay. So you can choose how much portion of TruePlay activation you want. Mix corrected with uncorrected sound. Devialet does this with great success with its SAM correction filter in its amplifiers. You do not always want all functions at max.
Trouble with HDMI (but not because of Sonos)
Finally, a little note about HDMI, which can be a source of headaches. I sat out in the office and tested a bit with colleague Audun Hage (yes, we complied with the infection control rules). It went painlessly with Netflix on a Samsung TV (Q80T), but when we connected the 4K Blu-ray player Panasonic DMP-UB900 to test high-resolution sound, we had problems with lipsync, where the sound hangs a bit after the picture. And since you can not adjust the sound forward in time – only backwards – we could not fix it. It's not much, but enough that it does not match the lip movements. We are drawn out of the illusion, reminded that the film is just a recording, and that all the voices are put on in the studio after the filming. Timing is important!
When we then switched to a Panasonic OLED TV (HZ1000), the lipsync problem suddenly disappeared. There it sat like a shot!
The Sonos Arc is not the problem here. And neither does the player, since it worked with the Panasonic TV (and the player does not have this problem normally). But it's not sure it's the Samsung TV either. HDMI is something here, which can present problems. Two products can have an unfortunate match, even if on paper they support the same protocols and copy protections.
To be as sure as possible that everything runs smoothly, all products should have up-to-date software, and use a "high speed" HDMI cable between the TV and Blu-ray player.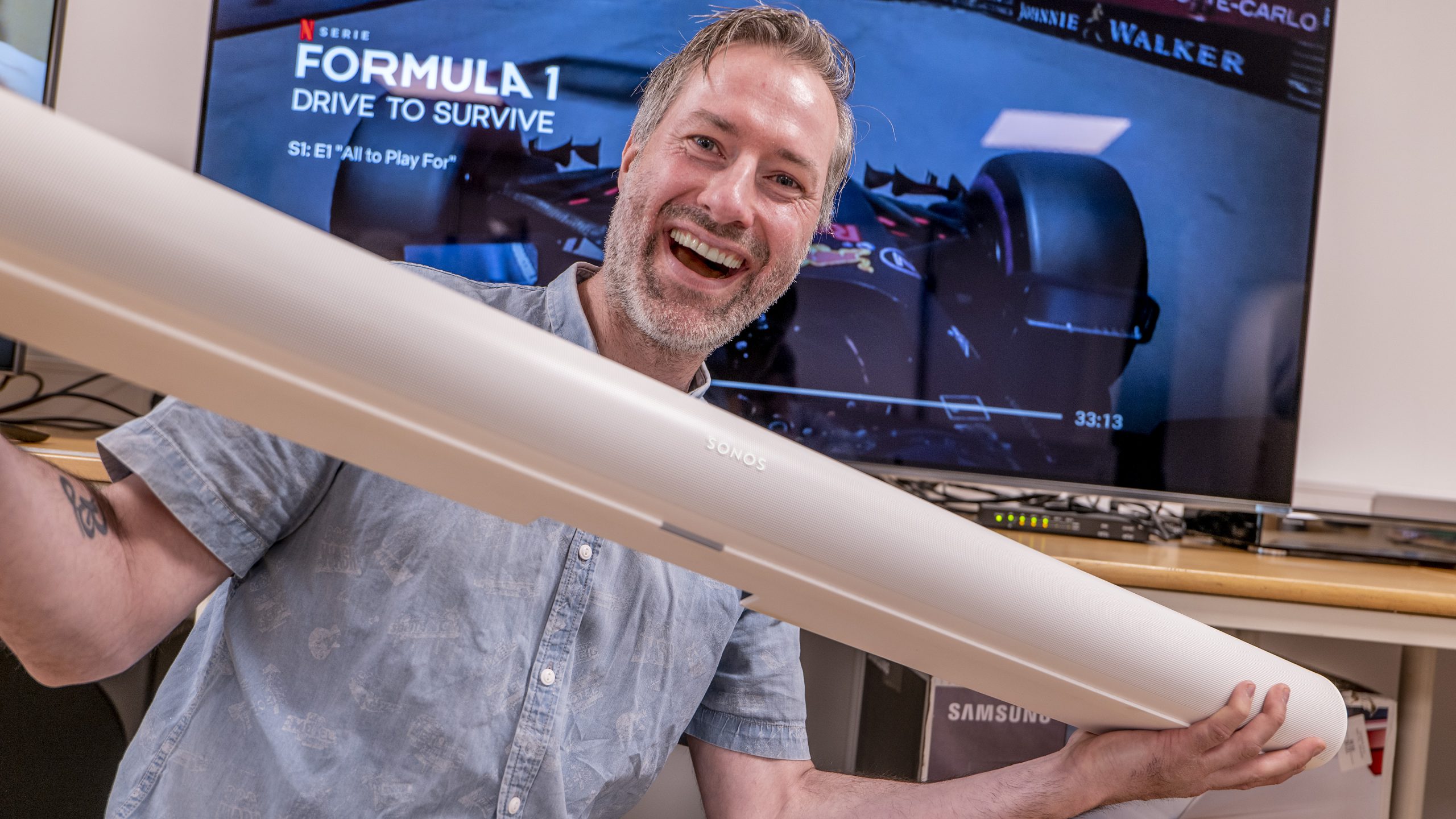 Sonos Arc: conclusion
The Sonos Arc is a large soundbar, with very good usability. Due to the beta version, we have not been able to test it in family with other Sonos products, and thus no new features in the S2 app, but we are looking forward to that.
In terms of sound, the Arc impresses with a great illusion of surround sound, reminiscent of the experience we had with the three times more expensive Sennheiser Ambeo. Arc is really a killer here, and strictly speaking does not need rear speakers at all. But you can if you want.
The sound is very clear and open, the dialogues are ready, and everything is fun with both film and music.
Mostly. There is a lack of dynamism, we experience the sound as a small tame at times. You can raise the volume, but it's not as much speed and fun as with some others.
We also wish we could choose the degree of TruePlay calibration, as it can remove a little too much fullness in the midrange.
All in all, the Sonos Arc is still a very well-sounding soundbar, which we think many people will be very happy with. It also costs less than it could have done. If you already have Sonos, the Arc is a welcome addition to the family. If, on the other hand, you do not have a Sonos, it is not certain that this is the one you start with.