Geir Nordby
Published

2022-06-24 - 8:07 am
Very user friendly. HDMI input. Powerful enough to drive serious speakers.
Lacks a little dynamism and raw power. Room correction does not work with third party speakers. Has increased too much in price.
Specifications
Output power: 2 x 125 W into 8 ohms
Damping factor: (not specified)
Inputs: RCA, HDMI (ARC), optical digital (requires adapter)
Outputs: Subwoofer (RCA)
Network: Wi-Fi, Ethernet
Streaming: AirPlay 2, Spotify Connect, Tidal, YouTube Music, Apple Music, Deezer, SoundCloud, TuneIn
Dimensions and weight: 6.4 x 21.7 x 21.7 cm / 2.1 kg
Colour: Black
Web: sonos.com
Sonos Amp can turn a pair of old-fashioned speakers into full-fledged Sonos multi-room speakers. As well as the Sonos interface, which lets you stream all your music dreams via the Sonos app, the Amp also has HDMI input and, if you buy an adapter, optical digital input too.
If you want, Amp can drive the rear speakers of a surround system, while the front channels are played by a Sonos soundbar. Or you can use two Sonos Amps: one in the front and one in the back.
Amp also has built-in AirPlay 2, so Apple users can stream music directly from third-party apps when they don't bother using the Sonos app.
There's also an analog RCA input, if you want to connect a turntable amp, for example. If you have multiple Sonos products in a multi-room setup, they can be grouped together to distribute the sound from the turntable around the house.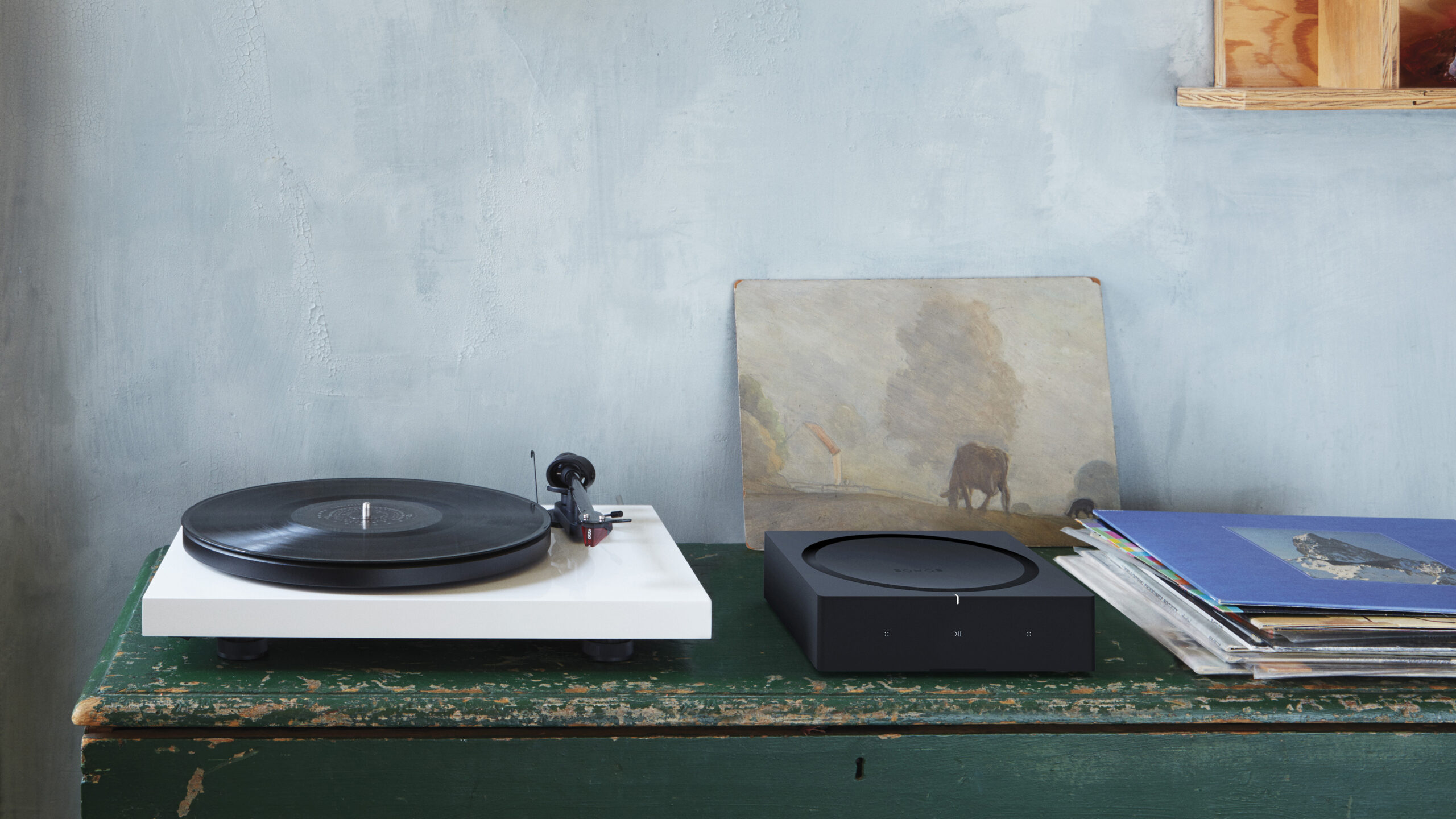 The sound of the Sonos Amp
The Sonos Amp sounds just as good now as it did when I tested it in 2019. But since then, the price has gone up by over 20 percent, and the demands on sound quality have increased accordingly.
The amp can drive both compact and floorstanding speakers just fine, and if you have a pair of more expensive speakers, the Amp actually manages to let the speakers have the last word when it comes to sound quality.
The sound has fine airyness, but it lacks a bit of dynamics and drive to properly capture and bring the music to life. It ends up a bit flat and unengaging.
If you have a pair of Sonos in-wall speakers (they're called In-Wall and In-Ceiling), the Trueplay room correction can adjust the sound according to the room. But not with any other speakers, except as rear speakers with a Sonos soundbar. Then the amplifier is included in the soundbar's Trueplay setup, and you get a sound that's more in tune with the room. With more air and less coloration as a result.
In any case, the Sonos Amp comes up short against the cheaper Harman Kardon Citation Amp, and it's only a notch better than the NAD Amp1 on sound quality. That makes the Sonos Amp too expensive.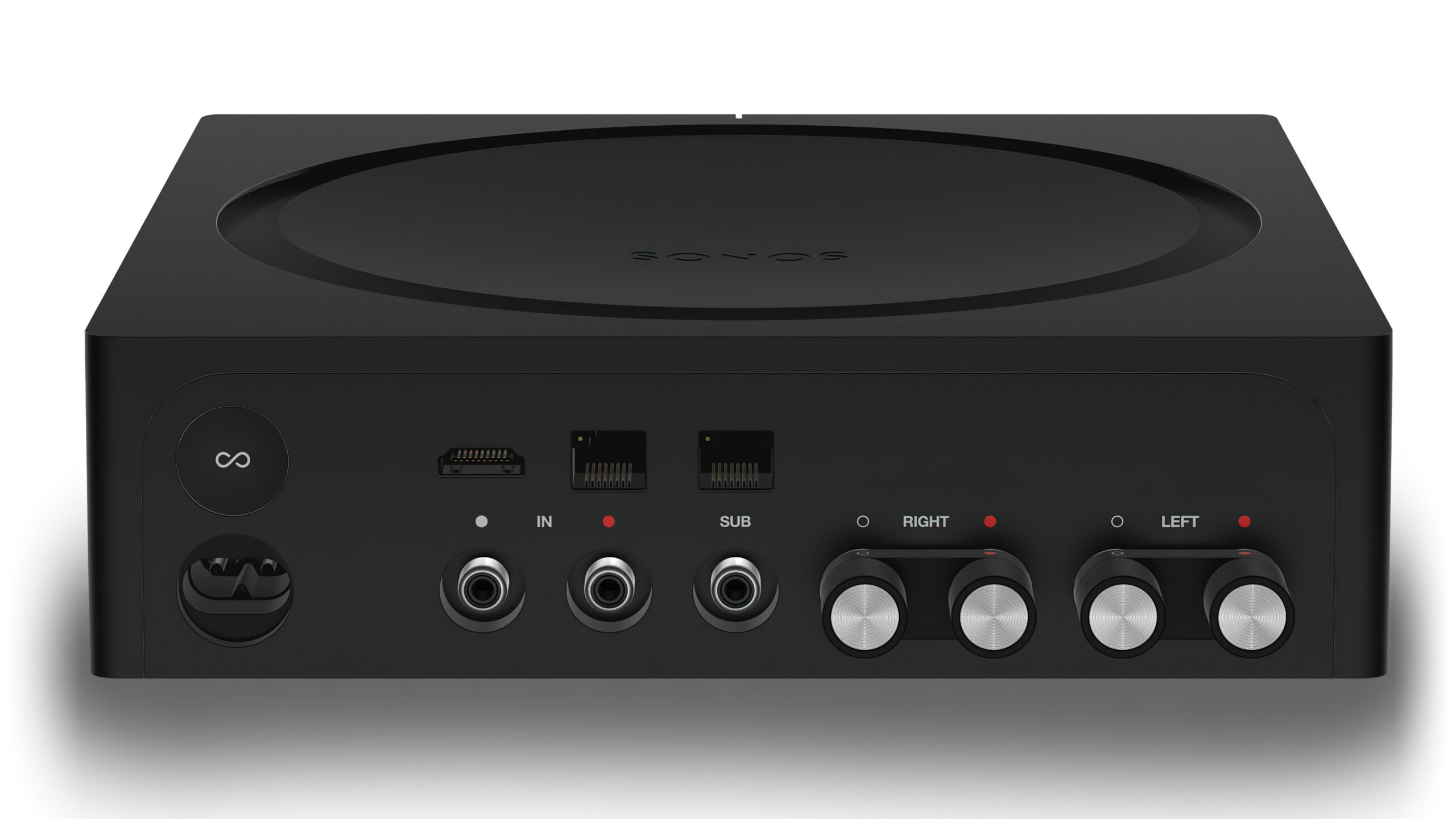 Conclusion
The Sonos Amp is a very user-friendly amplifier that does very well. It can drive more expensive speakers with great (enough) conviction to some extent.
If it had cost the same as at launch, it would still have got our clear recommendation. Unfortunately, the price has gone up by more than 20 percent, and so it seems too expensive. If you already have a Sonos setup and want to plug in your old speakers, you can buy it. However, if you can live with another brand, there are many other things we'd rather consider.
Also in this test
Marantz NR1200
A host of features
None in its class has the same connectivity options as the Marantz NR1200. It also sounds really good.
Lots of air and detail. Plenty of connections, including five HDMI inputs. Great streaming solution with HEOS.
We're missing a bit of punch.
Bluesound Powernode (N330)
Improved giant slayer
The tiny Powernode streaming amp from Bluesound has got even better and is definitely the strongest in its class.
More powerful than the others in the class, can play loud and powerful with excellent sound quality. Streams in HD quality, supports high-resolution MQA files.
However, it does not have inexhaustible powers either.
Cabasse Stream Amp
Steady Frenchman
Cabasse Stream Amp is not a new product, but it performs well in the modern streaming world.
Airy and detailed sound, big and detailed deep bass. Wide sound image.
Lacks some dynamics and can sound too polished.
NAD Amp1
All you need
The NAD Amp1 is small in size, but makes up for it with good, rich sound.
Pleasant warm sound with a fine sound bottom. Streaming with Chromecast is super easy. Extra plus for turntable input!
Could have had a tighter grip on the speakers, especially when turning up the volume.
Harman Kardon Citation Amp
Big amp in small package
The Citation Amp can stream just about anything, and it does so with better and bigger sound than most in its class. Watch out, Sonos!
Powerful and immersive sound. Easy to use. Supports most of what you need.
A USB DAC input would have made it the perfect desktop amp.