Lasse Svendsen
Published

2020-09-11 - 5:40 pm
Significantly upgraded performance with razor sharp screen, good connectivity, new T2 processor and relatively well priced. Also Mac OS then.
Comes with far too little memory. Apple charges very well for more memory and more SSD storage, and better graphics performance is not cheap either.
Specifications
Display: 27-inch 5K IPS display with P3 color space
Resolution: 5120 x 2880 pixels
Processor: 3.8 GHz eight-core Intel Core i7, Turbo Boost up to 5 GHz
Memory: 8 GB 2666 MHz DDR4 memory
Storage: 512 GB SSD
Graphics: Radeon Pro 5500 XT 8 GB GDDR6 memory
Connections: 4 x USB-A, 2 x Thunderbolt 3 / USB-C, 3.5 mm headphones, Ethernet, SDXC
Camera: 1080 HD Facetime
Dimensions, HxWxD: 51.6 x 65 x 20.3 cm
Weight: 8.92 kg
Other: Magic Keyboard, Magic Mouse 2, Bluetooth 5, 802.11ac Wifi.
web. apple.com
The latest edition of Apple's iMac is probably the latest with the well-known unibody design in aluminum, which has existed since 2009. Next year, a new iMac generation will probably come in a new design with Apple's own processors on the inside.
That does not mean that there is no point in sitting on the fence and waiting. For Apple has actually made so many upgrades to the 2020 model, that we see no reason to even consider an iMac Pro. Which has been the rawest editions, for users with extreme performance requirements.
The 2020 model can be configured with 10-core Intel i9 processors of 10-generation, much cruder graphics performance with 16 GB Radeon Vega Pro 5700 XT, and all editions have SSD storage as standard.
Actually, only the form factor is exactly the same as last year's model. Everything has been significantly improved on the 2020 model.
The iMac also has Apple's T2 processor, which provides better security and encrypts data on the SSD, stores passwords, payment data and ensures that software does not corrupt the computer or performance.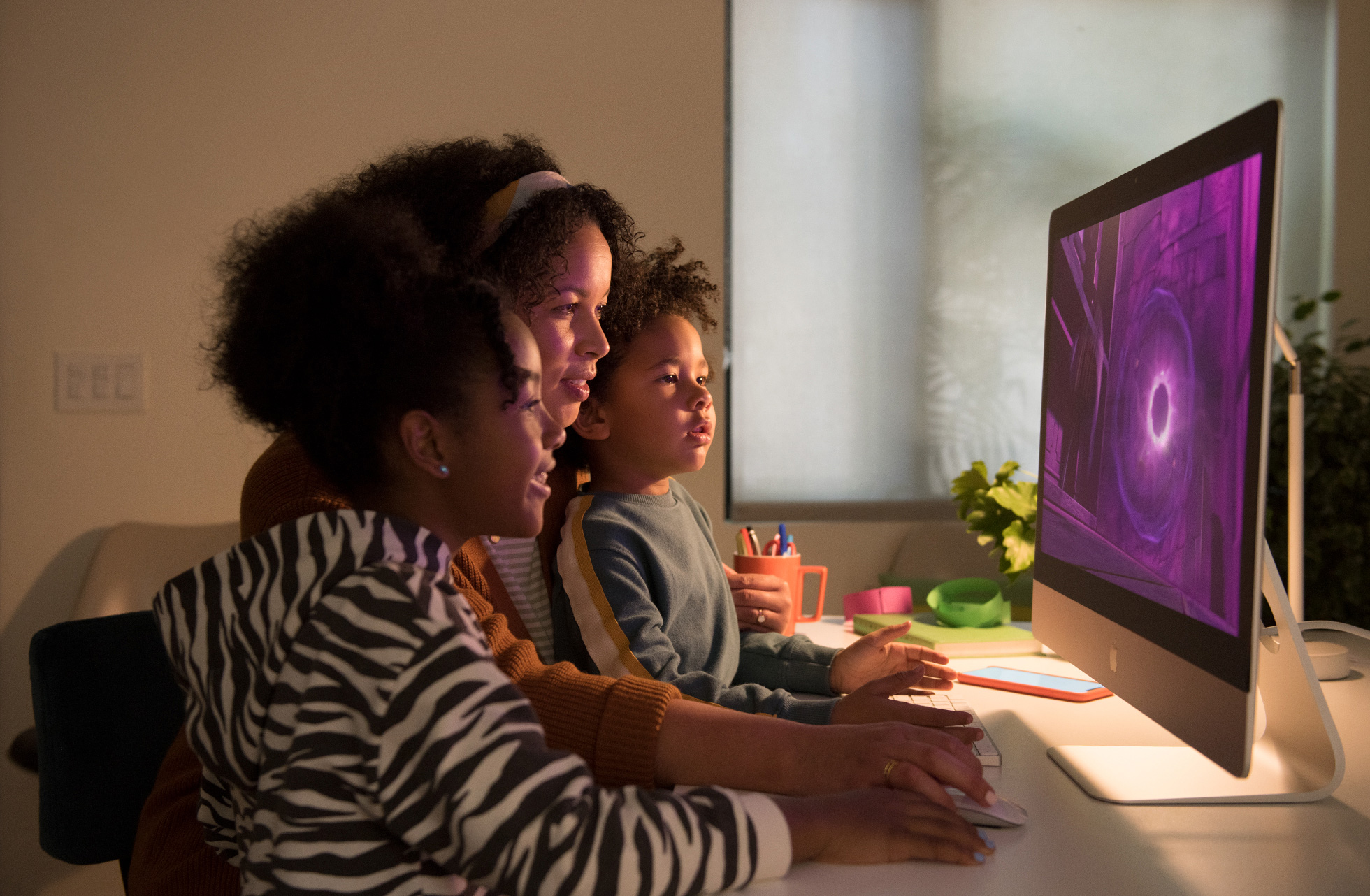 Many editions to choose from
The 27-inch Apple has an outstanding 5K screen with P3 color space and True Tone that adapts to the light in the room. It can also be supplied with a different front glass, with a nanotexture that is etched into the glass, and not applied, which provides a matte surface for those who want minimal reflections.
The entry-level model is physically similar to our test copy, but has a 3.1 GHz six-core processor, 256 GB SSD storage, and 4 GB Radeon Pro graphics processor, and costs NOK 7,000 less.
There is a 3.3 GHz version with 512 GB SSD storage as well, and you can configure a selected machine with an even more powerful processor, better graphics performance and more SSD storage.
The three editions, including our test copy, have one significant drawback: They only come with 8 GB of memory, which is far too little for any computer, not to mention an iMac for between 2,000 and 3,000 bucks.
16 GB of memory is a minimum, and if you are going to use your iMac for heavier tasks, such as Final Cut Pro X, Cinema 4D and Photoshop, 32 GB is a minimum.
Of course, you can add more memory when you buy your iMac, but you should definitely not buy memory from Apple. Even though they say that they test the machine for 72 hours first, and guarantee the performance and quality, NOK 7,500 for 32 GB is rough.
Buy two 16 GB 2666 MHz DDR4 memory chips elsewhere, and save around NOK 5,000, which you can rather put in a faster processor or better graphics performance.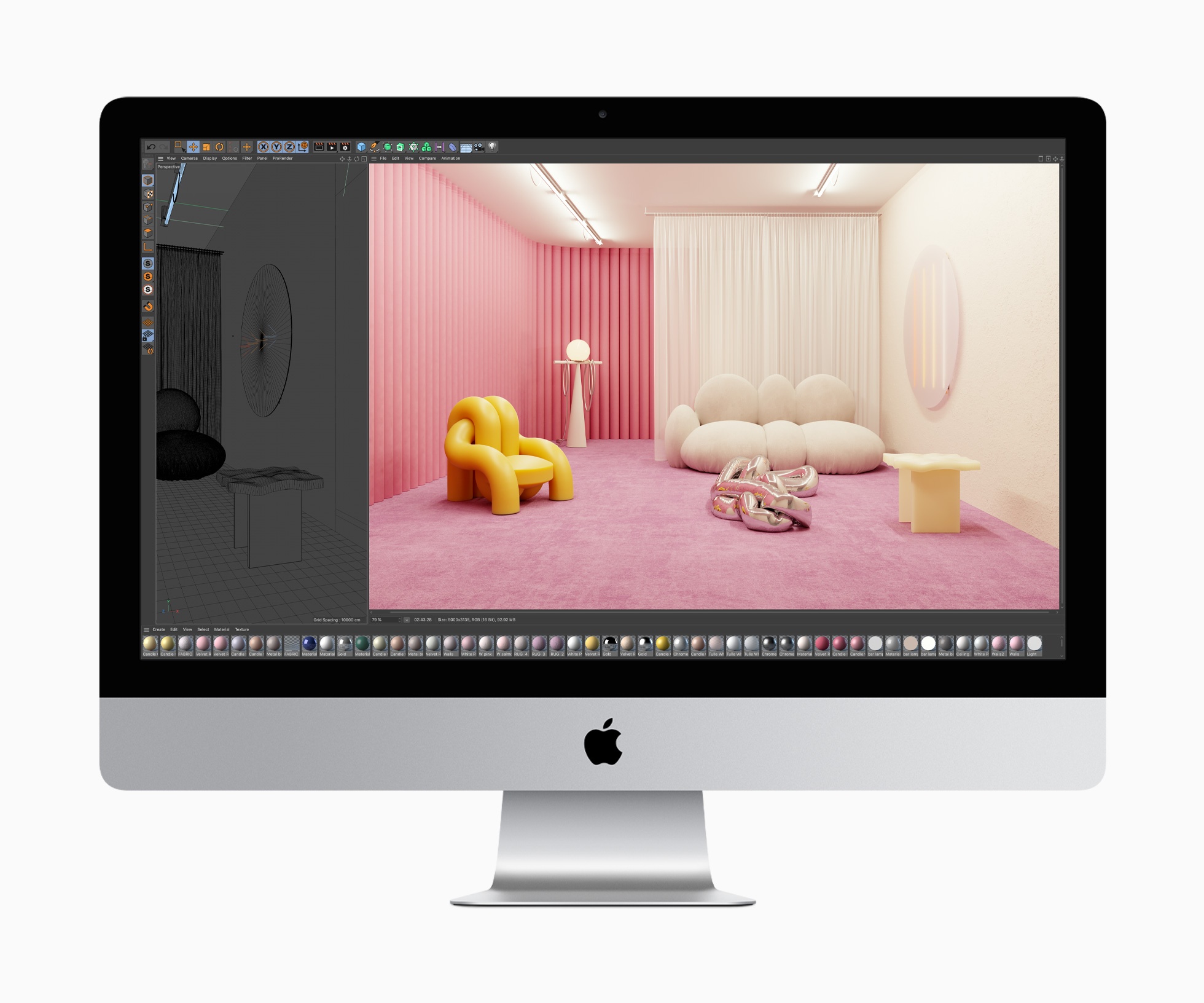 Memory speed
The 10th generation Intel processors in the 2020 models of the iMacs support up to 2933 MHz of memory, but Apple has chosen a motherboard that supports up to 2666 Mhz, for whatever reason. Apple also declined to comment on the reason for choosing lower memory speeds when we asked them a few weeks ago.
Note that memory is the only thing you can upgrade even after the purchase. Everything else must be configured before shopping, afterwards it is too late.
Here's how to do it
Upgrading the memory is easy. Remove the power plug at the back, insert the tip of a pen into the opening at the socket, and remove the pop-up cover. Insert the memory cards in pairs with the same value (as shown on the inside of the cover), either in slots 1 and 3, or 2 and 4, if you have two pieces, for the best possible pairing of the memory chips. Replace the cover, plug in and switch on the machine.
Test machine
Our iMac was the same 27-inch with an eight-core 3.8 GHz i7 processor, which can be found in stores and at the Apple Store. It comes with lean 8 GB of memory, 512 GB of SSD storage, Radeon Pro 5500 XT graphics processor with 8 GB of memory, and Apple's wireless mouse and keyboard.
With that as a starting point, you can configure it with a 10-core i9 processor at 3.6 GHz which, despite the lower clock frequency, gives you even more processing power. The glass can be replaced with the matte nano-glass for a hefty surcharge in the price, it can – but you must not decide to do so – is delivered from Apple with up to 128 GB of memory at a price that doubles the price of the machine (!).
It can also be delivered with up to 8 TB with SSD storage, and the aforementioned Radeon Pro 5700 XT graphics processor, but here you have to consider what you really need. Most people manage with a standard graphics processor, or Radeon Pro 5700 with 8 GB of memory.
The machine can also be equipped with 10 Gb Ethernet, which provides faster wired transmission between machines in e.g. a business, but for most people who want to use the iMac connected with Wifi, there is nothing to pay extra for.
5K-screen
We already know the 27-inch LED-illuminated IPS screen. It barely needs to be calibrated and supports P3 color spaces, with a larger color spectrum than RGB, and has Apple's True Tone technology that adapts the brightness and white balance to the surroundings.
External screens
Like all newer Macs, you can connect an iPad wirelessly and use it as an external monitor with Apple's Side Bar. You can also connect an external 5k or 6K monitor, two if you have chosen one of the Radeon Pro 5700 graphics options, or two 4K monitors in either UHD or DCI resolution. Good to know for those who do a lot of video editing.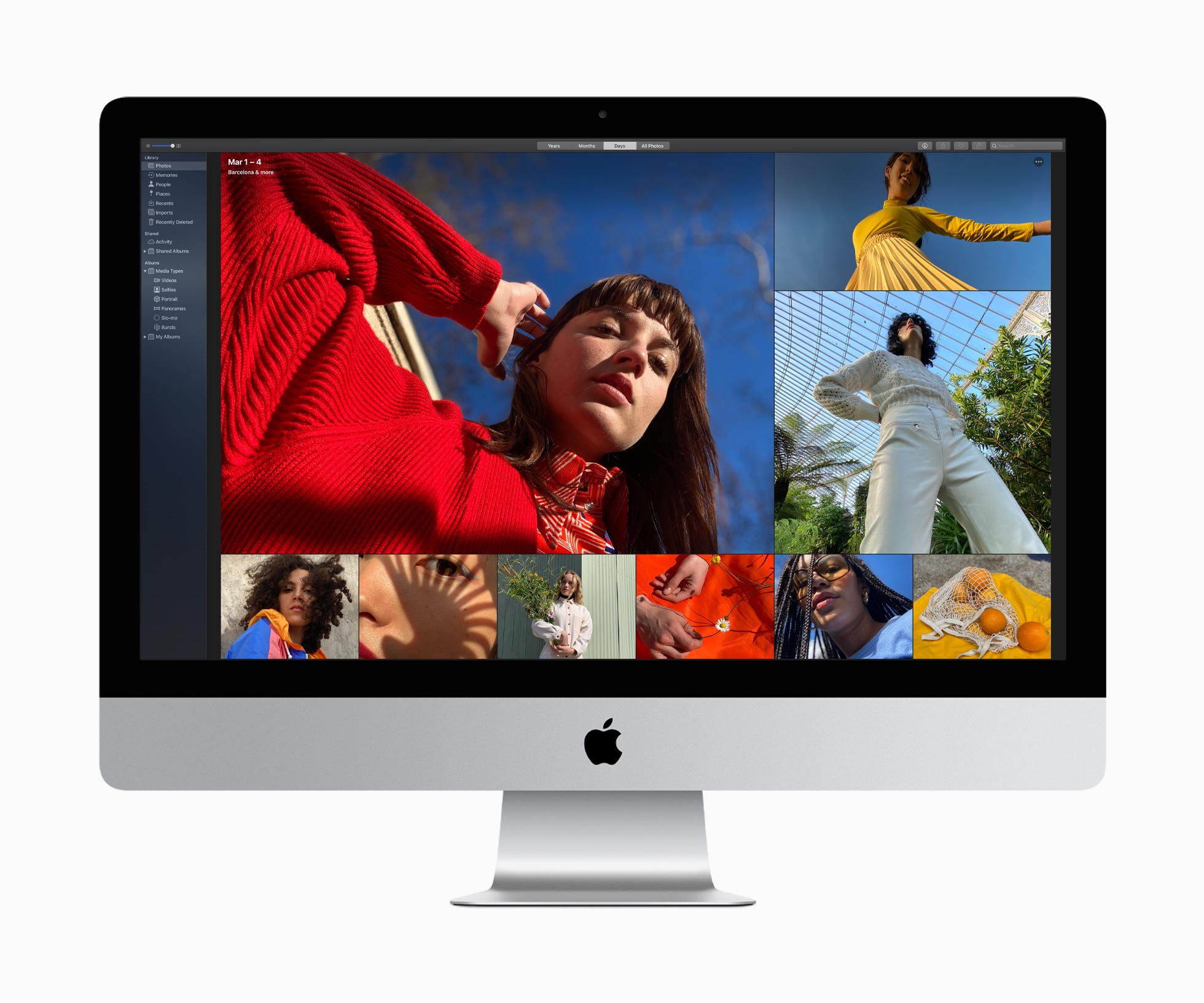 Connections
On the back you will find four USB-A connectors and two USB-C connectors, which support Thunderbolt 3 and up to 40 Gbps transfer speed. The last two are used when connecting an external monitor, with HDMI, DVI or VGA.
The two speakers on the inside provide stereo sound from the slots on the underside, and the machine has three microphones and an HD camera integrated on the front. Headphones or external speakers can be connected from the 3.5 mm port on the back, and next to it, there is a card reader for SD cards.
Faster than ever
Since we did not test the previous generation iMac, we rely on previous tests, and the test of the iMac Pro from 2019. By the way, it was equipped with a 3.2 GHz eight-core Intel Xeon W with Turbo Boost up to 4.2 GHz, 32 GB 2666 MHz DDR4, a Radeon Pro Vega 56 graphics processor with 8 GB of memory, and a 1TB SSD.
At the time, it cost almost double what our test machine cost here, and at the time, it set a performance record in our tests.
Now, just over two years later, we see that a comparison of the test results in Geekbench 4, shows that the picture is not as obvious as one would think.
Single-Core – Multi-Core
iMac 27''' 2020: 6242 – 32467
iMac Pro 2018: 4917 – 30571
The new iMac generation with 3.8 GHz i7 processor scores noticeably higher on both single- and multi-core tasks, and it does not unexpectedly beat Apple's well-specified 16 " Macbook Pro in Geekbench 5:
Single-Core – Multi-Core
iMac 27''' 2020: 1261 – 7479
MBP16 2019: 1133 – 7240
The figures show that the iMac is a veritable powerhouse in terms of processing power, at half the price of an iMac Pro, but that the newer 16 " MacBook Pro with an eight-core i9 processor, 8 GB Radeon Pro 5500M and 32 GB of memory, does not is a lot behind the iMac.
If we test the performance of the Cinebench R20, the 16-inch scores 3582 points, while the iMac moves away with a score of 4926, which is also better than the iMac Pro at 3770.
The graphics test in the Basemark GPU gave a score of 4132 and an average screen speed of 41 fps, compared to 67 fps on the iMac Pro, which shows that the Pro model's more powerful graphics processor gives it an advantage in graphics performance.
Playing a video in MP4 HEVC and 4K DCI resolution and 2.55 GB, took over half of the machine's memory capacity, and showed why we believe that Apple delivers the machine with far too little memory. Post-processing in Final Cut, or batch processing in Photoshop, will get your computer on its knees fairly quickly with only 8 GB of memory available.
Conclusion
Apple's latest generation iMac with the classic unibody design has never been a better choice than now. For half the price of an iMac Pro, you get better performance on almost anything you can think of, if you have put in a lot more memory, and especially if you have upgraded the graphics processor when ordering the iMac. It is a machine that can last a long time. because the performance is so good that it does not make sense to sit on the fence waiting for the next generation. Which could be Apple's first iMac with a new design since 2009, and the first with Apple Silicon, their own processor architecture.