John Hvidlykke
Published

2022-09-23 - 12:00 pm
A lightning-fast machine at a price that doesn't hurt too much. QHD display.
Beautiful, it is not, and the price of the higher screen resolution is slower refresh rate.
Specifications
Processor: 3.5 GHz (max turbo 4.7 GHz) Intel Core i7-12700H 14 cores w. 20 threads
Display: 15.6″ QHD IPS (2560 x 1440), 165 Hz, G-Sync
Memory: 16 GB 4800 MHz DDR5 RAM
Storage: 1TB GB SSD
Graphics: Nvidia GeForce RTX 3070 Ti w. 8 GB GDDR6
Operating system: Windows 11 Home, 64-bit
Dimensions and weight: 35.9 x 2.6 x 27.6 cm / 2.4 kg
Other: Wi-Fi 6E, Bluetooth 5.2, HDMI, 3 x USB 3.2 Type-A, 1 x USB-C (with Thunderbolt 4), Mini DisplayPort 1.4, Ethernet, HD webcam, 3.5 mm audio
Web: acer.com
Geekbench 5: 12.506 (multi-core), 1.704 (single-core) Geekbench 5 Compute: 123.104 PC Mark 10: 6.969 3DMark Port Royal: 6303 3DMark Time Spy: 11.331 3DMark Fire Strike: 25.099 3DMark Wild Life Extreme: 22.556 3DMark Wild Life: 54.457 3DMark Night Raid: 48.601 Cinebench R15: 193 fps / 2.797 cb Cinebench R23: 15.789 (multicore) / 1.797 (single) HD Tach: 1.535 MB/s Battery test: 3:57 hours
Benchmarks
Price 2299
Product page
Acer's gaming brand, Predator, has gradually taken hold. Several of the machines we've tested from there have been among the fastest at the time of testing. They've also been correspondingly expensive.
The Acer Predator Helios 300 isn't a top model, but it's at the better end of the premium segment. In other words, a machine that you may have to save up for – but not for ever.
No-nonsense gaming
The Acer Predator Helios 300 has a classic gaming design: namely a relatively thick and heavy PC in an angular, jet-black casing. Acer even calls the colour Abyssal Black. The blackness is broken only by a logo in silver and neon blue on the lid. And since we're in the gaming department, all keys are individually RGB-lit. But there's none of the orgy of luminous colour bars we've seen on more expensive gaming computers.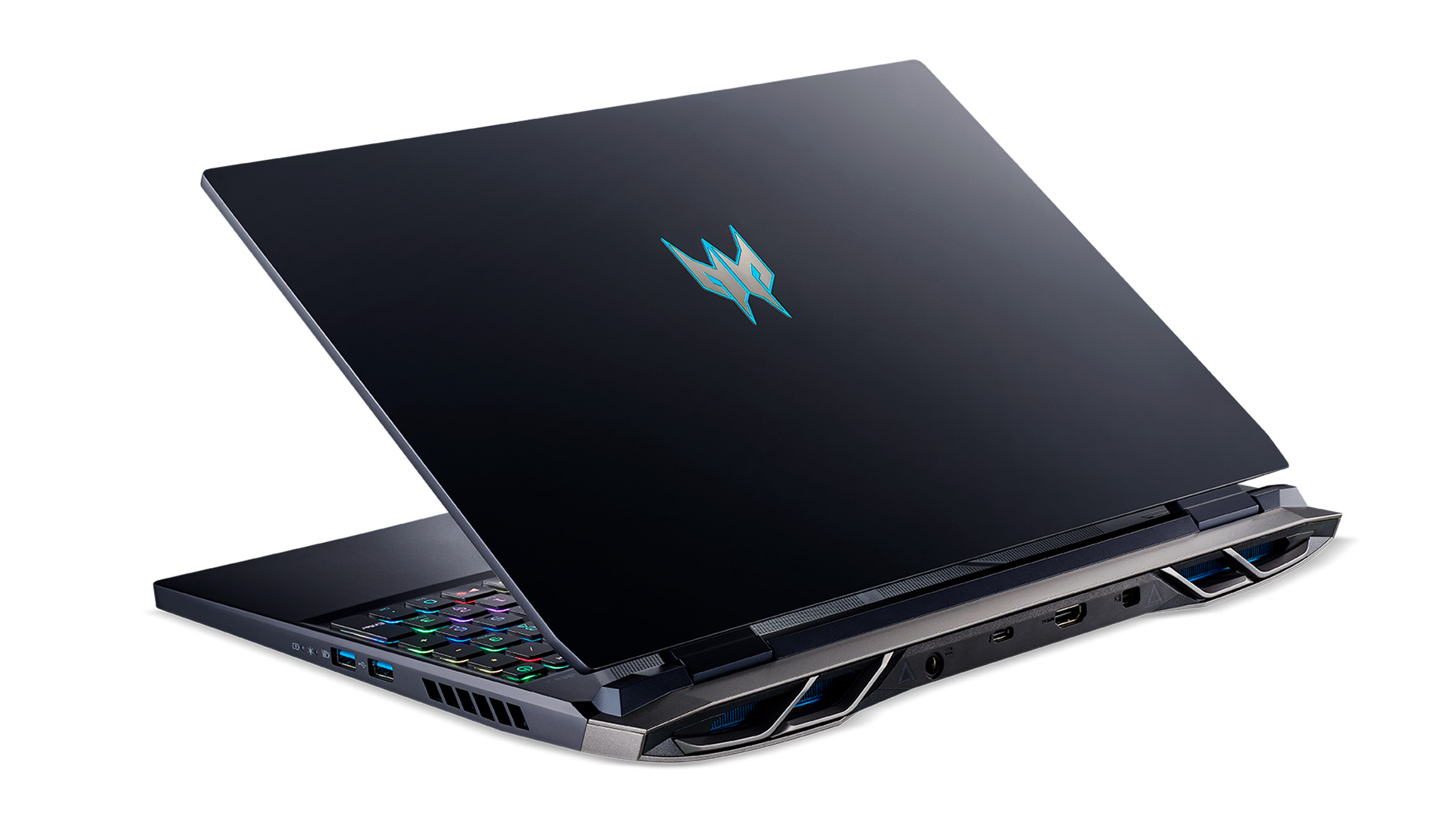 A gaming computer can be big and heavy, as long as it delivers the goods in terms of 3D action with enough frames per second. It is also easier to achieve adequate cooling when the enclosure is large.
Higher resolution than usual
The 15.6-inch screen is in the old 16:9 widescreen format, which is still the norm for gaming. But the enclosure is curiously in the higher 16:10 aspect ratio. That means there's a fairly wide bezel under the screen. The screen is quite nice, by the way, and the resolution is QHD (2560 x 1440 pixels), which is a step up from the age-old Full HD format.
The downside of the higher screen resolution is that you have to live with a slower refresh rate. 165 Hz is just enough to play fast 3D games without any visible stutter or lag. The screen has Nvidia G-Sync to prevent the image from tearing when things get fast.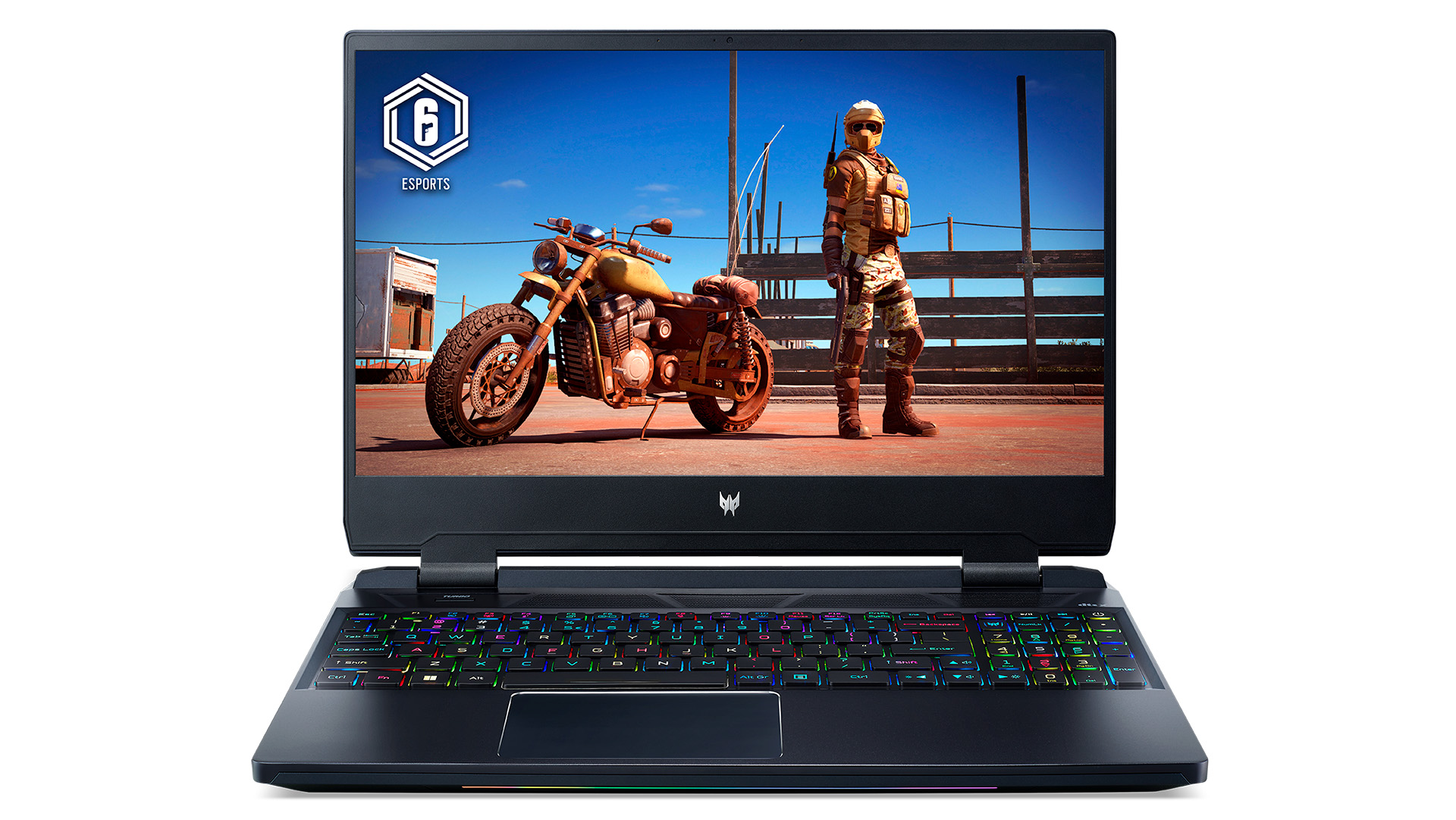 Good, colourful keys
The keyboard, as mentioned, has individual illumination behind each key. There's also been room for a separate numeric keypad without squeezing the size of the keys too much. Gamers in particular might have preferred Acer to use all the space on the main keyboard, though. The quality is also very good. The keys have exactly the firmness and resistance needed to be sure whether a key is pressed or not. Which can save (or take) lives in the heat of battle.
A beast of a CPU
And then we come to the interesting part: the interior. The new 12th-generation processors from Intel are really fast. And the Helios 300 uses a Core i7-12700H, that's a 3.5 GHz beast with 14 cores and 20 threads.
The graphics card is an Nvidia GeForce RTX 3070 TI with 8 GB of video memory. So the second fastest Nvidia card for notebook use.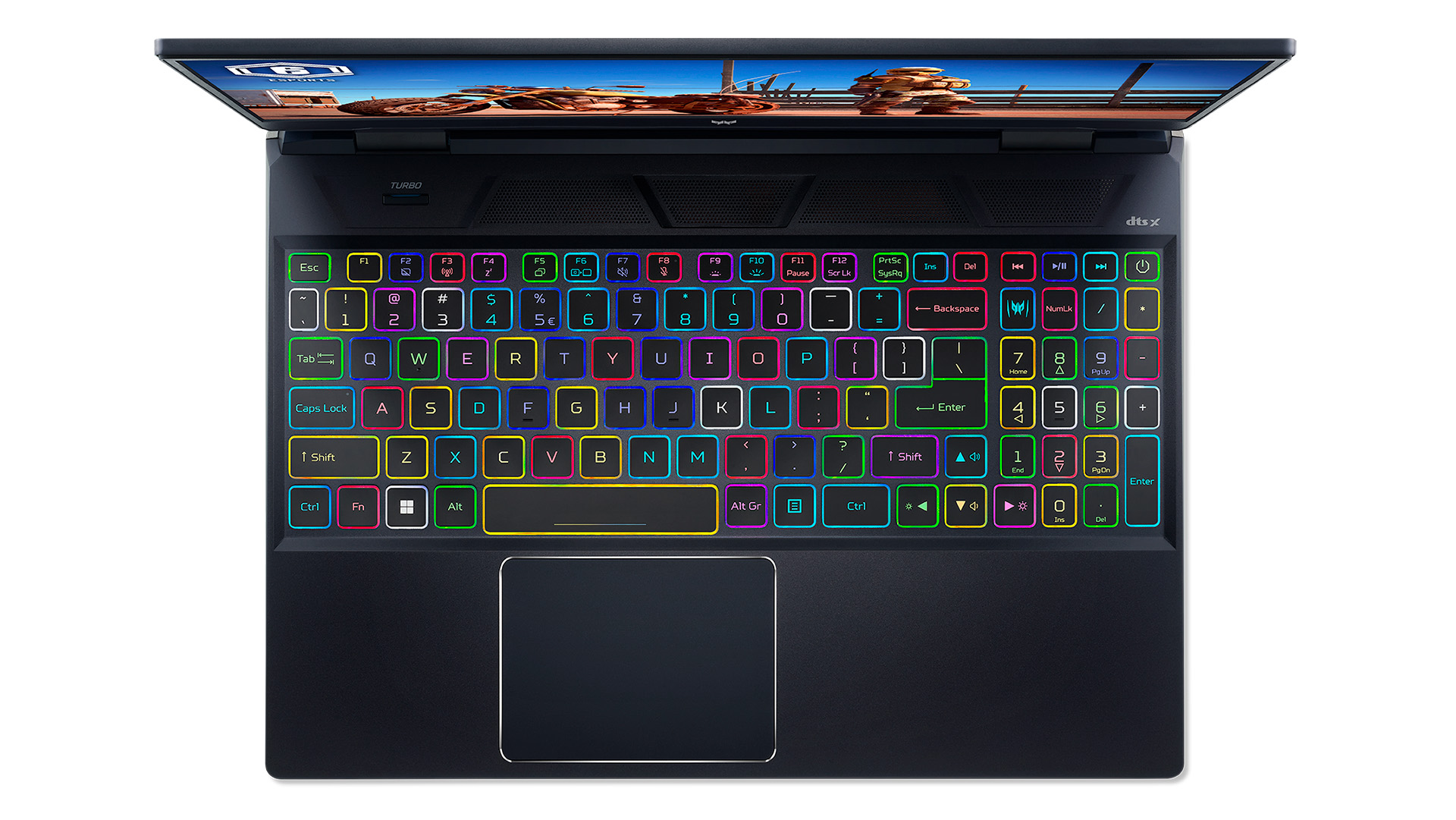 Benchmarks
The Acer Predator Helios 300 is a PC at a fairly reasonable price. That is, about half the price of the super-heavy machines. But although the price difference from the top is substantial, the difference in performance is much smaller.
The Geekbench 5 processor test ends with a score of 12,506 in multicore and 1,704 in singlecore. Only the i9-equipped Asus ROG Flow Z13 has been faster. And not by much.
The GeForce RTX 3070 Ti GPU is currently the second best mobile GPU from Nvidia. And it's doing an excellent job. In fact, the 3DMark Time Spy graphics test score of 11,331 is the best we've measured on a laptop to date. And the nearest competitors all had RTX 3080 graphics cards. In the pure raytracing test 3DMark Port Royal, the Helios 300 also comes in ahead of the on paper much more powerful MSI Creator Z17 (respectively 6,303 points for Acer and 5,695 for MSI)
The battery test goes better than we're used to when it comes to gaming PCs. It took almost four hours to drain the battery with a constant simulation of office applications. That's great, but of no practical importance, as games use far more power. And no one would consider using such a large and heavy PC as a school computer.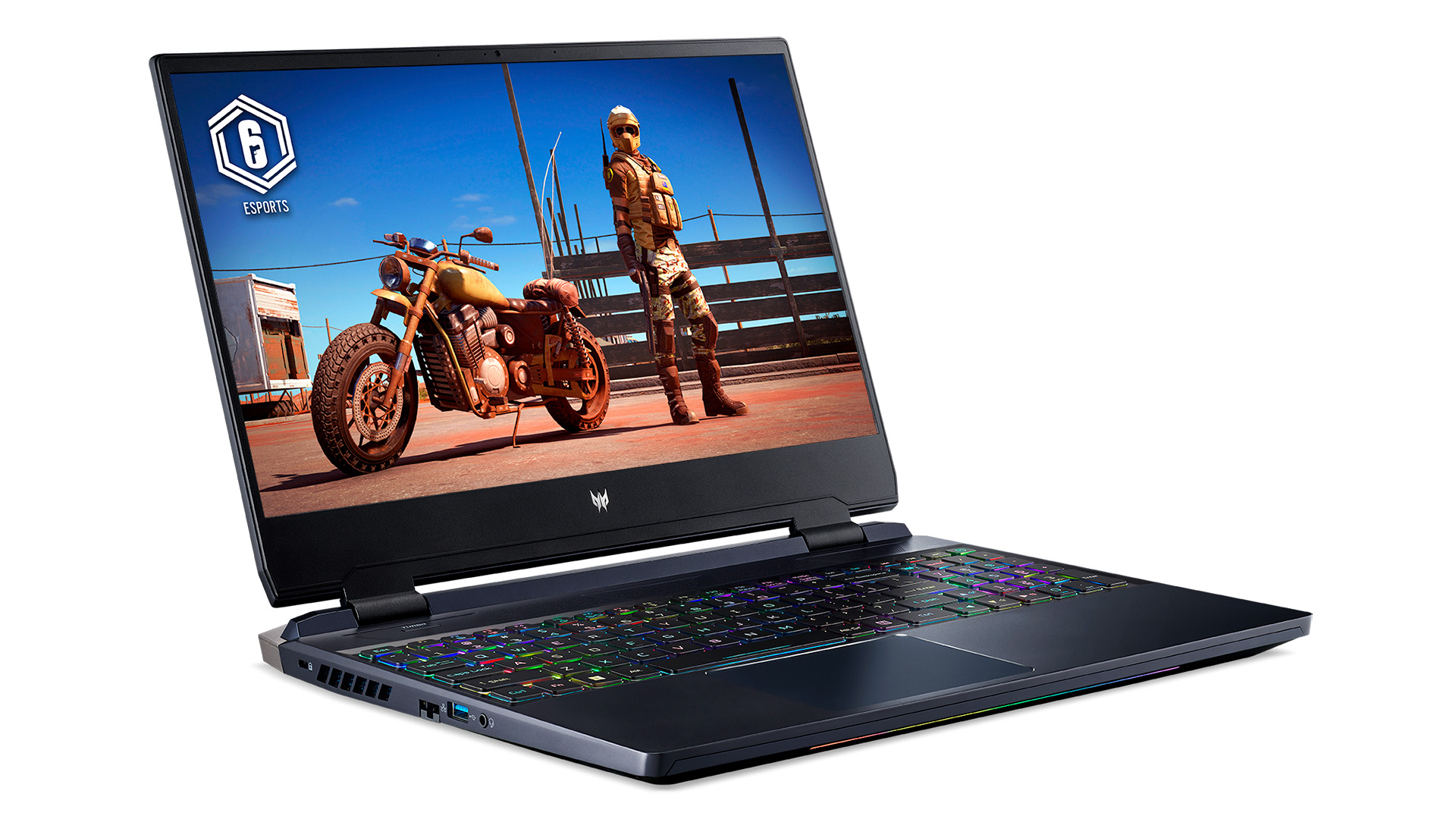 Conclusion
The Acer Predator Helios 300 is a gaming laptop in a price range that isn't cheap, but is still accessible to most people who want to spend a little extra on their hobby. And if you choose to spend the extra money on the Helios 300, you'll get performance that will satisfy all but the most fanatical pros. The GeForce RTX 3070 Ti card is almost as fast as an RTX 3080 card in all respects, but significantly cheaper. And the processor makes both games and "serious" applications go very fast. With a refresh rate of 165 Hz, the screen is only just fast enough for demanding games. But it's a necessary and well-chosen compromise when the resolution has to be raised to QHD. It's not often that I give full top marks to a mid-priced gaming PC. But here it's well deserved.