John Hvidlykke
Published

2022-06-20 - 10:00 am
4K touch screen and more than ample RAM. Wi-Fi 6E.
Processor and graphics card are otherwise fine. But not in relation to the price. The screen is only 60 Hz and without HDR.
Specifications
Processor: 3.4 GHz Intel Core i7-11390H quad-core (8 threads)
Display: 16″ IPS, UHD+ (3840 x 2400), multi-touch, 60 Hz, 400 nit, 100% DCI-P3
Memory: 32 GB DDR4
Storage: 1 TB SSD
Graphics: Nvidia GeForce RTX 3050 w. 4 GB GDDR6
Operating system: Windows 11 Home, 64 bit
Dimensions and weight: 40.6 x 2 x 24.5 cm / 2.0 kg
Connections: Wi-Fi 6E, Bluetooth 5.2, 2 x USB-C 4.0 (w. Thunderbolt 4 and DisplayPort 1.4), HDMI 2.0, USB-A 3, 3.5 mm audio, microSD card reader, HD webcam
Web: hp.com
Geekbench 5: 4.950 (multi-core), 1.604 (single-core) PCMark 10: 5.016 3DMark Time Spy: 3.607 3DMark Fire Strike: 8.120 3DMark Night Raid: 17.284 Cinebench R15: 137 fps / 790 cb Cinebench R23: 5000 (multicore) / 1555 (singlecore) HDTach: 1754 MB/s Batteritest: 3:08 hours
Benchmarks
Price 2 399
Product page
HP's Spectre series of laptops has had many expressions over the years. But one common thread has been a sleek and luxurious design. Most extreme in the leather-bound HP Spectre Folio.
The HP Spectre x360 is, as the name suggests, a 360 degree PC where the touch screen can be rotated all the way around and laid flat against the back of the keyboard, allowing the machine to be used as a tablet. We've tested a few of these over the years, but where previous models have been compact 13-inch machines, the screen on the current generation has grown to 16 inches. And in the taller 16:10 format.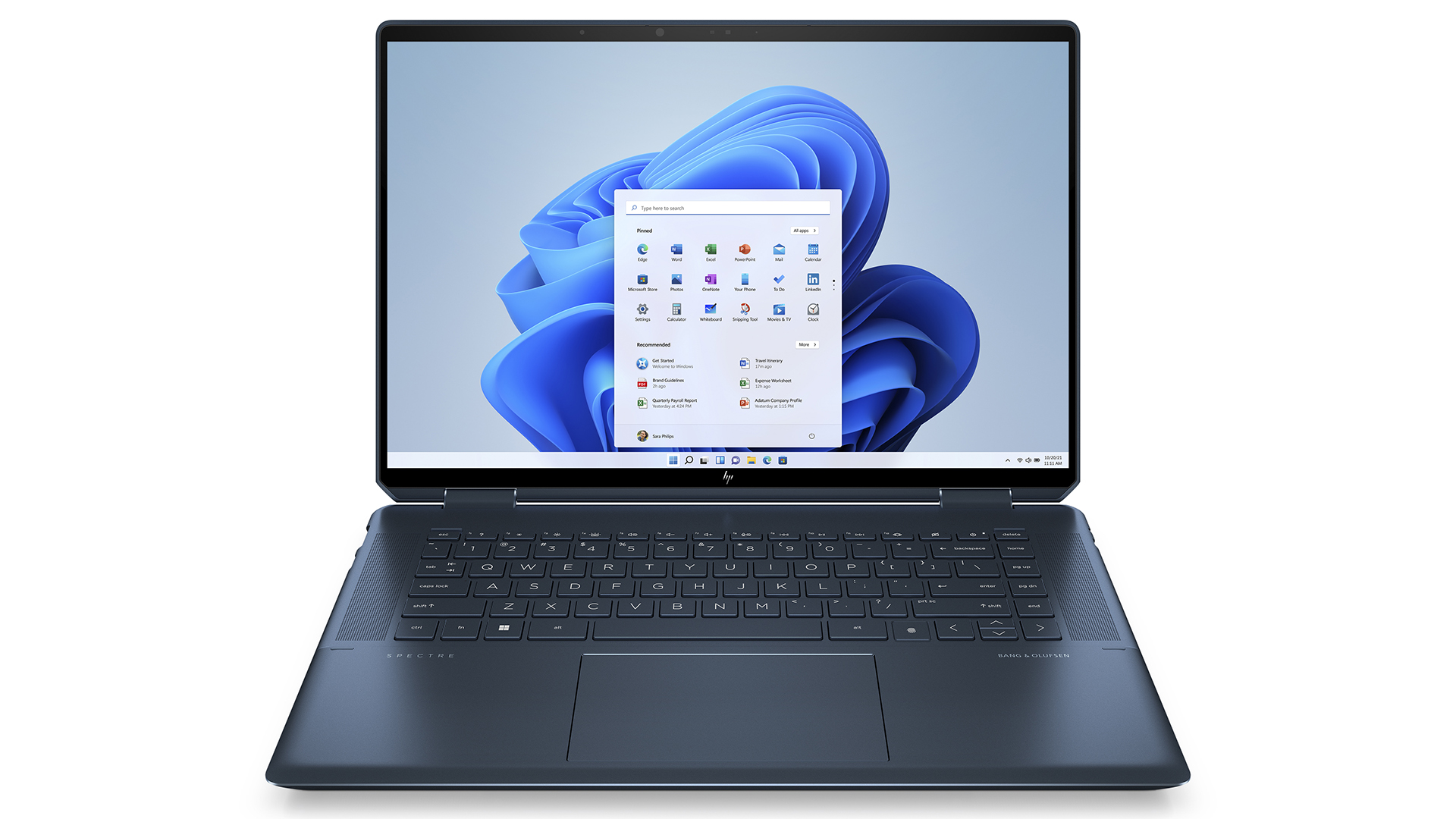 So the computer takes up a lot of space and weighs a lot. But you do get a workspace that's suitable for more than just typing emails on the go.
Sharp 4K touch screen
The screen is the Spectre x360's most compelling card. A bright and crisp 16-inch in UHD+ resolution (3860 x 2400 pixels). And with touch, of course. A touch-sensitive pen is included in the rather large box. This makes the computer an obvious choice for graphic artists.
Since graphics work requires processing power, there is a separate graphics processor on board, namely the Nvidia GeForce RTX 3050 with 4 gigabytes of dedicated graphics memory. There's 32 gigabytes of working memory and a 1 terabyte SSD for storing applications and data.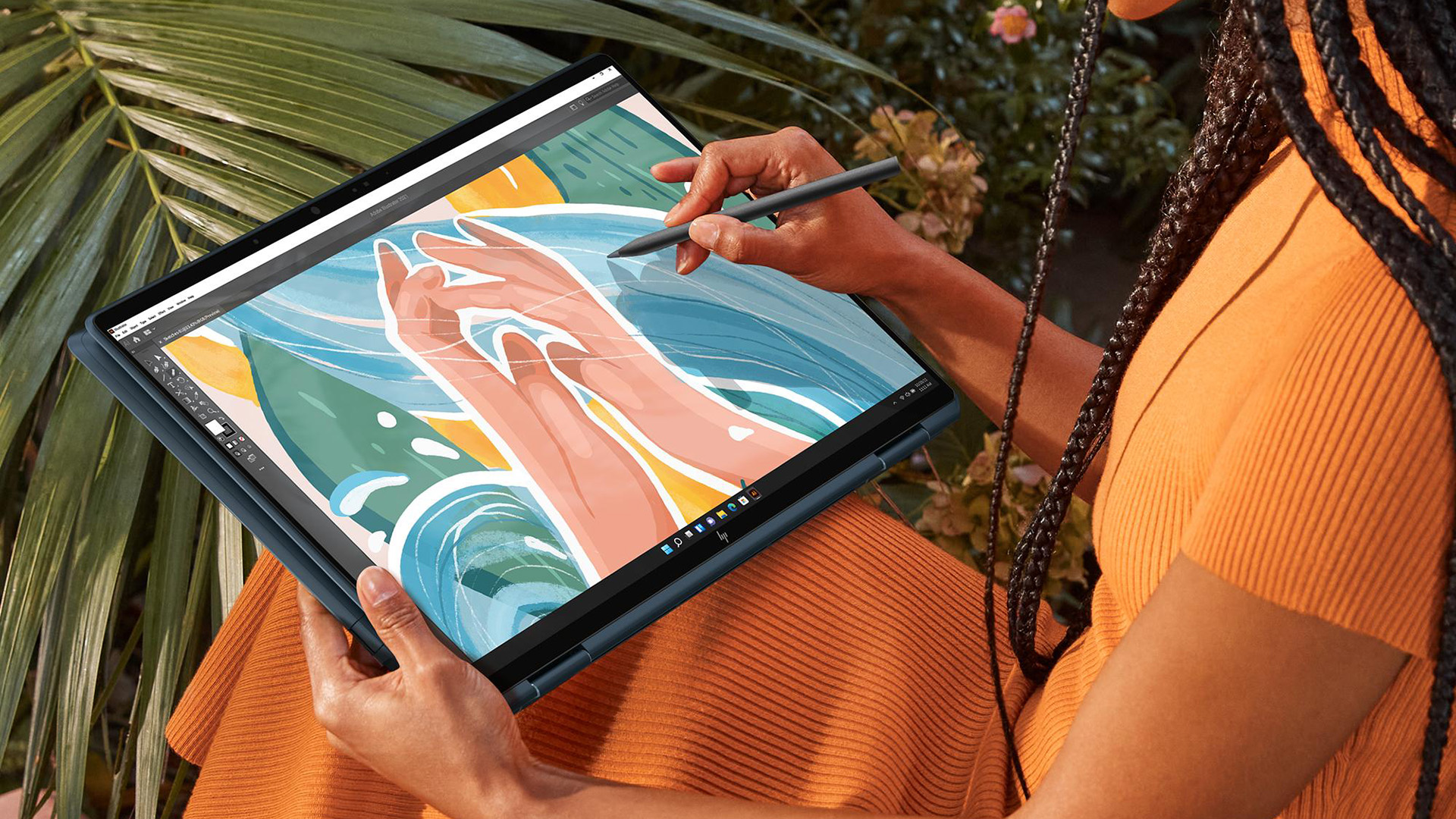 Too big to be smart
The Spectre series is HP's premium range. On the x360, it's seen in the form of a graphite-grey unibody enclosure. But although the edges are rounded and adorned with a copper-coloured accent stripe all round, it doesn't really manage to make the 40cm-wide, two-kilogram computer feel light and elegant.
On the other hand, the large case provides plenty of space for the keyboard, which is spacious, and the keys feel just as firm as they should. A discreet white backlight makes it easy to find the right key in a darkened auditorium. There would have been room for a numeric keypad, but HP opted for ergonomics – and space for the Bang & Olufsen sound system.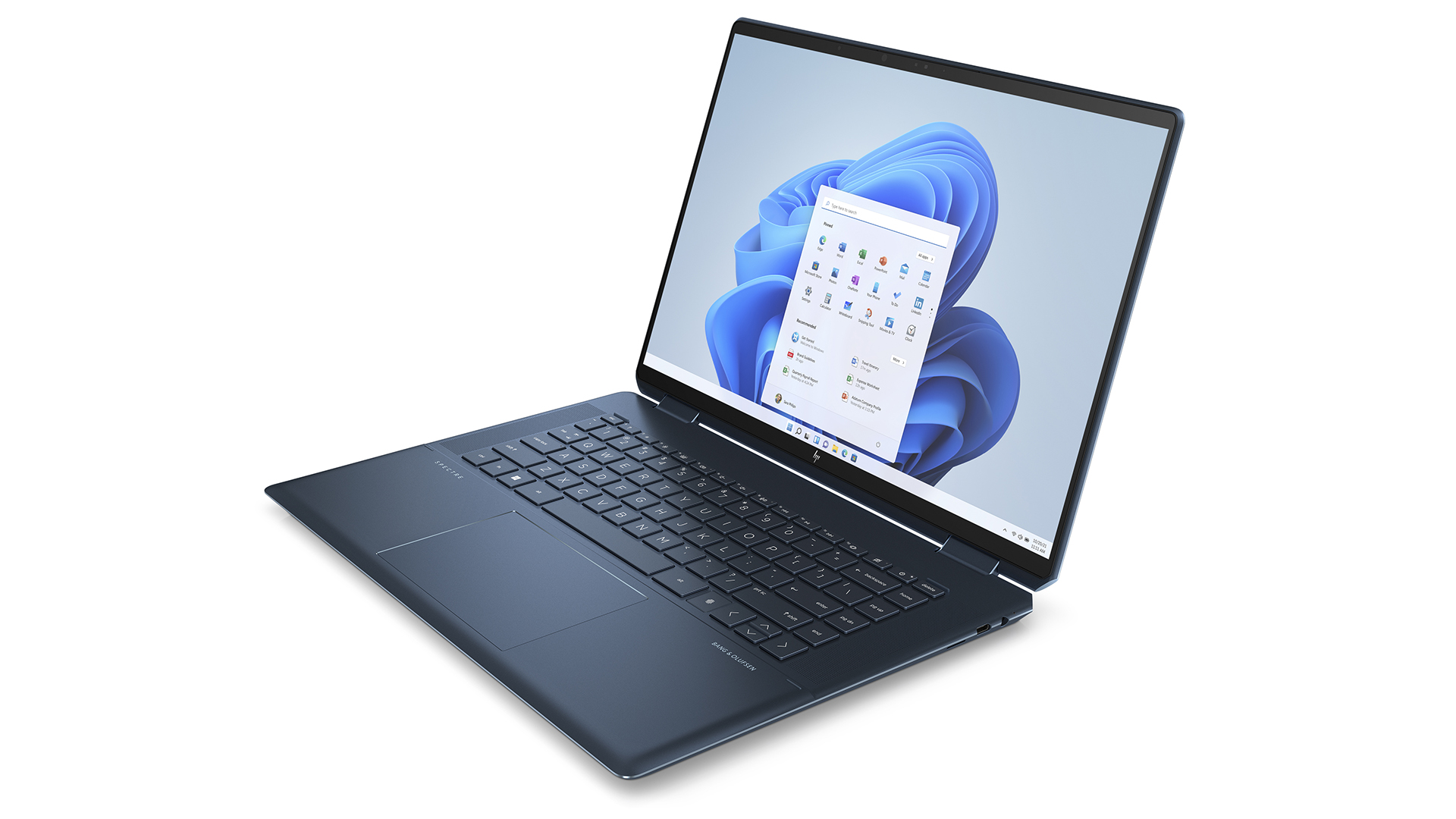 There's an acceptable selection of ports on the HP Spectre x360: two USB-C ports of the latest vintage – with integrated DisplayPort and Thunderbolt 4 – plus an HDMI output and a single USB-A port. The latter is half-covered by a flap, which shouldn't really be necessary as its only purpose is to preserve the sharply designed edge of the casing.
The Ethernet port will probably not be missed. Especially since the machine in turn has the brand new Wi-Fi 6E standard.
Benchmarks
The processor in the Spectre x360 is a surprise – but not in any good way. An 11th generation i7 (3.4GHz i7-11390H) with just four cores is frankly pretty sluggish in such an expensive machine. This can also be seen in the performance, which is pretty mediocre.
The Geekbench 5 test resulted in a score of 1,604 in single-core and 4,950 in multi-core. The PCMark 10 office software test scores 5,016. In isolation, these are speeds that are perfectly adequate for office use. But you can get better performance from cheaper PCs with more advanced processors. Among them the Asus ROG Zephyrus G14 – and HP's own Envy 15.
One of the things that piqued our curiosity and made us order the HP Spectre x360 home for testing was that it comes with the new GeForce RTX 3050 graphics card. This is a new graphics processor that is less expensive than the larger models in the RTX series. But still with the promise of real 3D performance in a not too expensive laptop.
So are the promises being fulfilled? Barely: the 3D performance is below what I would call real, and the computer is quite expensive.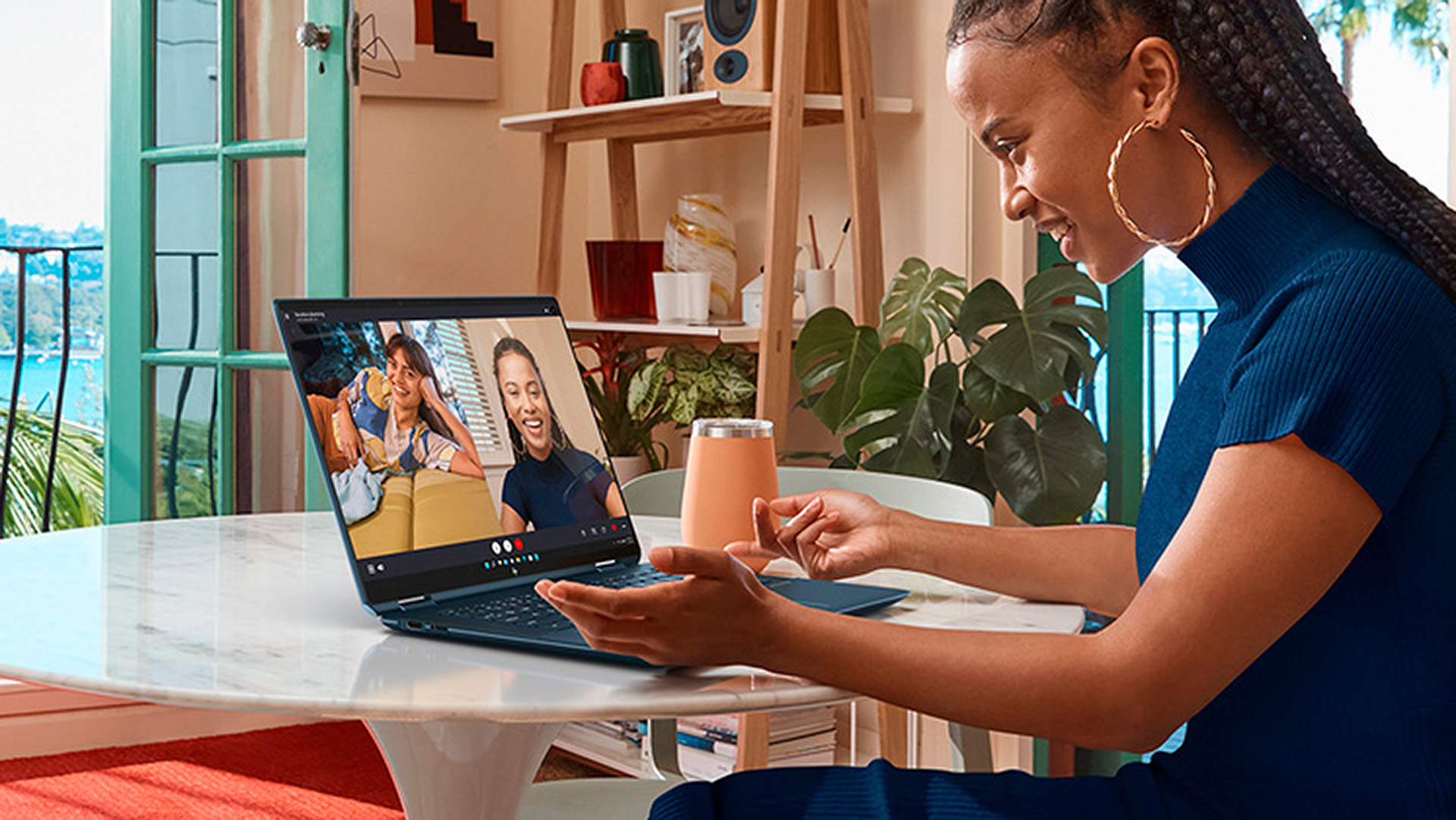 Disappointing GPU
The 3D graphics tests from UL (formerly Futuremark) get results that are admittedly well above the typical ultrabook with Intel Iris Xe graphics. But they're still only on par with the older and more inexpensive GeForce GTX 1650 Ti graphics card that used to be the solution for true 3D graphics on a budget. The Time Spy test comes in at 3,607, and the older Fire Strike test (both in the standard edition) scores 8,120.
The PCMark 8 battery test finishes at just over three hours. That's quite good for such a large PC with a 4K screen. And enough to get through a day at work without the charger. Which is extra important, since HP has opted to use an old-fashioned DC connector for charging instead of USB-C. So you can't borrow a charger from a colleague for an emergency charge.
Conclusion
The HP Spectre x360 is a curious machine, and I can't really see who it's primarily targeted at. It's too big, heavy and expensive to carry in your bag for most people. If it was the 3D performance that was the selling point, you can get much more for the price. And no one would consider gaming on a 60 Hz screen.
The only thing that stands out positively about the Spectre x360 is the large and very nice 4K touch screen, which together with the pen can make the machine a workhorse for graphic artists. But even there, the price/performance ratio is somewhat strained.