Racing simulators are in the wind like never before, and it's not just amateurs who strive to have the best lap times: Both professional e-sim racers as well as true racing drivers now resort to simulators when they have to train, or even participate. in official car races! A good example is the traditional 24-hour race at Le Mans, which this year was canceled, postponed and replaced with a race in digital form.
https://www.youtube.com/watch?v=hYNqcVRYwds
The racing simulators are becoming more realistic, and with an increased level of drivers, the right requirements are also placed on the equipment around: you need one or more widescreen gaming screens, a proper racing chair, and perhaps most important of all: a set of steering wheel and pedals.
Logitech G923: Thoroughbred racing steering wheel and pedals
Logitech has long been one of the leading suppliers of e-sim accessories, and now they have launched a new version of their popular racing steering wheel. The new G923 is a high-performance racing steering wheel and pedal set, aimed at racing simulators and games such as iRacing, rFactor 2, Grand Turismo, Forza Motorsport and more.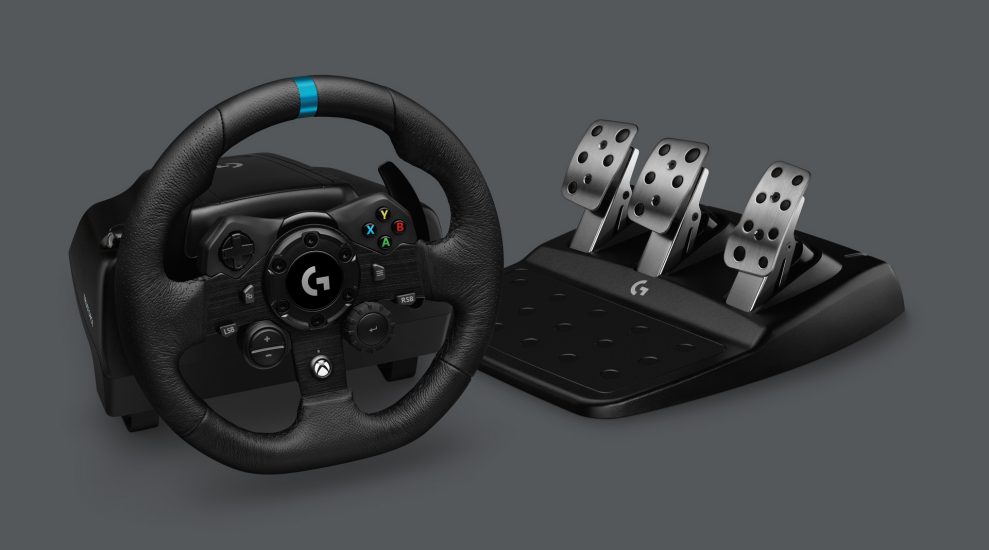 The new G923 model is based on the popular G920 which was launched 5 years ago. The steering wheel is upholstered in leather, while the pedals are in polished metal. Among the biggest news is Trueforce, a new force feedback system that provides realistic response and feedback through the steering wheel, in the form of both sound and vibration. It has, of course, built-in gear levers, and its own "shift light" LED light that flashes red when you approach the speed limit. The brake pedals have also become more progressive according to Logitech – all to provide a more realistic driving experience.
«-The new Logitech G923 steering wheel with TRUEFORCE gives drivers an authentic experience behind the wheel and simulates the details we feel as rally drivers. I can feel the rear end of the car lose the roof or if I'm about to spin, giving me the opportunity to make quick changes and keep the lead in the competition. says McLaren F1 drives Lando Norris.
The Logitech G923 comes in a customized version for PC as well as Playstation 4 and Xbox, with the audience buttons integrated in the middle of the steering wheel. The G923 will also be compatible with the upcoming Xbox Series X and Playstation 5 game consoles (subject to official approval).
Price and availability
The Logitech G923 Racing Steering Wheel & Pedals are available for PC, PlayStation 4 and Xbox One. The G923 will be compatible with the new Xbox Series X and PlayStation 5 * when they both launch in Christmas 2020. The Logitech G923 will be available in stores and online stores in August 2020, at a suggested retail price of £ 400