Geir Nordby
Published

2021-12-04 - 8:00 am
After almost having been locked away for the last two years, we can gradually start moving again. Also by plane! And with that comes the need to dig out the full-sized headphones, and put them in the bag. Or is it time for something new?
You should thing that by now everyone would have a pair of noise canceling headphones. Nevertheless, it does not seem that the market is fully saturated yet. Because even though the completely wireless earbuds are are being picked even faster from the shelves at the moment, people still have not had enough of earphones with active noise cancellation (ANC).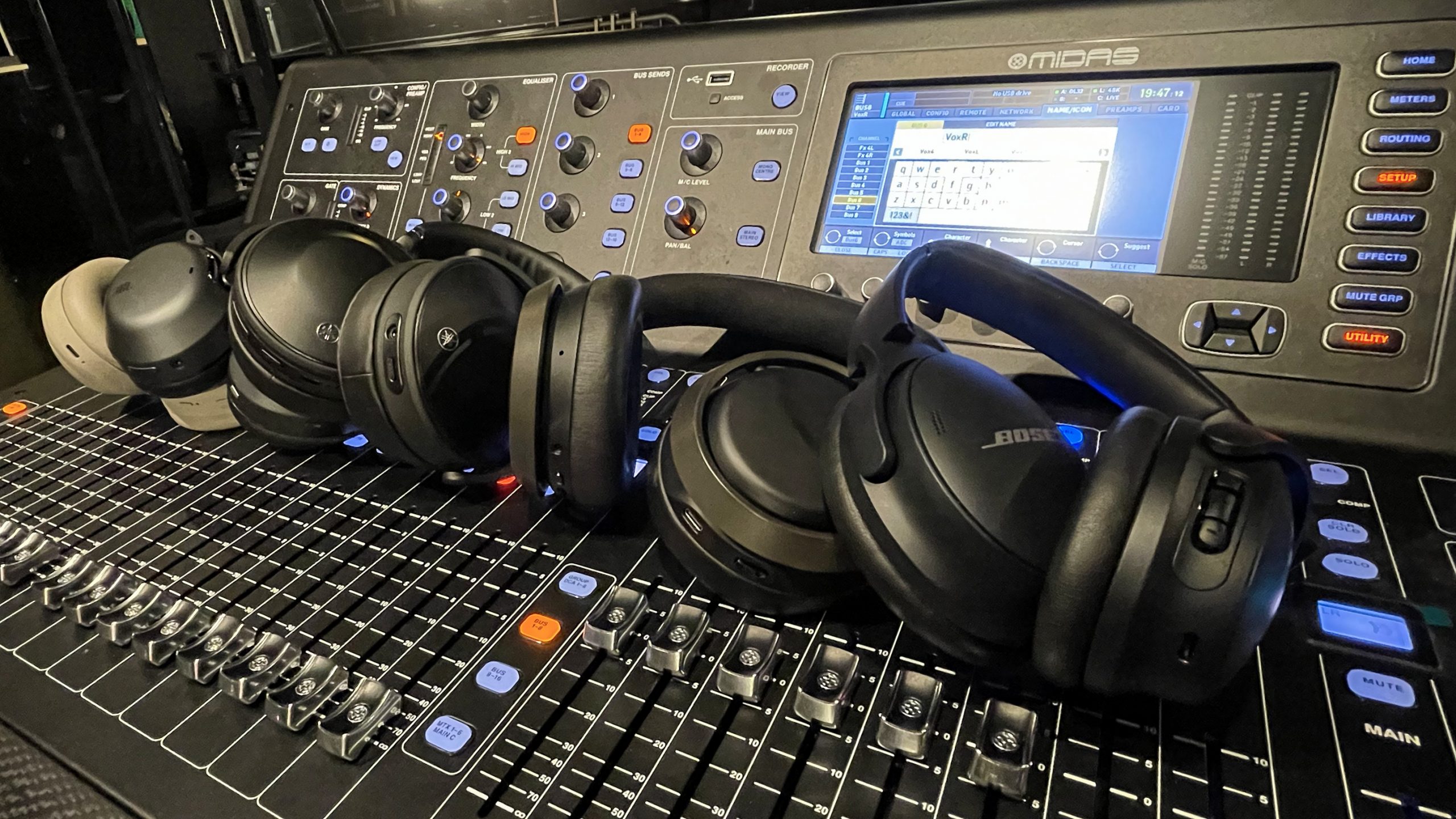 5 premium headphones
If you thought that the most popular ANC headphones would be in the budget class, you could not be more wrong. Almost all the most popular headphones cost more than GBP 200, and several of them well over GBP 300 or even 400. Which is the price range we are considering here. Because you need something real, when you have to use the headphones for travel, in public transport and at work in office landscapes, where you want to block out those noisy colleagues. Many will no doubt also use them for the home office. Although for that very purpose we would probably recommend headsets with a microphone boom.
In this test, we consider four new noise-cancelling headphones, and a slightly smaller new favorite. The hope is that we can find a new king of the hill!
Products in this test
Bose QuietComfort 45
No big surprises
Bose is not breaking any new ground with QuietComfort 45.
Among the most comfortable headphones we know. Good noise reduction and ambient sound. Neutral sound balance.
The sound is perceived as thin, and noise reduction can not be turned off without simultaneously activating ambient sound.
Sony WH-1000XM4
Still the best noise reduction
There is still no one overtaking the Sony WH-1000XM4 on noise reduction. But we hope they will soon upgrade to even better sound.
Still the best noise reduction in the class, and the fit fits just as good as always.
In terms of sound quality, there are several who have caught up with Sony.
Yamaha YH-E700A
The best sound
Are you looking for a pair of extremely well-sounding headphones? Here they are! Then the noise cancellation will be a bonus.
Wonderfully loud and rich sound! In top of the class! In addition, they look good and fit well around the ears.
The noise cancellation is good, but not the best.
Philips Fidelio L3
Well-wrought Philips
Philips Fidelio L3 is nicer to look at, and exudes better build quality, than most in this class. But what about the sound?
Good noise cancellation, nice and balanced sound. Very good overall quality!
The sound is a bit damped, which fortunately can be partially fixed with EQ.
JBL Tour One
Energetic JBL sound
JBL Tour One is a pair of proper headphones, which after som help from EQ function in the app, brings out a smile on your face.
Loud and direct sound, they never get boring!
Sounds best with noise cancellation turned off. Should adjust a little EQ to bring out the best in them.