John Hvidlykke
Published

2020-09-14 - 8:14 pm
Slim and shapely ultrabook that looks more expensive than it really is. Almost twice as fast as last year's model. Compact and lightweight.
The ultra-compact exterior and the beautiful finish cost a little extra. No touch-screen. The aluminum finish attracts greasy fingers.
Specifications
Processor: 2.0 GHz AMD Ryzen 7 4700U octa-core (8 wires)
Screen: 14 "Full HD (1920 x 1080), 100% sRGB color space
Memory: 16 GB RAM
Storage: 512 GB SSD
Graphics: AMD Radeon with shared RAM
Operating system: Windows 10 Home, 64 bit
Dimensions and weight: 31.9 x 1.4 x 21 cm / 1.2 kg
HD webcam, Wi-Fi 6, Bluetooth 5.0, 2 x USB-C, USB 3.2, HDMI, microSD card reader, MIL-STD-810G certified
Web: asus.com
Asus' ZenBook series is among the returning guests on the testbench. The minimalist laptops show up with the precision of a tear-off calendar. Which is a good thing, since they are often very well-made machines.
The Asus ZenBook 14 UM251IA is roughly in the middle of the range in terms of price and equipment. Like its predecessor, it looks neither scraped nor cheap. The cabinet and lid are in blue-gray, polished aluminum, and the screen almost fills the lid (90 percent of the area according to Asus). However, there is still room for a camera and two microphones at the top of the screen.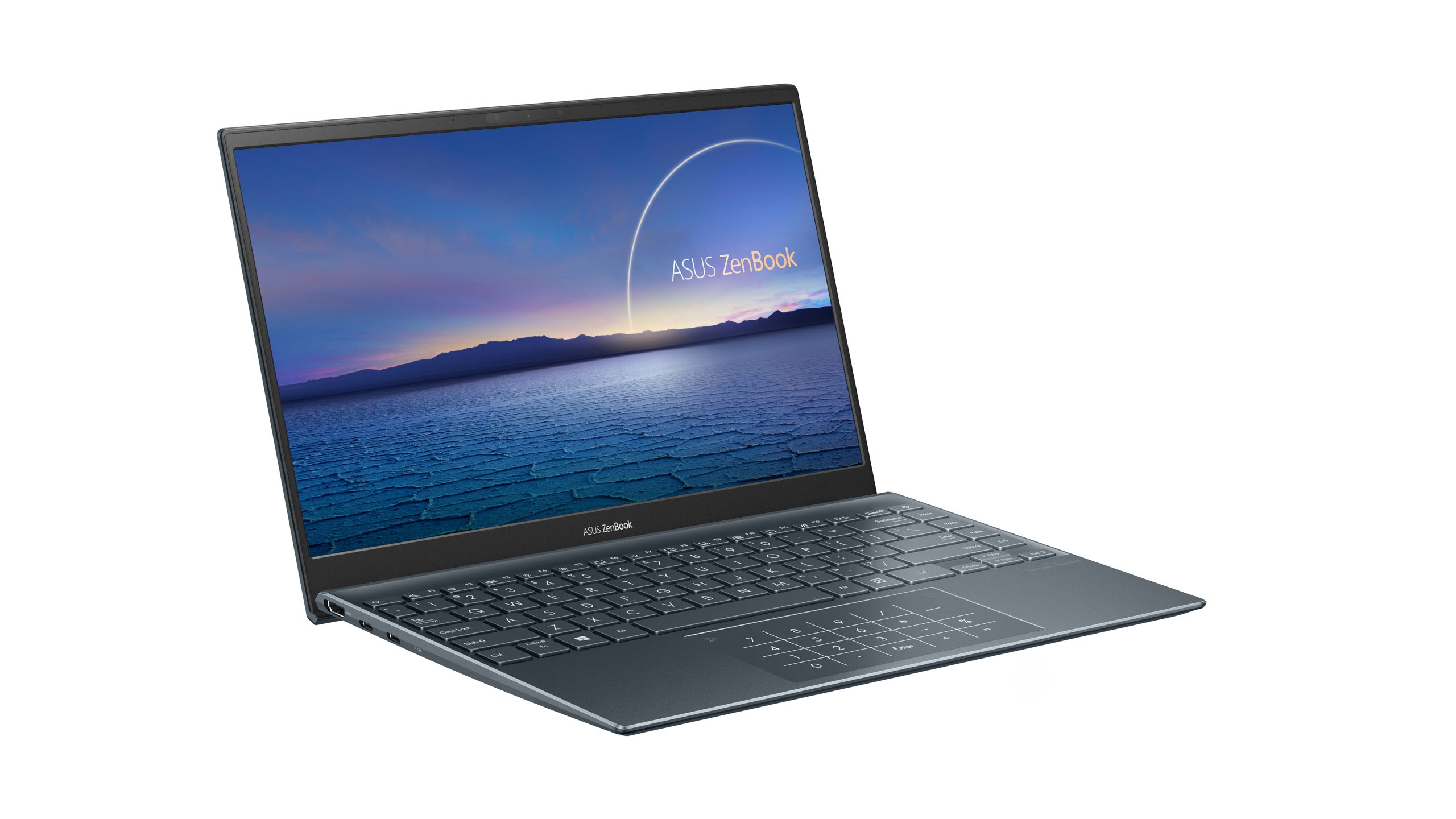 Ergonomics and air
As we have seen on several models, the screen is hinged along the underside of the machine. This means that the case is lifted about a centimeter when the computer is opened. It provides both better ventilation and a more ergonomic working position.
The keyboard is clearly at the better end of the scale for compact ultrabook computers, and one can work relatively comfortably throughout the day. The keyboard lighting can be adjusted in three levels or switched off completely at the touch of a button. It's pretty smart – and you save on power consumption.
Numeric keyboard in the touchpad
There is no room for a numeric keypad in such a small laptop, but Asus has an ace up its sleeve for spreadsheet jockeys. There are built-in number keys in the touchpad: a press in the upper right corner makes the numbers light up on the unbroken metal surface, and a swipe brings up a calculator on the screen. Which stresses further how useful a touch screen would have been.
True to the Zen name, there are the ports on the machine that are needed – but no more than that.
Two USB-C ports and a single old-fashioned USB 3 port for your external hard drive or mouse, as well as USB-C and a full-size HDMI output (it just bare fits in the slim chassis) means you don't have to buy a bundle of adapters to be able to use the machine in real life. There is also an SD card reader. However, the network port and headphone jack are sacrificed on the altar of wireless. But USB adapters are included in the box.
The screen is "only" Full HD and without touch. It's okay, there's strictly speaking no need for higher resolution on a 14 inch screen either. Touch, on the other hand, is a big plus in tightly packed auditoriums as well as airplane and train seats. Unfortunately, touch screens are still more the exception than the rule.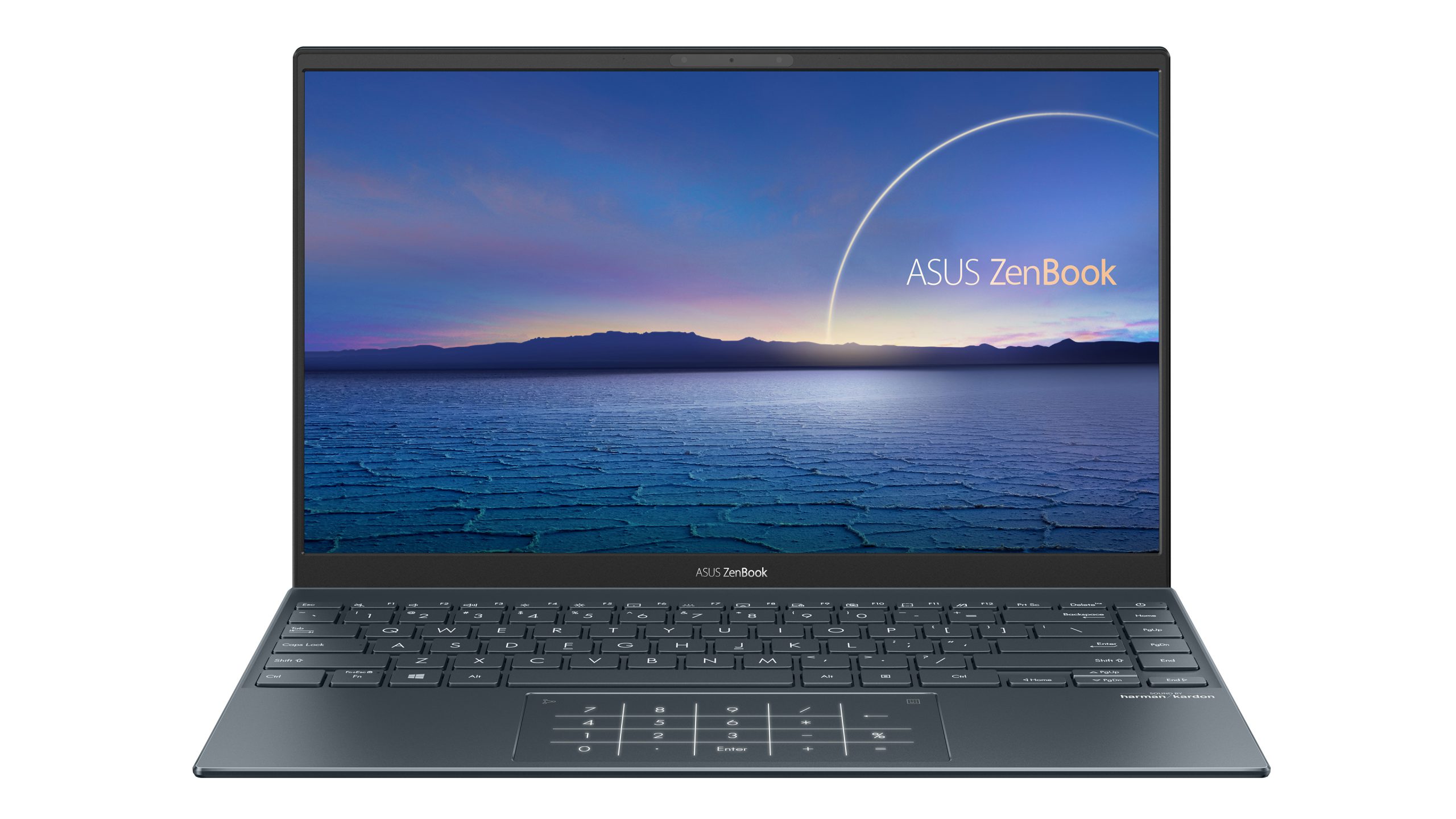 Benchmarks
ZenBook 14 differs from most PCs that we get for testing, in that it does not have a Core processor from Intel, but instead a Ryzen processor from the competitor AMD. It may make good sense. We recently tested another Ryzen machine from Asus, and here the processor excelled by giving a lot of bang for the buck.
The Ryzen 7 4700 is a 2 GHz processor with eight cores and eight wires. Which should be equivalent to a mid-range Core i7 processor or an i5 top model. The previous ZenBook 14 model we tested was equipped with an Intel Core i5 processor.
A Geekbench 5 score of 5,318 in multi-core and 1,107 in single-core are completely respectable values. In fact, it's only a third slower than the three times as expensive MSi GS66 Stealth. Note that we are talking pure processing power here. When it comes to 3D graphics, the difference is otherwise dramatic.
The PCMark 10 office program test confirms with a score of 4,929 that we are dealing with a small workhorse that will chew diligently through spreadsheets and word processing without demanding more exciting content in life.
For business – not gaming
So much the greater is the humiliation of the 3D graphics test 3DMark. The score in Time Spy (968) and Fire Strike (2,664), respectively, is about one-sixth of current gaming machines. On the other hand, this year's ZenBook is only half as slow on the graphics side as last year's model. It's definitely not a gaming machine, but it will actually manage a game of CS: GO quite sensibly!
Battery for the whole day
The battery life is stated as "up to 22 hours". It depends on the application. In PCMark's intensive battery testing, the ZenBook 14 lasted just under six hours. And it's extremely good – and almost twice as long as last year's model.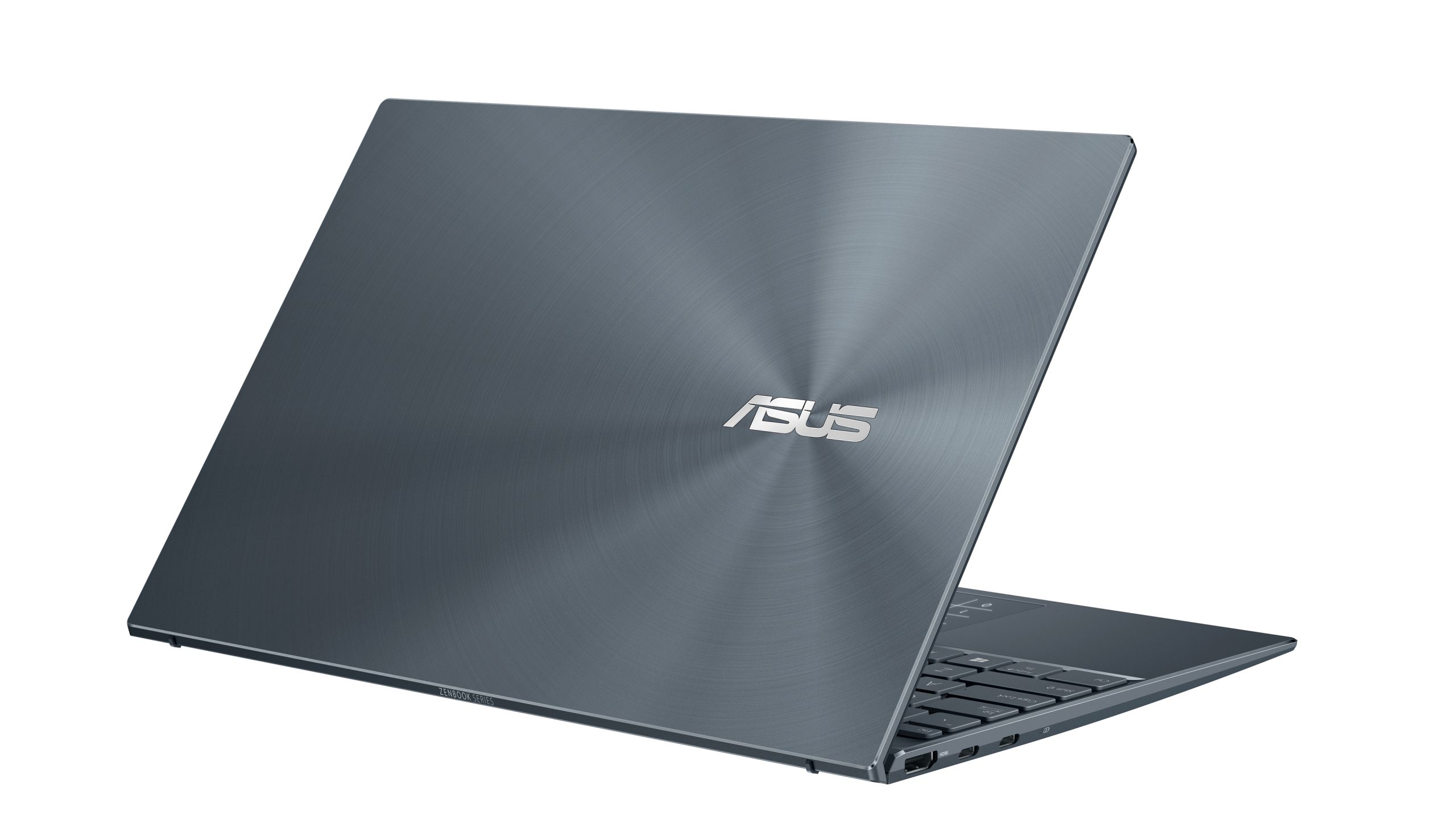 Conclusion
The Asus ZenBook 14 UMA425 is a sleek and stylish machine that will be perfect for study or as a work laptop on the go. It weighs and takes up minimal space, and the battery life is so long that you never have to take the charger with you for everyday use.
The price is somewhat higher than on the cheapest PCs, but the reward is low weight and a metal case that can withstand the life of the bag. That it then looks like something that costs twice as much is an added bonus. A touch screen would have been the final… touch.