You could say it's just a junction box for USB cables. But a docking station like the Corsair TBT200 packs so many useful electronics and practical conveniences that it makes life with your computer a whole lot more convenient and probably more fun too.
The key to that is Thunderbolt 4, which is really not due to Corsair. Thunderbolt is in fact a standard built into the newer versions of the USB port. But the dock brings it all together, so to speak. And that's where the usefulness begins.
Thunderbolt allows you to connect not only old-fashioned USB devices like printers, webcams and hard drives, but also monitors to the USB-C port. In fact, both HDMI and DisplayPort standards are integrated into the port.
This also means that you can most likely connect an external monitor to your laptop, even if it lacks a physical HDMI or DisplayPort output. It just requires a suitable cable.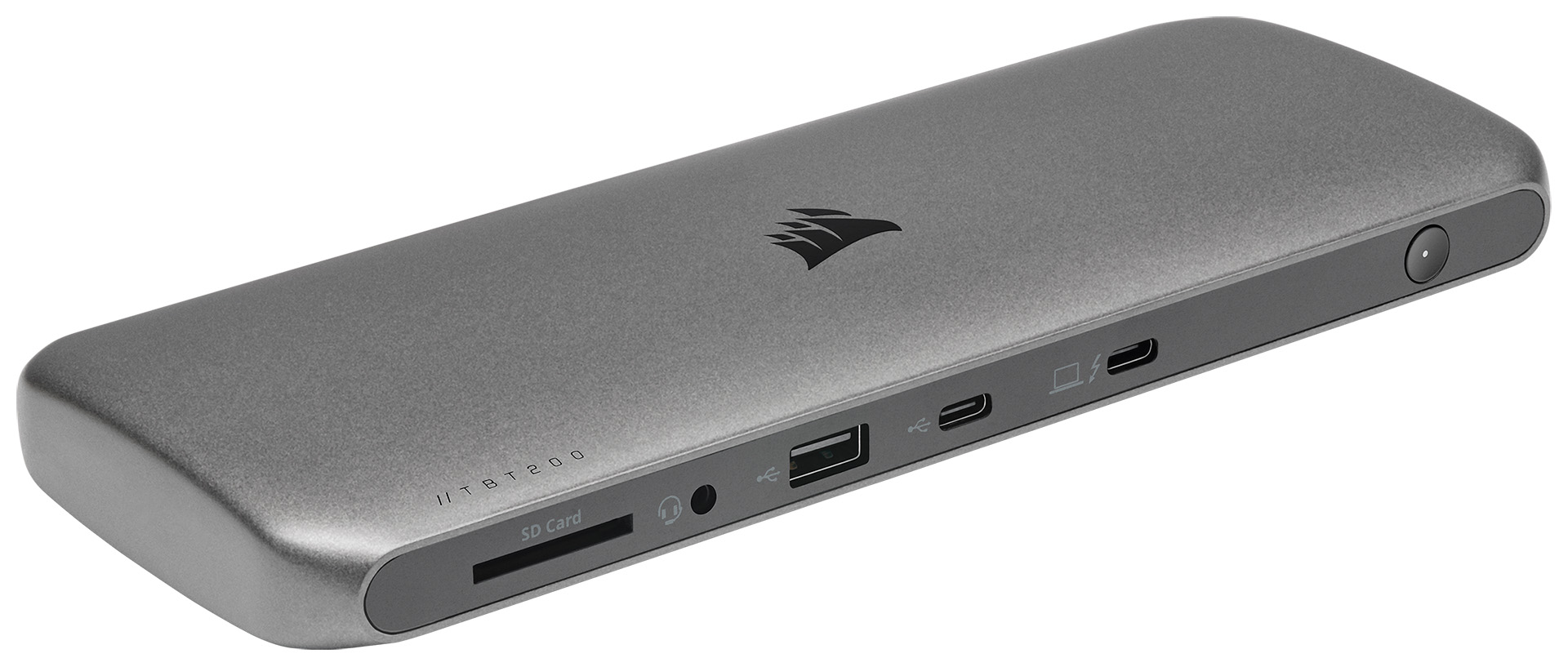 Everything in one place
But back to the dock. The Corsair TBT200 is a pretty comprehensive – and admittedly expensive – one of its kind, allowing you to pack a lot of features into one place.
The dock itself is a flat, oblong aluminum box with rounded edges and a variety of ports on the front and back.
On the back you'll find three USB-C ports with Thunderbolt 4 support. Each port can transfer up to 40 gigabits of data per second. The ports can thus be used for fast devices like PCI Express devices – and monitors. There are also two fast USB-A ports for external hard drives, for example. And an Ethernet port for wired networking. It can handle up to 2.5 gigabits per second. If the Ethernet ports on your router or switch can keep up.
The front offers more and more diverse connections. A USB-C and a USB-A port will likely be used for USB drives and for charging USB devices. With 15 watts of charging on USB-C and 7.5 watts on USB-A, it's not super-fast, but at the work computer most people have all day anyway.
There's also an SD card reader and a combined audio output that can double as an input.
It's convenient!
You might ask yourself, what's the point of another audio output when every laptop in the world already has a 3.5mm minijack output? That's right. And the Corsair TBT200 solves a number of problems that for most users can already be solved by the built-in ports in the computer. But the dock expands the number of devices that can be connected at the same time. And, most importantly, it makes it convenient.
In fact, the most useful port on the TBT200 is the last USB-C port, which is labelled 'upstream'. You plug in your computer here – and with just one cable you can access everything connected to the dock. Since the dock has its own 150 watt power supply, you can also charge the computer through the same cable. A short and powerful USB-C cable is included for just that purpose.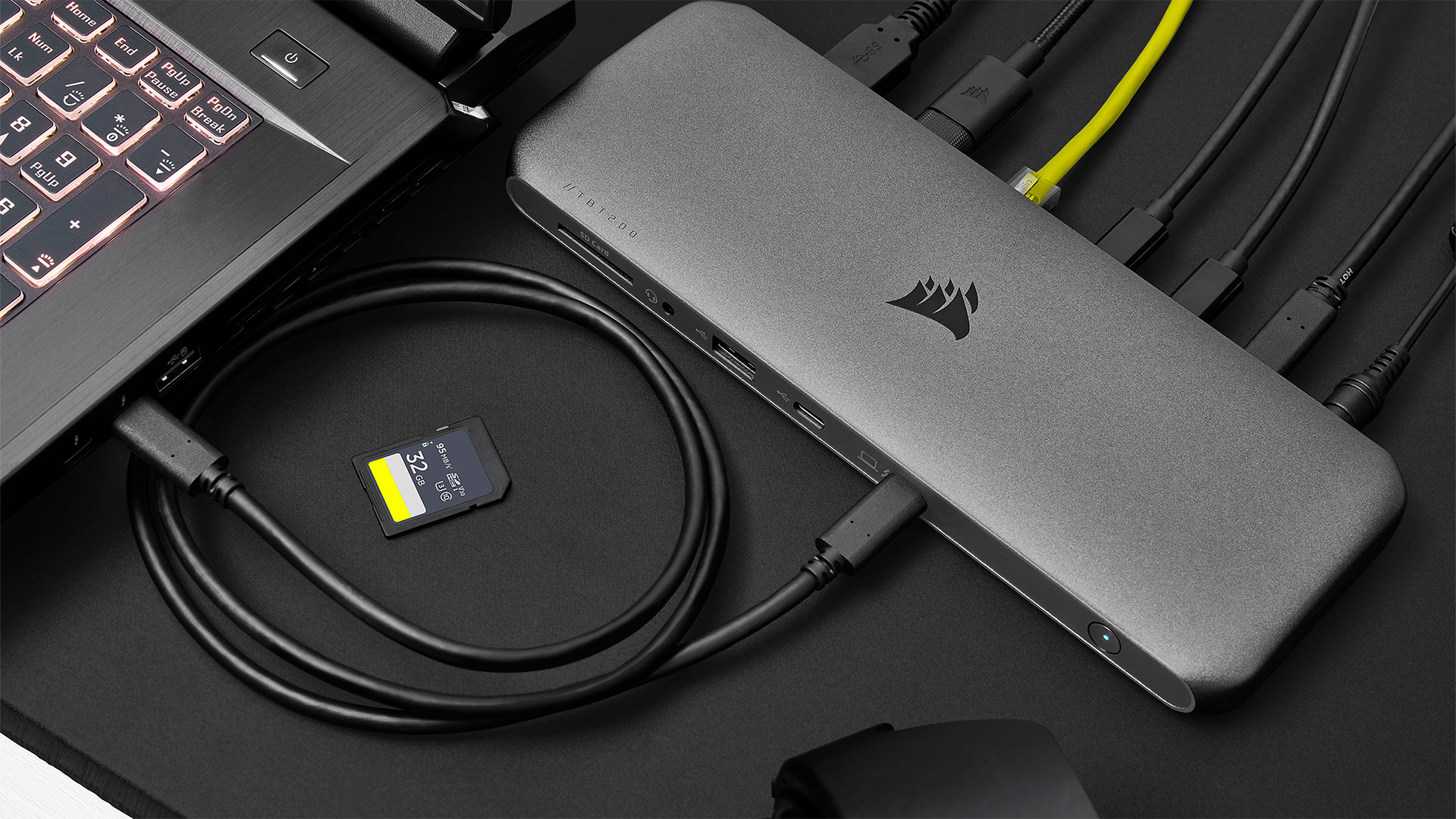 All combinations work
Two USB adapter cables for HDMI and DisplayPort are also included in the box. If you need to connect two monitors with the same type of connectors, you can simply buy an extra of the kind you need. The dock (and through that, the computer) doesn't care whether HDMI or DisplayPort is used, as both connection types are integrated into the Thunderbolt 4 standard.
And this is where things get really magical. I had long used a 27-inch 4K monitor on the desktop alongside the built-in monitor in the PC. But in addition to the Word window with the story I am currently working on, I also have to keep an eye on emails in Outlook, internal messages from colleagues, a couple of browser windows with information and Photoshop for image editing. All of which adds up to a desperate need for screen space!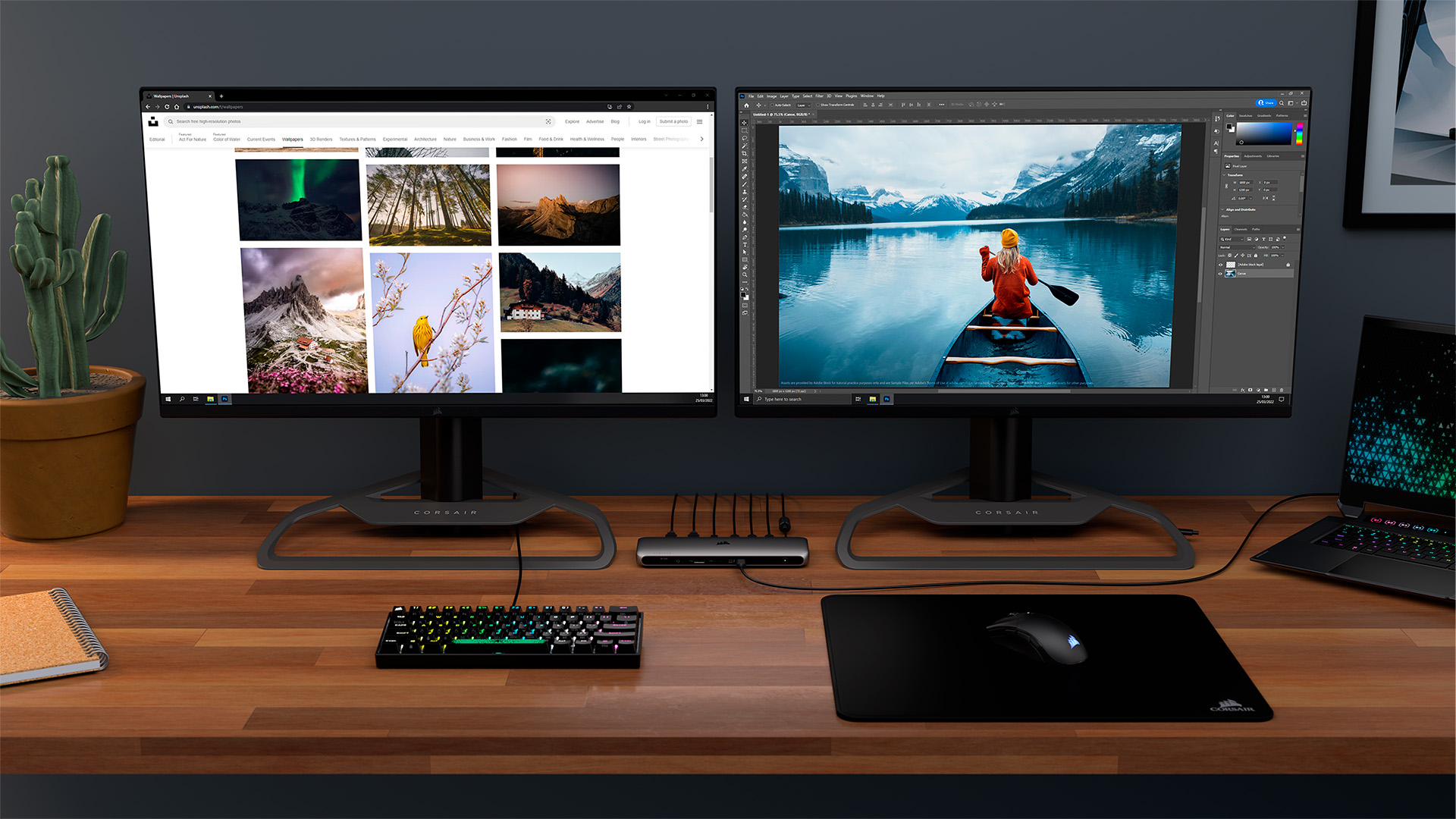 And this is solved as simply as putting another monitor on the desk and plugging another USB cable into the dock After a few seconds of the now three monitors turning on and off, and the images on the screens noticeably twisting as the graphics card tries to solve the monitor puzzle, the Windows desktop has almost doubled in size. Which is more than you can say for the space on the physical desktop. But hey, you can't have everything …
Automatic setup
It takes no drivers and no installation to make the multi-display setup work. And Windows automatically figures out what resolution and refresh rate the monitors support. And that's usually the best option. However, if the screens have very different resolutions in relation to size, it may be a good idea to adjust the magnification so that icons and text don't change size when you drag a window from one screen to another.
Plug and play notwithstanding, the adjustment is apparently not instantaneous. For the first day or two, the screens sometimes had to be helped to come on if the screen had been switched off during a break. This was solved by turning the screen on and off. And the problem disappeared completely after a short warm-up period, during which Windows must probably have updated the screen drivers.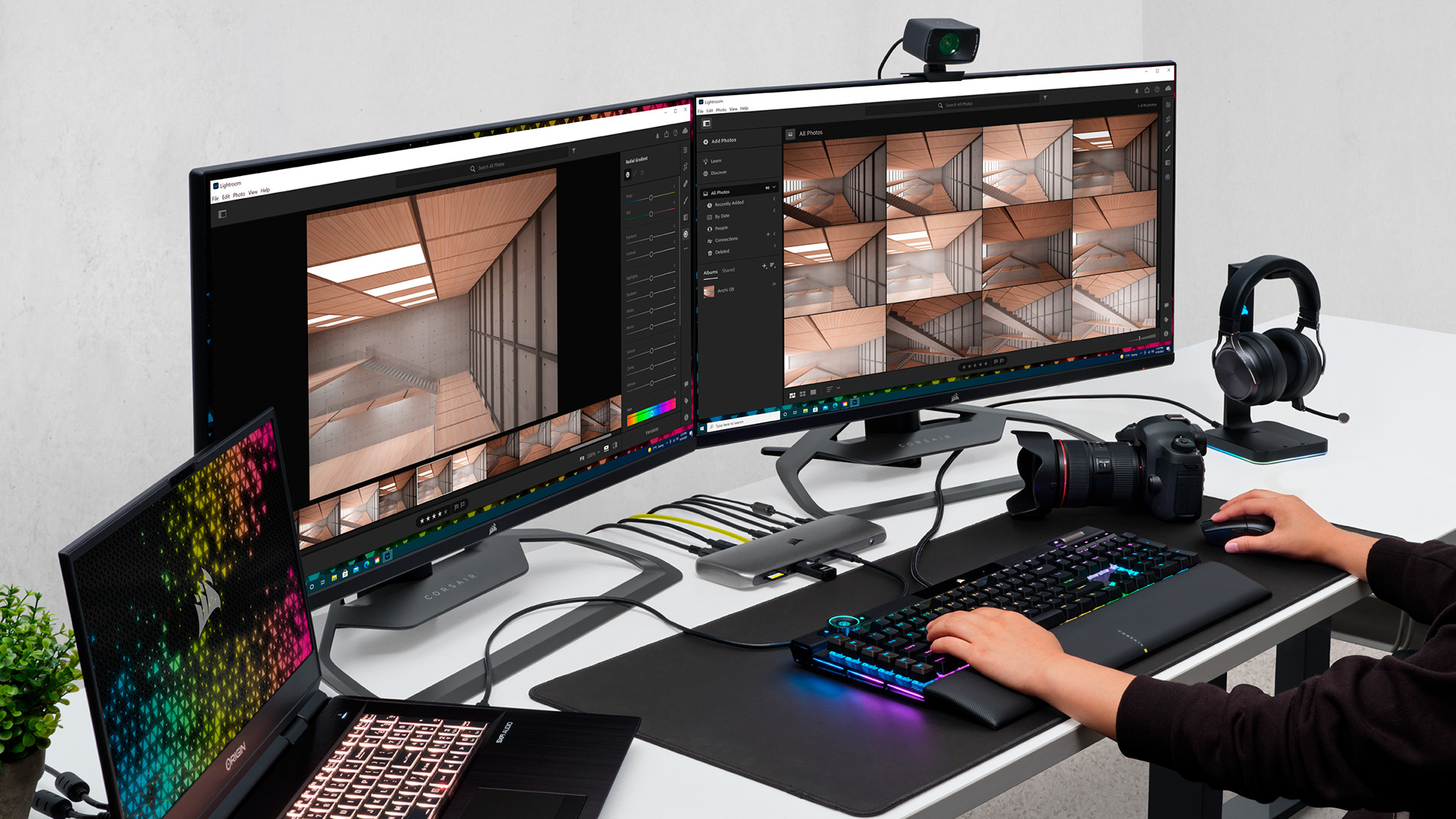 As mentioned, the basic features are built into the Thunderbolt 4 standard – and thus most laptops (both PC and Mac) launched since 2020. And the Corsair TBT200 just adheres to this. Not all docks support all screen resolutions and refresh rates, though. The Corsair dock allows you to connect up to two 4K resolution monitors with 60Hz refresh rates at the same time. Furthermore, the Thunderbolt 4 standard does not support more than two monitors via USB-C.
Note: The TBT200 is currently only available via Corsair's own webshop, but should be available in stores later.
Conclusion
A product like the Corsair TBT200 is as indispensable as it is indispensable – once you get it on your desktop. It solves – virtually – no problems that couldn't be solved by the 'naked' laptop along with the right cables and adapters. But it does make the switch between using the computer as a super-portable ultrabook and a desktop office workstation much, much easier. Because instead of having to fiddle with plugging cables into all the openings on the computer, I now only have to plug or unplug one USB-C cable.
If you're just attaching a few USB devices, this is insane overkill. But the ability to attach multiple monitors to the laptop and connect everything – including audio – to the computer with a single cable is simply an amazing convenience.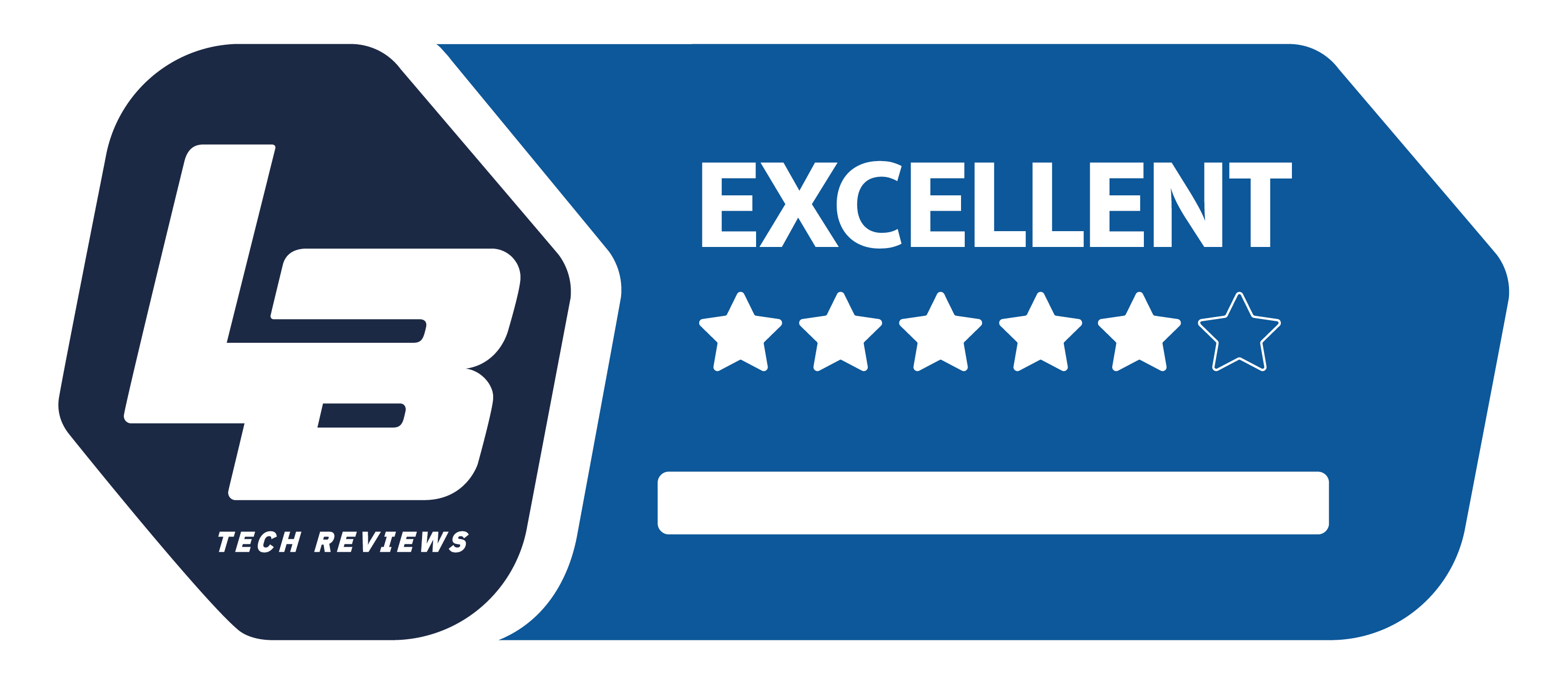 Premium
Attach two high-resolution monitors to your laptop and collect all your USB devices. Easy and setup-free: plug and play at its best.
The functions are already integrated in the USB-C port of your computer. If you don't need to connect many devices at once, this is an expensive solution.