Geir Nordby
Published

2019-12-17 - 11:10 am
You can't change the laws of physics. A flat TV always provides flat sound! It can be argued that the sound is half the experience, so we strongly recommend that you upgrade to external audio. Although Disney has acquired the Star Wars franchise, you don't want Darth Vader to sound like Mickey Mouse…
Luckily, it doesn't have to be expensive. Or unattractive. You don't necessarily need a full blown surround system to get a touch of home theatre feel in your living room. Except for connoisseurs, a good quality soundbar will go a long way.
Subwoofer
In this test, we want to find out exactly how good sound can get from a soundbar in the mid to lower price range. As a requirement, an external subwoofer must be included in the price, since experience suggests that there is not enough cabinet volume in a soundbar to provide enough bass on its own. This excludes popular soundbars from brands such as Sonos, HEOS, Bluesound and Bose, all become too expensive if you add a subwoofer.
No network streaming
This time we have had no requirements for multi-room features or music streaming over the network, but simply want the best sound in the TV room. That's why all the soundbars in this test, except one (LG SJ8), have scrapped network connectivity and have banked on Bluetooth as the only way to stream music wirelessly.
Who is the soundbar for?
A soundbar is perfect for those who want better sound quality than the lightweight speakers built into the TV. However, it is not necessarily the optimal choice if you are primarily going to use it for music. A traditional stereo system will give you more bang for the buck. A few small, well-sounding stand speakers provide a better stereo perspective and a better resolution of the music, but when watching a movie, you will miss the bass effects you get from a soundbar with an accompanying subwoofer.
9 soundbars
We've found nine soundbars in the mid to lower price range. The size also varies, but they all decode movie sound digitally either using HDMI or optical digital input, and they have wireless Bluetooth connectivity for music listening.
This is how we tested
All the soundbars were tested at our listening room, connected to a Sony TV. The source was an Xbox One S, which was used for both a film (Alien: Covenant) and games (Forza Horizon 3). The music listening was done on Tidal, via Bluetooth on an iPhone X, and if this didn't sound good, we double-checked with CD.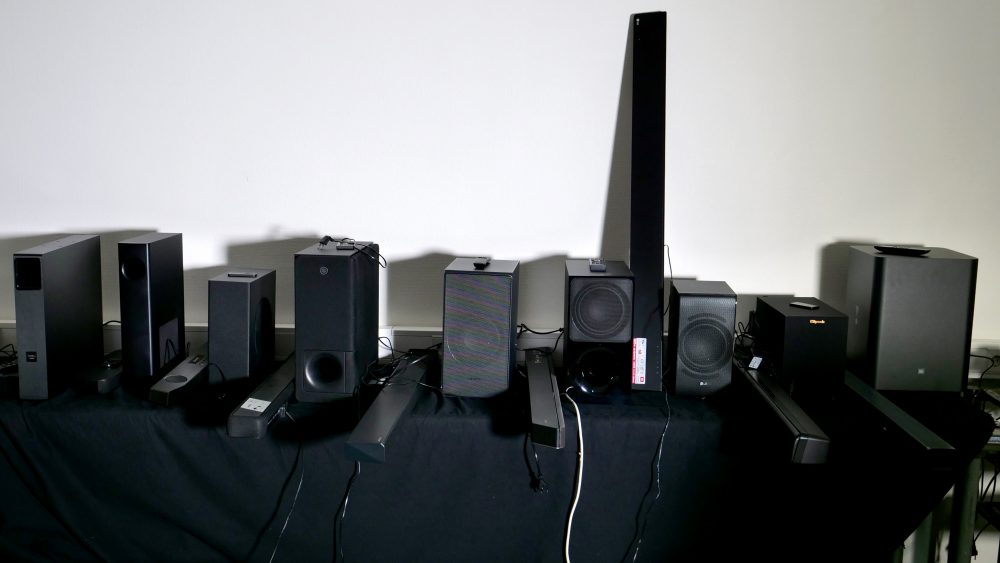 Products in this test
Klipsch RSB-6
Does not follow up
A masculine expression and rugged sound does not have the power to follow up, and Klipsch lands at the bottom.
If you like the PA sound you know from concert halls and nightlife venues, you'll nod approvingly.
The soundbar does not have the power to keep up with the "tough" soundscape. It all sounds fairly flat, and Bluetooth sounds discouragingly bad.
JBL Bar 3.1
Powerhouse
No one in the class provide this sense of home cinema. JBL crushes everyone on sheer force, and the sound quality is good enough for it to take the lead.
No one in this class come close to this level of power. The subwoofer at 10 inches is especially impressive. In addition, it sounds good, and the soundbar is user-friendly.
There are those with higher resolution and even better cohesion in the tones. Does not support DTS
LG SJ8
Let the sound flow
The soundbar from LG is one of the most affordable with built-in network features and streaming of music services. It also sounds good.
The sound is crisp, with a clear dialogue on movies. The soundscape is huge, and we give a thumbs up for the network and streaming services.
It lacks power, and it can sound a little slim.
Samsung HW-N660
Perfect balance
The soundbar from Samsung has a beautiful coherence in the tones, which makes both movies and music a pleasant experience.
The soundscape is great, and it works extraordinarily well on film and games. The soundbar has a very well adjusted timbre balance.
We would like more power, and the narrow display can hold way too little text, which is why it appears in a rolling manner.
Panasonic SC-HTB250
Small and half-hearted
The small soundbar from Panasonic sounds bigger and more powerful than you might think. But it has a few issues.
The sound is powerful, with more oomph than we had anticipated. Quite a huge soundscape on film.
Bluetooth sounds miserable, and with the absent analogue input, you can therefore not enjoy music from a mobile phone.
Creative Sound BlasterX Katana
For gamers
Creative's soundbar is for gamers and the only one in the test with USB inputs that replaces the sound card in PCs and Macs.
The soundscape gets an okay feel of surround on film and games, and the subwoofer hangs well together with the sound from the soundbar. A straightforward display simplifies its use.
The overtones are rather taciturn, the dialogues in film sound somewhat woolly, and the music lacks a little spark. The subwoofer is not wireless, HDMI is missing as is support for DTS.
Yamaha YAS-207
Surprisingly huge sound
Yamaha was first on the market with active soundbars. This is their first with DTS Virtual:X surround sound.
The soundscape is folded outward and upward. This soundbar does an excellent job in simulating true surround sound.
We miss a display, since LEDs provide limited visibility from a distance. The overtone area could be more airy.
Philips Fidelio B1/12
Better on TV than music
This is one of the smallest soundbars on the market. It sounds bigger than it looks, but has its shortcomings.
Very compact dimensions makes for a discreet soundbar, and it is also very easy to use. The sound is more powerful than you might think.
Does not sound as good on music as film, the bass is somewhat uncontrolled and the midrange could have had more energy. HDMI does not support HDCP 2.2 and thereby does not support 4K Blu-ray.
Sony HT-XF9000
Extra dimension in height
Sony's soundbar simulates both Dolby Atmos and DTS:X in height, thus giving an extra dimension to the soundscape. Yes, it works.
The soundscape is huge on film, and the dialogue is crystal clear. The subwoofer has also tolerable power.
It can sometimes sound a little crass in the overtones, and the subwoofer has a lot of energy in its upper range and less in the deep bass. Music in stereo is not great.