Lasse Svendsen
Published

2020-11-05 - 8:50 am
Solid urkasse i titan, skarp OLED-skjerm, og omfattende aktivitetsmåler med 100 aktiviteter. Opptil 14 dagers batteritid.
Begrenset støtte for tredjeparts apper, eks. Strava. iOS-appen har færre funksjoner enn Android-appen. Koster mye mer enn GT2e.
Specifications
Operating system: Huawei Lite OS
Customized: Android 4.4. iOS 9.0
Screen: 1.39 "AMOLED 454 x 454
Processor: Kirin A1
Memory / Storage: 4 GB ROM / 32 MB RAM
Modes: 100
Wireless: Bluetooth 5.1
Dimensions / weight: Ø 46.7 mm, 11.4 mm thick / 52 grams
Waterproof: 50 m
Battery: 455 mAh, 14 days service life
Sensors: Accelerometer, gyroscope, geomagnetic, optical, light, barometer, capacitive.
Other: GPS, Glonass, Galileo
Web: consumer.huawei.com
Let's just admit it. A colorful plastic training watch with a flashing screen does not always fit the office outfit. It looks out of place when you dress for more formal occasions, and completely crashes into party outfits, prom dresses and tuxedos.
But the Huawei Watch GT2 Pro is so elaborate that it slips into most contexts.
The smartwatch is basically a Huawei Watch GT2e, wrapped in a more classic design with a titanium case, a solid OLED screen with scratch-resistant sapphire crystal, and it comes with two straps. A rubber strap for training, and a leather strap for the rest of the day.
Or shall we say the days. The battery life is a little impressive 14 days. An Apple Watch lasts barely two days, by comparison.
The GT2 Pro version should rather be called premium, because the features are largely identical to the GT2e that comes with a rubber strap. Here you get the same 1.39-inch pointing core, two buttons for navigating the many different training modes, wireless charging and the same features, with over 100 training modes.
The Pro version comes in two versions. Sport Edition with black rubber strap, and Classic with gray leather strap, and quick coupling for easier belt change. Charging cable and wireless charger are also included in the box.
For a more in-depth explanation of all the features, we recommend reading the review of GT2e.
More features than most people need
Like a GT2e, it is very oriented towards sports and exercise with step counting and heart rate measurement, but it also has functions such as sleep tracking, checking oxygen uptake and a lot of activity meters that you will not find anywhere else.
It also has GPS with its own function that can track where you walk in the terrain and guide you back the same way (Route Back), it measures calorie burn and stress level in the body, warns of weather changes and it can easily log all movements – including the mentioned sleep rhythms .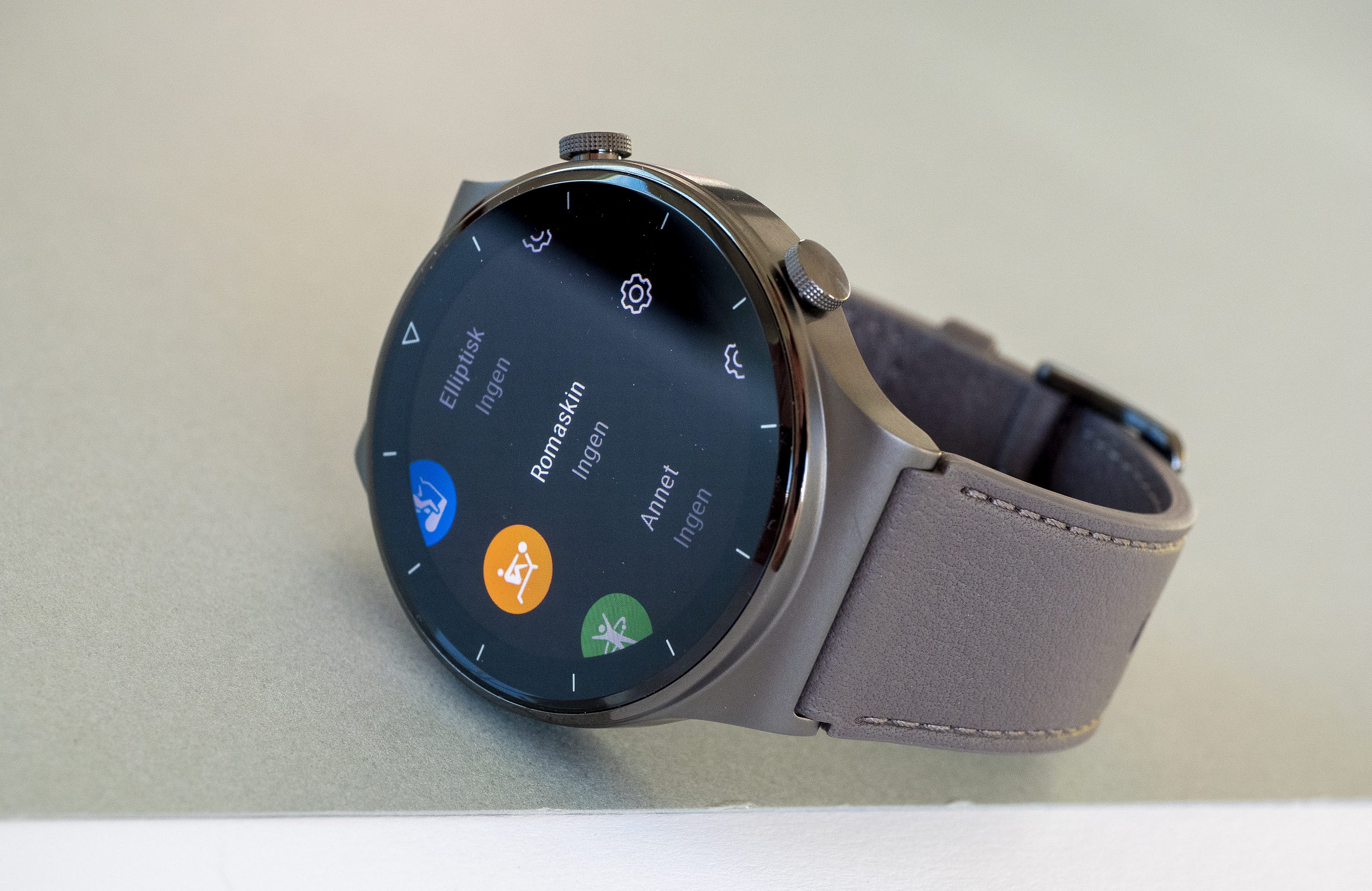 With 100 training modes, most people find something they can use the GT Pro for.You can also use ready-made training sessions, or create your own that can be stored in the watch.
Competitors' training watches also have sensors that measure the same thing, but none of them have as many activities added to the watches. They also do not match the battery life of up to 14 days.
In the Pro version you also get an updated golf mode that registers the speed of the golf club, and ski and snowboard mode that registers speed, vertical distance and of course heart rate. The outdoor mode can also warn of things like high tide, warn of bad weather and sudden weather changes, and show the recommended compass direction.
Some of what GT2 Pro can detect:
Heart rate
Oxygen level in the blood
Speed
Calorie burning
Activity,
Sleep pattern
Distance traveled
Number of steps
Stress level
Intensity
Barometric pressure
Temperature
Ease of use
Compared to an Apple Watch of 44mm, the GT2 Pro with its 47mm in diameter is a great watch. At the same time, it is not so thick and the strap that can be removed without tools is well integrated in the strap fasteners, but it fits best on wrists that are not too thin.
Even with the sensor surface protruding on the back cover, the watch rests comfortably on the wrist. The lightweight titanium case both looks better and feels better than the steel case on the GT2e, and with the leather strap on, it can be perceived as an expensive wristwatch, and not an ordinary training watch.
It is also waterproof to 50 meters, and can be used for swimming and triathlon exercises, but not for activities such as diving.
Operation is the same as on a GT2e. Swipe up and down, and to the sides of the touch screen, or the two buttons on the right side.
Training in rainy weather can present a small challenge because so much has to be done via the screen. Damp fingers sometimes give zero response from the capacitive screen, and we want a rotating crown on the next generation Huawei Watch GT.
The screen is bright and sharp with good resolution, but is not on all the time as on newer Apple Watch models. You have to rotate your wrist or press a button to bring the screen to life. It also does not hold to touch it, as you can on an Apple Watch.
If you want screen display all the time, you must select it in the settings of the watch. Then it shows a selected dial with dimmed backlight. Then you can also touch the screen to turn on the backlight, but with always-on, the battery life is also significantly reduced.
The performance and accuracy of logging training is identical to the results we got from GTe, and told us that Huawei has primarily given the Pro version a more solid, and elegant watch case that sneaks more under the radars than a rubber-coated training watch does.
It automatically suggests exercises whether you run after the bus or on a treadmill, and when you choose one of the many training activities yourself, the tracking of the number of steps, heart rate and distance, etc. works very well. You can largely rely on the Huawei watch to see what you are doing and log the correct data.
The watch can also measure the oxygen level in the blood as and display the result on the screen.
iOS and Android apps
Just like on the GT2e, all training data is logged in the Health app, but even here iPhone and Android users do not get the same support for all the functions. The Android version is more advanced with more features, and unfortunately the support for the iPhone is still poorer.
You can answer incoming calls via Bluetooth on your mobile, see, but not answer messages, nor pay contactlessly with Huawei's pro model.
You can play music right from the clock (stores up to 500 songs), either to the built-in speaker (does not), or to a pair of Bluetooth earbuds. But again, only if you have the Android app. The watch also lacks support for third-party apps like Strava.
Huawei Watch GT2 Pro: Conclusion
For those who need a training watch with many features, the Huawei Watch GT2e is the best choice. For those who do not think it wears anything other than training tights, the Pro version is worth considering, if you do not think almost double the price is too much. The Pro version is more neutral, and the lightweight titanium case makes it feel better on the arm. Unfortunately, support for third-party apps is thin, and it is not the training watch we recommend for iPhone users.
But no one beats the GT2 pro in battery life, and if you are a Huawei or Android user, there are not many better training watches in this class out there.