Most people will probably stumble over the price, shake their heads and think that I would rather buy a Fitbit, Apple Watch or a Garmin. For most of them, it will surely be the smart choice, but there is obviously a group of people who do not get excited about a watch that looks like a computer.
They want something more exclusive, something that looks and feels more like a more expensive wristwatch. A watch that can be used both for suits or blazers, and for shorts or jerseys.
This is the group TAG Heuer addresses with this year's edition of Connected. A smartwatch that looks like the company's iconic Carrera wristwatch, but which is full of advanced technology and most smart features imaginable.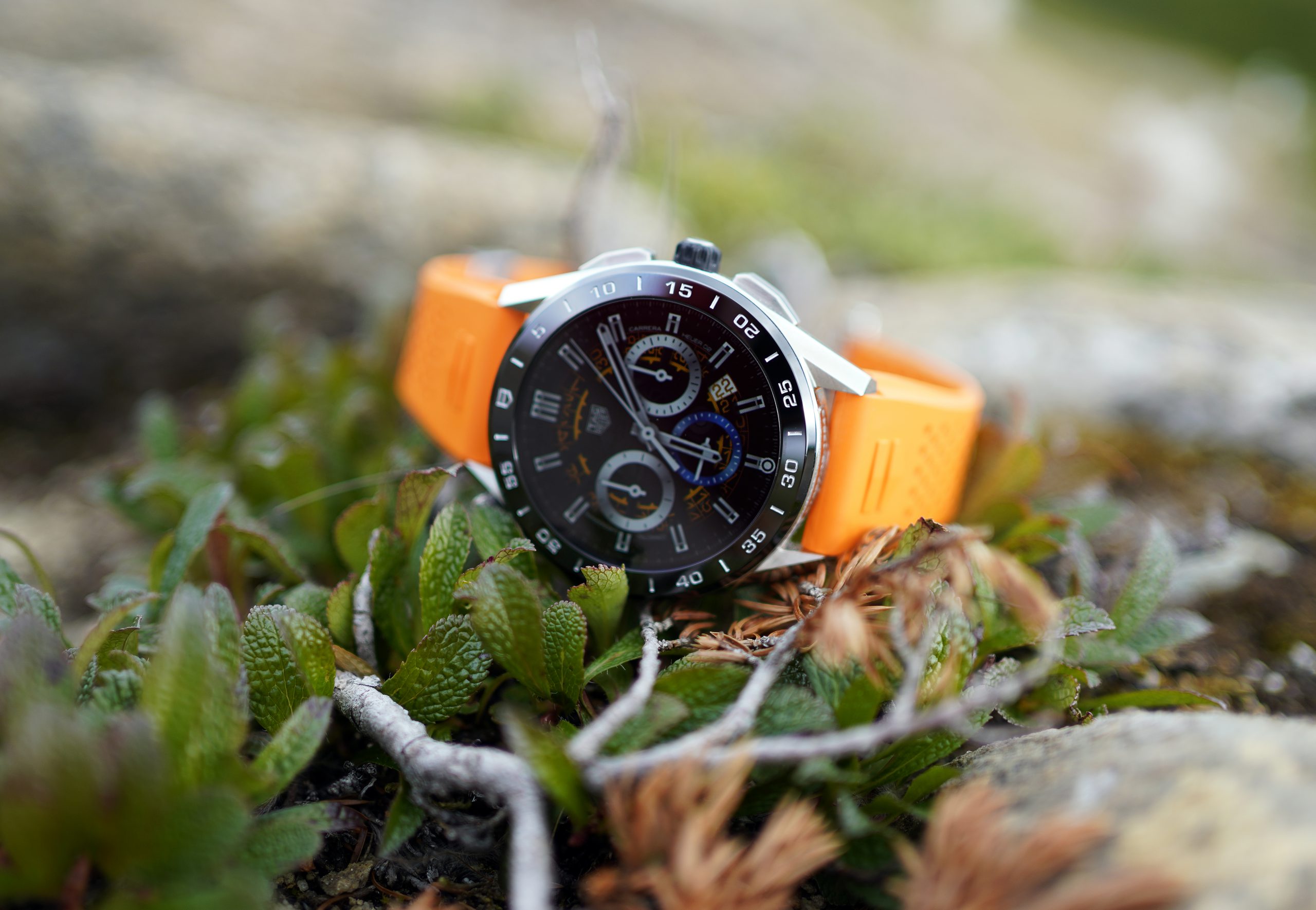 But let's take a look back, because this is not TAG Heuer's first smartwatch. The first Connected Modular 45, came already in 2017, followed by Connected 41 two years later, and now the third generation is here. And it is much better than its predecessors.
Not only does it look much better. The quality is up a couple of notches, it has much better functionality with two push buttons in addition to the push and swivel crown, and it is smarter and far more usable than before.
This actually goes just as well with a shirt and tie, as with running shoes and shorts.
Solid quality impression
With its 45 mm in diameter, the watch case is much larger than an Apple Watch or Huawei GT2e, and it builds more on the wrist than even a Samsung Galaxy Watch 3, which is also 45 mm.
But again, the quality is in a class of its own at TAG Heuer Connected.
The brushed stainless steel case, the sapphire crystal that covers the 1.39-inch touch screen, the feel of the push buttons, and the folding lock on the detachable rubber straps, oozes quality compared to most smartwatches.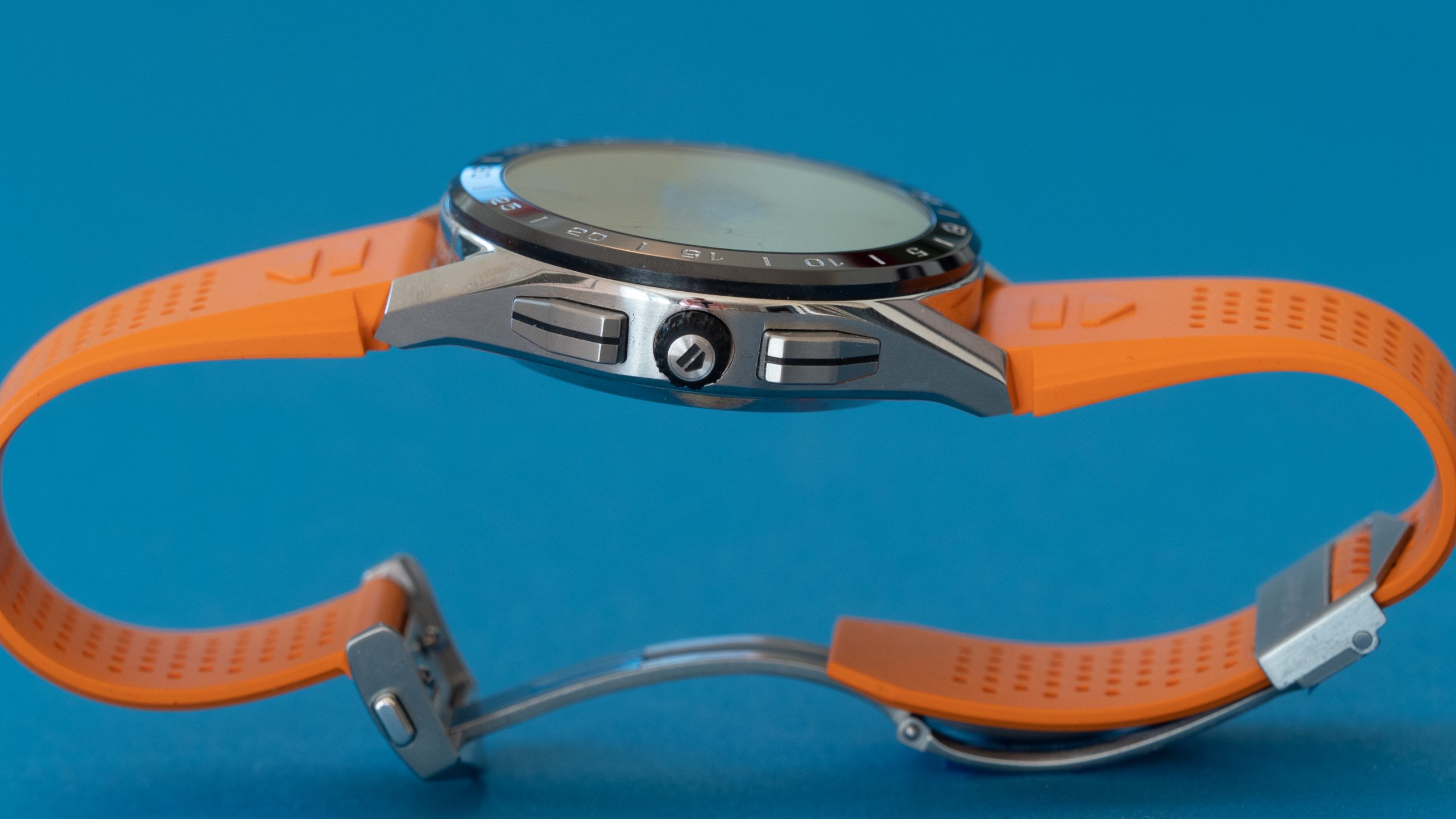 The watch is available in four designs. Our test specimen had a brushed steel case, a black ceramic ring (bezel) with minute markings and a black rubber strap with folding clasp. The other designs are black (PVD) titanium with the same black ceramic wreath, brushed steel with blue ceramic wreath, or titanium case with PVD wreath. It can also be delivered with a steel bracelet, at an additional cost, and there are rubber straps in several colors for the watch.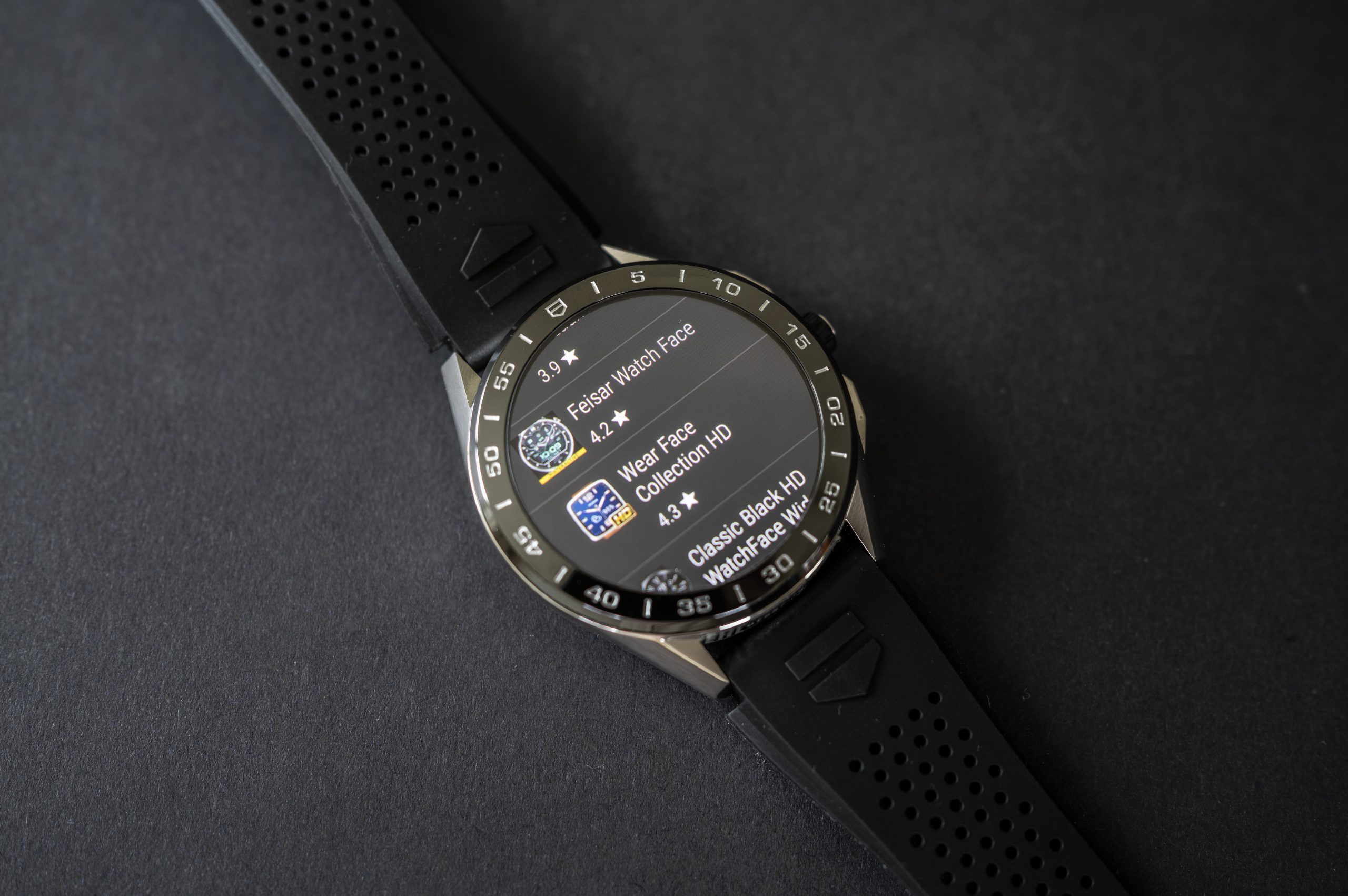 It is waterproof to 50 meters, and can be swum but not dived with. It is also equipped with GPS (as well as Glonass, BeiDuo and QZSS), and has heart rate and heart rate measurement, accelerometer, gyroscope and compass.
TAG Heuer Connected comes with a magnetic charging dock, charger, USB-C charging cable, and a nicely designed travel case, with space for a dock and cables.
Smart features
It can thus map movements, follow your heart rate, and is used as a training watch for cycling, running, fitness and other exercise-like activities, and it has its own golf mode. However, not as detailed with course maps and the like, as a Tag Heuer Connected Golf, or Garming's golf watches.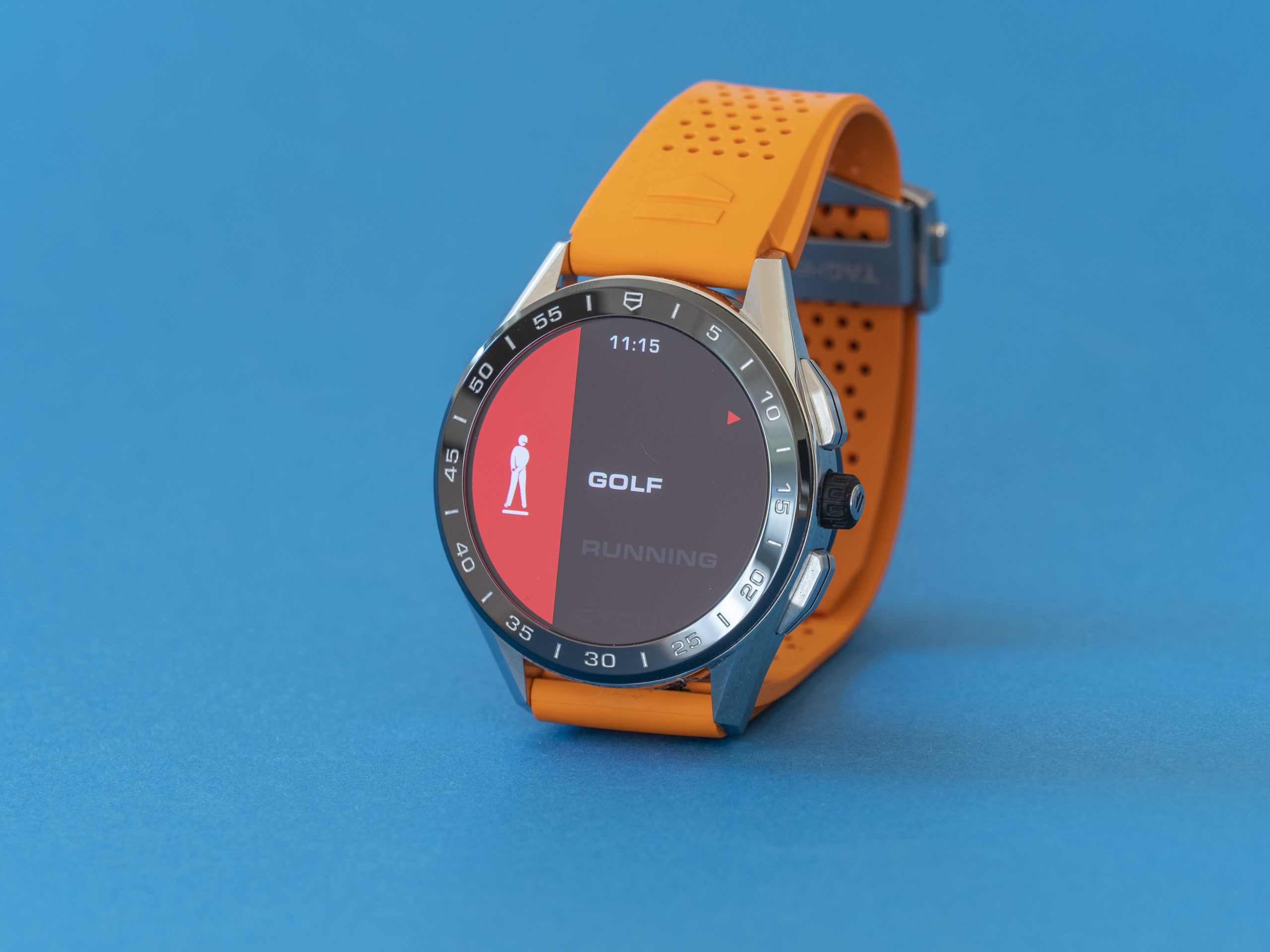 You can also sync training data from the watch with Apple Health or Strava, and of course it supports apps on both Apple iOS and Android mobiles. There is also a separate TAG Heuer app for mobile, where you can easily change the setting settings on the watch, and change dials on the screen.
It is also possible to choose from several dials, from full digital display of time and training data, to classic three-handed analog dials (Classic), or advanced chronograph dials with selectable background colors (Helios, Heuer 01C and Heuer 02), and you can access to even more in the TAG Heuer app on mobile.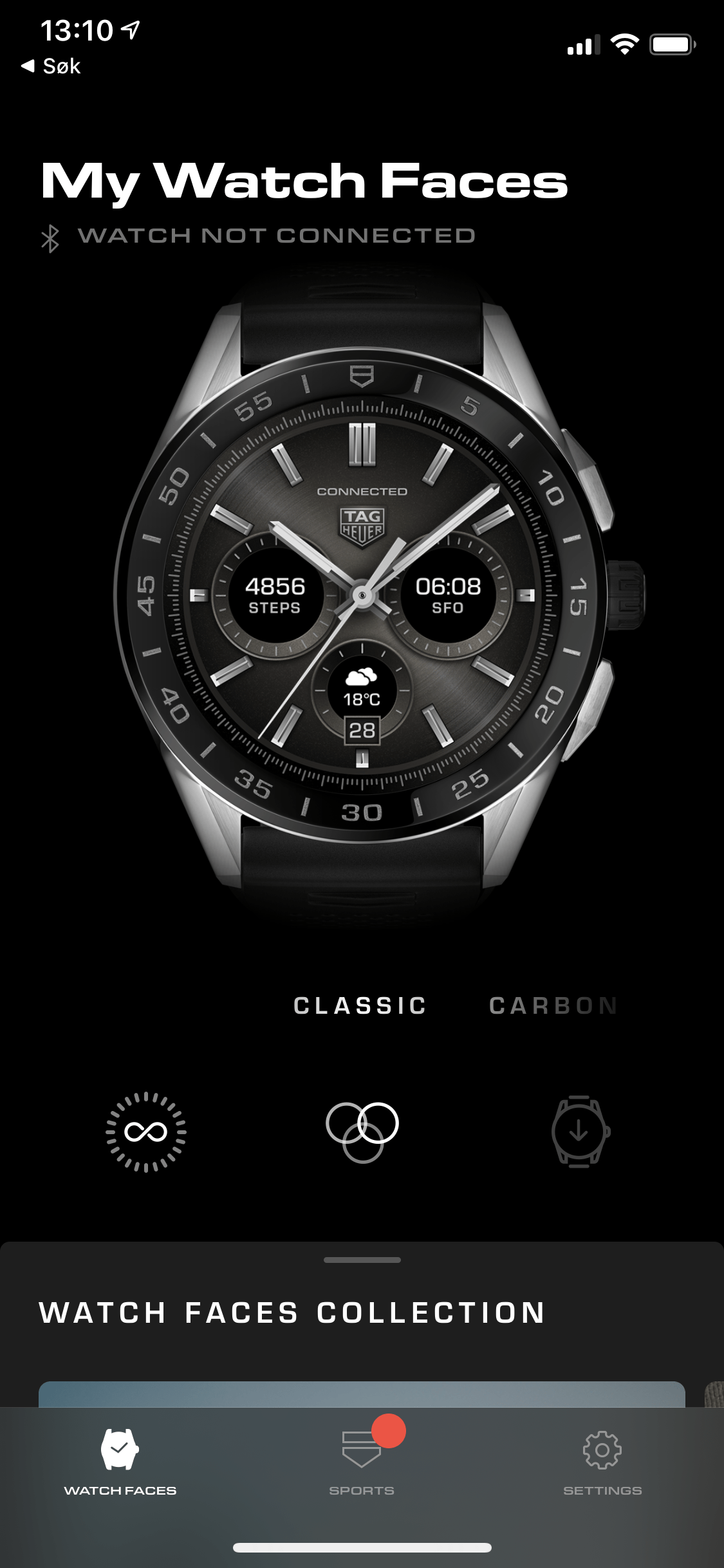 This allows you to customize the clock on the watch for activity and occasion, sports, training, cocktail evening or business dinner, for example.
In the app, you can also see training logs, which can show, for example, the route on maps, kilometers traveled, time spent, average heart rate, heart rate, speed and much more.
Ease of use and tracking
It also supports Google Pay with the NFC sensor, and has Google Assistant built-in. and you can also control the music from the touch screen, and view push notifications from your mobile. Like text messages, emails and other alerts.
Most can be controlled from the touch screen, the crown on the side and the two buttons on the sides. Which also works as start-stop buttons just like on a Carrera Chronograph. The ceramic wreath is not rotatable, which I also did not miss, because the rubberized crown and touch screen hold plenty for daily use.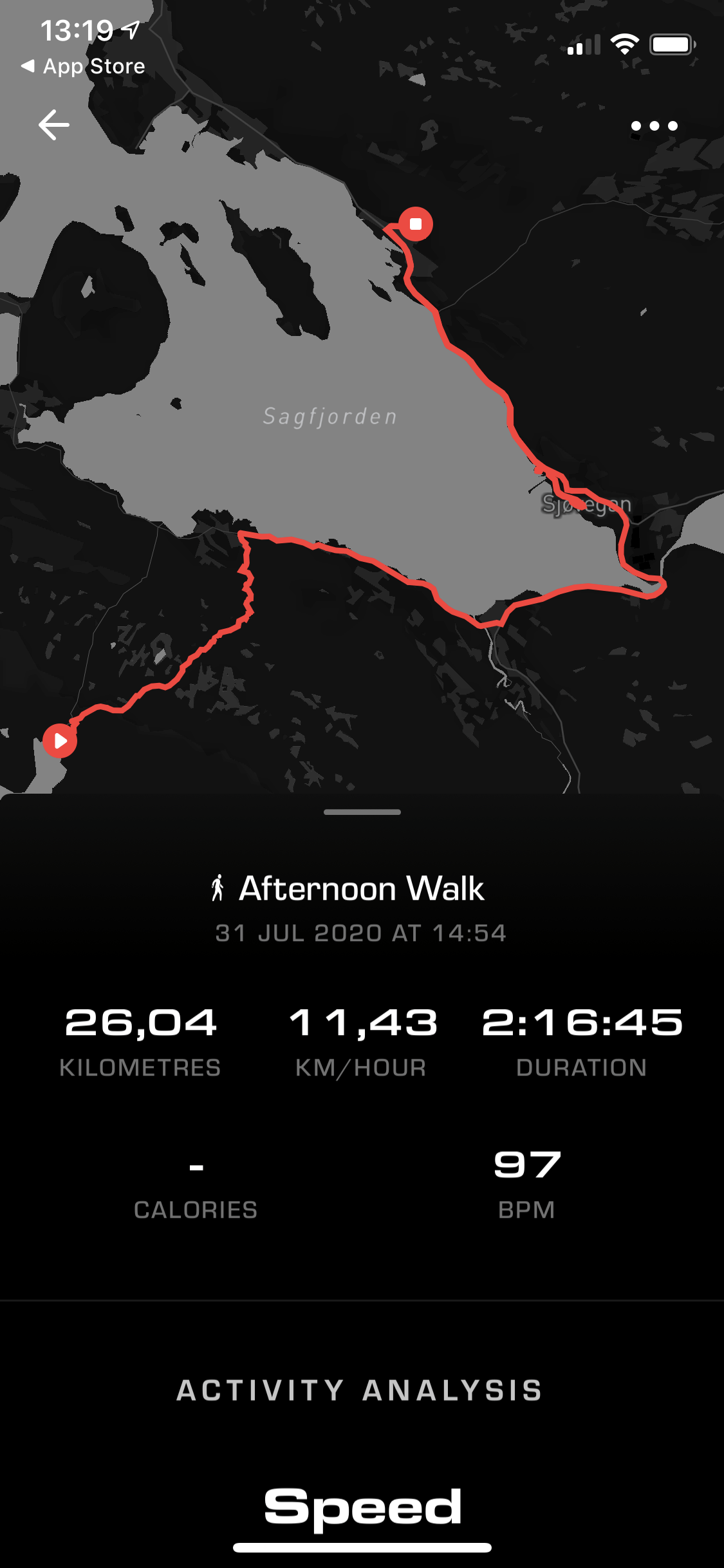 The Connected watch worked mostly flawlessly the month I used it. It mapped cycling and mountain trips with good precision and the heart rate measurement was generally very reliable, although it was not as accurate as a heart rate belt can be. It happened on a couple of occasions that the GPS tracking missed the distance traveled and time, but it was exceptional.
It is noticeable that the new Connected has a faster Snapdragon processor than its predecessors. It is hardly noticeable here when you press buttons or the screen, and the connection to an iPhone turned out to be stable and robust.
Battery life
The new processor obviously uses a lot of the capacity of the 430 mA / hour battery inside – which by the way is replaceable. If you use the Connected watch as a regular smartwatch, with time display and push notifications, the battery lasts for just over 24 hours in my experience. But from fully charged to empty, it can go fast when using both GPS and heart rate measurement, and I experienced that the clock died before two hours had passed when everything was in use.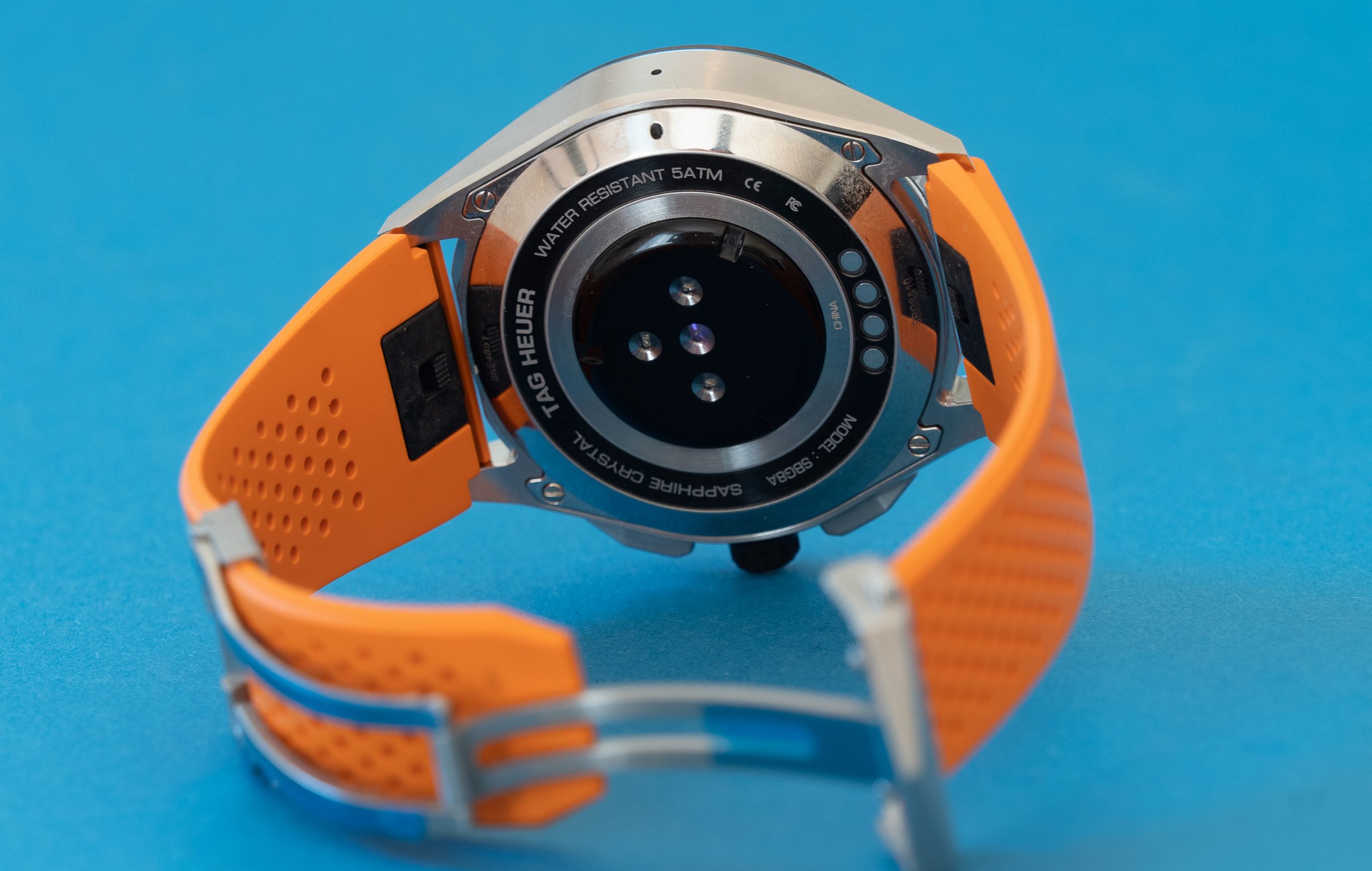 If you are a triathlete or marathon runner, you are better served with a training watch from Garmin or Polar, but for shorter training sessions, cycling and jogging trips or walks in the woods and fields, TAG Heuer covers the need for a training watch as well as the most other training watches.
Conclusion
There is no doubt that TAG Heuer's new Connected smartwatch offers something more than most smartwatches do. Not when it comes to features, because most smartwatches can do the same or even more, and there are better training watches than this, but none of them come close to the same quality, luxury and usability as the third generation Connected- clock. Who are in a different league than the others. Also in terms of price.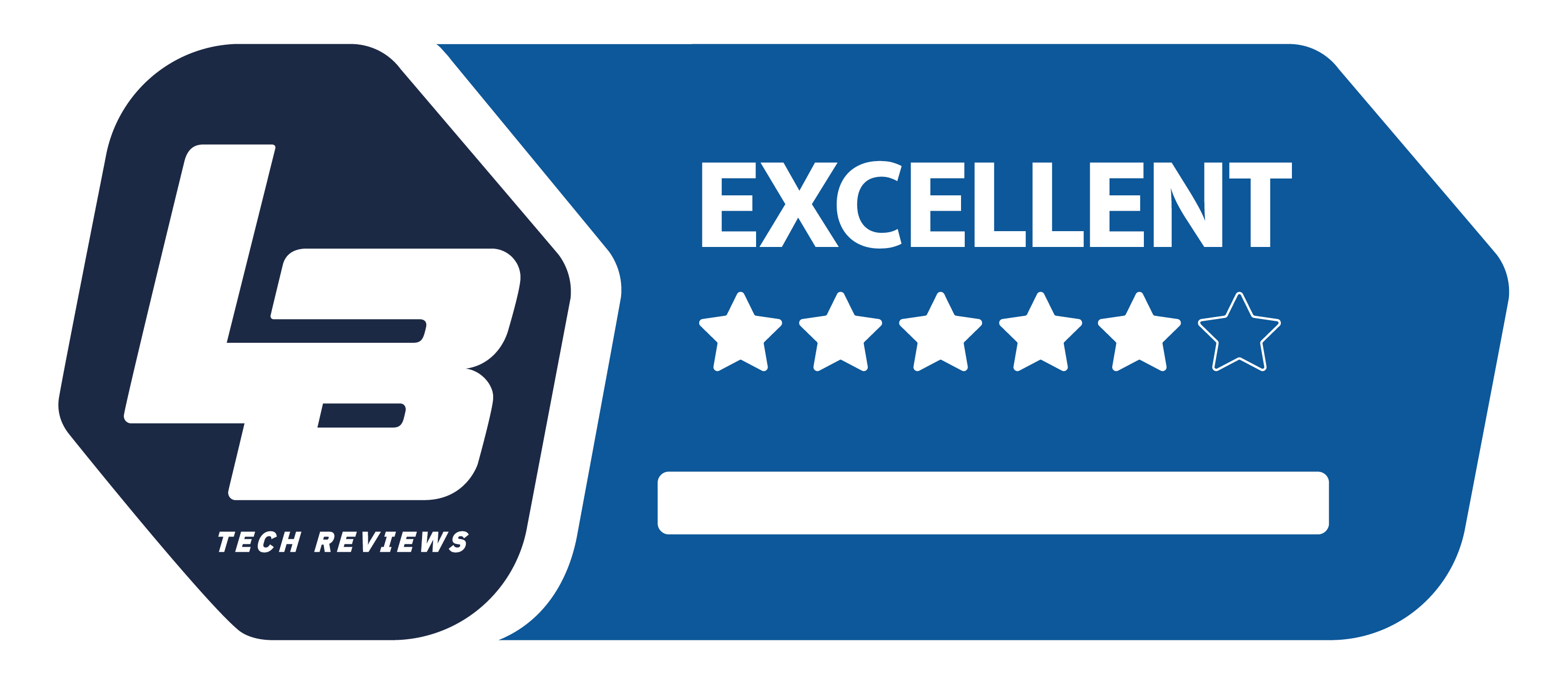 High End
We think
The quality is in a class of its own. Comfortable despite the size, complete operation and good app and training support.
Battery life is modest when used actively, many will find it difficult to defend the price.