Lasse Svendsen
Published

2020-09-05 - 5:00 pm
Super easy to fly, good video quality, good battery life and many setting options for both amateurs and advanced. Lots of fun for the money.
Does not have 4K video. Image noise when shooting in low light.
Specifications
Type: Camera drone
Optics: 24mm f2.8, 83 °
Still images: 12 Mp, 1 / 2.3 "CMOS
Video: 2.7K video, 40 Mbps MP4
Range: Up to 2 km
Flight time: Up to 30 min
Max wind: 8 m / s
Connections: USB-C
Storage: microSD
Wireless: Wifi 2.4 / 5.8 GHz
Dimensions / weight: 140 × 82 × 57/160 × 202 × 55 mm mm. 249 g
Highlights: 3-stage image stabilizer, GPS, Glonass, charger, charging cables, spare propellers, propeller protection, carrying case, three batteries and remote control.
Although flying is fun, not all drones are toys. But the DJI Mavic Mini Combo is so fun to fly that it borders on being a toy, even if the camera drone is not.
The small drone can quickly be confused with a toy, but it is far more potent than it seems to be, even though it is so small that it sneaks below the magic 250 gram limit with one poor gram.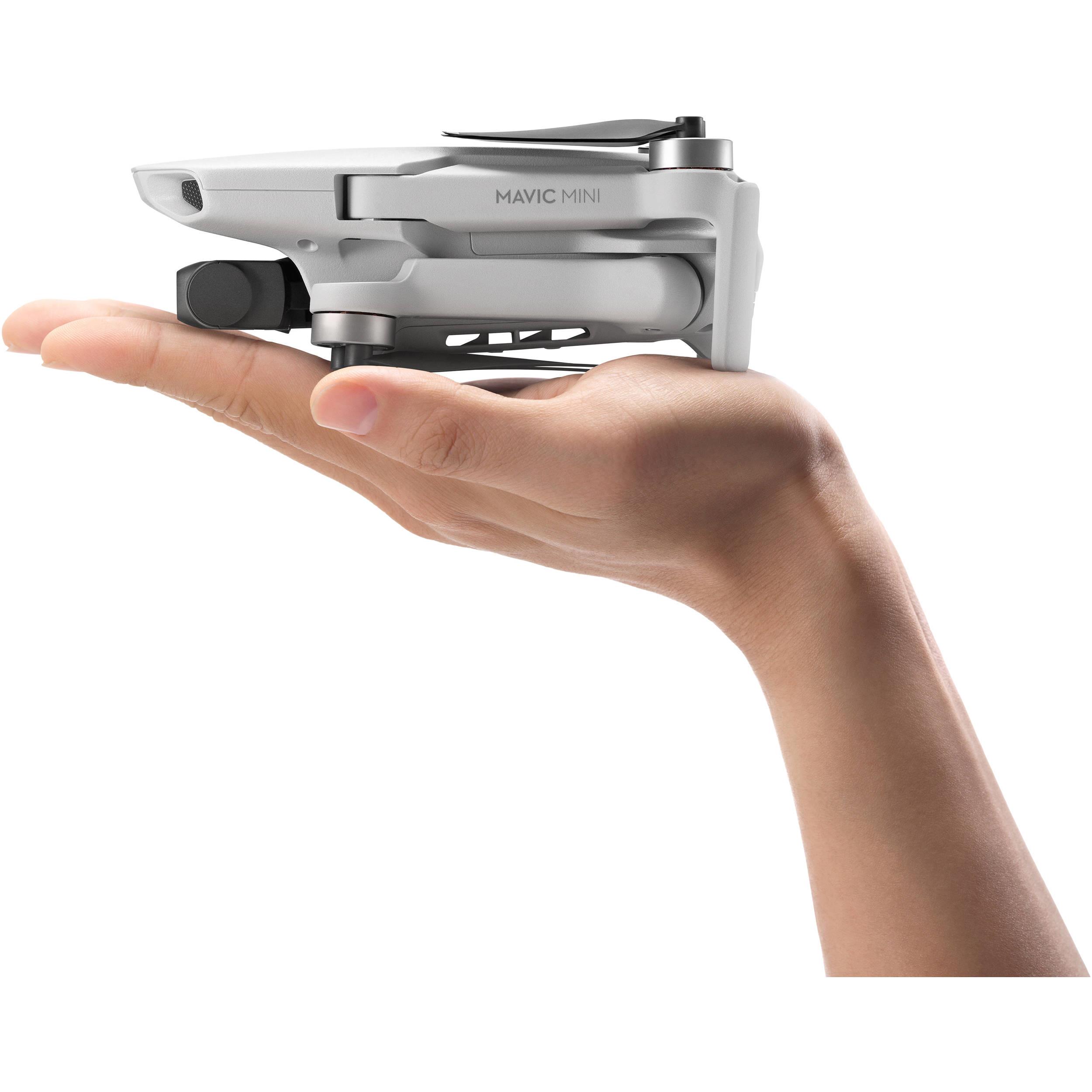 This is because operators who fly drones over 250 grams must be registered with the aviation authorities, and there are strict rules for where you can fly a drone. But more on that later.
DJI's little Mavic Mini is one of the smallest camera drones that can both film and take still pictures. It can be flown by anyone, and is so easy to fly that most people can do it with just a little practice.
The Mavic Mini is only available in one edition, but there is a Combo version that includes some accessories. As a spare propeller (nice to have), propeller protection (better safety indoors), a total of three batteries, a charger with room for all three, and a carrying case to have it all in.
Mavic Mini Combo has two extra batteries and lots of accessories.The drone itself is collapsible and so compact that it goes down into a jacket pocket. The included remote control is small enough to go into the other pocket, and the last vital component, we all have with us: the mobile.
Because even if you control the drone with two joysticks on the remote control, you have to use your mobile as a video screen, and there you also make all settings in the DJI Fly app, such as selection of exposure program, automatic take off and landing, and not least return to home – RTH. Which sends the drone back to the take off position.
Return to home also sends the drone back, when the battery is almost empty, so you do not have to worry about it ending up in the sea when the battery is empty. The drone also has two sensors on the underside, which scan the ground and warn if it thinks it is not safe to land.
GPS
It can be flown indoors, it is both small enough and easy enough to fly that there is a low risk indoors. But it is outdoors that it comes into its own. Then it uses GPS to orientate itself and to find the starting point when choosing RTH.
So you can not charge the batteries and start flying where you want. For example, there is a safety zone of five km around airports, and it is also not allowed to fly on another person's property without a permit. The DJI Fly app has a map view that shows red-marked areas, ie no-fly zones, which you are obliged to respect.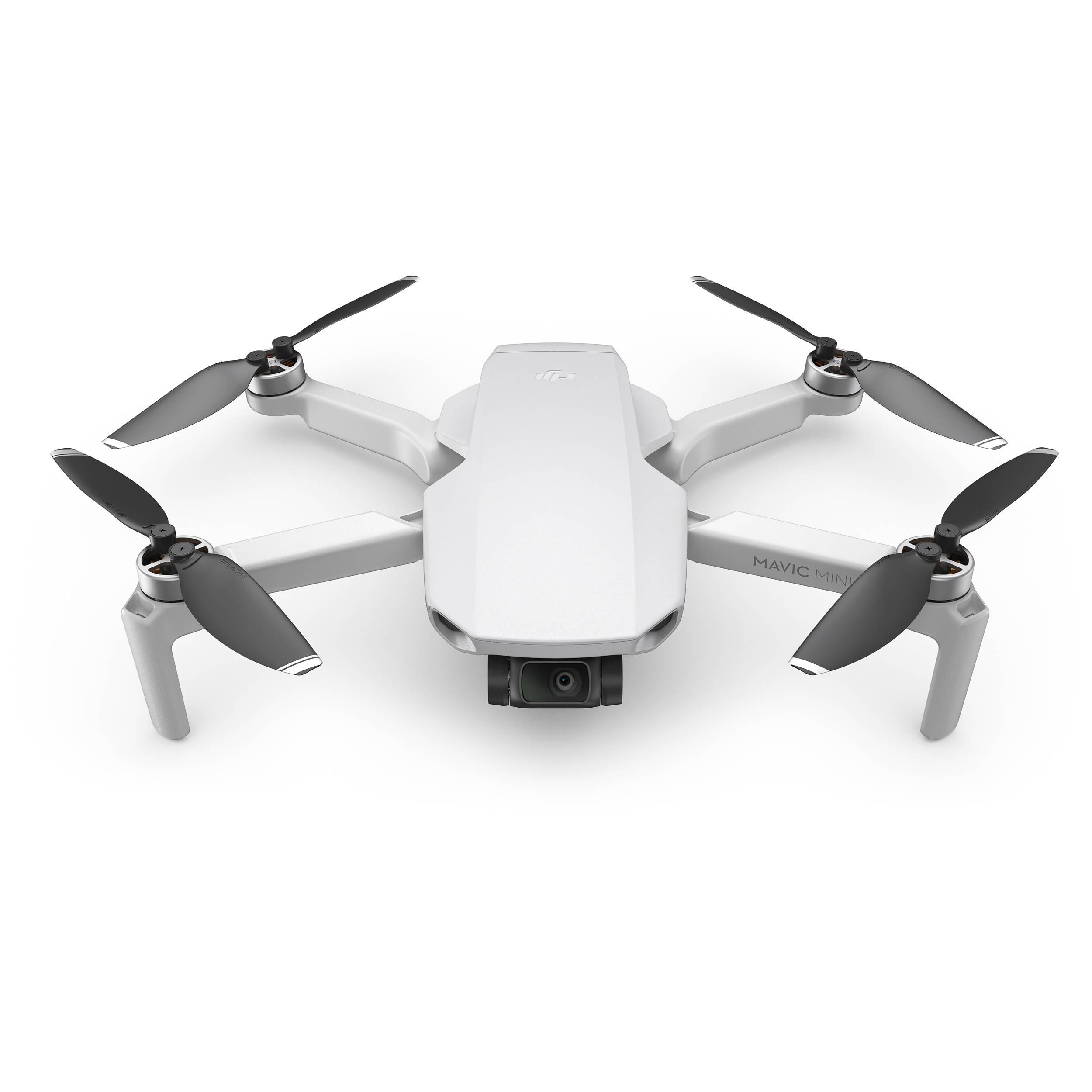 Safety rules:
Always make eye contact with the drone
Do not fly over sporting events, concerts, military areas
Do not fly over accident sites
Do not fly higher than 50 meters, 120 m if you are an RO operator
Do not fly closer to airports than five km
Keep the safety distance of 150 meters from people and buildings
Pay attention to people's privacy
You must have approval to fly in the dark
Observe the applicable safety distances
All flying must be done in a considerate manner
Camera
The drone has a wide-angle lens with fixed focus and good brightness. It can take both still images with 12 Mp resolution, and video in 2.7K resolution. That is between HD video and 4K. The camera sits on a three-axis gimbal with mechanical image stabilization.
The image chip is no bigger than 1 / 2.3 ", we would have preferred a 1-inch CMOS chip with 4K video, but you can not get everything in this world. DJI makes drones with larger image chips and 4K resolution, but then the weight, size and not least the price are completely different.
The drone can stream the video image to the mobile, up to four km away from the operator, and flies for up to 30 minutes on a single charge. I got about 25 minutes in cold weather, but since the Combo version comes with three batteries, you get plenty of flying time for hobby use.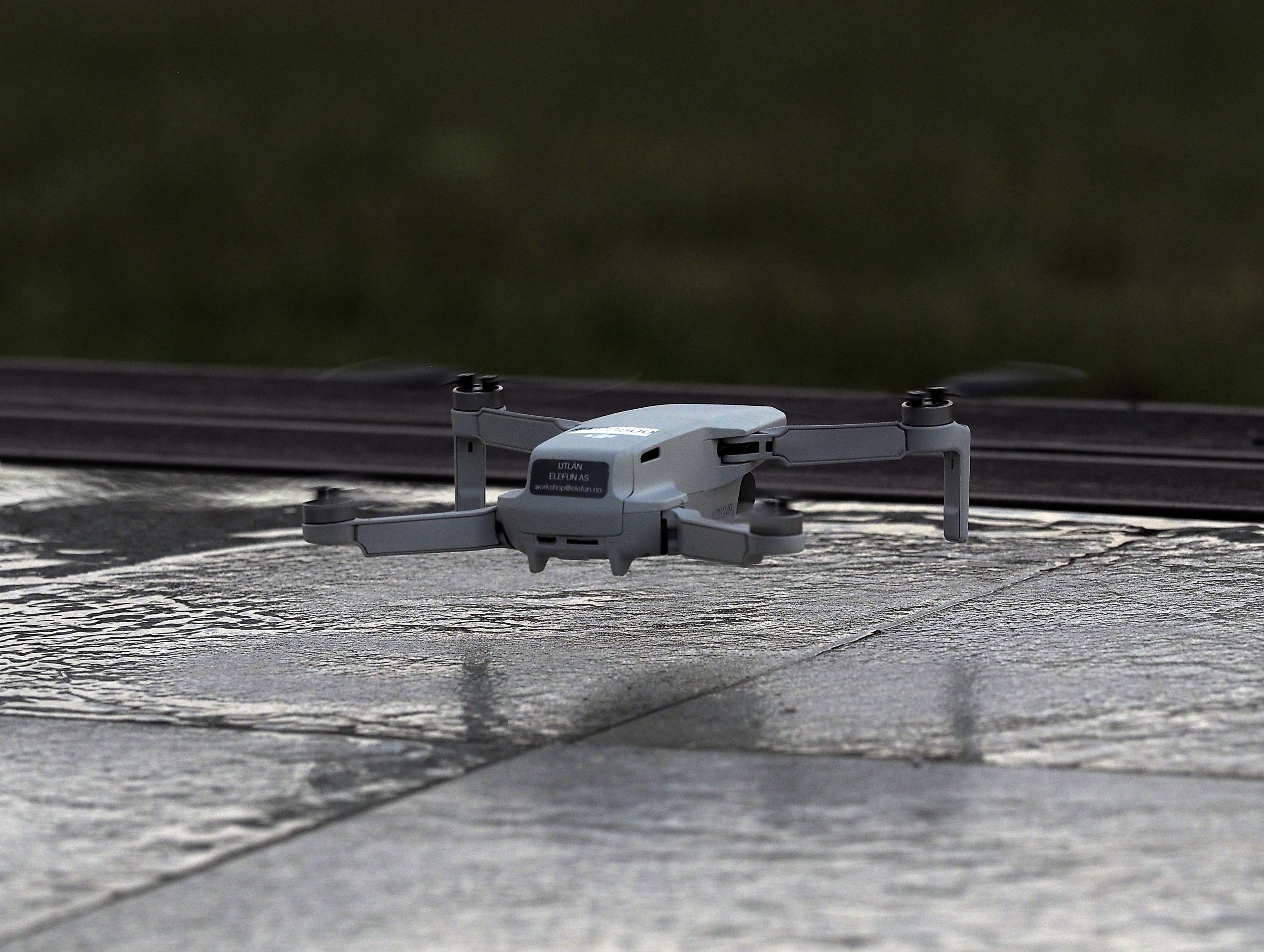 Ease of use
The DJI Mavic Mini is playfully easy to fly. Once you have unfolded the rotor shafts and turned on the power on the drone and controls, you can start the flight from your mobile. Press Take Off until the whole circle is green, then the drone slowly eases to just over a meter above the ground, and stands and hovers. Then just move the sticks carefully forward to ascend, and steer the drone where you want.
If you release both sticks, the drone stops momentarily, and stands and hovers until you pull the sticks again. The DJI app has training videos that are practical for beginners, and it also has pre-programmed templates that can be used if, for example, you want a ready-made flight pattern.
There is also a CineSmooth mode that gives the drone smoother movements and a little less speed, which is very nice to use when making video with a professional look.
The controller has one button for starting and stopping video, and one button for still images. Which you can immediately share on social media directly from your mobile, or to DJI's media platform called Skypixel.
DJI states that the drone can withstand winds of up to 8 m / s, and it does at least. I sent the drone high up in the wind which was between 6 and 8 m / s, a little more in the gusts, and although I could hear the drone working with the stability, it was not visible on video that there was a lot of wind.
Picture and video quality
Although we would have preferred 4K resolution, we must admit that the video quality is above all expectations. The still images are sharp and relatively noise-free when the images are taken in daylight. The evening pictures are not as noise-free, and the same goes for video. In daylight, the sharpness is very good and there is little image noise. At dusk, image noise becomes more visible when filming while flying. You can see it in the mosquito noise that occurs in the terrain when you fly and film in low light.
If you stick to flying during the day as a hobby user, the quality is good within what is approved. And well then. The camera is a bit sensitive to stray light, and you should not film directly against the sun. Then it struggles with the exposure, and you get a lot of stray light and ghosting on the recordings.
Conclusion
The small DJI Mavic Mini drone is so easy to use and easy to fly, that anyone can make it happen. The drone is not only very fun to fly and film with, it can also be used for useful things. The controller is easy to relate to, and the DJI app is well thought out and clear. Even the flight time is good, and if you choose the Combi version you get over an hour of flight time. The still image and video quality is actually better than feared, and you can make really nice drone videos with a little practice. For hobby users, the Mavic Mini is a great choice, but I also think professionals can see the benefit of a small drone under 250 grams, as an addition to a large and complex drone.