Lasse Svendsen
Published

2021-04-13 - 10:00 am
Fantastic color reproduction and dynamics. Extreme resolution provides superb sharpness, and image stabilization helps with handheld photography. Professional video quality with external sound recorder. Relatively reasonably priced for a medium format camera.
Moderate shooting rate and follow focus. Lower resolved viewfinder than GFX100.
Specifications
Type: 102 Mp medium format camera with 44 x 33 mm image sensor
Lens: Fujinon G
Screen: 8 cm LCD, 2.36 Mp
Viewfinder: 3.69 Mp OLED, 0.61x
Burst: 5 frames/s
Video: 4K30p UHD/DCI, 400 Mbps, 4:2 2 10-bit out, 12-bit ProRes RAW
Connections: Remote control, USB-3, HDMI, microphone, headphones
Wireless: Bluetooth, Wifi
Storage: 2 x SD card slots with UHS-II
Battery life CIPA: 460 exposures
Dimensions/weight: 150 x 104 x 87 mm/900 gr
Highlights: Two-axis touch screen, 50-102400 ISO, 1/16,000s, 425 focus points, joystick, weather seal, 6-step image stabilizer.
Web: fujifilm.com
Two years ago, Fujifilm's GFX 100 set the standard for image quality, but perhaps not for portability. With an integrated vertical grip and a fairly mature OLED viewfinder, it is a fairly big camera.
This is not only because it has a large 102 megapixel image chip of 44 x 33 mm, but the camera is simply heavy. Something I noticed well when I took the first pictures with the camera in Japan in 2019, and later brought a GFX 100 to northern Italy.
Then there were times when I wanted a smaller and lighter camera, and which was not so visible to the surroundings.
Now the wish has finally been fulfilled in the GFX 100S, which is a GFX 100 with the same 102 Mp image chip we already know well, only in a much smaller and lighter camera body. Here you get the same extreme resolution, image dynamics and color depth, from 14- or 16-bit (uncompressed or lossless) raw files, and video recording in 4K quality.
The best thing about it is that the GFX 100S costs almost half of what a GFX 100 costs.
So you save a lot of money here, without having to give up much. The battery life is of course shorter with only one smaller battery compared to two larger ones, and it is also not possible to apply any vertical grip, for those times when taking pictures in portrait format. The viewfinder is also not removable, and has a lower resolution.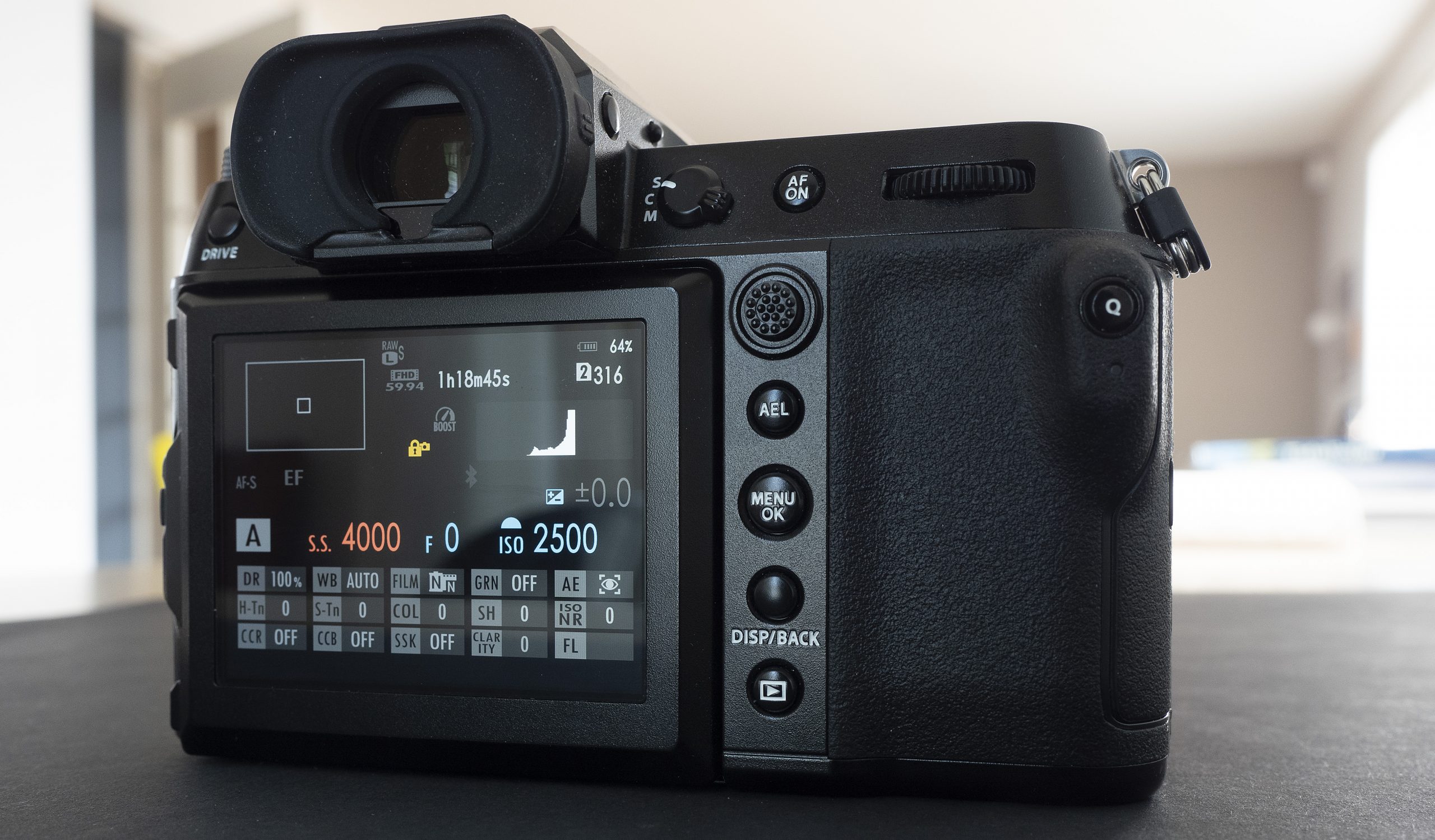 Improved on several areas
But the camera is not without improvements, compared to the camera we know as the GFX 100. A new and more compact image stabilizer should be effective down to six exposure steps. The handle with the thumb grip at the back is far better to hold and provides a safer grip. The unmarked setting wheel has become a clearly marked program wheel where you can store as many as six preferred layouts, and the camera has a marked switch for movie recording and still images.
Otherwise, the basics are technically similar:
102 Mp 44 x 33mm BSI-CMOS
4K@30p video with 4: 2.2 10/12-bit output
Five-axis 6-step image stabilization (new)
5 exposures/s firing rate
425 focus points with phase focus
16-bit raw files, lossless or uncompressed
1/16,000s electronic shutter
50 to 102400 ISO
Fixed 3.69 Mp OLED viewfinder (new)
Three-axis touch screen
Weather sealing
Nostalgic Negative Movie Simulation (new)
Basic similarities
The technical and practical differences are thus small. The operation is based on the same push and turn operation with buttons and setting knob, and the camera also has a large status screen that can display selected settings, histograms or display shutter speeds and aperture as analog setting wheels. The screen is not backlit, but you can switch to a white background to see it better in low light.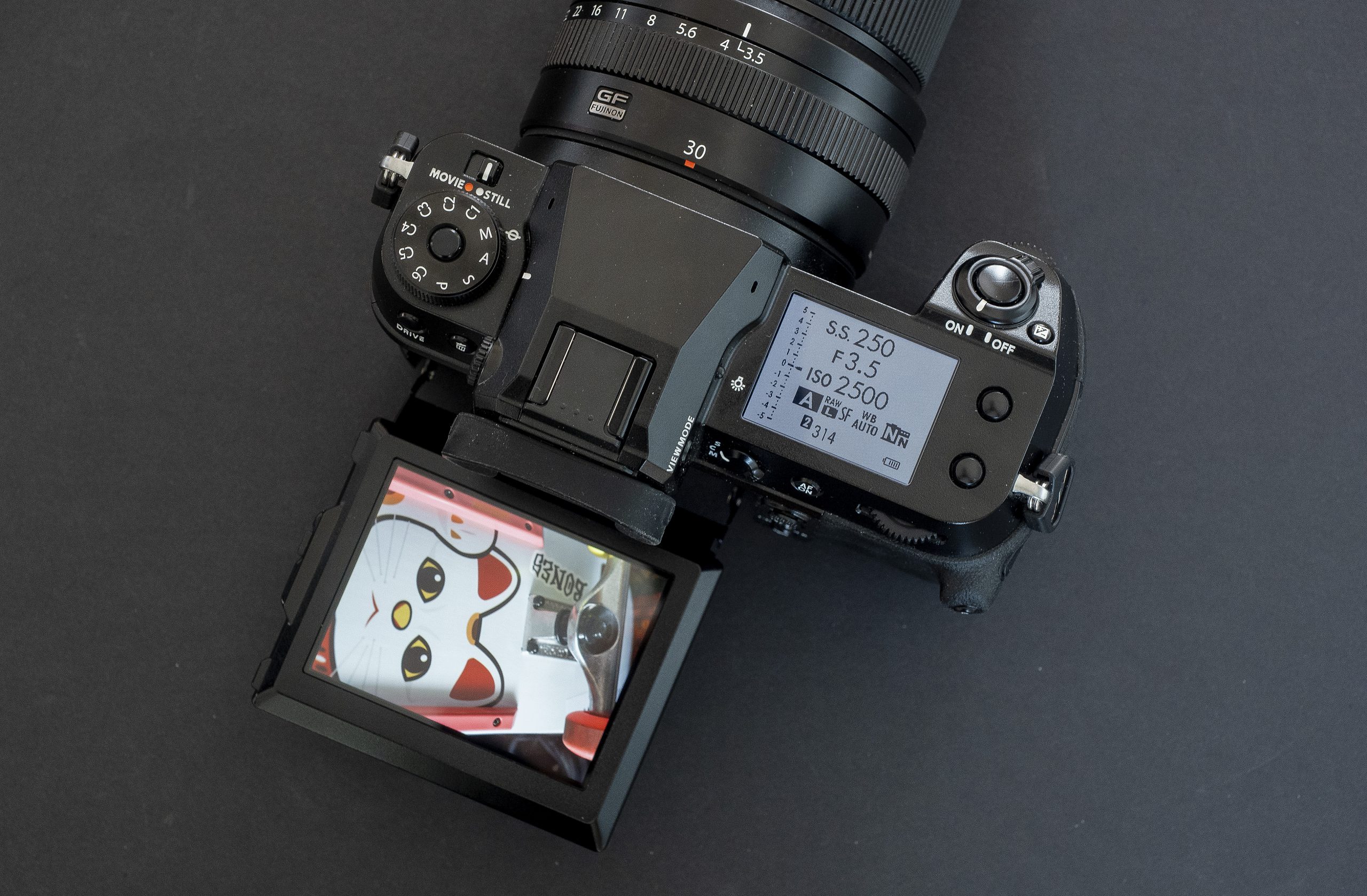 The touch screen can be tilted three ways just like on the GFX 100, and several of the buttons and setting wheels can be programmed, and even more settings can be changed by swiping up, down or to one of the sides of the touch screen.
Connections
The battery can be charged in the camera via USB on the left side, and the camera has connections for video and still images via the HDMI output, there is also a headphone and microphone connector here, PC sync for flash, and a connector for wired remote control. It can also be controlled from the Fujifilm app on the mobile, and of course supports tethering from a computer.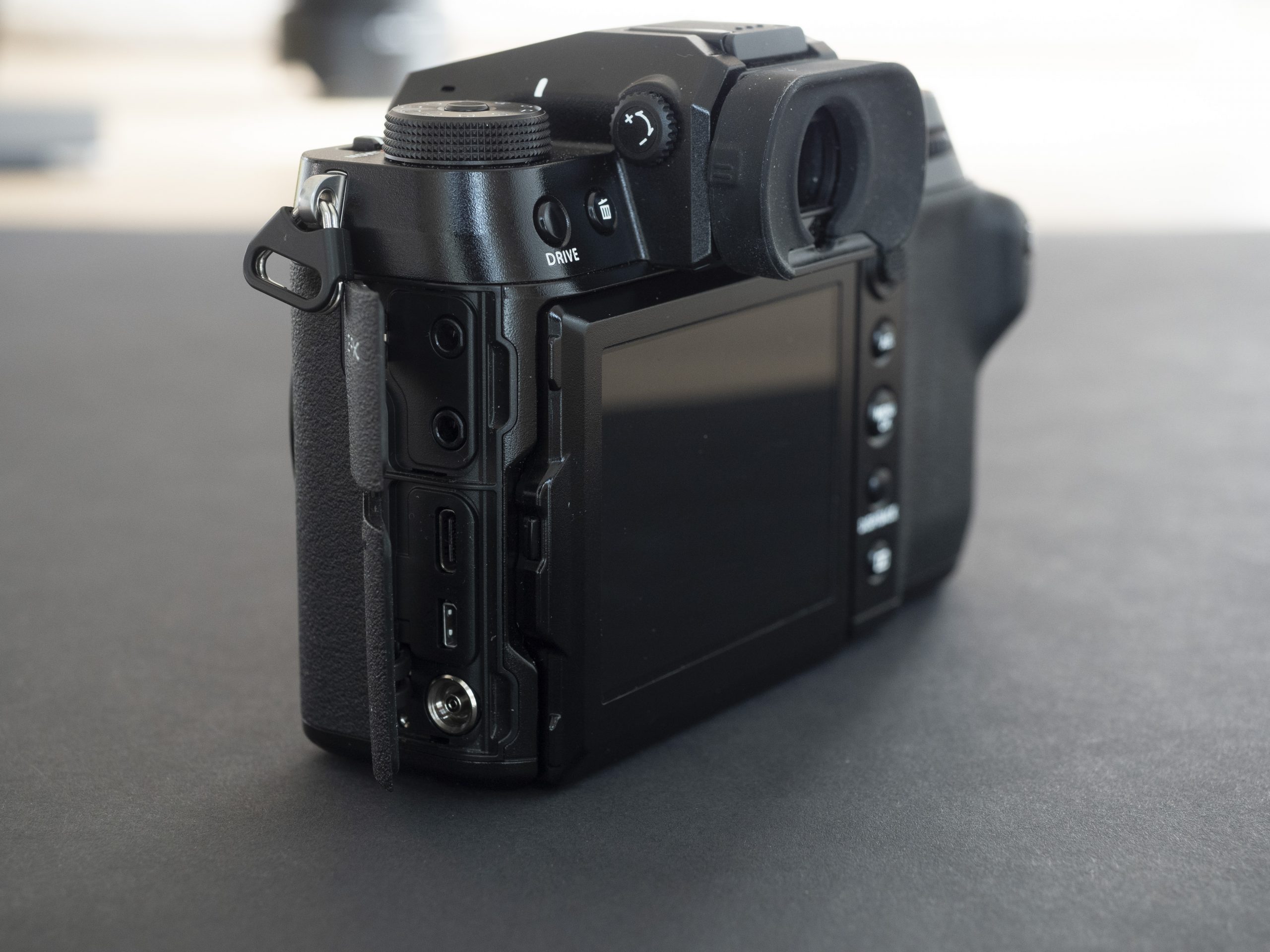 On the right side, the weatherproof camera housing holds two UHS-II compatible SD memory cards. As mentioned, it does not have the detachable OLED viewfinder we know from the GFX 100 with 5.76 Mp resolution, but a smaller viewfinder with 3.7 Mp resolution, not unlike the one we know from the GFX 50S.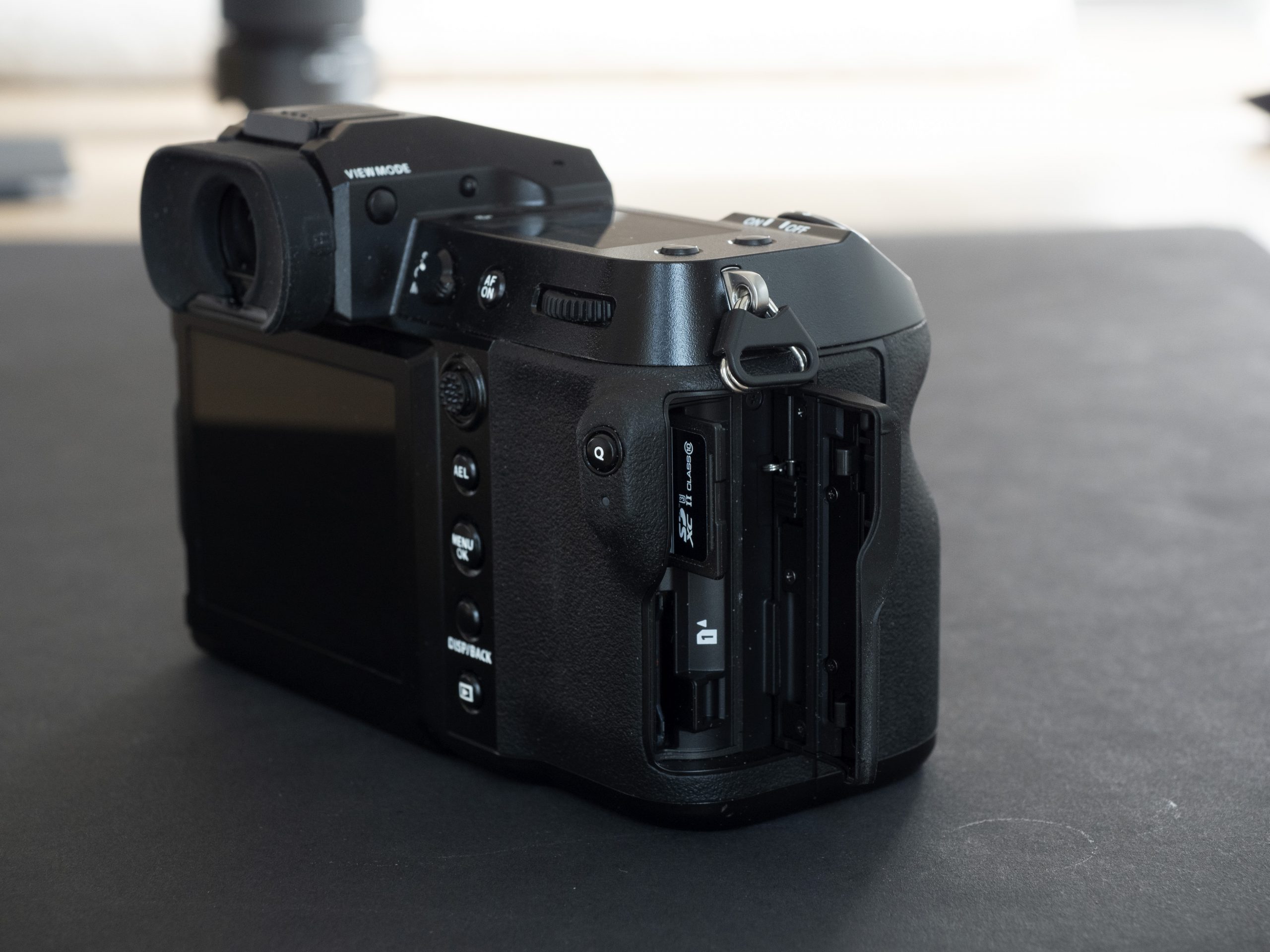 Ease of use
The camera is surprisingly easy to handle, despite being a bit larger than a Fujifilm X-T4, or a full-frame camera like the Nikon Z7 II. It fits better in the hand with than the GFX 100, and balances nicely with a GF 30mm f3.5 or GF 80mm f1.7, which I used during the test of the GFX 100S.
The shape of the thumb grip at the back and the handle at the front, seems better adapted. The buttons have clearer markings when pressed, and the new joystick with a wider surface is better to use in my experience.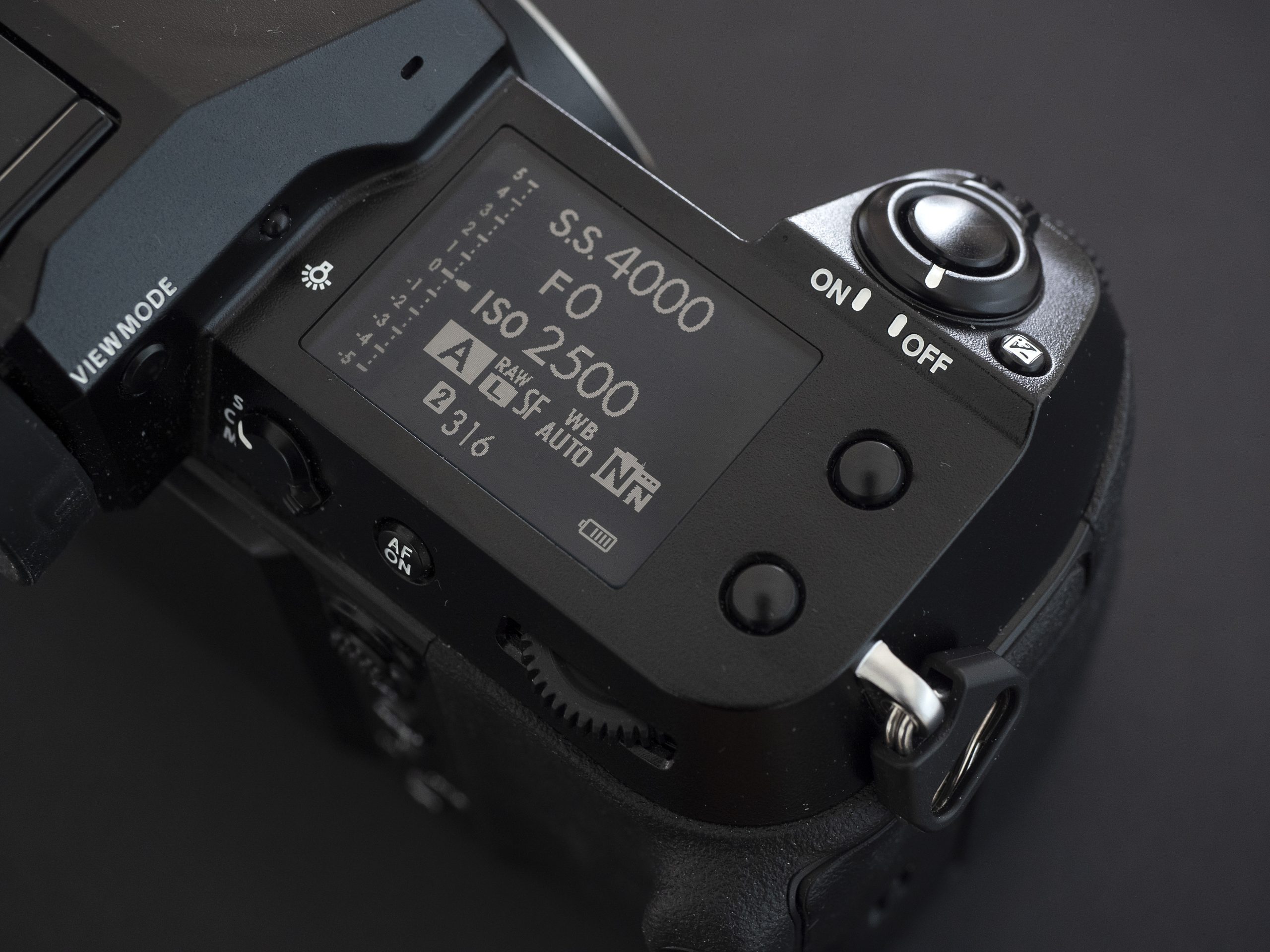 It made no big difference that the viewfinder image has a lower resolution and a little less magnification. After all, 3.7 MP and 0.77x are visibly better than 2.36 and 0.5x for example, and the viewfinder is bright enough with good contrast and wide color reproduction.
Another thing that did give me some frustration was how soft the action of the buttons is. You press, but then you have to check if it actually gave results, because the tactile response does not give enough feedback when you press.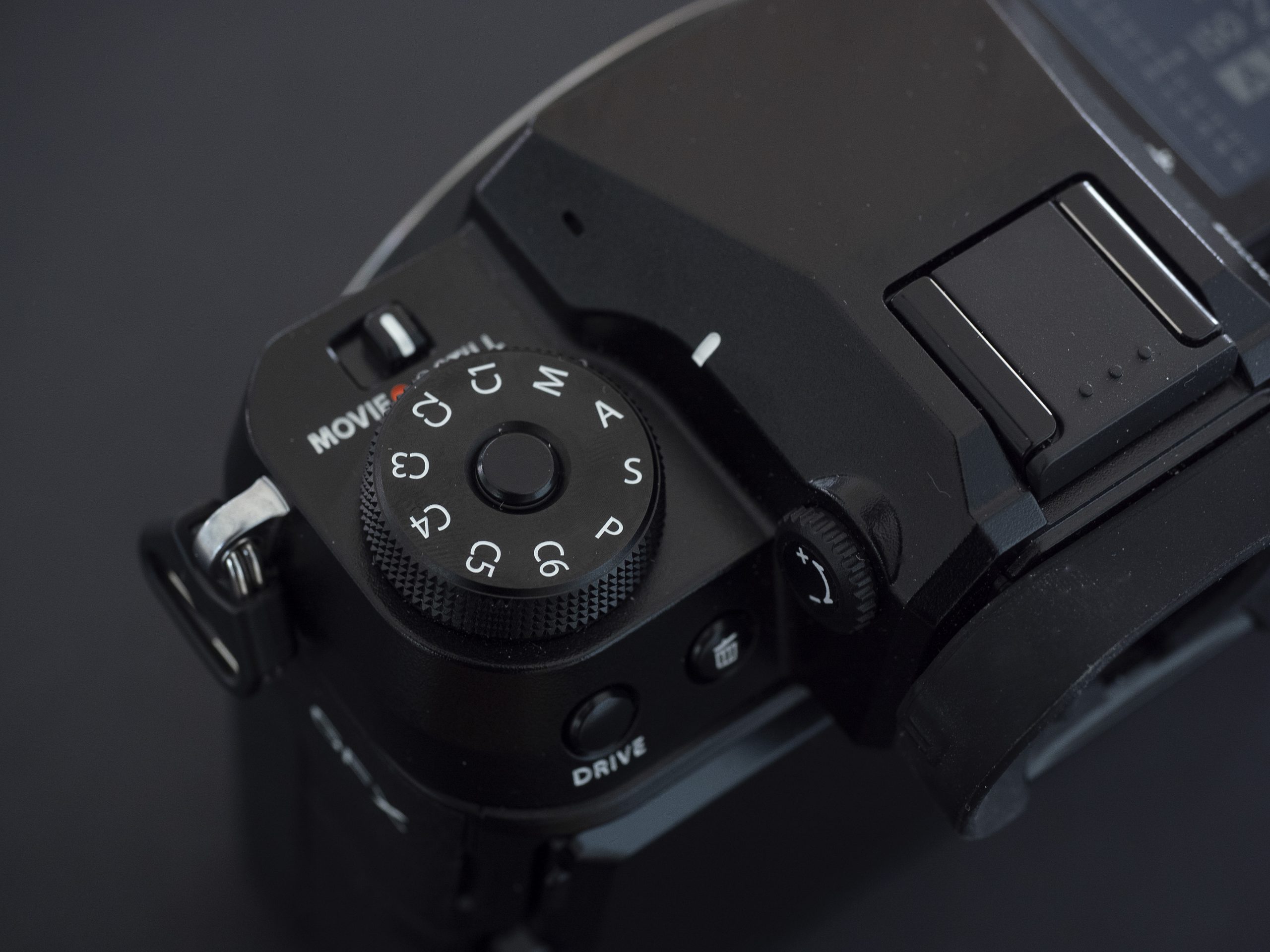 Autofocus
Fujifilm says that the shutter response, or shutter response, is improved by 0.2 seconds, but this is not very noticeable since the camera responds quickly to the slightest command. There were not much waiting in the first place.
I would still argue that the focus response can probably be improved. Comparede to other medium format cameras – Hasselblad or Pentax – the focus is lightning fast, but it is not as precise as we are used to from the Fujifilm X-Tt or Sony a7r IV.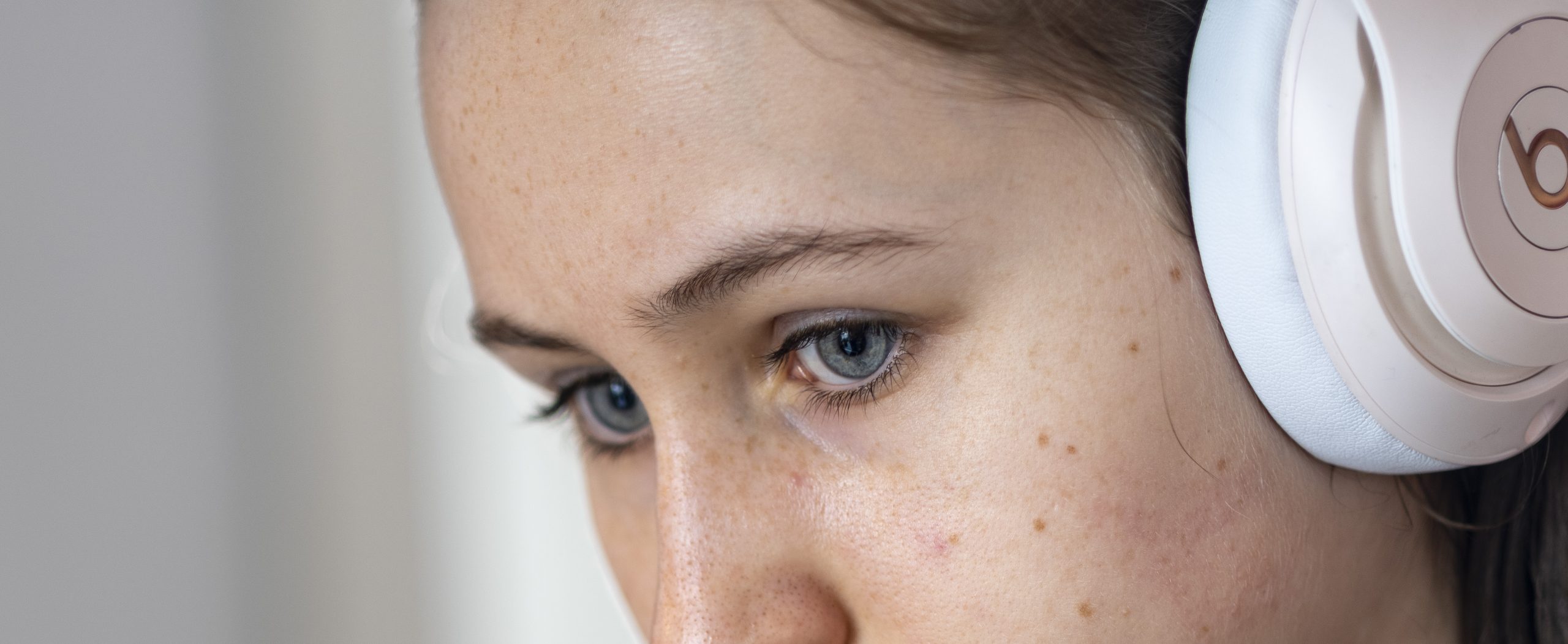 But it keeps up well with the shooting rate of five frames per second, and the camera's eye focus makes portrait photography a breeze. You can choose the size of one of the up to 425 focus points yourself, or let the camera focus on the zone if you prefer, but if you choose face / eye detection, it will be much easier to get sharp portrait images.
4K video
Like the GFX100, the camera has 4K video up to 400 Mbps from the entire image area in UHD or DCI format. You can also record 4K video remotely with 10-bit 4:2:2 with F-log for color grading, or 12-bit Apple ProRes RAW via HDMI. You can also use the camera's film simulations on video, and select hybrid log-gamma profile (HLG).
With 4K resolution from such a large image chip, the result is a rarely high detail with very little moare, moderate rolling shutter, and an unusually good image dynamics. In other words, video recording is also of high quality.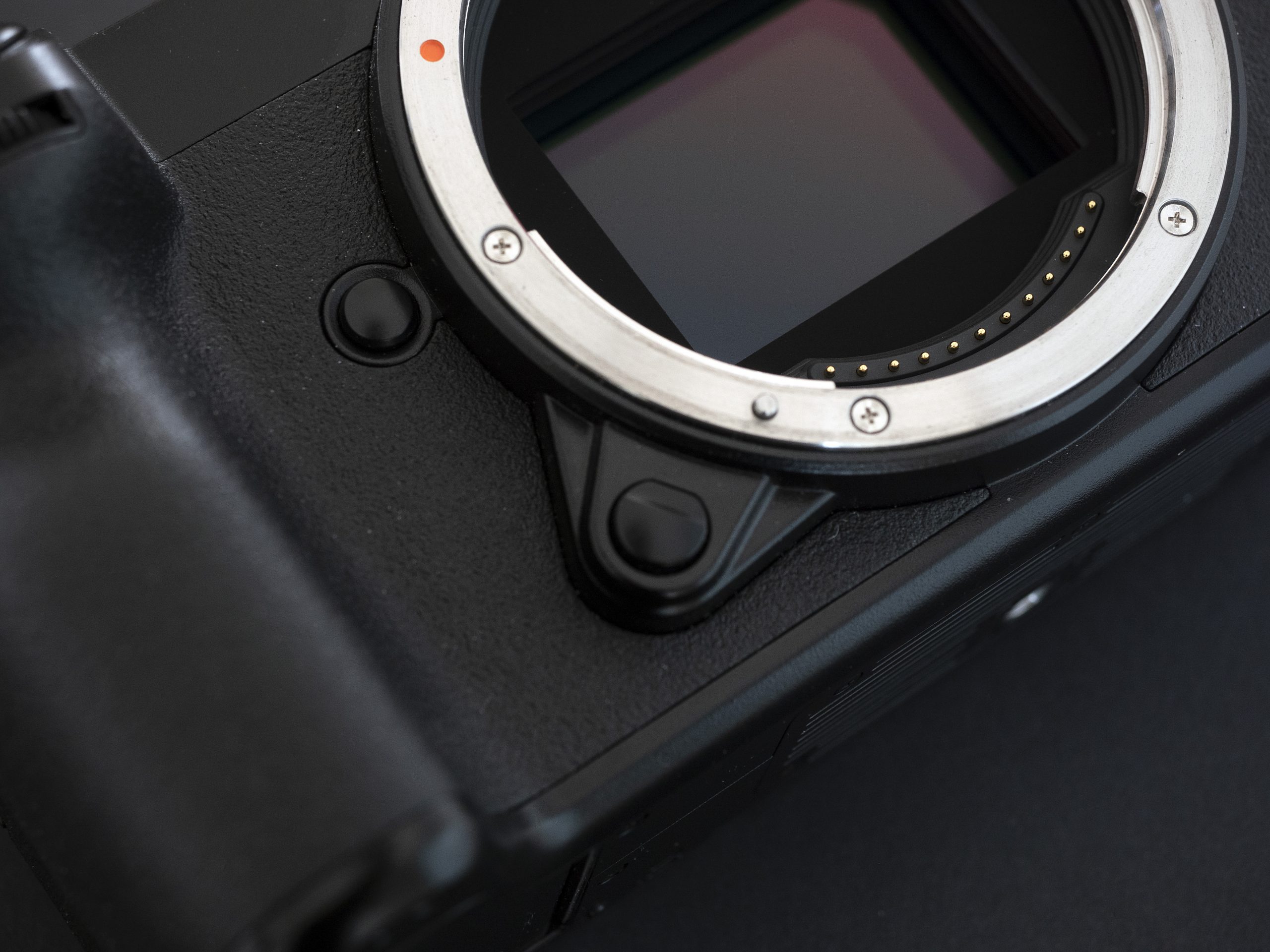 Image quality from 102 or 400 Mp
There is no difference in image quality compared to the GFX 100. You get the same wide color saturation, the same dynamic range, and a tonal range that you rarely see from full-frame cameras.
For more on the image quality, I recommend the test of the GFX 100, but in short, the resolution from a medium format CMOS image chip of 102 Mp, is formidable.
It can be even better with multi-shot, where the camera uses the image stabilizer and image processor – X-Processor 4 – to put together 16 raw files into a 400 Mp image file. Then the image chip is moved while image data is registered from red, green and blue color channel, on each individual pixel.
Then you get not only higher detail resolution, but also better color depth and dynamics. Perfect for, among other things, repro photography, but the function can also be used on landscape subjects where there is little or no movement in the subject.
Conclusion
If the Fujifilm GFX100 delivers the best picture quality we've tested, so does the GFX 100S. But this camera is both more convenient, lighter and cheaper, and in many ways an even better buy. Of course, this is no camera for sports and action, but the selection of lenses makes it all the more suitable for portraits, landscapes, fashion and studio photography, while being able to make professional quality video recordings. Especially if you use an external sound recorder. The Fujifilm GFX 100S is in a price range where many full-frame cameras are competitors, but the image quality from the camera is in a class of its own.