Lasse Svendsen
Published

2020-08-11 - 2:41 pm
Compact and light with lightning-fast autofocus and shooting pace. Good battery life and high user-friendliness. Excellent image stabilization. Hosted camera housing.
Image dynamics one step behind the best, and moderate detail resolution on still images.
Specifications
Type: 20 Mp system camera with full-frame image sensor
Optics: Canon RF
Viewfinder: 3.7 Mp OLED, 0.76x
Screen: 7.6 cm 1.62 Mp LCD
Continuous shooting: 12 frames / s mechanical shutter, 20 fps electronic shutter
Video: UHD 4K / 50p, 10-bit 4: 2: 2 out, 230 Mbps
Connections: USB 3.1, HDMI, microphone, headphone, remote control
Wireless: Bluetooth, Wifi
Storage: 2 x SDHC / SDXC, UHS-II
Battery life CIPA: 510 images
Dimensions / weight: 138.4 x 97.5 x 88.4 mm / 680 g
Highlights: 8-step built-in image stabilizer, Dual Pixel autofocus, 6072 focus points ,. ISO 100-102,400, USB charging, weather sealing.
Barely two years after Canon launched its first full-frame mirrorless system camera, the status is four models. Five if we count EOS Ra, which is a special edition of the debut model EOS R for astro photography.
The affordable EOS RP is the series' most affordable model with completed all-round features, the EOS R5 is the flagship with extreme resolution and 8K video, while the EOS R is the enthusiast model in the series.
The new Canon EOS R6 is the sports and action version of RP, built over the same house in polycarbonate, but weatherproof and with several additional functions. Among other things, it has a built-in image stabilizer with stabilization up to eight exposure steps (!).
Note that this is when the camera's built-in, five-axis stabilizer works with the optical image stabilizer in RF 24-105mm f4. At 105mm focal length. There is still a record for a full-frame system camera, and none of the competitors are close here.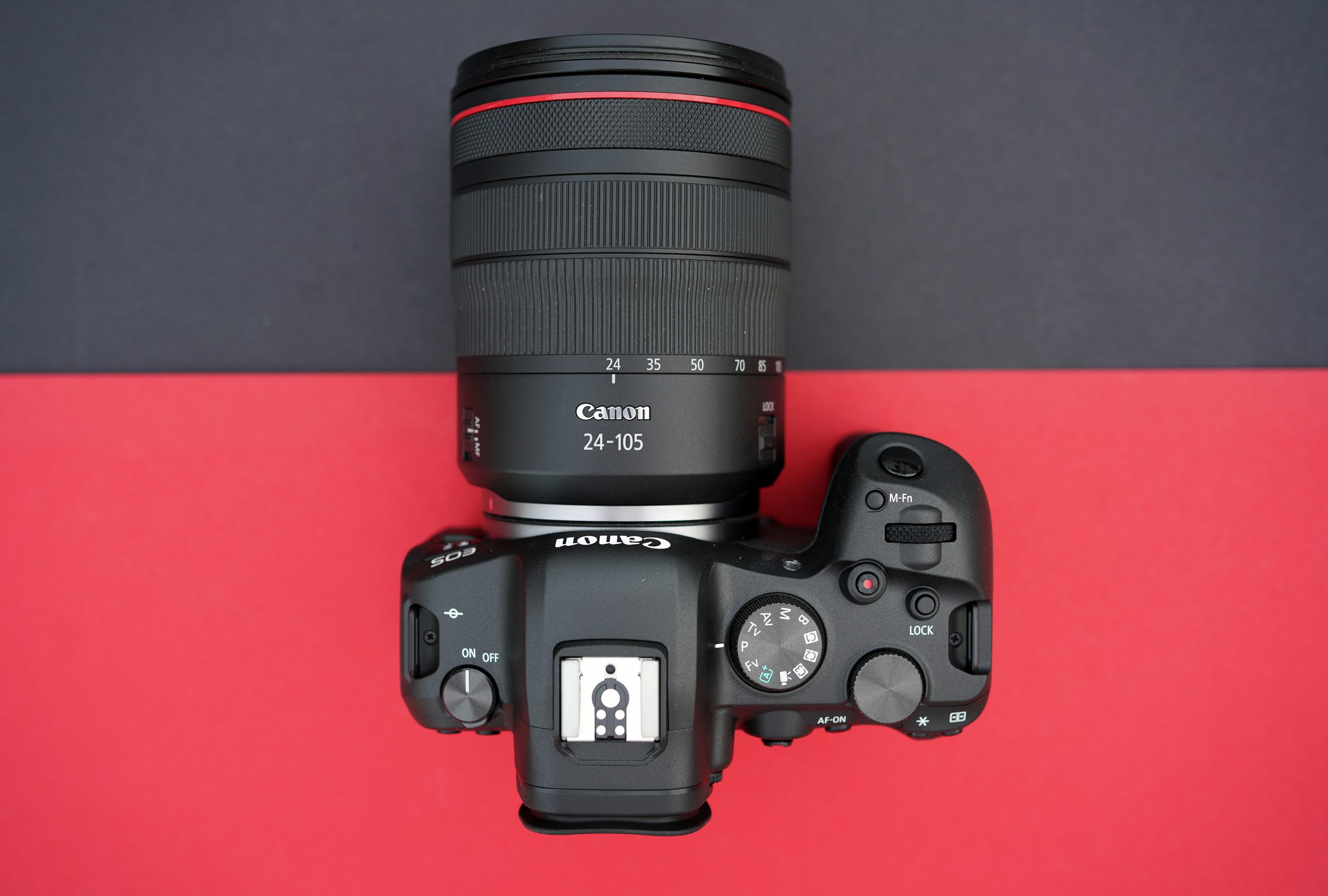 The camera is built for speed, and the shooting rate of up to 20 frames / s speaks for itself. Canon has also trimmed the autofocus (0.05s response and sensitivity down to -6.5 steps) which has better tracking properties and more precise eye, face and animal tracking.
The autofocus also has 6072 focus points to choose from, or group and move around sometimes. Canon has developed the autofocus algorithm using deep learning and AI (Artificial Intelligence), so that the camera will be even better at tracking focus.
The image chip is a variant of the same 20 Mp CMOS full-frame chip we tested in the EOS 1D X Mark III, and the camera can record 8- and 10-bit 4K UHD video internally, or 10-bit video externally. It also has two UHS-II compatible SD card slots, and it has both a microphone input and a headphone output.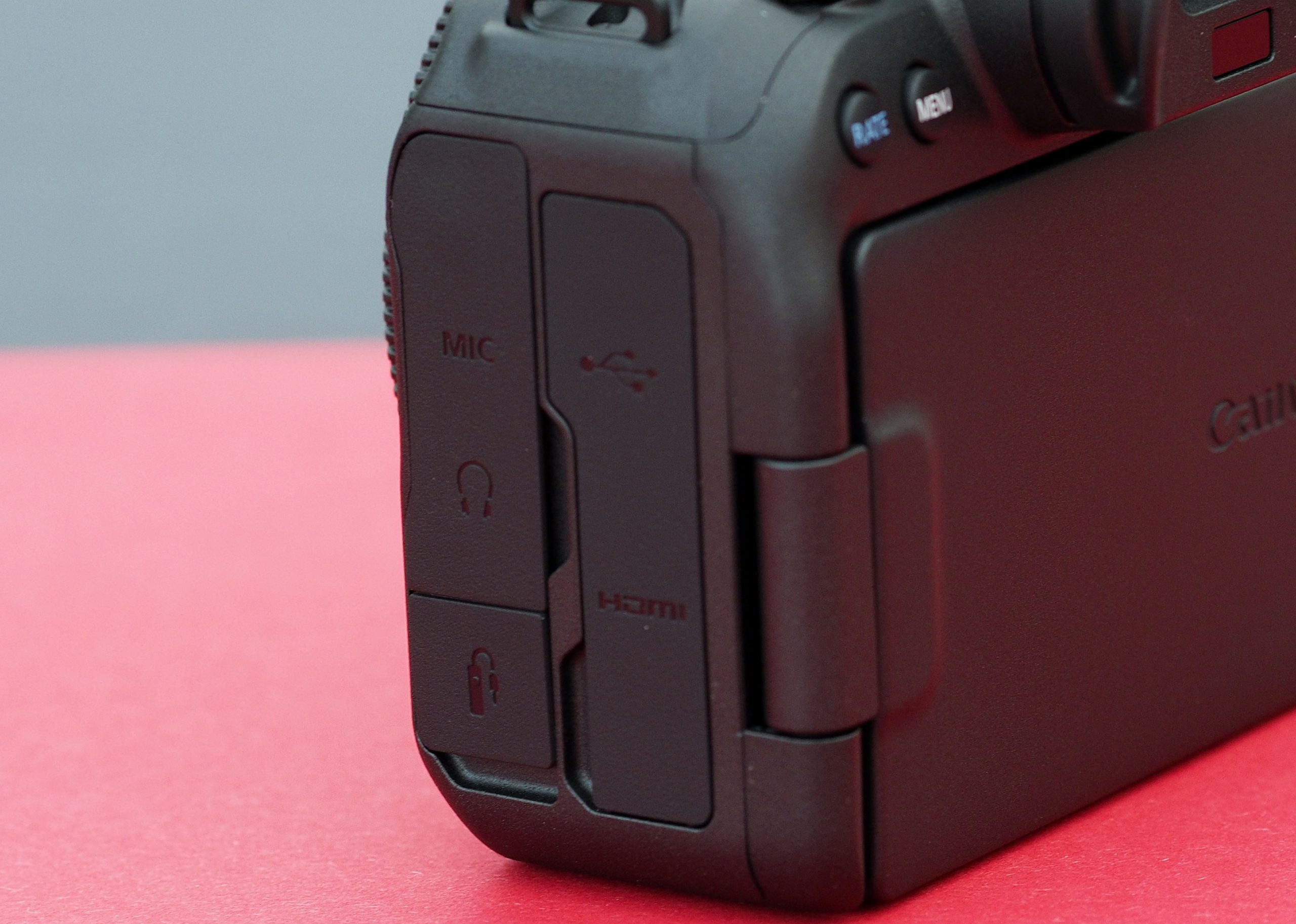 It has at all many of the qualities a nature photographer, but perhaps not a landscape photographer, will demand. Some of the most important points to note with the EOS R6 are:
20 Mp full format CMOS image chip
Fast firing speed of 12 (mechanical shutter) and 20 bps electronically
6072 pixels Dual Pixel CMOS II autofocus
8-stage image stabilizer with RF 24-105 / 4 at 105mm
ISO 50-102,400
4K / 50p UHD video, 8-bit 4: 2.0 and 10-bit 4: 2: 2
Full 1080 HD 120 fps
2 x SD / SDHC / SDXC UHS-II slots
3.7 Mp OLED viewfinder
Swivel 1.62 MP touch screen
Wi-fi and Bluetooth integrated
Hosted camera housing
BG-R10 optional battery grip
WFT-R10 battery grip with Wi-fi optional
As you can see from the specifications, the camera is much faster than most mirrorless full-frame cameras – and – it has a lower resolution than all newer mirrorless – full-frame system cameras in today's market. Sony a7s II excepted.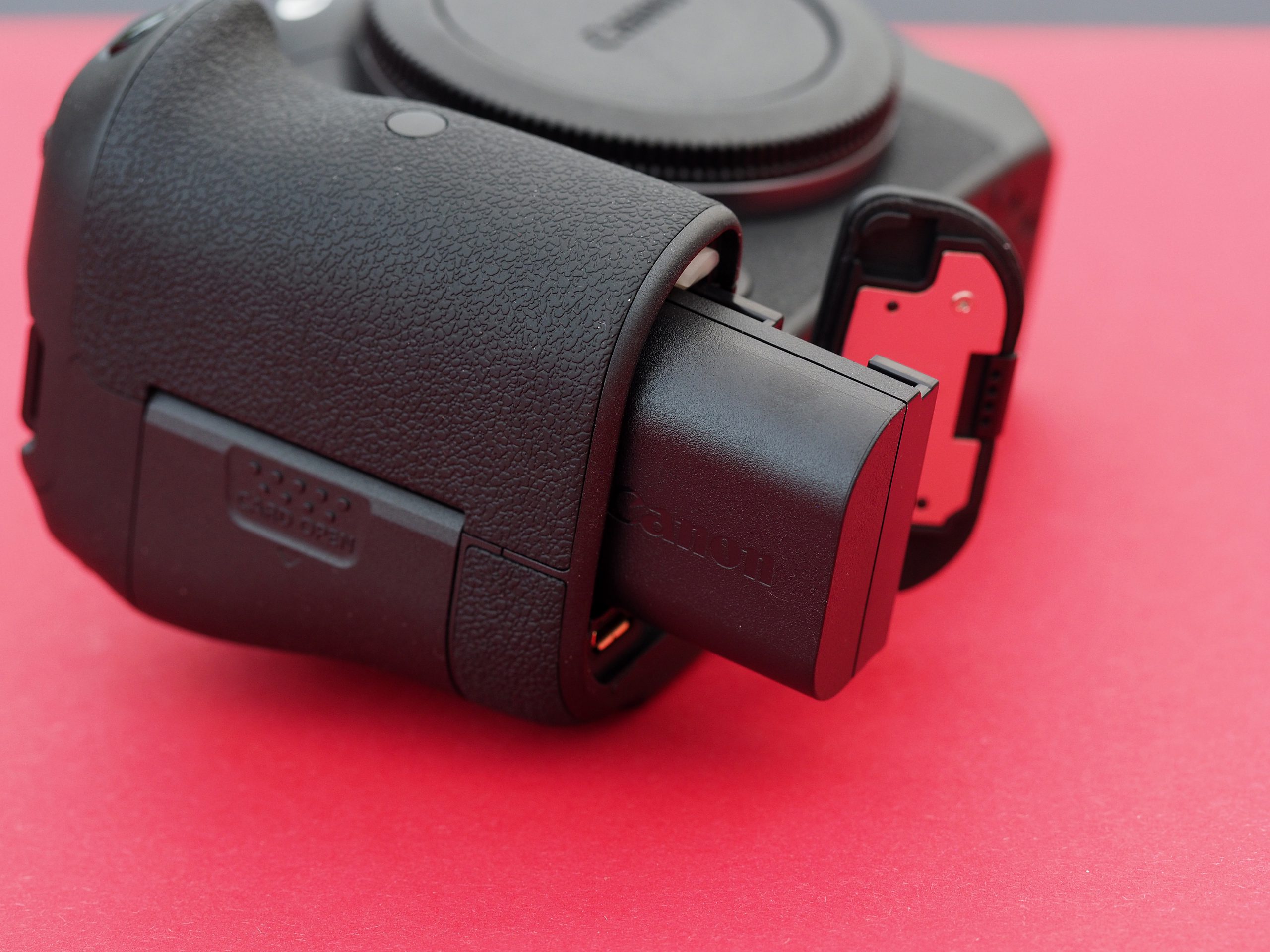 It excludes landscape photography for many, but the camera is far better suited for sports, action and photography of wild animals. The combination of extreme shooting pace and lightning-fast follow-up focus ensures that. The Sony a9 II is Canon's closest competitor, as it is the only one of the mirrorless full-frame camera, which manages a shooting rate of 20 frames / s, equivalent to the EOS R6, but the Sony camera is significantly more expensive.
Joystick
The resemblance to the EOS RP is striking no matter what angle you look at the camera from. The lock switch that turns off several of the buttons has been replaced with a lock button similar to the one on the EOS R. The battery is much larger here, and the battery life is stated at 510 exposures per charge, more than double the EOS RP.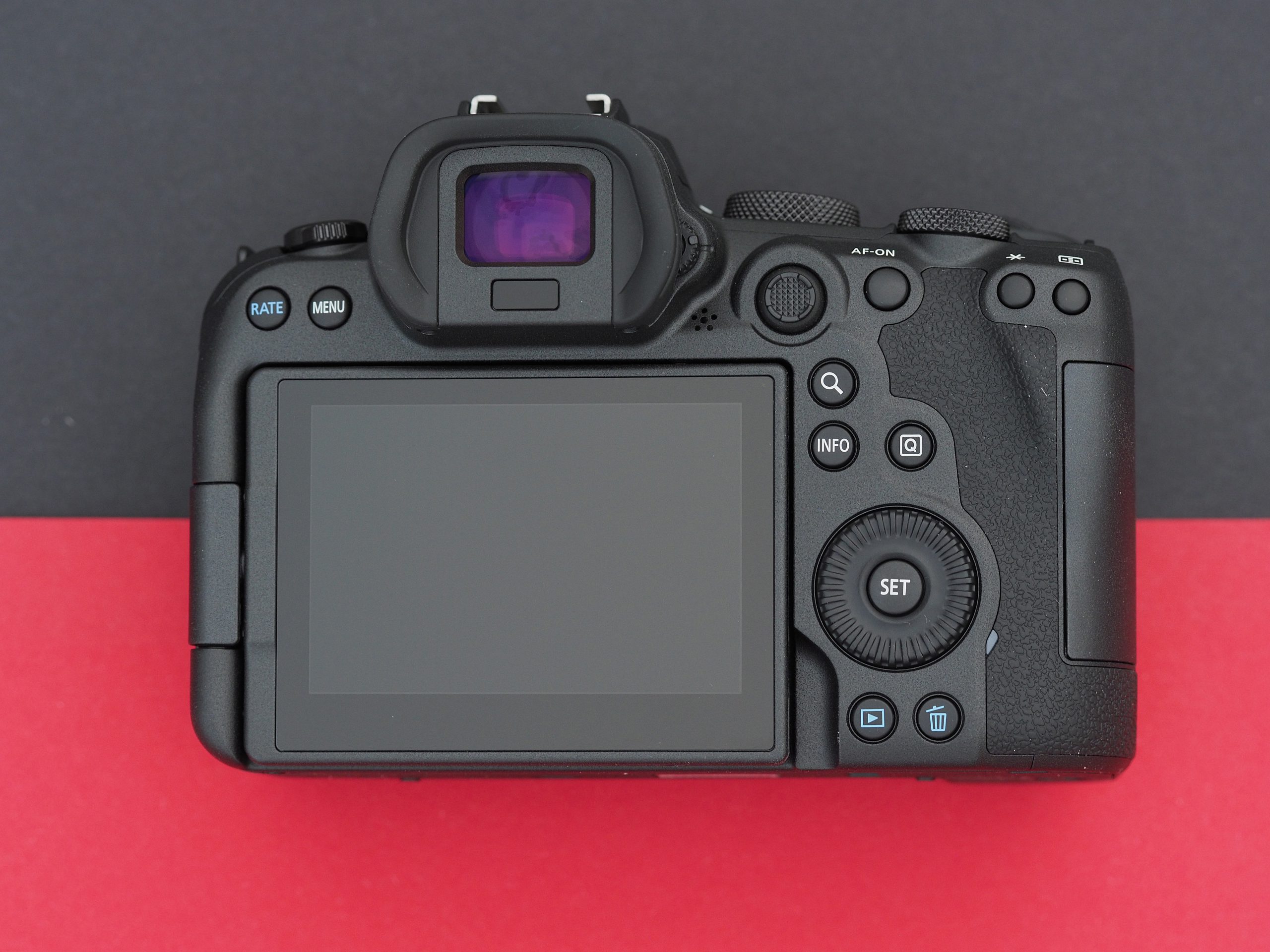 While the RP has one, the R6 has two SD card slots, and on the other side there are, as previously mentioned, inputs for microphone, headphones, remote control and USB charging – and an HDMI output. Just like on the RP model.
But on the back, the R6 has a joystick that can be used to scroll through menus and move focus points. The latter can also be done on the swivel touch screen. The AF-ON button has been moved to the left and on the left side of the viewfinder, Canon has placed a Rate button so that one can give photos and video rating up to five stars.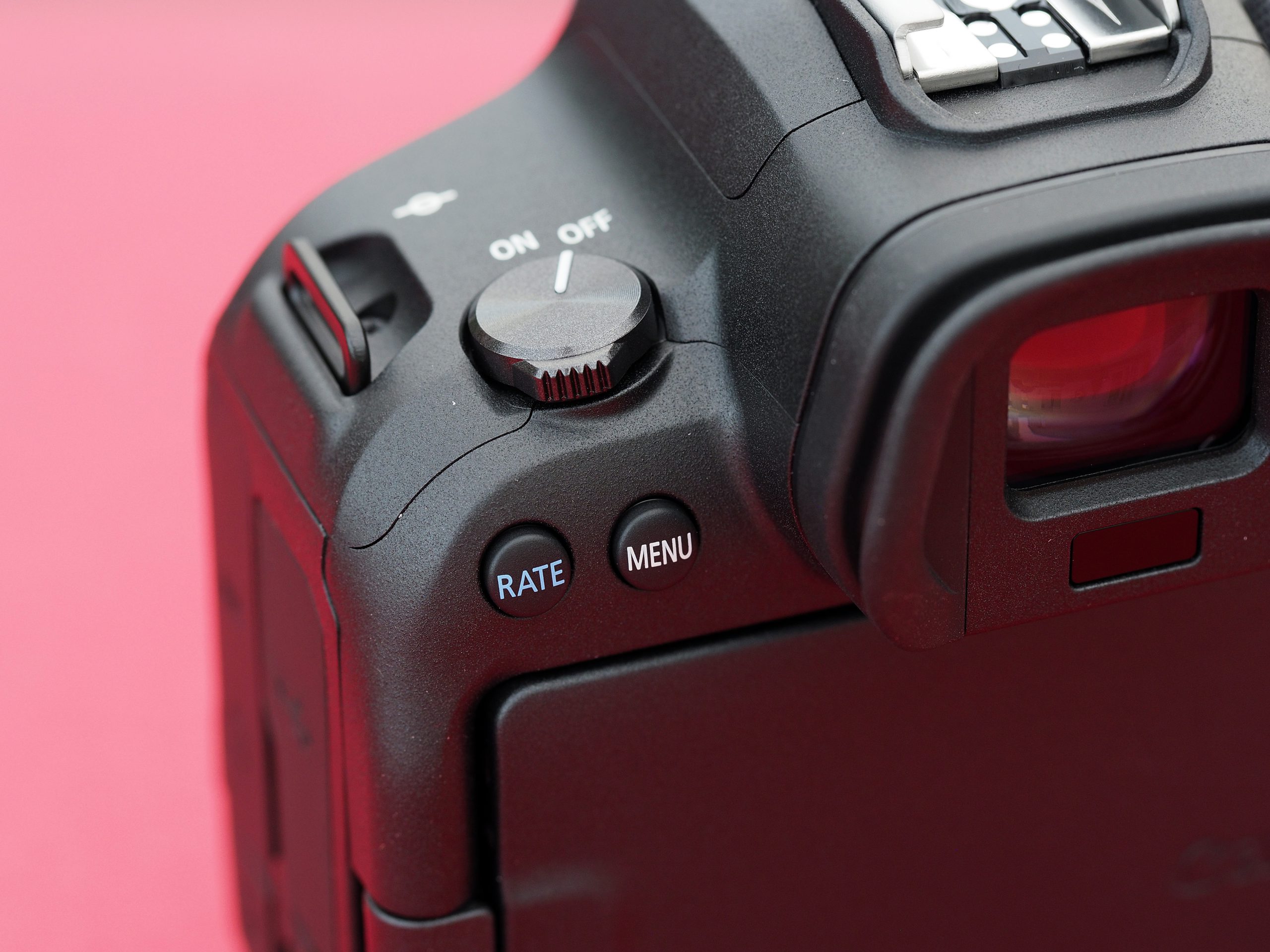 Sharper OLED viewfinder
The four-way button on the back has been replaced with a setting wheel, as we know it from most of Canon's system cameras, and on the front it has found space for a programmable button. Like the EOS RP, there is no built-in flash on the R6.
The grip is large and fits well in the hand. The viewfinder is sharper and much better to use, and overall the camera is even more satisfying to shoot with.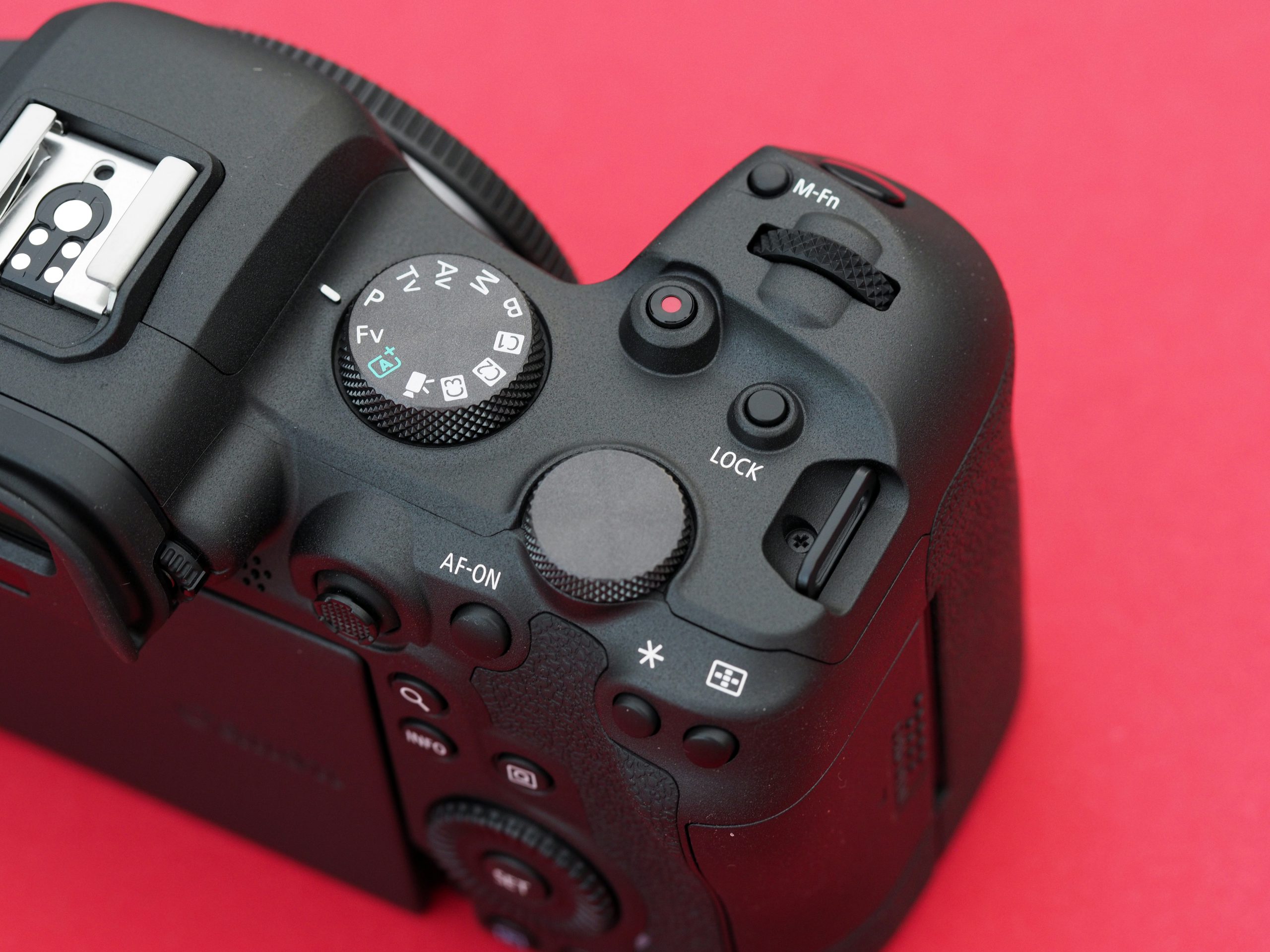 Ease of use is even better in my opinion, than on the EOS RP, and the R6 has the same absolutely essential Canon buttons. Namely the M-Fn at the shutter button, which provides immediate access to ISO setting, continuous shooting, servo focus, white balance and flash compensation. When the program wheel is in P, Tv, Av, M, Bulb or Fv.
Exposure compensation and several other setting options are available under the Q button on the back. Press and scroll with the setting wheel, or your finger, to the preferred setting.
Focus Features
More secondary functions are found deeper in the on-screen menus, such as fine focus adjustment (AF3), where you can adjust tracking sensitivity and acceleration and deceleration speed in four of the displayed setting options: Case 1, Versatile Universal Setting, Case 2, Tracking and Overlook Obstacles, Case 3, focus on subjects that suddenly reach the focus points, Case 4, focus on objects with fast acceleration and deceleration. There is also an Auto setting where the camera's focus algorithms adapt to the movements.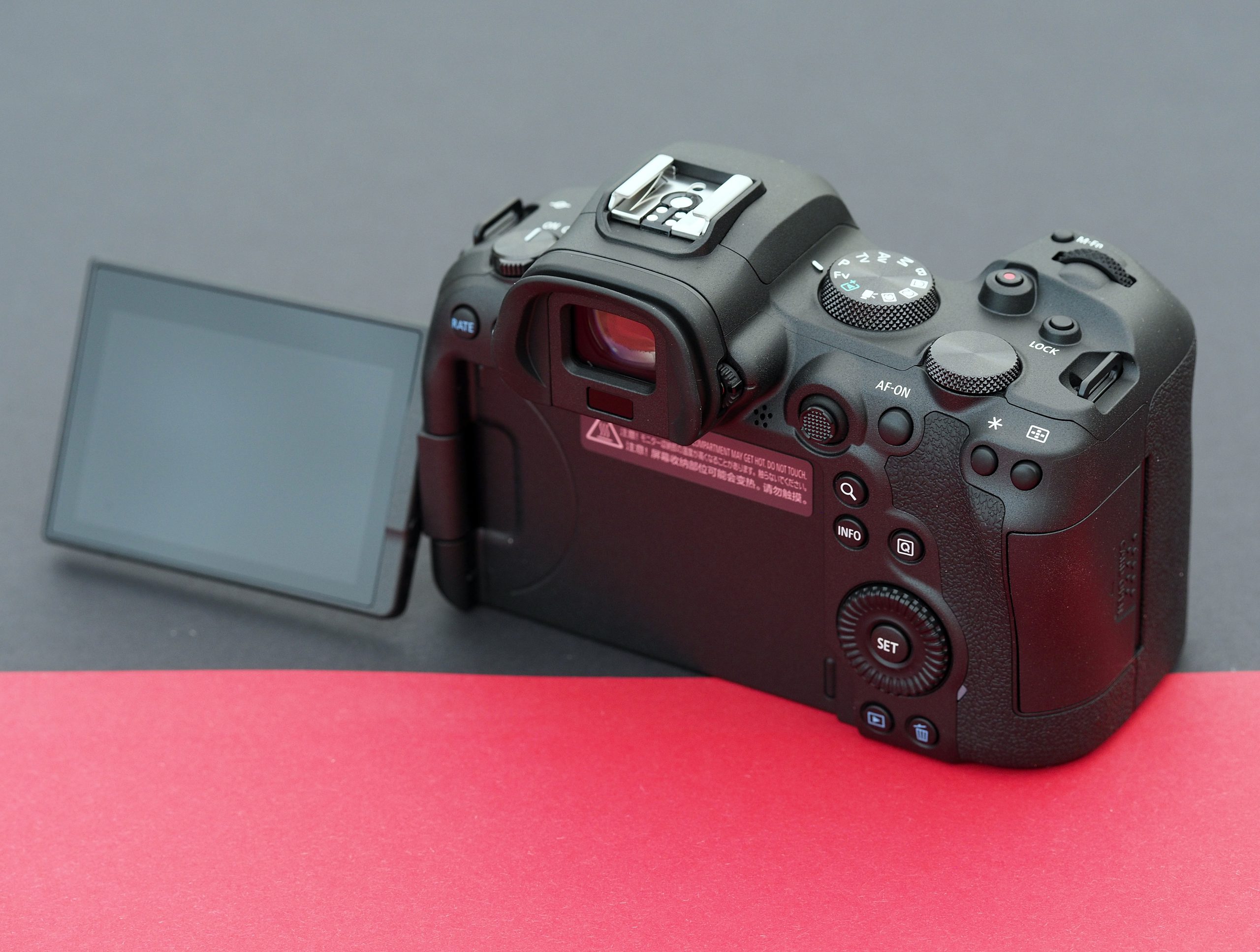 You can also choose whether the camera focuses on eyes, faces or animals, and the photographer can choose eight different focus modes: Tracking with or without faces / eyes, point focus, one-point focus, extended focus area in cross or square, zone focus, and vertical or horizontal grouping of focus points in one zone.
Video
The camera delivers impeccable video quality in both HD and 4K. Rolling shutter where vertical lines bend when panning is moderate, and 4K video is sharp, noise-free and looks very good on a large 4K screen.
The camera cuts the section slightly in 4K, where 94 percent of the horizontal is used. It is so small that 24mm only becomes 25.4mm when the cropping factor is entered.
The camera interpolates pixels from 5.1K resolution and oversamples to 4K, and it is possible to shoot in 4K even with a crop factor of 1.6x. Convenient if you need more range in the form of longer focal length. Note that if you activate digital image stabilizer when in video mode, the image area will be cropped by a factor of around 1.5x.
It's not Canon's most advanced camcorder, but the camera can still record 8-bit 4: 2: 0 UHD and 10-bit 4: 2: 2 Canon Log or 10-bit HDR PQ internally, and send 10-bit 4: 2 : 2 to an external recorder. So completely devoid of video features it is not. Although one can choose nothing but IPB compression of 4K, if Canon Log is not selected.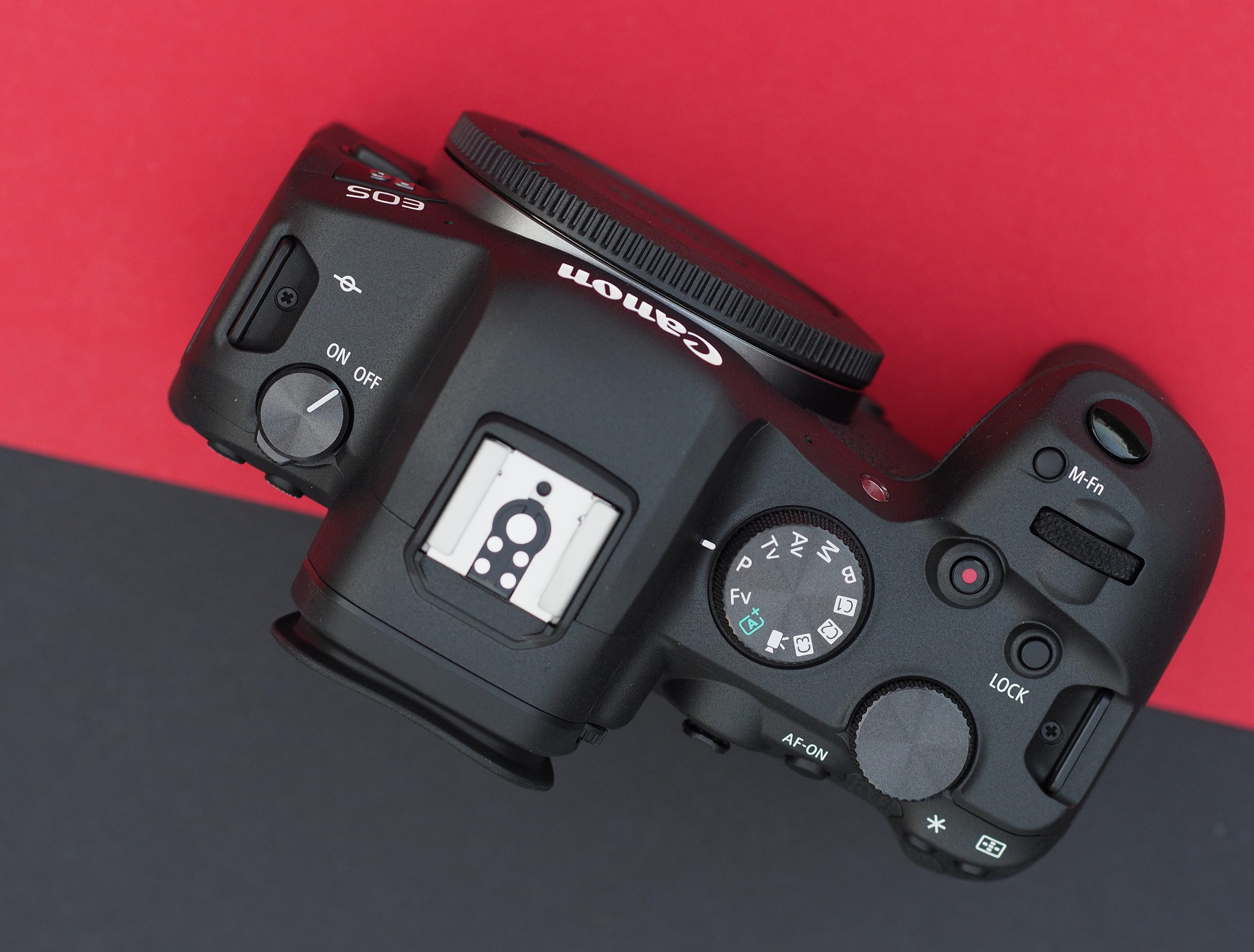 When Canon Log is selected, you have a 12-step dynamic range available, in HEVC / H.265), and the color space expands slightly from BT.709 to BT.2020. The photographer can choose between manual or fully automatic exposure on video, and there are both focus peaking and zebra (exposure) in two levels, available in video mode.
It is also possible to capture still images from 4K video, in 8.3 Mp resolution, and time lapse recordings can be made in both 4K and full HD – both in All-Intra with 470 Mbps.
The photographer can also adjust the volume of the headphones in the camera.
Shooting pace and focus
The fact that you can take continuous shots at 12 frames / s with a mechanical shutter, and as much as 20 bps with an electronic shutter, is the camera's greatest strength. Fortunately, Canon's blood-trimmed autofocus does a formidable job of keeping up with the curves, when the images are taken at such a furious pace, and not many images are lost because they are out of focus.
So the images are sharper with the R6 than with most full-frame system cameras, when shooting on continuous shooting. Whether it is 12 or 20 bps. The autofocus keeps up well even when the light falls, and it is lightning fast and silently present in action photography.
The comparison with the EOS 1DX Mark III is obvious, and under most conditions, the hit rate from the EOS R6 will not lag behind the 1DX Mark III.
Image Quality
With the same 20 Mp CMOS image chip, the R6 must see itself beaten by even the EOS RPs 26 Mp, Nikon Z6 and Sony a7 III with 24 Mp, but they are also nowhere near the Canon camera's shooting pace.
Photographers looking for more resolution, be it landscape, wedding or studio photographers, should consider the EOS R5 with 45 Mp – which can also shoot up to 20 bps in series, or the Sony a7r IV with 61 Mp.
EOS R6 can store the images in 14-bit raw format, 12 bit with electronic shutter, and in 8-bit jpeg with two compression factors, but also in 10-bit HEIF (only with mechanical shutter) if you choose HDR PQ quality in the menus.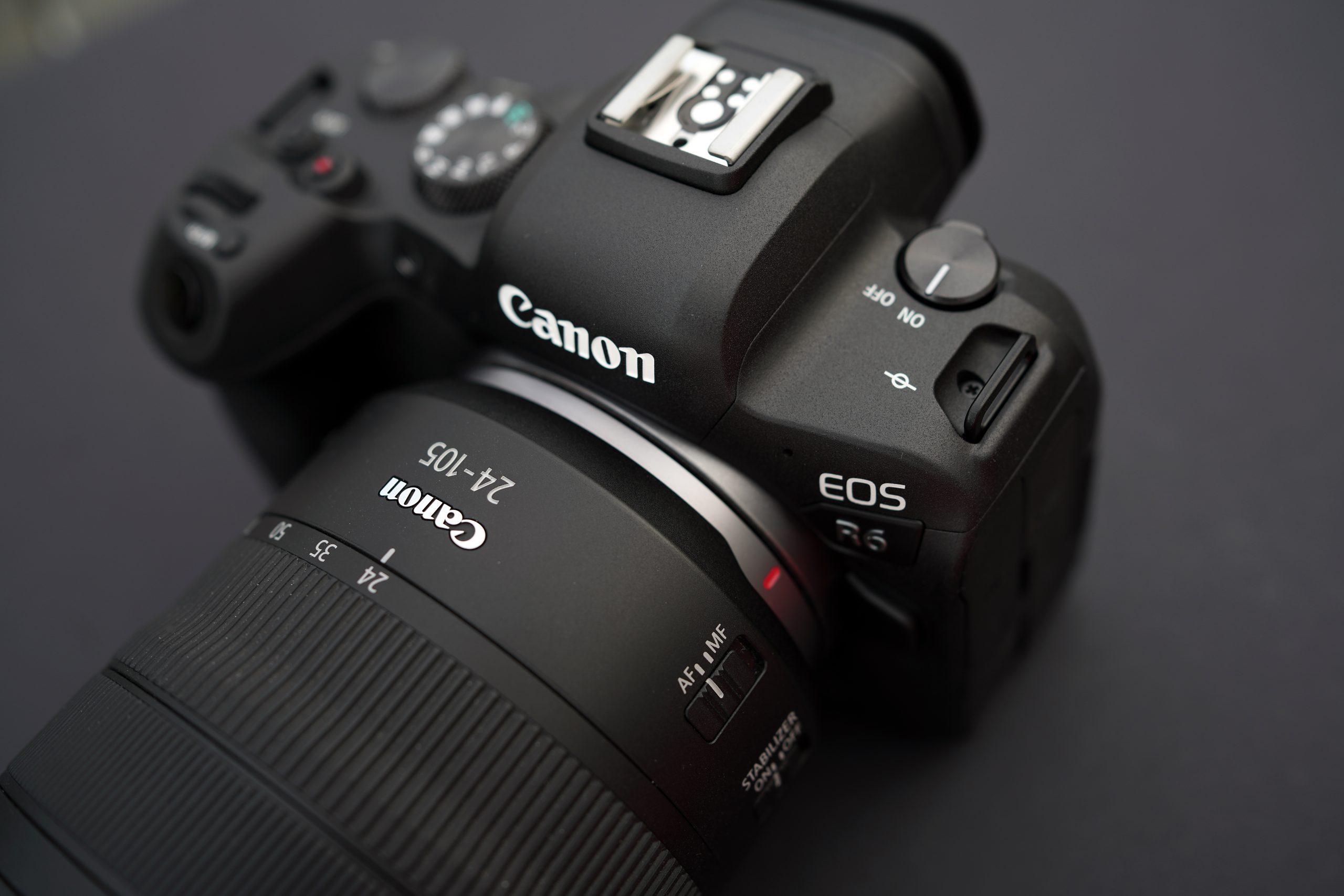 Most people in the target audience for this camera will probably choose raw files for the most critical jobs, and jpeg for sports. Because it is only when you select jpeg that the shutter can be held down for almost infinity on continuous shooting. If you shoot raw files at full speed, the buffer must be emptied at regular intervals, about 10-15 seconds of recording, but it obviously helps a bit with a fast memory card.
The image quality of still images is not surprisingly comparable to the EOS 1DX Mark III. This means that this is not where you get the maximum resolution and sharpness of detail among full-frame cameras, but for sports and animal photography, I would argue that it is more than adequate.
The Jpeg files are not too hard compressed and have the same nice tonality that Canon is known for, with, among other things, beautiful skin tones. The raw files give the photographer much more to go on in finishing, but as on the EOS 1DX Mark III, the image dynamics are not quite on par with the Sony a7r IV or Nikon Z7.
The noise level is well controlled up to 6400 ISO, and 12800 ISO can be fully usable in many situations, but I do not want to go any higher. Unless visible grain and color noise is accepted.
Conclusion
The Canon EOS R6 is a powerful machine for photographers that sets speed and precise autofocus higher than anything else. The camera's shooting rate and autofocus nail the focus of all images at speeds up to 20 fps. At the same time, it is easy to use, easy to set up and gives the user very satisfactory image quality, although not class-leading. The quality of 4K video is very good, and the camera can be equipped with a microphone and headphones, but it does not have as advanced video features as the EOS R. The Canon EOS R6 is first and foremost the best as a lightning-fast still camera, and then preferably in sports, action and wild expensive, but is also an excellent camcorder.