German Acoustic Signature considers itself to be the most technology-driven turntable and tone arm manufacturer in the world. For the past 18 months, the manufacturer has spent breaking new technological barriers to get something as old-fashioned as a turntable to squirt young blood.
The brand new Acoustic Signature NEO series of turntables uses brand new ball bearings with a diamond-coated spindle, as well as automatic tolerance control on the motors. The result is ultra-precise operation and maximum durability, with "unsurpassed rigidity, accuracy and reliability, as well as a much lower noise floor."
Vibration control
Innovative circuits that Acoustic Signature calls Automatic Vibration Control – or AVC – automatically adjust the motor tolerance to the lowest possible level, resulting in an almost vibration-free drive.
Brand new ball bearings
The ball bearings are brand new, bearing the name Dura Turn Diamond Bearing. All ball bearings make noise when they move, and Acoustic Signature has worked hard to reduce friction and thus noise further since the previous Tidorfolon bearings. The inner sintered cylinder is brand new, with room for a larger amount of oil in the metal structure itself. According to Acoustic Signature, sintered material (powdered metal is melted into solid metal) has an internal structure like a sponge.
But where a sponge holds water, Acoustic Signature sprays lubricating oil into the voids. By tripling the size of the holes, they have been able to increase the amount of oil, and also reduce the surface that is in contact with the plate spindle. Smaller surface contact is known to result in lower noise.
The spindle itself is also new, now made of stainless steel hardened in a vacuum and then precisely turned and then coated in diamond.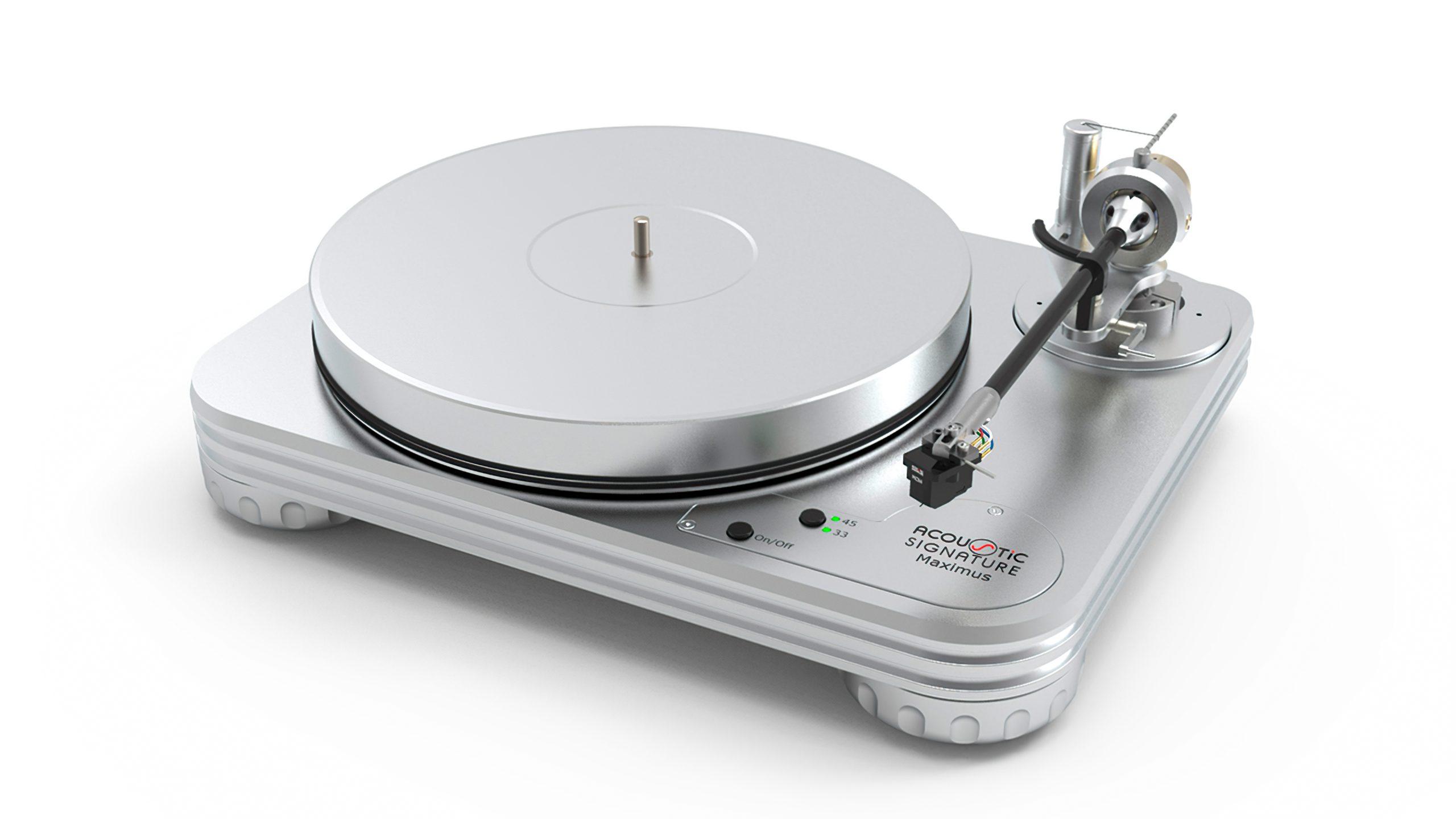 Ni Acoustic Signature NEO-modeller
There are nine turntables in the Acoustic Signature NEO series. They range from the most affordable Maximus NEO to 3,500 pounds – which we believe will translate to around 50,000 kroner, and all the way up to the 135 kilo (!) Heavy Invictus NEO to just over 148,000 pounds – or somewhere between 1.8 and 2 million kroner !
So you have seven models in between, then…