British Q Acoustics has for many years made a name for themselves as a manufacturer of interior- and wallet-friendly speakers. We have tested several of them and they have usually offered really good sound for the price.
Q Acoustics M20 has the same design with strongly rounded edges, which we are used to from i.a. their Concept series. From the outside, the M20 is also very similar to the Q Acoustics 3020i, but the wood(like) finish has been replaced by a black silk matte surface. The front grilles are fixed, but there is a 5 inch midwoofer and a 22 mm dome tweeter behind it.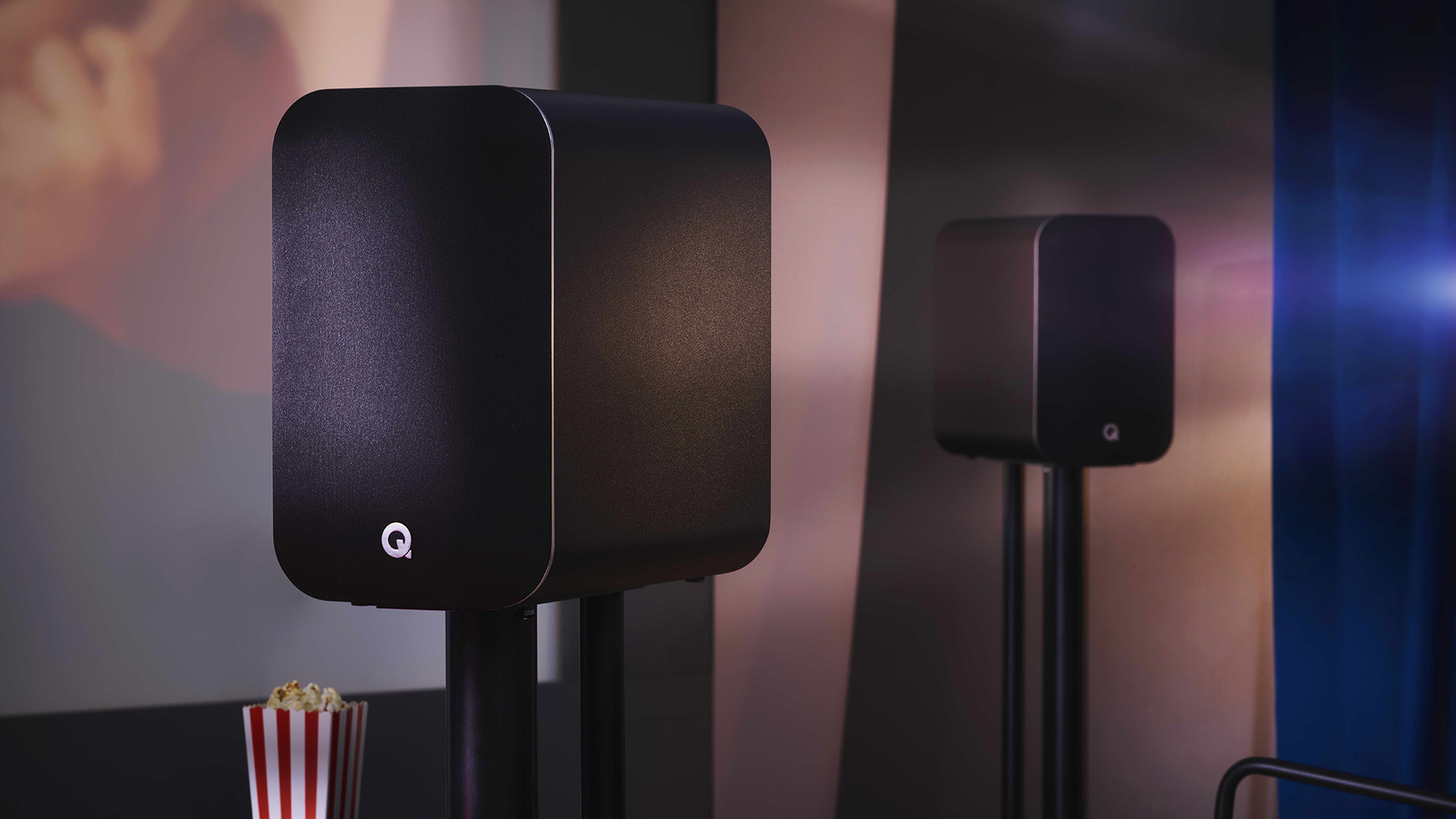 Not active, but powered
Unlike the aforementioned 3020i model, no external amplifier is required for the Q Acoustics M20. To be precise, the speakers are not active, but powered, ie. that there is a 2 x 32 watt stereo amplifier in one of the cabinets. The other speaker is purely passive and is connected via an included speaker cable of adequate quality. There is a passive crossover between midwoofer and tweeter.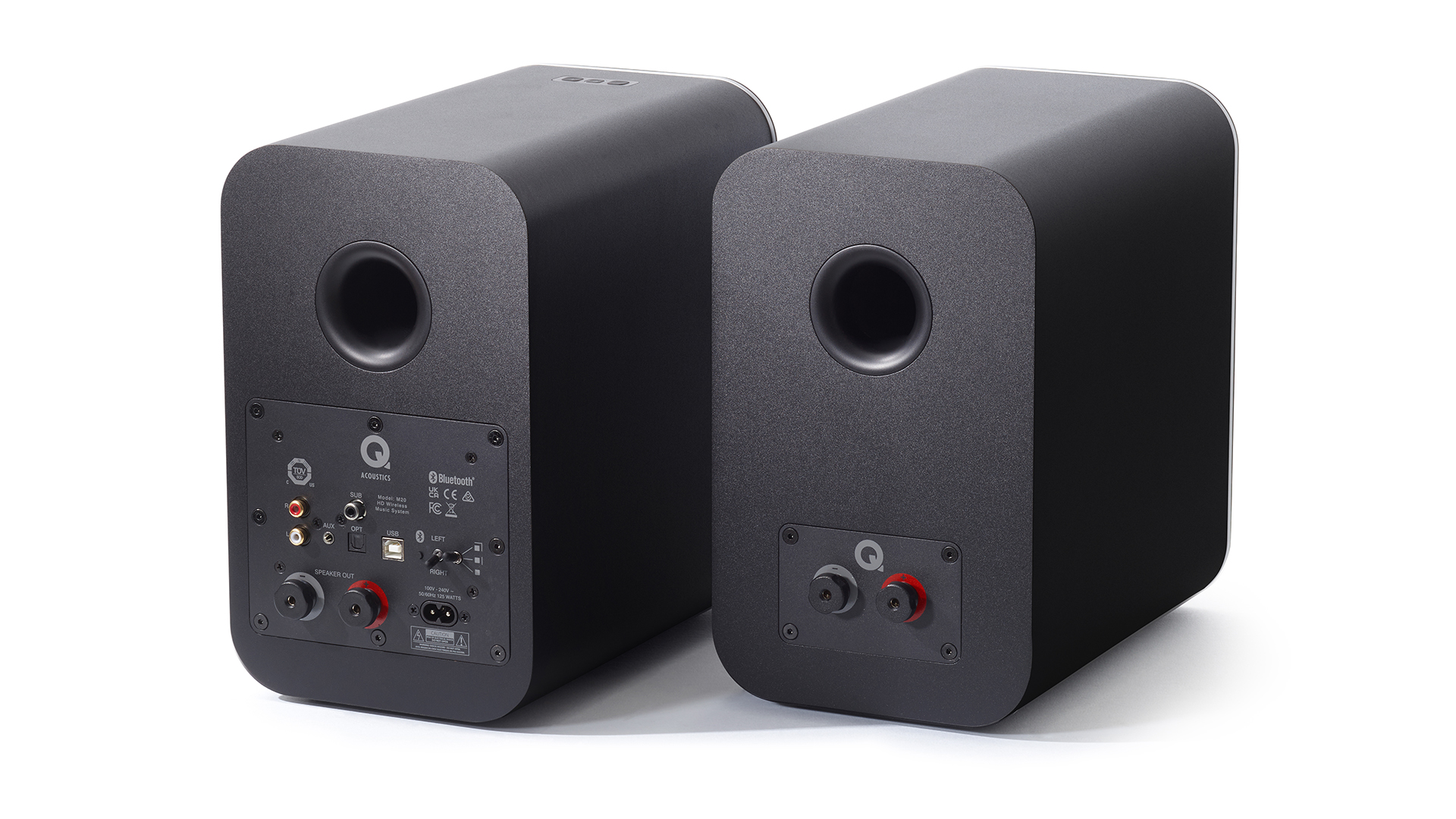 At the back you will find a bass reflex port and a panel with an extensive selection of inputs. There are two sets of analog inputs as well as optical digital input and a USB-B input so that the speakers can be connected as an external sound card for a computer. Having a USB port is a bit out of the ordinary on such cheap speakers, but it makes good sense when Q Acoustics highlights that the M20 can be used with the computer.
With two toggle switches, you can choose which speaker should be left/right, and adjust the frequency response in the bass for placement in the corner, against the wall or free-standing. If the bass still becomes too dominant (hey, it is only a 5-inch in a mini cabinet!), Two foam plugs can seal up the bass reflex ports.
Q Acoustics also suggests that the M20 can be used in a small stereo home theater. This must be done via the optical digital input. An ARC HDMI input would have been better, though, as the volume could then be controlled on the TV's remote control.
Wireless HD audio
Most people will probably still use the speakers with Bluetooth wireless connection for streaming from the mobile. And since the HD version of aptX is supported, the sound quality can be fully acceptable. Of course, that does not help the iPhone people who have to settle for the AAC codec.
Since there are no network feautres, there is also no built-in support for streaming services. Which, however, would be an unreasonable demand at the price.
A remote control is included, which can do everything that is expected, namely switching between audio sources, adjusting the volume and pairing the Bluetooth speakers with mobile or laptop.
Very cheap speakers like the Q Acoustics M20 are often placed more or less randomly, whereever space allows. It would be optimal to place them on stands at a good distance from the back wall and corners, but in the real world they can be nicely placed on top of a sideboard or on a shelf. But do not squeeze them into a bookshelf, as the bass ports on the back needs room to "breathe".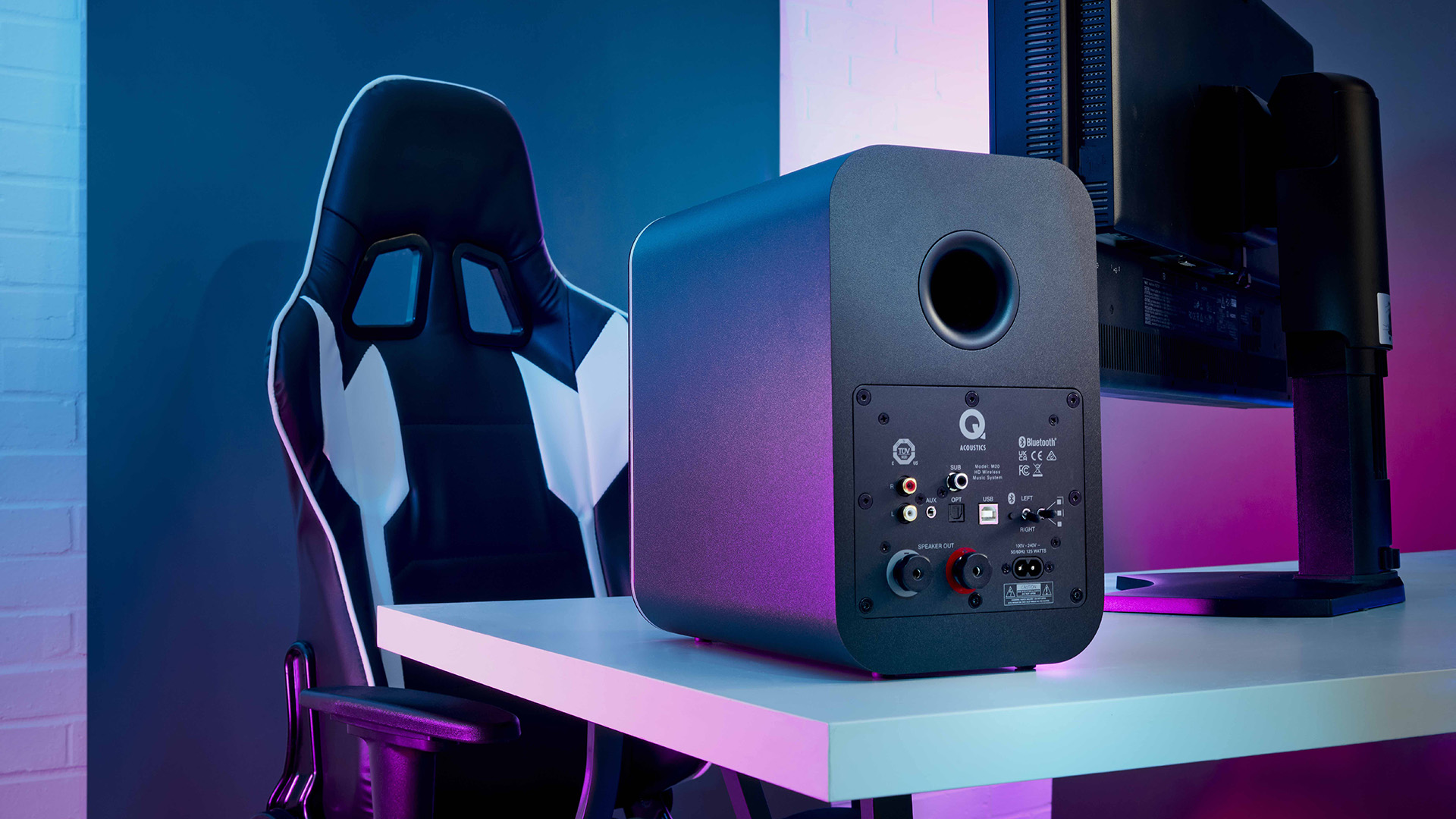 The sound quality
With the good experiences from the cheap Q Acoustics 3020i in mind, expectations for the M20 were high. And they did not disappoint. The M20 is a speaker that can certainly withstand being used for "real" listening.
The first impression is that we are dealing with a pair of speakers with an overall comfortable reproduction and really good balance between the tonal ranges. The bass is surprisingly solid. Madonna's Dark Ballet is as captivating as it should be. And Magellan's cover of the Genesis song Mama exudes darkness and horror.
The treble is fine, and small details on the highhat and snare are also realised. The sound could easily be more well-resolved and free, but this is probably due to limitations in the built-in amplifier and DAC, rather than the speakers themselves.
The best, however, is the midrange, which is more free and undistorted than we are used to at the cheapest end. It makes it a pleasure to listen to song. Or for that matter saxophone. The Opus 3 recording of House of the Rising Sun with Cyndee Peters features both. And revisiting it was enjoyable. Although the nuance is still not on a par with more expensive loudspeakers.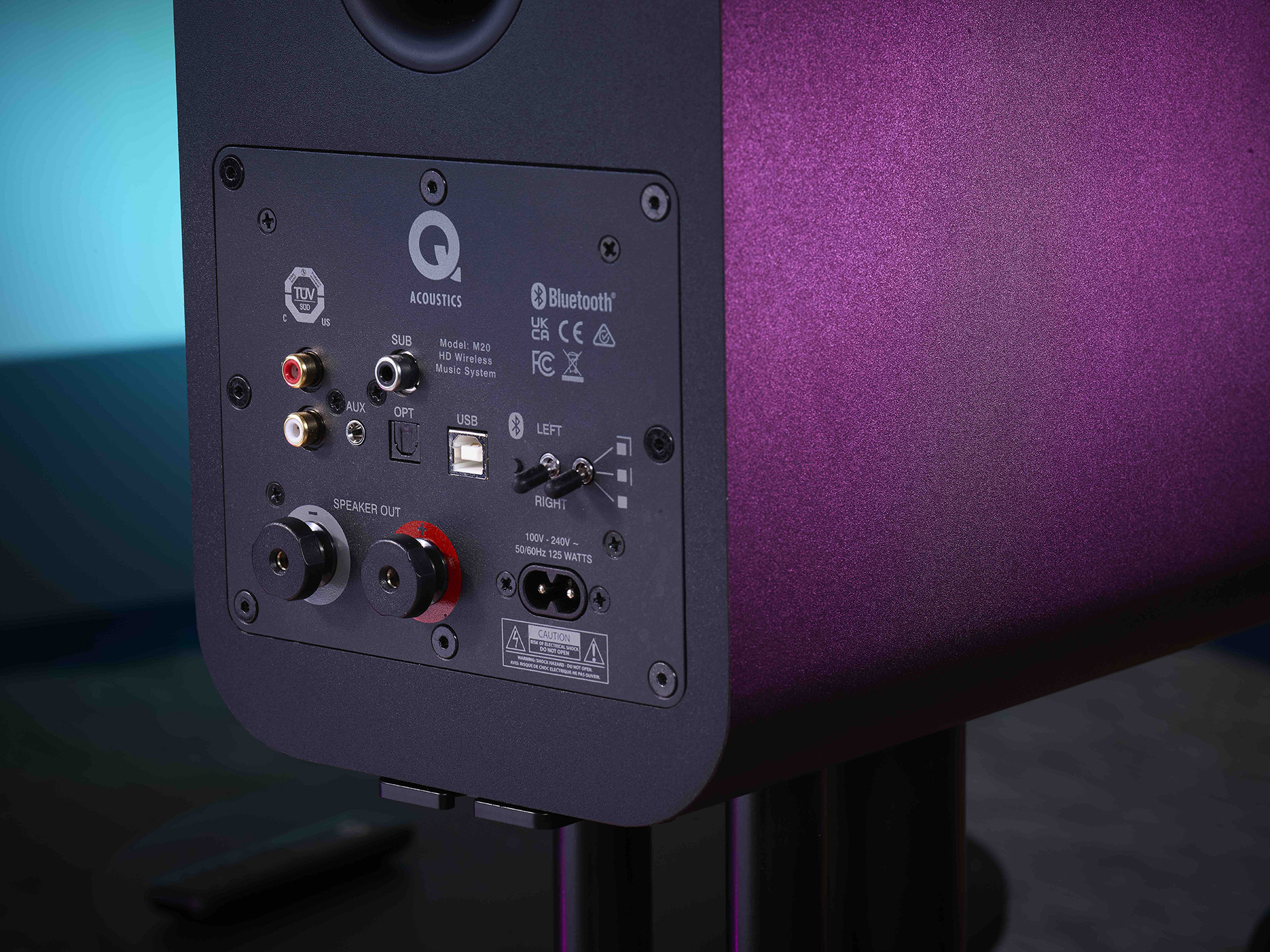 Lack of dynamics
Of course, there are things that the little speakers handle less convincingly. Dynamics is not their best card. This becomes apparent when the music tries to rise above pleasant background entertainment.
The Ghanaian war drums on Peter Gabriel's The Rhythm of the Heat lose their hypnotic effect and sound more like elevator music. And the Telarc version of Johann Strauss' Banditen-Galopp should not be played at all. Which 99 percent of buyers of the Q Acoustic M20 probably would not do in any case, as this is a piece of music known and played exclusively by misanthropic hi-fi reviewers.
The selection of active – sorry, amplified – wireless speakers for less than £400 is limited. Especially when it comes to real stereo speakers and not all-in-one table speakers.
The only relevant competitor we have tested is the Argon Audio Forte A4, which in turn also offers even better and more well-resolved sound as well as turntable input. In favor of the Q Acoustics M20, the USB input for computer use and HD resolution on Bluetooth.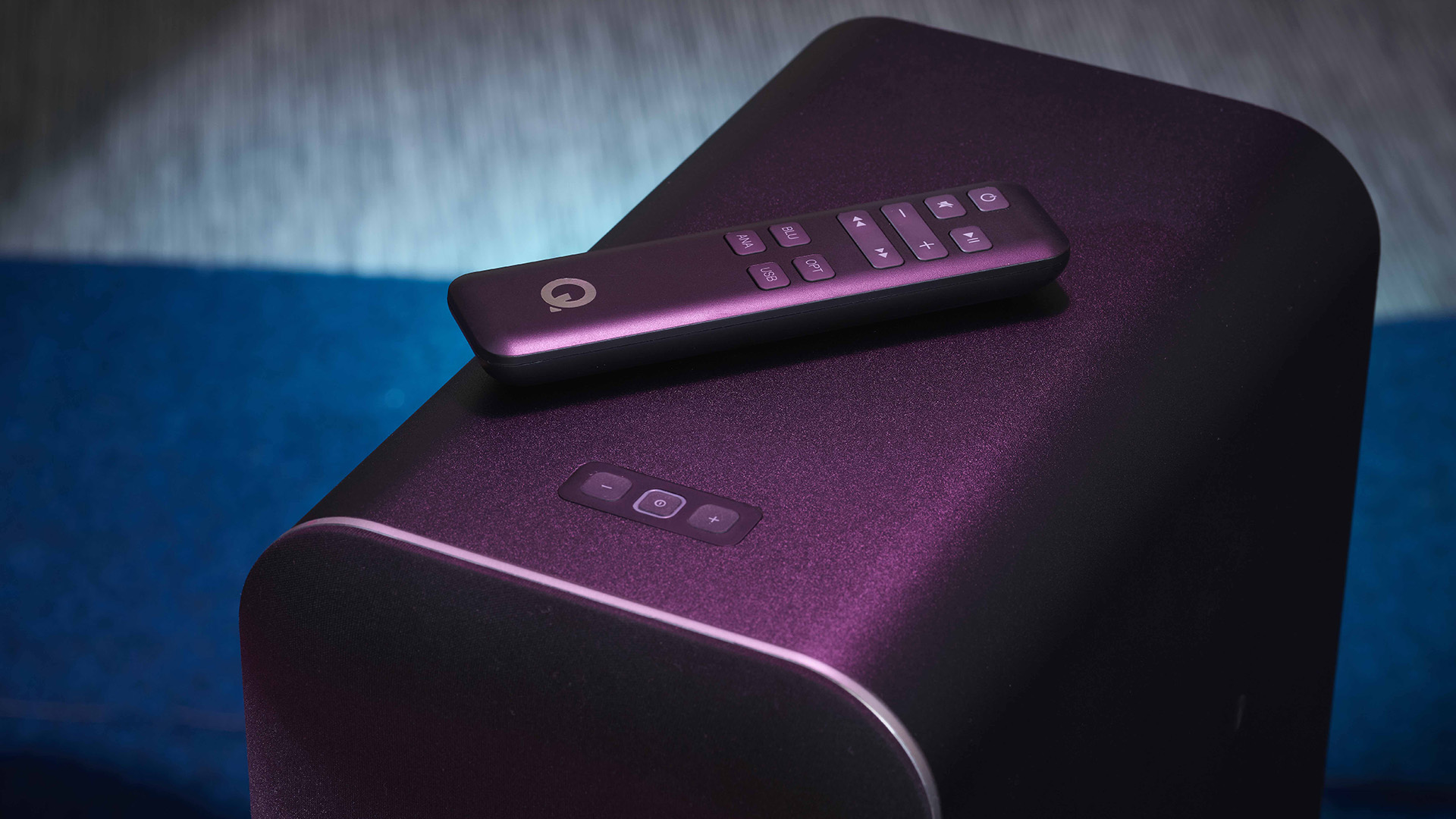 Conclusion
Q Acoustics M20 is a set of quite cheap speakers that even includes an amplifier, DAC and wireless connection in HD quality. This necessarily means that compromises must be made. But it can be hard to realise that when listening to them. The small boxes deliver a comfortable and well-balanced reproduction, which can well challenge much more expensive speakers.
If you want to send your kids out into the world with a proper stereo system, the M20 is not a bad place to start. Especially not since the range of inputs makes them a bit of a Swiss Army knife for home entertainment. They can also be a good alternative to a multi-room speaker in the kitchen or guest room, or whereever there is a need for one more system.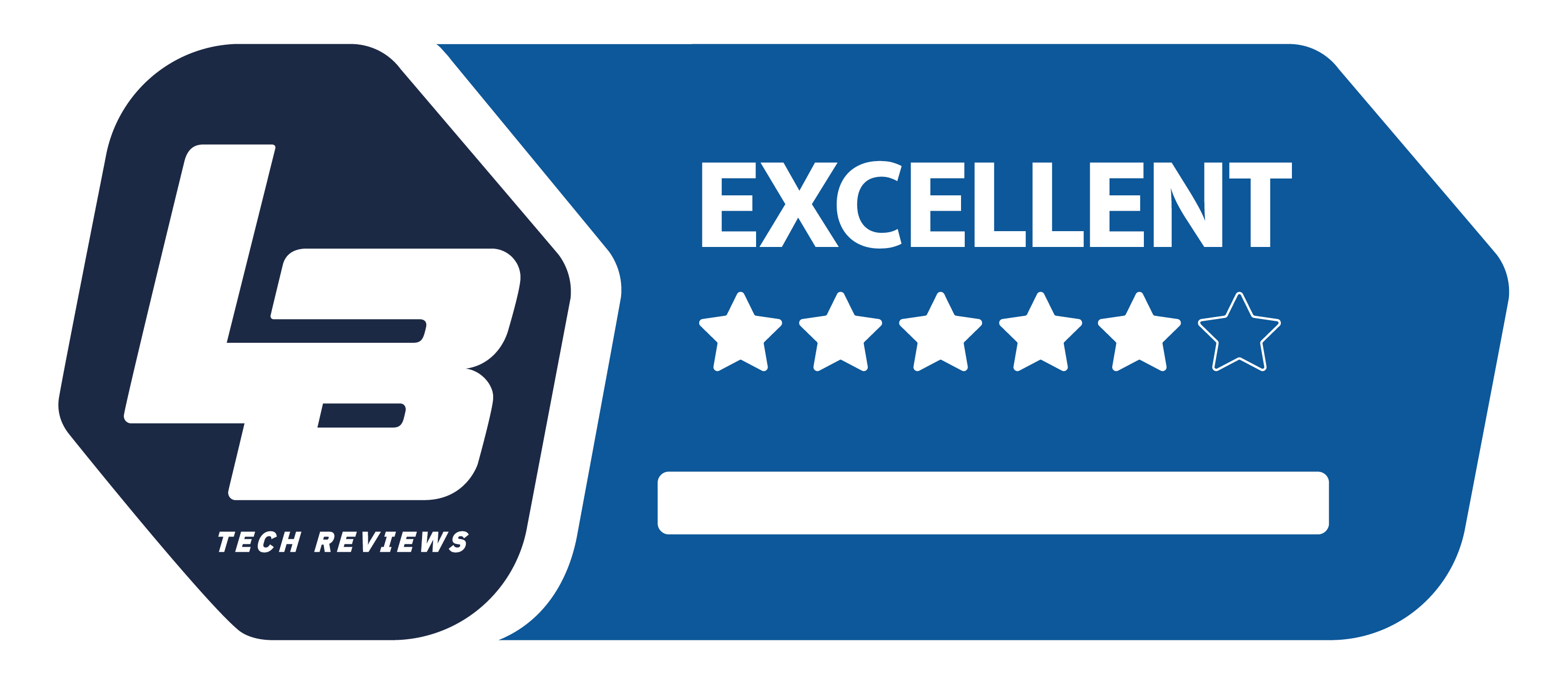 Basic
We think
Well-balanced sound. Pleasant to listen to. Good selection of inputs. Wireless connection in HD quality. The price is really nice.
The sound could be more dynamic and the perspective bigger. But at the price, they perform excellently.