For many years, Argon Audio was known as Hi-Fi Klubben's "cheap brand", offering relatively simple products manufactured in the Far East. Now Argon has become an independent company and their ambitions have been elevated. However, prices remain very accessible.
We previously tested the Argon Alto 5 Active. The Forte series, comprising models A4 and A5 (with 4″ and 5″ bass respectively), is technically a little more advanced, and has true active speakers with separate 40W D class amplifiers for all speaker drivers and DSP correction of the frequency response.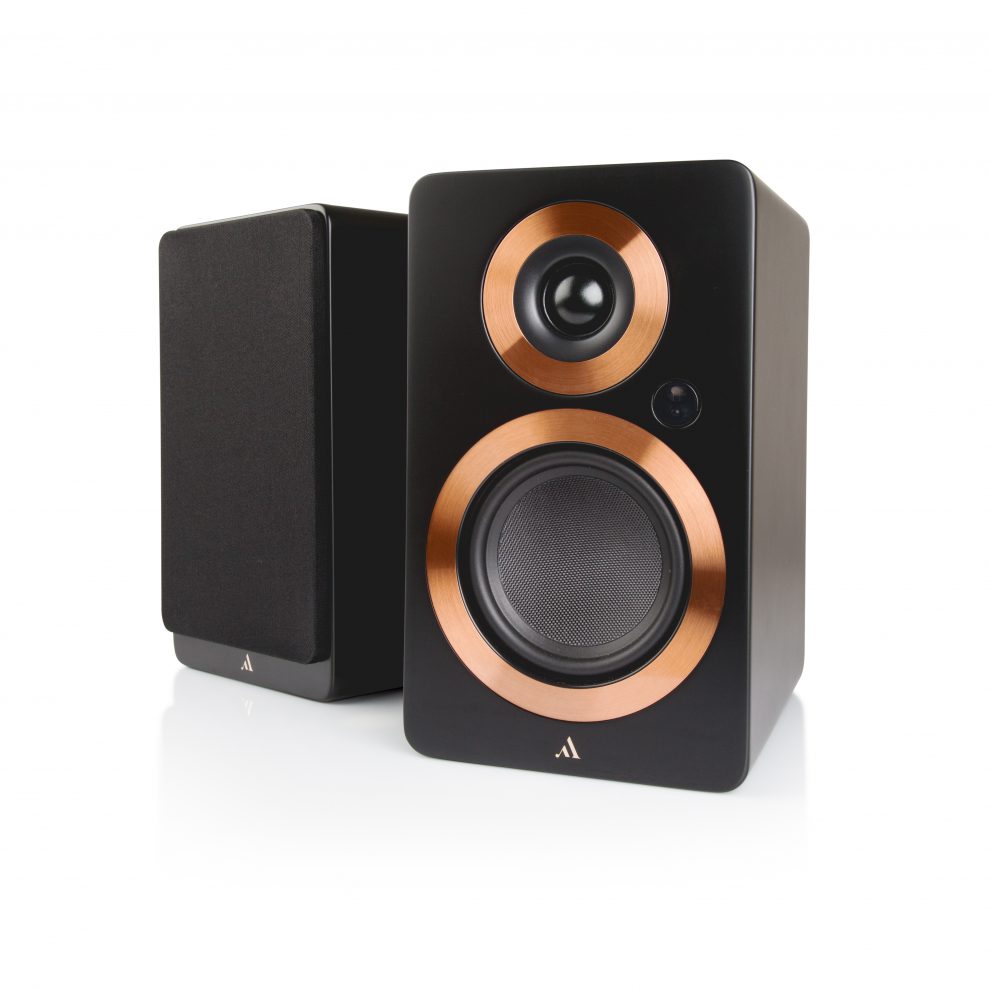 The Argon Audio Forte A4 is pretty nice to look at. The cabinet is either matte white or black and the edges are rounded. A metal ring surrounds each driver. The front fabric is held firmly in place with concealed magnets. The tiny cabinets almost ask to be placed on a shelf but the sound will be better if you place them on top of a sideboard or on stands.
The electronics are located in the left speaker with a wide range of inputs and outputs at the back. Consisting of two optical digital and analog inputs with real RCA connectors. Extra points for that – and for having a dedicated analog input for a turntable. There's also an output for a subwoofer and a USB port for powering Chromecast or other add-ons. Last but not least, via Bluetooth you can use your phone, tablet, or PC as a source. aptX ensures a perfectly acceptable sound quality.
You can't decide which speakers will be left and right, respectively, so if you have the signal sources standing on the right you'll need to rearrange some things. However, this is hardly likely to be a problem for most people as the Forte A4 is rarely paired with larger stereos but used to enhance TV audio, for example. In fact, the volume can be controlled with your TV's remote control, as well as from Samsung or Sony remote controls.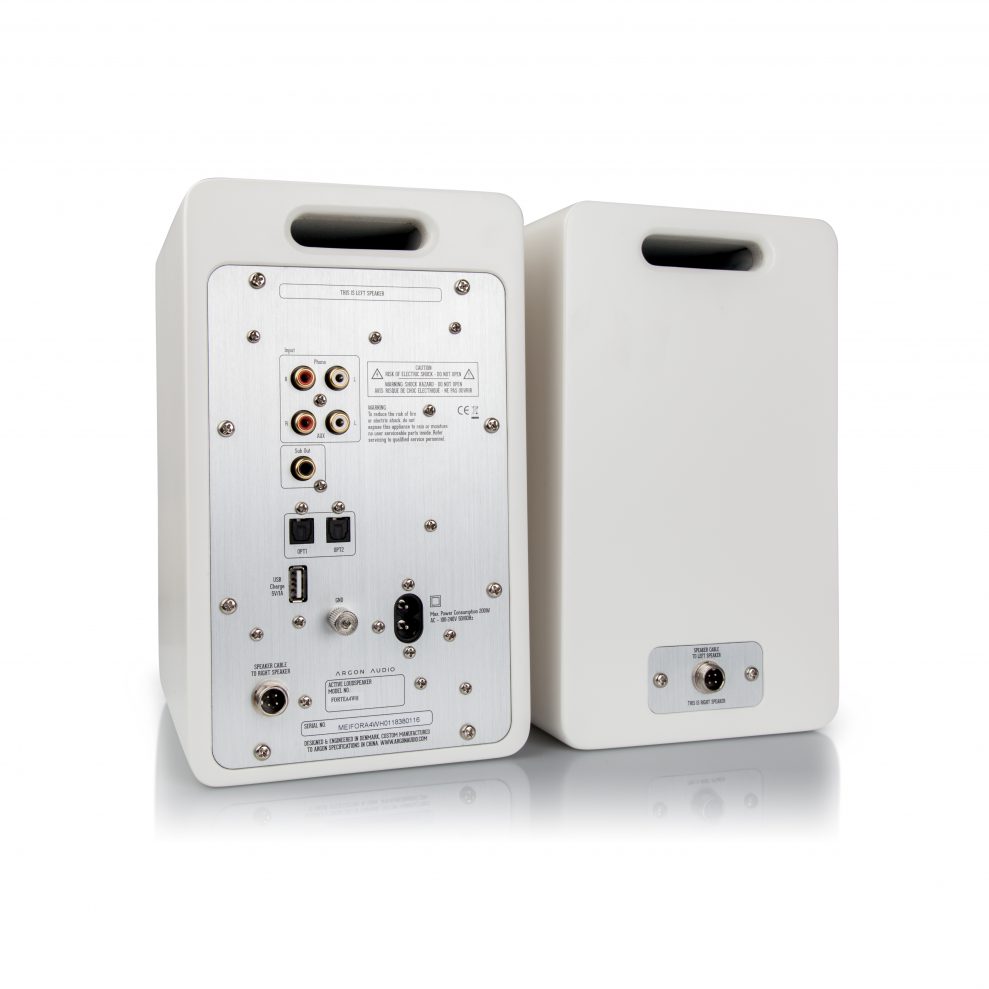 At the back you'll find a special four-pin connection with screw retainer. This is for the speaker cable between the active and the passive speaker. Because each driver has its own amplifier, four wires are needed. The cable is three meters long so if your living room is much wider than that the cable will limit the stereo perspective. But these tiny speakers will in any case have limitations in larger rooms.
The sound of Argon Audio Forte A4
Placing a pair of Argon Audio Forte A4s in the living room next to the grown-up speakers in your system can bring a smile to the lips of an old hi-fi enthusiast like this one – but they can also provoke a cold sweat. A smile because it's a pleasure to listen to them, and a cold sweat because they perform so well you almost wonder whether you could settle for so little!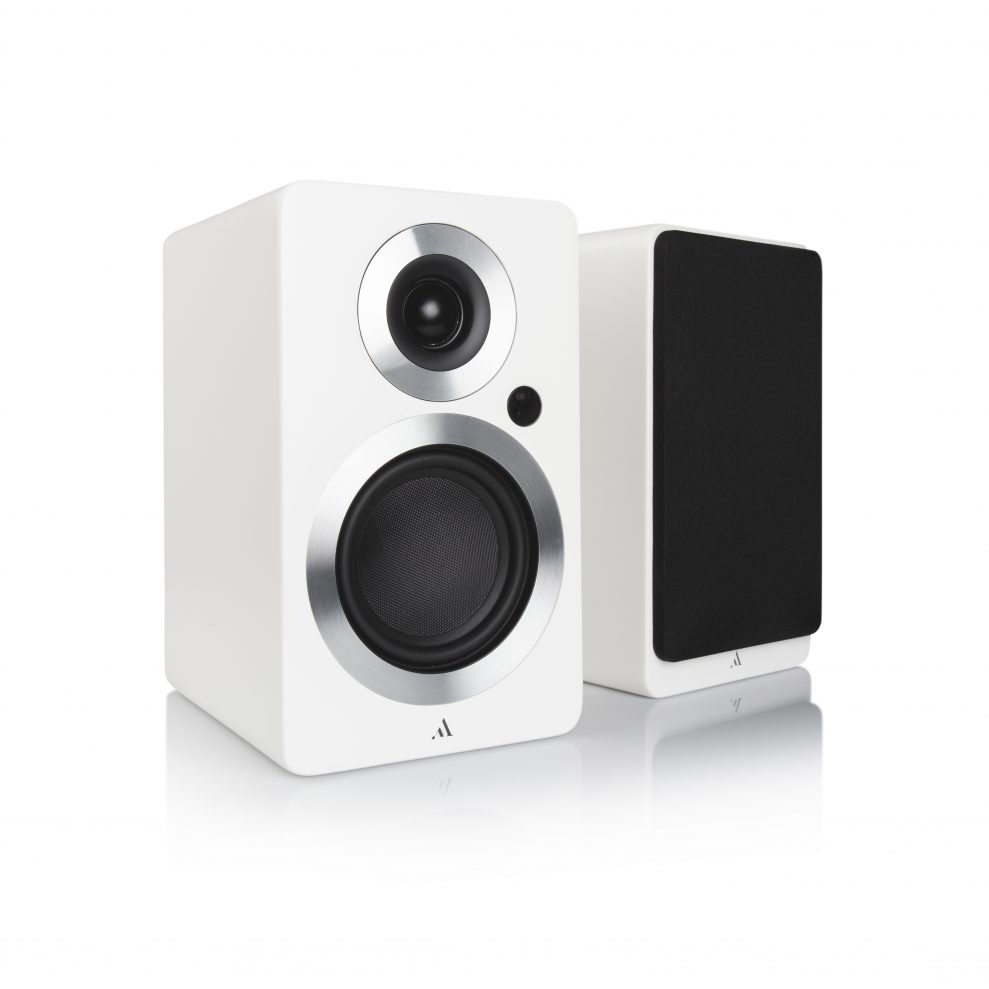 Most speakers in the very low price range are marked by colouration and distortion. That's not the case here. They play unconstrained and neutrally and in a manner you'd usually pay double for. The soundscape is large and wide, and there's also very decent depth in the soundstage.
One of the things that distinguishes the Forte A4 from the Argon speakers we tested previously is that they are completely active with electronic crossover and DSP correction of the frequency response in the bass. This means they can be played louder, as you avoid loss in the crossover, and that any distortion in the bass doesn't affect the sound sent to the treble driver. In part this means that, with the help of the electronics, it's possible to achieve a far deeper bass than would otherwise be possible with such a small bass driver in such a minimal cabinet.
And believe you me, these speakers play bass! They reach as deeply and with as much oomph as most medium-sized stander speakers. Even on bass-rich tracks such as ARY's The Sea and Chris Jones' No Sanctuary Here. They rock, heavy and solid. As long as you keep the volume control steady. If enthusiasm tempts you to increase the volume above conversational level, they'll begin to sound a little breathless. This isn't so strange. There are simply limits to how much air a four-inch bass driver can move. It doesn't get downright ugly, but the otherwise beautiful and nuanced midrange reproduction becomes muddier. The tweeter, which of course has its own amplifier, plays on undaunted and delights the listener with a clear and well-resolved top.
At a cost of just around four hundred euro for a pair of speakers including amplifiers and wireless connectivity, perhaps one shouldn't be too demanding. But it is to the Argon Audio Forte A4's credit that one is. By virtue of their multiple inputs, they can perform at the heart of a complete stereo system with room for both digital audio from a TV and game console, analog audio from a CD player or other source and, it's crowning achievement, the turntable input. The only thing missing is a built-in streaming service. But this can be achieved wirelessly from your telephone. If you want more oomph in the bass, the speakers can be combined with a subwoofer, but here the DSP boosted base may prove to be a limiting factor, because you can't change the lower frequency limit, and the bass will work just as hard regardless whether a subwoofer is connected or not.
If you can live without Bluetooth and digital inputs, the slightly more expensive Fluid Audio FPX7 gives a more nuanced soundscape, but the two are aimed at such different audiences that the choice between the discreet Argon A4 or the raw Forte will probably be decided in advance. Another option could be a compact speaker like the Dynaudio Music 1. Here you get streaming and multi-room functionality, but at the expense of breadth in the stereo scape.
Conclusion
The Argon Audio Forte A4 doesn't cost much but sounds much more expensive and should be able to give far more ambitious speakers a run for their money. Also when it comes to the bass, which reaches all the way down to the frequency limit without loss of power. Where they fall short is on volume. A 4″ bass driver in a mini cabinet can't play powerful, deep bass – no matter how much amplifier power and DSP correction you put in. In small rooms and at reasonable volumes, they are formidable.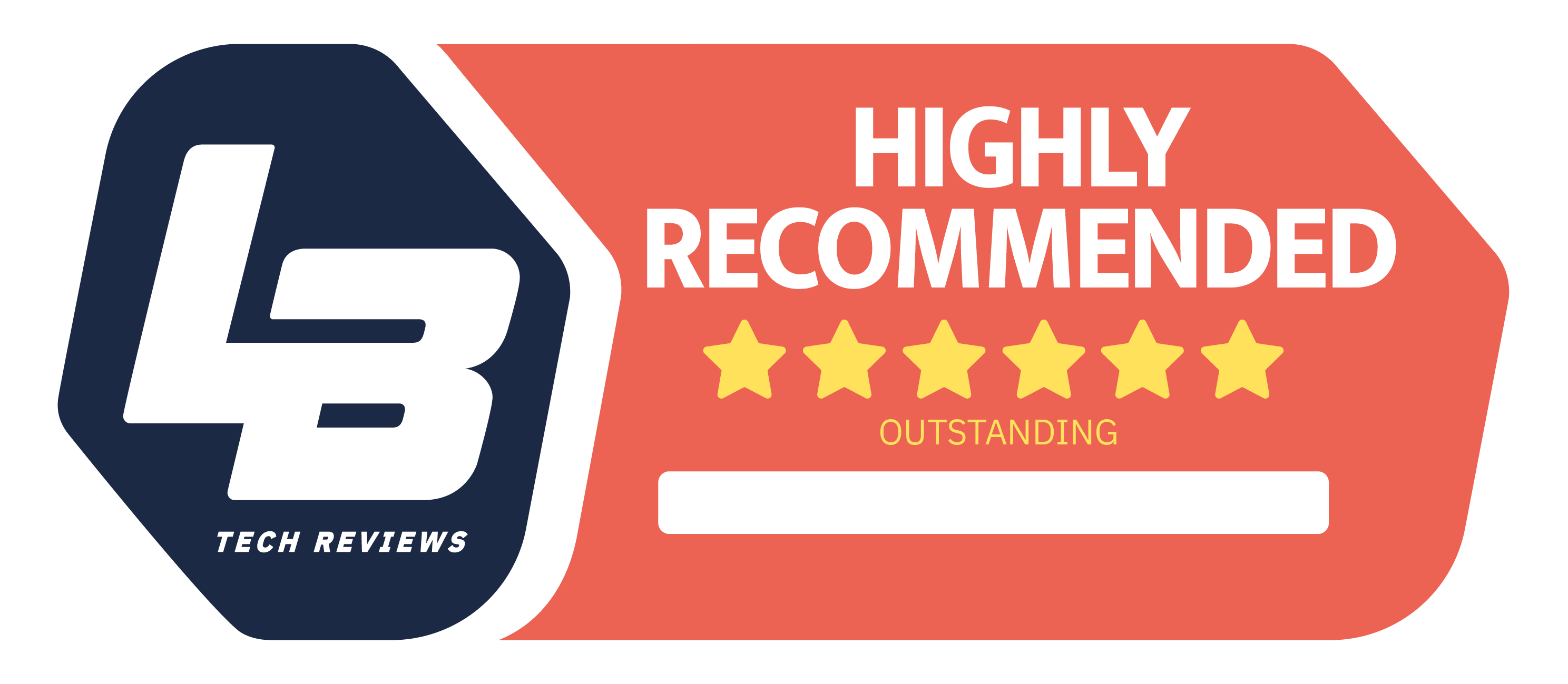 Basic
We think
Detailed and open sound with good bass and nice perspective at a price that should be higher. Wireless connectivity.
The sound pressure is limited. You simply don't get deep bass from a four-inch bass driver. No USB input.