Lasse Svendsen
Published

2022-06-23 - 9:49 am
Sound pressure out of this world. Plays loud, clear and fat. You can control the powerful light show. Microphone and guitar input. Convenient wheels.
Slightly muted midrange. No battery operation.
Specifications
Type: Wireless speaker
Wireless: Bluetooth 5.1
Connections: USB-A, AUX, microphone, guitar
Woofer: 2 x 21.6 cm
Tweeter: 2 x 7 cm
Power: 800 W
Sound pressure: (not specified)
Frequency range: 35 Hz – 20 kHz
Battery: No
Dimensions and weight: 90 x 40 x 44 cm / 27.8 kg
Resistance: IPX4 (splash-proof)
Other: App control, light show, wheels
Web: jbl.com
If you can' t get it loud enough, it' s because you have too small a speaker. Try something bigger than a table speaker next time, and I guarantee your guests will fill the dance floor in seconds.
Just ask a DJ. Music is everything, yet nothing if the speakers don't get people engaged. That's why it can be a good idea to up the speaker a size. Or two sizes, as in the case of the JBL PartyBox 710. It's twice as big as the Sony SRS-XP500 and twice as expensive, but also much better.
It's not a speaker you park next to the TV or enjoy some muted background music on. The PartyBox 710 doesn't come to life until you crank it up properly. Then you can both hear and feel the music, which can be classical as well as pop or rock. Okay, classical music might not be the most obvious choice, but it'll do as long as you don't listen too carefully.
If you do, you quickly hear that something is missing here and there. But compared to the equally expensive and similarly sized Sony MHC-V73D, the sound hangs together better on JBL's big PartyBox.
In many ways it resembles a large version of the portable JBL Boombox 2, but plays with a soundstage that the latter doesn't come close to. Two Ultimate Ears Hyperbooms in stereo come close and sound a little better balanced, but even with two you don't get the same physical bass as from one PartyBox 710.
Which can actually be paired with an extra PartyBox 710, should you need even more sound.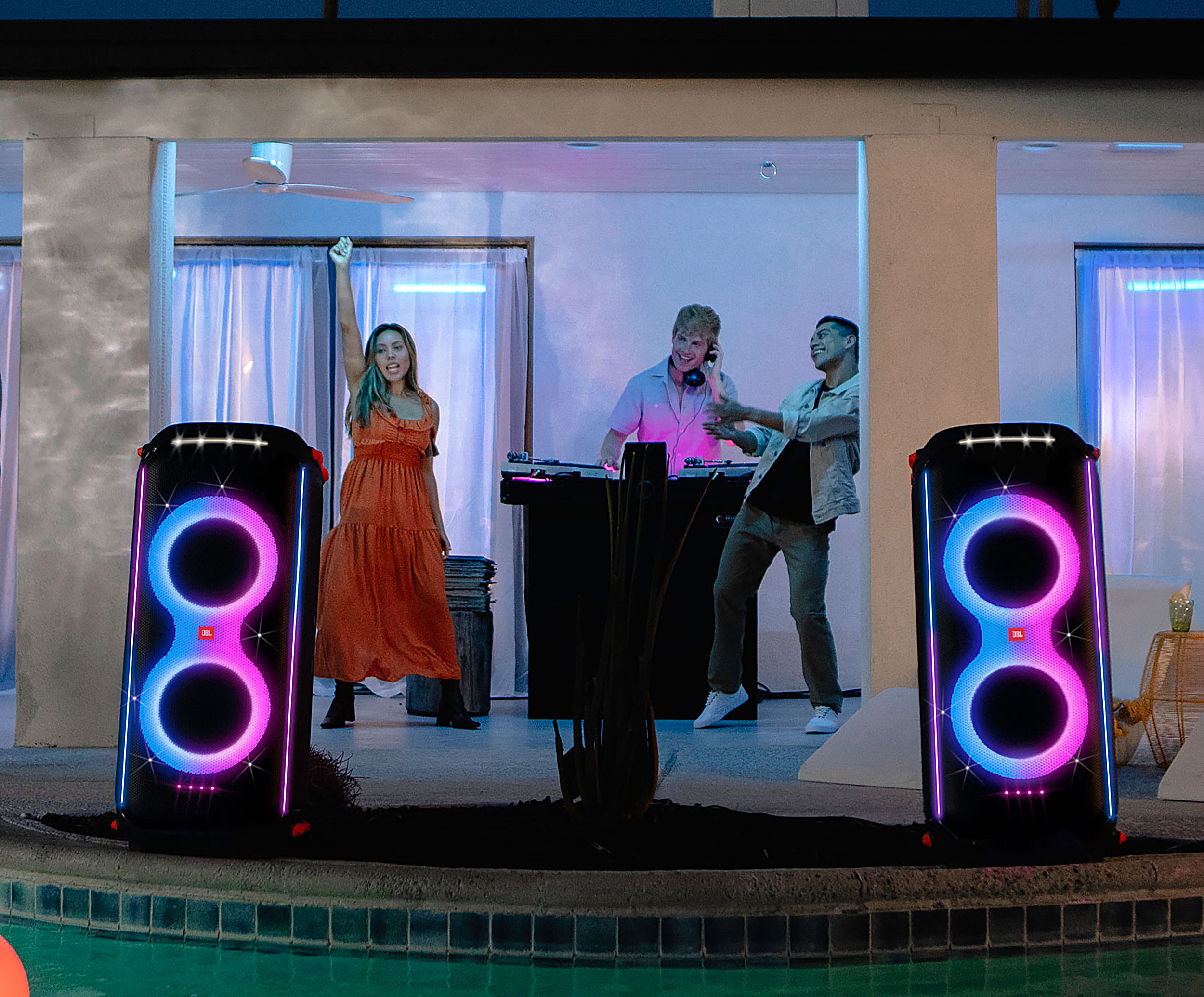 No battery power
With two 21.6 cm woofers behind the metal grill, two 7 cm tweeters and a total of 800 watts of power, you can feel both the bass and the sound pressure of the PartyBox 710 in your body.
Downloading the app, you'll find a sort of limited DJ function that provides sound effects of the kind you often hear at beach parties or after-ski parties. With microphone inputs, anyone can talk or sing along to the music, and it even has a guitar input for those who want to play along. Or you can use the PartyBox 710 as a simple singing system.
Large, clear buttons and knobs on top make operation easy, even in low light, and if you download the JBL PartyBox app, you can control the lighting effects – which can also be turned off completely.
The only thing it doesn't really have is a battery. So it always needs to be near a power outlet – unlike a Soundboks, which can play for up to 40 hours on a charge.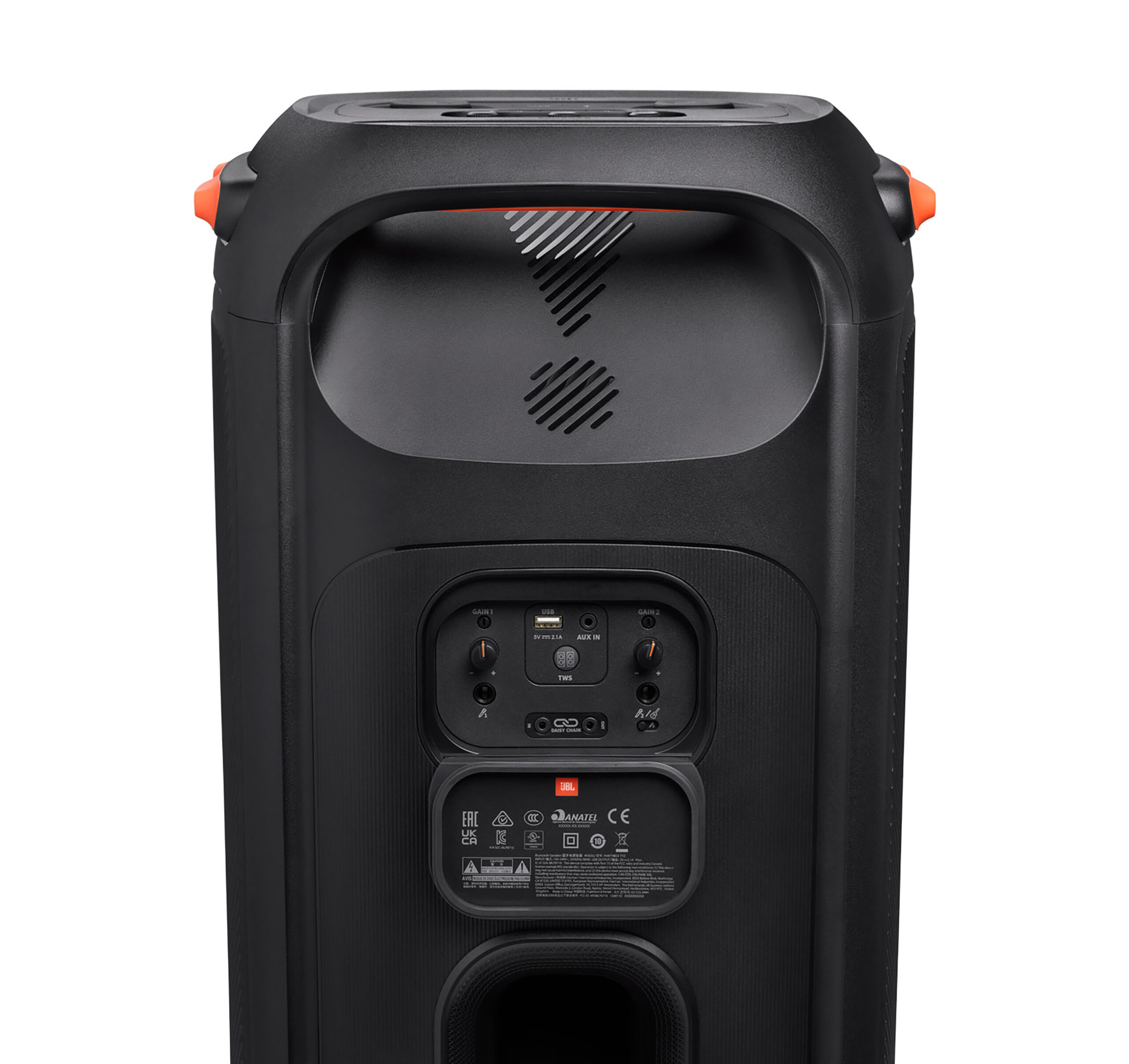 High party factor
While Sony's otherwise excellent MHC-V73D can sound a little harsh if you play loud, the JBL speaker always sounds pleasant. Even when you're tempted to turn it up a notch. Just be a little careful with the bass control, which can be too much of a good thing.
It has two settings, in addition to on and off. One for more depth and one for more thump. Outdoors, extra bass can sometimes be better, but indoors it can get very muddy and intrusive with so much bottom.
Putting that aside, the PartyBox 710 is a very pleasant acquaintance. The bass is always present, but for the most part it's well under control and blends in well with the rest of the music. The two treble units never sound sharp, but as so often with speakers with big basses and no midrange units, there's a lack of fullness and energy in that particular area.
That's unlikely to bother any of the many who want a splash-proof outdoor speaker that can be wheeled to the nearest party – and who don't need a portable, battery-powered speaker.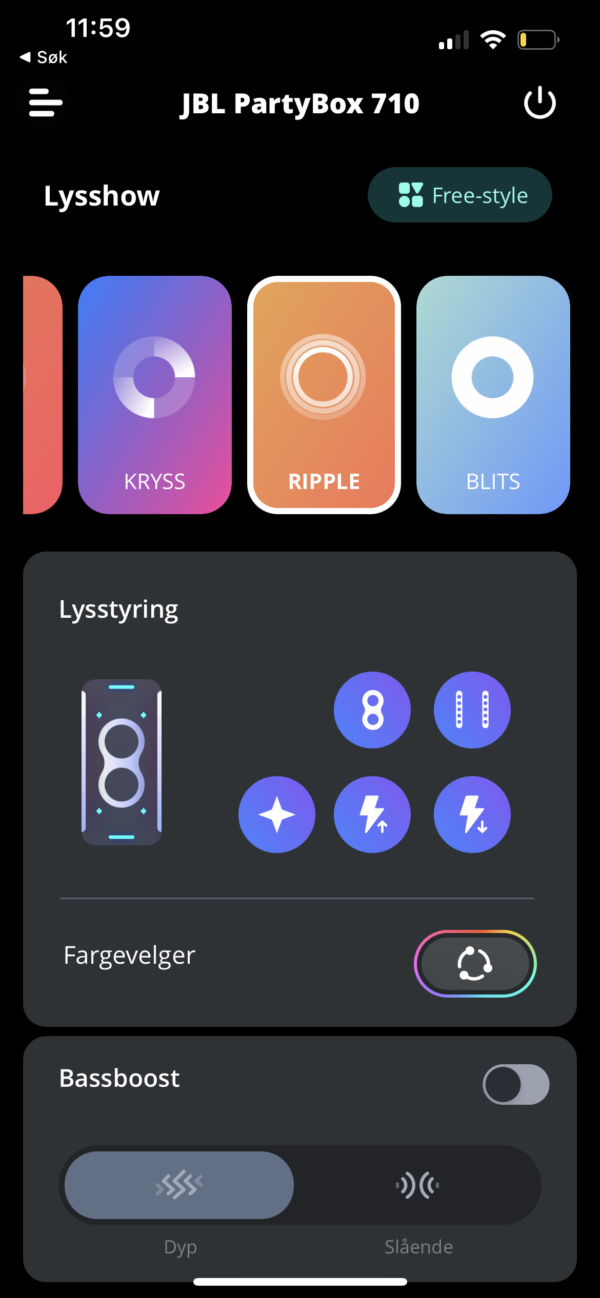 Conclusion
The JBL PartyBox 710 lives up to its name. The PartyBox 710 really gets the party started, with its ability to play both catchy and balanced, and with convincing bass without sounding unpleasant.
It's more rollable than portable, and without a battery its uses are somewhat limited, but what a sound it makes! Turn on the light show and crank up the volume, and the dance floor is guaranteed to fill with party-goers.
If one PartyBox 710 isn't enough, you can always try two. If you dare.