Lasse Svendsen
Published

2020-08-12 - 11:10 am
Very fast and precise autofocus, little black out in the viewfinder, complete ergonomics and endless setting options. Built to last.
Lacks tiltable screen, slightly lame autofocus on live view video, and limited video options compared to many mirrorless full-frame cameras.
Specifications
Type: 21 Mp SLR camera with full frame image sensor
Optics: Nikon F
Seeking: Optical prism 100%, 0.72x
Screen: 8 cm LCD, 2.36 Mp
Burst: 14 frames / s
Video: 4K / 30p UHD, MOV / MP4
Connections: Microphone in, headphone out, USB-C charging, HDMI, remote. Ethernet
Wireless: Bluetooth, Wifi, GPS
Storage: 2 x XQD / CFexpress
Battery life CIPA: 3580 images
Dimensions / weight: 160 x 163 x 92 mm / 1270 kg
Highlights: 105-point cross-type autofocus sensors, 14-bit uncompressed RAW, 3.28 K ISO, weatherproof, Snapbridge support with raw and jpeg transmission.
Web: nikon.com
Few cameras are as refined as Canon and Nikon's flagships. This has been the case ever since the first analog Canon F-1 challenged the Nikon F2 in the early 70's.
At the time, Nikon had over 10 years of experience in building SLR cameras for demanding professional users. It was to turn out to be a lucrative market, as it also sold cameras to regular users, who relied on a camera manufacturer who made solid tools for the pros.
When Canon launched the F-1, Nikon replaced the 1959 F model with the F2, and since then Canon and Nikon have been fighting for the same professional customers.
They do today too, and the month after Nikon announced the Nikon D6 in the fall of 2019, the successor to the D5, Canon launched the EOS 1Dx Mark III. Both are cameras that are aimed primarily at professionals who photograph sports, but also professionals and amateurs who photograph wildlife and other things that require a fast camera that focuses sharply in all conditions.
Nikon and Canon have worked with sports photographers and the Tokyo Olympics 2020 as a defined goal for the cameras, and have released the cameras to the market even though the games have been postponed until 2021.
For Nikon, there are not many changes to the D6, compared to the D5, but some of them are still important. Here is an overview:
Faster firing speed of 14 bps, compared to 12 bps
10.5 bps in silent mode
30 bps with 8 Mp, 60 bps with 2 Mp
Same 20.8 Mp CMOS image chip
New Expeed 6 image processor
105 focus points, all cross-sensors down to -4 steps (153 mix on D5)
15 focal points function down to f8, center point sensitive down to -4.5 steps
12 or 14-bit lossless or uncompressed image files
New Digic X image processor
4K / 30p UHD 100 Mbps video
MP4 el. MOV.format
Two XQD / CFexpress card slots
Backlit buttons
Bluetooth, 2.4 / 5-GHz Wi-fi and GPS5 integrated
1000BASE-T Ethernet
Optional WT-6 wireless Wi-fi transmitter
3580 images per charge
It's all about speed
Cameras like this have to capture the subject in focus, every time, and it should go fast. Shooting rate is important, but even more important is the focus speed – and precision. Although the shooting rate on the D6 is slightly higher than on the D5, 14 bps is a long way from what the Canon EOS 1Dx Mark III and Sony a9 II can handle. 20 frames / s is and will be faster.
But Nikon has obviously worked hard to get the autofocus to keep up, and has discarded the D5's Multi-Cam 20K module with 153 focus points, in favor of a new Multi-Cam 37K module with 105 focus points. It sounds like a step backwards, but it is not.
In D6 all 105 focus points are cross-sensors, in D5 there are 99 cross-sensors, but they are spread over a larger area. Nikon has grouped the 105 points even closer (1.6x), and contrast-enhancing focuses are available on all points. The photographer can also select 27 or 15 of the focus points in groups, and even adapt the grouping to the subject. There are also 17 different focus patterns to choose from.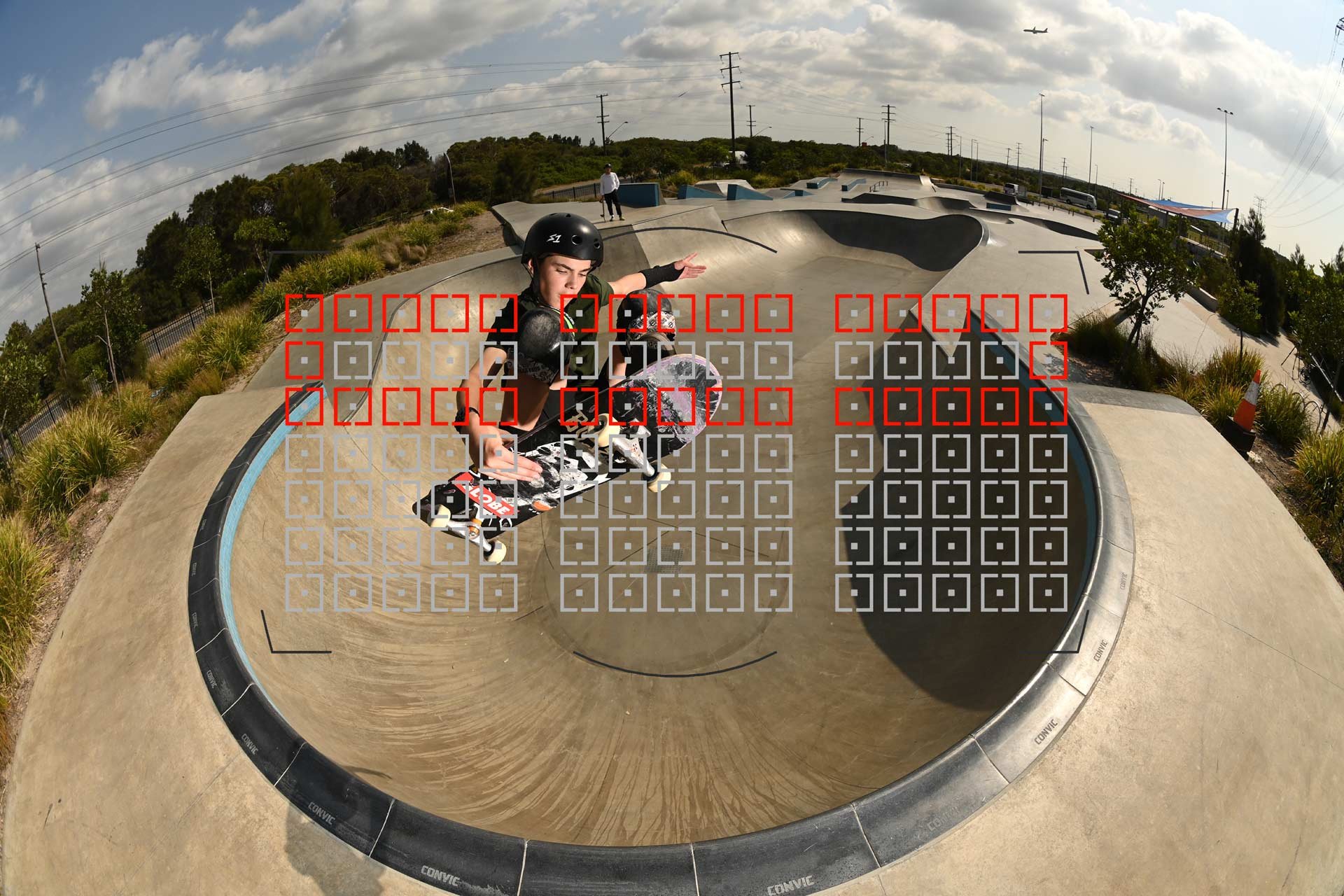 The focus points are fewer, but are closer than on the D5, and can be grouped as you wish. Ill. Nikon.The photographer can also let the camera select the focus area, and there are several options for fine-tuning the autofocus in the menus. It also has an eye-based focus that makes it a little easier to get athletes in focus, even at full shooting pace with a follow-up focus.
The result is a camera that is lightning fast, although the shooting rate itself is not very impressive. It focuses extremely precisely at full speed at 14 fps, and hardly misses a single image. The follower focus can hardly be affected by the fact that obstacles appear in the way, when panning with continuous autofocus at full firing rate.
Nikon's 3D focus is normal to trust, but I've never experienced a Nikon camera that is so raw on moving subjects. Cars, cyclists or birds in flight, it does not matter for the D6. Which only loses focus if the subject is too long outside the edge of the image.
The camera also has a couple of silent modes. You can shoot at reduced speed, but still achieve a shooting rate of 10.5 images.
Minimal ergonomic changes
Fortunately, Nikon has kept the buttons and adjustment knob in the same place on the D6 as on the D5. In other words, photographers who use both will not have to think about which camera they are using when switching in hectic situations.
The three buttons to the left of the viewfinder, mode, metering and bracketing, are elevated, and behind it a microphone symbol has appeared on the Fn3 button.
Both handles are generously designed, and the camera can be held comfortably in both landscape and portrait mode. Personally, I would have preferred that the joystick and the AF-ON button had changed places when holding the camera vertically, but there are possibly some Nikon photographers who are used to this. Finally, it can be said that Nikon has chosen lightning-fast XQD / CFexpress cards in both slots. Storage can be configured as the photographer wants.
The touch screen is large enough and you can scroll through menus, swipe images and select the focus point on it – and both the sharpness and color reproduction are impeccable. But like the screen on the EOS 1DX Mark III, it is neither tiltable nor pivotable. It would be an advantage, especially with a camera that invites both live view photography, and not least video recording.
The focus switch is still where Nikon users are waiting to find it. Front, to the left of the lens mount, with auto and manual focus switch, and a button to select the focus method. Otherwise, D6 is like D5, a tool where just about every button can be programmed to a preferred function. Also the three to the right in front.
Connections
The camera has built-in GPS, Wi-fi and Bluetooth. It can also use a separate WT-6 Wi-fi transmitter with a range of up to 200 meters.
Otherwise, there is a USB-C connector here that supports charging the battery, a full-size HDMI output, ethernet connector with 15% higher speed than on the D5, input for microphone and output for headphone. There is also a connector for wired remote control, and the camera supports tethering and control from Nikon's Snapbridge app. As the camera can also transfer images to continuously, via Bluetooth.
It comes with a twin charger with room for two batteries at a time, and the camera can use a separate power supply and adapter – EH-6C with EP-6 – which is available as an option. The camera can also be controlled remotely over longer distances. Up to 120 meters with the WR-1 wireless remote control.
Picture quality
10 percent of approximately 1000 images were taken with single images, normal autofocus and saved as raw and jpeg files. The rest was taken at 14 bps (Ch), with follow-up focus (AF-C), and various settings for focus groups. Thus, it became extra exciting to find out how many of the images from the series footage actually became sharp.
The answer is surprisingly many. Jersey-clad cyclists on anorexic racing bikes were no match for the Nikon camera's follow-up focus. The red focal points hung like a swarm of bees in the viewfinder, and did not give up even if the cyclists disappeared for a moment behind a sign or a car. And cars are so big that it also turned out to be no challenges for the new focus module in the D6.
Birds, on the other hand, became a much bigger challenge. They are much smaller than a cyclist or football player, and far more unpredictable. Here it was possible to make the camera miss, especially if the birds moved closer to the edge of the image in the viewfinder, ie outside the focus points.
It's really extremely good. It is difficult to say whether the autofocus is better or worse than from the EO 1DX III or a9 II. Since the firing rate is lower, the chance of more sharp images also increases. I think anyway that the difference is of an academic nature, for most photographers it is not 14 against 20 bps that is crucial anyway.
Some may care more about the image quality. It is as expected, very high, as it was on the D5 when we tested it in 2016.
The camera can take pictures up to 3.28 K ISO, just nonsense of course, because the pictures are useless even with post-processing. If you stay below 51200 ISO, it is immediately better. From there on down, the D6 is a little better at preserving sharpness and detail, than the a9 II and 1D Mark III, without the image noise being too annoying. Most will hardly be often above 24600 ISO, and from there on there is hardly any visible difference in images from the three cameras. But the Sony camera generates slightly less noise than the D6 at lower ISO values, at least up to 800-1000 ISO. It should be said that the differences here are so small, that they appear better on test boards than on ordinary pictures.
Funny enough, the camera has no 120 fps capability on video. You can shoot 30 bps series with the resolution reduced to 8 megapixels, or 60 if you can live with two Mp. On the other hand, it can record video in 4K UHD from the entire image area, and while the video quality is impeccable, the focus on live view is a bit slower and more unpredictable than it is on still images when using the viewfinder. Manual focus is the rule on video here, that is.
Conclusion
The professional market is a small and pointed field. For Canon, Sony and Nikon, it is important to meet the high demands of professional photographers who are constantly on the lookout for the best tool. Most of them would be very happy no matter what is in front of the camera, and the three cameras in this class deliver the sharpest images you can get in sports, wildlife and action. But the differences in practice are not so great that we imagine that Canon manages to hijack many photographers from Nikon, or vice versa. If you are used to using Nikon D3, D4, D5 and maybe D750 or D780, D6 is the next natural step. Then you get not only Nikon's rawest sports camera, but also one of the best professional cameras right now.