Lasse Svendsen
Published

2020-09-10 - 10:00 am
Almost the complete camera with 8K video, extreme resolution, insane firing rate and near perfect ergonomics.
8K is demanding for both the camera, the computer - and the photographer. Short battery life without vertical grip, and high price.
Specifications
Type: 45 Mp system camera with full-frame image sensor
Optics: Canon RF
Viewfinder: 5.76 Mp OLED, 0.76x
Screen: 8 cm 2.1 Mp LCD
Continuous shooting: 20 frames / s electronic shutter, 12 fps mechanical shutter
Video: 8K25p DCI / UHD, 4K100p DCI / UHD, 1080p HD
Connections: USB 3.1, HDMI, microphone, headphone, flash, remote control
Wireless: Bluetooth, Wifi
Storage: CFexpress + SDHC / XC, UHS-II
Battery life CIPA: 320 images
Dimensions / weight: 138 x 98 x 88 mm / 738 g
Highlights: 8-step built-in image stabilizer, Dual Pixel II autofocus, animal and face recognition, 10-bit HDR, ISO
100-102,400, USB charging, weatherproofing.
Web: canon.com
Someone has to be first with innovations. It is in the nature of things. Some were first out with film on roll, others were first out with built-in light meters, and then some others were first with autofocus, digital cameras and so on.
Then we have those who were first with video in a still camera, first with HD video and first with 4K video. There are so many 'firsts' at all that the list is endless.
Canon has also been first. Many times. This time, they are the first with 8K video in a system camera: the Canon EOS R5, which is the flagship of Canon's new generation of system cameras.
And what a camera it has become!
Canon EOS R5 is the groundbreaking camera EOS R did not become, when they were launched as Canon's first flagship among mirrorless full-frame cameras.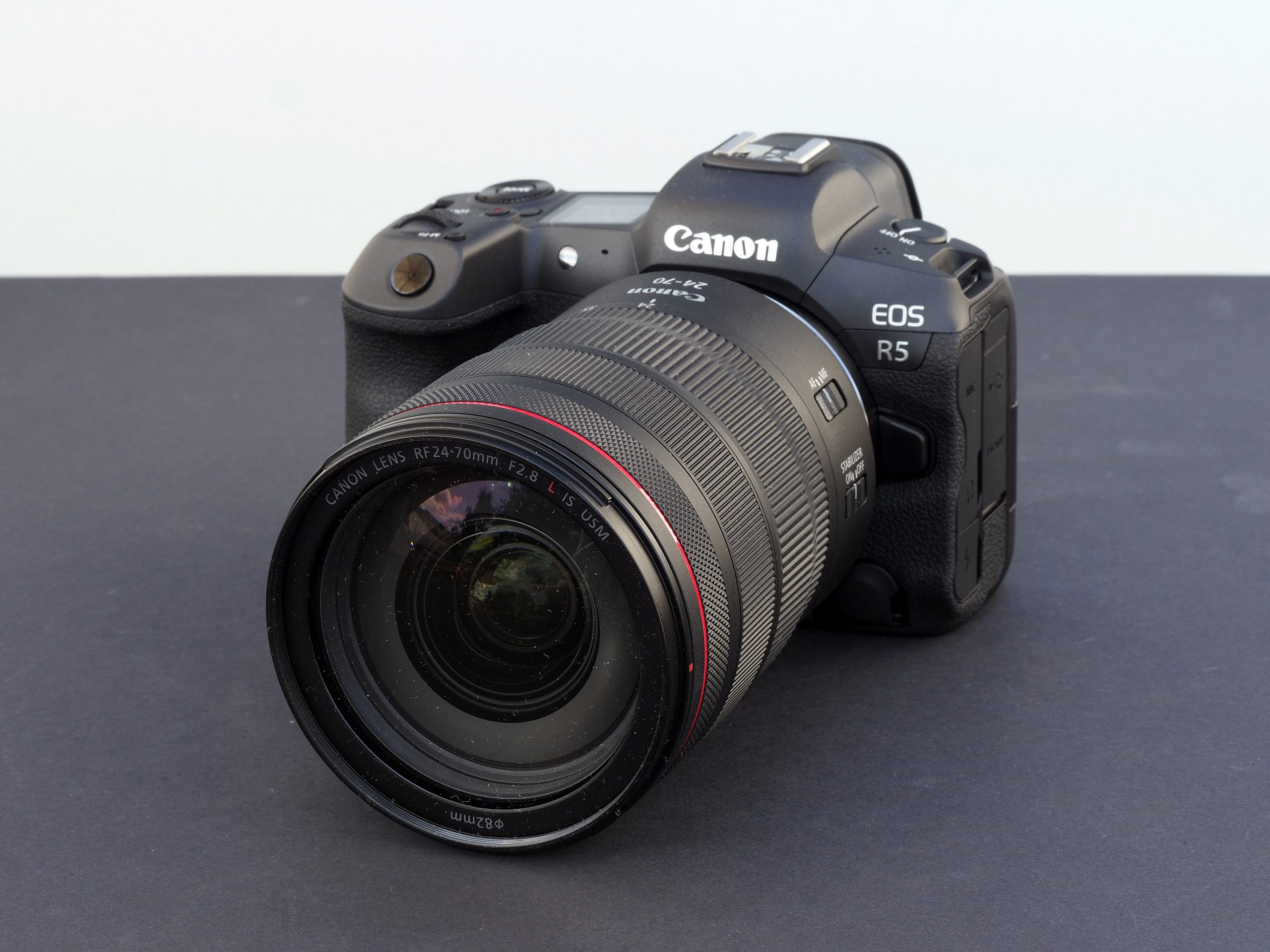 This is the mirrorless version of the SLR camera EOS 5D Mark II (2008), the camera that was groundbreaking in its time with 1080p HD video, and which has since been embraced by video creators worldwide.
The same can happen with the EOS R5, which is Canon's most advanced camera, but not exclusively aimed at professional video creators. It also has other features, such as a shooting speed of 20 frames / s, a 45 Mp high-resolution CMOS image sensor, built-in image stabilizer, extremely fast autofocus, and yes, it can record high-quality 4K video. In itself, it is not sensational in this price range. The Panasonic Lumix S1R, Nikon Z7 and Sony a7r IV have many of the same features, but none of them have 8K video recording.
But first let's look at some of the key features of the EOS R5:
45 MP full format CMOS image chip with Dual Pixel II autofocus
Fast firing speed of 12 (mechanical shutter) and 20 bps electronically
5940 dots autofocus covers 100% image area
8-step image stabilizer with selected lenses
ISO 100-102,400
10 bit HDR still in HEIF format
8K DCI el. UHD video, 10-bit 4: 2: 2, RAW, C-Log, HDR PQ
Full 1080p HD 120 fps in upcoming firmware
CFexporess + SDHC / SDXC UHS-II slots
5.76 Mp OLED viewfinder
Swivel 2.1 MP touch screen
Wi-fi and Bluetooth integrated, FTP transfer
Hosted camera housing
BG-R10 optional battery grip
WFT-R10 battery grip with Wi-fi optional
Some of the same features are also found in the EOS R and EOS R6. But the EOS R5 has more of everything, and combines extreme resolution with furiously fast 20 bps shooting rate, 8K RAW video and 10 HEIF (better than 8-bit jpeg), in a solidly built and weatherproof camera housing, we have hardly seen before.
The resolution of the camera's image chip is excellent for landscape photography, shooting speed and fast autofocus, making the R5 perfect for sports, action and wildlife photography.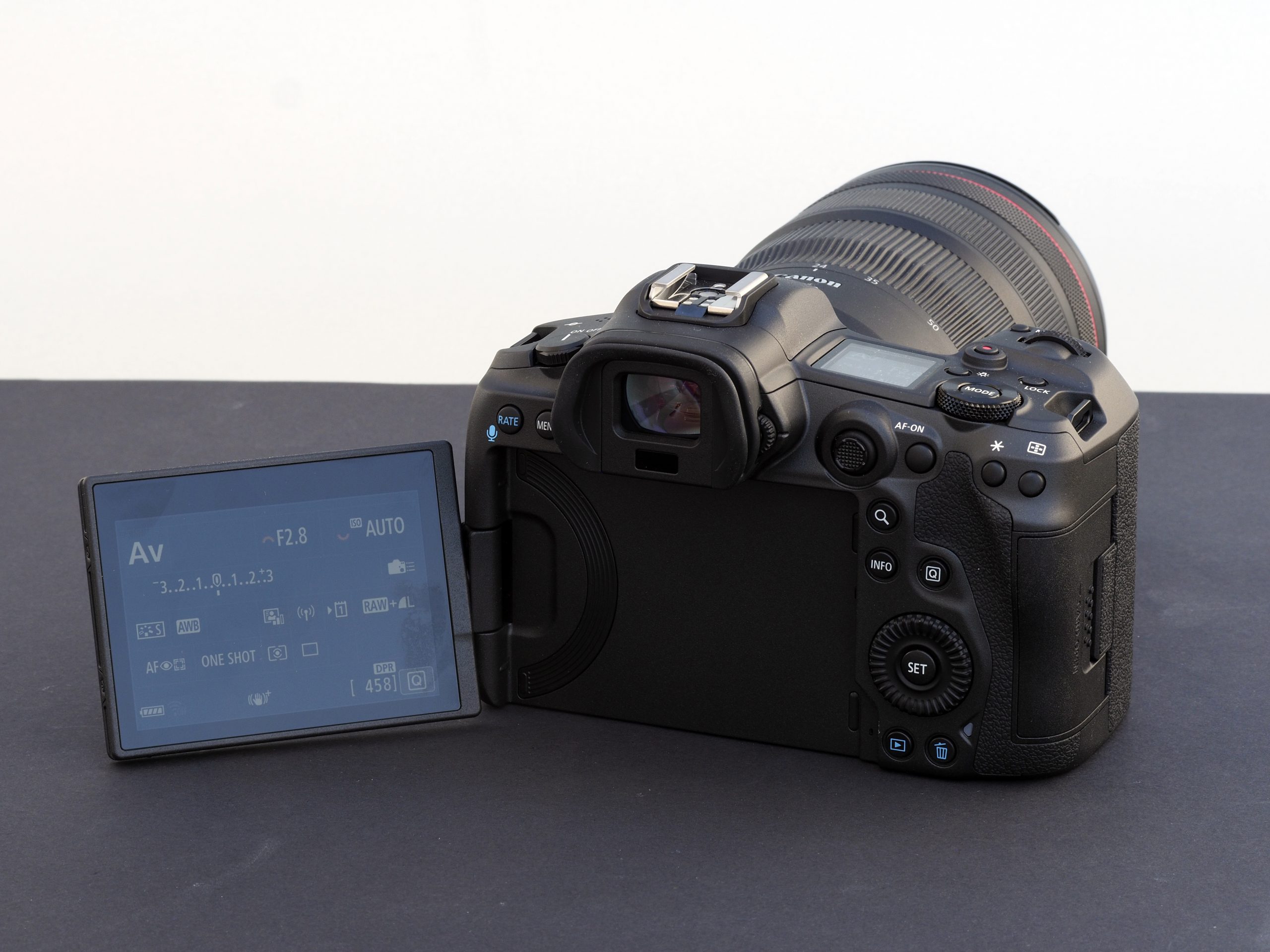 But the camera is also excellent as a portrait camera. With Canon's wide range of quality optics and the camera's dynamic range, both portrait, wedding and fashion photographers have a lot to go on in finishing. There is almost nothing this camera can not, but that does not mean that there are no restrictions in the EOS R5.
360 degree ergonomics
Canon has almost always succeeded with the ergonomics of its cameras. The cursed touchpad on the EOS R has fortunately been replaced with a joystick on the R5. Buttons and the three adjustment knobs naturally fall into place when you grab the camera. Maybe the status screen at the top could have been bigger, and an extra programmable button on the front, could have been nice to have, but otherwise the camera is exemplary clear and easy to use, after a little run-in time.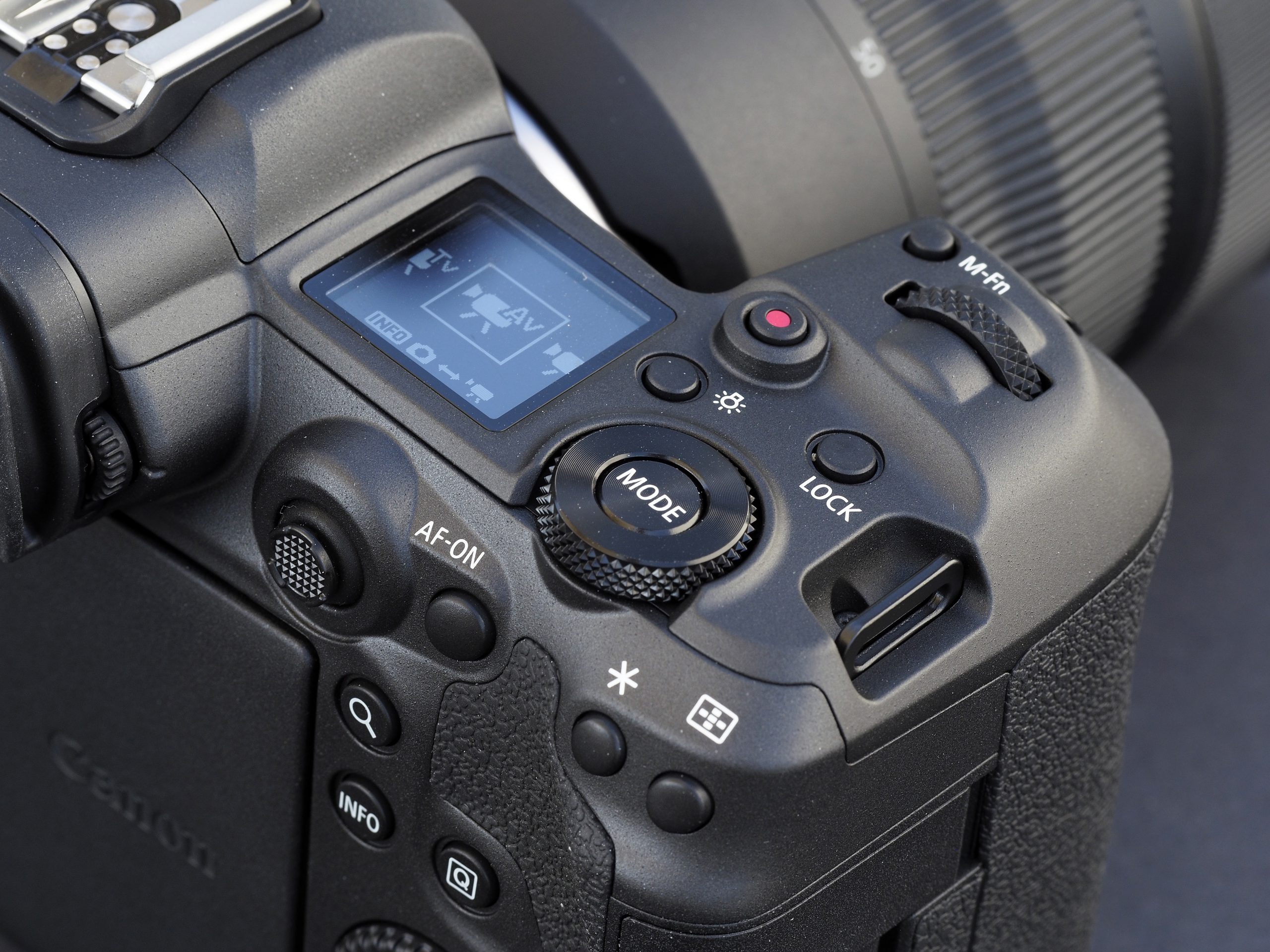 The camera has two card slots. One for the fast CFexpress cards, the other for SD cards with UHS-II support. The former is absolutely necessary to store 8K video, which can not be stored on a regular SD card.
If you turn the camera to the other side, you will find connections for microphone, headphones, remote control, HDMI, flash, and USB charging.
Several of the buttons can be deactivated with a lock button on the top, and you can control all menu selections and settings also on the rotating touch screen. Which can also be used to shift focus when e.g. uses the screen during video recording.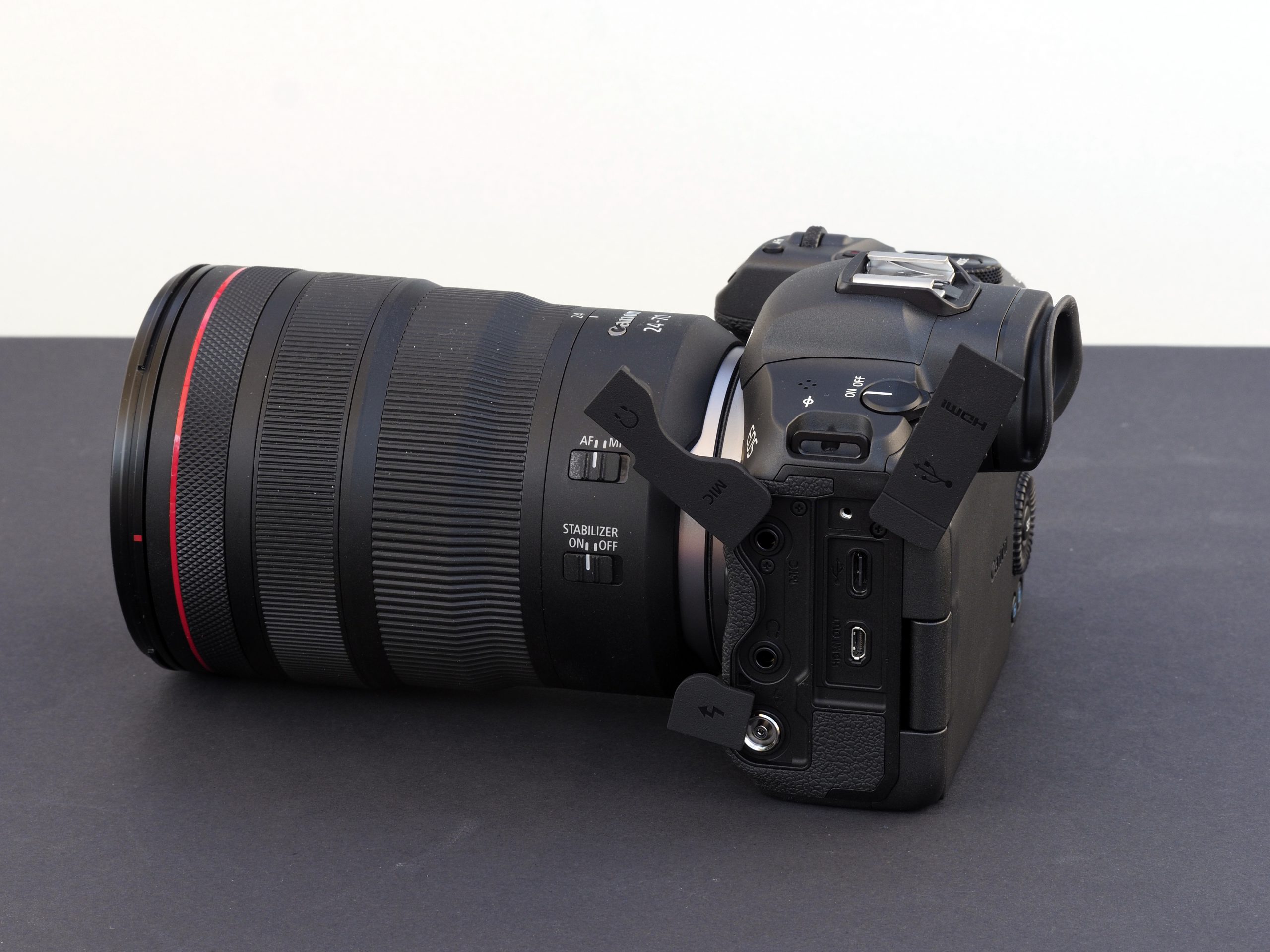 Like the others in the R-Series, the camera has an M-Fn button where you can quickly change ISO sensitivity, continuous shooting, servo / oneshot autofocus, white balance and flash compensation.
Even more setting options are available with the Q button on the back. Press and scroll with the setting wheel or your finger to the setting you want to change.
The mode button on the top and the setting wheel around it are used to change program automation. All common program options are available, you can put together your own preferred setting options, and the camera has one program option you can hardly find on other cameras: Fv.
As simple as that, a flexible variant of full program automation where the camera controls everything, but with the option to change the aperture, shutter speed or ISO whenever you want.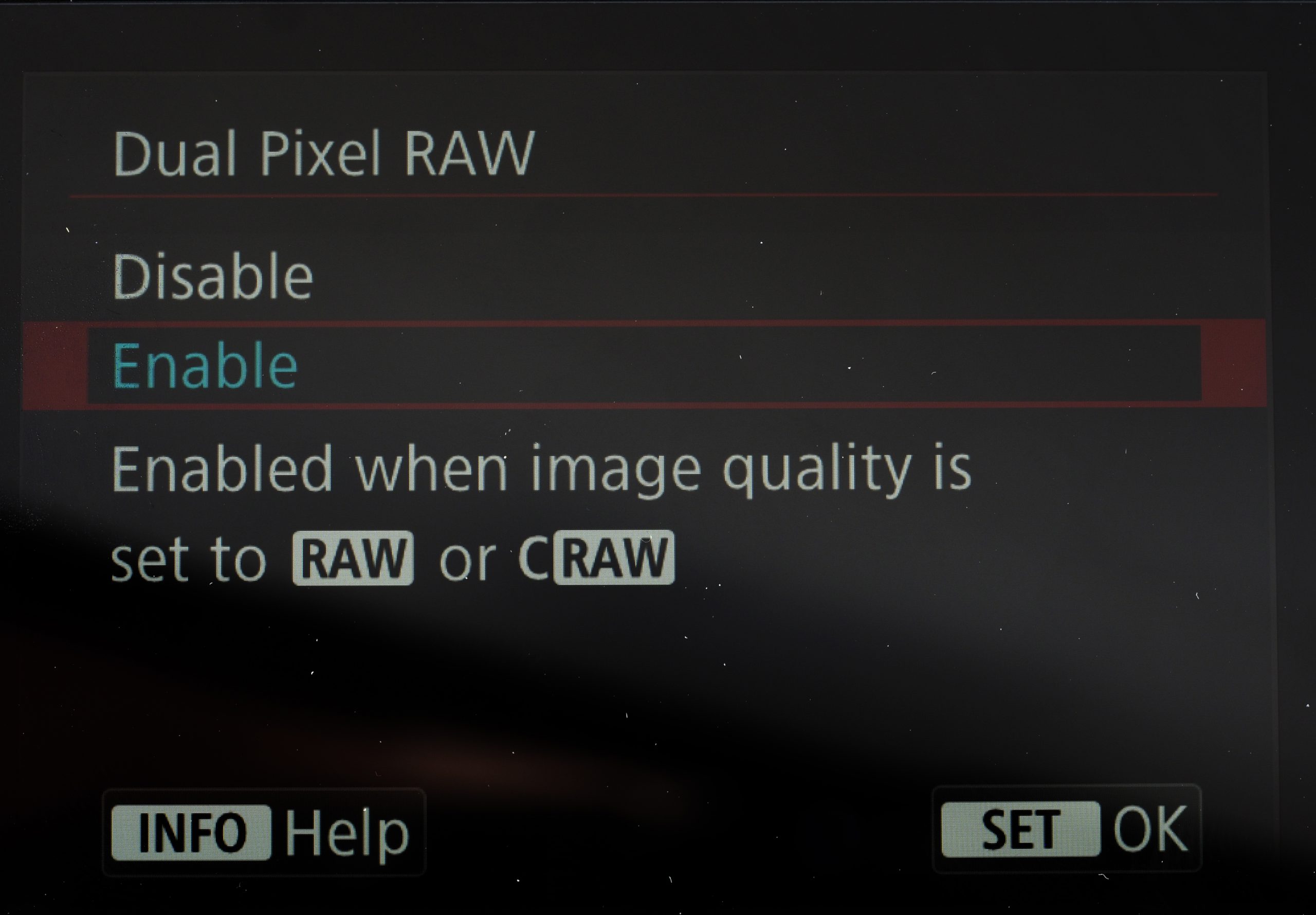 To switch between still images and video recordings, press the Mode button first, and then the Info button on the back. Then you can scroll through the many automatic programs, including manual exposure, with the setting knob on top. A separate button to switch between still images and video would have been preferable. There is space to the left of the viewfinder, Canon.
But the nice thing is that the camera remembers all setting options on still, and video, independently.
120 hz OLED viewfinder
The large OLED viewfinder has a full 5.76 Mp resolution, and if you do not need to save power, it can be set to 120 Hz for faster response than the usual 60 Hz. and it makes the viewfinder much better to use, with silky smooth image and high detail sharpness.
Image stabilizer
The built-in image stabilizer works with all lenses, but best with some Canon lenses, where you can achieve up to eight exposure steps with compensation for instability. Like holding the camera at long shutter speeds, or moving the camera a lot during shooting.
While an RF 70-200mm f2.8L IS provides 7.5-step compensation together with R5, you get 8-step with 24-70 f2.8L and 85mm f1.2L, which we tested the camera with, but also with 24- 105f4 and 24-105 f4-71, 28-80 f2L and the new 85mm f2 Macro.
The wide-angle zoom RF 15-35 f2.8L, 35 f1.8 IS and 50 f1.2L, provides 7-step image stabilization together with R5.
Focus selection
The photographer has several options for selecting autofocus as needed. You can also choose to fine-tune the autofocus with a deep dive into the extensive on-screen focus menus. Parameters such as tracking sensitivity, acceleration and deceleration speed can be adjusted in several steps, and there are ready-made groups of parameters – which can also be changed, in the on-screen menus.
This is how the photographer should find the most suitable focus method for the subject. Photographing wild animals is less predictable for autofocus – and the photographer, than sports and portrait photography, and requires different settings.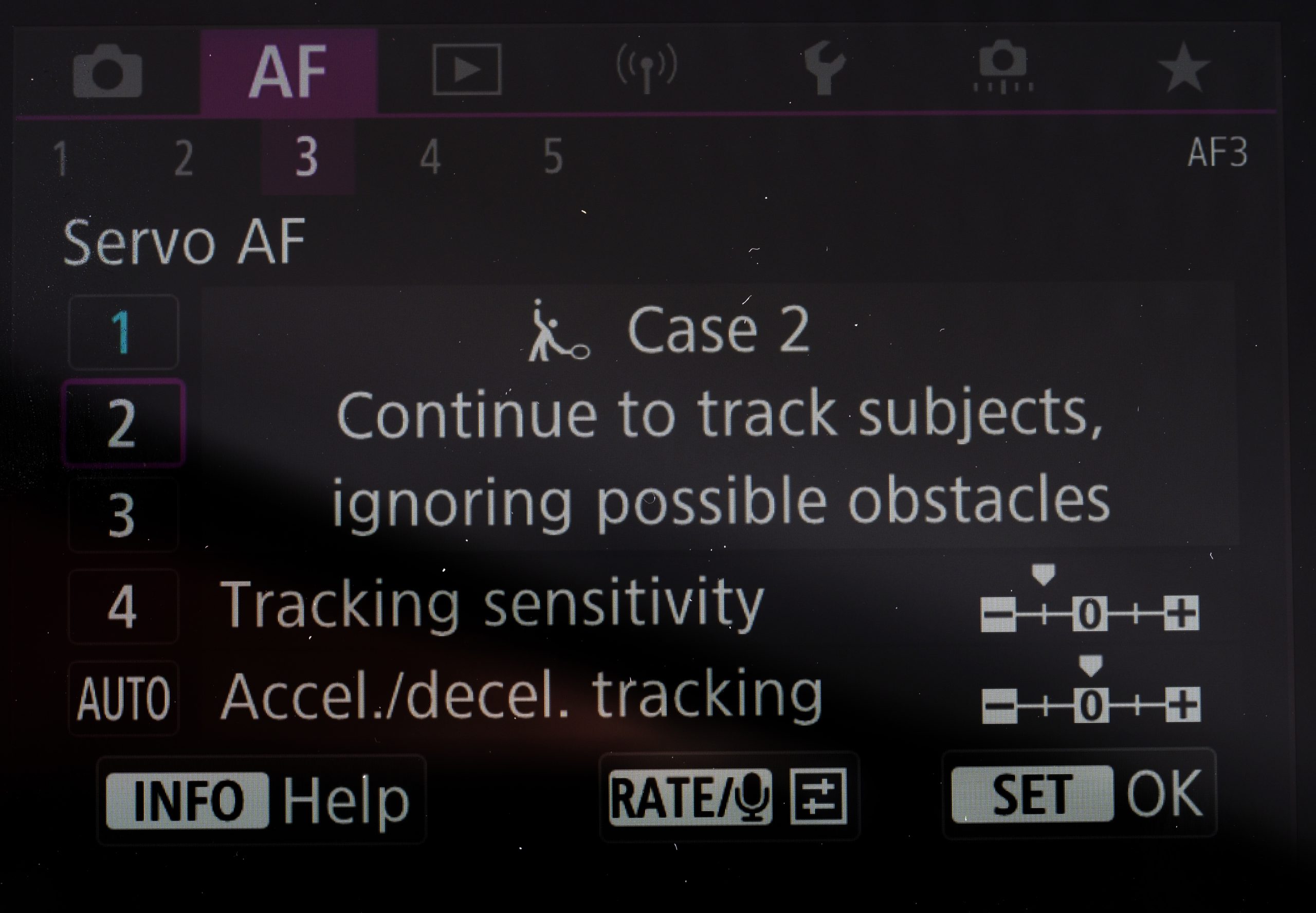 Canon says they have worked hard on advanced machine learning to make the R5 behave as well as possible on demanding subjects, and the camera's focus tracking is the best on any Canon camera to date, and in most cases on par with our reference camera from Sony.
The photographer can select focus and follow focus on eyes, faces, or animals, and the photographer can select point focus, one-point focus, extended focus area in cross or square, zone focus, and vertical or horizontal grouping of focus points in one zone.
8K-video
That being said, the Canon camera delivers very high video quality in 4K. Up to 100 fps with 1800 Mbps bit rate, and 10-bit depth with 4: 2: 2 in either All-Intra compression. It also has 4K at 50, 25 and 24 fps and you can choose DCI or UHD pixel width in 4K.
The camera has barely visible rolling shutter at 4K, but you should drive the highest possible 4K quality at 100 fps, if you are going to record video with a lot of panning, to avoid jerky movements.
It is also possible to select 4K from a cropped section corresponding to the APS-C format with sampling from 5.1K resolution.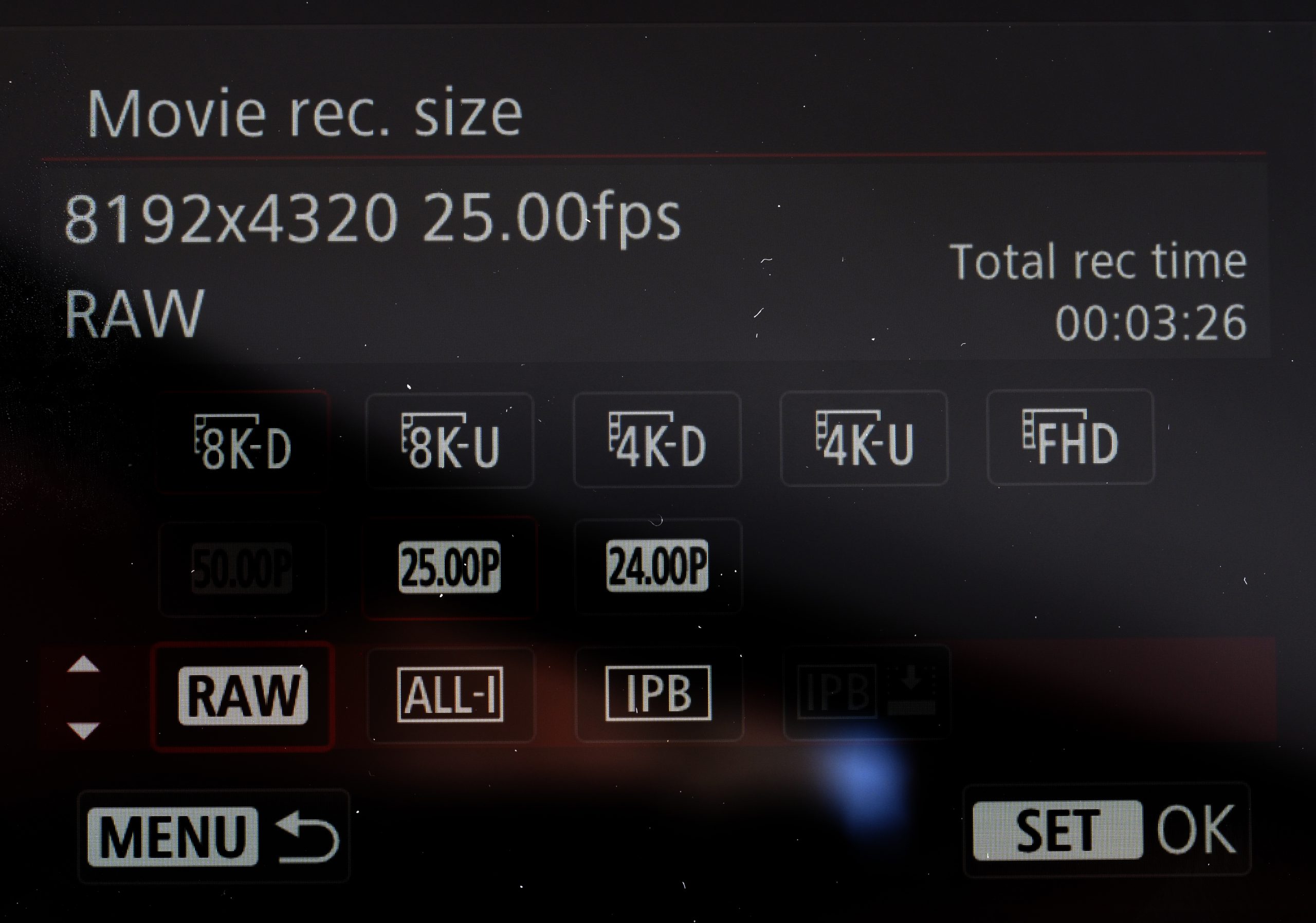 But of course they are 8K which is the big talk here. Because while 4K video can give you 10-bit depth and a resolution equivalent to 8.3 Mp, which many are used to from Netflix on TV, Apple TV 4K and many other video sources, 8K is something completely different.
In every way.
First of all, the amount of data is huge. With 33.2 Mp resolution in 10-bit depth and 8K RAW (2600 Mbps!), The GigaBytes crash quickly, the memory card fills up quickly (7 min and 30 sec on a 128 GB CFexpress) and the camera gets hot. Very hot. Our test specimen was over-nervous and quickly came up with an on-screen warning of overheating on 8K recordings.
Although Canon initially claimed up to 20 minutes of 8K shooting – 30 minutes in 4K – the camera could not stand many minutes in the scorching sun, before warning that it would turn off to cool down. The same applies, albeit to a lesser extent, to 4K HQ video. If you shoot many sequences in sequence, the camera becomes hot, which reduces the recording time.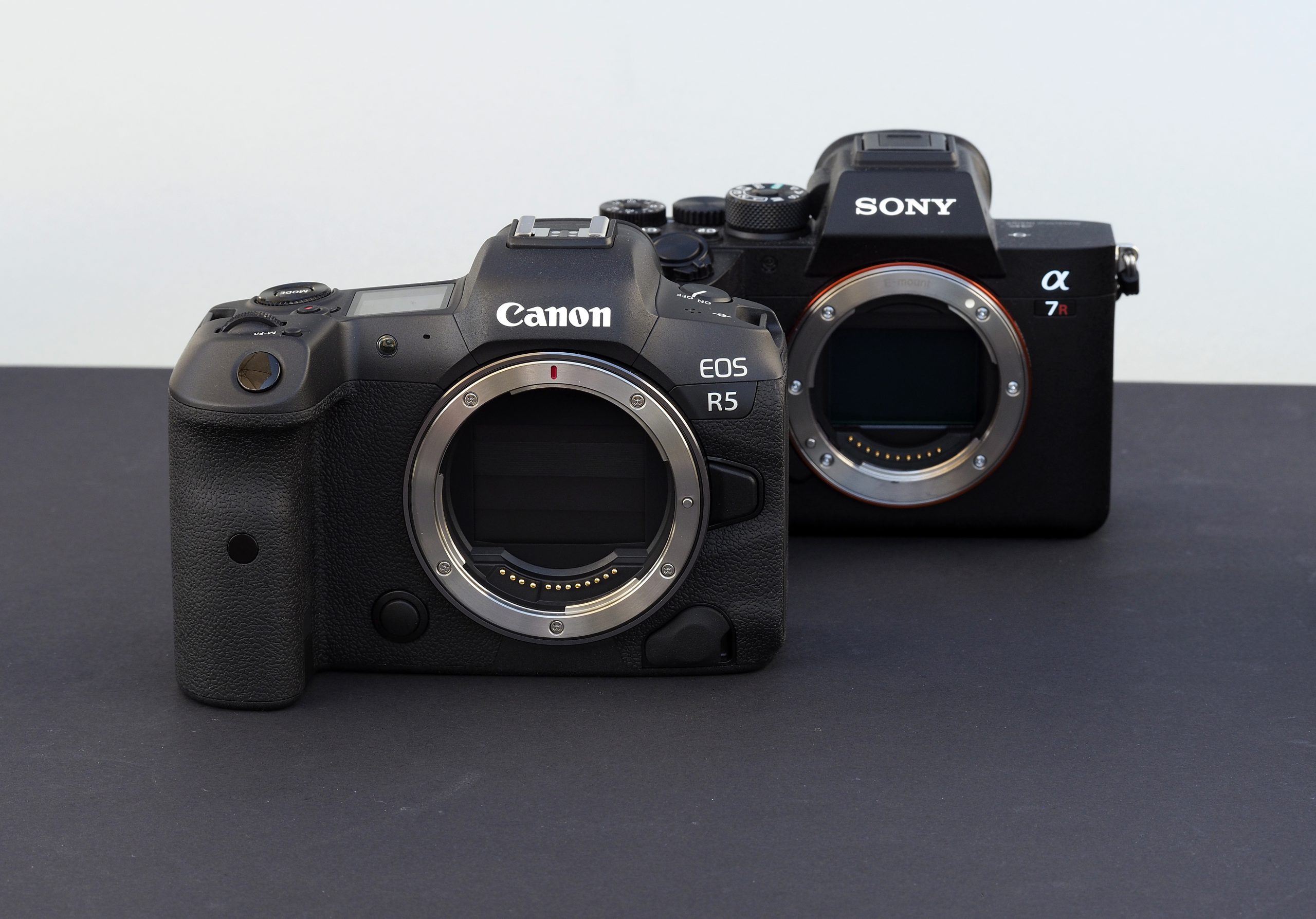 The short recording time mainly applies when you make the memory card, if you use an external recorder, the case is different for you, but Canon had to come up with an update to R5.
Because online, rumors quickly spread that the camera was completely useless on 8K video, not only because there was a risk that the camera cut my recording, but also a cooling period of up to half an hour, where the camera was completely useless.
A new firmware in version 1.1.0 contained some minor fixes, but more importantly, better temperature control and longer recording times, with shorter cooling phases.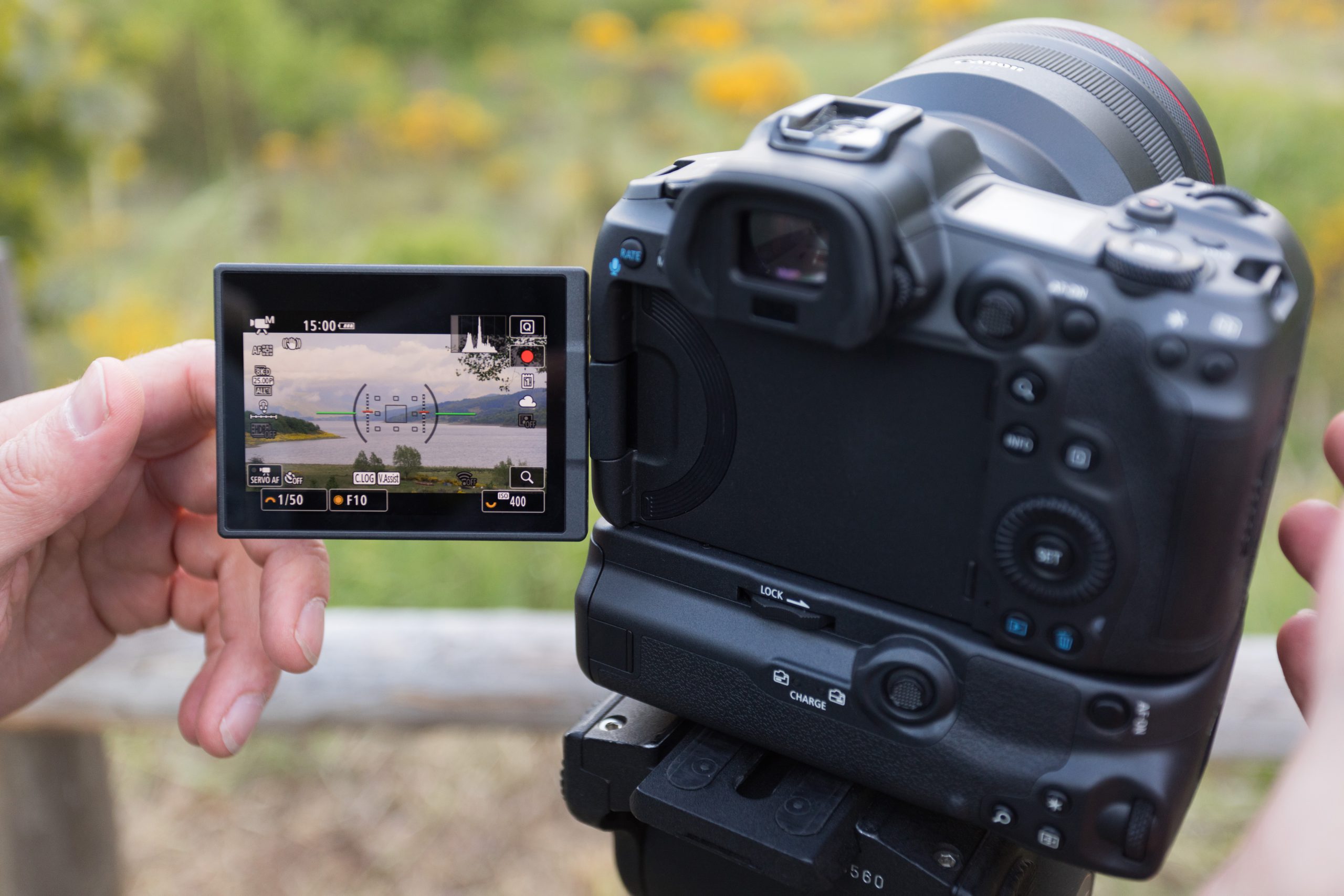 It can also record video in 8-bit 4: 2: 0, it also has Canon Log 1 (C Log 3 is coming), it can take 10-bit HDR still images in HEIF format, which gives much better quality than 8- bits jpeg, and it supports All-I or IPB compression of 4K – and as mentioned 8K RAW.
It is also possible to retrieve still images from 33.4 MP from 8K DCI video, 8.8 from 4K DCI video, or UHD if desired.
Computer power
Many people may have upgraded their fleet of computers that can handle 4K video processing. It has guaranteed cost. Not only does 4K in the highest quality take up a lot of storage space. It also requires a lot of processor, graphics card, memory (both speed and quantity), and the user.
To pull 8K through the same processing, even more power is required. Much more. Even if you shoot 8K compressed in either All-I or IPB, it requires an even more powerful multi-core processor, much more powerful graphics engine, and much more memory than the 32 GB I had on a five-year-old, quad-core iMac, with 2 GB of graphics memory.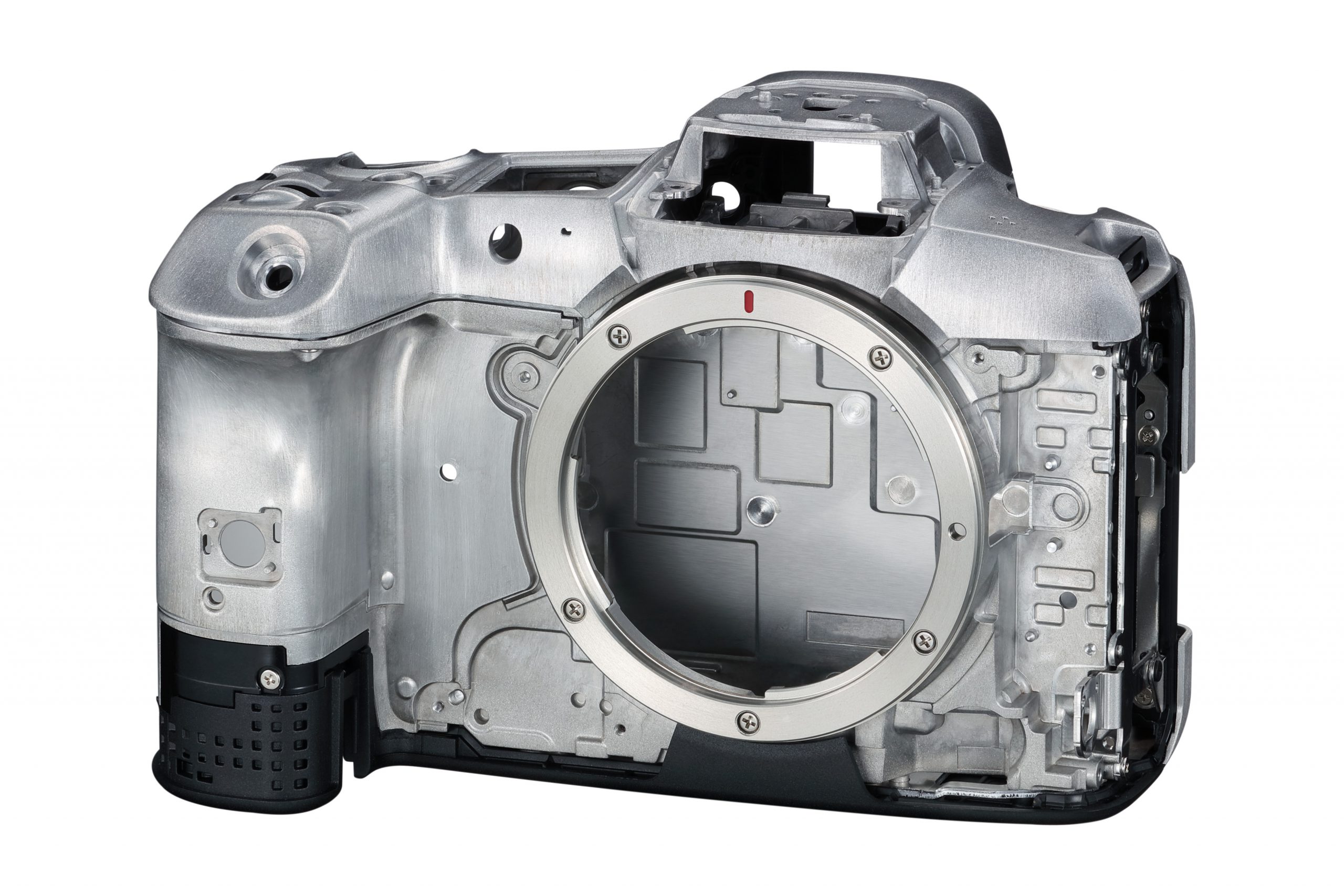 I also tried a brand new iMac with the newer eight-core processor generation, and a much more powerful graphics processor with 8 GB of memory. It went much better on 8K ALL-I and IPB, but not on 8K RAW. Not tjangs. It would have worked better with even more memory, but 8K is so processor intensive that it will cost to upgrade to something that can be used for post-processing of 8K video. Especially 8K RAW.
Shooting rate and autofocus
High-resolution still images and 8K video are not all Canon cameras can. The firing rate of 12 frames / s with mechanical shutter, holds up to most assignments, but with as much as 20 bps with electronic shutter available, the R5 is a raw paw in sports. This is largely due to the fact that the camera's Dual Pixel II autofocus is so lightning fast and at the same time precise, that you are left with an enormous number of images in focus. Far more than from the EOS R, and Sony a7r IV for that matter, and the R5 is more in line with the professional camera EOS 1DX Mark III here. Although the firing rate of the SLR is lower.
The autofocus works down to -5 to – 6 exposure steps, depending on the lens, and the camera is well suited for action photography in low light.
Picture and video quality
Let there be no doubt, this is not only Canon's best image quality, it's on par with the best we've seen from any camera. Medium format included. The image dynamics from the EOS R5's 45 Mp image chip are second to none from the Sony a7r IV with 61 Mp, or the Panasonic Lumix S1R with 47 Mp.
The color reproduction is more appealing than from the a7r IV, in my opinion, because skin tones look more natural, blue is not a little extra blue, and red is muted to a more believable level, compared to the Sony camera reproduction. I emphasize that this is jpeg against jpeg, but you can also see that the cameras are 'tuned' differently on the raw files.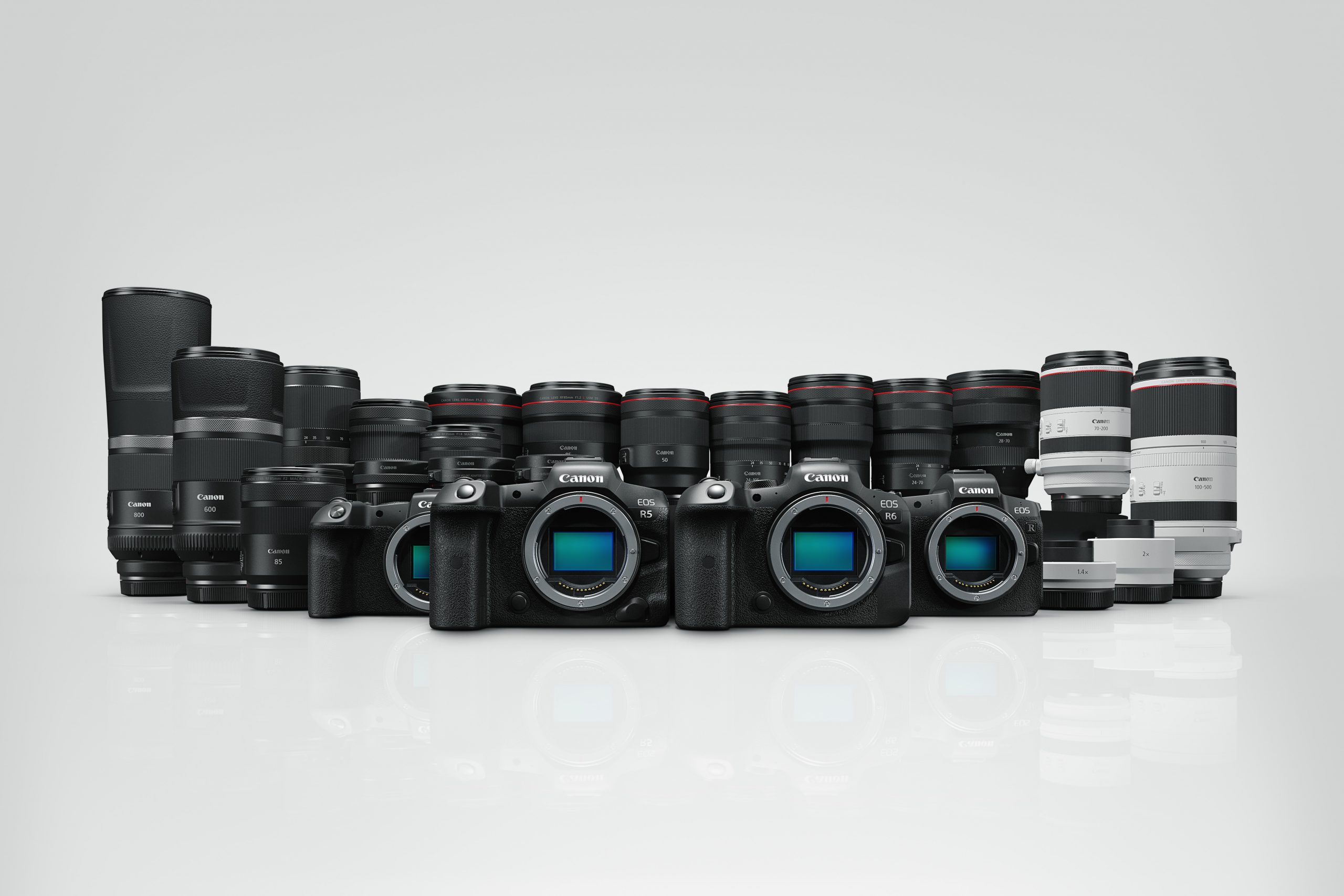 The Canon camera's 10-bit HEIF files – which can be converted to jpeg in the camera – give the photographer much more to go in highlights and shadows than jpeg will ever do. and shows why HEIF should become a standard on all cameras from now on. That's certainly a good argument for choosing Canon, at least.
The detail resolution is much better than from the EOS R6, but also the EOS R, and the camera delivers better sharpness in all conditions, than the SLR EOS 5DS manages with 51 Mp.
If you look at the noise level here, there is good control up to 6400 ISO where weak grain noise can apply, while even 12800 ISO is not so cloudy that it is critical, but remember that color noise can often be even more visible at high ISO, at photos taken in low light = longer shutter speeds.
How about 8K versus 4K, you ask? Video is increasingly important, we hear. But it will probably be a long time before 8K becomes important. This does not mean that 8K does not have the right to life, because there is a noticeable quality difference between 8 and 4K resolution. Even on a screen that cannot display 8K video.
Without drawing the conclusion too far, I can at least say that everyone sees the difference. Whether it is large enough to be significant is another matter. The first time I checked the video quality from the EOS R5, it was on a Panasonic TV with 4K resolution. Even there, there was visibly better sharpness of detail on 8K versus 4K recording.
On an LG TV with 8K resolution, of course, the quality difference was even greater. Here you could clearly see how much more information there was in 10-bit 8K video, because the colors had more depth, contours were rendered sharper, the image got more depth, and of course a much better detail resolution.
Small print signs were barely legible in 4K, but fully legible in 8K, and details in the image were far more clearly rendered in 8K. So it definitely has something to do with (K-video. Especially if you can use the recording as a starting point to edit with several sections from the same feed, and crop when necessary. But also try to scale down 8K to 4K, it will also be better than filming only in 4K.
So yes, 8K in a camera has something to offer, but it may come a little early for many of us.
Conclusion
The Canon EOS R5 is one of the roughest cameras we have tested, and the first with 8K video recording. This makes the camera unique among system cameras, and opens up opportunities many photographers have not yet seen the range of. Maybe it's a little too early for 8K to gain a foothold in the (professional) market, but the seed has been sown and now it's up to the photographers to embrace it. Or not. If the answer is no, the EOS R5 is still a fantastic camcorder even on 4K video, not to mention how enormously good it is as a still camera, almost no matter what you need it for. Sports, action, portraits, landscapes, architecture, the Canon camera fixes everything. Competitors should be concerned.