Peter Gotschalk
Published

2021-02-09 - 10:00 am
Good camera with creative possibilities. Razor-sharp and bright screen with adaptive 120 Hz refresh rate, combined with nice design and extremely high performance.
Supplied without charger and the screen resolution is too low considering the large screen size.
Specifications
Operating system: Android 11 + Samsung One UI 3.1
Screen: 6.7″ Dynamic AMOLED 2X, FHD + (2400 x 1080), 394 ppi
Processor: 2.9 GHz Samsung Exynos 2100 5 nm 64 bit octa-core
Memory: 8 GB RAM/128 GB storage, UFS 3.1
Cameras: 12 Mp f/1.8 m. OIS + 12 Mp f/2.2 120 ° ultra-wide angle + 64 Mp f/2.0 3x hybrid tele m. OIS (primary)/10 Mp f/2.2 (front)
Wireless: 5G, Wi-Fi 6, Bluetooth 5.2, NFC, A-GPS, GLONASS, Galileo
Dimensions and weight: 161.5 x 75.6 x 7.8 mm/202 g
Battery: 4800 mAh, 25 W fast charging + 15 W wireless charging
Web: samsung.com
Geekbench 5: 1.059 (single-core) / 3.299 (multi-core) Geekbench 4: 4.869 (single-core) / 13.681 (multi-core) GFXBench T-Rex: 6.688 AnTuTu 8: 606.512 3DMark Sling Shot Extreme: 7.122 PCMark Work 2.0: 13.286 Basemark Web 3.0: 544,97 Batteritest: 7:48 hours
Benchmarks
Price 949
Product page
We never got to test last year's predecessor to the Samsung Galaxy S21 + 5G, but prioro to 2020, the Plus version was the Galaxy S series' absolute top model. And we had lots of recommendations for back in 2019 for the Samsung Galaxy S10+, which received both top marks and our special recommendation.
In 2020, Samsung then came up with the Galaxy S20 Ultra, which banished last year's Galaxy S20+ model to a slightly dull place as the least important model out of three mobiles, where the biggest difference between the Galaxy S20 and Galaxy S20+ was the screen size and price.
In 2021, Samsung will follow the same strategy with three models in the Galaxy S21 series, where the Galaxy S21+ is largely identical to the Galaxy S21, except that the screen is larger and the price is higher. However, there have been significant improvements at certain points compared to last year, so if you do not want to spend the exorbitantly high amount, which after all costs to acquire a Galaxy S21 Ultra, you should still read on below.
Design and construction
Galaxy S20+ from 2020 was not at pretty sight. It looked as if Samsung had forgotten to involve the designers once the engineers had finished stuffing the new mobile with features.
But with the Galaxy S21 + 5G, it is a new ballgame. The design has been renewed with a camera module that is seamlessly integrated and aligns with the metal frame that surrounds the mobile body, just as the new mobile comes in new matte colors, Phantom Violet, Phantom Silver and Phantom Black, which means that the mobile does not collect fat fingers and has become significantly easier to hold in the hand.
The camera module has been seamlessly integrated with the rest of the mobile. (Photo: Peter Gotschalk)
The phone is largely frameless and has the front camera built-in as a punched hole in the screen. Both front and rear are Gorilla Glass Victus, while the narrow metal frame is made of hardened aluminum, which, however, looks like metallic plastic, which is actually our only point of criticism as far as the mobile's appearance is concerned.
There is nothing to blame on the build quality. Samsung Galaxy S21+ feels so robust and solid that you could almost hammer a nail into a wall with it. The Galaxy S21+ is also IP68-certified, so it is quite official that it should be able to withstand a little of everything.
Screen and sound
Samsung Galaxy S21+ 5G comes with a Dynamic AMOLED 2X screen with adaptive 120 Hz refresh rate, HDR10+ certification and a maximum brightness of up to 1300 nits. It is more than enough that you can easily use your mobile phone outdoors while the sun is shining from a clear sky. Something we even managed to confirm when the sun shone for a while through the February cloud cover. You obviously have to go all the way to the Sahara before it is no longer possible to see what is happening on the screen.
The refresh rate is adaptive to save on power consumption. In practice, this means that the screen frequency adjusts automatically, depending on what is happening on the screen. If you look at a photo, the frequency is lowered all the way down to 48 Hz. When watching video, the frequency increases to 60 Hz, while the maximum refresh rate of 120 Hz is active when scrolling on web pages, scrolling through menus, or playing games.
But where users of the Samsung Galaxy S20+ were forced to choose between the high QHD+ resolution and the high refresh rate (which could only run in FHD resolution), the screen of the Samsung Galaxy S21+ has simply been downgraded compared to last year's model. Now the maximum resolution is just 2400 x 1080 pixels (FHD+), which is a pretty boring way to solve the dilemma. You will have to do better, Samsung!
Especially because the Galaxy S21+ otherwise offers a screen that is close to being unsurpassed. The screen is razor sharp and very bright, the colors are extremely strong, and it is a real pleasure to watch high quality content (eg from Netflix) on the HDR10+ certified screen. There is great depth in the image and the contrast level is the best we have seen. And the user experience when moving around in menus, on web pages and on the home screen is extremely fluid and fast.
Also when it comes to the audio experience, the Galaxy S21+ delivers. The mobile offers high-resolution sound using the built-in 32 bit DAC and supports i.a. Dolby Atmos, Dolby Digital and Dolby Digital Plus as well as of course aptX.
The sound quality when using the Galaxy S21+ as a sound source for music streaming is really good and there is also a set of good stereo speakers in the mobile so that it can be used with a clear conscience to watch short videos, play games or talk hands-free without headphones.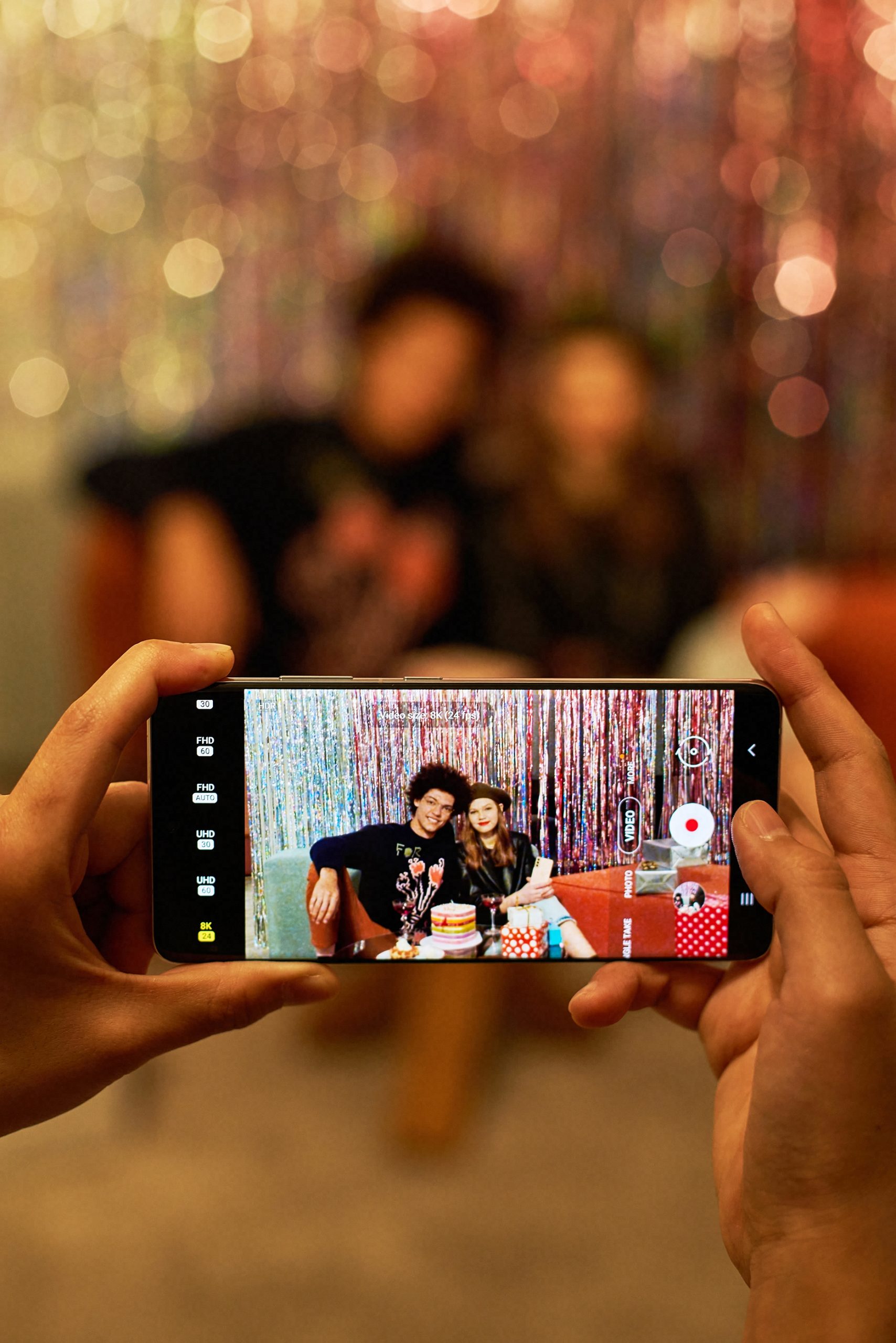 Among other camera news is the ability to record video in 8K resolution (up to 60 fps). (Photo: Samsung)
Camera
Samsung has provided the Galaxy S21+ 5G with a camera module with 12 megapixel ultra-wide angle (f / 2.2), 12 megapixel normal wide angle (f / 1.8 with optical image stabilization) and 64 megapixel telephoto. The front camera is 10 megapixels (f / 2.2).
We know most of the camera features from last year's Galaxy S20 series. Among other things. Space Zoom, which is Samsung's name for a zoom function that combines optical and digital zoom with digital cropping of the subject in the image, so that you can zoom up to 30x on any object.
In practice, this is done via the 64-megapixel telephoto lens. It actually has only 1.1x optical zoom, but combined with digital zoom, that number is increased to so-called 3x hybrid optical zoom. The rest is done by cropping the image, which can be done due to the high resolution of 64 megapixels.
Charles Bridge in Prague photographed with resp. ultra wide angle, wide angle, 3x zoom, 10x zoom and 30x Space Zoom. (Photo: Peter Gotschalk)
However, the result is not convincing. Rather, it is – like last year – a gimmick that can not produce proper images at all.
Of real camera news, it should be mentioned that with the Galaxy S21+ you can film video with up to 4K resolution and 60 fps with all the camera's lenses. To get the most out of this technological advancement, Samsung has introduced a new camera feature called Director's View, which lets the user manually switch between the camera's different lenses when recording video.
At the same time, you can see yourself in the corner of the screen – and on the recordings – and we believe that the new feature will be received with kisses by YouTubers and other influencers. In any case, the Director's View is extremely easy to use in practice, and the result is a type of video we have not seen before from a mobile phone.
Pictures taken at night or in dark environments have also been improved thanks to artificial intelligence that makes the sensor faster so it lets in more light.
Performance and features
Under the screen of the Galaxy S21+ sits Samsung's brand new 5 nm 64 bit octa-core Exynos 2100 processor. In addition, the phone comes with 5G (SA, NSA and Sub-6 / mmWave), Wi-Fi 6, 25 watt fast charging as well as 15 watt wireless charging and the option to charge other devices wirelessly.
Like Apple, Samsung delivers its latest mobiles in climate-friendly packaging without the included charger. If you do not already have a charger and have to buy it as an accessory, the total price for mobile and charger is on a par with last year's price for the corresponding Galaxy S20 + including charger.
We have run all our current benchmark tests on mobile, and not surprisingly, the Galaxy S21+ is by far the most powerful smartphone you can buy for money at the time of writing. It's not quite as wild as our test copy of the Galaxy S21 Ultra, but that's solely because the Galaxy S21 + has to settle for 8 gigabytes of RAM against the 16 gigabytes of RAM that sit in the Ultra model.
The closest competitor in the price range is the iPhone 12 Pro, and if we compare the test results, Apple wins in terms of Geekbench 5, which measures the overall performance of the CPU. In contrast, Samsung's mobile is fastest in tests that measure graphics performance – such as GFXBench and 3DMark. In everyday use, it is difficult to feel any real difference.
The fact is that the Samsung Galaxy S21 + performs like a nuclear power plant. Here there is no hesitation, everything goes lightning fast, and especially with the high refresh rate of 120 Hz, the user interface is slick as oil, and neither the heaviest apps (games like Asphalt 9) or hefty multitasking can make the phone break a sweat.
And here a detail in the image is zoomed in using the Quick Crop function in the Gallery app. The image is still sharp and in focus, even if you get much closer. (Photo: Peter Gotschalk)
Conclusion
Here is the mobile, which sits between two chairs in the Galaxy S21 series. Samsung Galaxy S21 + does not have all the cool camera features from Galaxy S21 Ultra, but still costs a lot more than the regular Galaxy S21 without having much else extra to offer than a larger screen. And when the screen resolution is even the same on the larger model, just spread over a larger area, the pixel density becomes lower, and this means in practice that the Galaxy S21 + actually has the worst screen among the three models in the Galaxy S21 series.
In addition, the lower FHD + resolution is a definite downgrade compared to last year's Galaxy S20 + model, while the price (if you also invest in a 25 watt charger) is the same. It is a strange choice that Samsung has probably made to reduce power consumption, but which should still have meant a further reduction in price.
That makes the Samsung Galaxy S21 + a bit of a stepchild in the Galaxy S family. And although the mobile itself is excellent in many respects, it is therefore difficult for us to recommend.