John Hvidlykke
Published

2022-11-16 - 8:00 am
Just as fast as the Pro version, and the screen is almost as good, only smaller. Very attractive price.
The really nice telephoto lens has been omitted. The nifty AI features are still a thing of the future.
Specifications
Display: 6.3″ OLED FHD+ (2400 x 1080 pixels) @90 Hz, 1000 nit. Gorilla Glass Victus on front and back
CPU: Google Tensor G2, octa-core
Memory: 8 GB RAM / 128 GB storage
Operating system: Android 13
Cameras:
Main camera: 50 Mp f/1.85 w. autofocus. 2x optical zoom. Digital Superzoom up to 8x
Ultra wide angle/macro: 12 Mp f/2.2, autofocus
Selfie camera: 10.8 Mp f/2.2 fast focus ultra wide angle
Wather protection: IP68
Connections: USB-C
Wireless: 5G, Bluetooth 5.2, Wi-Fi 6E, NFC
SIM card: Nano SIM + eSIM
Sound: Stereo speakers, three microphones, noise cancelling. Codecs not specified.
Battery: 5,000 mAh 30W, fast charging, Qi wireless charging. Charger not included.
Colours: Obsidian (black), Snow (white), Lemongrass (green)
Dimensions and weight: 73.2 x 156 x 8.7 mm / 197 g
Web: Google.com
Geekbench 5: 1006 (single-core) / 2735 (multi-core)
GFXBench T-Rex: 5.045 frames
AnTuTu 9: 715.311
3DMark Wild Life: 6.532
PCMark Work 3:0: 10.718
Battery test: 11:51 hours
Benchmarks
Price 649
Product page
When we recently tested the Google Pixel 7 Pro, it took us by storm. Because the first Pixel phone to be launched in the Nordics is a really excellent phone. So good, in fact, that it won our award for best premium phone of the year.
Not everyone wants to pay that much for a smartphone, though. Or have pockets big enough for a 6.7-inch flagship phone.
The Google Pixel 7 can rightly be considered a mini version of the same phone. It measures 6.3″ in cross-section, which means it can just about be operated with one hand. And the price is correspondingly easier to handle.
A slightly smaller version
Pixel 7 looks exactly like what it is: A smaller version of the Pixel 7 Pro. That also means that from the screen side, it looks like most other smartphones; that is, a large, unbroken black Gorilla Glass Victus glass surface. The back is also made of glass that's either black, white, or a greenish color that Google calls lemongrass. The two sides are held together by an aluminium frame that goes all the way around the phone like a bumper on a radio car.
That the Google Pixel 7 is waterproof with IP68 certification goes pretty much without saying these days. But it still needs to be said.
Also check out
Picture-perfect Pixel
Pixel 7 Pro is Google's reference phone that shows how Android 13 should be used. And now it's available.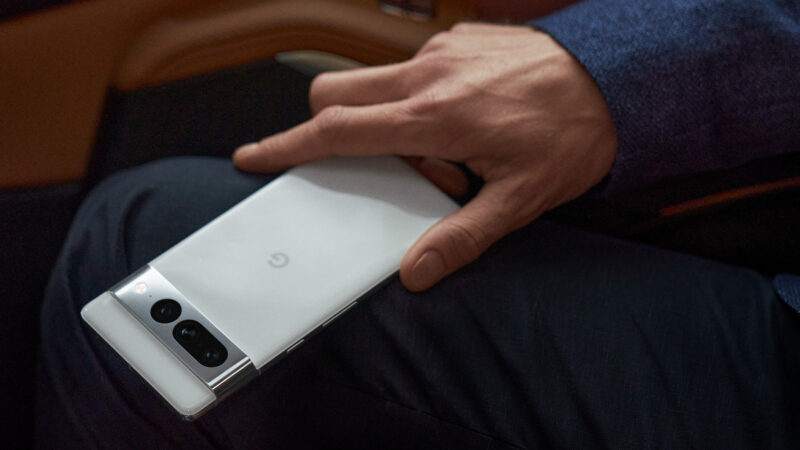 An aluminium bar running across the back houses the camera section, which on the Pixel 7 consists of a 50MP wide-angle lens for standard images and a 12MP ultra-wide-angle for capturing the big landscapes. The latter also functions as a macro lens.
The two cameras are identical to those found on the Google Pixel 7 Pro, so you can reasonably expect the same high quality.
What's missing, on the other hand, is the telephoto lens. This means that you have to settle for 2x optical zoom against the pro model's 5x. That means a goodbye to super-long 30x telephoto shots with AI assistance. The Google Pixel 7 only manages digital zoom of up to 8x.
The two rear cameras are similar to those on the top-of-the-range Pixel 7 Pro. But the 5x telephoto lens is missing. (Photo: Google)
There are two speakers in the phone, and while we'd always advise against using your phone for music without headphones or external speakers, the sound is very good and clean in the frequency range covered by the tiny speakers.
The lack of telephoto optics means that long zoom shots become heavily pixelated. It's no worse than other phones without telephoto. But no better either. (Photo: John Alex Hvidlykke, L&B)
Best camera for the price
One of the things that impressed on the Pixel 7 Pro was the camera section, which provided vividly colourful images at all distances from macro to long zoom shots. The Google Pixel 7 can do much the same.
At normal distances and wide-angle shots, you get images with excellent dynamics and colors that, thanks to AI processing, are almost even better than in real life!
The Pixel 7 is also based on Google's own newly developed G2 processor, and you'll find the same automatic functions as on the more expensive model.
This includes features like Remove Blur and Magic Eraser. Even images that appear sharp at first glance can be brought into perfect focus with Remove Blur. And it's not hocus-pocus and placebo. The feature is only offered on images that can actually be improved.
Magic Eraser impresses once again. You can pinpoint elements in the image that seem distracting. The feature is at its best when the background is natural. A construction crane against a patchy autumn sky disappears without a trace, while complicated backgrounds like tiles and brickwork can't be recreated with AI.
AI image editing can also be used on old images stored on Google Images.
Strong hardware
On the inside, the Pixel 7 and Pixel 7 Pro are pretty much the same. That is, they're built over Google's own mobile processor, called Tensor G2. It's an eight-core ARM processor with a special focus on artificial intelligence.
The Pixel 7, however, has to make do with 8GB of RAM (versus 12 in the Pixel 7 Pro) and either 128 or 256GB of storage.
The 6.3-inch OLED display has FHD+ resolution (2400 x 1080 pixels). This is slightly less than the PRO model's QHD+, but perfectly adequate for the screen size. So is the 90 Hz refresh rate. And the brightness is a generous 1000 nit at HDR (and 1500 nit at the peaks).
The battery is the same, which means at least 4,926 mAh – and typically 5,000 mAh. It can be fast-charged at 30 W (that's not very fast, actually). But you look in vain for a charger in the box, only a USB cable is included. This can be justified, considering the price. And the phone can be charged wirelessly.
Selfies and macro shots are fine, and night shots are also perfectly acceptable. (Photo: John Alex Hvidlykke, L&B)
Benchmarks
Pixel 7 is built on Google's own processor platform. That means you can't easily compare it to other Android phones just by reading the datasheet.
Google has nothing to be ashamed of, though. The Pixel 7 isn't the fastest phone on the market, but it's definitely snappy enough for everything, and the interface never feels sluggish.
Also check out
A little stick of dynamite
Zenfone 9 puts all the brand-name phones behind it with high-end performance at a premium price. And the camera is awesome.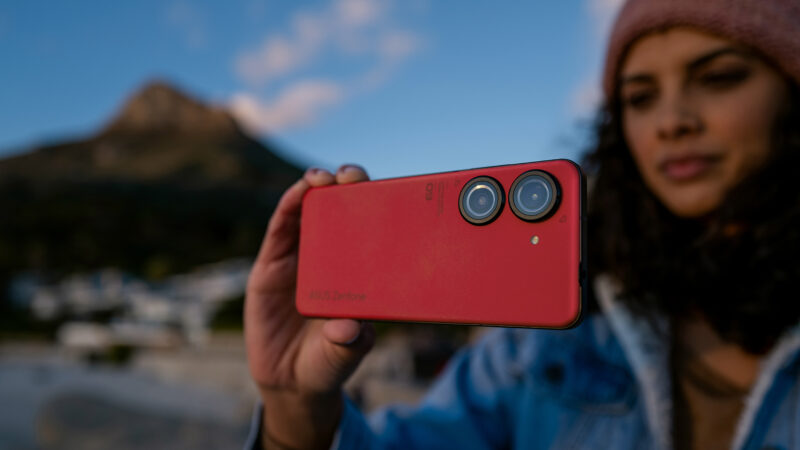 In terms of dry numbers, the Geekbench 5 processor test comes out with a score of 1006 in single-core and 2735 in multi-core. That's not as fast as the slightly more expensive Asus Zenfone 9, but still on the nice end.
The PC Mark Work 3.0 test, with a score of 10,718, also shows that the Tensor G2 processor is fast – but not as fast as the Snapdragon 8+ Gen 1.
When it comes to 3D graphics, the Pixel 7 performs very well. The AnTuTu 9 test ends with a score of 715,311. That's on par with most flagship models.
Battery life is downright excellent: almost 12 hours. And that's with full brightness on the screen and uninterrupted simulation of browsing and apps.
Conclusion
The Google Pixel 7 is a nearly perfect compact version of the Pixel 7 Pro. It's just as fast, and the screen is pretty much just as good – just smaller. If you're a smartphone paparazzi, you'll miss the great telephoto lens. But the other cameras are thankfully the same as on its big brother. And they really are excellent. With a price that's a quarter less expensive than the Pro model, the Pixel 7 is a very attractive phone that has no real serious competitors for the price.