Geir Nordby
Published

2022-11-17 - 8:00 am
The Sony HT-A5000 creates a big and clear sound image with a convincing surround effect, and can play loud without any sign of trouble.
Subwoofer and rear speakers are optional, and thus a significant extra cost.
Specifications
HDMI: 1 in / 1 out (HDMI 2.1 m/eARC)
Digital input: Optical
Network: Wi-Fi 5 (802.11ac)
Wireless: Bluetooth, Wi-Fi, Chromecast
Voice control: No
Analog input: Yes
Subwoofer: No, optional
Sound formats: Dolby Atmos, DTS:X, Sony 360
Dimensions: 121 x 6.7 x 14 cm (W x H x D)
Colour: Black
Web: Sony.com
The HT-A5000 is the middle model in Sony's portfolio of soundbars: it sits between its little brother the HT-A3000 and the flagship HT-A7000, which we tested a year ago. With a price tag of around €1000, this is an exciting challenger to recognised premium soundbars like the Sonos Arc, Harman Kardon Citation 1100 and Bose Smart Soundbar 900.
The Sony model supports modern audio formats such as Dolby Atmos, DTS:X and, not least, Sony's own 360 Audio format, promising intense surround sound for both movies and music. But how good is it? Let's test!
Sony HT-A5000
The 120 centimetre wide Sony soundbar has a simple and discreet appearance. The design is solid and gives a good quality impression, with a matte black finish and perforated metal grille at the front. Behind the grille we can glimpse a number of speaker drivers, and a small LED screen that displays important information such as audio format, volume and the like.
The speaker setup is a so-called 5.1.2 configuration, but Sony may have been slightly imaginative in the way they count the number of channels.
There are separate drivers for the left/right and centre channels on the front, plus two on top. These share the task of reproducing sound effects for the height and surround channels. Advanced sound processing (360 Spatial Sound Mapping) should ensure a full surround sound image – at least in theory.
Sony has equipped the soundbar with two oval woofers, and therefore claims that it performs adequately without a subwoofer. There are plenty of upgrade options, however, and you can add both a subwoofer and wireless rear speakers if you wish (more on this later).
Ease of use and features
The HT-5000 scores highly when it comes to both features and connectivity. For the biggest and best TV sound experience, connect the TV to the soundbar via the HDMI eARC connector. That's the best way to make the most of surround sound from apps and streaming services like Netflix, HBO Max and more.
The HT-A5000 also features a separate HDMI input so you can connect a video source (Blu-ray player, games console, Apple TV, etc.) and pass the video signal to the TV screen. You won't find this option on the Sonos Arc, for example.
For those who want to listen to music via the HT-A5000, it also has built-in Wi-Fi and support for Spotify Connect, Apple AirPlay 2, Google Chromecast, in addition to Bluetooth. So there are plenty of playback options here.
NOTE! If you connect the HT-A5000 to a newer Sony TV, they will synchronise the audio settings between them. It is also possible to use the TV screen speakers as the centre channel (Acoustic Centre Sync). We have described this subtlety in more detail in the review of the HT-A7000.
Also check out
How good is Sony's best soundbar?
Sony's new flagship soundbar, HT-A7000, is packed with features that will provide perfect surround sound. But it costs!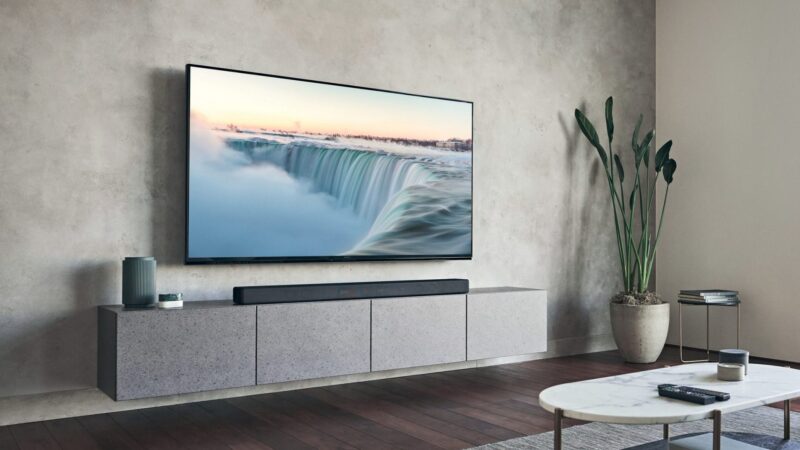 Sound quality
But what about the sound? Well, during the initial setup, some test signals are run through the speakers (sound field optimization) and we already notice that the HT-A5000 has an impressive surround effect. The sounds emitted from the soundbar in front are actually experienced as coming from above, from behind and from the sides of our listening room! The effect is at its best when we're sitting in the sweet spot, i.e. on the sofa right in front of the soundbar.
The first impression actually lasts when we challenge the HT-A5000 with a lot of demanding movie and documentary soundtracks. The motorsport favourite Drive to Survive sounds crisp.
Dialogue from Mercedes and McLaren bosses comes through clearly, and speech intelligibility is exceptionally good. We can hear the lines from the racing pit clearly, even as the F1 cars whiz by. And the dynamics are fresh! Test pilots Geir and Audun nod appreciatively to each other.
"Sony's sound engineers have really nailed the surround sound on this model," exclaims Audun, and Geir agrees.
Even without physical rear speakers, Sony's soundbar manages to create a clear and convincing sound bubble. When fireworks explode around Ryan Gosling in The Grey Man (Netflix, Dolby Atmos), we can hear the rockets whizzing over our heads. And we can crank up the volume with no sign of the soundbar sounding strained.
Our listening room is nearly 30 square metres, and requires a lot of volume before the experience is just right. But the HT-A5000 seems to have enough power.
Sound balance is good, and in addition to accurate detail at the top of the frequency range, the Sony HT-A5000 also delivers surprisingly rich bass. We wouldn't say it makes the subwoofer redundant, but you can certainly get by fine for a transitional period without suffering any major bass absences.
Vs. Sony HT-A3000
During the test we also had the slightly cheaper HT-A3000 on the TV bench, and to our ears there's no doubt: The HT-A5000 makes a clear step up from its little brother when it comes to overall sound experience and surround effect. It has a completely different ability to fill our listening space, with more realistic dynamics, size and precision in the sound image.
"Even with rear speakers, there is a big difference between the HT-A3000 and HT-A5000. A clear step up. I would have preferred the HT-A5000 on its own, rather than the HT-A3000 with extra rear speakers," says Geir.
Vs. Sonos Arc
Naturally, we had to check how the HT-A5000 fared against the competition, so we compared it to the Sonos Arc, a well-known model in the same price range. And the Japanese has nothing to be embarrassed about: Our impression is that the Sony bar delivers a performance close to the American one – even better on some areas!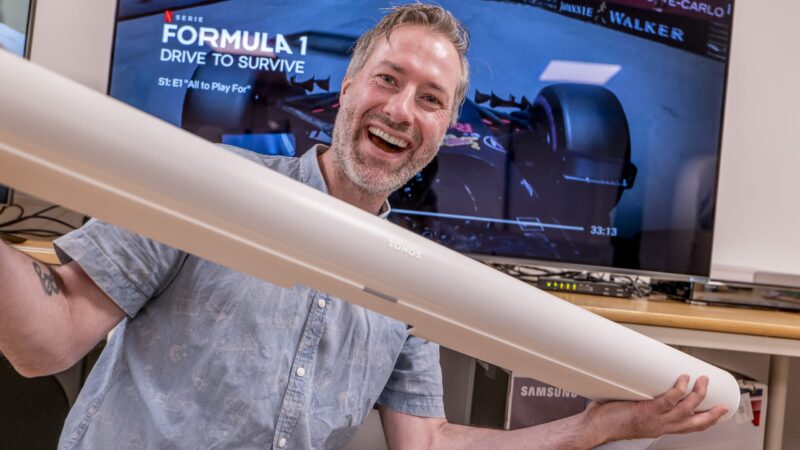 While the Sonos Arc can have a somewhat harsh and grainy treble in the centre channel, the Sony HT-A5000 is more refined and rounded at the top. And when it comes to the surround effect from the Dolby Atmos soundtrack, Sony manages to surround us with a soundstage that's much more solid and detailed. This is reinforced by the fact that the HT-A5000 also has a slightly tighter and clearer bass response.
"In a normal home environment, I think the HT-A5000 performs even better than the Sonos Arc because the harmonics have better resolution while also being perceived as more muted from the Sony. By comparison, Sonos is a little overzealous at the top," says Geir.
Can be upgraded with separate subwoofer and rear speakers
Sony also offers a number of upgrade options for the HT-A5000: you can get two different surround speakers – the SA-RS3S and SA-RS5. These are sold separately, but are also offered as a complete package from a number of Sony dealers.
If you want extra bass (and you certainly will!) it's possible to add a wireless subwoofer. Here you can find the compact SA-SW3 with 6.5″ woofer and 200 watt amplifier, or the larger SA-SW5 with 7″ woofer, passive dron and 300 watts.
When you connect a set of surround speakers and/or subwoofer, the soundbar will make another room correction with the extra channels. Then you can also benefit from Sony's own sound processing – called 360 Spatial Sound Mapping.
Sony lent us a pair of their smallest rear speakers and subwoofer for the test, and as expected, these give the sound experience a boost. Surround effects from behind are noticeably richer and clearer, and the soundstage takes on a whole new weight and foundation with the subwoofer connected. It simply filled the gaps – it's that simple!
The Sony HT-A5000 soundbar works well as a standalone soundbar, but can also be expanded with, for example, the SA-SW3 subwoofer and SA-RS3 wireless rear speakers. (Photo: Sony)
Conclusion
The price range around a thousand euros is full of strong soundbars, but the Sony HT-A5000 stands out as one of the better ones we've heard. We've previously been impressed by the HT-A7000 big brother, but to our ears the little brother actually seems like an even better buy.
The HT-A5000 combines excellent sound quality with a wide range of features and upgrade options at an affordable price. The soundbar works well on its own, but can also be expanded with subwoofers and surround speakers. This gives you a very cool home cinema system!