John Hvidlykke
Published

2023-01-19 - 12:00 pm
Ultra sophisticated retro design. The sound is true to NAD ideals. Completely modern interior with streaming and room correction.
Vintage enthusiasts will frown upon the Class D output stage and switched-mode power supply. It's not cheap.
Specifications
Output power: 2 x 100 W class D (8 ohms/4 ohms)
Analog inputs: Turntable (MM, stereo RCA), analog in (stereo RCA), main in (stereo RCA)
Digital inputs: Optical (TosLink), coaxial, HDMI, USB-A
Outputs: 2 sets of speakers (banana/screw terminals), pre out (stereo RCA), subwoofer
Wireless: AirPlay 2, Bluetooth 5 (aptX HD) bi-directional, Wi-Fi
Streaming (BluOS): Spotify Connect, TIDAL, Deezer, Qobuz, Roon Ready, internet radio etc.
Resolution: Up to 24 bit / 192 kHz
Formats: MQA (up to 24/96), FLAC, WAV, AIFF, WMA (incl. lossless), AAC, OGG, ALAC, MP3, OPUS
Room correction: Dirac Live basic version. Measuring microphone included
Remote control: Remote control, BluOS app (Android/iOS)
Dimensions: 43.5 x 11.0 x 35.5 cm (WxHxD), 9.7 kg
When we get a new NAD amp in for testing, we usually remark that it has the same grey and unadorned design that NAD has had for decades. This is actually not entirely true. NAD, like its competitors, has continually tweaked its design in line with changing fashions and technologies. Today's NAD amplifiers may be grey, but slightly rounder shapes have sneaked in, along with colour displays for navigation.
But that's not the case with the NAD C 3050 LE, which is full-blooded retro to the extent that there's not a dry eye in the grey-haired department of the editorial team. After all, it looks exactly like what we had back in the good old days!

The NAD C 3050 LE isn't just any NAD amplifier, either. NAD has chosen to celebrate their 50th anniversary – and jump on the retro bandwagon – by producing an anniversary model that is, on the outside, an almost exact replica of the NAD 3030, which may not have been NAD's first amplifier, but in 1974 was the first to feature the grey design that has been NAD's hallmark ever since.
Only 1,972 units in total
To make the experience exclusive, only 1,972 numbered copies of the anniversary amplifier have been built. That's the same number as the year the company was founded. And the price in the US market is correspondingly set at USD 1,972. Here, however, the price is somewhat less symbolic.
In fact, the total number of units is not 1,972, but 1,986. This is because 14 unnumbered amplifiers have been built for testing in hi-fi media. And we at L&B Tech Reviews have managed – as the only media in the Nordic countries – to get our hands on one of them until it has to go back home to Canada.
Almost faithful copy
The NAD C 3050 LE resembles the 48-year-old NAD 3030 to near perfection. The cabinet with real walnut veneer is slightly lower, but all the buttons on the front panel immediately appear to be exactly as they were in 1974. And so do the two VU meters in the upper left corner. The logo with the words "New Acoustic Dimension" in ornate slanted lettering is also identical to the original.
A closer look, however, reveals that some of the functions have been rearranged and the input selector dial omitted. Instead, signal sources are selected with the row of pushbuttons that originally activated loudness, sub/high filter, mute and mono. Features that nobody uses today.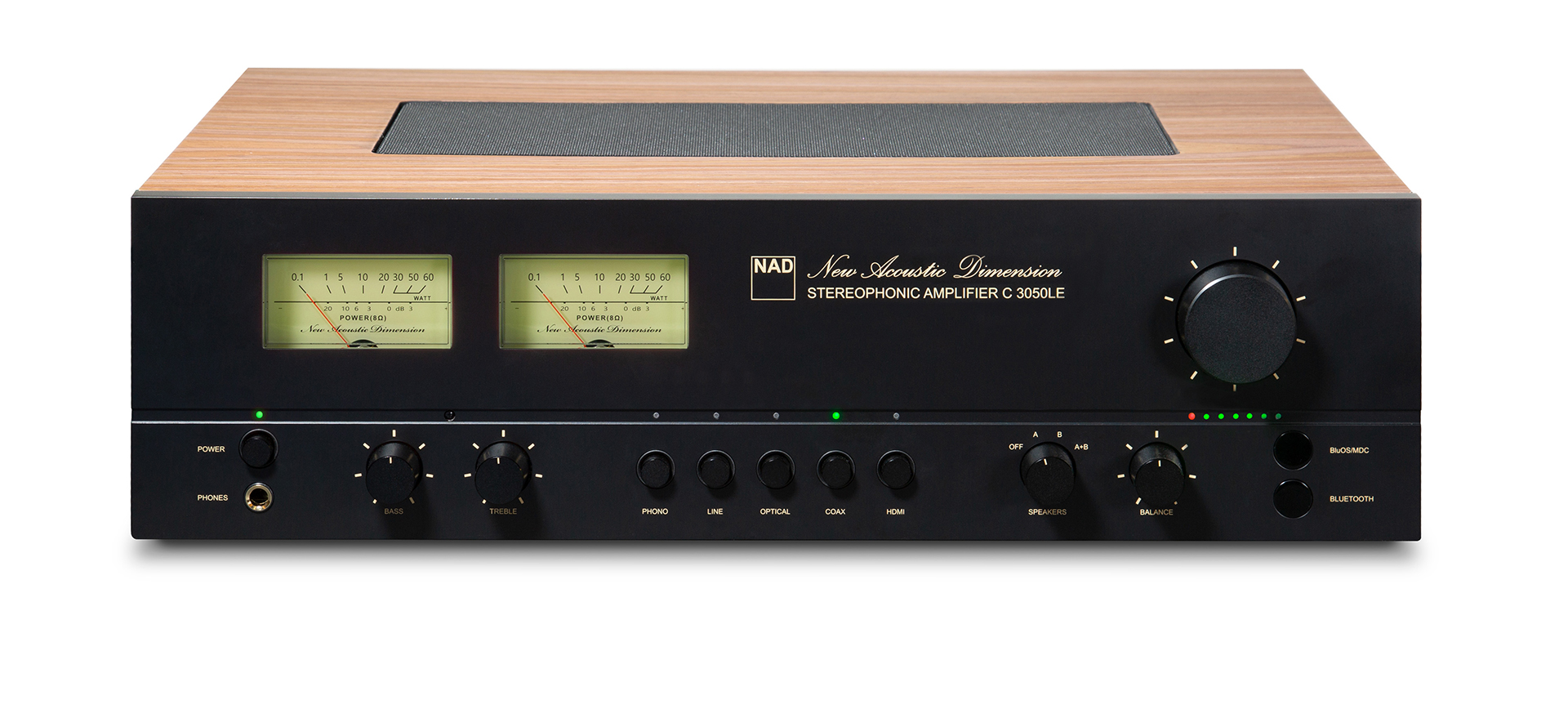 The two buttons for tape recorders on the far right of the front panel have also been replaced by indicators for BluOS and Bluetooth respectively. The NAD C 3050 LE has all the latest features. But they are well hidden. A strip of green LEDs below the volume knob also gives a visual indication of how loud it's cranked up. This is necessary, as the volume knob doesn't work like it used to. More on that later.
This is how it's done
The back of the NAD C 3050 LE is a mix of retro and modern features. The two sets of speaker terminals draw appreciative nods from the old reviewer. And a rotary knob on the front lets you switch between the two sets of speakers or use both simultaneously. Just as it should be. It also gives a nostalgic feeling to see the connectors for Pre out and Main connected with a detachable bracket. Just like they did in the old days. In fact, the NAD 3030 didn't have the ability to separate the pre and power amp like that. But since this is an improvement, we'll forgive the inaccuracy …

Nostalgia notwithstanding, the backplate has all the connections and features you'd expect from a modern, premium stereo amplifier. It also includes an almost full set of digital inputs with coaxial, optical and HDMI, as well as a USB-A port for playing audio files from external disk. There's no USB-B host input for playing audio files from a computer. But that is a feature that's becoming increasingly rare.
An amplifier as classic as the NAD 3050 LE naturally has an input for a turntable (MM only, though), as well as an additional analogue line input.
Most of these excellent inputs, however, will probably remain unused. Despite its classic design, the amplifier has three antennas for modern wireless connections. Two antennas for Bluetooth (it can both receive from the mobile and transmit to a wireless headphone) and one for Wi-Fi. BluOS is built-in for streaming, and the amplifier can be used in a multi-room system with, for example, a Bluesound Powernode.
Class D
The NAD C 3050 LE cabinet is slightly lower than its 50-year-old predecessor, but what really reveals it as a modern amplifier is the weight. Weighing in at 9.8kg, it's considerably lighter than most true vintage amps. Indeed, beneath the walnut cabinet you'll find a 2 x 100 watt Class D amplifier, based on a Hypex design, but in NAD's own execution. The power supply is of the switched-mode type.
It may seem a little surprising that NAD has chosen to put such contemporary electronics into such an accomplished nostalgia product. As the listening test shows, the class D power amplifier doesn't do badly at all, but it would have been interesting to have a classic class AB output stage.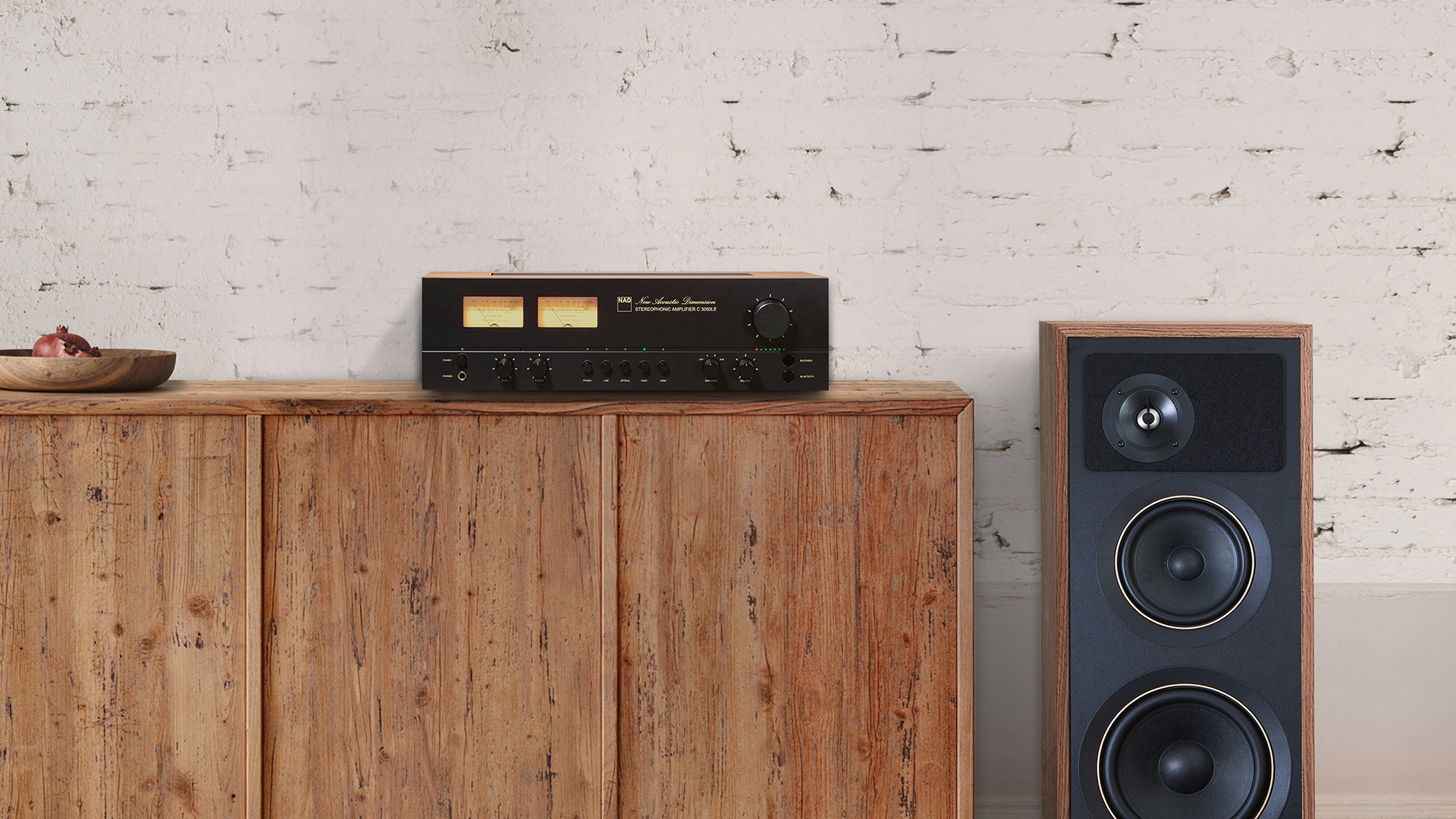 Setup via app only
Since the NAD C 3050 LE is free of newfangled gadgetry such as displays, all digital setup must be done via mobile apps. This caused a bit of anguish with the test sample, which didn't voluntarily show up as a new player in the Blusound app. Fortunately, this was resolved by logging into the amp's built-in wireless network with a PC – and configuring the amp for the house wireless network from there. The NAD then obligingly let itself be included as a player in the Bluesound app.
The NAD C 3050 LE also has built-in Dirac room correction, and a calibration microphone with USB interface is included in the box. Incidentally, this is exactly the same type of microphone that comes with the NAD C 658. And the measurement, with up to nine measurement points in the room, is done via the Dirac Live app. As with other NAD amplifiers with room correction, this is the basic version of Dirac Live, which can only be used below 500 Hz. Upgrading to full frequency range costs less than €100. And frankly, it should be included in the price. Nobody would have raised an eyebrow if the price had been correspondingly higher. But please give us a package without discount restrictions!
Cognitive dissonance
The NAD C 3050 LE is such a perfectly designed retro model that you can't help thinking "hey – something's wrong here!" when something doesn't behave as you instinctively expect. Cognitive dissonance occurs.
This is especially true of the volume knob, which not only looks like an old-fashioned volume potentiometer, but also has just the right oily resistance when you grab the knob and turn it. But in reality, the knob is an endless encoder that can be rotated indefinitely. The solution makes good sense, as the amplifier needs to be remotely controllable, and the alternative would have been an expensive, motor-driven mechanical potentiometer. But years of muscle memory in turning the knob fractions of a millimetre to adjust the volume accurately is being cheated. A full turn of the knob actually changes the volume only a few dB.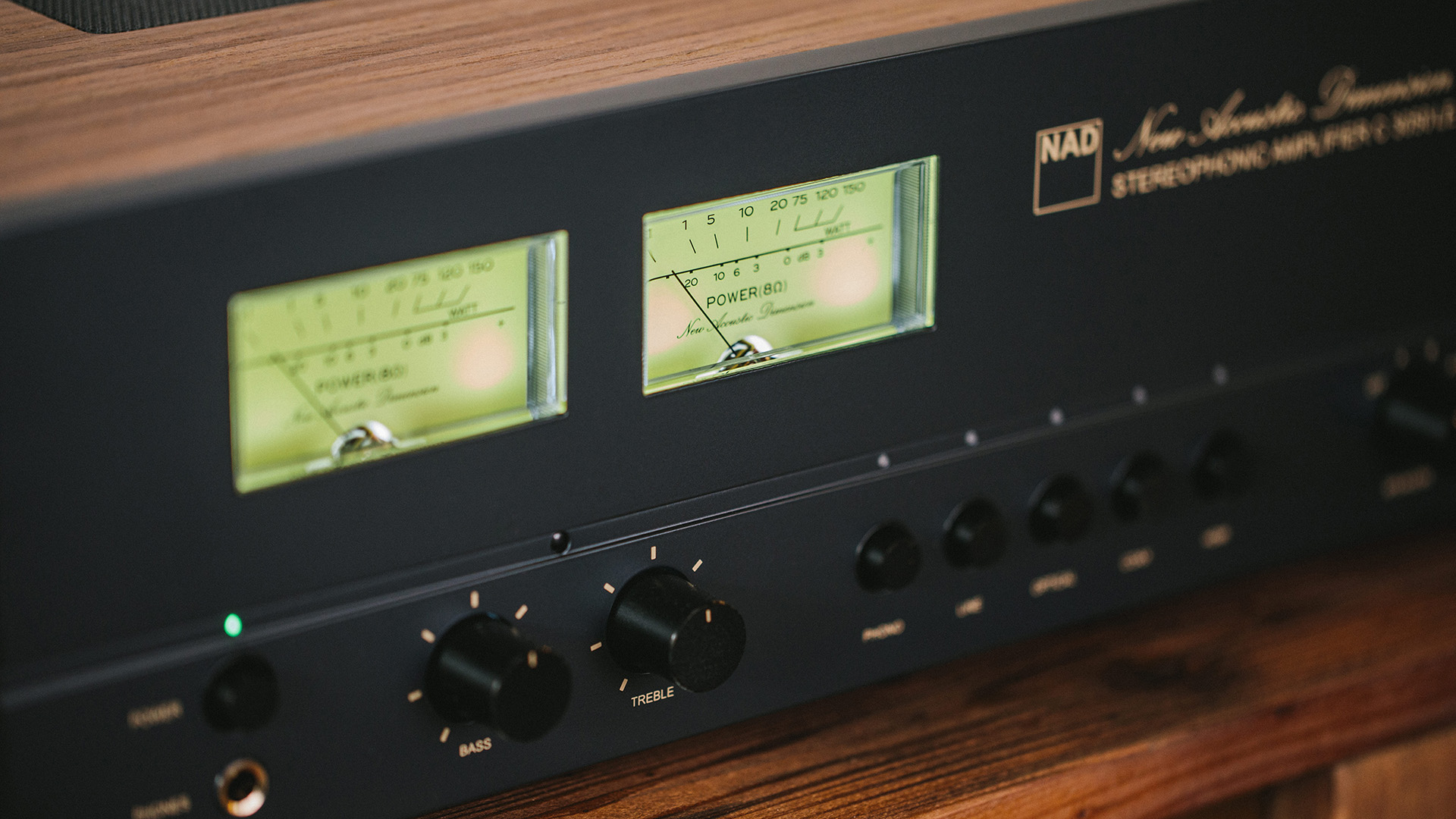 The same sensory conflict is provided by the power button, which looks perfectly like an old-fashioned mechanical push button. But the button is digital, of course, so it doesn't stay pressed. It's completely meaningless and just a matter of habit, but the visual effect is perfect. And NAD has obviously had the button custom made to look like a 1970s push button.
The display instruments immediately caused the same sensory confusion, as they're fitted with a power scale but basically act as VU meters, fluttering merrily in time with the music, no matter how high or low the output volume is. Fortunately, the meters can be switched to effect display with a small switch on the back.
'Unlimited' version coming soon
As mentioned, the NAD C 3050 LE is an exclusive special edition in very limited numbers. If you're a retro enthusiast but not one of the lucky ones to secure one of the 1,972 units, don't despair. Because a non-limited edition is coming later this year.
The NAD C3050, as the standard model will be called, will have the same retro look, except that the wooden cabinet will be covered in walnut-patterned vinyl instead of real veneer. It also won't have the 50th anniversary plaque on the back.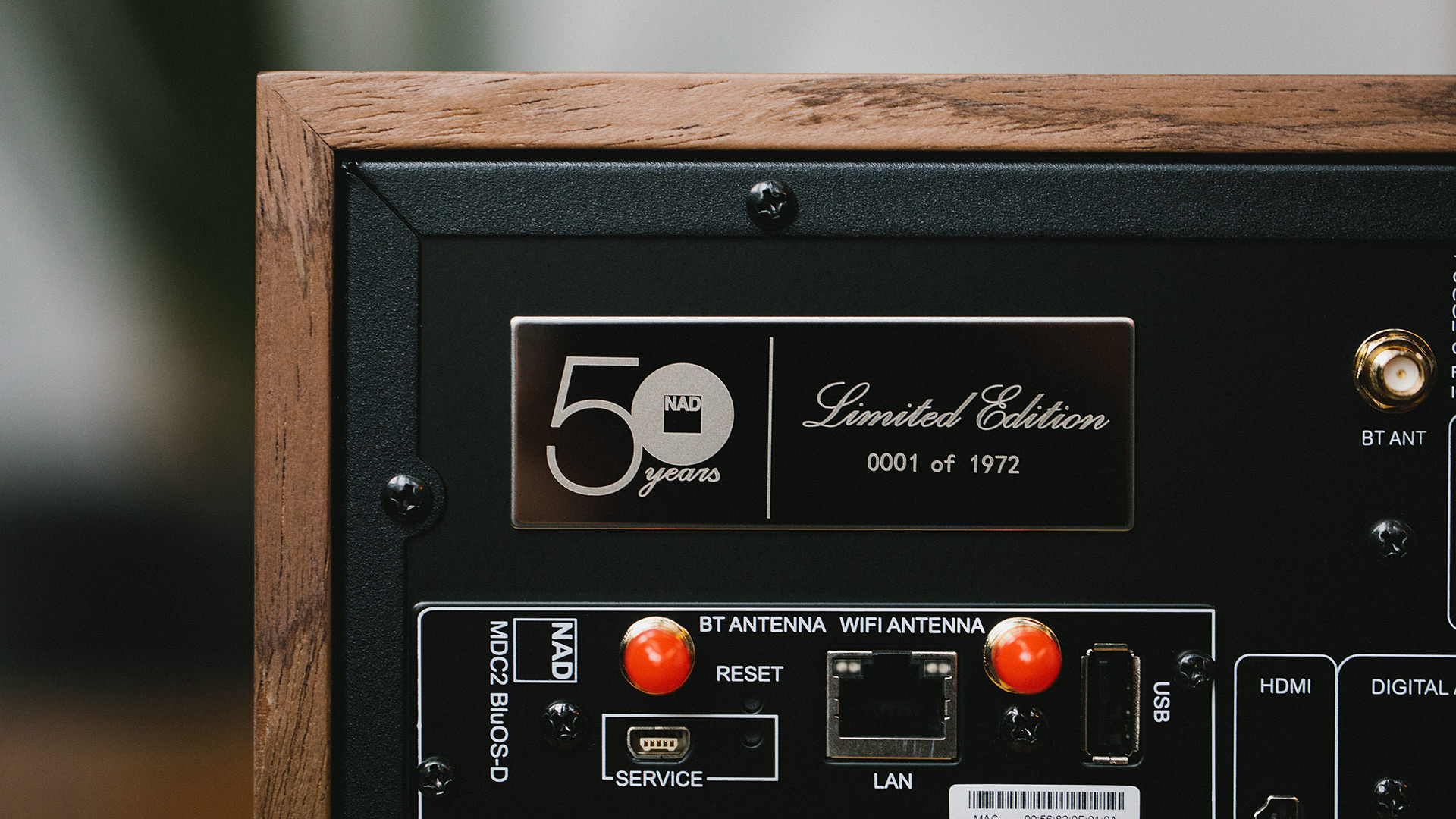 The standard edition also comes without BluOS and Dirac, which might even be perceived as an advantage by the most hardened vintage enthusiasts who want only the genuine analogue article. However, the amplifier will be expandable with BluOS and Dirac via an NAD MDC2 expansion module, which will give it exactly the same functionality as the NAD C 3050 LE.
We haven't been given an exact price for the standard model, but NAD product manager Cas Oostvogel of Lenbrook says that the price of it plus the MCD2 module will be similar to that of an NAD C 3050 LE.
Sounds like it looks
NAD has done what they could to set expectations high. The design is as exclusive as the number of units. And it would be disappointing if the sound was just average.
Fortunately, in the reviewer's opinion, they've managed to create an amp that sonically signals as much 'modern retro' as the looks do.
Class D amps have been accused – in some cases rightly so – of sounding clinical and unengaging. That's not the case with the NAD C 3050 LE, which has such a warm and pleasant sound that one could almost suspect NAD of having hidden a Class AB power amp somewhere in the cabinet.
The bass is warm and round, which suits rock music very well (and we suspect that a large proportion of potential buyers had their taste in music formed by classic rock in the 70s). The midrange is clean and open; a quality we've come to associate with Class D stages. But still with a certain warmth. The obvious comparison is with another Hypex Class D from NAD at the same price, the NAD C 388. Here the C 3050 LE clearly wins on a more charming reproduction of voices and of the fundamental tones of instruments. Clearly, there has been a technological generational shift. Even though the latest arrival looks like a grandfather to its predecessor.
Also check out
Music, the listening room and everything
The NAD C658 contains more than what is apparent from the looks. Behind the gray facade hides a versatile preamplifier, DAC and streaming receiver that can also control your listening room.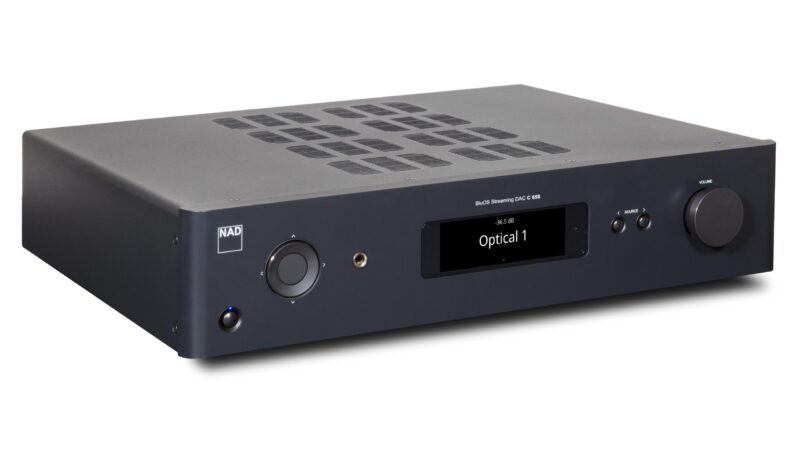 Spatial reproduction and perspective are also handled in a fully satisfactory manner. On a good recording, like Afenginn's 'Skjálvtin' from the album Klingra, it's a pleasure to be listening into a deep space behind the speakers, where every single piano and percussion note stands out clearly.
Even heavier fare like Johann Strauss' 'Banditen Galop' in the Telarc edition with the Cincinnati Pops is handled well.
At least until switching over to the almost twice as expensive NAD C 658 / C 298 amplifier set with almost twice as high output power from the Purifi Eigentakt output stage. That's when you realise that the acoustic stage can have much higher ceilings and wider walls. Just as there is suddenly much more power and control over the bass.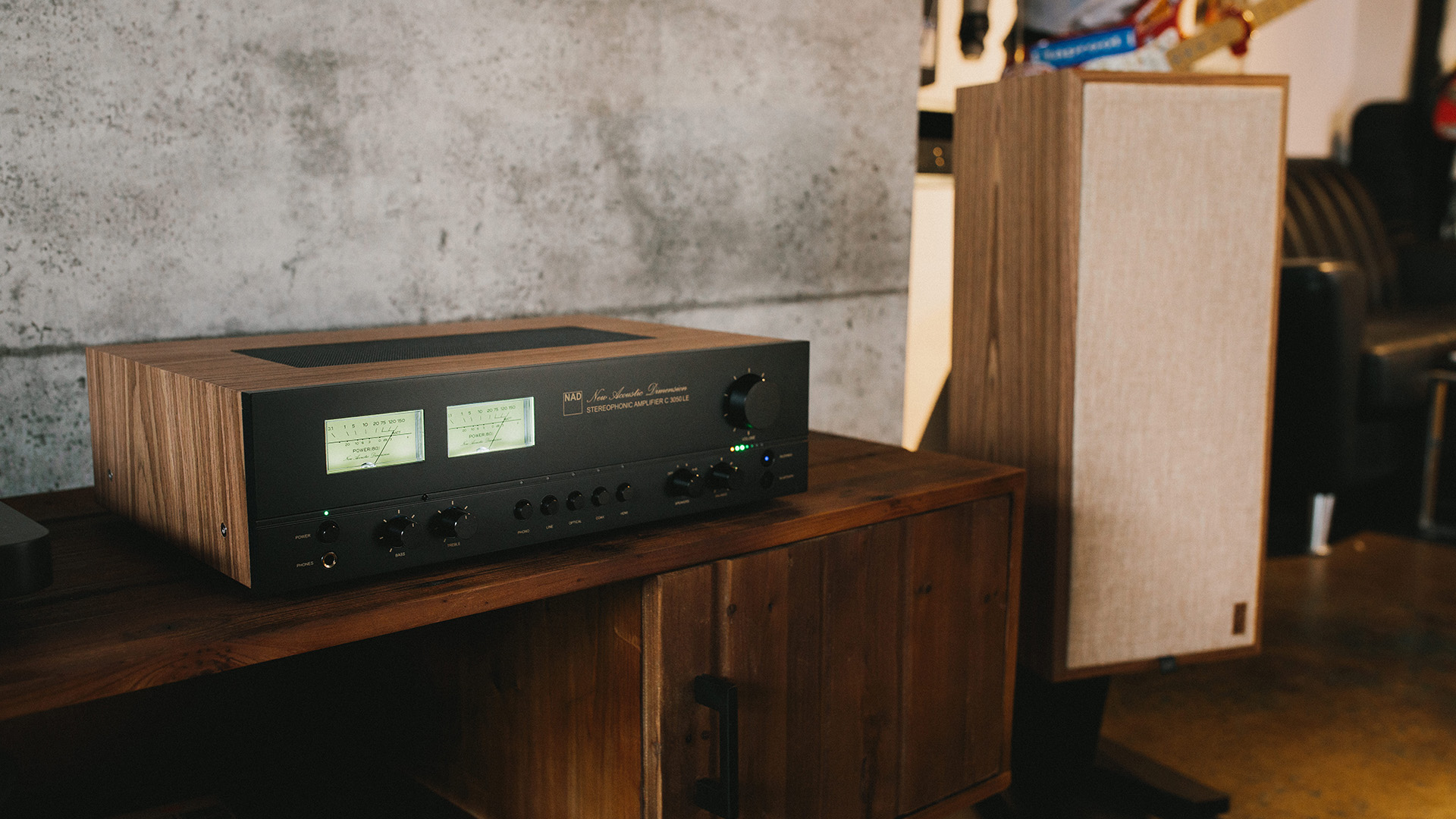 Effective room correction
I've tested several amplifiers with Dirac Live room correction, and it does exactly what it's designed to do. And while it seems miserly to leave customers with a limited version of the software, it's in the bass range where room correction is most needed – and also most likely to succeed.
In my listening room, I have fairly well-damped acoustics, but there are some peaks and dips in the bass range from standing waves. The Dirac brings those under control, resulting in a significantly cleaner bass response.
And for the record, the actual listening test was conducted with room correction turned on. Likewise on the NAD C 658, which was used as a reference.
Also check out
Classics
The little brown NAD amplifier caused a sensation. No one had heard such great sound from a small amplifier that cost so little.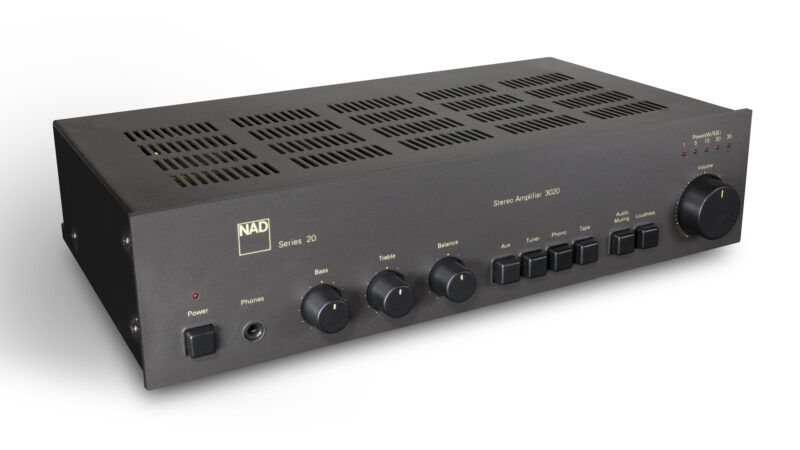 Competitors
Finding a 100 W stereo amplifier for under 2300 euros is not a difficult task. But a direct competitor to the NAD C 3050 LE is much more complicated to find. Especially if it has to have both streaming and room correction – and look like something from the 1970s.
The NAD C 388 can technically meet the requirements if combined with a BluOS/Dirac expansion module. But then the total price will be just as high as for the C 3050 LE – and without the cool retro design.
We've seen several amps lately that play on the same retro strings, among them the Cyrus Classic AMP. We haven't had a chance to test it yet, though.
The NAD C 3050 LE oozes authentic 70s style. If you're even the slightest bit nostalgic, it's hard not to fall in love with. (Photo: NAD)
Conclusion:
The NAD C 3050 LE is a charming amplifier in every way. With its perfectly executed vintage look, it hits right in the heart of an old hi-fi enthusiast. Although the interior is one hundred percent modern, the sound is true to the look and exudes warmth and cosiness. The amplifier has all the digital conveniences you could want. At least if you get the anniversary special edition with BluOS and room correction from Dirac.
You can easily find a cheaper amp with more power, but not one with the same features. So if you fancy owning a unique piece of hi-fi history, you'll get full value for money. But you'd better hurry – as you know, there are only 1,972 units of the anniversary model in circulation.