Lasse Svendsen
Published

2022-12-23 - 8:00 am
Clearly among the very best integrated. Plays with effortless power, creating a soundscape we've barely heard before. An amplifier for life.
Specifications
Type: Integrated amplifier
Technology: Transistor, autoformer
Connections: 6 unbalanced RCA, 2 balanced XLR
Turntable input: MM and MC input
Headphone output: Yes
DAC: 32-bit/384 kHz, eight-channel PCM/DSD, Quad-balanced
DAC connections: HDMI ARC, 2 x optical, 2 x coaxial, MCT, USB
Power: 2 x 300 W, 8, 4, 2 ohms
Frequency range: -3 dB, 10Hz – 100 kHz
Dynamic range: 2.8 dB headroom
THD: 0.005 %
Signal-to-noise: 114 dB unbalanced
Dimensions and weight: 44.5 x 24 x 50.2 cm/45.8 kg
Web: mcintoshlabs.com
The massive McIntosh powerhouses have always been in the top class of amplifiers. The new MA9500 is no exception, but I wouldn't have thought it would be audibly better than its predecessor.
Not that there's no precedent. The first really good and powerful integrated amplifier we tested from McIntosh, the MA7000 in 2008 – which reproduced music with a warmth and authority rarely heard in this price range – was surpassed by the MA8000 in 2014. Which introduced us to an even more refined, detailed and controlled sound experience. And which also had a built-in digital converter.
It was followed three years later by the MA9000, also with audible improvements in sound, and we found it so excellent that we used it as the default reference for a long time after testing.
Now it's being replaced by the MA9500, which at first looks like a minor upgrade of an MA9000. Where a new DAC module with a better digital processor and more inputs seems to be the main difference. Or so I thought.
Without making a fuss about it, McIntosh has also made some minor changes to the range of components in the circuit. For example, they have increased the capacitor bank. This should raise the dynamic capacity by 55 percent from 1.8 to 2.8 decibels. It doesn't sound like much, but in practice it's a substantial improvement.
17 inputs
As the 9500 amplifier is built on a similar chassis to its predecessor, the MA9000, the two are very similar. Weight and physical dimensions are almost identical, but McIntosh monogrammed heat sinks tell you that this is a newer generation, and turning the almost 50 kilo amplifier around, you can see that McIntosh hasn't cut any of the inputs and outputs.
In total, there are seven digital inputs here, in addition to 10 analogue inputs. Including one each for turntables with Moving Coil and Moving Magnet pick-ups.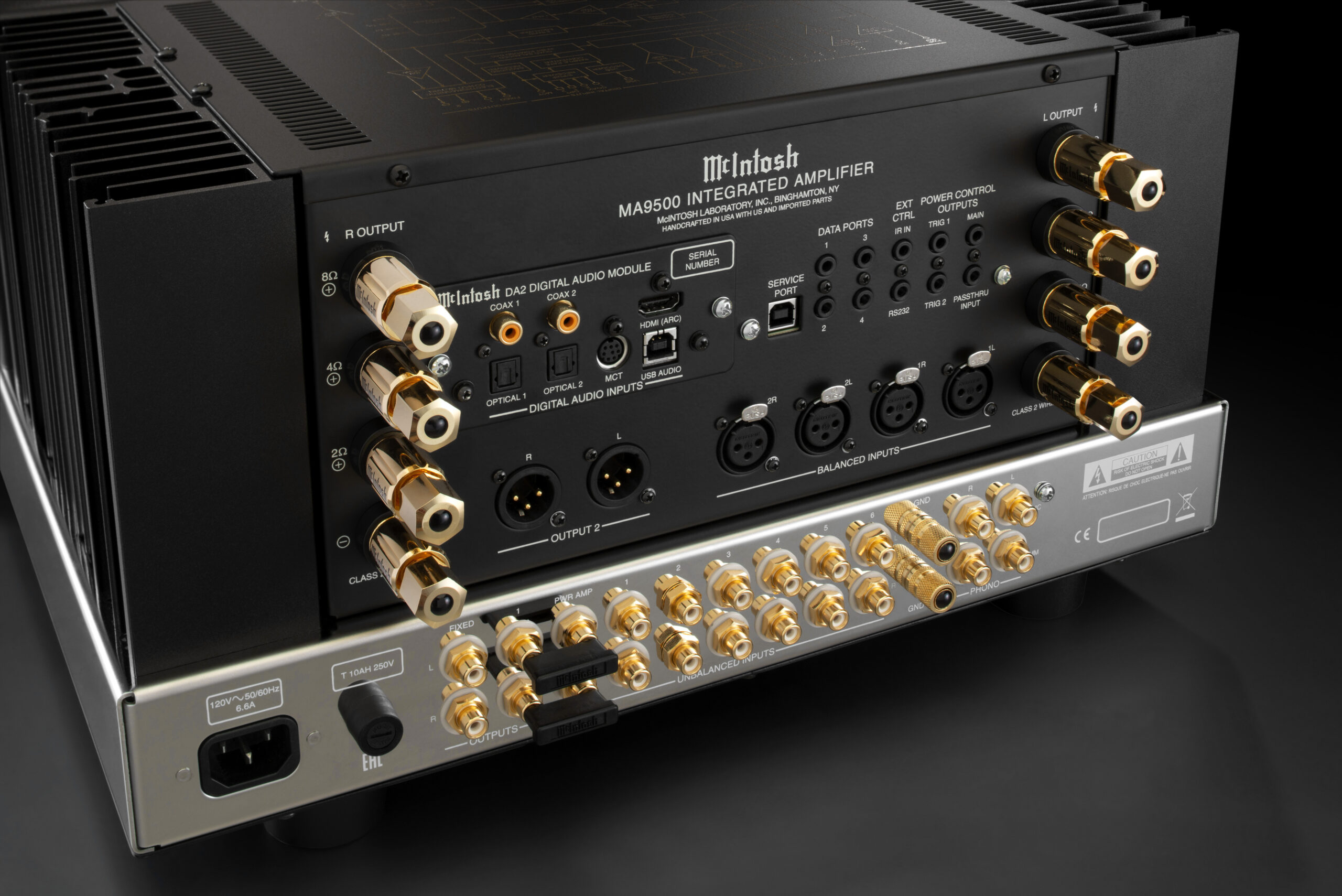 Power output is a massive 300 watts per channel, and the amp is fully balanced with McIntosh autoformers with separate windings and outputs for 2, 4 and 8 ohm speakers.
The purpose of the large autoformers on the output panel is to make the amplifier insensitive to varying speaker loads. It should also make the amplifier immune to unwanted feedback from the speakers.
Like all newer McIntosh amplifiers, it also has Sentry Monitor, which cuts off the outputs if the amplifier is in danger of shorting out. It also has Power Guard, which monitors the signal in real time to avoid clipping that could damage the speakers.
McIntosh DA2 DAC module
It has the same DA2 digital module that we know from the MA12000. Which was the first integrated amplifier with McIntosh's new DAC module.
The module differs from its predecessor DA1 in that it has an upgraded version of the 32-bit converter (ESS9028) with eight channels, support for DXD and DSD 512 and, conveniently, an HDMI input with audio return: so you can also connect the TV's audio to the system. The HDMI input converts Dolby and DTS formats into two-channel stereo sound, and lip sync can be set on the HDMI input.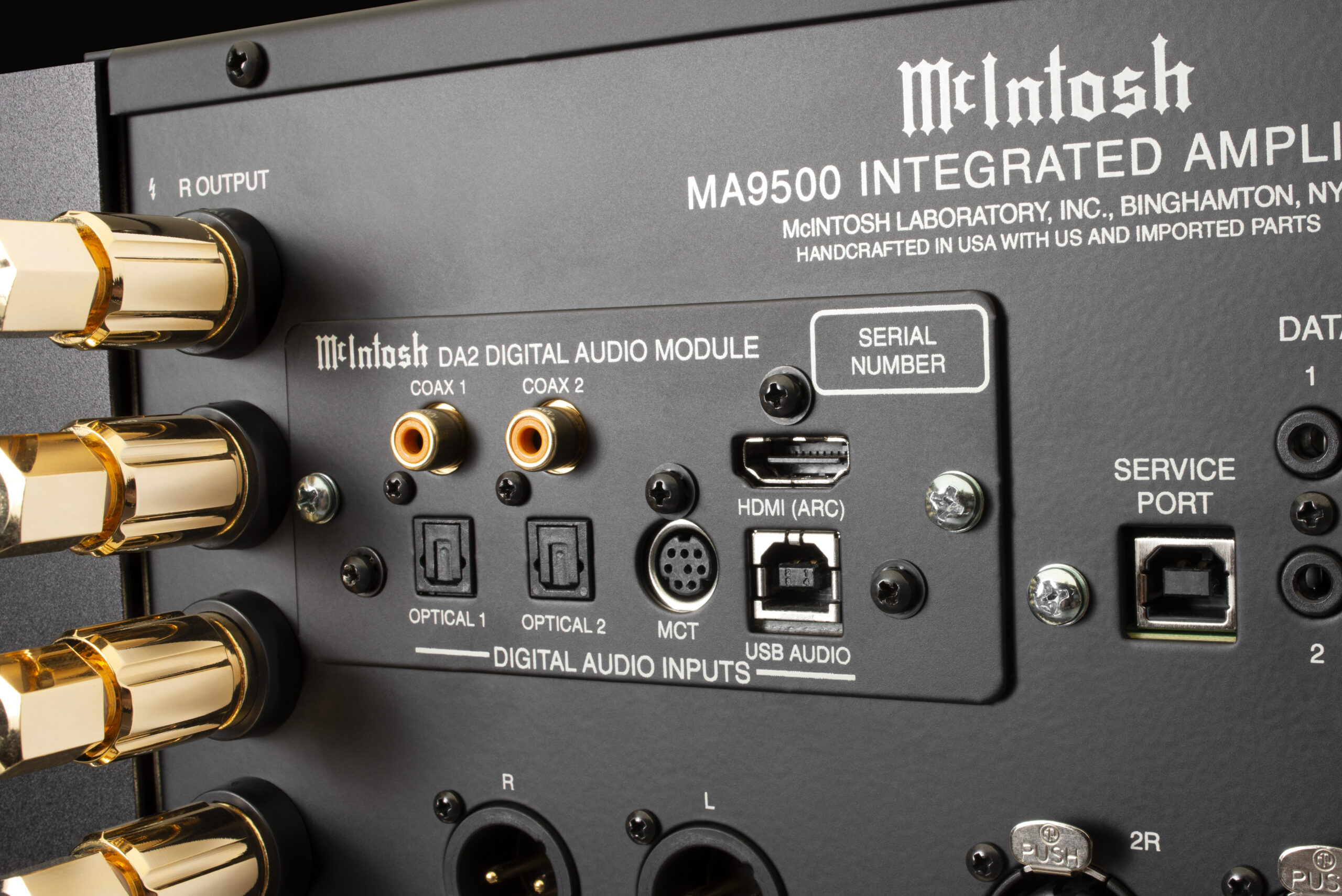 In addition to the HDMI input, the DA2 module has two coaxial and two optical inputs with support for 24-bit/192kHz files. The USB input supports 32-bit/384kHz, and as you'll have got used to from McIntosh, there's also an MCT input here. Which is a DIN connector for digital transmission of DSD files on SACDs played on McIntosh SACD players with MCT output.
The DAC also supports Roon, so you can easily stream and manage the music library of Tidal or Qobuz, with a Roon client connected.
Equalizer and headphone output
Below the distinctive turquoise power meters, which actually show the power in real time, the amp has an equalizer where you can adjust eight frequencies ±12 dB from 25 Hz to 10 kHz in 2 dB steps, and set your preferred EQ. Which can be switched off and on from the front, or with the remote control.
Pressing the input selector activates the setting selection in the on-screen menu. There you can rename the inputs, adjust input sensitivity and balance, but also customize the phono setting for the pickup. Impedance can be set to 50, 100, 200, 400 or 1000 ohms, and capacitance from 50 to 400 pF.
The amplifier also has a McIntosh headphone output with McIntosh Headphone Cross-feed Director (HXD). It can be switched on and off, and removes some of the ping pong effect of listening to headphones by creating more ambience when activated.
Muscular powerhouse
The aforementioned MA12000, which by the way is about 4,000 euros more expensive, has a supposed 350 watts of power per channel. Regardless of load. That's 50 watts more than the MA9500. I can't say that I noticed that difference, because there was nothing to indicate that the more expensive amplifier was more powerful.
The MA12000 has a slightly higher noise floor, especially on the turntable input, as it uses valves in combination with transistors. However, you don't really notice this until you hear an MA9500, which has a pitch-black background completely devoid of noise, even with the turntable input.
Unfortunately, I didn't have the big JBL 4367 with 15-inch woofers available when I tested the MA9500 – as I did when testing the MA12000. I did, however, have the superb KEF Reference 3 Meta, among others, and not least our trusty Sonus faber Olympica III, with which we've reviewed a number of previous McIntosh amplifiers in the past.
It's easy to hear the evolution from the MA7000 to the MA9500. An A/B test quickly revealed that, despite its age, the MA7000 is still a lovely amp – warm, rich sound and a magnificent soundstage are the result when plugged into the Ref 3 Meta. But plug in the MA9500 and you really notice that things have changed in 14 years. The new amp also sounds rich and sonorous, but it's far more focused, resolved and transparent than the older MA7000.
The MA9500 amp has better control, and clearer and more dynamic contrast. It drives the woofers in the KEF speakers further down in frequency, and is in complete control even when I'm playing James Blake's Limit To Your Love so loud that the VU needles are quivering on the right side of the VU meters.
Compared to its predecessor MA9000, the difference is not that big. But you can feel that it is quieter and the dynamics of the MA9500 are perceived as faster and more precise. Which, by the way, I find more exquisite when digital sound sources are connected to the DA2 module. Since the amp doesn't have streaming integrated, we used an Argon streamer for convenience, and then it became clear that there is indeed an improvement to be had, especially in resolution – with a DA2 over the DA1.
Triojazz, which is among my favourite ensembles, can be a great experience when the system manages to convey the sound from the recording so well that you feel physically present when the music is played. Some amplifiers mask some of the nerve that's often present, especially on live recordings, but the MA9500 doesn't. Neither from CD nor vinyl, and just so it's been said, the phono stage of the MA9500 is actually in a class of its own in terms of integrated phono stages.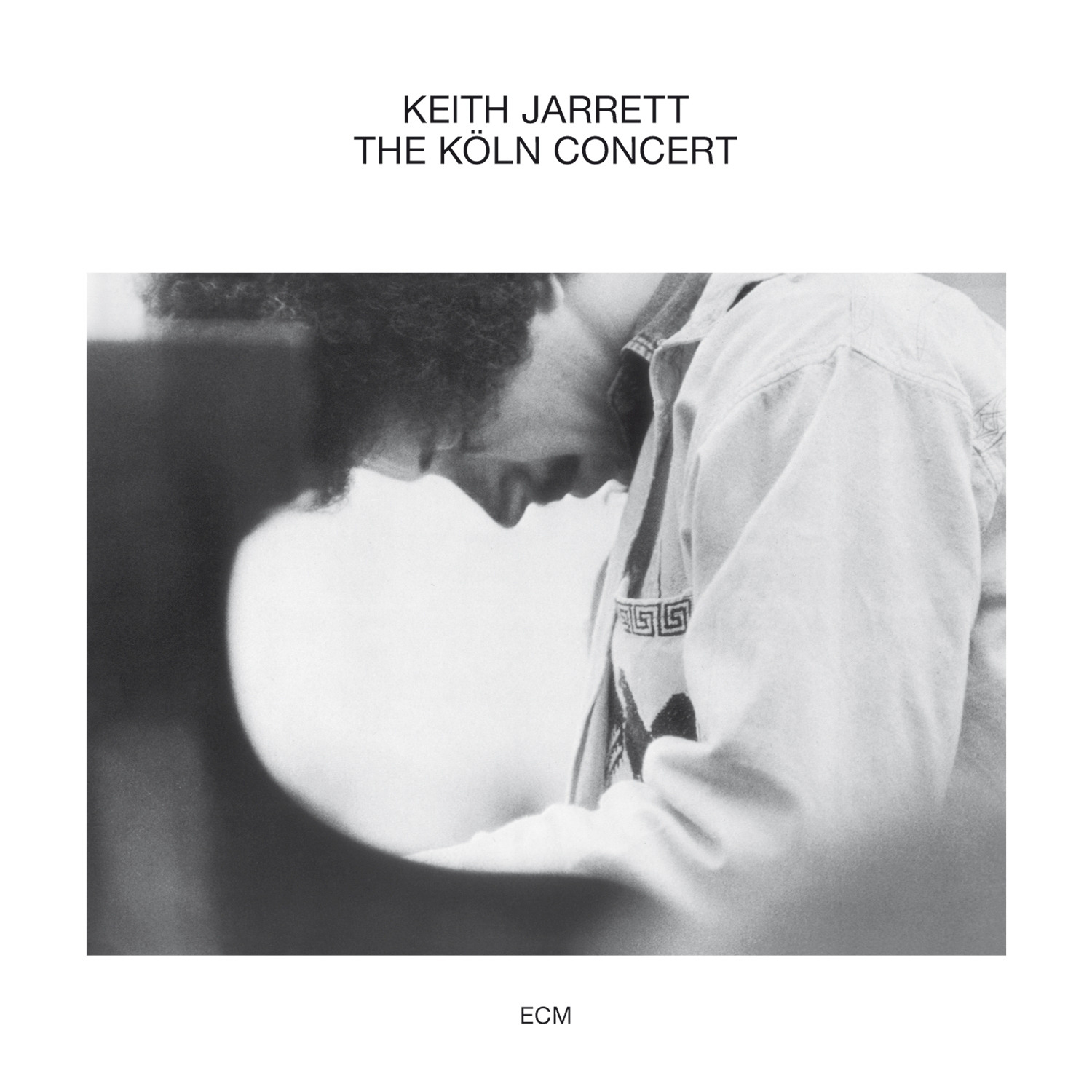 Keith Jarrett's live recordings, The Köln Concert, Up For IT and Standards on vinyl, are presented with a depth and richness of sound that I usually associate with separate phono stages. Such as the Primare R35 and Rega Aura MC. Cymbals and whiskers on the snare drums are perfectly focused, and sound as pure and clear as glacier water. The jet-black background gives the dynamics extra edge, and the reverb of the piano is simply goosebump inducing.
It's harder to achieve a perfect experience with Verdi's Requiem. Firstly because I was not present during the recording, but also because the work is so complex that it is difficult to reproduce with the razor-sharp precision of a trio ensemble. But a young Pavarotti's voice is so clearly defined in the space between the KEF speakers that it's daunting.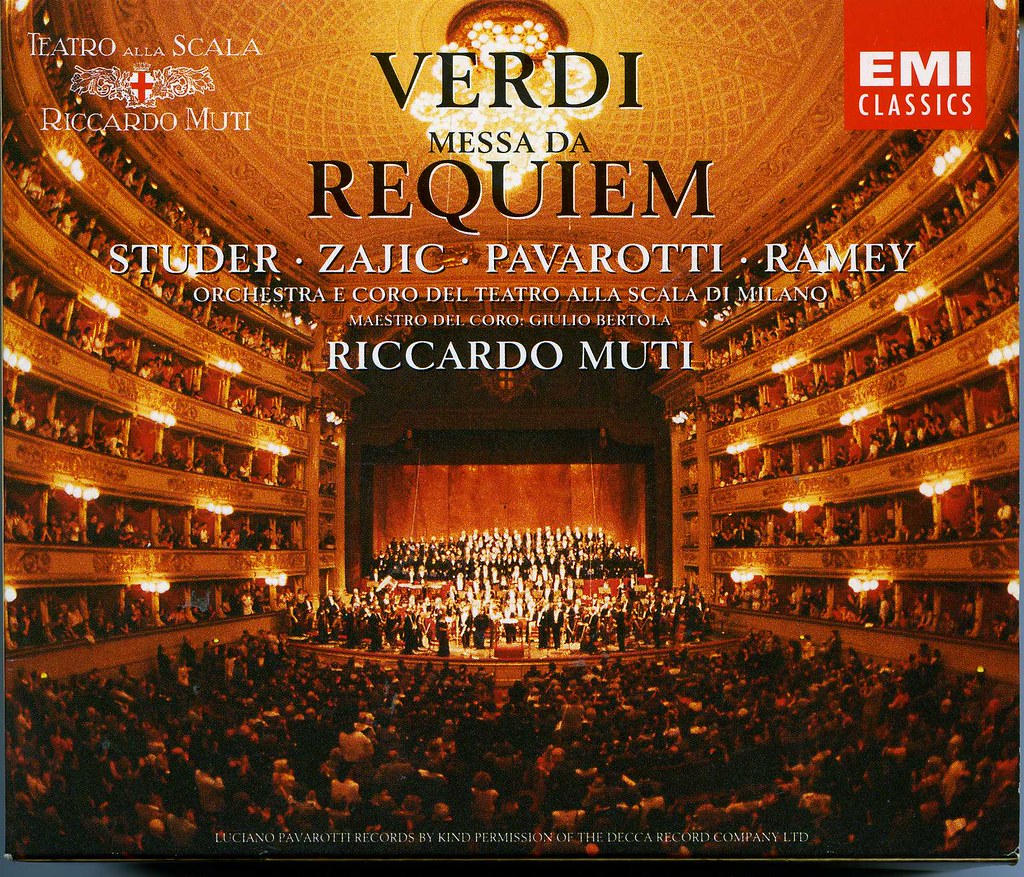 A switch to Sonus faber speakers confirms the experience of KEF speakers. This amplifier can make any speaker live up to its full potential, delivering a soundstage that envelops and draws you into the music more than usual. It's pure magic, and here the McIntosh amplifier is the magician.
Competitors
There are other equally potent and highly successful integrated amplifiers in a high price range that can compete with the MA9500 for the buyer's favour. The more expensive MA12000, for example, which has the same DAC module but a slightly warmer soundstage, is one of them. The Gryphon Diablo 300 is not much less potent, but it also costs more than the MA9500. The Burmester 032 I have heard so long ago that I won't even consider it. It also doesn't have a built-in DAC, and costs more. Then the Hegel H590 doesn't, and it's no match for the power and dynamics of a McIntosh amp, but it looks cheap compared to a MA9500, and lacks a built-in phono stage. On the other hand, it's so much more affordable that you can add Hegel's lovely V10 phono stage, and even save money.
Conclusion
The upgraded McIntosh MA9500 is a thoroughly splendid high-end amplifier. Especially for those who need, or just want, a powerful amplifier, perhaps for a pair of powerful speakers, and who also need both a DAC and a turntable. Streaming is the only thing you don't get in the MA9500, which is otherwise one of the most complete integrated amps on the market – regardless of price. It's better, though perhaps not much better, than the five-year-old MA9000. Given the choice between available integrated amps on today's market and equivalents in higher price ranges, I'd go with the MA9500. Even before an MA12000. That's saying something, because the MA12000 will go down in history as one of the best integrated high-end amplifiers ever. The McIntosh MA9500 performs just as well, at a lower price – and that makes the choice easy.