John Hvidlykke
Published

2019-02-06 - 2:39 pm
AirPlay 2, Bluetooth, streaming, CD player and FM radio all at once! Sounds far better than your multi-room speaker. The price is excellent.
Speakers must be purchased separately. The sound is not on par with a good (and far more expensive) stereo amplifier. No HDMI input and turntable input.
Specifications
Output power: 2 x 65 W (4 ohms, 0.7% THD)
Sources: built-in CD player, analog input (stereo RCS), 2 x optical digital (Toslink), Ethernet, USB media (front), FM / AM antenna
Outputs: speakers (stereo, pin terminals), subwoofer (RCA)
Wireless: AirPlay 2, Bluetooth, Spotify Connect, TuneIn Internet Radio, Wifi
Network: DLNA, NAS, PC, Mac, HEOS multiroom, Amazon Alexa voice control
Resolution: 24-bit / 192 kHz (via USB)
File formats: MP3, WMA, AAC, ALAC, FLAC, WAV
Control: HEOS-App, remote control and front panel, Google Assistant, Amazon Alexa
Dimensions / weight: 28.0 x 10.8 x 30.5 cm / 3.4 kg
Colors: black, silver
Let's just admit it: even for an (experienced) old stereo fan, there is not always time and desire to make a ritual out of listening to music. Sometimes you just want to press a button and move on with what you are doing.
The answer to that question is usually a multi-room speaker. Put it on a shelf and it gives easy access to all your music via streaming services, internet radio and playback of files from the network. But even though the best multi-room speakers have a quality that is close to hi-fi, a single compact device can not provide the sound image that a pair of full-blooded hi-fi speakers can deliver.
Denon CEOL N10 is a mini system with ambitions to be as light as a multi-room speaker – and it can also be a multi-room, as it has a built-in HEOS, which is the multi-room system of Denon and Marantz.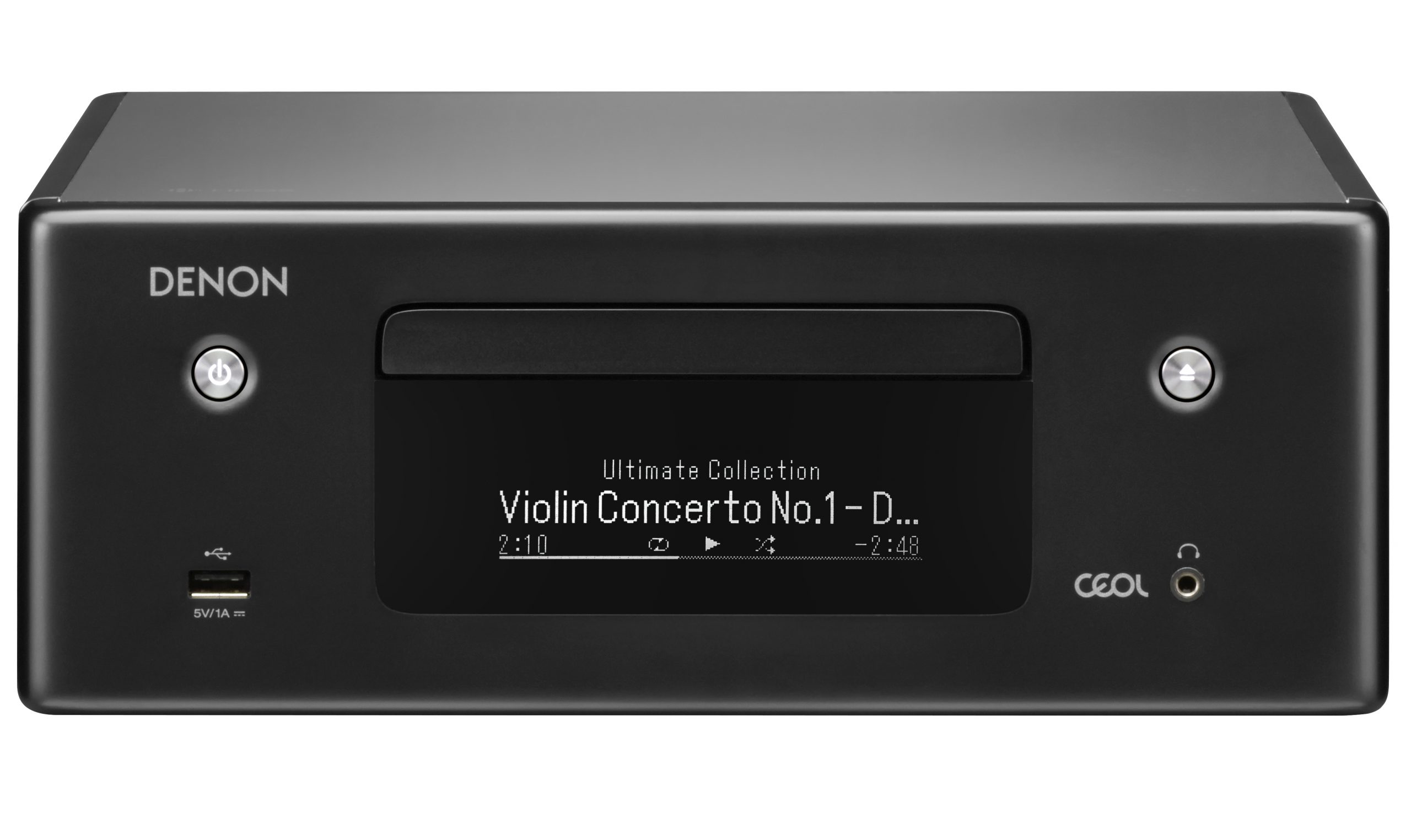 In addition to HEOS, CEOL 10 has a built-in CD player, Spotify Connect, internet radio from TuneIn – and in addition a good old-fashioned radio tuner with both FM and AM! You can stream wireless music from your mobile with Bluetooth and Apple AirPlay 2. In other words, just about anything!
The output power of the built-in amplifier is 2 x 65 W in 4 ohms. It's not all the world, but it's still three to four times as much as the "confirmation facilities" that were popular in this writer's hi-fi youth.
Easy setup
CEOL 10 is a simple and compact device that can look like a small CD player. The front is the simplicity itself: an on / off button, a button for the CD tray and a large display. There is also a headphone output and a USB port for playback from USB keys. The top plate in glossy "piano lacquer" plastic houses the most common operating functions, so you do not have to look for the remote control or mobile phone to turn up the volume or change tracks.
The back is mostly just as simple: a pair of pin connectors for speakers (unfortunately they do not take banana connectors). Turntable input and HDMI input are unfortunately missing, but most TVs can be connected via one of the two optical digital inputs. There is also an output for the subwoofer and a single analog input, which a little surprisingly is made with proper RCA connectors. I'm probably biased, but I think most buyers of the Denon CEOL N10 are more used to the 2.5mm mini-jack than the RCA. And to the extent that many people mistakenly believe that "aux" is the name of that kind of cable.
The setup takes a few minutes: Place the CEOL N10 on a shelf, it does not take up much space, and weighs surprisingly little! Connect speakers and power cable, and use the router's WPS button to connect the device to the wireless network. If you already have a HEOS multi-room system, the app automatically finds the system, and you can use all your music services and local music files.
Denon CEOL N10 can, like almost any coffee machine and garden spreader today, be voice controlled. Both Google Assistant and Amazon Alexa are supported. However, it requires a suitable smart speaker, as there is no built-in microphone.
At one important point, the Denon CEOL N10 is less easy to use than a multi-room speaker: It must be connected to speakers, and they are not included in the package. This makes it a little harder and more expensive, but in most cases also better. And no matter how much is put in, a single device can not get a stereo perspective that comes close to a pair of properly placed speakers. The speakers may be "recycled gold" from the attic or flea market, but a pair of Dali Spektor 2 or Tannoy Mercury 7.1 would be nearby.
The sound of Denon CEOL N10
It's easy to be impressed with the Denon CEOL N10. When you put on a CD (or USB key) and turn up the music, you are greeted by a charming and quite rich soundscape. There is ok pressure in the pass, and the music comes out of the speakers.
The forces are also quite excellent. Do not expect the same hand strength in the bass as on a solid hundred watts, but a track like Time Be Time with Jonas Hellborg and Ginger Baker retains an acceptable part of the drive.
Voices sound comfortable and not stuffy. The texture of Hanne Boel's rough voice may not be painted in the room. But if you demand that kind of finesse, you are probably also used to paying more for a cable than the entire facility costs.
The top is neither sharp nor hard – which is good. But there is not much of it either. Details of high-hat and triangle, you have to just read about on the record cover, because they end up so far back in the soundscape that they are deafening. But again, the Denon CEOL N10 is not a facility that will compete with the best at any price. It is designed to power power speakers in the same price range. And it does! For the better system in the living room, where it only lacks flow and multi-room functionality, the Denon DNP-800NE is a good alternative. It is more expensive than the whole CEOL 10, but still cheap.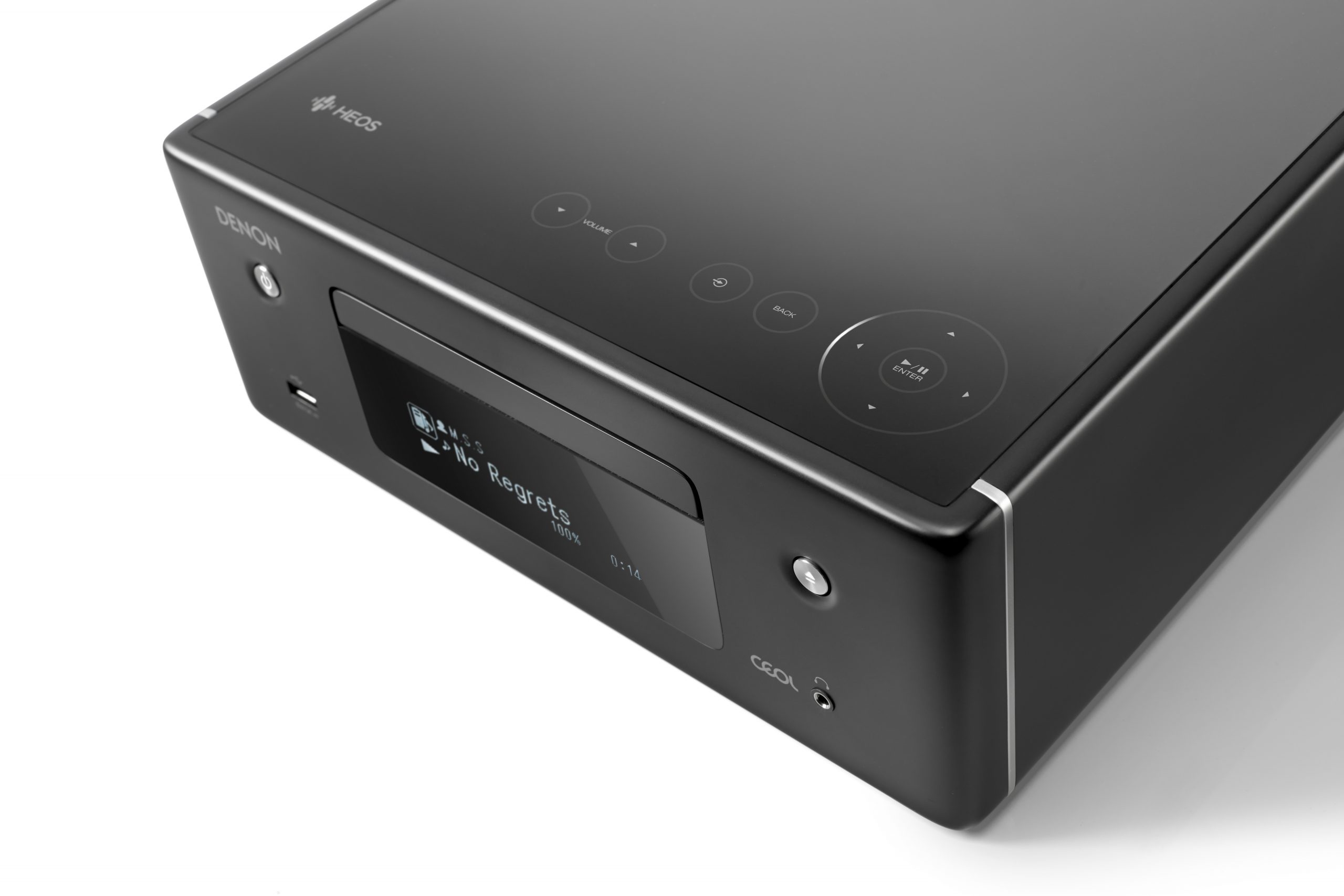 Conclusion
The Denon CEOL N10 is an excellent compromise between multi-room speakers and the "right" stereo system. You get the convenience and power options from the first – and a good deal of the sound quality from the full-fledged system. Provided you combine the CEOL N10 with a pair of reputable speakers. Of course, there are limitations in both effect and nuance, but as the second facility in, for example, the living room or the bedroom, you will quickly wonder that you could have contented yourself with less.