Danish company Steelseries has shown us time and time again that gaming equipment doesn't have to look like a toy. The company has made plenty of headsets with 'grown-up' design – and in a quality that has brought to mind hi-fi headphones. When I reviewed the top-of-the-range Arctis Pro Wireless three years ago, I even went so far as to say that it was hard to think of anything that could be done better. But Steelseries' engineers could …
The Steelseries Arctis Nova Pro Wireless is the top model in the new Arctis Nova series, which replaces the Arctis series. As a 'pro model', extra attention has been paid to detail. The headband is metal instead of plastic, and the ear cushions are large and soft and covered with synthetic leather. As with previous Steelseries headsets, the design is understated and elegant. Which translates to black-on-black. If you want a more personal look, the round magnetic covers on the ear cups and the carrying strap under the headband can be replaced with variants in bright colours.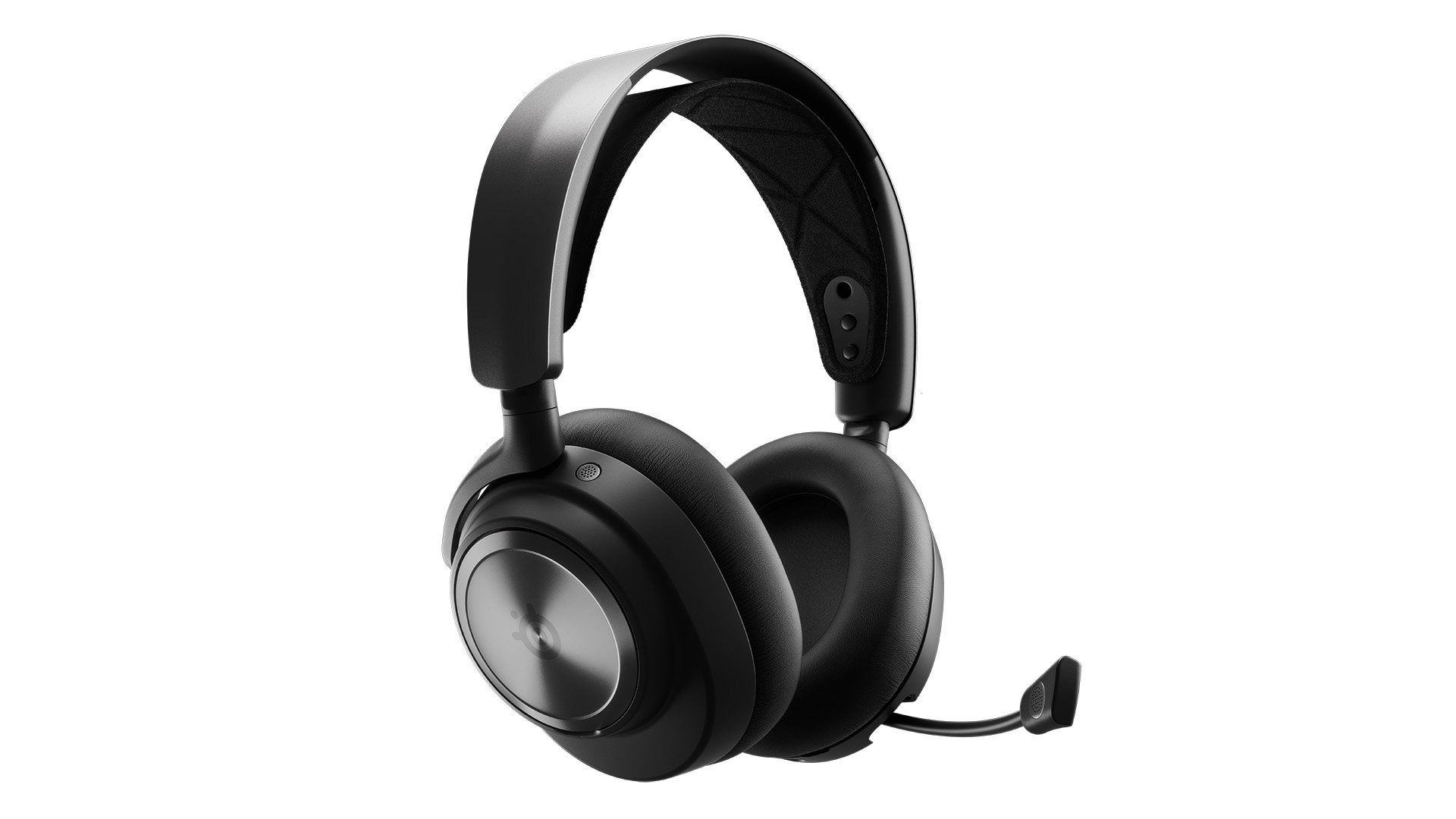 If you want flashing RGB lights that follow the beat of the soundtrack in your games, don't go for the Arctics Nova Pro Wireless, as it's completely devoid of lighting effects. You can, however, find that on several other members of the Arctis Nova family.
Versatile control box
The headset is wireless, but it comes with a small control box to place on your desktop, where you can control the up to three audio sources that can be connected. The box has two USB-C inputs for audio from a computer or console, as well as an analogue minijack input that can be used with older consoles without USB connectivity. A single rotary knob and OLED display handle all settings, audio source selection and volume control. It's relatively straightforward, but the control box is almost too small and too low to make operation comfortable.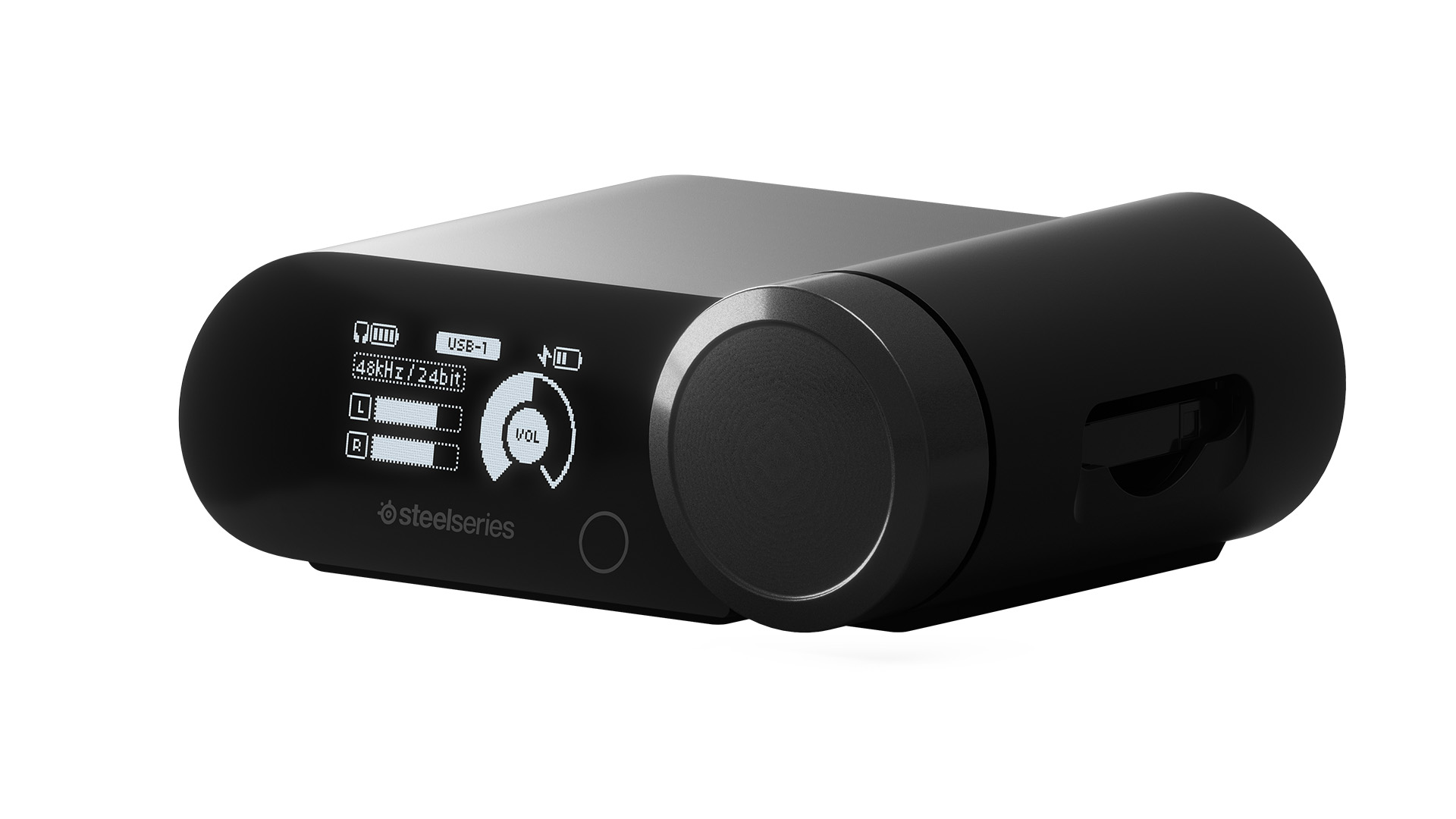 Audio is transmitted wirelessly between the headset and the control box. This is done using Steelseries' own 2.4GHz wireless standard. The connection is virtually lag-free. And it's in 24-bit/48 kHz resolution.
The box also has a built-in charger for the headset battery. Two batteries are included, and one can be charged while the other is in the headset. That way you never run out of power. At least only for the seconds it takes to change the battery. One battery lasts for about 20 hours, depending on whether you use noise cancelling or not.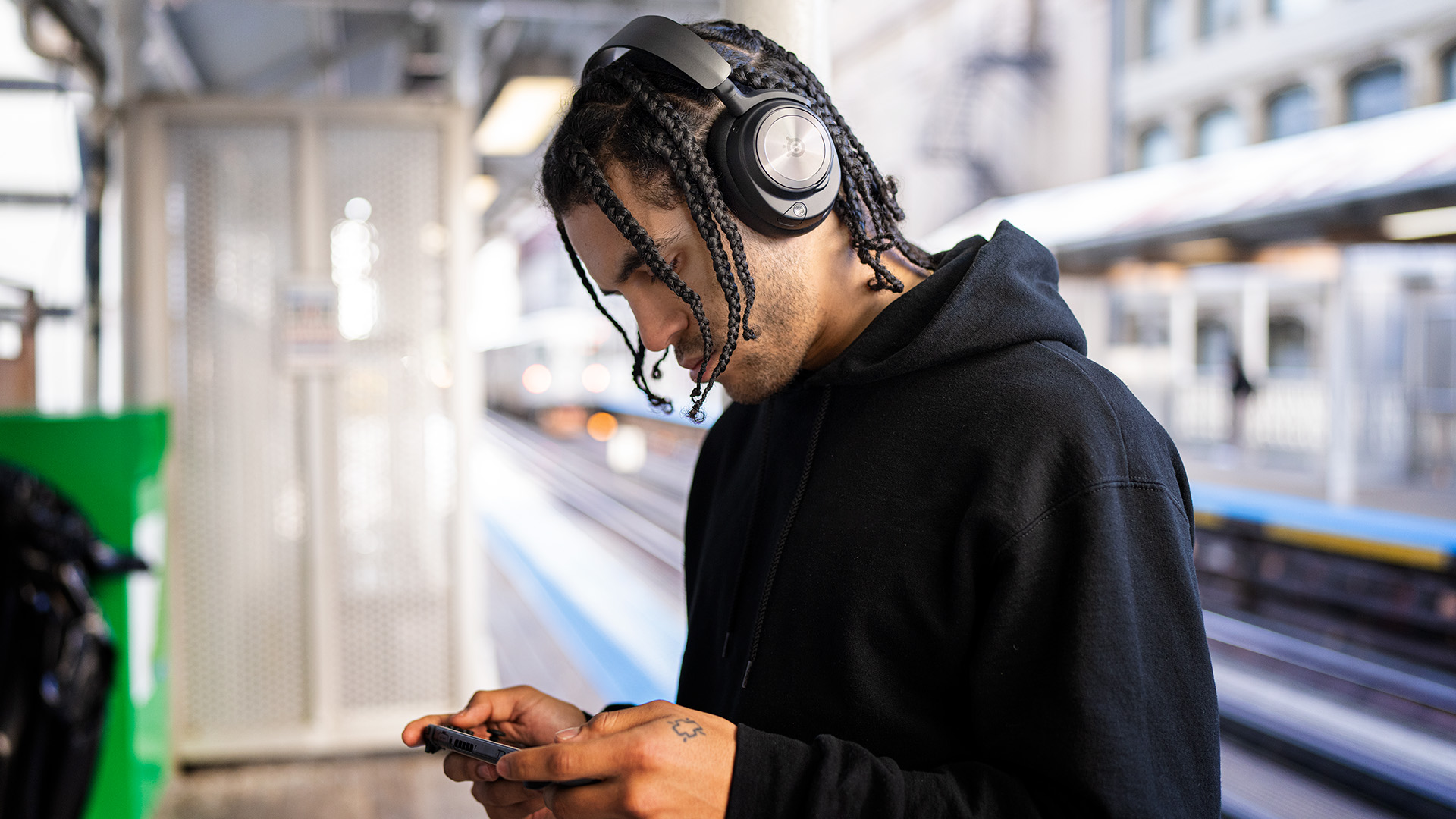 Can be used as headphones
In addition to cabled connections, Bluetooth audio sources, such as mobile phones, can also be paired with the control box. And finally, the headset itself can be paired with a mobile phone, so you can use it as a wireless headphone on the move.
The microphone sits on a – very – soft and flexible gooseneck that slides right into the left ear cup.
Built-in noise reduction
Steelseries Arctis Nova Pro Wireless has built-in electronic noise cancellation (ANC), so you can avoid distractions from other players around you. Should you still want to keep up with team chatter, there's also a transparency mode where ambient sound is transmitted into the ear cups via the microphones.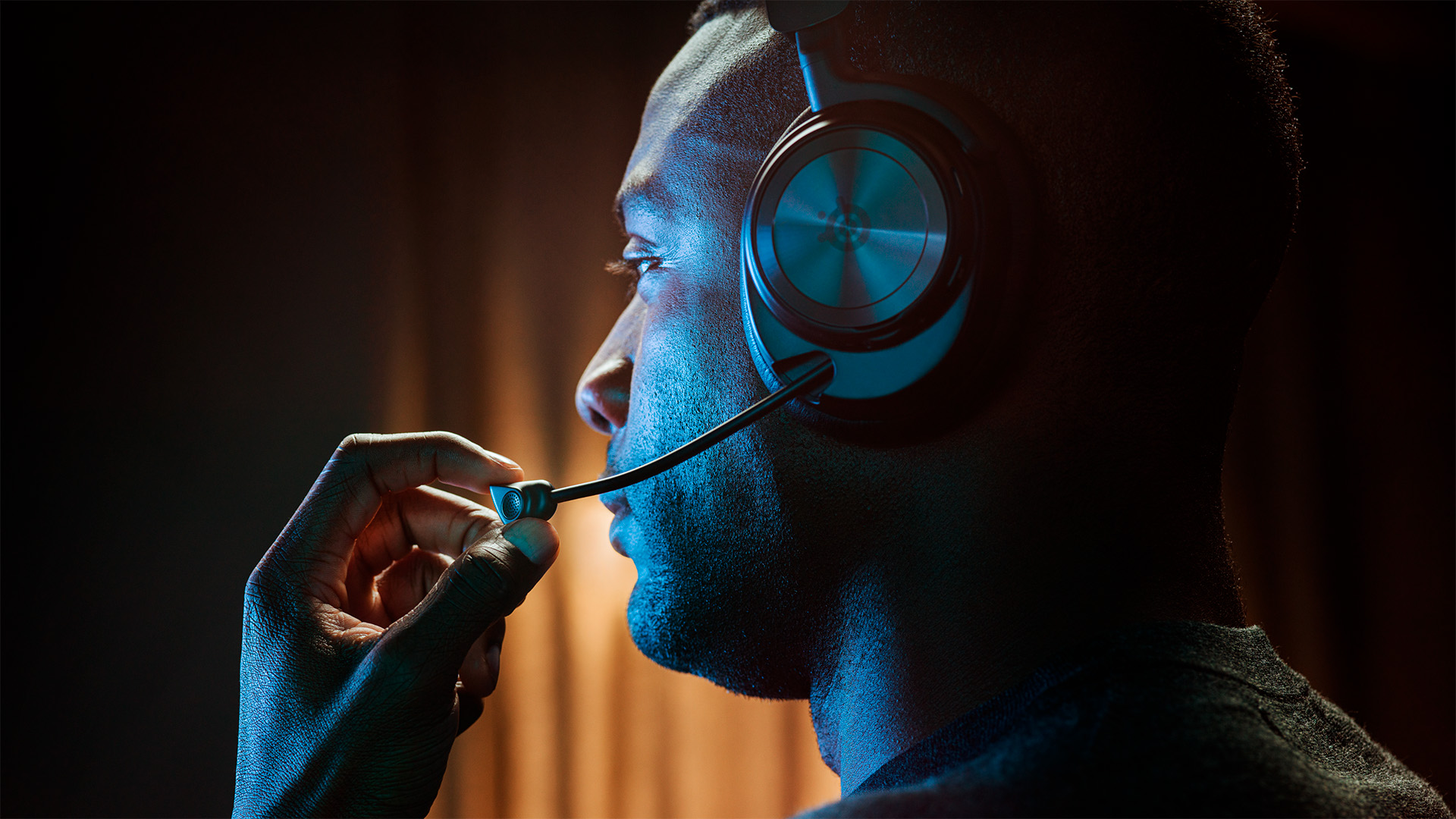 Steelseries isn't first with ANC for gaming. But the system works flawlessly, and combined with the other features, including 360-degree surround sound and adjustable chat audio, the Steelseries Arctis Nova Pro Wireless is one of the most advanced gaming headsets to date.
The control software for the Arctis Nova series is called GG, and the audio part is called Sonar. The latter allows you to customize the sound, both for each game and a general customization for the headset and personal taste. For each setting, you have a separate 10-band parametric equalizer at your disposal! In other words, an EQ function where you can select the working frequency, bandwidth and level for each of the 10 controls. It's an extremely flexible control! In addition to this, the frequency response of the microphone can be adjusted with a 10-band graphic equalizer. Sonar, of course, supports virtual surround sound in 7.1 channels.
Well-resolved and clean sound
All the features and refinements would be of little use if the sound quality didn't match the level of ambition. But it does. The sound is well-resolved and clear, and the bass is deep and powerful, but still dry. The midrange is a little more emphasised than on hi-fi headphones, but the sound is clean and that makes it easier to hear small movements around you. If you prefer a less pronounced midrange, this can be adjusted with the aforementioned parametric equaliser.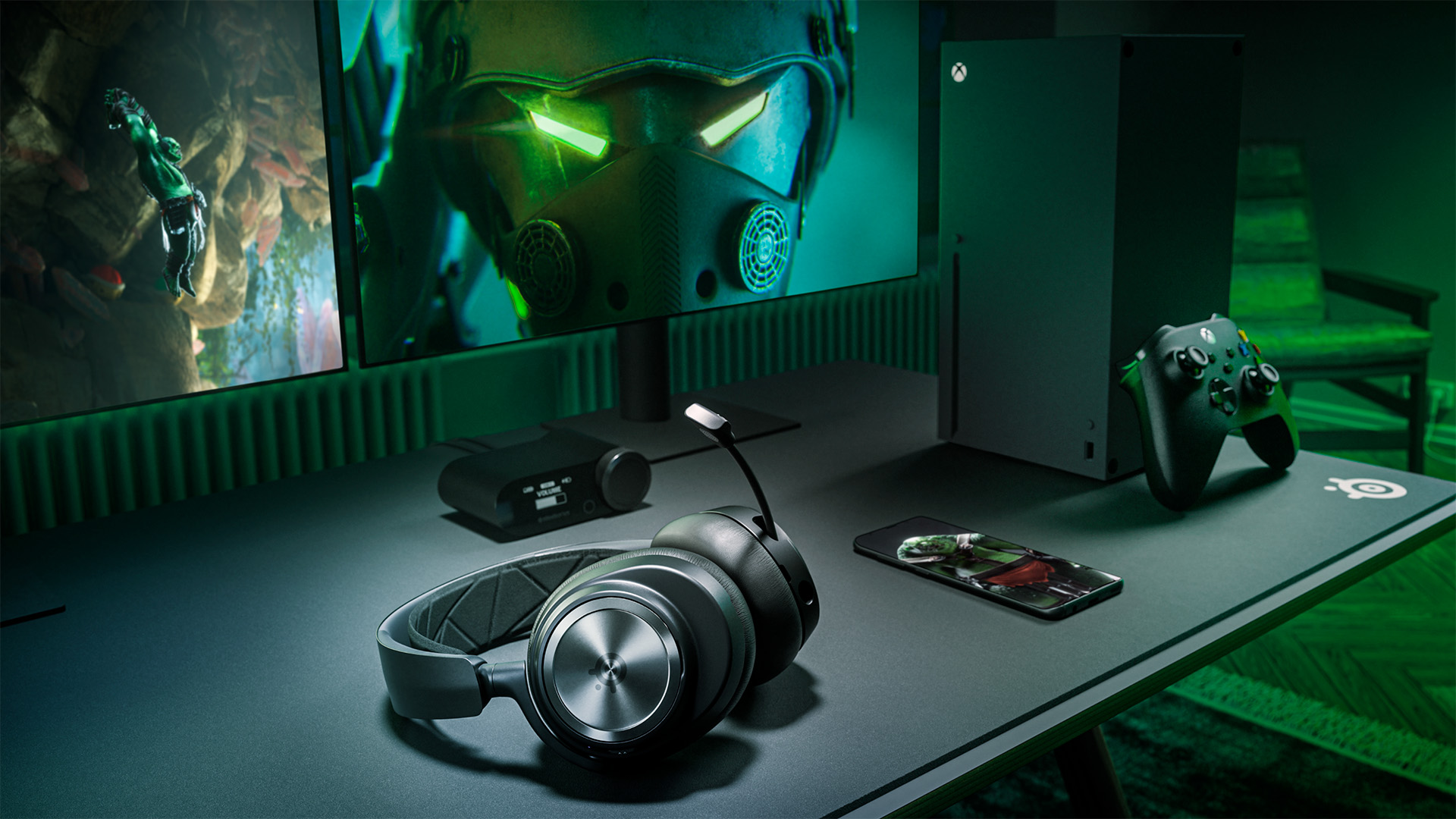 Competitors
Few other headsets are as expensive as the Arctis Nova Pro Wireless, so the number of equal competitors is similarly limited. The Audeze Mobius has even better sound, plus the unique virtual speaker sound. But it's wired and not nearly as flexible. The Bang & Olufsen Portal PC is just as luxurious, but has far fewer features – and costs even more.
Conclusion
The Steelseries Arctis Nova Pro Wireless challenges the boundaries of gaming headsets. Not only on in terms of quality, but also on price. The number of even more expensive gaming headsets we've encountered can be counted on one hand. Fortunately, the money has not been spent on gold-plated cables with insulation made of organic elf hair. It's spent on the most comprehensive set of features I've yet seen on a gaming headset. Last but not least, the headset itself is so beautifully crafted that only Bang & Olufsen can do it better. All in all, this makes the Steelseries Arctis Nova Pro Wireless an obvious choice if you're looking for the best and most versatile gaming headset without any petty regard for price.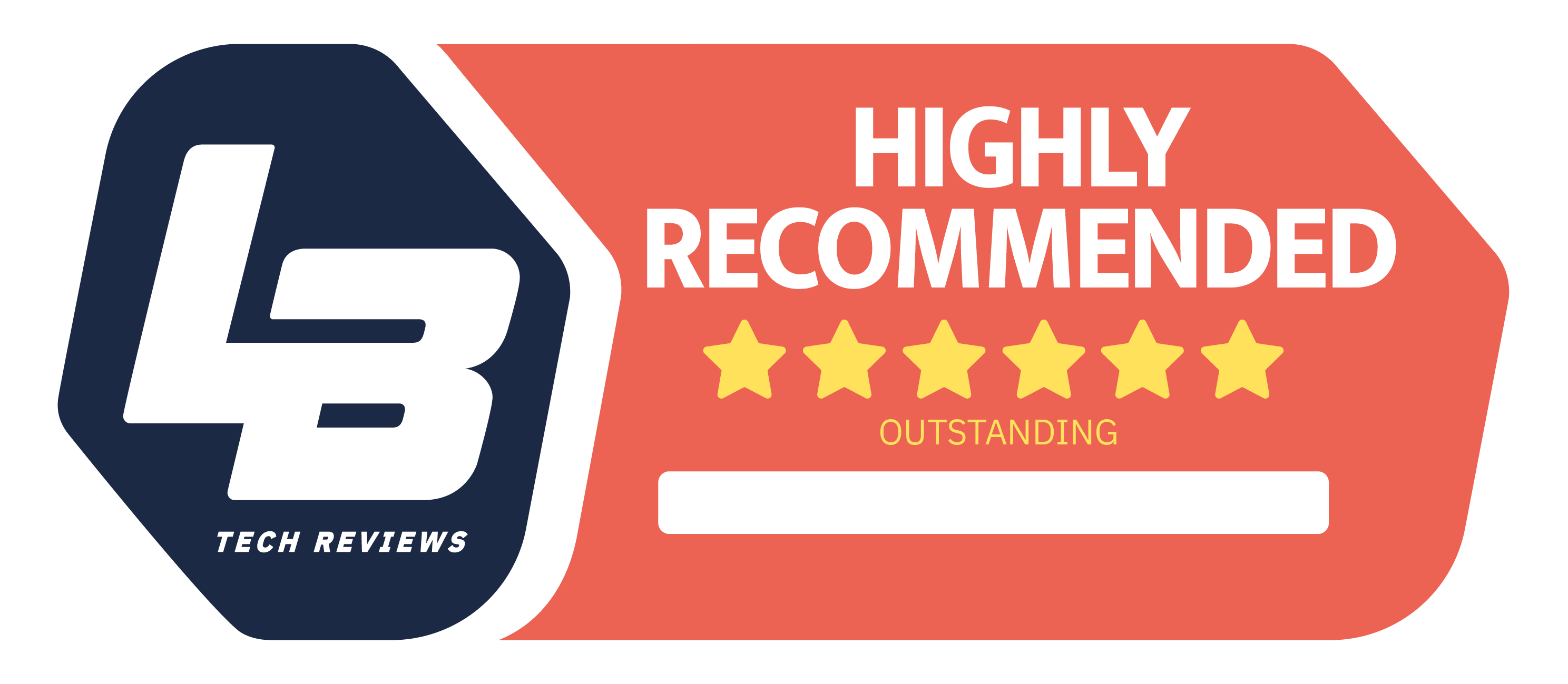 Steelseries Arctis Nova Pro Wireless
High End
Really excellent sound. ANC. The control box unites up to four sound sources. Build quality matches price.
More expensive than most gaming headsets. If you want RGB lights, choose one of the standard models rather than the Pro.