Geir Nordby
Published

2022-08-29 - 1:35 pm
Perfect black level and great contrast! Wide color space and neutral colors right out of the box. Ultrawide extends your field of view in games where it's supported. A refresh rate of 175 Hz provides a quick and responsive experience in fast paced games. Built-in USB hub.
Triangular subpixels results in color artefacts and a visible grid pattern (screen-door effect). This panel technology requires a higher resolution to avoid this. The display is also a bit small.
Specifications
Size: 34″
Panel type: Quantum Dot OLED
Resolution and aspect ratio: 3440 x 1440 / 21:9
HDR: DisplayHDR 400 True Black (HDR10)
Local dimming: –
Response time: 0,1 ms GtG
Refresh rate: 175 Hz
Contrast ratio and brightness: 1.000.000:1 / 250 cd/m² (1000 cd/m² peak)
Color space: sRGB 149 %, DCI-P3 99 %, Adobe RGB 95 %
Synchronization: G-Sync Ultimate
Connectivity: DisplayPort 1.4, 2 x HDMI 2.0, 4 x USB-A (3.2), USB-B (3.2, SuperSpeed), AUX
Dimensions and weight (with stand): 81,53 x 41,56-52,56 x 30,57 cm / 10,37 kg
Web: dell.com
When Alienware announced the first QD-OLED gaming monitor on the market, AW3432DW, I nearly fell off my chair. Finally, an OLED monitor with perfect black level and contrast at a reasonable price! And with an ultrawide curved 21:9 aspect ratio, high screen resolution and a refresh rate of 175 Hz. Enough to turn blazingly fast in any game without the screen lagging.
This in addition to a response time of just 0.1 milliseconds, plus a generous number of USB ports, would make anyone believe they've died and made it to screen heaven!
OLED is known for the advantage of perfect black level because, with each pixel being its own light source, there's no need for backlighting. The product of this technology is perfect black without halo artefacts and clouding, which is usual with LCD panels and can make them look a little "dirty".
What is QD-OLED?
What sets this display apart from other OLED displays is the use of so-called Quantum Dots. This technology is quite new and is a sort of crossover between OLED panels and a color filter made out of Quantum Dots, used in Samsung's and TCL's QLED TV's, among others. The QD OLED panels are all made by Samsung.
The advantage of QD-OLED's over RGB-OLED, which we find in more expensive professional monitors, is that the new technology is cheaper and colors don't degrade unevenly over time.
Instead of using a red, a green and a blue subpixel that together form a main pixel, QD-OLED has only blue subpixels. The light from the pixels that are to be red and green respectively is then reflected by crystals with Quantum Dots, where the diameter of the dots corresponds exactly to the wavelength of the colour to be reproduced. In this way, the right colour is achieved with a colour filter that barely reduces brightness.
RGB OLED displays, on the other hand, have no colour filter at all, but are a much more expensive option. There is also a cheaper method, the one we know from LG panel TV's. This uses white OLED sub-pixels filtered through a colour filter. But this "steals" light and also means that colours are not as even when viewed from a sharp angle as they are with RGB OLED and QD OLED.
More advanced than WOLED
When I say that QD OLED technology is cheap, it's in comparison to the uncompromising RGB OLED technology. What you find in LG panel TV's, on the other hand, is a third, even cheaper technology.
It involves using white subpixels that are passed through a colour filter that actually steals some of the brightness. But a fourth, white subpixel is allowed to be just white to regain some of the lost light.
OLED TVs are still not as bright as the most powerful LCD TVs, and while they have exceedingly better image quality when viewed from the side than any LCD TV's, they don't have the same colour accuracy as QD OLED when viewed from the same angle. And that's why Samsung is hoping that QD-OLED will become the next big thing.
Ultrawide display
The Alienware AW3423DW is a 34-inch 21:9 ultra-wide screen. This means that it has the same height as a 27-inch screen in the more common 16:9 format, but is even wider. This allows more space for side-by-side documents or – more relevant in this case – extended field of view in games that support it.
A resolution of 3440 x 1440 pixels is about half of Ultra HD, but twice as much as Full HD – a perfectly respectable pixel resolution for a screen size like this. After all, we're not talking about a huge screen. Besides, a higher resolution will halter the speed, as these are directly linked.
When gaming, you want the fastest display possible, and so this display might be the best compromise. In this case, we're talking about 175 Hz, which is incredibly fast – and requires a pretty hefty graphics card to be fully utilized.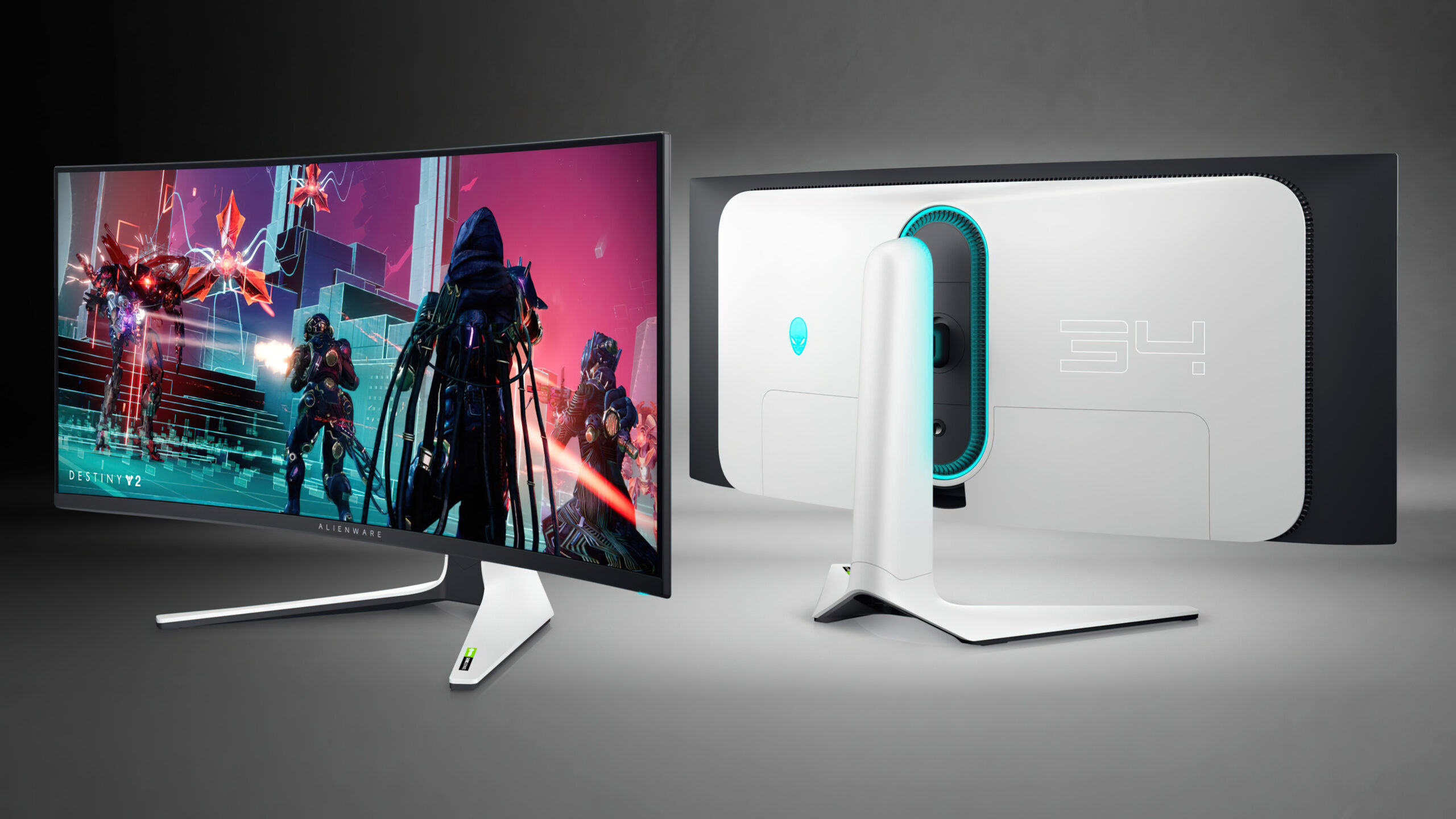 34 inches might sound like a lot, but in a 21:9 ultrawide format it's smaller than you'd think. (Image: Alienware)
Big enough?
Personally, I find the Alienware monitor to be lacking size wise. You have to sit pretty close to get an immersive gaming experience, and when using it for work related tasks – whether it's video editing or word processing – I find myself sitting pretty close too.
On the other hand, a bigger display would probably require even higher resolution and a more powerful graphics card, as the pixel structure becomes more visible as you increase the screen size.
Immediately incredible
The first time I turn on the screen, I'm immediately surprised by the excellent color reproduction. The color gamut has a Delta E deviation of less than 2, which is very good (below 1 is considered by many to be "perfect"). And that's pretty decent, because a common colorimeter is yet to be given a color profile for this display technology.
I ran a test with my Calibrite ColorChecker Display Plus, and while the colors didn't go crazy with the OLED profile in the program, it still wasn't as accurate as the display was right out of the box. The image was a tad too blue.
Along with the perfect black level and generally good brightness, it's a pleasure to play first-person shooters like Halo Infinite, adding extra depth to the game. You can also turn on Dark Stabilizer, which increases brightness in the darkest areas to reveal enemies in the shadows. Smart when you don't want to die …
It doesn't get any less intense with the racing game Forza Horizon 5, where the cars look three-dimensional with glossy paint and the details stand out clearly. The movements are so smooth and slick that I just want to drive all day. The only thing I miss, as mentioned, is that the screen was even bigger.
Peculiar pixel structure
But hold on a second. What is that I'm seeing? When the screen is used for everyday purposes, such as reading websites, browsing documents on the desktop and word processing, something looks rather odd.
First I thought something was wrong with my resolution. The text looks downright pixelated with unnatural, thick shadows around it. And the letters are green at the top and magenta at the bottom. I didn't notice it at first with games and graphics, but when reading text it's very visible.
I return to the game, and it's suddenly obvious now. Especially when text appears in-game, but also in scenes with small, bright objects on a dark background. And in movies with white subtitles, it's downright annoying.
Screen-door effect
After a while, you can't help but be annoyed by it, even when gaming. Another thing that this subpixel structure does, is create a visible gap between each pixel. You can clearly see a grid pattern (also called "screen-door effect", referring to the doors with insect nets that are common in the US and elsewhere) on the screen.
When we tested Sony's 55-inch TV XR-55A95K with the same type of panel, the pixel structure wasn't as clear. That's because you're sitting further away from the TV, and also because this TV has Ultra HD resolution. If Dell had had tighter pixel resolution on their Alienware screen, it could have greatly alleviated the problem.
A few alternatives
While the Alienware monitor clearly has its advantages over IPS-paneled competitors, including even better contrast than, say, the MSI Optix MPG321UR-QD – which is a larger 32 inch 16:9 4K display with a flat, not curved, panel – the MSI monitor and several of it peers have sufficiently good contrast with local dimming that works excellently in games. In addition to greater resolution and readability when there's text involved.
If it's the ultrawide display format you're after, I would recommend Samsung's Odyssey Neo G9, which currently costs about the same as the Alienware monitor. Here you'll get a whopping 48 inches in a 32:9 super ultra-wide format! With a resolution of 5120 x 1440, it's the equivalent of two 16:9 2560 x 1440 displays next to each other, and the refresh rate of 240 Hz is quite the feat.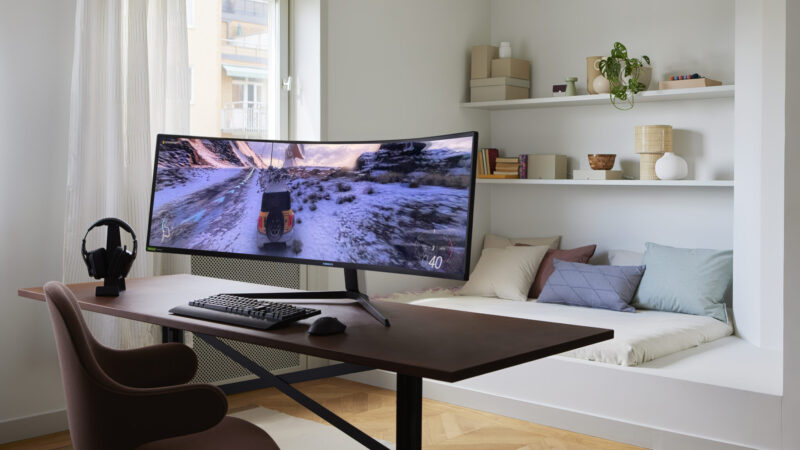 Additionally, the Samsung monitor is easier on the eye with written content, making it a difficult sell to recommend Alienware's monitor over it. And this is coming from someone who has long embraced OLED as a TV technology.
Conclusion
On paper, the Alienware AW3423DW is a splendid choice. Perfect black level with QD-OLED, a great viewing angle and an almost perfectly balanced color space. It has all the specifications of a professional monitor. On paper.
The only drawback – apart from the fact that the screen is on the smaller side and doesn't have true Ultra HD resolution – is that the individual pixels on the QD-OLED panel are triangular, which causes some strange artefacts. It's particularly noticeable on text, which turns green at the top and magenta at the bottom. And there's a visible grid pattern due to the large gap between each pixel. Which makes the resolution look lower than it really is.
In fact, it's enough to overshadow the screen's strengths, which also include a lightning-fast 175 Hz refresh rate and an impressive 0.1 millisecond response time. Unfortunately, the overall experience ends up quite mediocre.
We're still all for the QD-OLED panel technology, but Alienware's newest gaming monitor has made it obvious that a higher resolution is a requisite for its success.