When did the coronavirus pandemic actually end and we returned to normality?
Was it when the health ministers declared communities reopened? When the last remnants of the face mask ban were removed? When we could drop corona passports for travelling within the EU? When beer was once again flowing on outdoor cafés? When we all got our booster dose? Or was it when China (finally) abandoned its zero-Covid strategy?
For our part, the definitive anniversary, and the return to long-awaited "normality" (if that is even a description that can be used while a bloody war of aggression rages in the middle of Europe?) was at 19:46 on Friday, 7 April 2023 – exactly at the moment when thirty thousand frantic hands reached tactfully into the air, and the ecstatic crowd roared out: «Brooooooooooooooooooooooooce!!!».
The venue was CFG Bank Arena Baltimore, just 45 minutes' drive from the centre of power (Washington DC) in the USA.
The occasion was the long delayed world tour of Bruce "The Boss" Springsteen.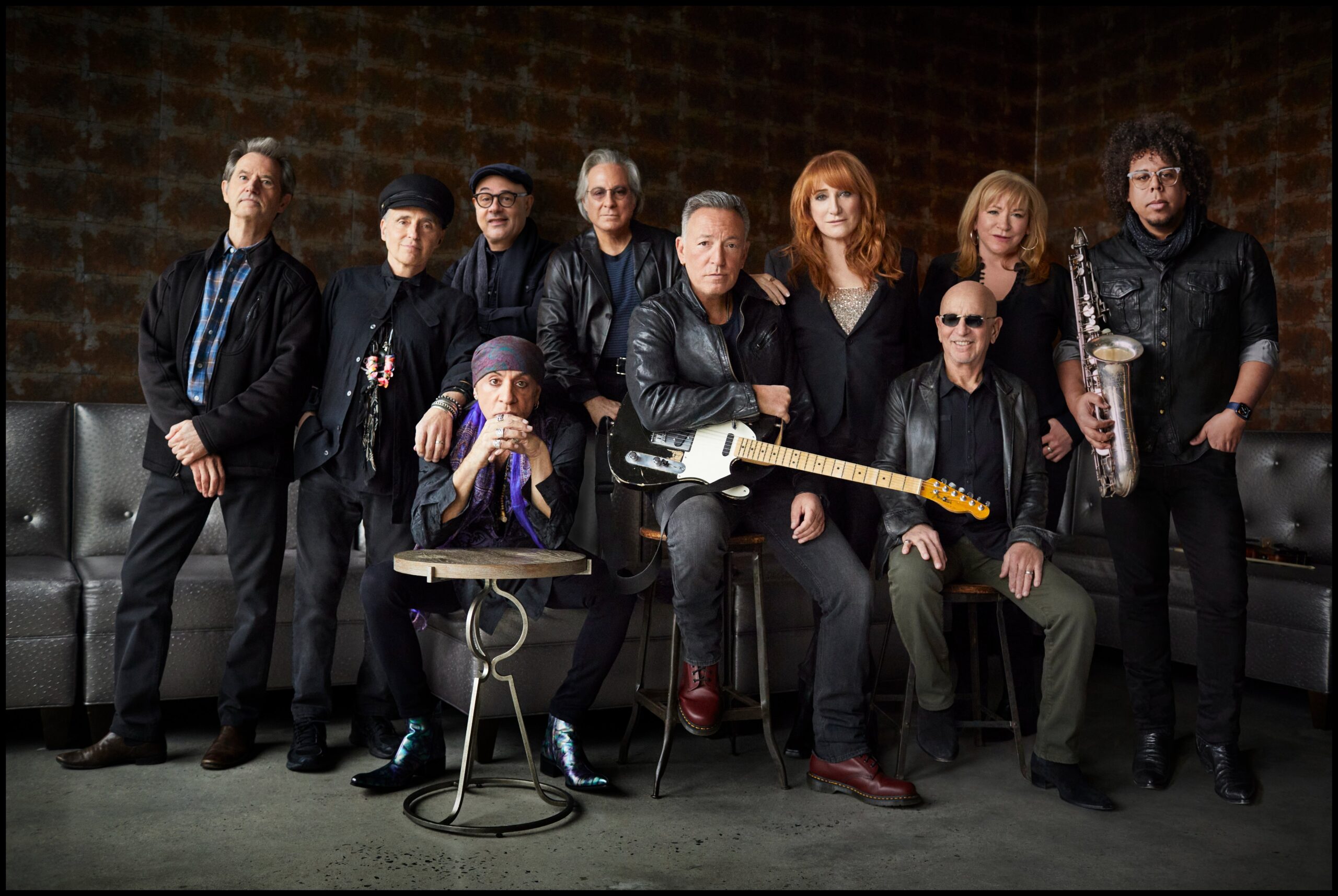 Tour start, Europe
Today, the European leg of Bruce Springsteen and the E Street Band's 2023 tour kicks off in Barcelona, Spain to continue through Europe in the following months.
https://twitter.com/catalannews/status/1652066852426711047?t=o_YXX3n1amiiBTjrqDP-rQ&s=01
L&B Tech Reviews made the trip across the pond, to catch up with the ageing rock legend, "the spirit of America", before he shakes our asses in a few months.
L&B Tech Review's reporter left "spring-like" Kastrup, Denmark in 2 degrees, and landed to full summer, with 32 (!) degrees, in Washington DC; a fascinating city, like walking around in a big museum, with mausoleums, grand monuments and mighty buildings (Photo: L&B Tech Reviews)
Because, after nearly 60 years on the road, is there still relevance, life and vitality in a Springsteen show in 2023?
We'll just mention it, New Jersey's great son (who recently had his official "Bruce Springsteen Day" in the Garden State) actually turns 74 (!) in September.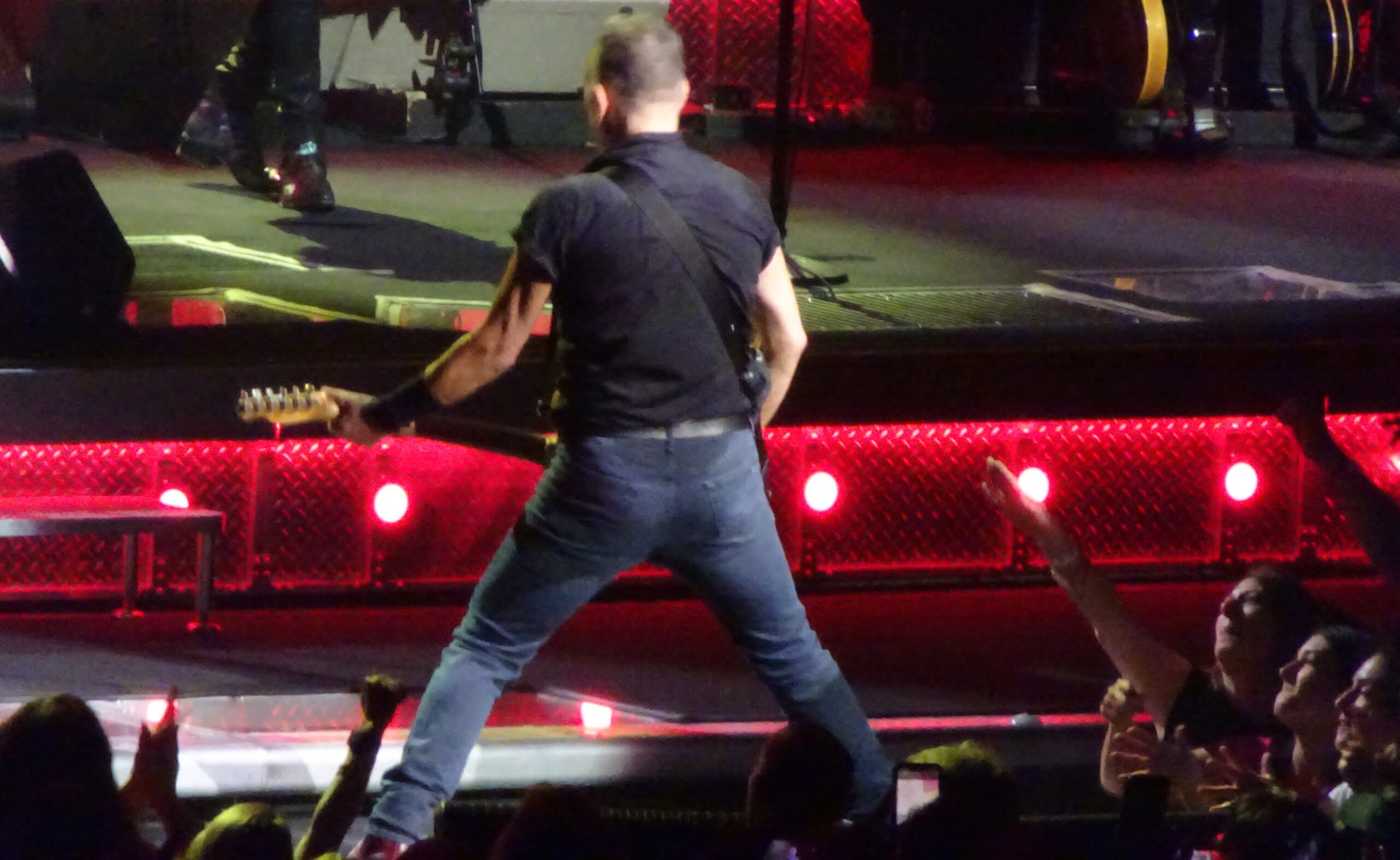 You know I always liked that empty road
In recent decades, Springsteen has been one of the major artists who has spent the most time on the road, travelling the world either solo or with his E Street Band to spread his musical treasure (and rake in a bit of cash). However, due to the coronavirus pandemic, the living legend hasn't been on tour (with the exception of his unique Broadway shows, 2017-2018) since February 2017.
Last September, Springsteen turned an impressive 73 years old. Now in his 59th year as an active musician, The Boss is definitely not resting on his laurels and counting his money. It's been two and a half years since he released his 20th studio album, the fiery (slightly nostalgic) rock-heavy Letter to You.
The plan was to go on a world tour the following spring/summer – but we all know what kind of shit hit the world in early summer 2020…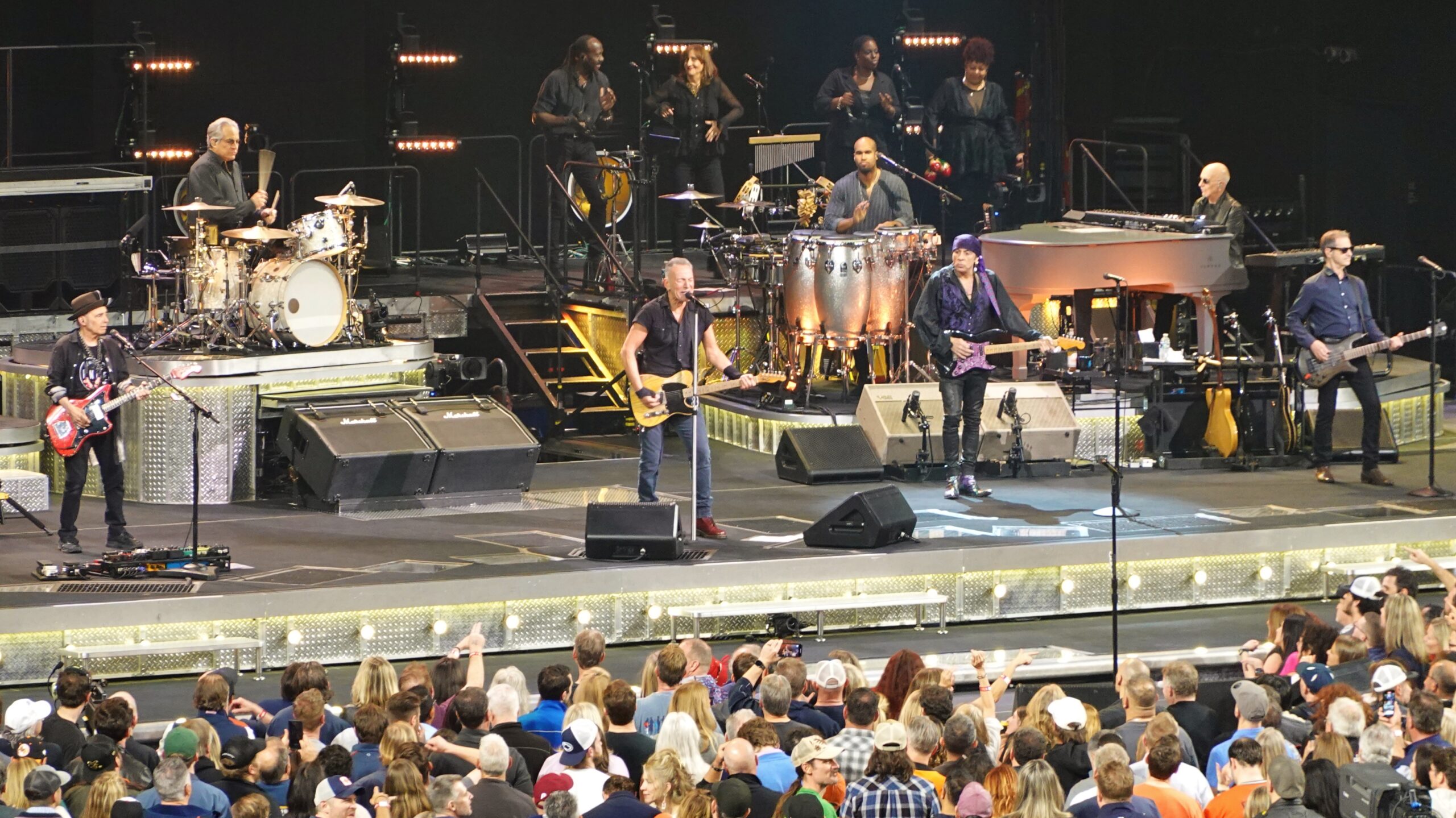 So instead of touring, it was lockdown for Springsteen too, with his own radio show, a podcast with President Obama – and a new soul cover album last autumn (Only the Strong Survive). But on 1 February, The Boss and his E Street Band kicked it all off in Tampa, Florida. A tour that has certainly had its controversies around ticket pricing.
When announcing the world tour last autumn, the rock legend said:
After six years, I'm looking forward to seeing our great and loyal fans next year. And I'm looking forward to once again sharing the stage with the legendary E Street Band. See you out there, next year — and beyond.
This year's "version" of the E Street Band consists of: Roy Bittan (piano, synthesiser); Nils Lofgren (guitar); Patti Scialfa (guitar, vocals); Garry W. Tallent (bass guitar); Little Steven (guitar, vocals); Max Weinberg (drums); Soozie Tyrell (violin, guitar, vocals); Jake Clemons (saxophone) and Charlie Giordano (keyboards).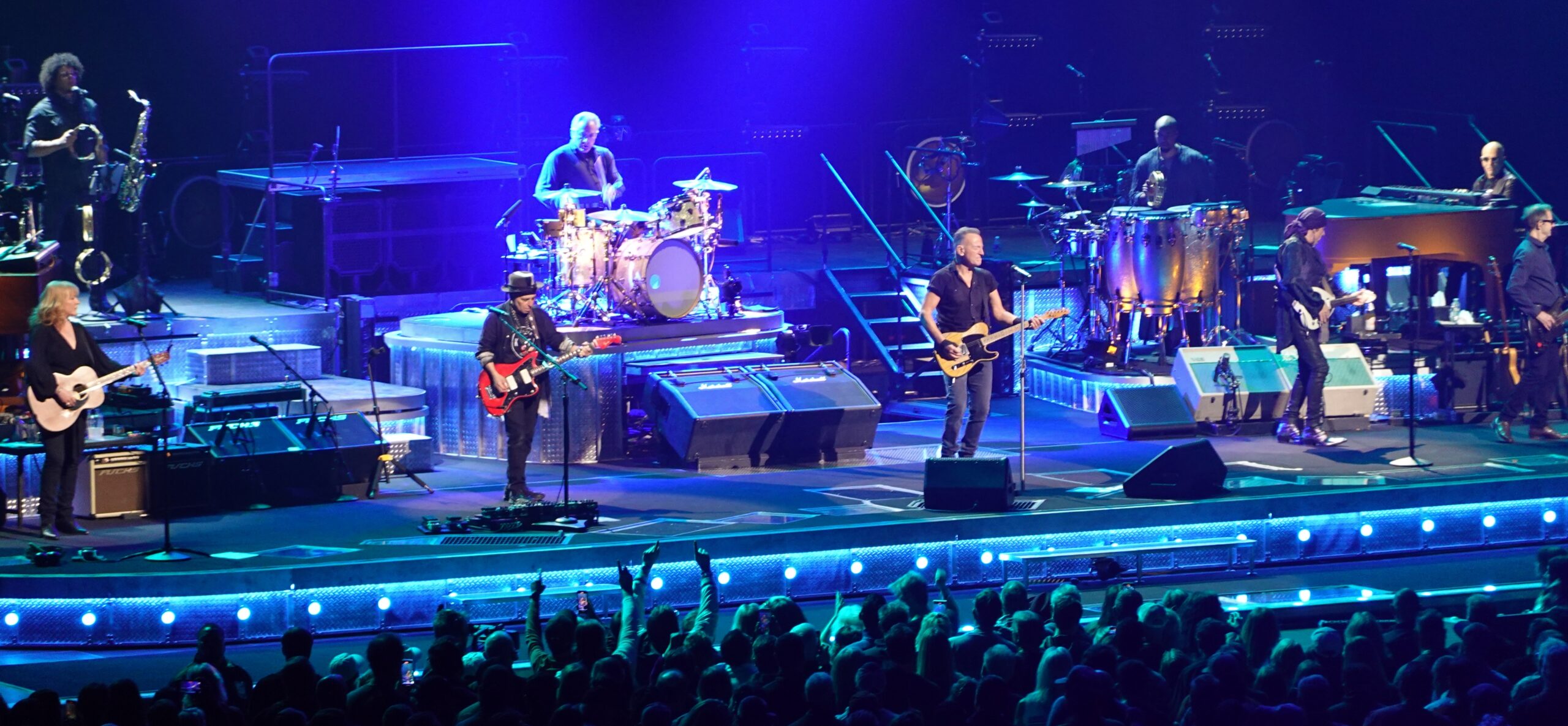 A Man on a Mission!
Then suddenly the rock legend is standing there. Shamelessly fresh and still (almost) eternal. His hair is short and greying, his smile is as broad and welcoming as ever, and in his usual style, Springsteen doesn't play his guitar, he hammers it!
During the concert in Baltimore, The Boss served us a marvellous mix of old classics, more obscure fan songs, as well as songs from his two latest albums (Letter to You and Only the Strong Survive). There was room for 26 songs, over 2:47 hours. However, sadly, no songs from his masterpiece Western Stars.
For Springsteen, the setlist during the first US leg of the tour has rarely been static. The core consists of the same songs, spiced up ad hoc with 2-3 "new" songs.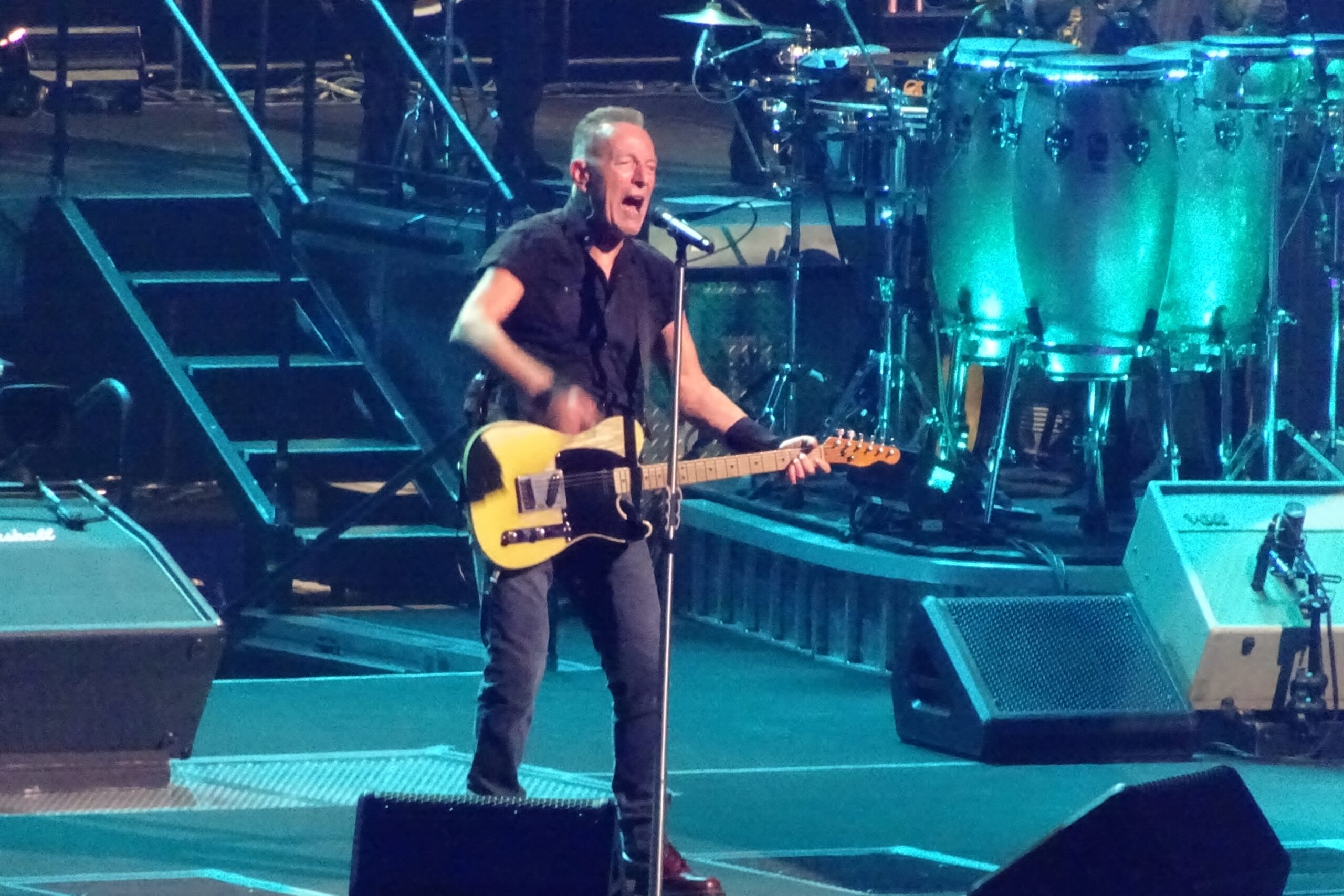 He has a specific message to convey this time, it feels a bit like time is running out – Springsteen no longer has time for long monologues or picking up dozens of posters with song requests from the audience.
In a recent podcast, Little Steven spoke about the current tour:
This one happens to be a special one. (…) This is the strongest reaction we've ever received from audiences in America.

The show is not a 'best of' show, it's more like a sample of each of our eras. The songs are not all from 'Letter to You' but they take on that theme. It's not exactly a linear, literal storyline from beginning to end, but it has that color of the theme that comes from the album.

Every song has a purpose. You're telling a story and every song has a purpose (…) – it's about an emotional experience.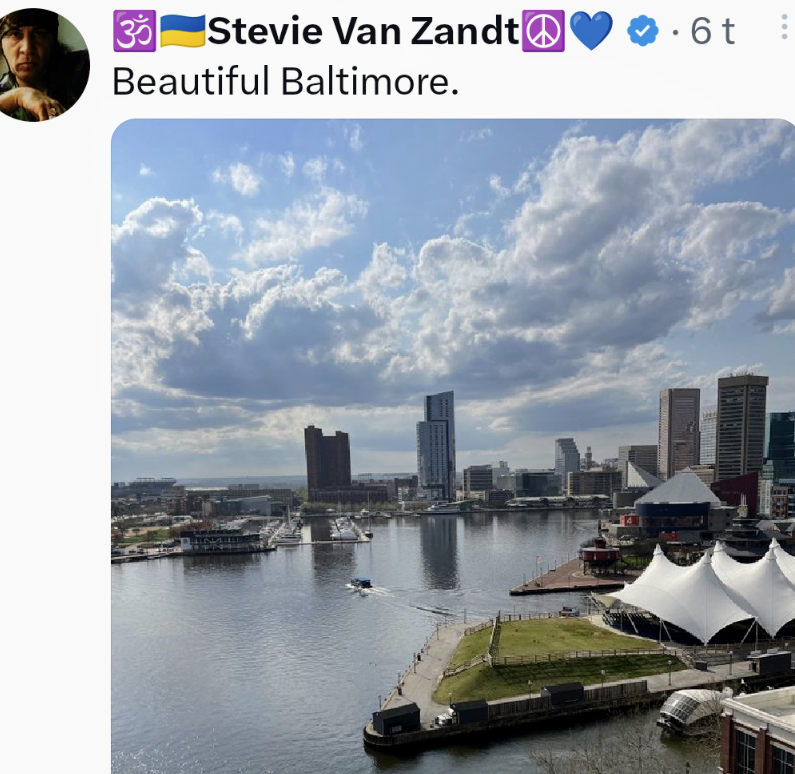 No, he no longer hangs upside down in the microphone stand, slides across the stage floor on his knees, dances with blushing young girls or crowd surfs. But the unique joy of playing, the vocal splendour, the guitar skills and the slightly indefinable, unique stage presence are definitely still there.
And, he still rips off his shirt and exposes his tight, tanned chest – once a rock star, always a rock star, we think with a smile.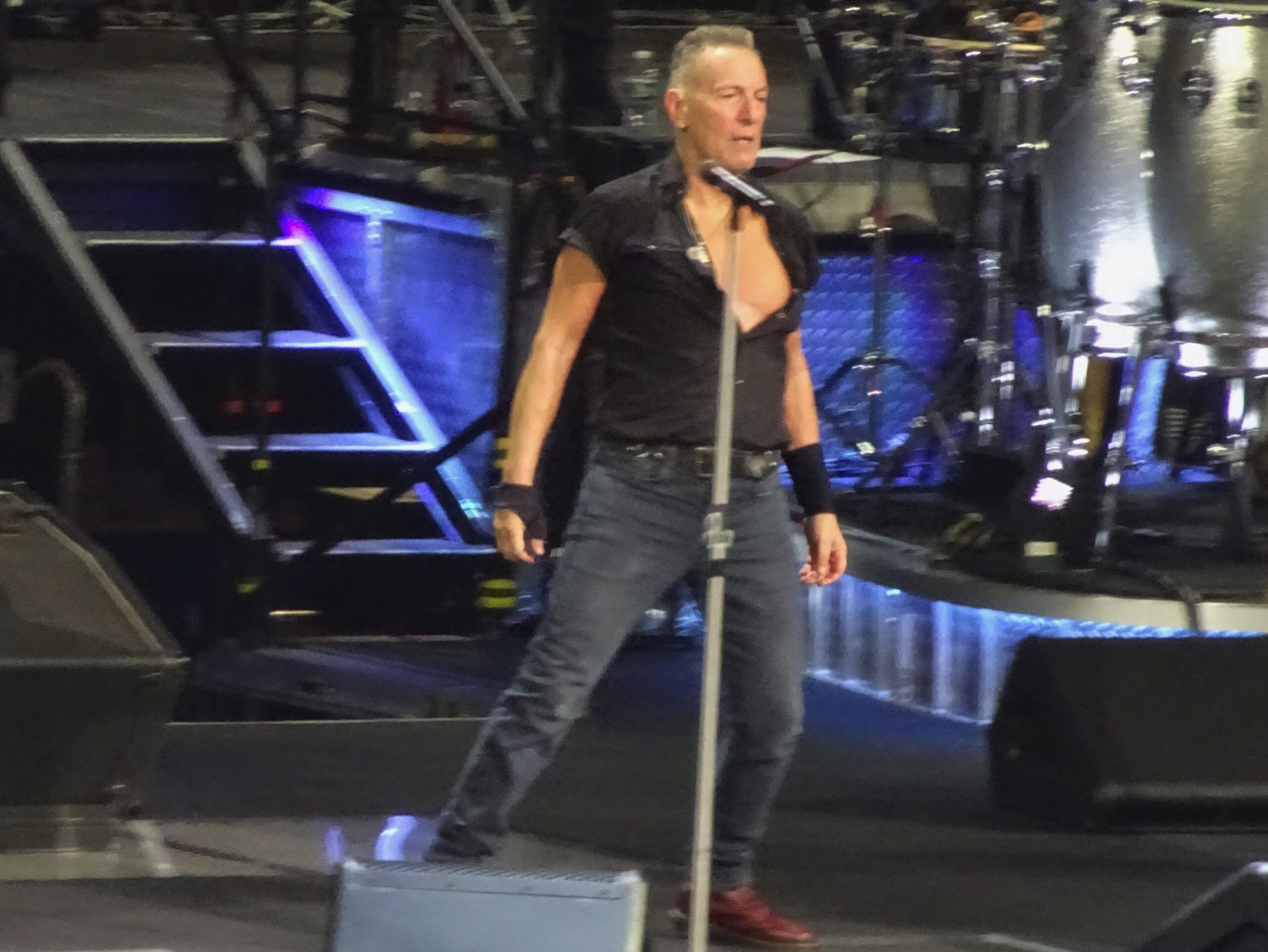 Revival meeting in Baltimore
From the first chord of the fiery No Surrender (from the monster hit album Born in the USA), the band fires on all cylinders in a non-stop rock show for the first hour. The song is one of those unique songs that works just as well as a fist-pumping rock party as a solo acoustic balm for the soul.
Now on the street tonight the lights grow dim
The walls of my room are closing in
There's a war outside still raging
You say it ain't ours anymore to win
I want to sleep beneath
Peaceful skies in my lover's bed
With a wide open country in my eyes
And these romantic dreams in my head
'Cause once we made a promise we swore we'd always remember
No retreat, baby, no surrender
Apart from shouting out "Baltimore!" it's as if The Boss has the Devil himself on his heels and has to play for his life. And the audience, well they're definitely on the notes.
Typical of an American Springsteen concert, it's a family event. Grandma, mum and dad and children/grandchildren gather for a full evening in the city's newly refurbished main hall.
Foreplay in the streets of Baltimore, while Americans wait for The Boss! (Photo: L&B Tech Reviews)
Hours before kick-off, people gather in droves outside the stadium, grilling burgers and drinking beer – lots of beer.
From the moment the lights go out and Little Steven strums his first guitar riff (on his Ukraine tribute guitar), the crowd is on their feet, dancing, hooting, waving their arms; and then roaring with delight:
We Love you, Bruce!
The commitment and passion is impeccable, and it's infectious to the 17 men and women on stage who give everything they have, and then some, to give us a much-needed break from everyday life, some comfort, joy, memories to reflect on; and three hours later leave the stadium as (for a short while) a happier person.
A reflective troubadour
In our review of Letter to You, we were convinced that the rock fest Ghosts would be a sure-fire hit at Springsteen's upcoming shows. The Boss kicks off with it already as song number two, and in many ways it sets the theme for the evening.
The death of band mate George Theiss (from Springsteen's first band, The Castiles) was the artistic trigger for the writing process that resulted in the Letter to You album. The realisation that Springsteen is now the last man alive from the original band runs through the evening.
It's a concert, and a setlist, largely characterised by reflection, musings on growing old, loss of friends and loved ones – and the starkly honest acknowledgement from a reflective man in his mid-70s that:
At 15 it's all tomorrows – it's all hellos. At 73 – a lot more goodbyes. Makes you realize how important living right now is.
That said, this is no nostalgic reminiscence concert, with depressive undertones Springsteen has organised. As he bubbles over with joy and enthusiasm, he continually mixes the setlist between deep songs like Backstreets, The Promised Land and The Rising with playful pop tunes, and unabashed crowd pleasers like Out in the Street, Pay Me My Money Down and (not least) Baltimore's unofficial "national anthem", Hungry Heart. As he begins The River classic, the sing-along in the hockey arena explodes.
This has always been Springsteen's strength as a songwriter and concert connoisseur. You'll cry, laugh, reminisce, sing, sweat and dance your way through a full evening with The Boss.
His distinctive, slightly rusty voice still shines, and the rocker impresses as much on the bombastic Badlands as he does on the tender I'll See You in My Dreams and Last Man Standing. On the soulful Nightshift, the velvet version of his voice gets to shine.
Flock of angels lift me somehow
Somewhere high and hard and loud
Somewhere deep into the heart of the crowd
I'm the last man standing now
I'm the last man standing now
I'm the last man standing now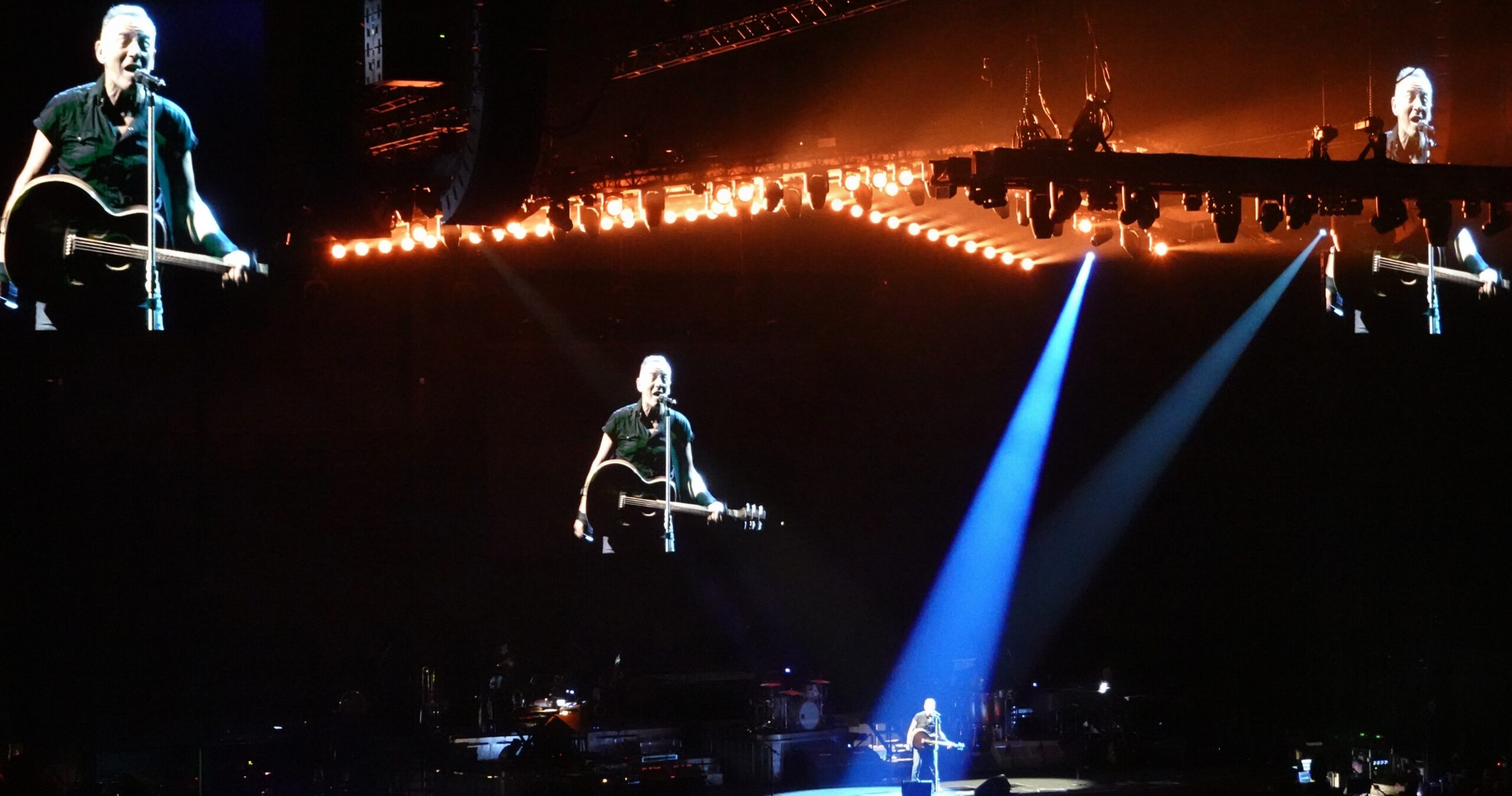 The world's best bar band
The entire core of the E Street Band pushes 70 (and then some), but they're still one of the best bar bands you can see live. Full of energy, fun, euphoric enthusiasm and musical artistry.
How the whole gang gets to shine during, for example, the slightly obscure jazzed-up classics Kitty's Back and E Street Shuffle, where a conducting Springsteen plays his way through, is symptomatic of the evening.
Springsteen's prowess as an excellent guitar player is often under-recognised. Granted, there are technically better guitar players than him, exemplified by the man on the Boss's right all night (the incomparable Nils Lofgren), but when he gets to dazzle with his guitar solos like during Prove it All Night, Kitty's Back and No Surrender, it still sends shivers down the audience's spine.
A stripped-down version of Backstreets is one of the evening's highlights. He sings it stripped down and alone; sore and goosebumpy we hear:
Trying to learn to walk like the heroes we thought we had to be
And after all this time, to find we're just like all the rest
Stranded in the park and forced to confess
To hiding on the backstreets
Hiding on the backstreets
Where we swore forever friends
On the backstreets until the end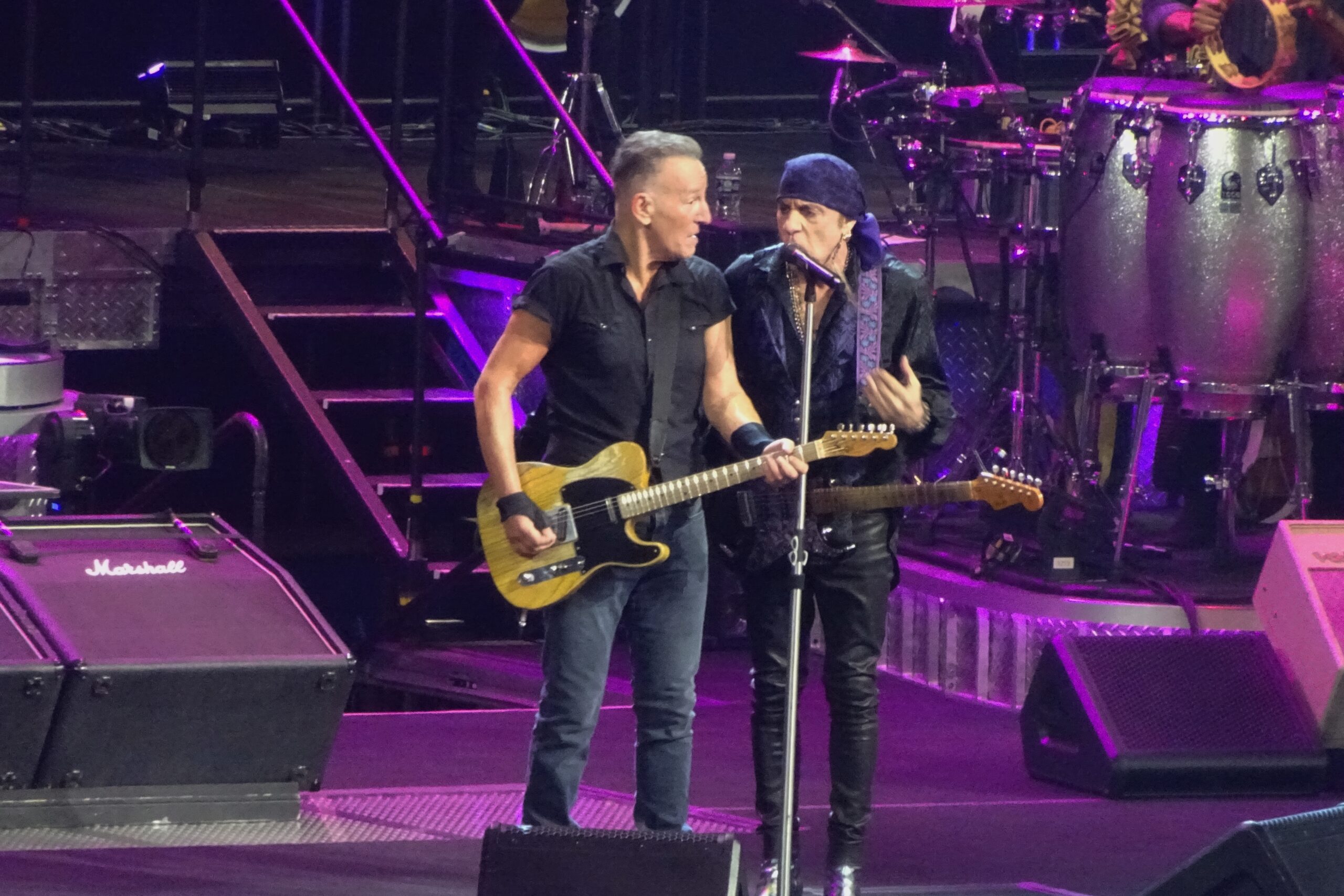 A slimmed-down version of Little Steven remains Springsteen's indispensable wing man, stoic guitarist and delightful jester. Often arm in arm with Bruce, they sing the classic duets about friendship together. Tallent is the introverted bassist who never misses a note but stays modestly in the background.
Young Jake Clemons (nephew of the late Clarence "The Big Man" Clemons) has grown with the task, standing his ground and now impresses as much as his legendary uncle during the fiercest saxophone solos. The stalwart synth wizard Roy "The Professor" Bittan shines, while the energetic Max Weinberg handles the drum kit with an almost manic intensity.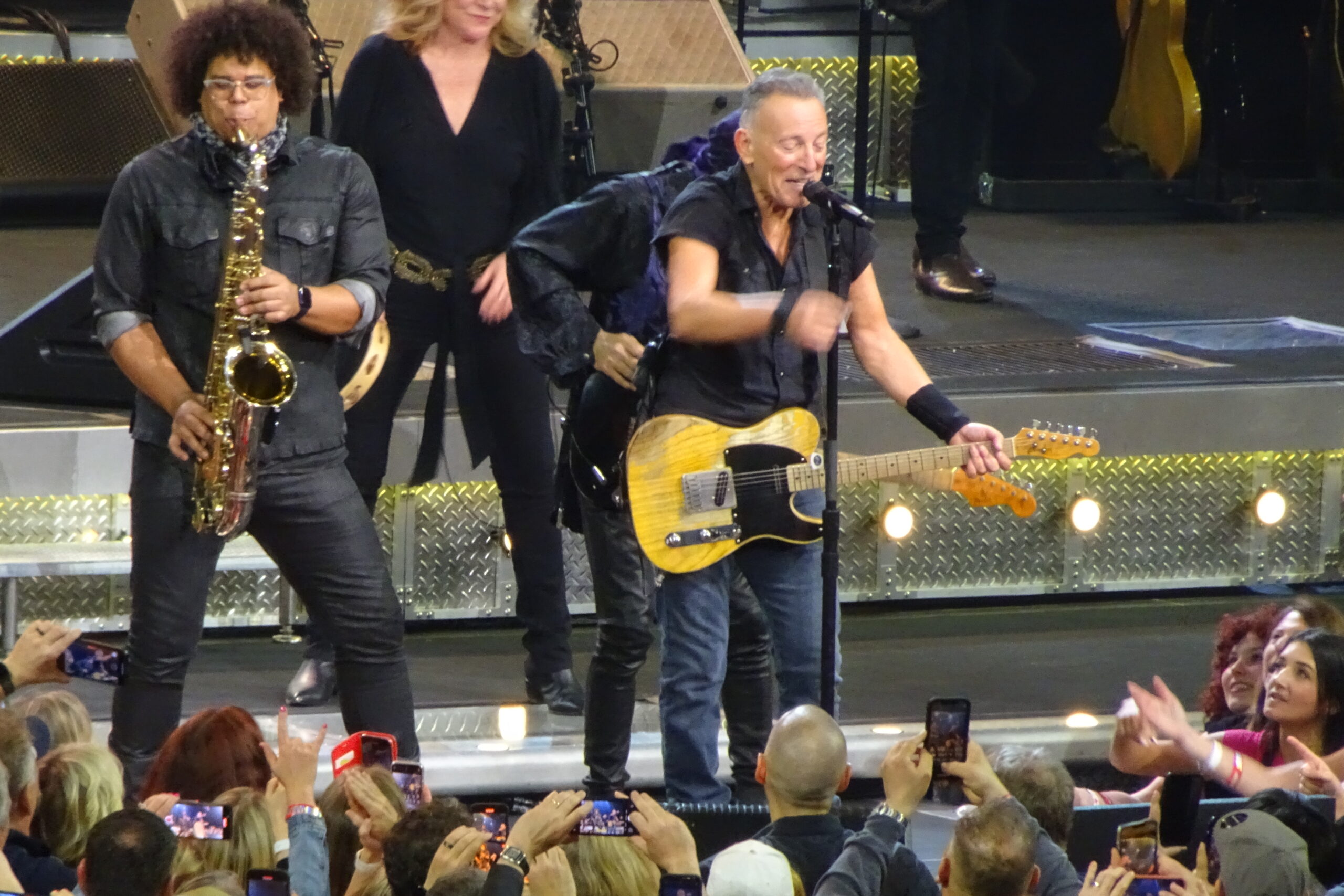 The horn section adds a hint of swinging jazz nightclub atmosphere – and the whole lot is masterfully orchestrated by the Boss; while the lighting technicians do the best job we've seen at a Springsteen concert.
The entire ensemble plays with the same intensity, fervour and passion as decades ago. Simply indescribably impressive. Where the "old boys" get their energy from we don't know, but if there is a secret elixir, we would love to have a bottle!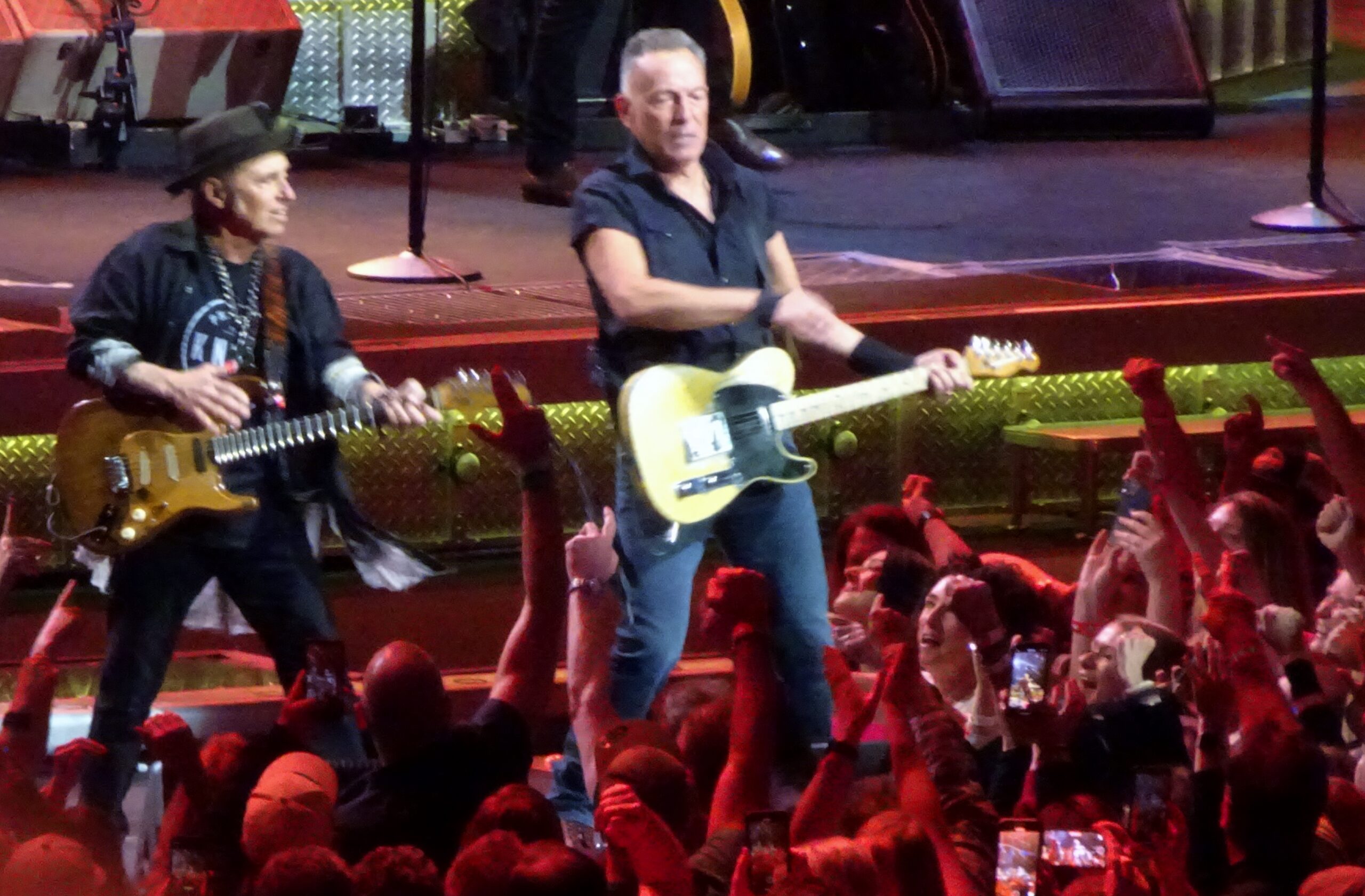 Admittedly, the Boss is on home turf, but despite that, it is impressive how he holds the large, and varied, audience in the palm of his hand throughout the evening. There are songs here that are far from being hits, and hardly played live for years, nor are they all danceable rockers. But even during the quietest parts, there is mostly reverent silence (except for some commotion in the stands as people are going into (yet another) bar queue).
The night ends with the heartbreakingly beautiful I'll See You in my Dreams, with a rock legend all alone, in a cone of light, on stage, strumming his acoustic guitar. By then we've shaken ourselves loose and danced the joy of life into us during the revitalising Rosalita, Glory Days and Dancing in the Dark.
The evening is complete!
I'll see you in my dreams
When all our summers have come to an end
I'll see you in my dreams
We'll meet and live and laugh again
I'll see you in my dreams
Yeah, up around the river bend
For death is not the end
And I'll see you in my dreams
After nearly three hours, and 26 life-affirming songs, Bruce Springsteen ends another legendary marathon concert. A concert that he kept his eternal promise that would feature: «Fun, and jokes, and dancing, and laughter, and sex, and faith, and hope and lonely nights – and of course, teardrops».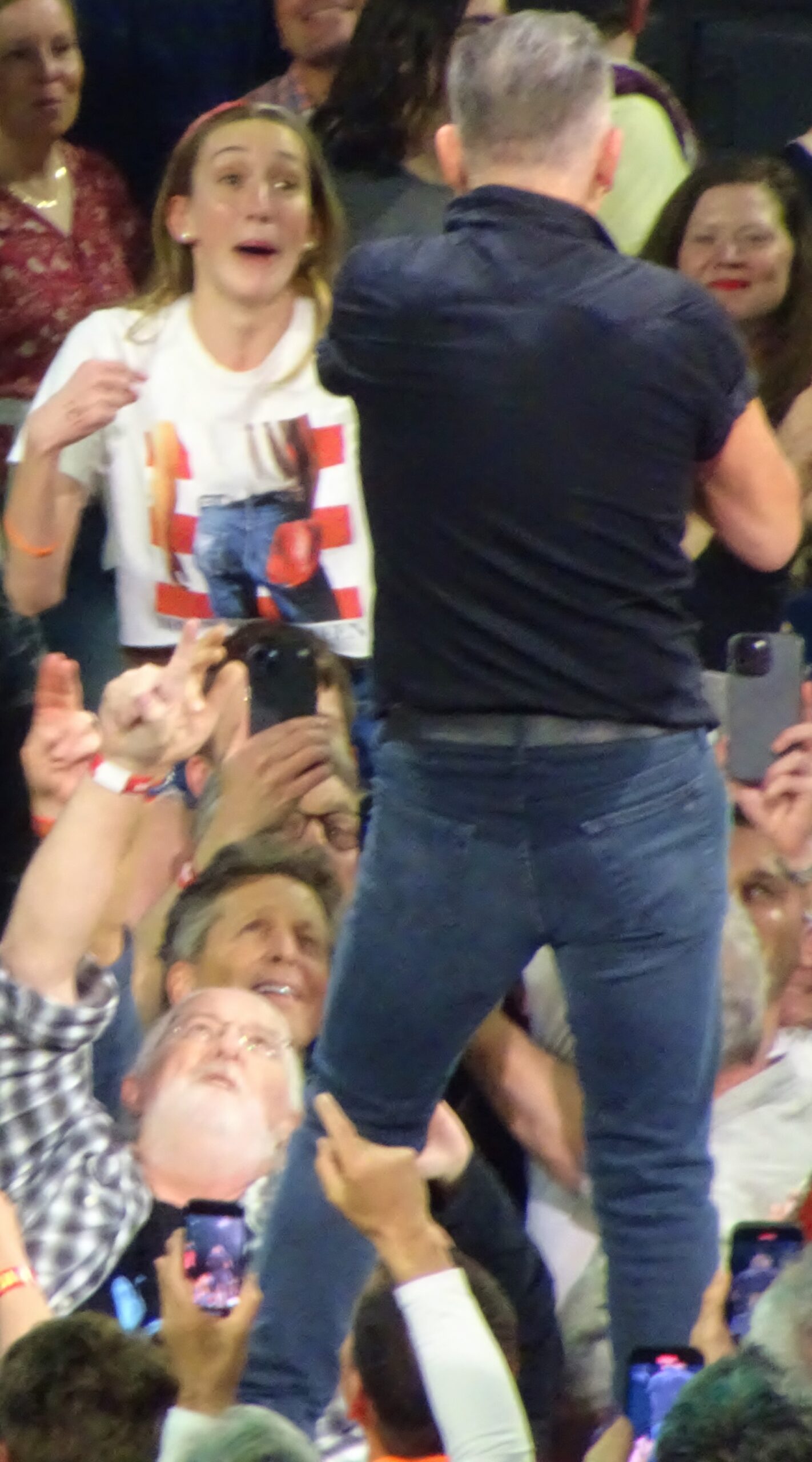 Rock 'n' roll future
In May this year it will be 49 years since former Rolling Stone Magazine music critic Jon Landau reviewed Springsteen's concert at the Harvard Square Theatre, Cambridge, MS; after which he wrote those prophetic words:
I saw rock 'n' roll future and its name is Bruce Springsteen.
Little did (the current manager) realise how right he would be – for almost 50 years later, few artists can match Springsteen's knee-deep concert performances, and the rocker is still regularly releasing new, and vital, material. If he no longer represents the future per se, the man is a living rock icon, and a bridge between rock's past and future.
The joy, intensity, presence and musical energy is as powerful today as it was when Springsteen made his debut and when he was at his most popular in the mid-to-late 1980s.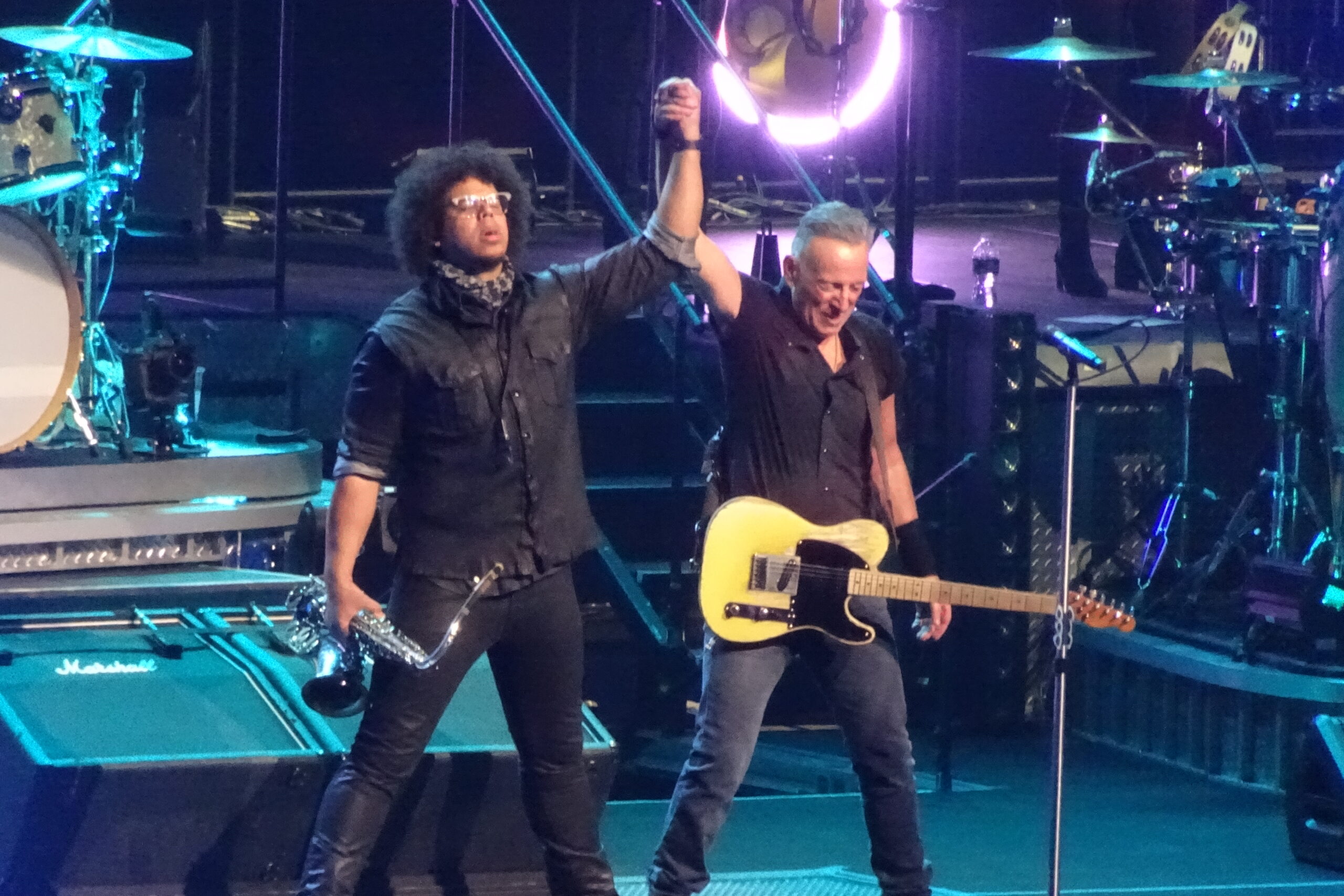 In 2009, as President Obama was about to award Springsteen the Kennedy Center Honours, the former president said the following about the rock legend's concert career:
It's no wonder that his tours are not so much concerts, but communions. There's a place for everybody – the sense that no matter who you are or what you do, everyone deserves their shot at the American Dream; everybody deserves a little bit of dignity; everybody deserves to be heard.

I've seen it myself (…) and when I watched him on the steps of the Lincoln Memorial when he rocked the National Mall before my inauguration, I thought it captured as well as anything the spirit of what America should be about. On a day like that, and today, I remember: I'm the President, but he's The Boss.

And Bruce continues to inspire, along with his "house-rocking, earth-shaking" E Street Band. At 60 years old, he's still filling stadiums, still whipping fans into a frenzy, still surfing the crowd, still jumping off pianos, and still reaching new fans (…) Bruce Springsteen is still one "cool rockin' Daddy".
This may well be the last all-encompassing world tour with The Boss and his E Street Band, but we're convinced that Springsteen, in one form or another, will be touring for years to come; until he collapses on stage.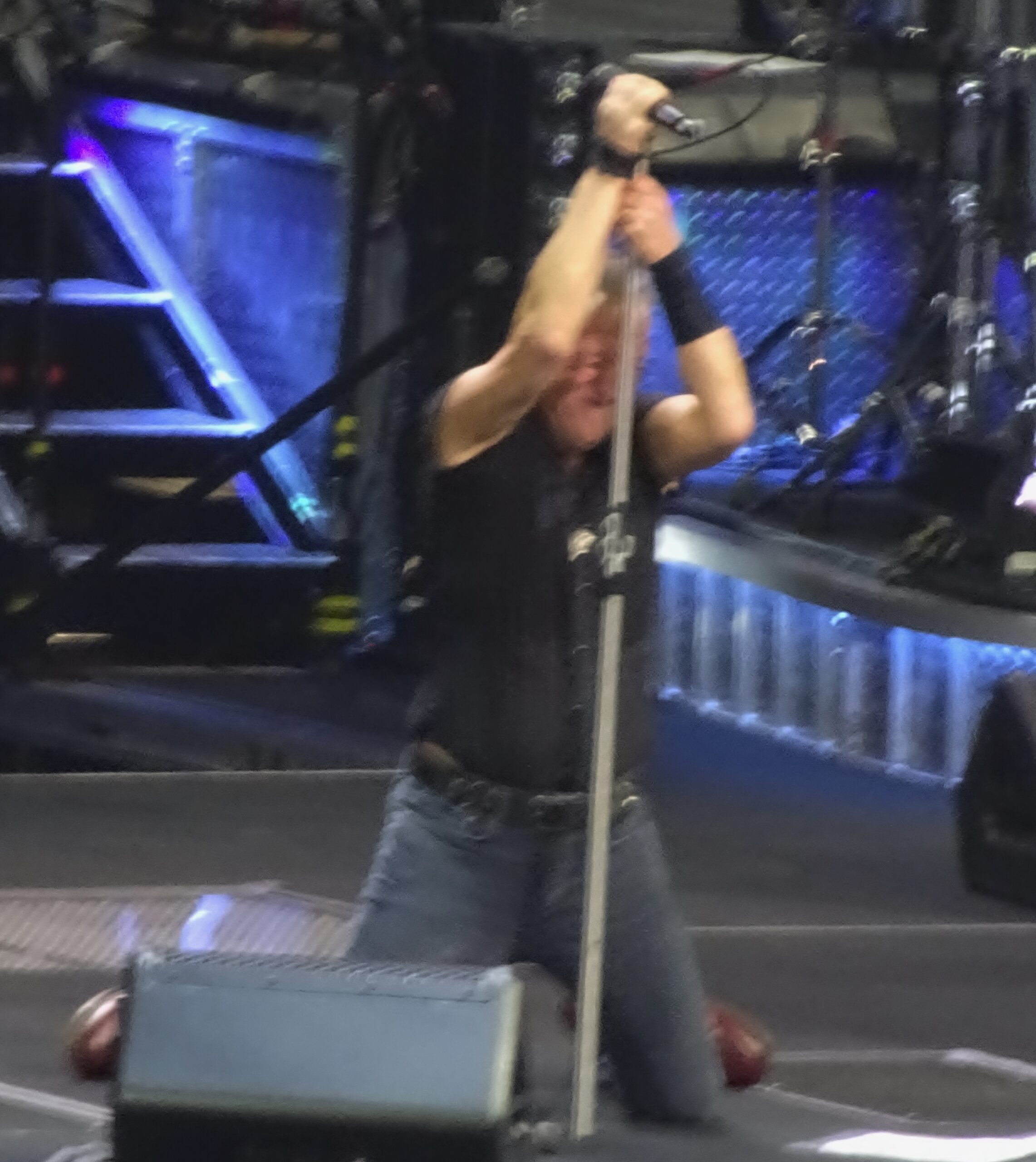 Is The Boss still Boss?
We'll admit it. By the time the lights went out and the band took to the stage in Baltimore, we were a little sceptical about Springsteen's concert qualities in 2023.
The boss is now in his mid-70s. It had been a full seven years since we last saw him live, six years since his last tour, lockdown, the sale of his music archive and more and more nostalgic flashbacks; and his last album was a pure cover album.
Thankfully, he blew all our scepticism away, rocked us out of our seats, blew his guitar solos through our bodies, sang his way into our souls – and proved once again why he (still) deserves that inimitable nickname: THE BOSS!
NOTE! The current tour rolls around Europe until 25 July this year (Monza, Italy); after that, Springsteen returns for a round of stadium shows in the US.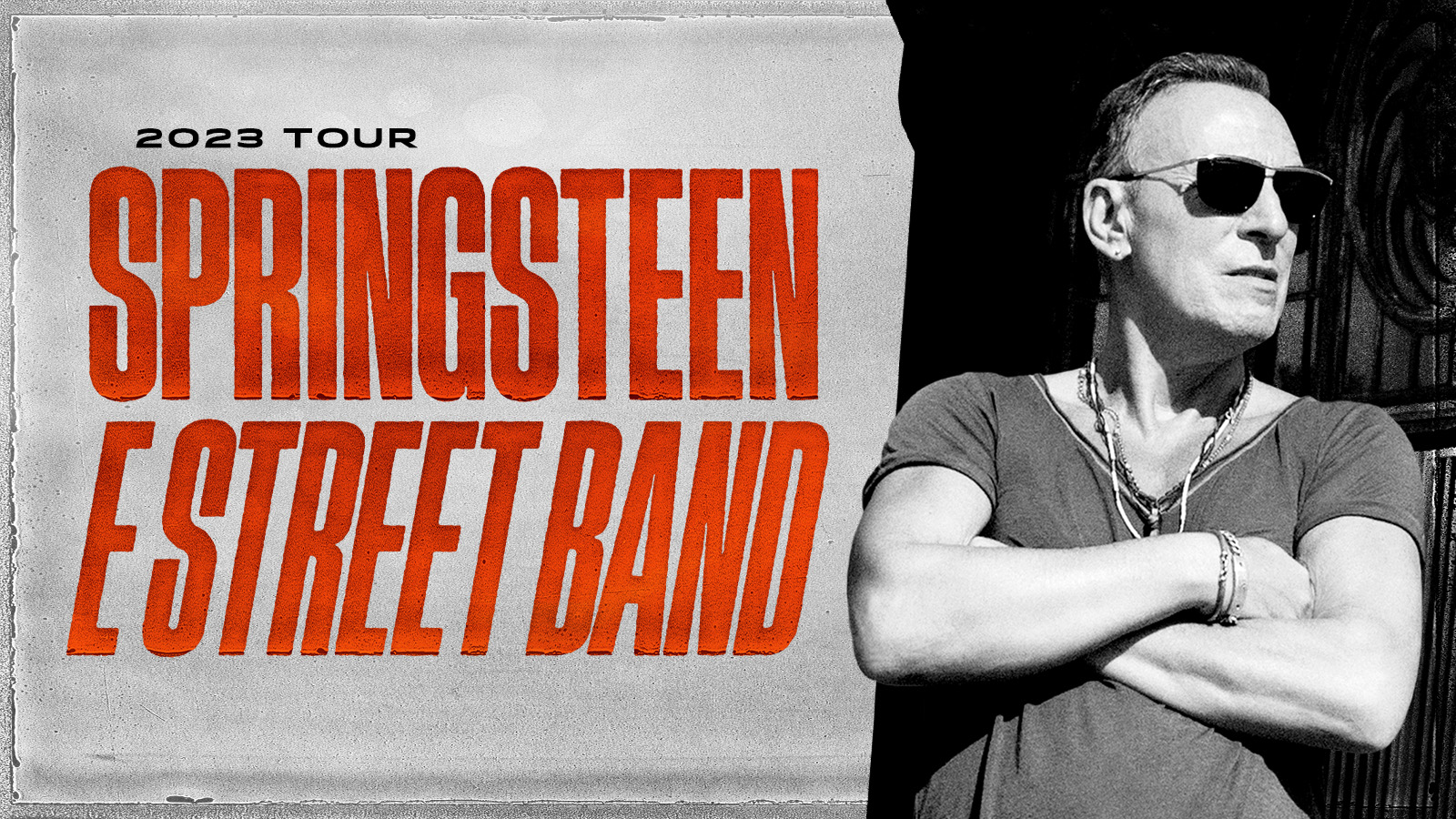 Bruce Springsteen's European tour starts on 28th. April in Barcelona, Spain and ends 25th July in Monza, Italy.
See the tour dates and venues here.
Consider yourself extremely lucky if you've already secured your tickets – they sold out long ago.
You can read more about the current tour on Springsteen's official website.

Set list, Baltimore, MD, 07.04.2023
No Surrender
Ghosts
Prove It All Night
Letter to You
The Promised Land
Out in the Street
Lucky Town (turné-debut)
Kitty's Back
Nightshift (Commodores cover)
Hungry Heart
Pay Me My Money Down
The E Street Shuffle
Last Man Standing (akustisk)
Backstreets
Because the Night
She's the One
Wrecking Ball
The Rising
Badlands
Encores:
Thunder Road
Born to Run
Rosalita (Come Out Tonight)
Glory Days
Dancing in the Dark
Tenth Avenue Freeze-Out
I'll See You in My Dreams (acoustic solo)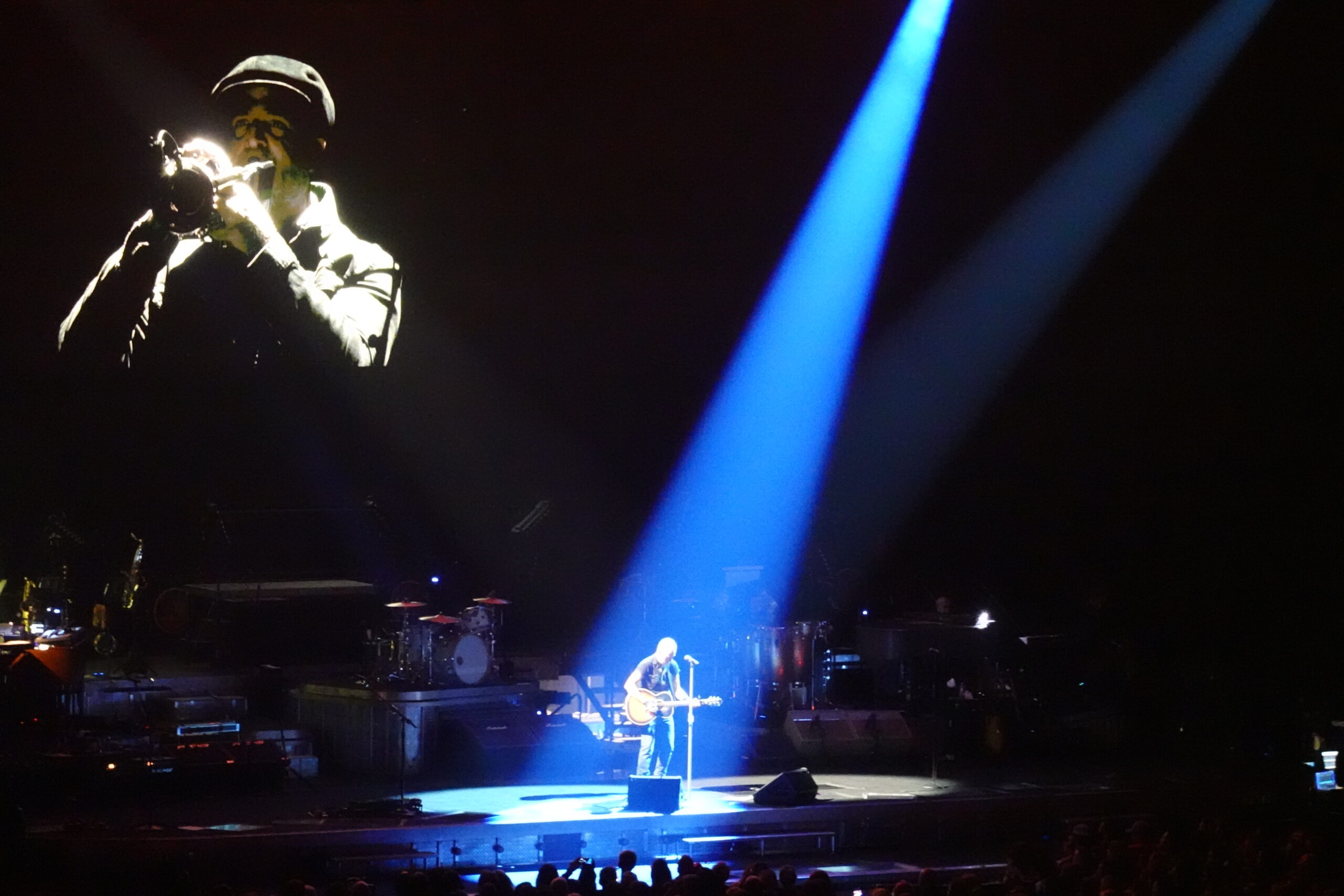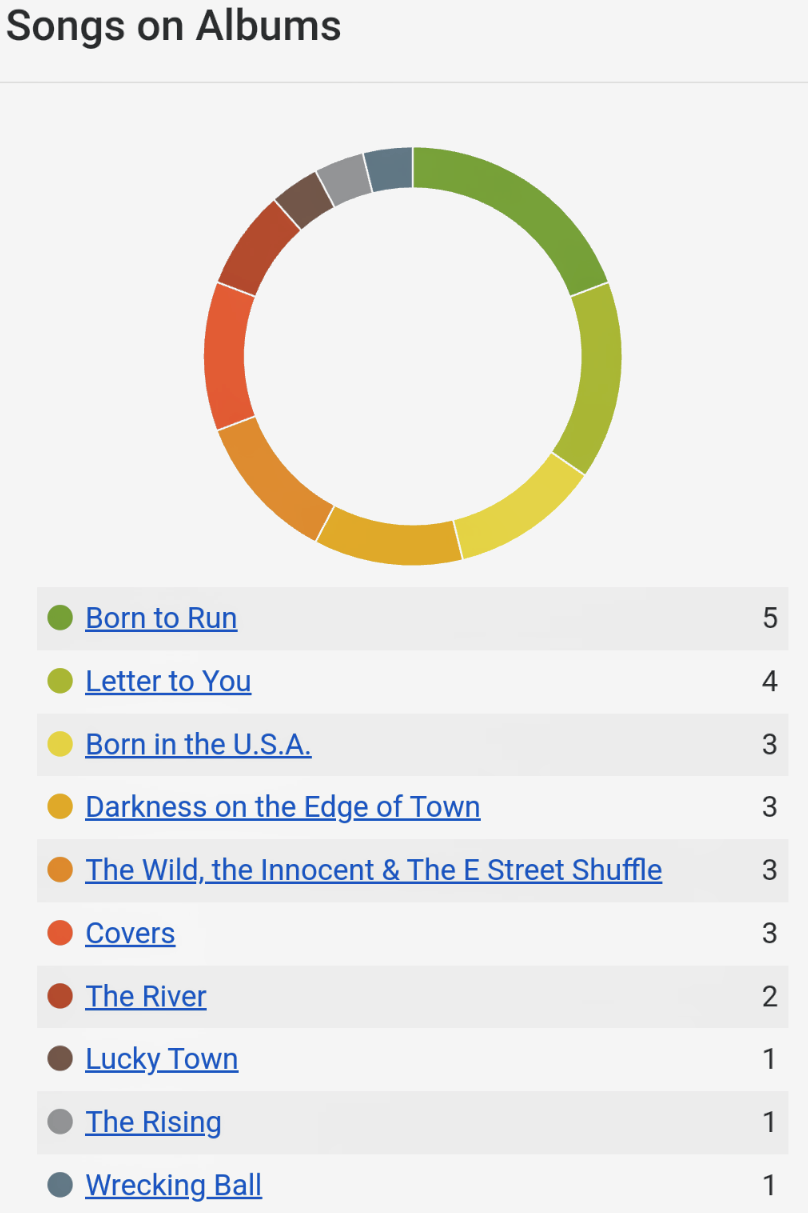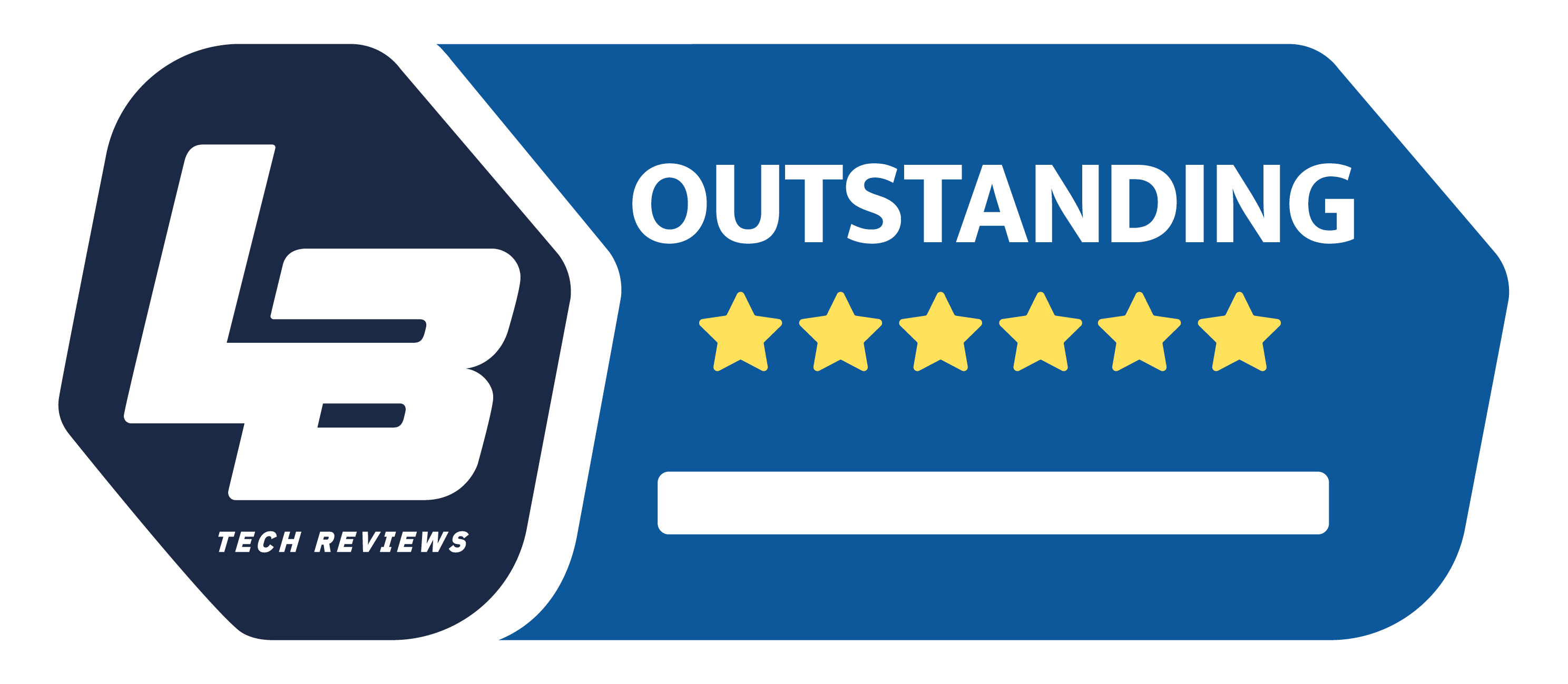 Bruce Springsteen Tour 2023
Faktat:
Bruce Springsteen Tour 2023
Date: 7 April 2023
Venue: CFG Bank Arena Baltimore, MD, USA
Featuring: Bruce Springsteen, Roy Bittan, Nils Lofgren, Garry W. Tallent, Little Steven,
Max Weinberg, Soozie Tyrell, Jake Clemons, Charlie Giordano
Genre: Rock
Country: USA
Year: 2023
Time: 2:47 h.
Verdict: 6