Lasse Svendsen
Published

2022-08-04 - 8:00 am
Complete streaming speaker with potent dynamics, rich sound and open soundstage. HDMI to TV audio, supports everything from Bluetooth to high-resolution audio. Remote control and easy-to-use app management.
Limited sound pressure in large rooms.
Specifications
Type: Wireless compact speaker
Midwoofer: 11.5 cm aluminium/magnesium
Tweeter: 19 mm aluminium
Power: 70 + 30 W
Sound pressure level: 102 dB
Frequency range: 49 Hz – 47 kHz -6 dB
Crossover frequency: Not specified
Wireless: Bluetooth 4.2, Wi-Fi, AirPlay 2, Chromecast, Roon Ready
Streaming services: Spotify Connect, Tidal, Amazon, Qobuz, Deezer, QQ Music, internet radio, podcast
Connections: Toslink optical in, Ethernet, USB-C, analogue minijack, HDMI ARC, subwoofer
Dimensions/weight (cm/kg): 24 x 15.5 x 18/7.2 per pair
Colours: Carbon Black, Mineral White, Cobalt Blue, Lava Red, Soundwave
Web: eu.kef.com
No soundbar can beat a pair of stereo speakers for realistic music production. And neither can Bluetooth speakers. Not even the unique Naim Mu-so 2.
Two speakers add an extra dimension to music that soundbars and desktop speakers lack.
This becomes very clear when you plug in KEF's new LSX II, which looks very similar to its predecessor, which we tested in 2018. They've since been our benchmark among wireless stereo speakers in the compact class, beaten only by the twice as expensive KEF LS50 Wireless II.
The new version of the LSX is just as compact and colourful, but more flexible with even better sound. The LSX II can be used in far more contexts than its predecessor. HDMI with audio return means you can ditch the soundbar and go straight for true stereo sound on the TV.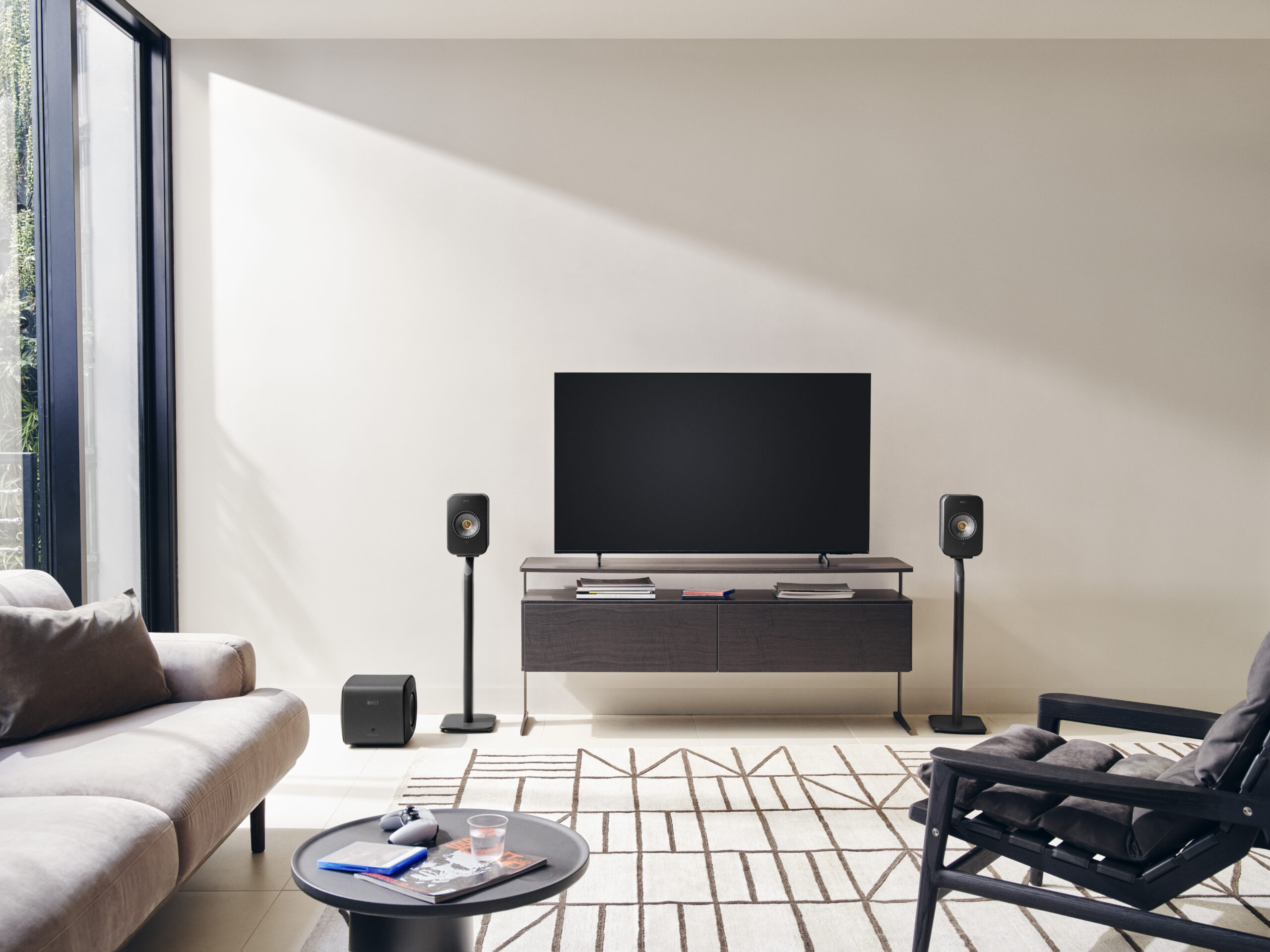 With HDMI, they make perfect TV speakers. Photo: KEFWith a USB-C input, the speaker can be connected directly to the computer and used as a monitor for video editing or music mixing. It also has a minijack input for analogue audio sources – like a turntable or games console – and an optical digital input for a CD player, for example.
It can also be connected to an external subwoofer from the output on one speaker. Or wirelessly to the phenomenal KEF KC62, which is a very suitable sub for a pair of LSXs. Then you really are getting serious sound quality from a pair of the smallest wireless speakers we've tested.
You can choose to stream music wirelessly with Bluetooth or over Wi-Fi directly to the speakers, or even better: stream high-resolution audio from Tidal or Qobuz via the router connected to the speaker with Ethernet. You can then stream audio files up to 24-bit/96 kHz, and if you connect the speakers together with the included CAT6 cable, you can stream up to 24-bit/192 kHz. The speakers have playback over AirPlay 2 and Chromecast and support audio formats with DSD and MQA files – but also PCM, up to 24-bit/384 kHz.
Major technical improvements
In other words, the highest possible sound quality is aimed at from the small speakers, which use a familiar speaker unit: the KEF coaxial UNI-Q unit, here in its 11th generation and 11.5 cm in size, with a 19 mm tweeter in the middle. It's not upgraded with KEF's MAT (Metamaterial Absorption Technology) plate, which absorbs resonances behind the unit. It costs more and is reserved for the more expensive speakers with UNI-Q units, such as the LS50 II, LS50 Wireless II and LS 60 Wireless.
But the amplifiers and the DSP with Music Integrity Engine that controls everything are new in the LSX II, which together have 200 W of system power divided into 70 W for the woofer and 30 W for the tweeter in each speaker.
Ease of use
As on its predecessor, all the connections are on one speaker. As mentioned, they can be connected wirelessly as they both have built-in amplifiers and DSP circuitry. Only those who stream in high definition using Ethernet over a wired network need to connect the speakers by cable.
When the TV is connected with HDMI ARC, you can control the sound with the TV remote, and then the speaker turns on when you turn on the TV.
All basic functions can be easily controlled with the remote. But you have to download the KEF Connect app to set up the speakers for the first time. The app is also where you add a subwoofer. If it's a KEF sub, simply select the model and the subwoofer frequency and level are set automatically. For other subwoofers, you have to adjust the low-pass and high-pass frequencies, level and phase in the app.
This is also where you control the bass and treble and tell the speakers which is the left and right channel if they are placed in a bookcase or on a wall bracket.
In the Connect app, you log in to your favourite streaming services, Spotify, Tidal, Qobuz, Deezer or Amazon Music, and you have everything in one app. Apple Music is not included in the app.
Reference sound
Michael Young's design still looks fresh and appealing. The small speakers are just 24 cm in height and can easily fit under the TV, on a bookshelf, on a bench or on a desk. There they can be placed on a P1 table stand, which lifts and angles the speakers slightly. There is also a B1 wall mount and floor stands that are adapted to the speakers.
The LSX II is available in several colours. The bright blue Cobalt Blue or the new Soundwave by Terence Conran, which was previously a Limited Edition but is now available in unlimited quantities. The two colours and the grey come with the cabinets upholstered in a wool fabric from Danish Kvadrat. The white and red are not.
Whichever colour you choose, you can't help but drop your jaw when the sound pours out of those little speakers.
Mobile in hand, I cranked up the sound on Burna Boys Last Last, lovely aspirating afrofusion with a marked beat that's a challenge for small speakers in particular. But the compact KEF speakers were unaffected by the heavy rhythm, kicking out the bass with a conviction that made me utter a word that doesn't lend itself to print.
Not that the bass went particularly deep, the speakers are almost silent below 50 Hz, but from there up to 200 Hz they kicked off surprisingly well. You can imagine how wild it would have been with a subwoofer connected.
That's probably one of the two limitations you have to accept with a pair of LSX IIs. The other is that they don't play very loud in a large room. KEF says 40 sq m max, but in a 30 sq m room they never got the volume that a pair of JBL 4305P or the larger LS 50 Wireless II can give.
It doesn't really matter, though, because they play loud enough that you have to shout to be heard by others in the room. More interesting, then, is that they're so open and transparent that you get every nuance of Jan Gunnar Hoff's sober piano playing on Norwegian 2L's stellar production of the album Home. Here, and on Keith Jarret's Köln Concert, you can bathe in sounds and be caressed in the ear canals by little nuances you haven't heard before.
Live recordings finally get the 3D effect that's missing when playing stereo music on a soundbar.
Competitors
Most wireless stereo speakers in the compact class are either much cheaper or twice as expensive as a pair of LSX IIs. But Klipsch The Sixes and The Fives are almost in the same price range. They both play louder than the KEF speakers, and the Sixes in particular have fatter bass. But they lack the refinement and detail you get in a pair of LSX IIs.
.
Conclusion
The small, wireless KEF LSX II is the new reference among stereo speakers in this class. Nowhere else do you get such great sound in such a great package. All the upgrades from the four-year-old LSX have not only made the II edition even better, they're also more usable with USB-C and HDMI inputs. The option of a subwoofer extends the range of use even further. There is no better wireless, compact and easy-to-use stereo speaker than the KEF LSX II in this class.