Lasse Svendsen
Published

2021-01-03 - 7:00 pm
Full and transparent soundstage with excellent dynamics. Compact and easy to use, with good connectivity, and support for high definition streaming.
The price versus size ratio can be daunting.
Specifications
Type: Wireless compact speaker
Wireless: Wi-fi, Bluetooth, Airplay 2, Chromecast, Roon Ready
Streaming: Spotify Connect, Tidal, Deezer, Deezer, Internet radio, etc.
Connections: HDMI w aARC, Ethernet, USB-A, AUX, optical and coaxial in, sub out
Bass: 13 cm aluminium diaphragm
Treble: 25 mm aluminium diaphragm w. Meta-absorbent
DAC: 24-bit / 384 kHz, MQA support
Max sound pressure: 108 dB
Frequency range: 40 Hz – 47 kHz -6 dB
Dimensions / weight: 30 , 5 x 20 x 31.1 cm / 10 kg
Other: Carbon Black, Titanium Gray, Mineral White, Crimson Red
While most wireless speakers are just that, powered speakers, the small KEF wireless speakers are a complete stereo system.
You can stream music wirelessly with Bluetooth, or over Wifi for better sound, but also connect to other audio sources. Like the TV, which means that you do not need a soundbar. And you would not want one either, because the sound quality from the KEF LS50 Wireless II goes beyond anything found on soundbars.
The small speakers have HDMI input for the TV sound, and if you still have the old CD player, that can also be connected here. The turntable can do the same, provided that it has a built-in phono stage.
Thus, the small KEF speakers cover most people's need for good sound. With streaming also to speakers in other rooms, so-called multi-room, and easy music playback from most audio sources, there is not much more to ask for.
The KEF speakers also support high-resolution sound, ie better quality than you get with Bluetooth, and you can stream music in 24-bit / 96 kHz quality over Wifi, or up to 192 kHz when the speakers are connected with the included Ethernet cable.
In other words, you can choose to play music from Spotify, Apple Music or Tidal over Bluetooth, or stream the music over Wifi with Ethernet via the router in the house, for maximum sound experience.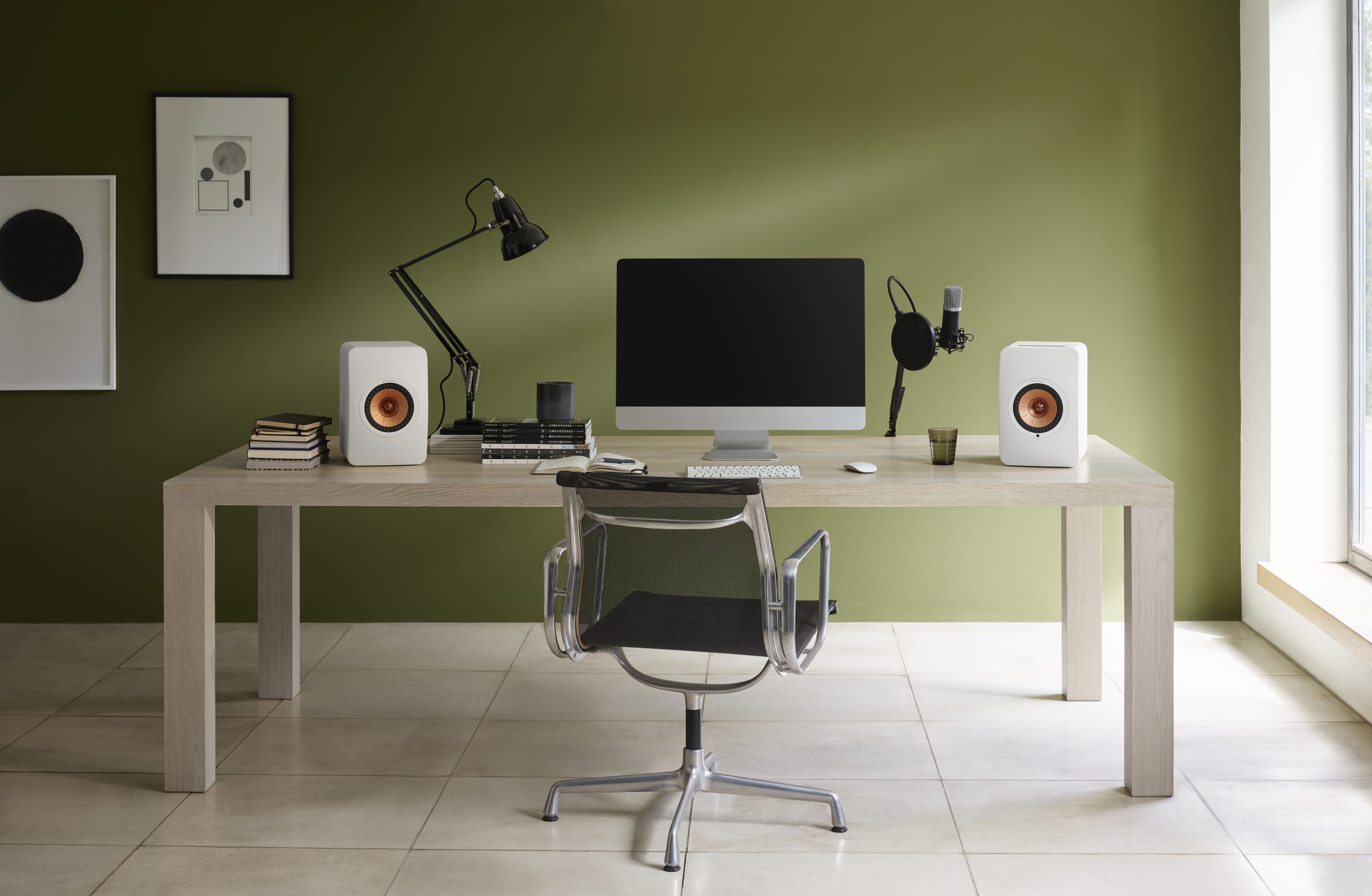 All this can be easily controlled from the included remote control, but it is with the new and improved KEF app that you can really frolic in the settings that can give even better sound. Once you have connected the speakers to the network, you are ready to play music or watch TV.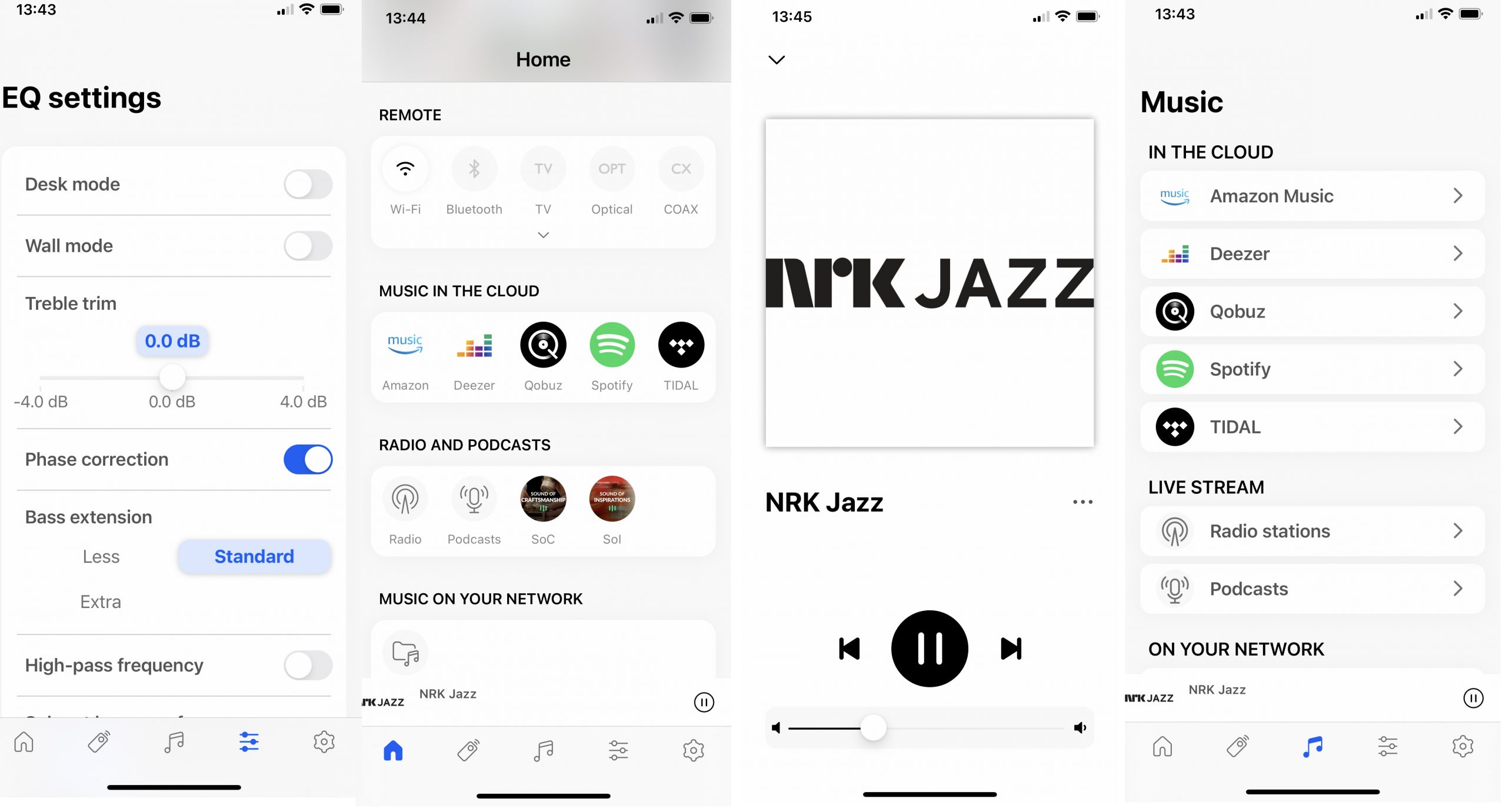 IMPROVED UNI-Q ELEMENT WITH METAABSORBENT
Behind the cryptic headline hides a 12th generation speaker element. KEF calls it Uni-Q, and it is a coaxial unite with the tweeter integrated in the center of the woofer.
In the new version of the Uni-Q element, KEF has analyzed several simulations of different suspensions and attenuations, and come up with a new coil system, with better attenuation of the gap between the treble and the bass / midrange diaphragm. It has reduced the distortion from 0.1 percent to 0.07 (THD at 90 dB).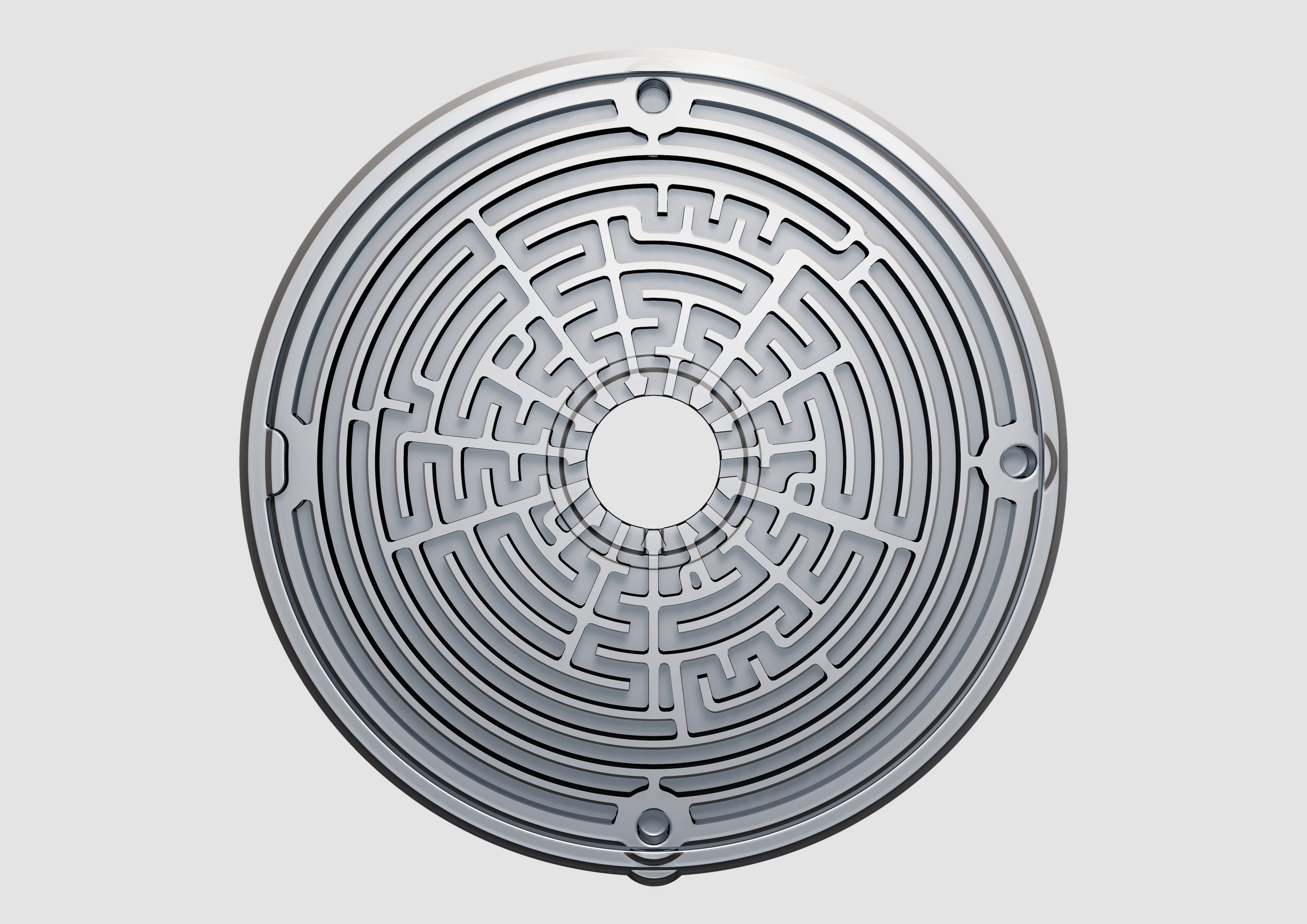 Better damping materials (CLD and DMC) provide a more resonant cabinet, and like the LS50 Meta, the LS50 Wireless II also has Metamaterial Absorption Technology – or just MAT.
POWERFUL AND REFINED SOUND
The speaker also has an output for a subwoofer, and you can set the crossover frequency and phase in the Connect app, so that in practice you can use the subwoofer you want exactly where it is appropriate to place it.
KEF also makes a pair of floor stands that are adapted to the LS50 Wireless II. With screw attachments for the speakers on the top plate, and cabling on the inside of the stand, which can also be delivered in the same color as the speakers.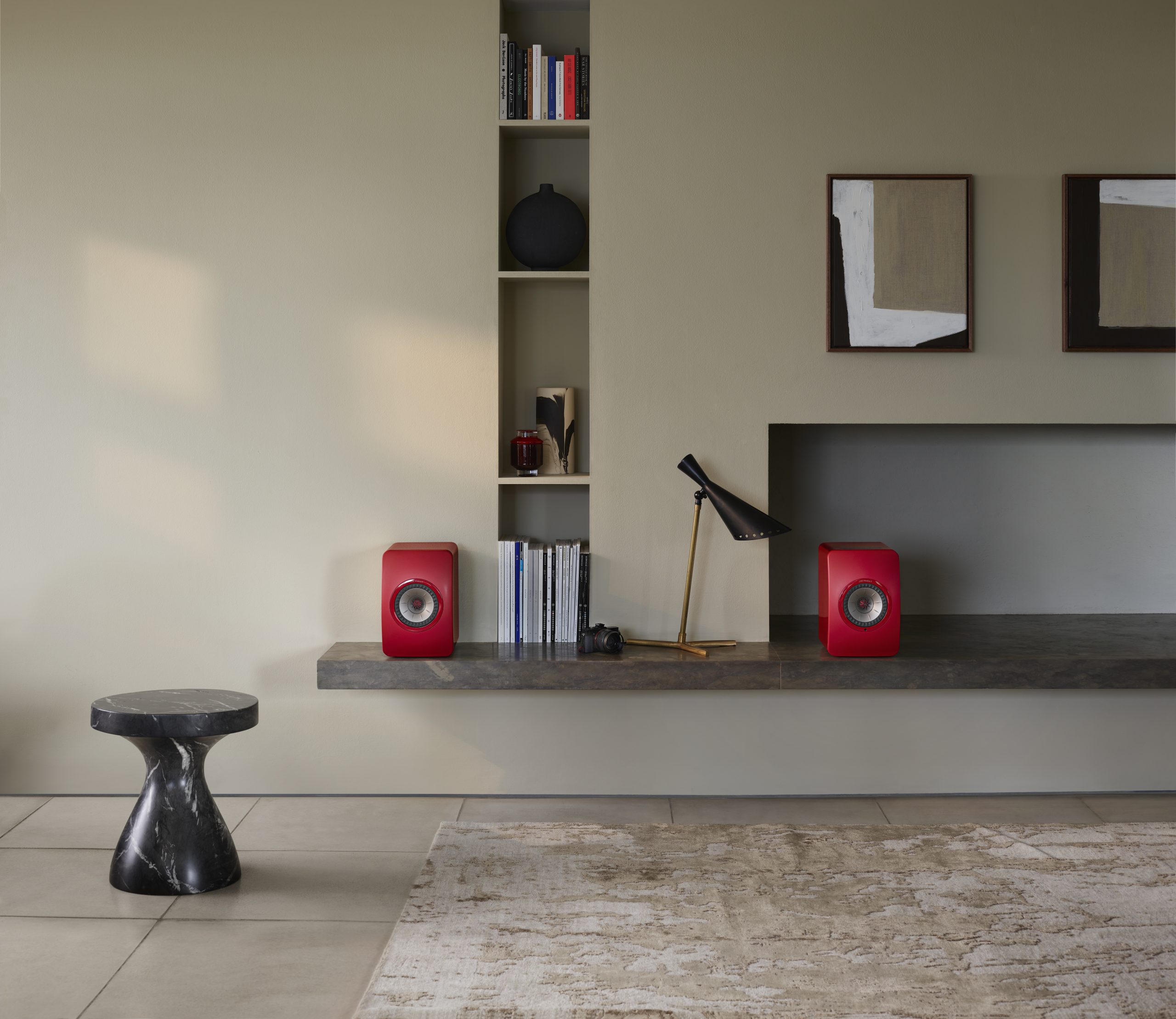 More than loud enough for a party.
Let it be said, you will probably find no better sound from wireless stereo speakers in this class. KEF has not only improved on a good speaker – LS50 Wireless from 2017 , they have set the standard for competitors as well.
Even though they are small, there is really punch in them and they deliver a remarkably potent bass. Take, for example, Victoria Monét's "Jaguar", which begins nicely and neatly, before opening with a serious, deep bassline and a dragging drum beat. That track will bring most small speakers to their knees, but the KEF speakers reproduce the bass just as deep as necessary, and keeps a steel grip on the transients.
The result is a driving rhythm where the bass foundation easily fills the room, without overshadowing the vocals, or messing with the sharply cut stereo perspective.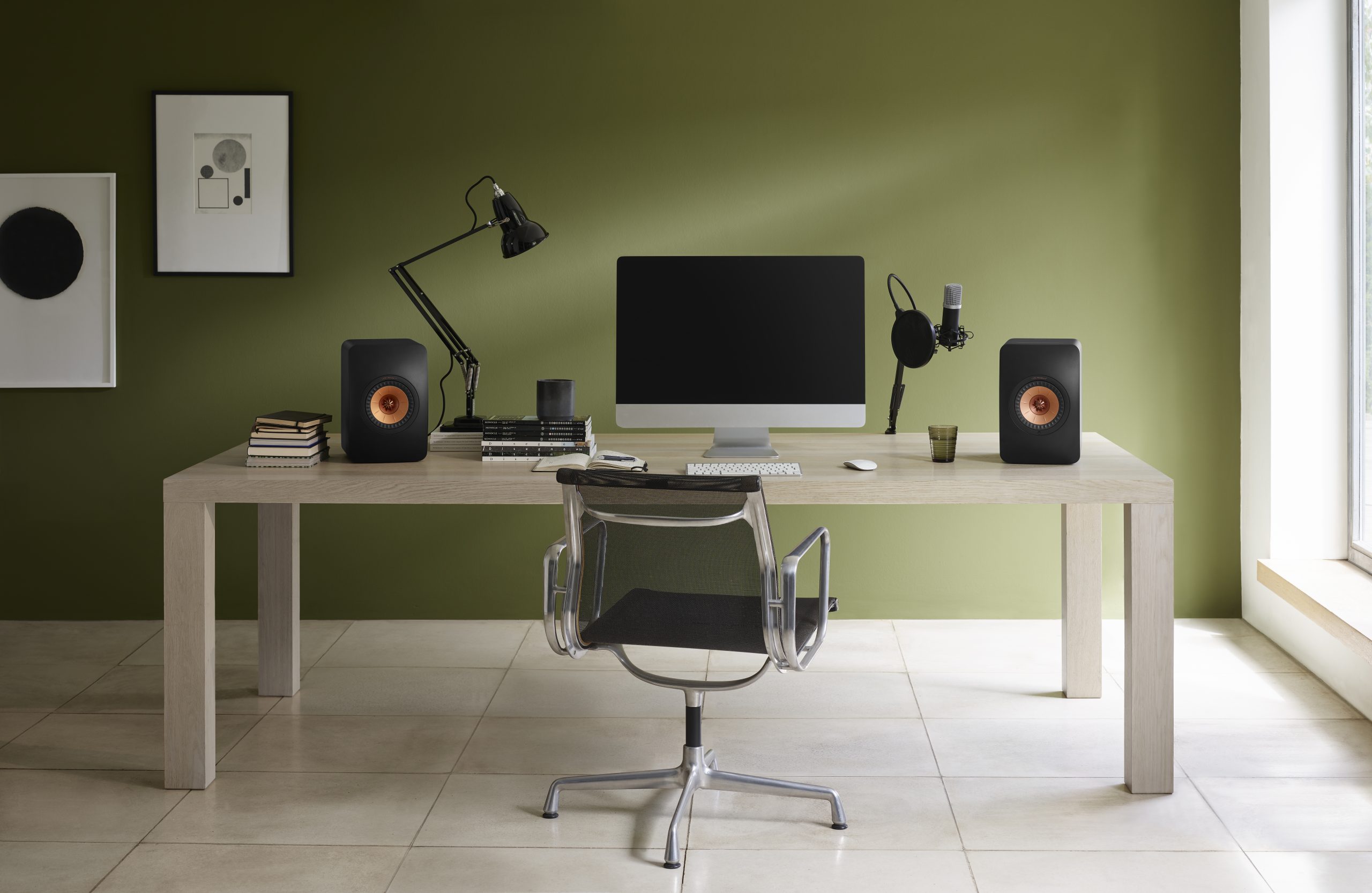 COMPETITORS
The toughest competitor to the KEF speakers comes from their own ranks. The smaller and equally wireless KEF LSX , together with Klipsch The Fives , are among the very best wireless stereo speakers in the compact class. They cost half of the LS50 Wireless II, but do not deliver quite the same powerful sound in a larger room, as these can.
The passive LS50 Meta and a suitable amplifier – Hegel H90 / H95, Marantz PM7000N, for example, will play with greater authority and better dynamic control, but then you will have spent the same amount of money and ended up with a solution that is not equally applicable to everyone.
Two Devialet Phantom Reactor 600 is another solution, which works great, but they lack all the connections that make a pair of LS50 Wireless II so usable.
CONCLUSION
The small KEF wireless speakers are a big step forward for better wireless stereo sound. They can play more than a sufficiently loud, but even more importantly, they do so with control and finesse. LS50 Wireless II is among the most usable and user-friendly speaker sets you can have in the living room, and the size is so furniture-friendly that everyone can accomodate a pair. If you need even more sound in an even larger living room, a subwoofer can be added to the bass, but most people will hardly feel the need for even more deep bass.