Lasse Svendsen
Published

2022-08-03 - 3:00 pm
Lively and captivating soundscape with surprising dynamics and punch. Everything is built-in and usability is top notch.
HDMI would have completed them. Limited sub bass.
Specifications
Type: wireless
Woofer: 13 cm pulp fibre diaphragm, JW130P-4
Tweeter: 25 mm Teonex compression driver with HDI geometry horn, 2410H-2
Power: 125 W + 25 W per speaker
Sound pressure level: Not specified
Frequency range: 45 Hz – 25 kHz -6 dB
Crossover frequency: 1750 Hz
Wireless: Bluetooth 5.1, Wi-Fi, AirPlay 2, Chromecast
Streaming service: Through app
Connections: digital Toslink optical in, Ethernet, USB-A, analog minijack, XLR, RCA subwoofer out
Dimensions/weight (cm/kg): 33.6 x 21 x 22.3 / 6.8-6.4
Colours: Brown walnut, black walnut finish.
Web: jbl.com/studio-monitors-specialty
Two active – and wireless – speakers with everything built in is really all you need. Even if you have audio sources you need to connect with cables, like a TV or a turntable.
They come in all price ranges, from the very budget-friendly Argon Audio Fenris A5 to the amazing KEF LS60 Wireless.
Somewhere in between you'll find the small JBL 4305P Studio Monitor, which isn't aimed at studios at all, but at the home – despite the cool name and distinctive JBL design usually associated with professional speakers.
They look like a more compact version of the almost identical JBL 4309 and feature the same type of Teonex tweeter unit located in JBL's HDI horn. The 13 cm woofer, with bass reflex ports under the front, is slightly smaller, however.
This makes them very useful in most homes, even if you have limited space for a pair of speakers.
The compact 4305P is about as tall as an LP record and just as easy to place on a shelf. Alternatively, they can be placed next to the TV on a bench or hung on the wall with wall brackets. Here they'll fit perfectly, as they can take over the work of the soundbar.
Simply connect the TV to the speaker's optical input on the back and you're guaranteed far better sound than any soundbar can deliver.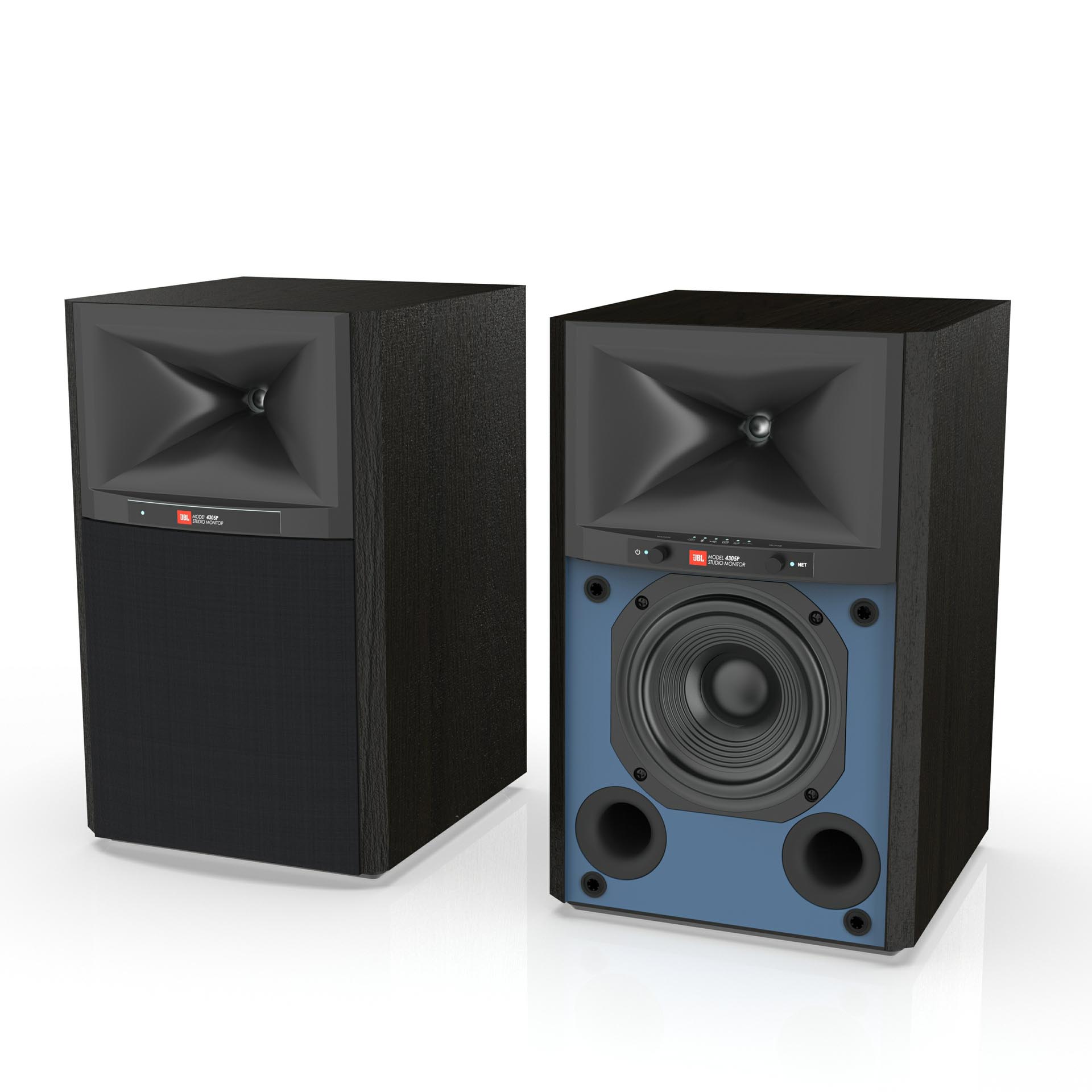 High-resolution and wireless sound
They can also be placed on a pair of floor stands, if you prefer. Either way, they'll deliver a bigger, deeper and more compelling soundstage than a soundbar. With an amplifier, Wi-Fi and Bluetooth integrated, all you need is a few electrical outlets nearby and you're good to go.
Both speakers have built-in amplifiers. That means you don't have to connect them with a cord. But to get support for streaming more than 24 bit/96 kHz audio files, you'll need to use the included CAT6 cable between the speakers.
Then the DAC supports high-resolution audio like MQA or 24 bit/192 kHz audio files. Great for those who actually have access to high-resolution audio files, but for everyone else the Ethernet cable can stay in the box.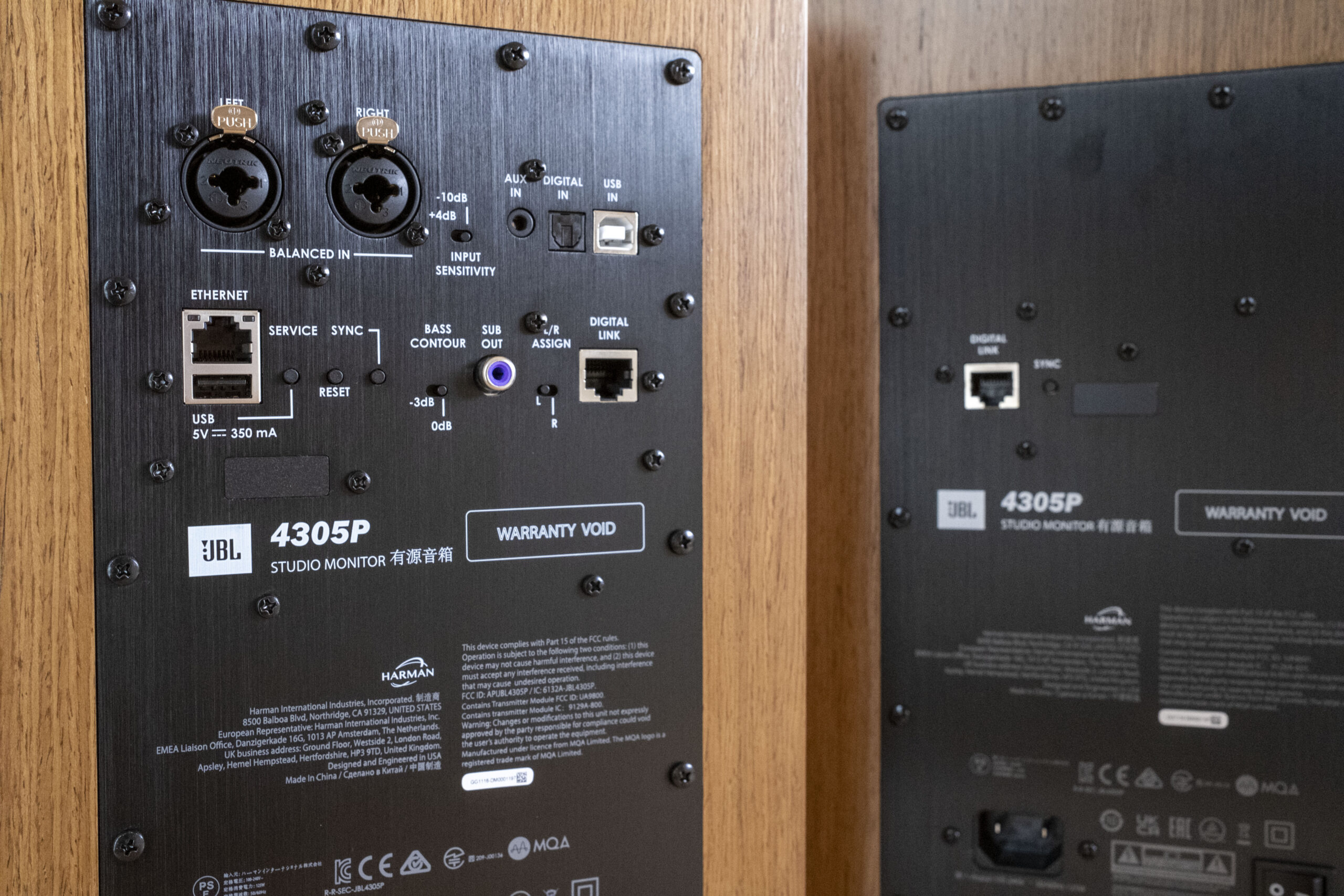 The speakers also support Bluetooth A2DP, but as everyone knows, it's inferior to Wi-Fi or Ethernet. In fact, you can stream high-res from the network with an Ethernet cable from the router directly into one speaker. You can also stream over Wi-Fi with AirPlay 2 or Google Chromecast, and at any time select a wired audio source like a CD player, the TV or a turntable with separate phono stage.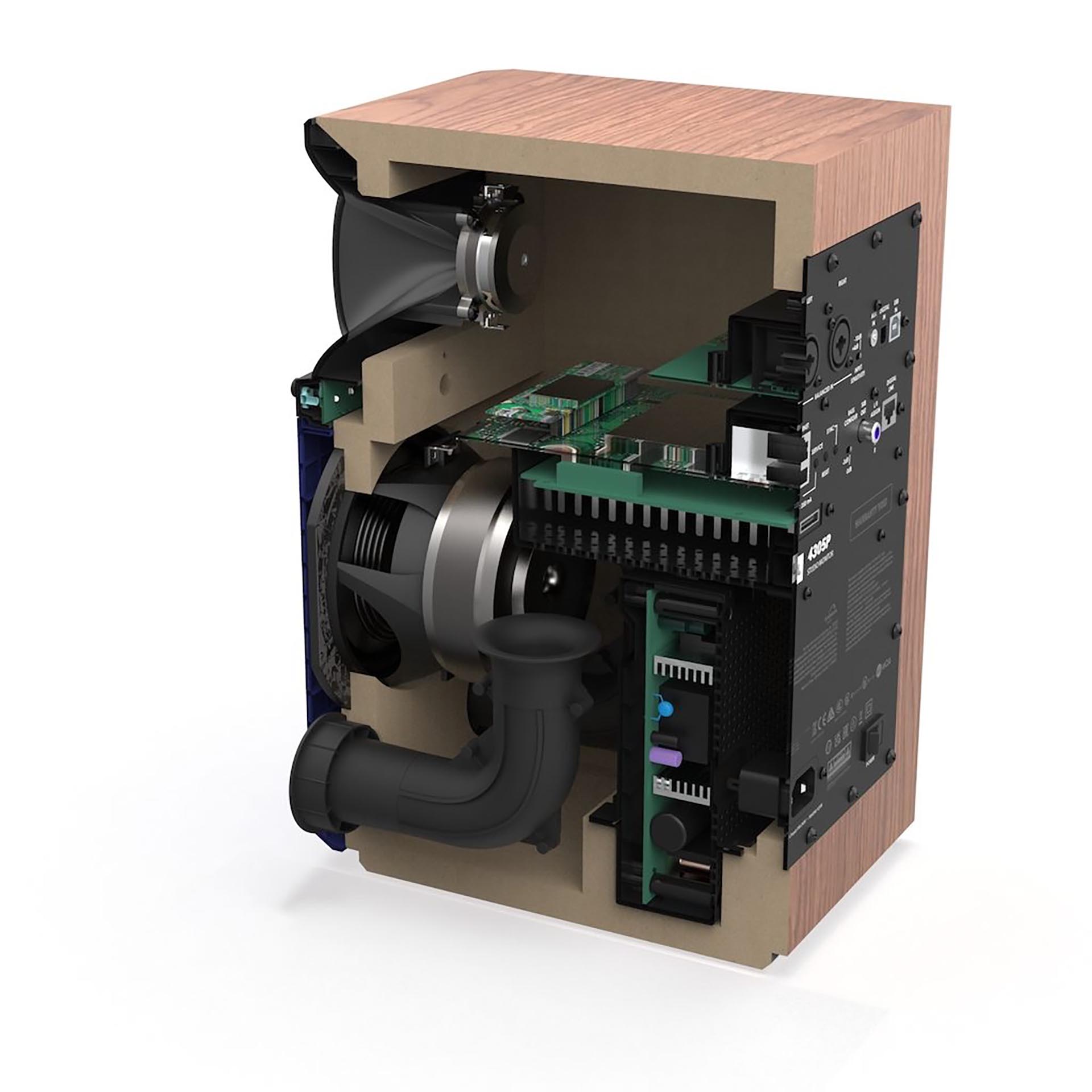 Connections
Although both speakers have built-in amplifiers, 125 W for the woofer and 25 W for the tweeter, one speaker is the master. Here you'll find analogue minijack input, optical Toslink input and even a pair of balanced XLR inputs like you'd see in a recording studio.
The speaker also has a USB-A input for wired playback from a laptop, and there's also a subwoofer output that detects a connected subwoofer and adds the divider at around 80 Hz. Otherwise, the speakers should be able to reach down to 45 Hz in the bass, which has a button to mute it 3 dB. That way you don't get excessive bass if the speakers are positioned against the back wall.
Plug and play
The JBL speakers are incredibly easy to set up. The included instruction manual is easy to follow, and here you can see that one speaker has on/off, volume and source selection from the pot below the HDI horn. There you can also see which input is selected and the status of the connection. The included Bluetooth remote can also control source selection and volume, but there's no JBL app for controlling streaming services such as equalizers or audio profiles.
Studio sound at home
It doesn't matter. Because the little JBL speakers are really well balanced. At first I missed a bit of the lush bass I got from the 4309, not to mention the slightly larger JBL L82 Classic, but after a few weeks of playback the bass settled in.
Other things fell into place too. Instruments sounded fuller, the bass went a little deeper and gave bass guitars, drums, timpani and piano music more depth. A side effect of this 'recording' was that vocals sounded more defined and the soundscape grew. So much so that the speakers surprised everyone who heard them. The consensus was that it was a huge sound from such small speakers.
Don't get me wrong; a pair of 4305P will never play as loud or as powerful as a pair of L82 Classic on a good amplifier. But they play with more authority in the bass than most speakers of the same size manage.
The obvious comparison is with the KEF LS50 Wireless II, which is a bit bigger but in the same price range. They sound a bit more refined especially in the treble and go a bit deeper in the bass, but they don't have quite the same vibrant and catchy sound that you often associate with JBL speakers.
Piano concertos sound more natural out of the KEF speakers, which also give strings more substance and finesse, but the JBL speakers are more fun to listen to when I put on Oslo Beats Vol II by Bård Berg. Here you can feel the bass in your body and you feel like playing loud, which is not a problem. It's quite amazing how loud and powerful the small speakers manage to play in a large room. Louder than usual from such small speakers. And with a more catchy bass than you'd expect from a 2-way bookshelf speaker. There's a limit, of course, but by then it's more than loud enough for people to have long since left the party.
What you don't get here is deep bass. Or the same punch that a big speaker can deliver. The 4309s mentioned are better in that sense, but then you also have to budget for a good amplifier on top. A pair of JBL L52s with, say, a 60W Hegel H95 might be an alternative for those who need more inputs. The larger LS50 Wireless IIs are an excellent alternative for those with space, but they sound best on floor stands, which cost quite a bit extra.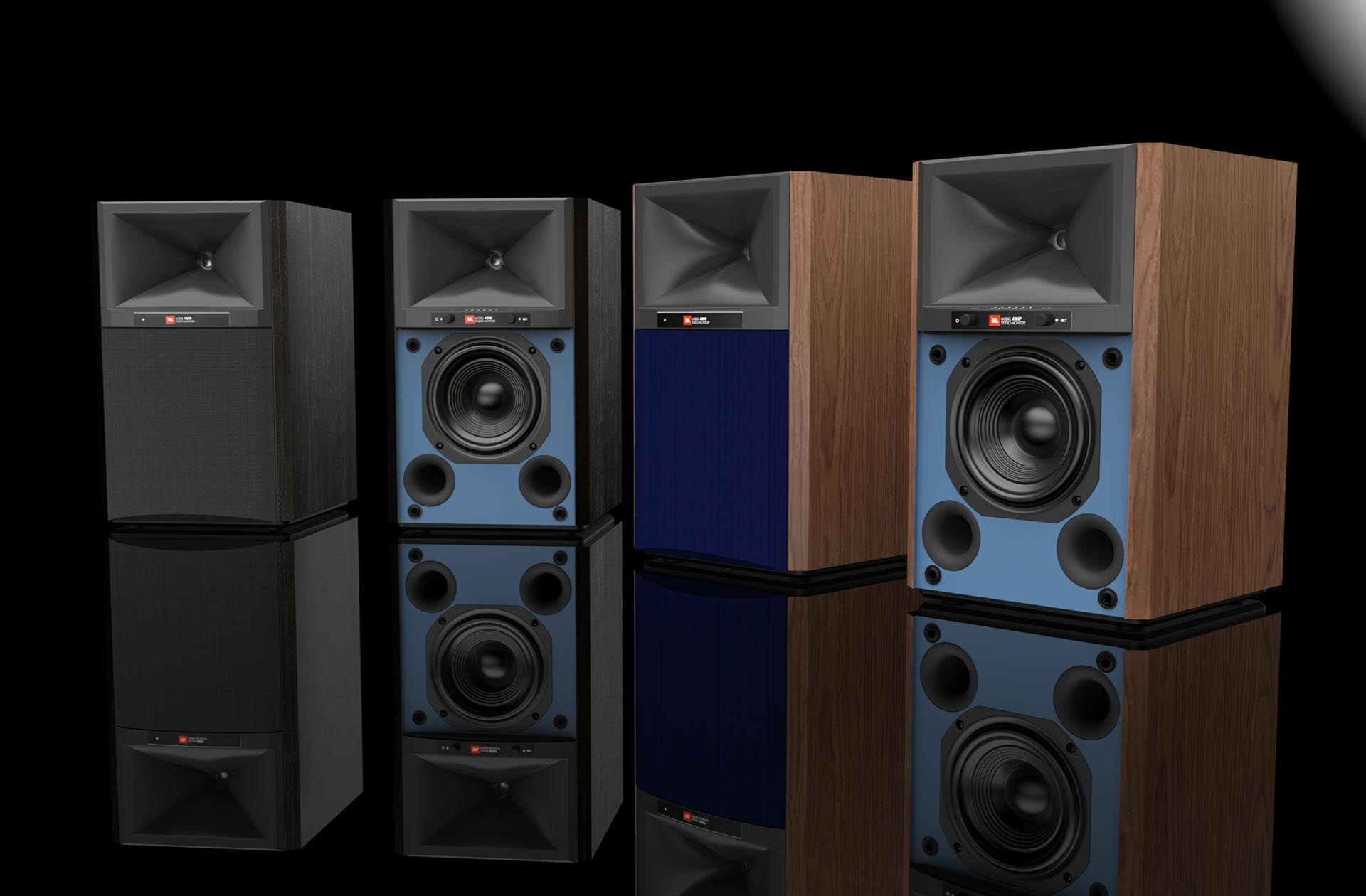 Conclusion
The small and wireless JBL 4308P is definitely worth considering for anyone who wants better and more catchy sound from compact speakers that take up limited space and are easy to use. The fact that they combine Bluetooth with high-resolution streaming and physical inputs makes them useful for a lot of people, who will be able to use the small JBL speakers for everything from streaming series on the TV to party music and concentrated listening. Quite simply, an excellent all-round speaker that will give the owner years of music enjoyment.