John Hvidlykke
Published

2022-10-11 - 8:00 am
Vivid and present reproduction. Amazingly good perspective and ambience at the price. Now also with HDMI input.
With streaming, everything would have been perfect. But at this price there is absolutely nothing to complain about.
Specifications
Configuration: 5″ woofer, 1″ dome tweeter
Construction principle: Bass reflex, 2-way, active
Frequency range: 40 Hz – 20 kHz (+/-3 dB)
Built-in amplifier power: 4 x 80 W, class D
Crossover: Not specified, DSP-based
Inputs: Analog line-in (stereo RCA), turntable (stereo RCA), optical digital (TOSLINK), HDMI, Bluetooth 5.0 (aptX HD)
Outputs: Subwoofer out (RCA), Speaker out, USB 5 V out
Dimensions: 16.5 x 27 x 23 cm
Weight: 8.2 kg (pair)
Colours: Black, white, walnut
Web: argonaudio.com
When we tested Argon Audio's Forte speakers a few years ago, this reviewer had a hard time keeping his arms down. This was especially true of the Forte A4, the smallest model, which in most areas could give larger and several times more expensive hi-fi speakers a run for their money. The floorstanding model, the Forte A55, was also very good. But the little brother A4 was a bargain at its price.
However, we never got to test the middle model, the Forte A5. But now that Argon Audio has updated the whole range, it's a good opportunity to give it a try.
Also check out
Exceeding their class
Argon's affordable mini speakers play David versus Goliath with our tester's stereo system.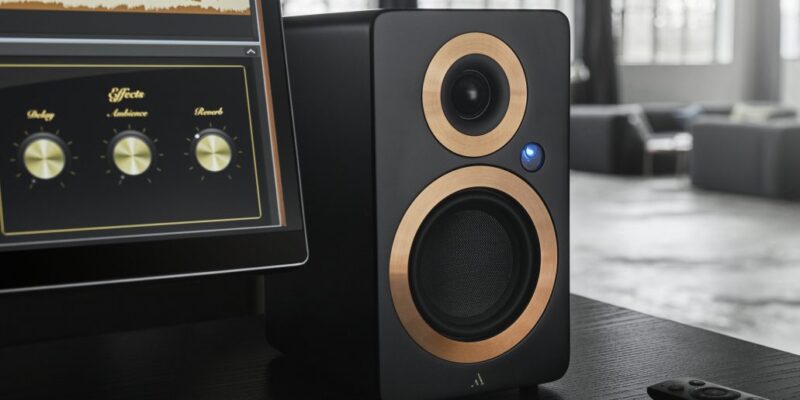 The Argon Audio Forte A5 MK2 is a small bookshelf or standmount loudspeaker. From the name, you can tell that it has a five-inch midwoofer. The A4 model thus has a 4″ midwoofer. And the A55 has two five-inch drivers. The tweeter in all of the models is a 1″ soft dome.
The cabinet has rounded edges, and the speaker units are surrounded by quite decorative metal rings. This was also the case on the original Forte series, but in addition to black and white paint, they are now also available with a walnut finish. Of course, the "veneer" has never been anywhere near a walnut tree. But it looks quite nice.
Argon Forte A5 MK2 are true active speakers, as each driver has its own amplifier, and the crossover is done electronically in DSP. But to keep costs down, all the electronics are mounted in the left speaker. The right one is passive and connected to the left speaker with a multi-cable.
Better than any soundbar
There's a wide range of inputs on the active speaker. Both optical digital, analog line input and turntable input (MM only). And here you'll find one of the few differences compared to the first generation speakers, namely an HDMI input. It will make these little active speakers an obvious companion to the flat screen TV. You don't get Dolby Atmos or any other kind of surround sound. But if you can make do with stereo, the Forte A5 MK2 can deliver sound quality that a soundbar in the same price range can only dream of.
Also check out
Danish thunder
Vestlyd is a new loudspeaker brand with very loud ambitions. We've tested the top model.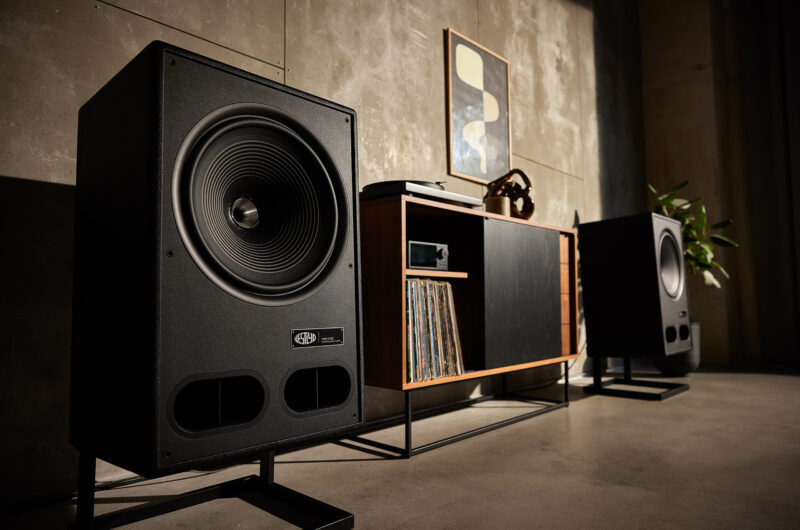 You can – of course – also play music wirelessly from your phone using Bluetooth. Thanks to aptX HD, the quality becomes quite acceptable. But if the music is to be used for anything other than background noise, it is advisable to use a wired connection.
As before, you can't choose which speaker is left or right. This means that you are forced to rearrange if you have your signal sources on the right side of the room. We've criticised this before, but unfortunately Argon hasn't learned its lesson on this point yet.
Sound quality
The previous Forte A4 speakers took me by storm. Because they performed in a way that I hadn't thought possible at that price.
With that experience under my belt, I didn't expect it to get much better with the Forte A5 MK2. It could!
Since I haven't heard the first version of the Forte A5, I can't say for sure if the better quality has to do with the generational change. But since the units, cabinets and amp section (but not the inputs) are supposedly unchanged, this is probably due to the larger midwoofer and cabinet.
More powerful bass
First of all, the Argon Audio Forte A5 MK2 reaches deeper into the bass. According to the specifications down to 40 Hz, which is a full 10 Hz deeper than the Forte A4. That the little shoeboxes can go so deep in the bass is an (electronically assisted) miracle. And the extra range makes a big difference. The Forte A5 can just about handle the deepest string on an electric bass at full level. And as long as the volume control is kept reasonably low, they have as much weight to the music as most full-fledged floor-standing speakers.
The church organ on "Koyaanisqatsi" is reproduced without a hitch. And at the same time there's enough control that you can sense the individual voices in the choir and their placement. Very well done! All in all, the small, cheap speakers have an ability to reproduce the dimensions of the acoustic stage, for which one usually has to pay much more.
If you're not into avant-garde opera, the Argons also handle lighter material superbly. Sorten Muld's "Balladen om Iver og Buske" sounds big and violent. And the beat in Hamilton's "Right Hand Man" is almost physical.
Of course, there are limitations. After all, we're dealing with a set of speakers that cost half of what you'd typically pay for a set of budget-friendly standmount speakers. And then you get a 4 x 80 W amplifier in the bargain.
Limitations – but they're liveable
Where the sheep separates from the goats is usually complex music. When the room needs to be simultaneously saturated with the sound of a full classical orchestra at the end of Disturbed's "Sound Of Silence" cover, while also being able to sense every wrinkle in David Draiman's voice and enjoy the acoustic guitar, most speaker and amp combinations lose their bearings.
So does the Forte A5 MK2. But it doesn't go nearly as wrong as it usually does. There's a lack of detail, but I don't get an urge to immediately change tracks.
Conclusion
The Argon Audio Forte A5 MK2 is a refinement of an already successful recipe. The sound is nothing to complain about, as they play with a precision you'll have to look hard for in this price range. Here the choice will easily come down to between it and Argon's smaller and cheaper Forte A4. Unless both budget and room size are very limited, it pays to opt for the Forte A5, which plays both deeper and louder. In my medium-sized 25 square metre living room, there was no shortage of power. The MK2 model has become a bit more expensive than its predecessor, which can still be found on the shelves. But the addition of an HDMI input and the upgrade of Bluetooth to aptX HD is such a big plus that it more than makes up for the price difference.