Jonas Ekelund
Published

2018-08-17 - 2:53 pm
A lot of decibels for its price. Many sound sources.
Immensely huge and terribly heavy. Cheap, ill-considered construction. Sounds terrible.
Specifications
Drivers: 2 x 4", 2 x 10"
Frequency range: –
Amplifiers: 120 watt
Max sound pressure: –
Connections: Aux, Bluetooth, Mic, USB, SD card
Battery life: 12 hours
Dimensions: 90 x 45 x 16 cm
Weight: 21 kg
Website: coolstuff.no
When you unbox the Vooni Boombox, it is mildly amusing. It's so big, you think it's a joke. When you try to lift it out of the box, you end up hurting your back, and then you stop laughing. They can't seriously believe that this is a portable music device? Party speakers in the same weight class tend to be equipped with wheels for a reason. There is indeed a carry strap, but it is only attached with two small screws directly in the thin chipboard, which the entire chassis is made of. The design is ridiculous, and it's no surprise that the speakers are as sturdy as a cheap IKEA closet.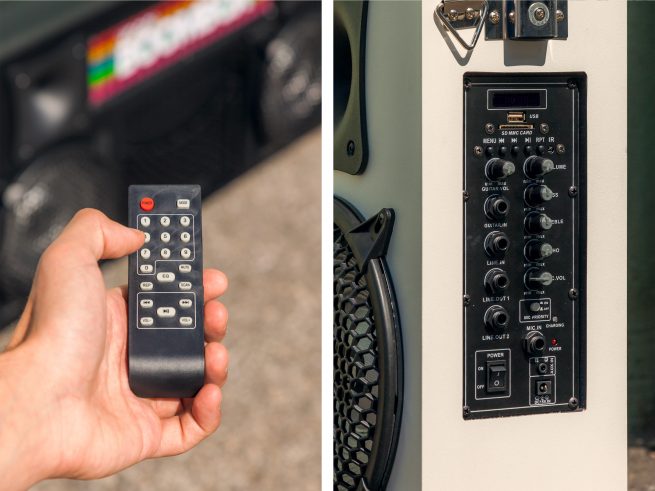 What it lacks in quality, Vooni compensates with the amount of buttons as well as inputs and outputs. It not only comes with a line input, but an actually guitar input, as well as a wireless microphone. You also get two line outputs. The boombox seems more suitable as a PA system than an actual boombox. Besides Bluetooth, you can play music via USB memory and memory cards. And there is FM radio! Next to the inputs and outputs, there are controls for volume and tone as well as the playback buttons. The front also has a gigantic visual equaliser, but you have to play it at a dangerously high volume for it to show anything whatsoever.
Like the rest of the impression you get of the Boombox, it seems as if no one bothered to listen to the results before Vooni began selling the speakers. The soundscape is unbalanced and totally incoherent. It sounds as if you are listening to a woofer and a tweeter that happen to be close to each other. The bass goes undoubtedly quite deep, but is too indistinct. The mid-range dominates so that voices and certain instruments drown everything else. The treble sounds glaring if you press it. I actually had flashbacks to the 80's, when buddies swapped speaker drivers in their cars without having any knowledge of acoustics or what worked together.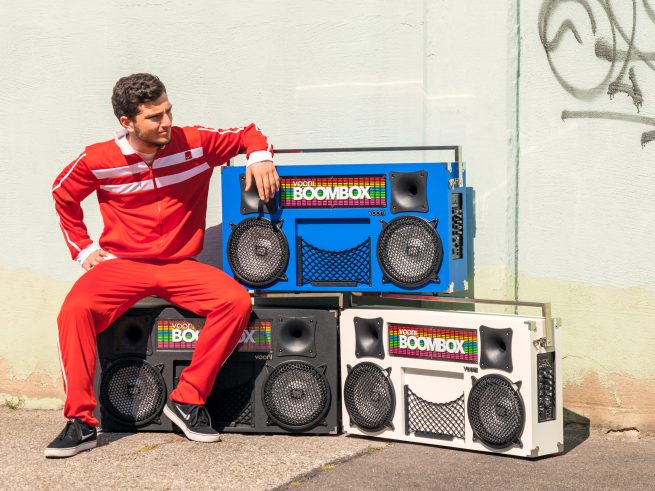 Conclusion
Let's imagine that the Vooni Boombox originated as a Vodka & Red Bull-drenched idea at a late night on a beach on Ibiza. How big are the drivers? Enormous. What should it contain? Everything. What sound sources should it have? All of them. What's the battery life? Incredibly long. But won't that make it too big and insanely heavy? Perhaps, but it's just a matter of putting on a huge handle. Won't it be too expensive? No, we simply screw the standard parts together in a wooden crate. But if it is to be used outdoors, shouldn't it be robust? Well, I guess you must be a little careful. This is our best idea ever. Who's buying shots? Not us!
Also in this test
Sony GTK-XB60
More flashing than thumping
Despite its party exterior, the XB60 does not play as gripping as its competitors.
Sleek design and impressive light show. Party mode and microphone input. USB charger.
Short battery life with all features on. Requires adjustments to sound good with different styles of music.
Aiwa Exos-9
Works well at home, not when it's away
You can't complaint about the sound, but it has its limitations as a boombox.
Replaceable battery pack. Plays loudly and powerfully. Balanced and good sound.
The overtones are not the most resolved. Not weather proof. Not exactly a boombox.
Braven XXL
A multi-faceted tank
An armoured vehicle on the outside that turns out to have unexpected music qualities on the inside.
Robust and IPX5 splash proof. Microphone input and USB charger. Unexpectedly good sound.
Quite heavy to carry around. No decent deep bass. Requires a special charger.
Monster Superstar Blaster
Great appearance and sound
Monster's boombox is brutal to look at, but it sounds nicer than expected.
Can play outrageously loud and can be taken everywhere. Worth the price, can be a real bargain!
Weighs quite a lot. Bluetooth and Aux input only.
JBL Boombox
Small speaker, big boom
Despite its relatively small size, JBL Boombox has a great sound with proper bass rendition.
IPX7-waterproof. Long battery life. Potent bass and good sound quality.
No tone controls. High price tag.