Jonas Ekelund
Published

2018-08-16 - 3:09 pm
Many audio sources including CD. Powerful sound with good bass. Compact format.
No app for iOS. Missing battery power. Lamps with only a fixed blue light.
Specifications
Output: 300 watt
Element: 2 x 5" + 4 x 1" treble
Audio sources: BT, USB, CD, FM/DAB +, Mic
Battery life:-
Dimensions/Weight: 65 x 27 x 20 cm/6.1 kg
Website: panasonic.no
The Panasonic SC-UA4 is rather a complete music system for a young person's flat. It has an impressive row of music sources, from modern Bluetooth and USB to traditional CD and radio, complemented by two microphone inputs for karaoke. There's even an optical input so one can use it as a TV speaker. A proper carrying handle makes it easy to take to your buddies' place. However, it is a bit odd that it lacks battery power, which means it isn't well suited for an outdoor party. You can use an extension cord, but the speaker is not protected for outdoor use.
With so many audio sources, there will naturally be a lot of buttons for playback, selecting source, changing volume, and getting to the settings. It gets a bit messy although the remote control does help somewhat. The Max Juke app could have helped with streamlining the menus, but instead it just has a remote control on the display. However, it has EQ and bass controls, but the jukebox function only feels like a gimmick. In addition, this model is not supported in the app for iOS. It's also a little weird that Panasonic has bothered to put in lamps, but that it is not possible to get them to flash or change colours.
Sound pressure and bass
Despite the fact that the speaker is not particularly large compared to the giants of this test, Panasonic has worked in a smart way to squeeze out as much audio as possible. The cabinet has a honeycomb structure for stability, bass ports that help move air and an adjusted treble for a more ambient sound. The sound pressure is certainly sufficient for an indoor party, and it hangs on all the way down to the deep bass. It works great with everything from howling guitars and thundering drums to electronically generated bass lines. However, it is too much to ask for the bass to knock your socks off. The sound quality is perfectly okay, and definitely good enough for dance music.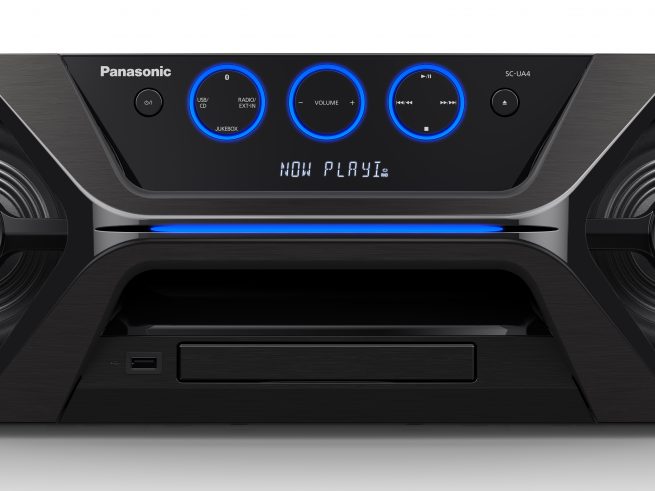 Conclusion
The Panasonic SC-UA4 is a compact system with sufficient power to goose up any house party. The sound resources are fully adequate and the bass is very deep, so it works great with everything from pop and rock to electronic dance music. If you'd like to sing karaoke, just plug in the microphones. But it is also a practical everyday system as it has a CD player, radio and can be used as a TV speaker. However, despite the carrying handle, it is not suited to be used for a party at the pool since it has neither battery power nor is protected for outdoor use. One does not get any feel of disco, because the lamps only emit permanent blue the whole time.
Also in this test
Soundboks 2
It actually goes to 11
It is a festival speaker above all others, with crazy sound levels with a battery life for the whole weekend.
Thundering bass and intense acoustic pressure. Very robust. Outstanding battery life.
The battery could be more protected. Expensive.
Sony MHC-V71D
Now we are talking party
Sony is king of the party with deafening volume, heavy bass and the best light effects.
Full app control. Impressive light show.
Requires caution when transporting. Overwhelming number of buttons.
Philips NTX400
Is there a party or what?
Many sound sources, festively flashing lights and great sound pressure at a reasonable price.
Many music sources. Fairly easy handling. Great sound resources and powerful bass.
No mobile phone app. The light show is a little monotonous. The NX Bass mode lasts only a short time.
iDance AC/DC TNT-3
Rock In ­Peace
Short battery time and surprisingly kind sound will make the rock n' roll party end quickly.
Surprisingly well-built and easy to transport. No major errors in the sound quality.
Too short a battery life for outdoor parties. Missing volume resources and pressure in the bass.
JBL Pulse 3
Well lit house party
Instead of thunderous bass and glittering light, Pulse provides cosy music and a fireplace ambience.
Waterproof according to IPX7. Really cool light effects. Can be run as a stereo pair or in party mode.
Inadequate audio resources for outdoor parties. The bass is too weak for electronic dance music.