Mikael Hansen
Published

2018-08-16 - 11:20 am
Compact and nice sounding all-round speakers with a lot of connections and good usability.
No USB input, a lousy remote control and relatively high priced.
Specifications
Type: Bi-directional active bookcase 2 x 50 W
Wireless: Bluetooth 4.0 A2DP aptX
Connections: RCA, Aux Analog, Optical, Phono (MM)
Sensitivity: N/A
Frequency response: N/A
Dimensions/Weight: 16.5 x 23.5 x 29.1 cm / 9.5 kg
Colours: Matte black or white
Other: Subwoofer output, Remote control
Website: hifi-freaks.no
The French speakers look good in white, and are not too large to be placed in a bookshelf, but you should perhaps be careful doing that. Let's get back to it soon. But first: The speakers have everything one needs built-in. Audio inputs for both analogue and digital audio sources, such as the optical input you can use for the TV sound. They also have turntable input, plug and play, as we say, and obviously wireless via Bluetooth.
The speakers connect with an accompanying speaker cable, and can stand on a shelf, on the bookshelf, or on a pair of stands. Everything can be controlled with the provided remote control, which isn't exactly overflowing with quality, but it works.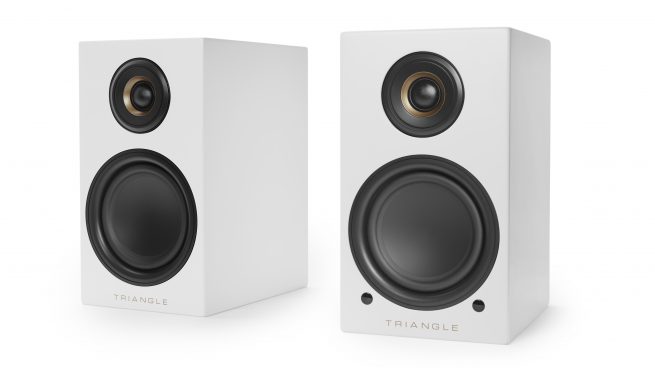 Sound
Triangle Elara is a lively speaker with generous amounts of bass, which at times can be overwhelming. Fortunately, youcan adjust the bass and treble and adjust the balance of the sound to the location in the room. This is an advantage, because if you put them against the wall, or in the bookshelf, the bass must be reduced so as not to become bothersome. It then also overshadows midrange and treble, which is quickly drowned in bass. But when the adjustments are done, the balance is good. They may sound somewhat eager in the treble when playing loudly, but they sound clear and open, with a great rendition of vocals and string instruments. They managed very well on the classic track, the choir comes through in the soundscape, and there is plenty of bass here.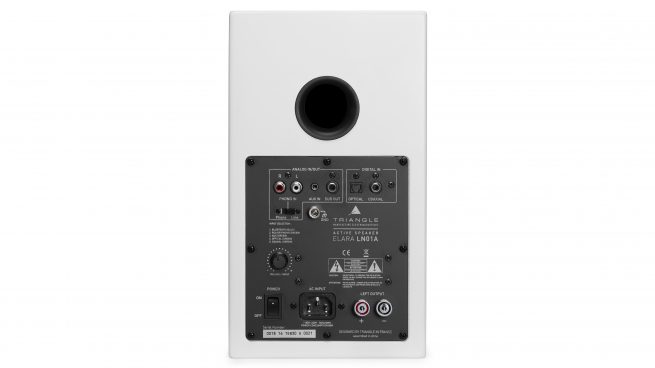 Conclusion
Triangle Elara delivers a larger soundscape than most in its field, and sounds compelling when playing classical music. Just make sure not to play too loudly, as the bass may grate. On the Eminem track, the bass punches well, which is relatively well defined, but not particularly deep. The sound balance leans towards warm and there is some emphasis in the midrange. But there's not much else to say.
They are easy to set up, easy to use, sounds both balanced and vivid, and are equipped with enough inputs to cover the needs of most people.
Also in this test
Argon Alto 5 Active
A total bargain of a price
The cheapest speakers of the test are certainly nothing to scorn at. Argon Active 5 actually plays impressively well!
The Argon speakers have a distinct, airy and rich sound, which can certainly be compared to far more expensive competitors.
The speaker cable must be purchased separately.
Klipsch R-14PM
Small powder keg
It does not depend on the size: These dynamic toddlers from Klipsch knockout in the biggest challenges!
The Klipsch speakers create a massive, wonderful and detailed soundscape
Cheap cabinet finish. If you want proper deep bass, you need to pair it with a separate subwoofer.
SA saxo 3 active
Sounds fine, but...
SA has fine-tuned its Saxo series, and Saxo 3 Active has received a turntable input.
The bass is surprisingly rich and warm, and the speakers never sound sharp or brash.
Sounds more cautious and laid back than what we are accustomed to from SA, which normally makes very energetic and dynamic speakers.
Ruark MR1 Mk2
Slender charmer
The Ruark speakers are both small and versatile, but will come to the most important things shortly.
Sleek design and trustworthy quality with good user-friendliness, relatively rich and warm sound considering size.
No USB or turntable input, some grey sound and anaemic dynamics with limited ability to engage.