Mikael Hansen
Published

2018-08-16 - 11:20 am
The Klipsch speakers create a massive, wonderful and detailed soundscape
Cheap cabinet finish. If you want proper deep bass, you need to pair it with a separate subwoofer.
Specifications
Type: Wireless stereo speaker 2 x 40 W
Wireless: Bluetooth 4.0 A2DP aptX
Connections: optical digital, stereo line-in (L/R RCA), turntable (MM), PC USB
Effect: 2 x 35 W
Dimensions/Weight: 14.9 x 24.8 x 19.1 cm / 3.2 kg
Colours: Black vinyl
Other: Subwoofer output, Remote control
Website: mono.no
The small R-14PM are among the smallest models from the Americans, and the fondness for HORN applies as much to these as to other Klipsch speakers. R-14PM uses the patented Tractrix horn together with a 4" bass/midrange, in a tiny bass-reflex enclosure.
Instead of imitation wood, Klipsch opts for a slightly sad and "cheap" vinyl finish on the "cheap" Reference series. All the connections are made in one speaker, while a supplied speaker cable is stretched over to the other. With its own remote control and good connectivity, the R-14PM is excellent as a complete sound system.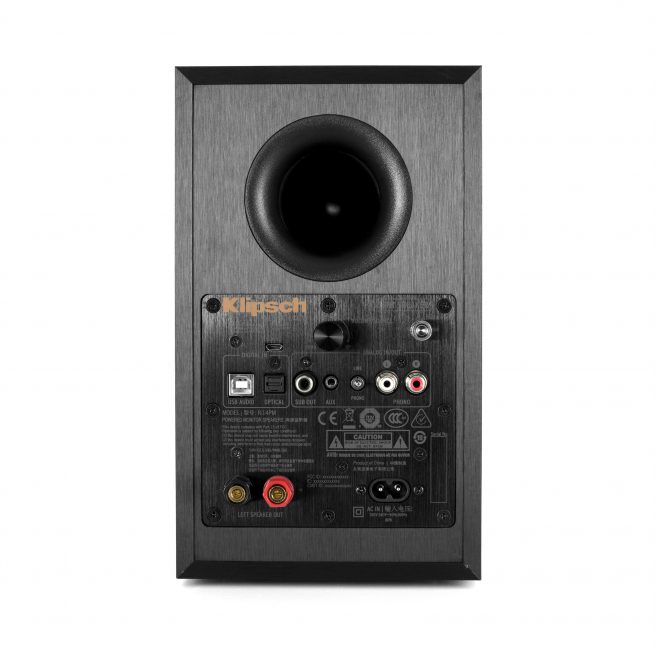 Sound quality
They swear by horn-loaded speakers at Klipsch, partly because it increases the efficiency and ability to play loud, clean and clear. And it works, it truly does!
Mathias Eicks's lovely trumpet rings freshly into the room. And the test panel actually gets a little teary eyed once we play Mercedes Sosa's emotional Kyrie. The small Klipsch speakers create a massive soundscape and manage to render Mercedes' broad voice range without adding any "brakes" in the dynamics.
The Eminem classic Without Me, R-14PM shows that they can play loud and clear with no signs of stress. Eminem's quick and confident lines are hard-hitting just as they should be. The synth bass may seem a little slim at times, but this has a natural explanation.
A small, compact speaker with a 4-inch subwoofer has its physical limits within the bass area. But to our ears, Klipsch has prioritised quite correctly. Instead of "cheating" with the sound y adding excessive bass at low volume, they have made a speaker with the correct sound balance. The R-14PM is also excellent together with an active subwoofer, not least thanks to its own volume controlled sub-output in the back. You get the best combination of them all, since none of the other test participants can match Klipsch's dynamic qualities in treble and midrange.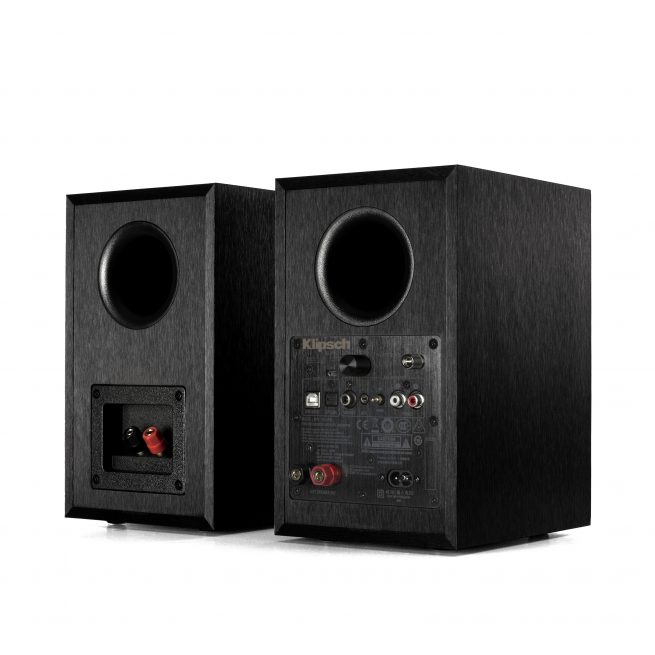 Conclusion
The Reference series from Klipsch is one of our favourites among passive speakers, known for its resilient and energetic style of play. And the active version does not bring shame on its roots: Here there is plenty of pep and speed in the midrange and treble, and good cohesion in the sound picture. The bass may seem a bit slim, but those who mount the speakers close to the wall or in a bookshelf will experience a nice bass response. Klipsch R-14PM gave the best sound of the test!
Also in this test
Argon Alto 5 Active
A total bargain of a price
The cheapest speakers of the test are certainly nothing to scorn at. Argon Active 5 actually plays impressively well!
The Argon speakers have a distinct, airy and rich sound, which can certainly be compared to far more expensive competitors.
The speaker cable must be purchased separately.
Triangle Elara LN01A
Lively and practical
Triangle's wireless speaker is a well constructed and a viable option in this price range.
Compact and nice sounding all-round speakers with a lot of connections and good usability.
No USB input, a lousy remote control and relatively high priced.
SA saxo 3 active
Sounds fine, but...
SA has fine-tuned its Saxo series, and Saxo 3 Active has received a turntable input.
The bass is surprisingly rich and warm, and the speakers never sound sharp or brash.
Sounds more cautious and laid back than what we are accustomed to from SA, which normally makes very energetic and dynamic speakers.
Ruark MR1 Mk2
Slender charmer
The Ruark speakers are both small and versatile, but will come to the most important things shortly.
Sleek design and trustworthy quality with good user-friendliness, relatively rich and warm sound considering size.
No USB or turntable input, some grey sound and anaemic dynamics with limited ability to engage.