Lasse Svendsen
Published

2022-02-02 - 8:15 am
Very high image quality from 1 inch image sensor in limited light. Dedicated capture and shutter button, rich settings menu with features we associate with professional cameras.
The 1 inch camera is cropped, visible vignetting on f4 and the price is high.
Specifications
Operating system: Google Android 11
Screen: 6.5″ OLED, 120 Hz, 3840 x 1644, 643 dpi
Processor: Qualcomm Snapdragon 888 5G
Memory/storage: 12 GB RAM/512 GB, microSD
Cameras: 16 mm 12 MP f/2.2 + 24 mm 12 MP f/2-4.0 + 50 mm 12 MP f/2.4 (primary) / 8 MP f/2.0 (front)
Video: 4K 24-120 fps, 10 bit HDR, CineAlta
Wireless: 5G, 4G LTE, Wi-Fi, Bluetooth, NFC, GPS etc.
Battery: 4500 mAh
Dimensions and weight: 166 x 72 x 9 mm / 211 g
Other: Wireless charging, 12 bit RAW, HDMI to USB, IP68, stereo sound recording, 24 mm optical image stabilization, 20 fps, 315 focus points
Web: sony.co.uk
Heavy processing is one of the reasons you can get very good image quality from the tiny cameras on the back of mobile phones.
But as we often see in our tests, there are limits to how much advanced image processing can correct. Very small image sensors have incredibly small pixels, and although records are set in the number of pixels each year, you see the limitations in image quality just when the images are displayed on a larger screen.
As long as you stick to the mobile screen, not to mention social media – where heavy compression inhibits both resolution, color reproduction and dynamics – it is impossible to see if the images e.g. is taken with an iPhone 10 or 13 Pro.
Photographers who are used to working with expensive cameras rarely use the mobile camera for anything important. The limitations are too severe for that. But they may be interested in Sony's new camera phone – PRO-I with I for Imaging – because it has something we rarely see on mobile phones.
A 1 inch(!) image sensor – with a twist
While the vast majority of mobile cameras have a tiny image sensor, the PRO-I has got a much larger CMOS image sensor, taken from Sony's camera division.
We know it from the Sony RX100 VII, which has a 20 megapixel CMOS Exmor R image sensor, which is one inch large diagonally. It has much larger pixels than usual, at 2.4 µm. By comparison, an Xperia 1 III has a pixel size of 1.8 µm, and an iPhone 13 Pro 1.9 µm.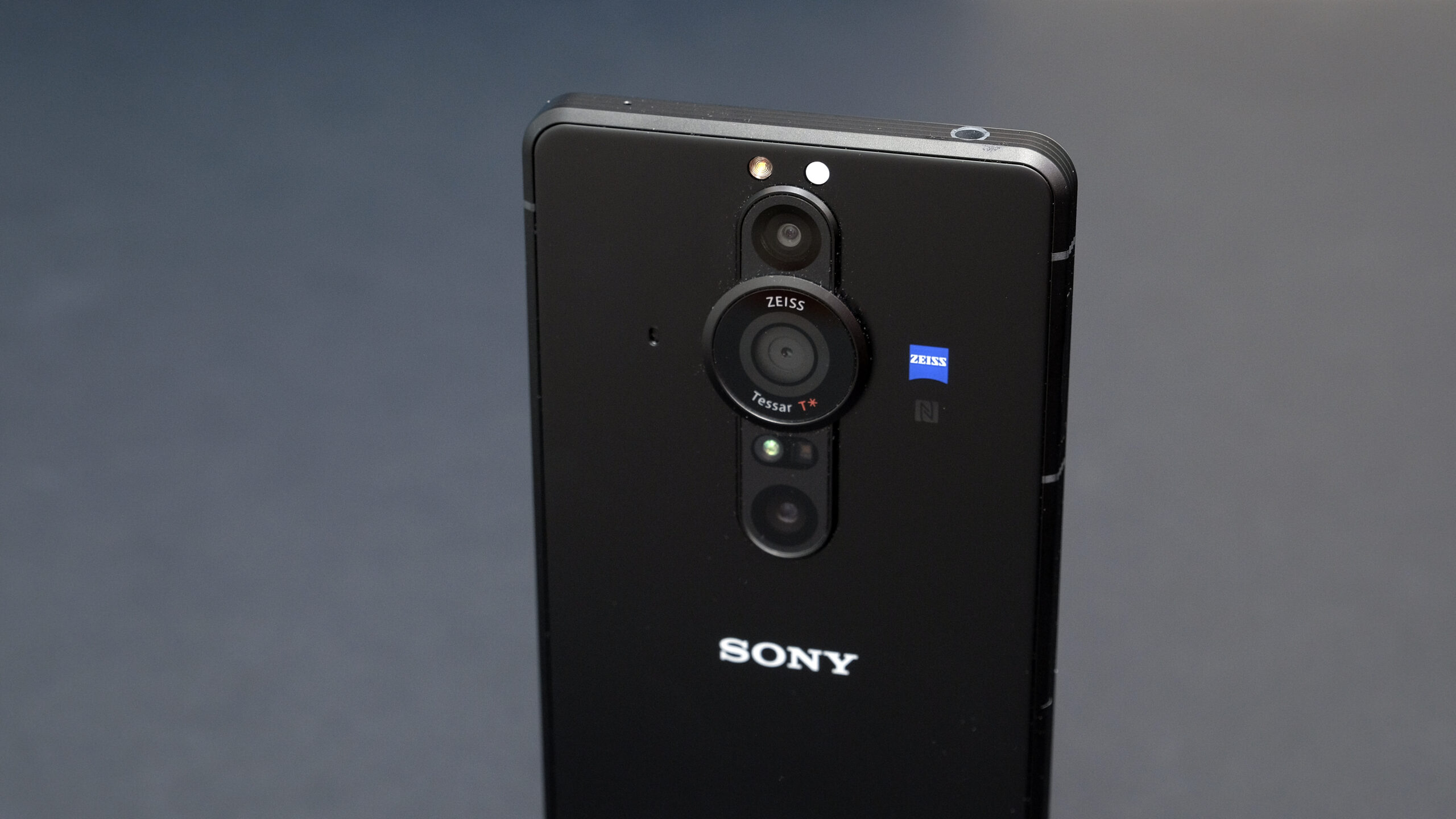 The 1-inch image sensor is used only on one camera, which is a 24 mm f/2.0 – with optical image stabilization, which also has an f/4.0 aperture. The other two cameras are a 16mm f/2.2 and a 50mm f/2.4, and all three have 12 megapixel resolution.
12? But what happened to the 20 megapixel sensor from the RX100 VII?
Sony has simply cropped the CMOS sensor here and there to accommodate all three cameras on the back. Thus, the image area is also smaller, and the usable image area is reduced from 1 to 1/1.31 inches in a 4:3 format – therefore 12 megapixels instead of 20.
The downside is that aperture 2 suddenly becomes f/7.1, or f/14.2 if you select f4 in the camera menu on the mobile. Compared to the Xperia 1 III, this is not so bad, because an aperture of f/1.7 corresponds to aperture f/8.1. By comparison, the main camera of the iPhone 13 Pro, with f/1.5, has an aperture equivalent to f/6.8. All converted to full-frame size on the image sensor, and the same applies to the specified focal lengths.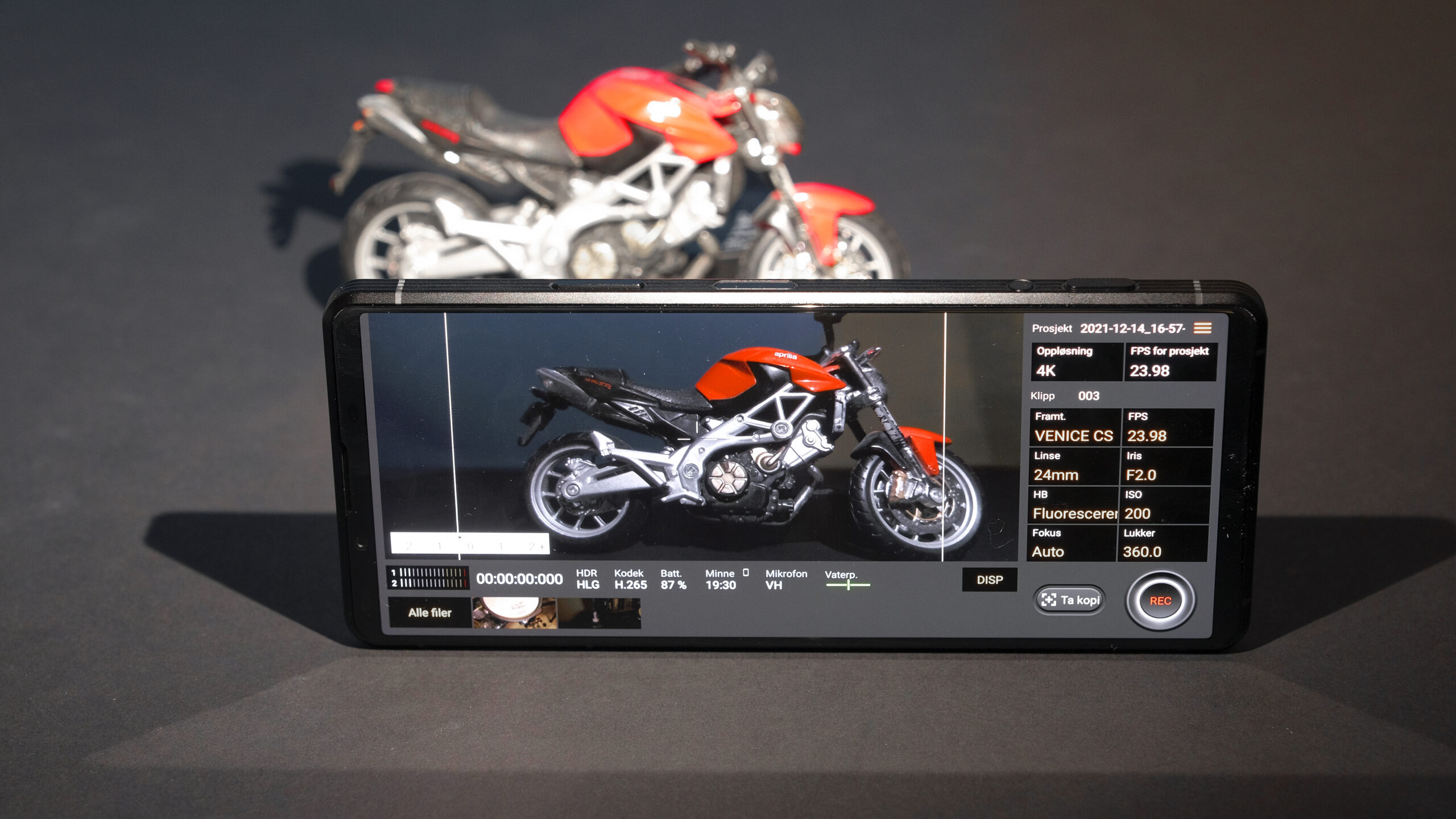 Cinema Paradiso
The relatively narrow aperture (which all mobiles have) means that you do not get fine bokeh effects with muted and softly recorded backgrounds without amploying heavy image processing. It can give some unwanted effect on the images, which you never get from a camera with aperture f/2.0 or larger.
Sony has taken more than just the big image sensor from the camera division. Among other things. a magnificent autofocus with real-time follow-up focus and 315 phase focus points, which cover approximately 90 percent of the image area. This is the kind of thing we expect to find on a Sony alpha camera and not on a mobile.
Another thing we are used to finding on an alpha camera is a high level of functionality with video recording settings and still images that are quite unusual on a mobile phone. But on a PRO-I you will find many of the same video and image settings that Sony photographers use.
You can record video in 4K quality from 24 to 120 fps in either H.264 or H.265 compression, in 21:9 format if you want. There are actually two video apps on the mobile: Video Pro, which gives you conventional control over exposure, focus and ISO, but which also has auto-exposure setting, and the more advanced Cinema Pro with Sony Venice color profiles, pull focus and shutter speeds in frames from 1/24.
The mobile can also be used as a monitor for a camera, either via USB or an HDMI/USB dongle, and it can also be connected to Sony's 3.5 inch Vlog Monitor and a microphone via the 3.5 mm headphone jack. All this can be mounted on the handle from Sony, which is called GP-VPT2BT, and then you have a compact camera tripod for video and still images, which you control from the GP-VPT2BT handle.
Still images
The camera app is just as advanced and, as mentioned, is reminiscent of the setup in the menus of a Sony alpha camera. Here there is a wide range of settings, and you can choose the ISO value from 100 to 12,800, following focus, light metering, shooting speed up to 20 fps and 12 bit raw files (DNG).
You can also choose to store jpeg, alone or with raw, either internally or on a microSD card, but there is no setting option for 10 bit HEIF files.
Sony has tried to make the phone as user-friendly as possible with a self-timer and shutter button, a fluted pattern on the sides and a camera strap attachment. It is of greater help than you might think, because the slim mobile is comfortable in the hand.
I quickly found myself holding it in my left hand, between my thumb and little finger, with my right hand as a support and my right index finger on the shutter button. A bit like holding a camera. Next to the shutter button there is also a tiny button that can be programmed.
Image quality
Ultimately, it is the images that determine whether PRO-I lives up to the name. I must hasten to say that the image quality is without a doubt best from the 24mm lens with the 1 inch image sensor. It is also good with the wide angle of 16 mm, and of 50 mm, but it is at 24 mm that the image quality shows itself from its best side.
The other two image sensors are much smaller and far more sensitive to stray light and image noise, but if you stick to 24 mm and preferably f / 2.0, there are no other mobiles that reach the same image quality that you can get from PRO-I . It is entirely possible to shoot up to ISO 1600 without too much noise. The color gradations are generally really good, and skin tones look really good, also in jpeg format.
The sharpness of 24 mm is also incredibly high, but it must be said that so is also an iPhone 13 Pro Max, if you compare. The difference lies in how the Sony mobile processes the images from the 1-inch image sensor, especially when the ISO values ​​creep above 400. This is where you first see the difference between PRO-I and a regular mobile.
What is also interesting about the Sony mobile phone is that you get very good 4K quality and also good control over it. There is limited visible rolling shutter and few artifacts, except for a little mosquito noise in low light.
If you compare it to a camera like the Fujifilm X100V or Sony's new a7 IV, you quickly see that even mobiles with advanced machine learning and heavy processing have a long way to go before the image quality can match a camera in image dynamics, color reproduction and tonality, not to talk about image noise in limited light, which is an Achilles heel for all mobiles, but to a lesser extent for PRO-I.
But is it also a good mobile?
The PRO-I is mostly based on the Sony Xperia 1 III, which has a 21: 9 OLED screen with 120 Hz and 4K resolution, which is capable of displaying the DCI-P3 gamut. The screen has a bit of the same problem as we have seen on other Xperia models, where it does not get enough light and contrast in sunlight to see the subject properly.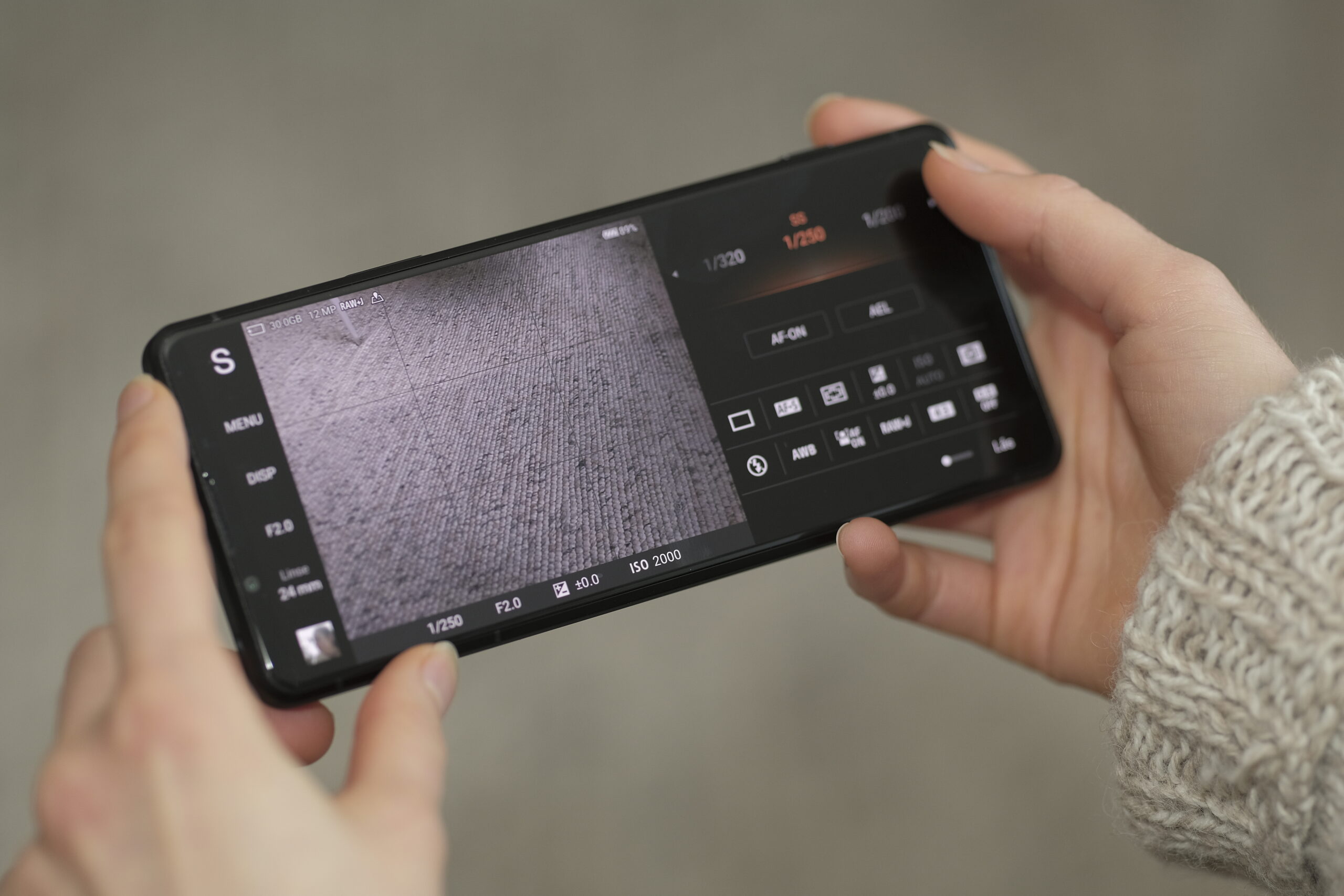 Conclusion
Sony Xperia PRO-I is by far the best mobile we have tested in terms of picture quality. But note that it is first and foremost the cropped 1-inch image sensor of 12 megapixels that applies. PRO-I is also a damn good mobile in other areas, but it is clearly most interesting for those who need a mobile phone with the best camera. For everyone else, an Xperia 1 III will be a smarter choice, because with the PRO-I you pay a good deal extra for an expensive camera and advanced still image and video features. Until we get tested Leica's Leitz Phone 1, which has a 1-inch CMOS image sensor with 20 megapixels in full size, the Sony PRO-I is the best camera mobile out there.