Products in this test
In a declining market, Huawei and Apple are the only companies with increased turnover. It is therefore interesting that both of them are releasing new tablets on the market. If you do not have a tablet, you should buy one of these, so you can watch a movie and series during a flight, and go online and work with spreadsheets on the move.
Apple securely occupies the throne, but Huawei is catching up with powerful hardware that is biting Apple's Pro in the heel. However, MediaPad M5 is pricewise closer to the new iPad. They can both be purchased with 4G and Wifi. On paper, Huawei is a bit more powerful, but does not allow the use of a pen, which is the latest novelty at Apple.
iOS or Android
Whether you choose Apple or Huawei, it will hardly depend on what is ultimately behind the screen, but instead on the software you use every day. Apple stands strong with its App store, and Android continues to lag behind despite progress. However, if you are completely green, you can go for theirs.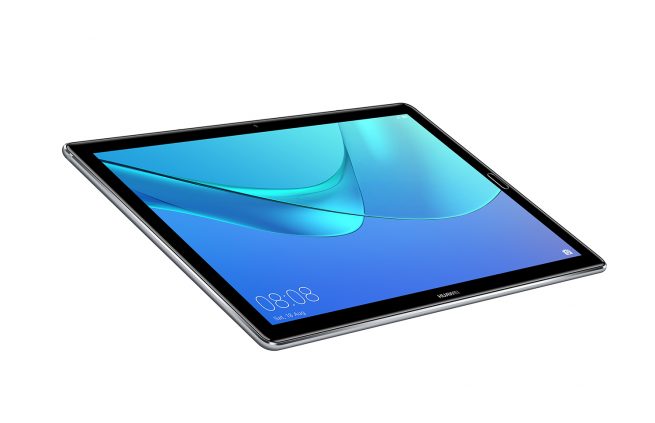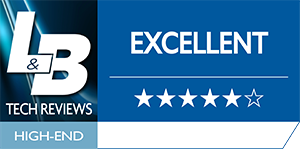 Excellent based on price
Huawei is fighting back and proving that the Android tablet is still interesting.
Our verdict
You get a lot for your money. Large display, the possibility of increasing memory and good speakers.
Does not support a pen.
10.8" LCD display, 2560 x 1500 pixels (16:10)
Kirin 960 processor, 4 GB RAM, 64 GB storage space, Android Oreo
8 Mp camera on the back, 13 Mp camera on the front
Fingerprint reader, Bluetooth, GPS, Gyroscope, Wifi & 4G
Four speakers, USB-C
7500 mAh battery
Dimensions and weight: 258.7 x 171.8 x 7.3 mm / 498 gram
Website: huawei.com
show more
show less
Huawei's MediaPad M5 wants to be both a tablet and a PC. It is best suited at a tablet. The big screen is 10.8 inches and is of the LCD type. Although large, it is still comfortable to sit with and it quickly unlocks via the fingerprint reader at the bottom. There is, of course, a camera both front and back. It would have been nice if you could use it to unlock with, but it's not possible. Unlike Apple's new iPad, you can't use a pen in this version. Instead, you have to get the Pro edition, which will not come to Scandinavia immediately. The special computer mode allows you to connect to a mouse and keyboard, either wirelessly or through a cover. It works quite well, but still depends on the support of the individual apps, which unfortunately are lagging a bit.
Older parts
Inside we find a slightly older Kirin 960 processor, 4 GB RAM and 64 GB of storage. The latter is probably the most interesting, as few will experience it as particularly slow. The storage space can fortunately be expanded with micro SD cards. The built-in battery is 7500 mAh, and naturally has a fixed charging function, as we know it from Huawei's mobile phones, and can charge it all the way from 0 to 100 percent in less than three hours.
Great Sound
A point that deserves particular praise is the built-in speakers.They have made room for four speakers. They play both loudly and for the format incredibly well. As a smart detail, the soundscape rotates when you turn the display. Unfortunately, we note at the same time that Huawei has taken away the mini jack output, which Apple, despite all else, still has not been brave enough to remove from their tablets.
Conclusion
Huawei MediaPad M5 is a rather successful tablet that can compete with Apple's iPad, unless you are already emersed in their ecosystem. Whether you want it or not, it still has a lot to offer. Nevertheless, this is a successful piece of hardware, especially with outstanding sound and a good display. You get great value, if you are brave enough to throw the Apple in the trash and bank on Oreo.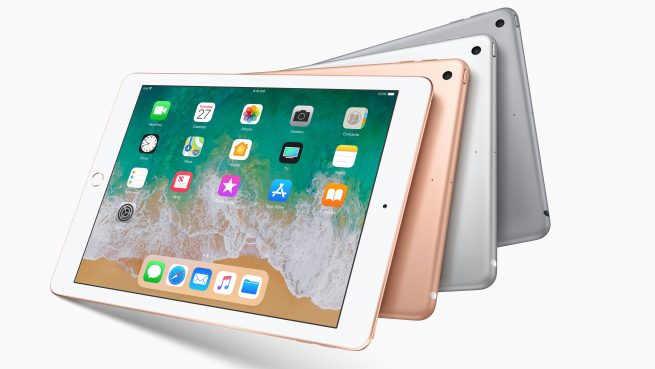 iPad 9.7″ 2018 (6th generation)
An easy upgrade
Apple adds pencil-support to its regular iPad.
Our verdict
The best iPad based on price. Pencil support is no longer limited to the Pro edition.
The speakers don't play particularly well, and there's no smart connection to the keyboard cover.
9.7" LCD display, 2048 x 1536 pixels (4:3), Apple Pencil support
Apple A10 Fusion processor, 2 GB RAM, 32 GB storage space, iOS 11
8 Mp camera on the back, 1.2 Mp camera on the front
Touch ID home button, Bluetooth, GPS, Gyroscope, Wifi & 4G
Two stereo speakers, 3.5 mm jack
8610 mAh battery
Dimensions and weight: 240 x 169.5 x 7.5 mm / 478 gram
Website: apple.com
show more
show less
Apple's iPad is both very popular and quite expensive. This is why it's great news that the new iPad has become the cheapest to date, depending on the configuration you choose. On the surface it looks like its usual self. The display, cameras and fingerprint reader are also reused from 2017. You still get a 9.7 inch large LCD display of the IPS type, same amount of RAM and same battery. However, Apple has been good at upgrading the processor inside, so it is now somewhat faster without coming close to the same performance that we see in the Pro edition.
The pencil from Pro
Although there are few upgrades, one of the most striking is the support for Apple Pencil, so you can now draw and write directly on the screen as also possible on the expensive Pro. It seems quite straight forward, but there are noticeable differences between the two. The new iPad is not quite so quick to register the press, and does not have a display that is equally good and fast. However, when the choice stands between pencil or not, we still prefer Apple's solution rather than Huaweis, which simply cannot use the pencil on the "cheap" version.
Average speakers
Because the speakers have such importance on Huawei's tablet, it's natural to see whether Apple can measure up. If we use iPad Pro as an example, they can clearly measure up. Unfortunately, this is not the case with the normal iPad that we test here, which is only equipped with two speakers against Huawei's four. It can be noticed, and the two do not also play as loud and as good as Huawei's. Luckily, Apple has kept the mini jack output, so one can always just plug in a pair of headphones.
Conclusion
The Apple iPad 9.7″ 2018 is in its class the best iPad at present. Naturally, it is available in several configurations, and if you can settle for the very simple model with 32 GB and Wifi, you can get it at a very decent price. However, if you already have the 2017 edition, there is not much that is new except for the support for Apple's digital pencil. If you have an urge for the expensive Pro, the new iPad is on the other hand an obvious choice at a reasonable price.