Peter Gotschalk
Published

2022-06-22 - 11:30 am
Apple M1 processor, enhanced "In Focus" camera, 5G and iconic, high-quality Apple design.
The IPS screen is not up to date and could easily be brighter.
Specifications
Operating system: iPadOS 15.4
Display: 10.9-inch Liquid Retina IPS, 2360 x 1640, 254 ppi
Processor: Apple M1 octa-core
Memory: 8 GB RAM / 256 GB storage
Cameras: 12MP f/1.8 (primary) / 12MP 122° ultra wide angle f/2.4 (front)
Wireless: 5G, Wi-Fi 6, Bluetooth 5.0, A-GPS, GLONASS
Dimensions and weight: 247.6 x 178.5 x 6.1 mm / 462 g
Battery: 28.6 Wh, 20 W fast charge
Web: apple.com
Visually, nothing's changed since 2020, when the predecessor to iPad Air saw the light of day. The updated iPad Air features the same "old" design, with sharp lines and edges combined with rounded corners that make the tablet look like an outgrown version of iPhone 4 and iPhone 5 – two classic handsets that were responsible for some of the most iconic Apple design ever.
The screen is also the same, a 10.9-inch Liquid Retina display (with a resolution of 2360 x 1640 pixels, equivalent to 264 ppi), which means it's still an IPS screen, which in practice means that the brightness (500 nit) is always perceived as a little too low, just as the contrast and black level could also be better. We would have liked Apple to equip the latest iPad Air with the same Mini-LED screen technology as the iPad Pro.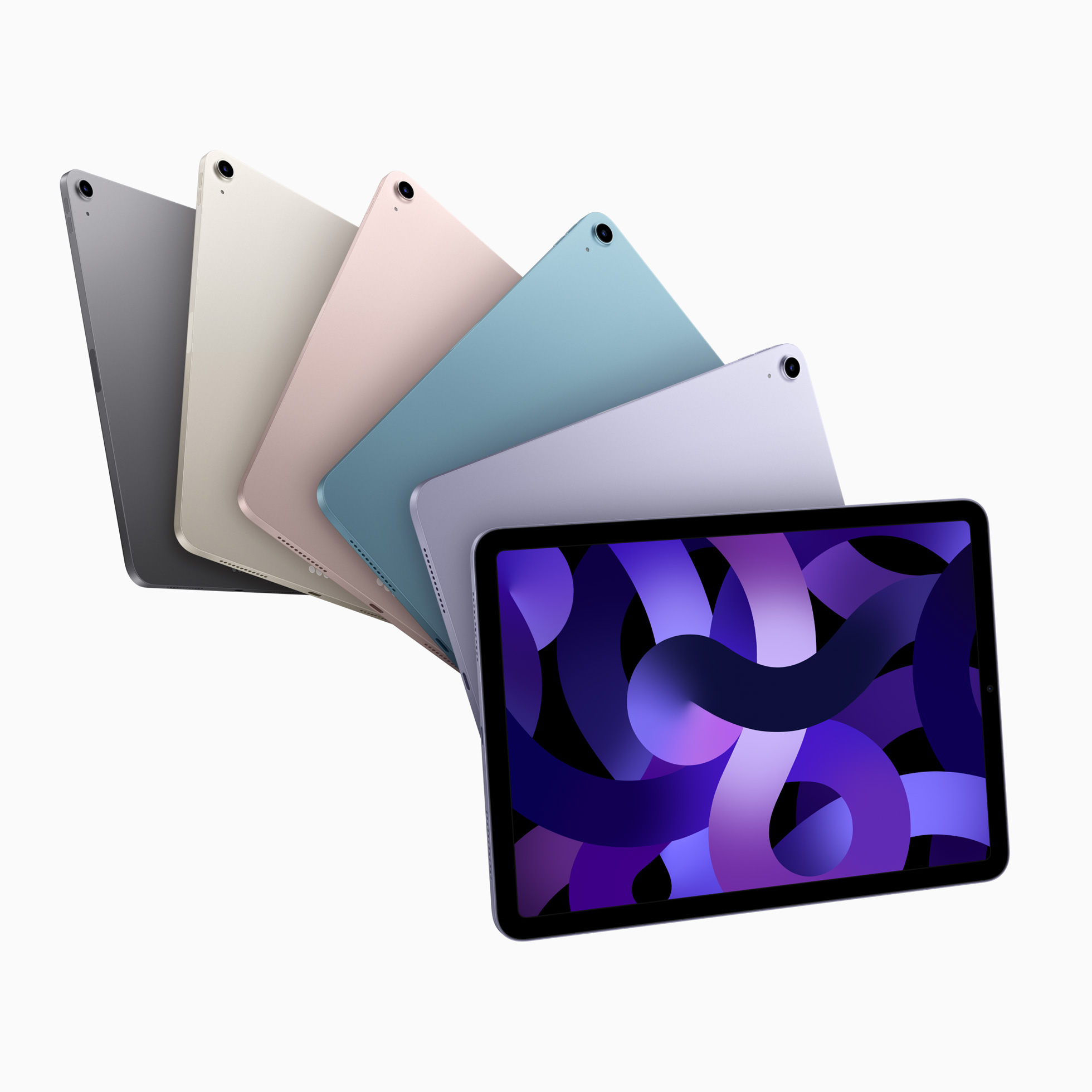 Nothing new under the sun
Face ID hasn't made its way to the new iPad Air, either. Instead, the Touch ID fingerprint reader sits in the same place it did two years ago, in the power button, just as the latest iPad Air, like its predecessor, has built-in stereo speakers that have been placed horizontally. That way, you get great stereo sound whether you're playing games or watching video on your tablet.
So far, there's nothing new under the sun. But of course the 2022 model also offers a few new features, otherwise Apple could hardly afford to advertise it as a major update.
Speed Monster
And it's primarily when it comes to speed and muscle that the latest iPad Air impresses. Partly because it now (finally!) comes with 5G, and partly because, like the iPad Pro, it has Apple's own M1 processor residing under the screen.
Because the M1 processor is built on an ARM-based processor architecture (and comes with, among other things, 16 billion transistors, 16-core Neural Engine, and eight processor and eight graphics cores), it works just as well under iPadOS as it does with macOS, the operating system for Apple's "regular" computers.
And let's face it, iPad Air has also caught up with the M1. Based on the Geekbench 5 benchmark tool, the 2022 iPad Air is more than 40 percent faster than its predecessor, and when it comes to graphics performance, the difference is even greater.
Of course, that also means iPad Air is better than ever at both imaging and video editing. There's simply no waiting at all when playing with filters or adjusting colours, and both rendering and exporting video files is lightning fast.
Camera functionality from iPad Pro
And then, of course, there's the camera. The new iPad Air has an all-new front camera similar to the one on the much more expensive iPad Pro, with a 122-degree ultra-wide-angle lens that supports the In Focus feature Apple launched last spring.
In Focus (also called Center Stage) uses artificial intelligence to follow the person talking when video conferencing with work or grandparents via FaceTime, Skype or Zoom. If you're in the middle of the frame, the camera follows you several paces to the left and right, so to speak, and the effect works flawlessly and feels very natural in everyday use.
The primary camera is also quite respectable, and although it offers me some resistance to taking pictures with a tablet, the iPad Air does the job quite brilliantly, as you can see examples of in the image gallery below.
Conclusion
In short, the 2022 version of the iPad Air is the best of its kind to date. It's very close to being as good as the somewhat more expensive iPad Pro, and if you're already an Apple user and used to navigating the company's ecosystem of apps and services, the iPad Air is actually the most obvious choice if you're looking for a tablet right now.
All the more frustrating, then, that Apple hasn't gone all the way as far as the screen is concerned. It's quite obvious that the sleek, slim and lightning-fast iPad Air deserves a Mini-LED screen. Let's hope it comes with the next update.