We rarely test Blu-ray players anymore, for the simple reason that the market has been a bit quiet in recent years! Ever since Chinese Oppo shut down production of their popular players, several of the major electronics manufacturers have stopped making BD players. And those who still do, rarely come up with something new and exciting. But Reavon wants to do something about it!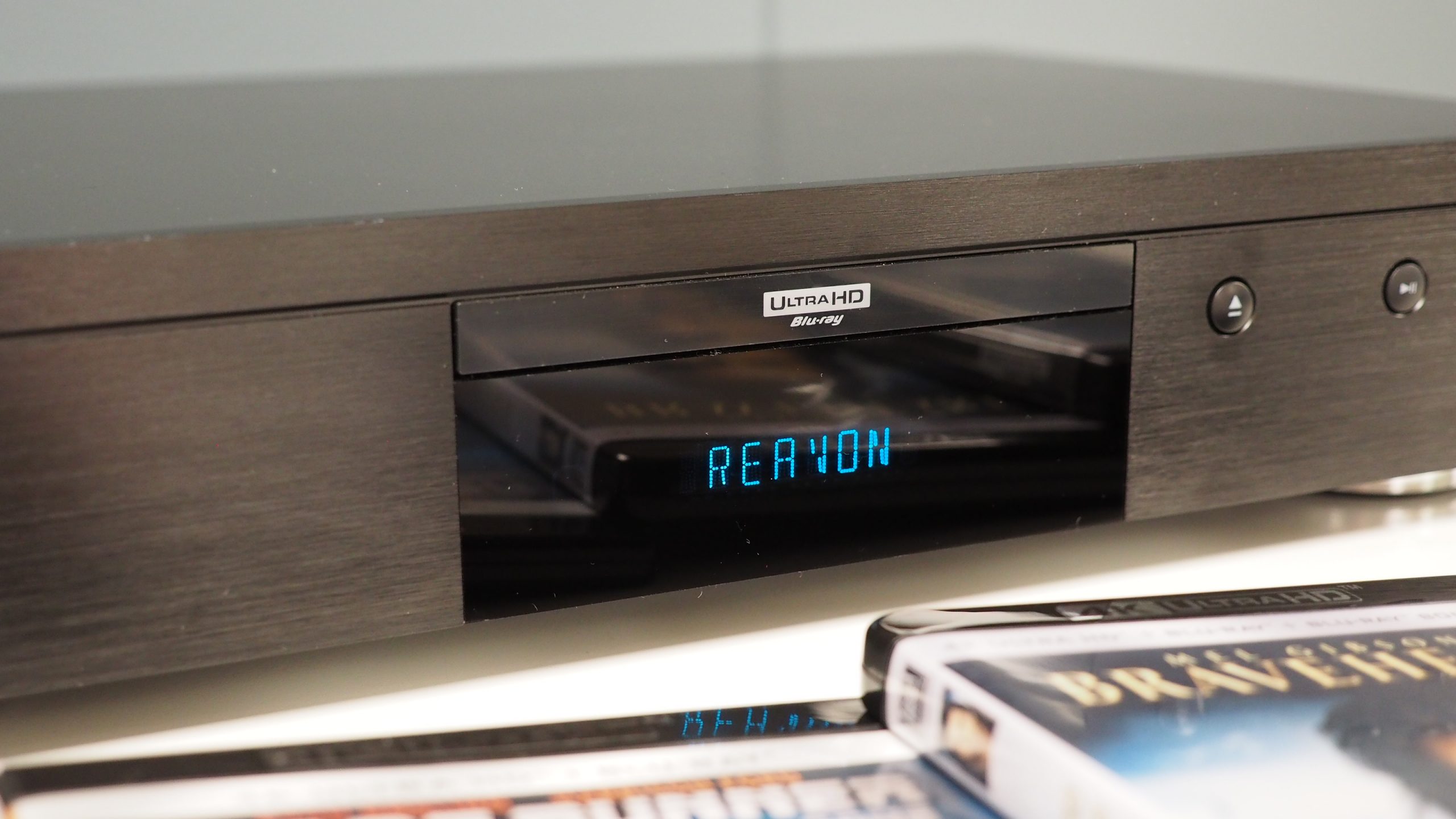 And… who's Reavon?
Reavon is part of the French electronics company Groupe Archisoft. The French manufacturer is a newcomer to the Blu-ray market, and now they are debuting with two brand new 4K Blu-ray players. Here we are reviewing the top model UBR-X200 which comes packed with analog outputs, the ability to play SA-CD and much more. But there is also a little brother UBR-X100, without analog outputs that is relatively similar. So are these players worthy heirs after Oppo, and is there any market for a new BD player in 2021? Let's test and see!
Reavon UBR-X200: Solid build quality
The top model Reavon UBR-X200 is thus the most expensive of the two players, and with a price of GBP 1.499, it is in the top tier of Blu-ray players on the market today. So what do you really get for your money?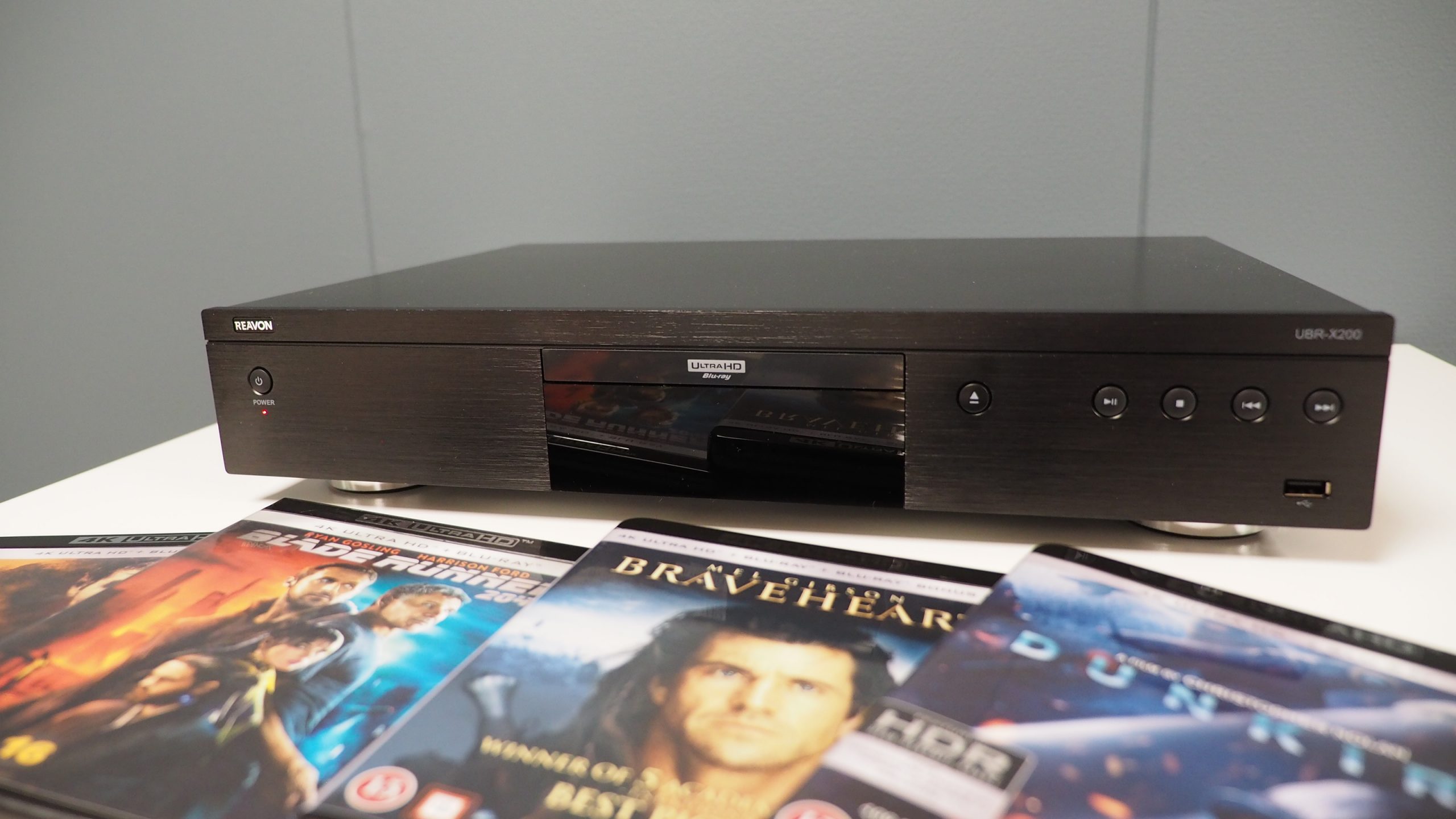 The first impression when we unpack the UBR-X200 is at least that it seems heavy, solid and has a trustworthy build quality. It may not quite match the "tank-like" design we remember from the flagship model Panasonic DP-UB9000. But this is definitely a player that wants to look good in the home theater setup. While even though it looks nice on the outside, we suspect that Reavon (wisely enough) has spent most of the resources on the inside.
Under the hood, the UBR-X200 is equipped with a solid power supply, and a lavish analog part with 8-channel DAC from Burr-Brown (PCM1690). The connectivity options are also very good, with dual HDMI outputs, and analog 7.1 outputs for those with older surround receivers. Hi-fi enthusiasts will also enjoy dedicated stereo outputs with RCA and balanced XLR. The UBR-X200 also has an RS-232C connection for remote control, as well as USB. However, we do not find a wireless Wi-Fi connection here: If you want to connect the player to the network at home, you must therefore use the Ethernet input.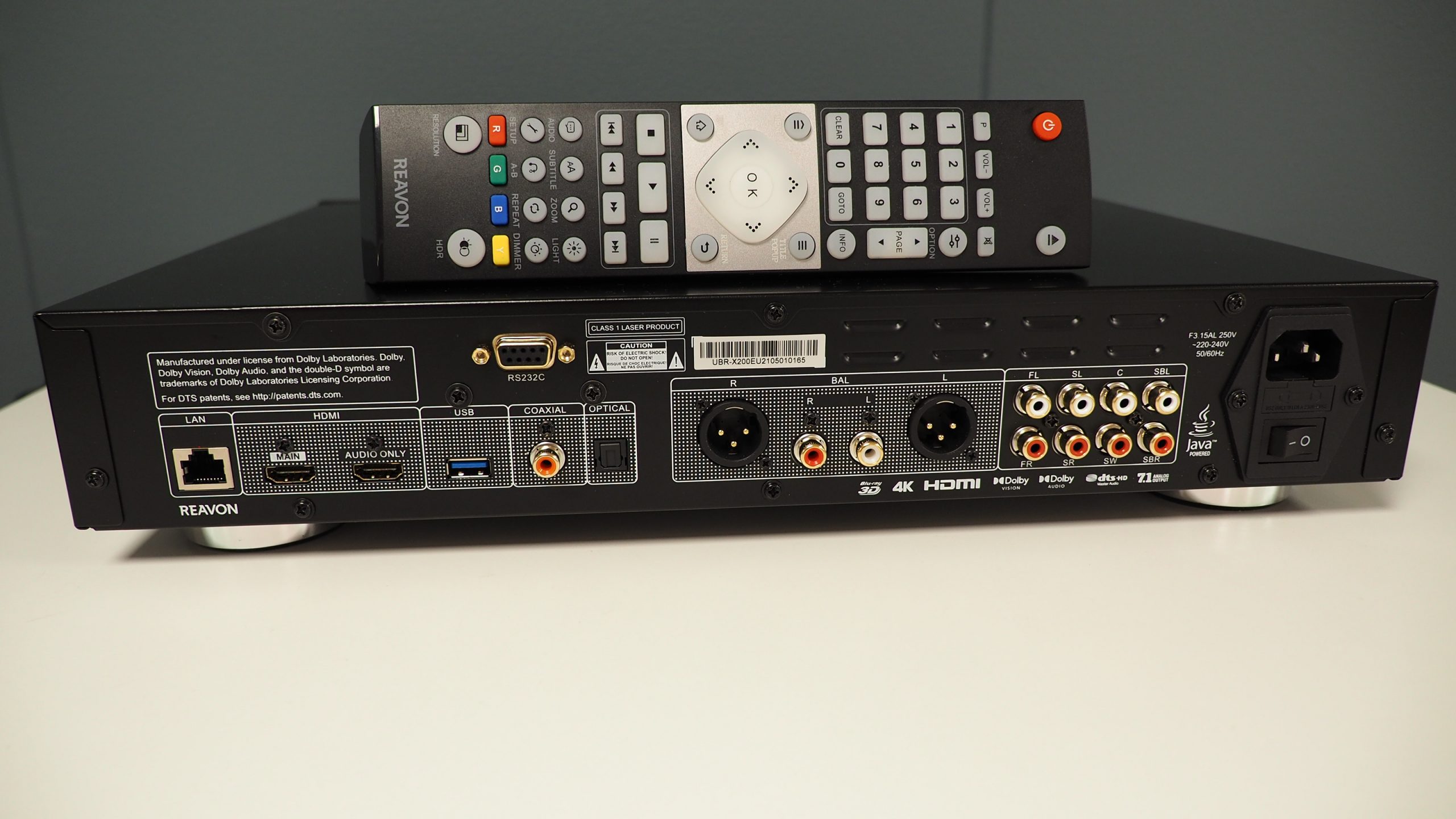 Great remote control
The remote control that comes with the Reavon UBR-X200 is a real power plug, with direct buttons for almost all functions. It is also equipped with backlit buttons, something indispensable in the cinema darkness. Admittedly, you do have to press a certain button to activate the light. sits, for it does not light up by itself. The remote control is also IR-based, which means that it is quite directional and must be pointed directly at the player to operate it.
The Reavon player otherwise supports remote control signals via HDMI CEC, so you can make good use of the TV's remote control for simple functions such as play/pause.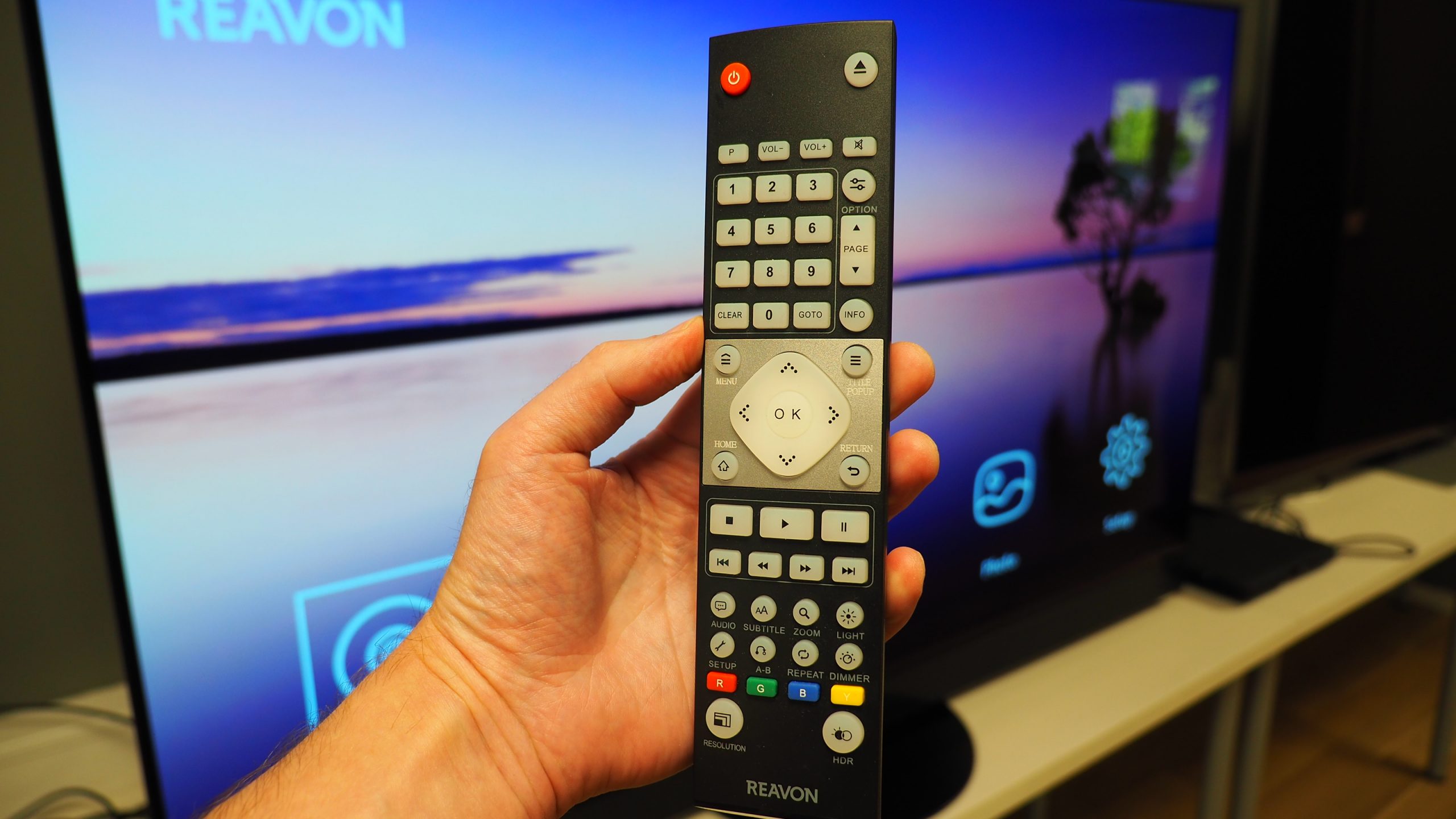 Ease of use and features
There is a good chance that those who consider such a player have an extensive film collection. Therefore, it is gratifying that the Reavon players support the vast majority of disc formats imaginable, including CD, DVD, Blu-ray, and of course UHD-Blu-ray. If you choose the top model UBR-X200, you can also play SA-CD and DSD files.
On the other hand, it had trouble handling my old HD-DVD copy of Transformers, but so be it…
Reavon can also play music and video files over wired networks. Then it supports FLAC, AIFF, DFF, DSF, JPG, TIFF, MKV and M2TS. On the other hand, there is no support for playing ISO/BDMV files like you could on the older Oppo players.
The players can also be made zone-free with a few simple moves, without us going into more detail here.
UBR-X200 is thus a pure, universal disk player that tackles most formats. On the other hand, it has no streaming apps or smart platform on board: If you want Netflix, YouTube or other services, you have to resort to an Apple TV or similar (or your TV).
Here, the focus is definitely on playing physical discs. And right from the start, the Reavon UBR-X200 proves to be a nimble and comfortable player to use: The start menu comes up immediately, and there is almost zero waiting time to be able to open the tray, feed in and read the movies. You can also choose whether the player starts the movie automatically when you insert it, or wait until you have made the desired settings.
Reavon's setup menu offers a variety of custom settings for playback, audio and picture. (Photo: Audun Hage)
Image quality
The Reavon UBR-X200 is equipped with a state-of-the-art video processor from Mediatek, which handles all image processing, including upscaling of older DVD and Blu-ray movies to 4K resolution. But to be honest, it's almost more interesting to see what the player will NOT do in this case.
We are currently connecting the Reavon player to our reference screen, specifically the Panasonic OLED flagship TX-65JZ2000. The Panasonic screen has a razor-sharp, color-neutral image, which can easily reveal defects in the source material. But the images served via the Reavon player are virtually flawless.
We ran a series of test films of both DVD, Blu-ray and 4K Blu-ray, where we alternated between letting the player and TV take care of upscaling, interpolation, etc. And the Reavon player turned out to be fully on par with Panasonic's own video processor .
An old Blu-ray favorite like The Fast & Furious looks really cool. I myself have seen this robber classic a dozen times now, but never as sparkling as here. The trimmed import cars glow with strong shades in the paint, and the dialogue scenes between Vin Diesel and Paul Walker have strikingly little noise.
Another film that was given new life was the Blu-ray version of Back to the Future: The images are also sharp and noise-free here, without jerking in the movements when Marty McFly rolls off on a skateboard, with arch-rival Biff Tannen notch intact.
Of course we had to check out the 4K Blu-ray version of Braveheart, and here too we got a feeling of nostalgia, but also a feeling of seeing the film again for the first time! The razor-sharp 4K version offers a beautiful, nuanced color palette and lots of small details from the Scottish battlefields that you were not as aware of before. The colors of the English nobility's costumes and the details in dark scenes are really impressive, and come out well with the Reavon player.
Of course we had to check with a Dolby Vision title as well. Harrison Ford's Patriot Games is served in Dolby Vision and Dolby Atmos soundtracks, and here we could quickly verify that Reavon sends the image and sound information correctly to the Panasonic screen, which acknowledged with potent image and sound in the Dolby formats.
Speaking of black level and details: Reavon has provided the player with plenty of adjustment options, which will make it possible to squeeze out optimal image and sound for your particular setup. Here you can, among other things, choose whether the player should take care of upscaling and other image processing, or send it unprocessed on to the TV (Source Direct).
We got the very best result with the Reavon player in Source Direct mode, combined with the Panasonics screen's neutral Filmmaker Mode. This gave a beautiful, smooth and believable reproduction of cinemas with 24 frame rate, with no signs of hiccups along the way. Here is free to enjoy the movie classics as they were meant to be seen!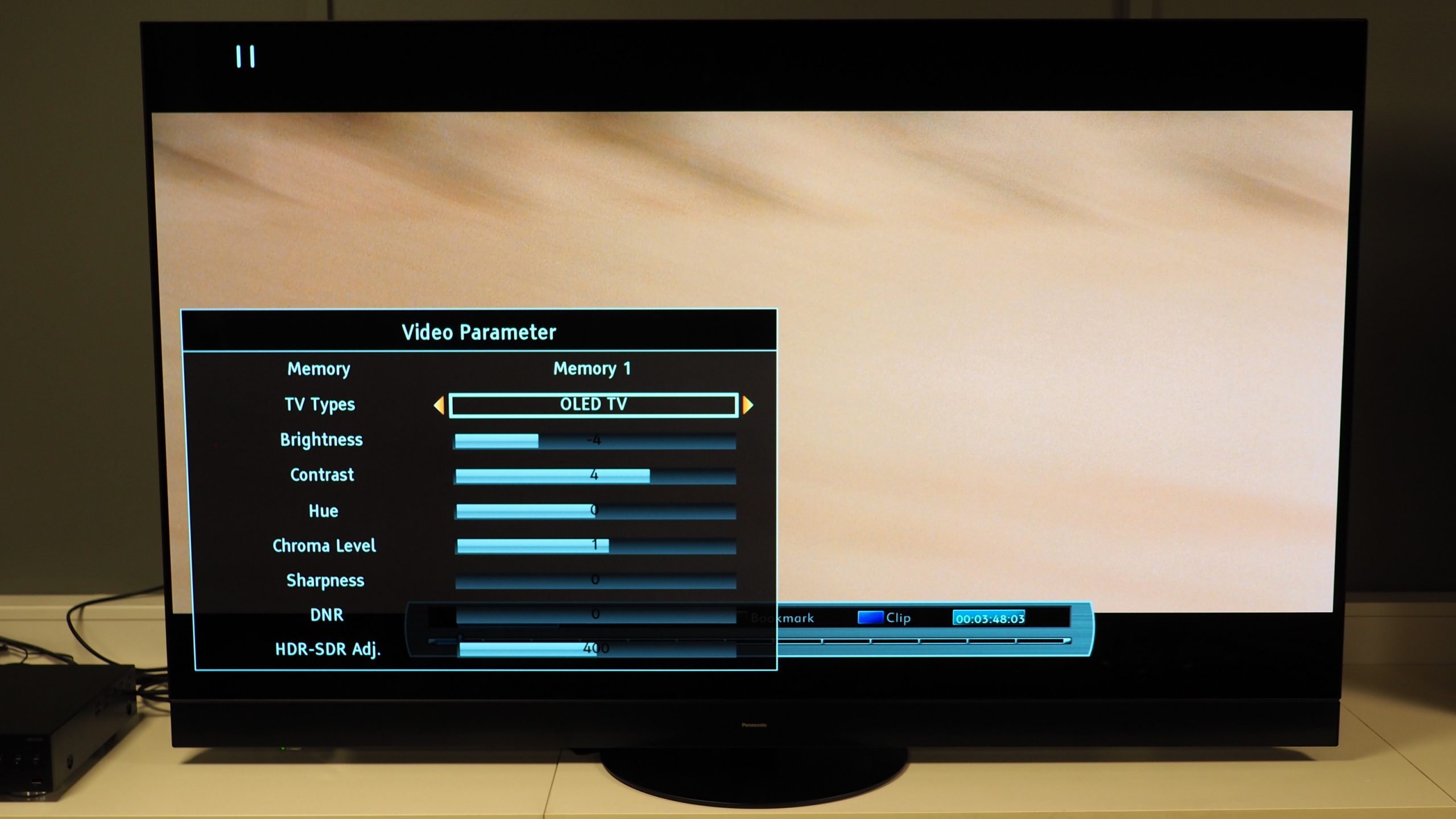 Sound quality
The Reavon UBR-X200 is equipped with balanced XLR outputs, and we used these when we tested the sound quality in stereo, connected to our Hegel rig (P30/H30) and the floor-standing speakers JBL Synthesis HDI 3800.
Reavon also proves to be an excellent music player: firstly, there is an impressively low noise floor, which really lets the details shine through. The recordings with the Trondheim Soloists from Norwegian 2L (Souvenir, Divertimenti, Magnificat). sounds really lovely via the Reavon player. The soundscape is large, loud and deep, but the instruments also get a very precise position.
The Reavon player sounds beautiful when we challenge it with a demanding record like Gustav Holst's Planetene. The instruments get plenty of space, and the dynamic precision is impressive. And when we play Rage against the Machine at high volume, it sounds tough with tight, hard-hitting bass and lots of splashes in the drums. Reavon certainly does not get lost in a picky hi-fi system!
Conclusion
The Reavon UBR-X200 is a very well-built Blu-ray player that supports virtually all current video and disc formats. It can also be easily made zone-free. The player impresses with excellent picture and sound quality, and also has plenty of advanced adjustment options that can be tailored to your specific setup. The Reavon player is in a high price range, but if you are sitting on a large and varied film collection and a lavish high-performance screen or projector, it may actually be worth the money.
Note! If you do not need analog outputs anyway, but are more concerned with the video performance, we would rather recommend the little brother UBR-X100 for about half the price. It has the same video circuity as the UBR-X200, but must do without analog outputs and SA-CD playback.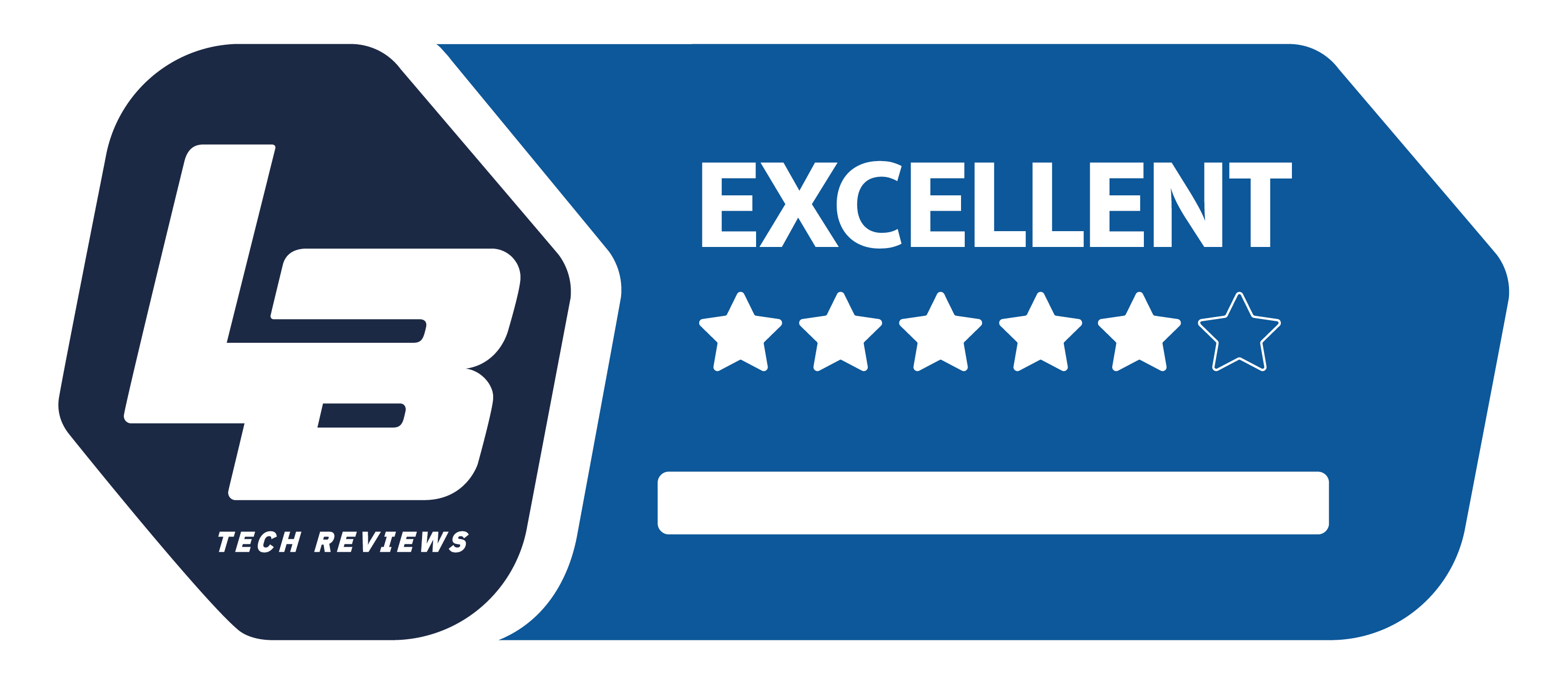 High End
We think
Reavon UBR-X200 serves the favorite movies with razor-sharp picture and sound quality, and also provides plenty of adjustment and connections.
The Reavon player is an expensive and pure disk player, without any streaming options. The remote control is infrared and relatively directional.