Products in this test
Thanks for reading Tech Reviews.
Create your free account or log in to continue reading.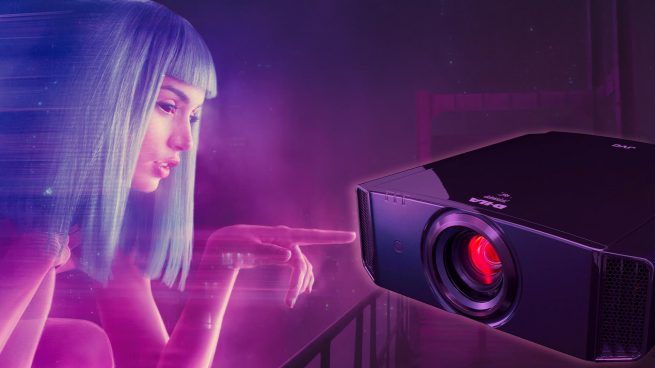 Blacker than the night
JVC is known for the best black level on the market. Nor do they disappoint now.
Our verdict
Exceptional black level coupled with perhaps the best colour rendition we have seen right out of the box, makes this a very good projector.
You cannot get the image sharpness of a true 4K projector, and HDR content is way too dark.
Technology: D-ILA (LCOS)
Resolution: 1920 x 1080 (4K e-SHIFT5)
Panel contrast: 130.000:1
Dynamic contrast: 1.300.000:1
Brightness: 1,900 Lumen
Lamp lifespan: 4,500 hours (low mode)
HDR: Yes (HDR10)
Optical lens adjustment: Yes
Distance to 100" 16:9: 3.1 – 6.2 m
show more
show less
The DLA-X7500 did not remain on the market long before it was replaced by the DLA-X7900. If you bought the predecessor, relax. It is essentially the same projector. There are two things that are new: a better-implemented rendition of HDR content (video with additional dynamics in light – i.e. "brighter than white"), and a new and improved eShift that simulates 4K Ultra HD resolution.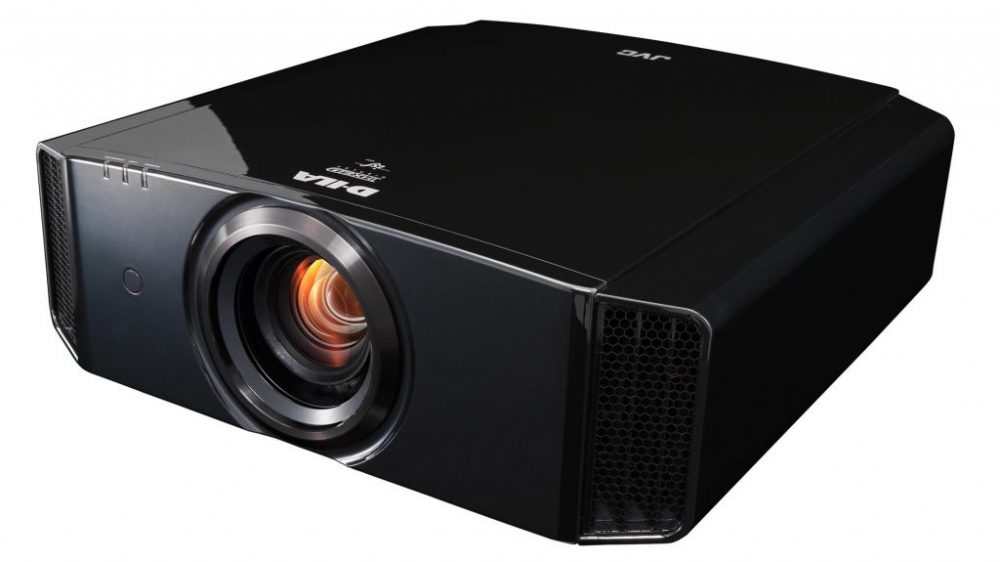 How does eShift work? It works well. The projector's image panel has "only" regular HD resolution, and to display a more fine-grained picture on the projector screen, the picture is redrawn from an optical processor (engine), shifting diagonally a half-pixel in length relative to the original image. The shifted image attempts to fill in the missing information.
Now eShift is available in version 5, which should provide better processing with 4K video sources, and be better at adding the right information to each pixel. Keep in mind that each pixel is still as big as it is on a standard HD panel, and since they overlap, the image will never be as sharp as a genuine 4K projector. But it can get pretty close.
All projectors in this price range have dynamic irises, which by restricting and opening controls the light levels, and this is done first and foremost to make black even blacker during dark scenes. As its predecessor, DLA-X7900 has two irises; an inner and an outer, which provide better control of the black level in dark scenes. By restricting the inner iris somewhat, it prevents a lot of stray light from being transmitted into the projector's optical system.. The remainder is handled by the outer iris.
Moreover, the projector as its predecessor has a relatively high brightness level, specified to 1,900 Lumen, and an impressive black level of 1.3 million to one in dynamic black level. Panel contrast is claimed to be 130,000:1. And even though this is very optimistic, we can assure you that the black level is amazing!
Usability
With fully automated optic adjustment, all zoom, sharpness, and lens shifts can be done with the remote control, and the projector can store them in two memories. If you have a 2.35:1 projector screen, you can, for example, make a setting for that ratio and one for 16:9, and easily switch between these with your remote control.
JVC has the possibility of some sort of auto calibration of the gamma, setting up a Datacolor Spyder5 measurement probe and launching the built-in calibration program via the PC. If there is any skewness in the colours compared to the grey scale, these will be corrected automatically. However, it's a good idea to get a calibration expert to do the last bit with the colour temperature.
Nothing has happened to the menu since the previous one. This one looks like it was created in 1992 and is reminiscent of the BIOS setup on an old PC. If you have to connect it to a PC for calibration, it does not automatically get an IP address, but we have to go in and turn on the DHCP.
Picture quality
Uncalibrated straight out of the box, the projector produces great images, and there is no doubt that the extra contrast in the black level adds extra punch to the pictures. The dark scenes in Blade Runner 2049 – and there are many – get a third dimension in the image, a depth that few other projectors can boast. By dragging the blackest down to pitch black, the objects stand out from the background impressively. This is absolutely in line with what we are accustomed to from JVC, and is unrivalled in this regard.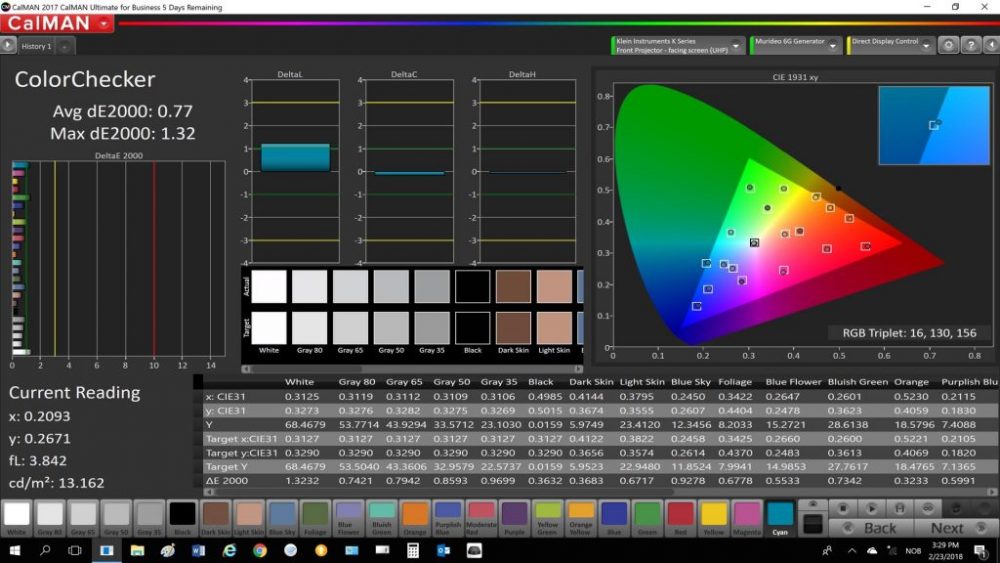 But beware: if you open the door slightly and let in even a ray of light, the details disappear in the shadowy areas, and things begin to merge. Thus, it may be advantageous to set the image mode to slightly lighter, in situations where you don't want, or can't achieve, complete darkness in the room.
The colours also look very good right out of the box. This was confirmed when calibration expert Gorm Sørensen brought out his measuring equipment. The projector follows the gamma curve and the colour space is near perfect! The average delta deviation is 0.83, which is well below 1, which is considered perfect. Simply put, the colour space is tip-top! The only thing Gorm has to do is to slightly adjust the actual colour temperature. This is very impressive, and indeed on a par with the  Sony VPL-VW760. that is three times as expensive.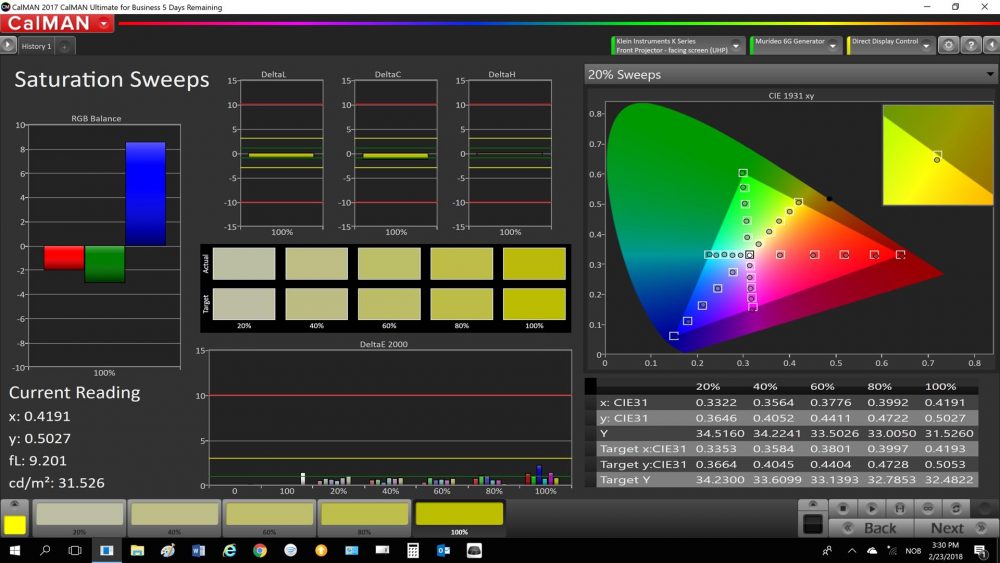 JVC does have some issues with the 4K Ultra HD material. The stubble and pores on Ryan Gosling in blade Runner 2049 are not as detailed and nuanced as with the genuine 4K projector Sony VW360. AIn addition, the structure of the sand-coloured room where villain Niander Wallace kills a replicant, lacks some nuances compared to the Sony.
And it's not just in the resolution. Although JVC has improved its HDR rendering since its predecessor, it's still not good enough. The HDR-encoded video simply gets dark with the JVC projector. You can compensate by increasing the contrast, but it doesn't look right. The colours don't look right, and it is still too dark in general. The expanded colour space you get with HDR is also not enough for us. We therefore prefer to disable the HDR in the Blu-ray player. The details in dark and semi-dark areas then appear completely different.
Conclusion
JVC DLA-X7900 is a superb projector, and if you have a dark cave, then it's the king of dark movie projection. The black level is simply in a league of its own! In addition, it has good enough brightness to also bring out the highlights in bright areas.
We are also very fond of the fact that the projector almost doesn't need to be calibrated, as it follows the colour space perfectly, right out of the box. No projector we've seen in this class delivers such good images straight out of the box.
However, the projector is not as good in terms of 4K content from Ultra HD Blu-ray. First of all, it is not as fine-grained as a genuine 4K projector. In addition, HDR content with a high dynamic range does not work particularly well. The images are generally too dark, and that is a high price to pay for the small payoff of extra high light you get from the HDR effects. No, you should disable the HDR on this.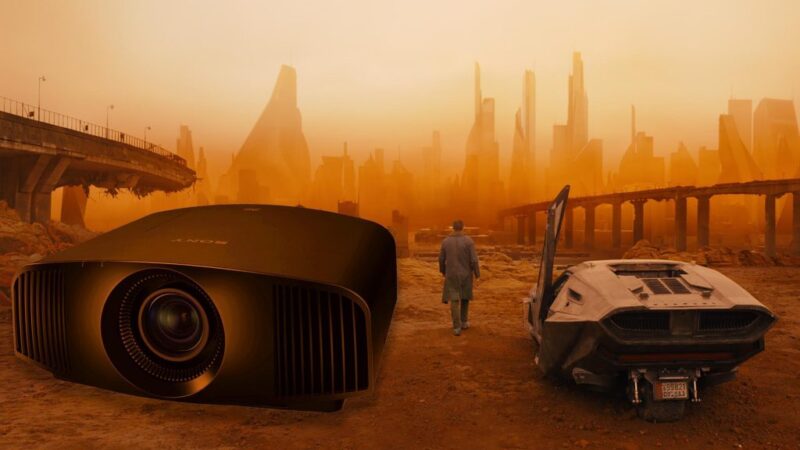 Razor sharp with super resolution
With genuine 4K-resolution and dazzling images, there is no doubt which projector we would choose.
Our verdict
Genuine 4K-resolution and razor-sharp images are combined with a very good black level. HDR also works very well.
The projector needs calibration to avoid black crush. Not quite a class-leading black level.
Sony VPL-VW260ES impressed us with razor-sharp images. Finally, you get the genuine 4K resolution from a projector under the magic price line, and it is impressive in almost all areas.
It does have a few deficiencies. First of all, it lacks a dynamic iris, which makes the black level a little brighter than it might have been. VW260 also lacks lens memory, which allows you to store different zoom and focus settings in two memories. If you have a 2.35:1 projector screen, you can, for example, store different lens settings for 2.35:1 and 16:9 and select automatically between these directly from the remote control. If you're fond of smooth movements on the projector screen, it has image interpolation for HD video but not 4K.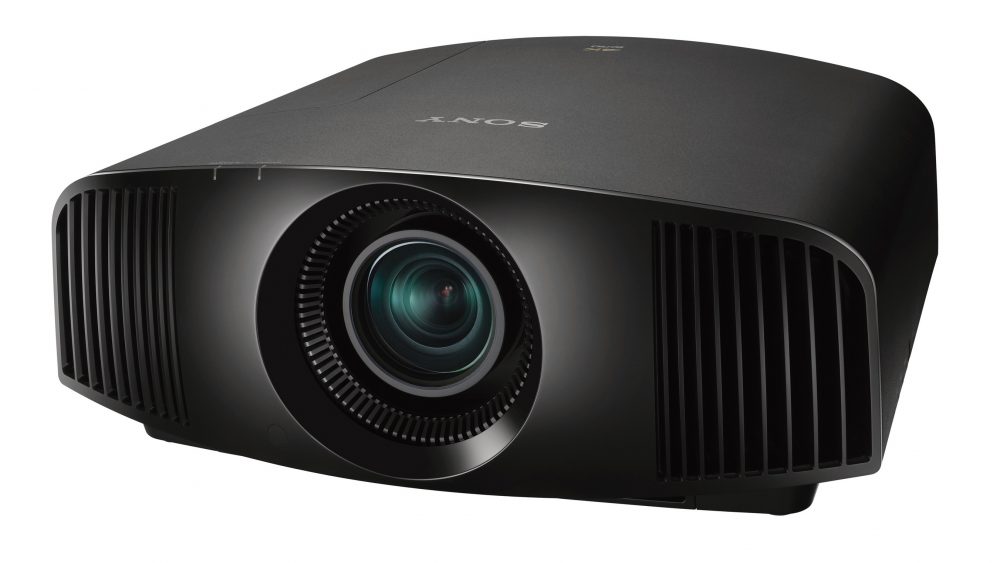 VW360 has everything that the smaller model lacks. And although the optics are the same on paper, all the components are sorted with lower tolerance for deviations on specifications. This potentially entails slightly sharper images.
The dynamic iris of the Sony VW360 is super fast and very quiet like that of JVC. However, Sony lacks the inner iris that prevents stray light from getting into the optical system in the first place. This is one of the things that makes Sony's black level not quite as pitch black as JVC's black level. But it's not far off.
The brightness on paper is 1,500 Lumen, which is lower than it is for JVC. This is not noticeable in reality. Subjectively, the luminosity in both is very similar.
Usability
The Sony Projector has a tidier menu system than JVC, and reacts faster to the remote control. Storage of lens settings is also very easy, but where JVC can pick up the memory directly via a button on the remote control, we have to enter the menu on the Sony projector.
What makes Sony less user-friendly is that it is entirely dependent on calibration. Just out of the box, it has a pretty powerful 'black crush', meaning there is far too little light in dark areas. The shadowy areas merge, and you are left without details in the dark areas. The colours are also extremely oversaturated. It may look impressive at first glance, where, for instance, the grass appears much greener. But it's not right.
"There's a lot of work to be done here," says the calibrator, Gorm Sørensen.
So it is a shame that JVC has the automatic colour calibration, because it doesn't need it. Whereas the Sony projector, which certainly has to be calibrated, is far more manual in this respect.
Picture quality
As mentioned, the images are very colourful right out of the box, and at first glance, the objects stand well out of the background — because the black level looks very black. But since it is due to both the oversaturation of colours and that the black level is enhanced sharply, it is clear that the Sony projector in uncalibrated mode does not match JVC. When we watch movies on Blu-ray with Ultra HD resolution, it helps a bit that the projector has genuine 4K resolution. You'll see it in the details of Ryan Gosling's stubble in Blade Runner 2049. But in the vast majority of scenes, JVC presents a better image and is far more true to the movie as the studio intended it to be.
After Gorm's meticulous calibration that eventually provides us with an acceptable colour rendition with an average delta deviation of around 1.1, there are other issues to address.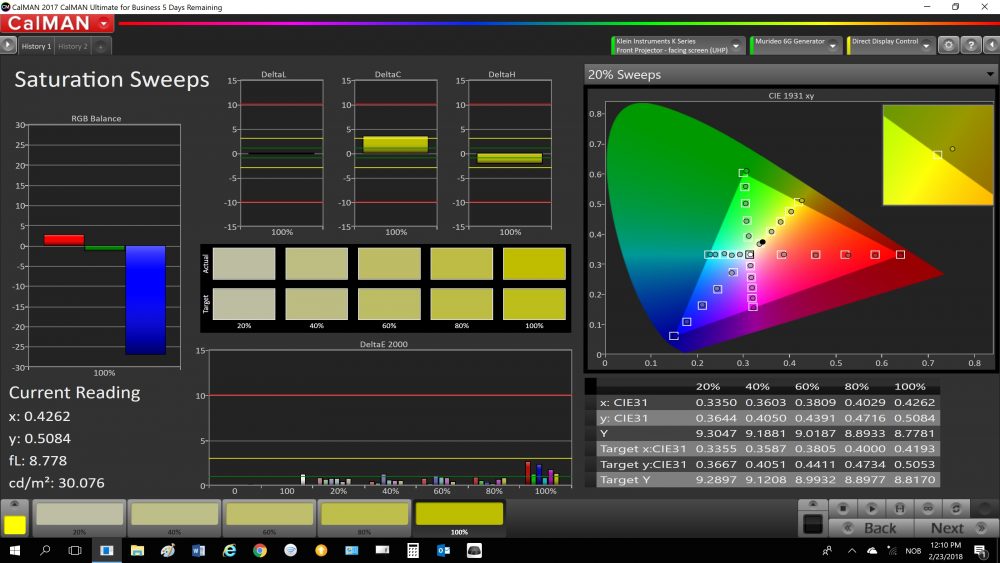 In comparison to the JVC DLA X7900, Sony VW360 does not have quite the same darkness in the black level. Shadows are slightly brighter, but it is a good notch better than its little brother, the VW260.
However, if you do not have a pitch-dark room, you will not get the full advantage of JVC's black level, and immediately the advantages of the Sony start to become obvious. The pictures are razor-sharp! There's no big difference in the sharpness with HD video, but with 4K Blu-ray, Sony provides a substantially sharper image, with more detail than JVC.
Blade Runner 2049 in 4K is pure pleasure. The stubble of Ryan Gosling is sharper and more detailed, and there are several shades in the rusty sands along the dilapidated Las Vegas Main Street, totally engulfed in a sandstorm.
And best of all: HDR works great with the Sony projector. This is because with a stepless setting, you can adjust any or all of the lost light content when you switch to HDR. When you do this, the actual HDR effects will be greatly reduced or even vanish – depending on the amount of light one brings back. But what you get is a much larger colour range, than when HDR is disabled. In fact, HDR supports more and deeper colours (DCI-P3 and BT2020), and the result is greater realism and a greater impression of three-dimensionality – even though the actual HDR effects with more energy in light areas are limited.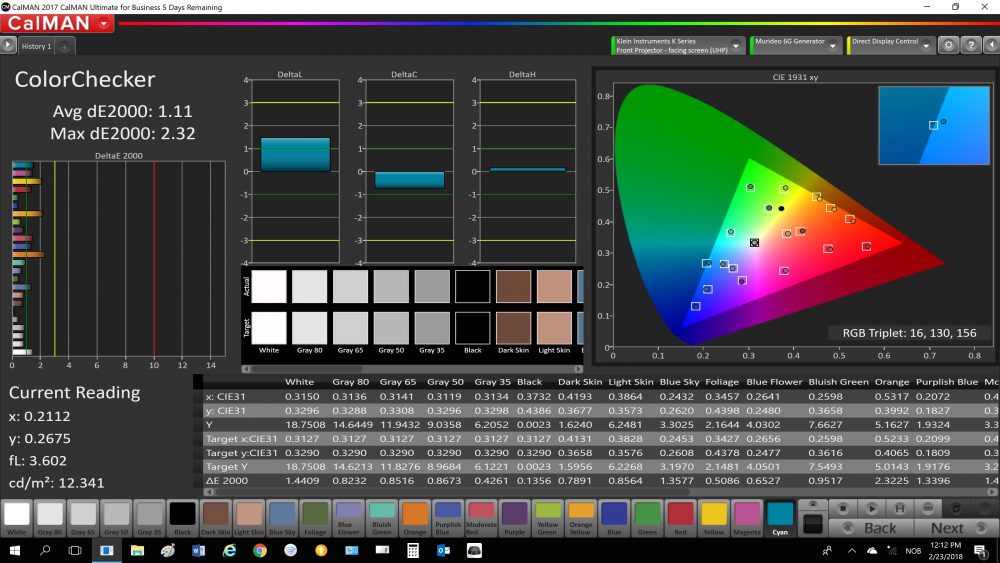 It is reflected in scenes with many shades of colour. A shaded sky – whether it is blue or rusty-coloured, as in Blade Runner 2049. But also something as colourless and pale as faces appear with more shade and increased realism.
With video in Ultra-HD resolution, Sony VW360 thus provides a significantly better experience than JVC X7900. Even though JVC leads in absolute black level.
Conclusion
Sony VPL-VW360ES has all the features that the smaller VW260 lacks, including a dynamic iris with better black level, and lens memory.
It does not come close to the black level king, which in this price range is the JVC DLA-X7900. In addition, the Sony projector has to be be calibrated to prevent the shadowy areas from completely merging into black, and has to be moderated somewhat in terms of colour saturation. But when this is done, it then turns into into a fenuine bad-ass!
The images are super crisp. Especially with Ultra HD sources, you get an extra dose of sharpness that you only get from a genuine 4K projector like VW360. And with HDR, it provides an extra,  super cool depth in the colours!
With a regular HD video, Sony's advantages are not as effective, but it is Ultra HD that is now all the rage, fortunately. Therefore, we also proclaim Sony VW360 to be the benchmark in its price range.