Geir Nordby
Published

2022-06-02 - 8:00 am
The B&W soundbar is both placement-friendly and easy to set up via mobile. Sound is relatively clear and open with clear voice reproduction.
Panorama 3 has a thin acoustic character and does not provide a particularly great surround feeling. There is also no option for an active subwoofer.
Specifications
HDMI (2.0): 1 x in (eARC)
Digital in: Optical
Network: Wi-Fi
Wireless: AirPlay 2, Bluetooth 5
Voice control: Amazon Alexa
Analogue in: –
Sound formats: Dolby Atmos, TrueHD, DD Plus
Dimensions: 121 x 6.5 x 14 cm
Color: Black
Web: bowerswilkins.com
Bowers & Wilkins needs no further introduction. The English manufacturer is famous for their well-made loudspeakers, not least the stylish 800 series, which is highly appreciated by studio engineers and discerning hi-fi enthusiasts alike.
B&W hasn't made as much of a name for itself on the soundbar front, but we were impressed by the high-end Formation Bar. Not least the great sound they've achieved with Philips on the latter's best OLED TVs.
And then, of course, there's the Panorama range. Which is B&W's own original twist on a slim and user-friendly design soundbar that should be able to stand on its own without the need for extras like subwoofers and surround speakers. The new Panorama 3 also features Dolby Atmos surround sound.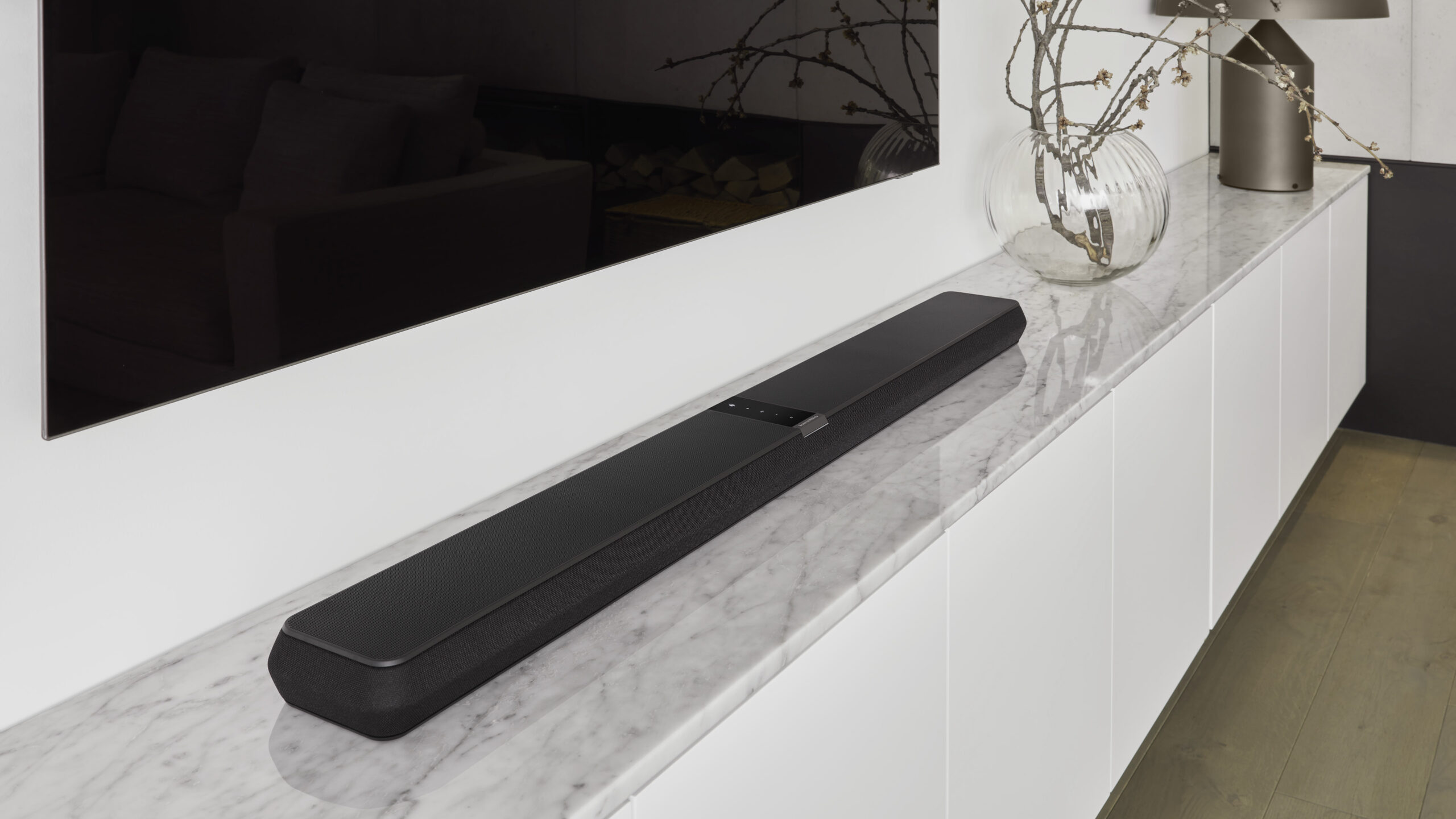 Bowers & Wilkins Panorama 3
The third generation Panorama has a completely new design. The slim soundbar is only 6.5 cm tall and should therefore fit under most TVs. It can also be wall-mounted using the supplied brackets.
The design is functional, with a combination of textile and metal covering the many speaker units – 13 of them! That's partly because the soundbar has built-in height channels – upward-facing speaker units designed to ensure proper reproduction of Dolby Atmos soundtracks.
B&W Panorama 3 has a speaker setup with a so-called 3.1.2 configuration, which means that it has dedicated speaker units for the left, centre and right front channels plus two Atmos channels on top. In addition, there are two 100 mm woofers on the underside to reproduce the deepest bass frequencies. Panorama 3 is designed to do without a separate subwoofer. The built-in amplifier is a whopping 400 watts.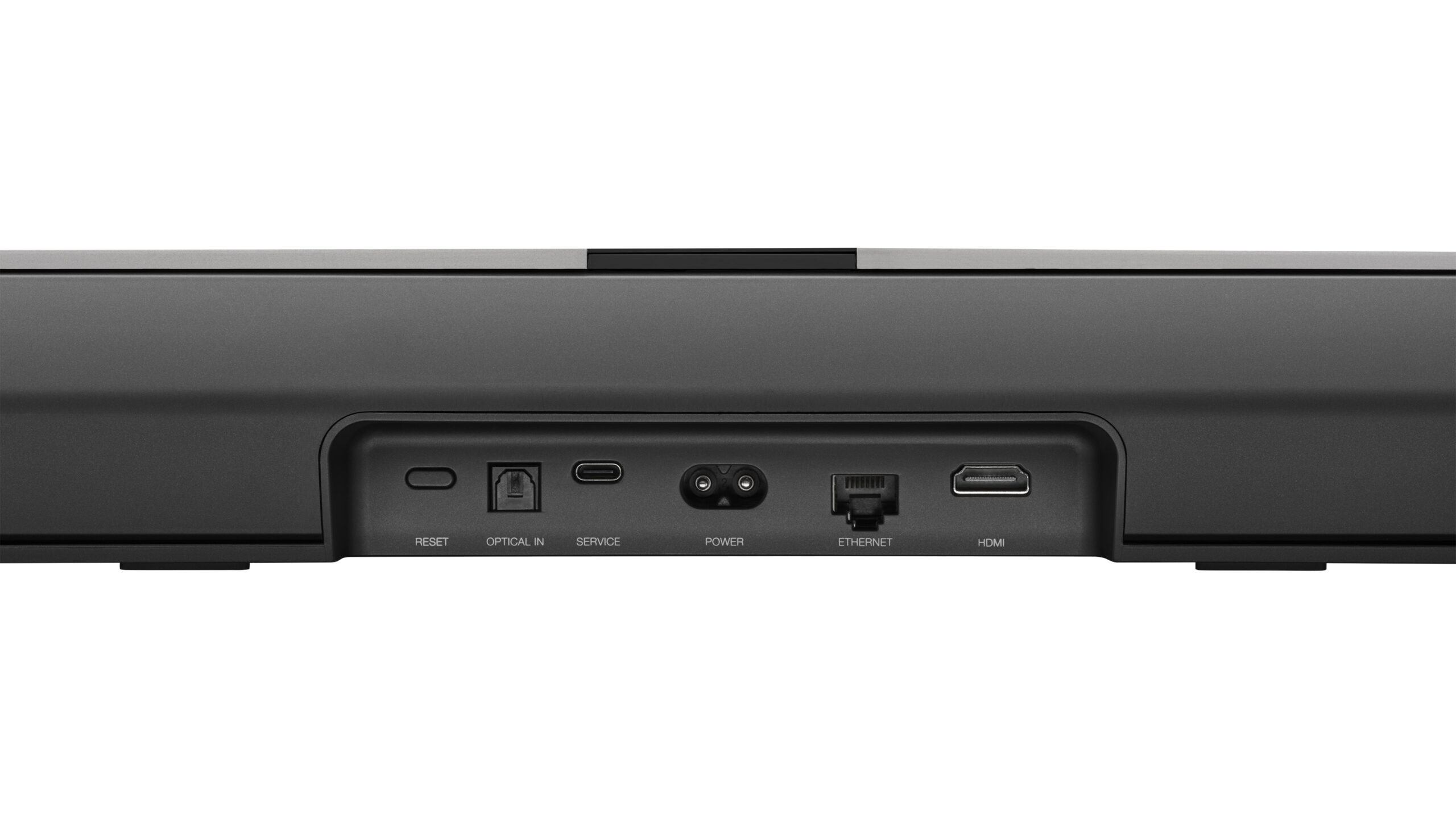 Ease of use and features
In terms of connectivity, the Panorama 3 is equipped with an HDMI eARC audio input, so it's easy to connect it to the TV. Any separate A/V sources such as an Apple TV or games console also need to be connected via the TV. From here, the soundbar can output high-resolution audio formats like Dolby Atmos.
B&W hasn't included a separate remote for the Panorama 3, as you can use the TV's remote for simple things like adjusting the volume. But the soundbar can also be controlled via the Bowers & Wilkins Music app for Android and iOS.
The app doesn't offer any adjustment options beyond bass and treble levels. There are also no presets, advanced EQ or room correction. The intention is probably that Panorama 3 should be a simple and uncomplicated product to use!
Sound quality
When we set the Panorama 3 to reproduce the sound from our usual test clips, we can hear that there's good quality at the top end of the frequency range. The treble is clear and fine-grained, contributing to clear, distinct vocal reproduction. That said, we also note that the soundbar has a rather thin sonic character.
When we play the clip of Jimmy Hoffa (Al Pacino) and Tony Pro (Stephen Graham) in Lewisburg Prison from Martin Scorsese's The Irishman, we don't get the expected impression of authority and presence. The two gentlemen argue loudly, but the mid-range is relatively thin.
The sense of space from the prison canteen is not very convincing either. Compared to the Bose Soundbar 900, which has drunk almost too much potion, the Panorama 3 has a noticeably flatter sound image.
"It almost sounds like mono," Geir says in surprise. "Where's the ambience and why is there no chest sound here? Where's the bass?"
We become curious about what the B&W soundbar is actually capable of, and switch to another familiar scene from the same film, where a car is riddled with bullets in true mob fashion. Here you should ideally feel the pressure of the machine gun and the glass shattering, but we think it sounds a bit tame. There's just something lacking here in terms of weight and impact compared to what we're used to.
There's also not quite the movement in the soundstage that we've experienced with a number of other potent soundbars, such as the Sonos Arc, Sony HT-A7000 and Samsung HW-Q960A.
"The Sonos Arc has a much bigger soundstage, and the Samsung soundbar wipes the floor with Panorama!" Geir exclaims.
It's also noticeable in music that the soundstage is a bit flat and not very dynamic. Although Dua Lipa's vocals sound free and fine, the drum rhythms and electric bass don't really come across.
We know Bowers & Wilkins can do better, and for fun we compared it to the Philips 65OLED986 we have. Philips' TV features a wider speaker setup from B&W, including larger and more powerful bass/midrange units. And it's noticeable! Here we get the missing punch of sound effects, and the vocal prowess of both actors and singers really comes into its own.
In B&W's defence, the Philips model is a more expensive and bulky option, not least because on top of everything else you have to shell out for a TV! The point is, there are far more potent speaker solutions out there, from the same manufacturer.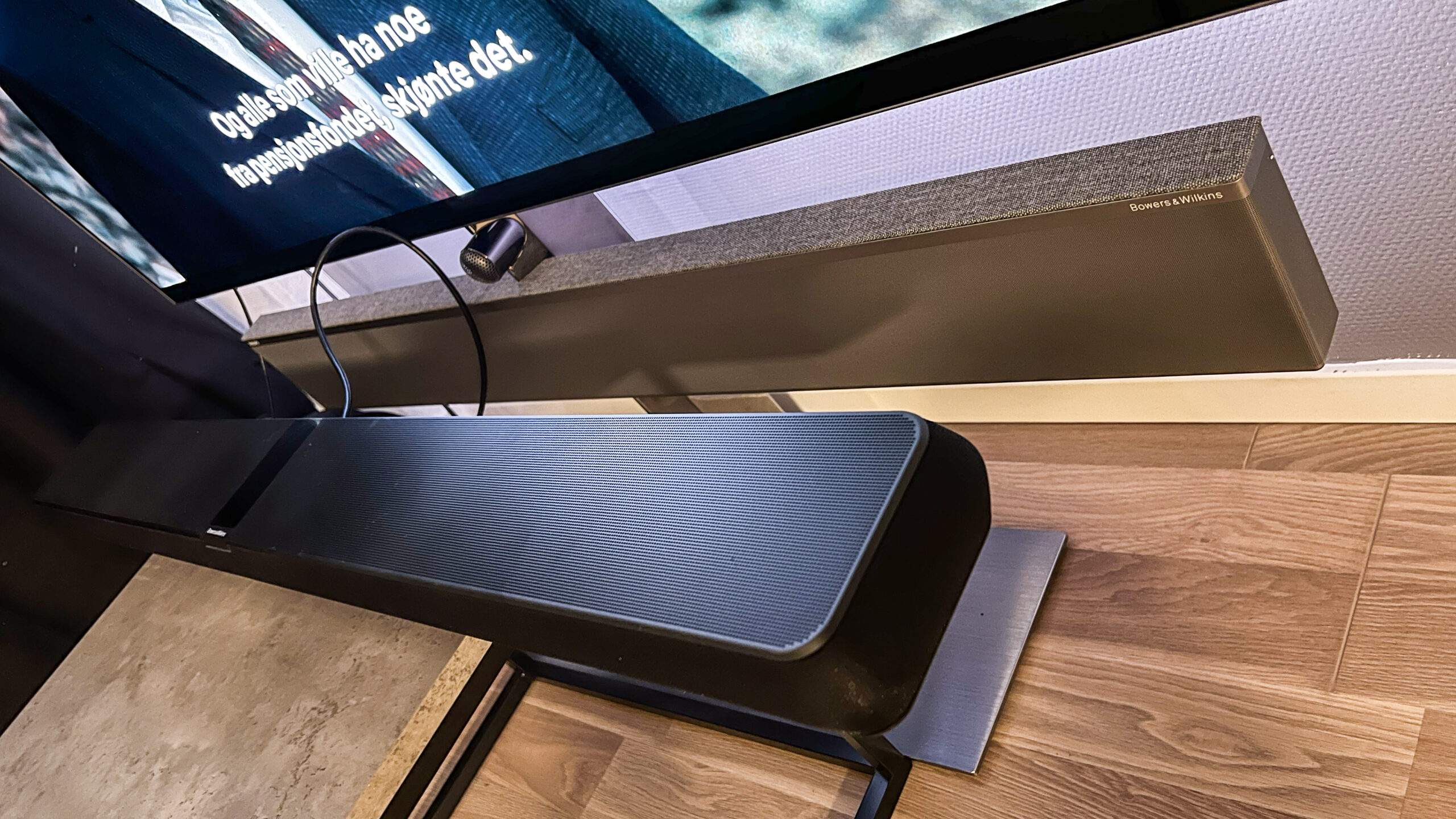 Missing subwoofer
Despite dedicated woofers, it's clear that the Panorama 3 would benefit from a separate subwoofer – perhaps extra rear speakers too, to give more shape over the surround effects.
Unfortunately B&W offer no such expansion options for the Panorama 3, which means you're pretty much locked in as far as future upgrades are concerned. If you're interested in that sort of thing, the Formation Bar would be a better and more flexible choice.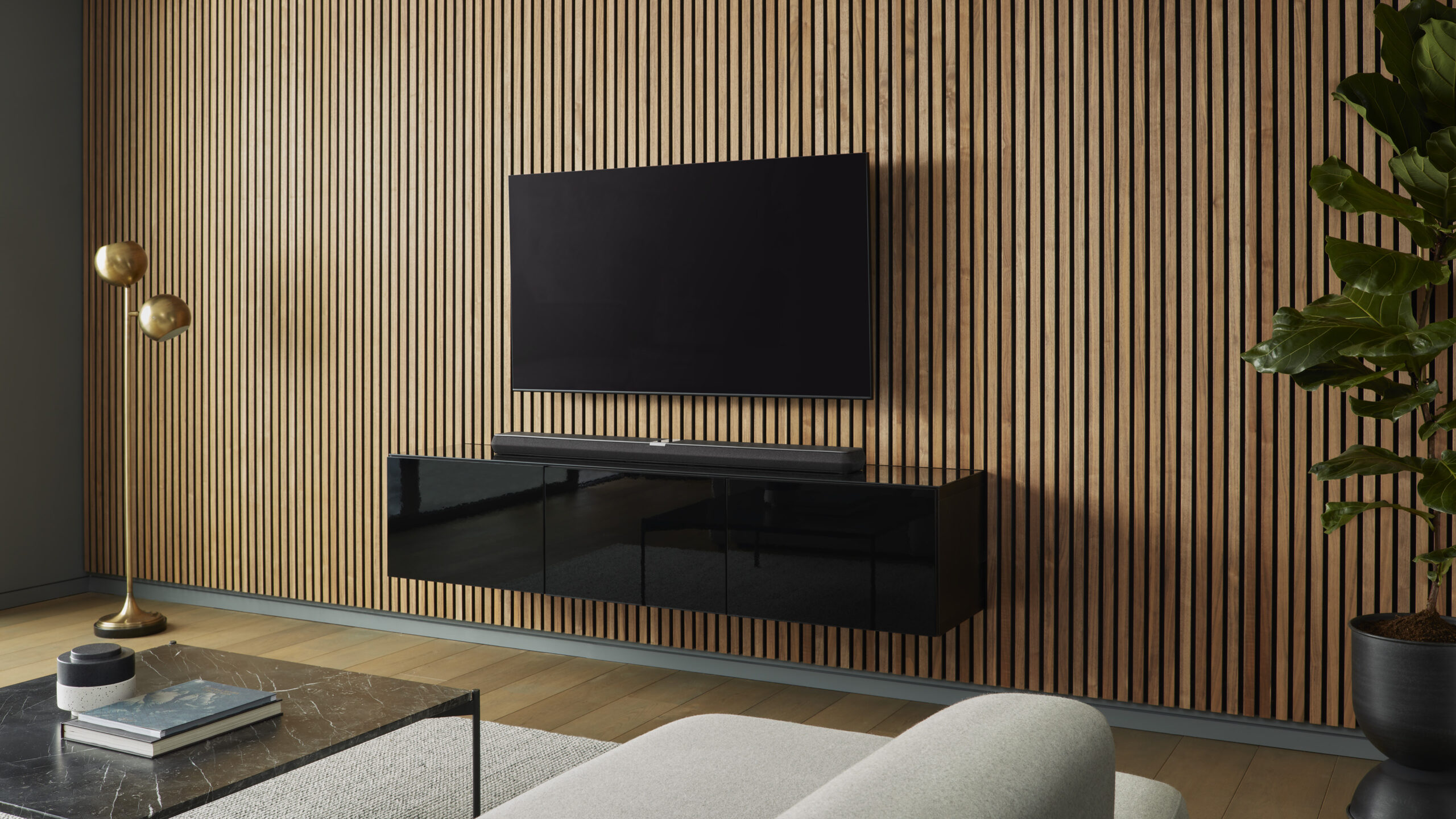 Conclusion
Based on the technical specifications and not least the manufacturer, we had pretty high expectations for Bowers & Wilkins Panorama 3. Unfortunately, we don't think that the audio experience lives up to expectations – especially considering the competition in this price range.
If you want a standalone (but still upgradeable) soundbar without a subwoofer, we think the Sonos Arc or Sony HT-A7000 do a better job of surround effects than the Panorama 3. And if you want full-blooded surround sound with big bass, the Samsung HW-Q960A is a more complete package.