Geir Nordby
Published

2020-09-12 - 5:02 pm
Most formats are supported and battery life is ok. The image quality is good, with enough brightness for most things.
The projection distance is very long, with only 24 inch image from one meter. Lots of noise from fan and color wheels.
Specifications
Brightness / Contrast: 170 Lumens / 1,000: 1
Resolution: 854 x 480
Image size: 12-120 "(0.5 – 5 m)
Throw ratio: 1.9
Inputs: HDMI / MHL, VGA, USB, miniUSB, Composite A / V, SDXC
Sound: 1 w speaker, headphone output
Wireless: Wi-Fi (via dongle)
Battery life: 2 h (standard mode)
Dimensions and weight: 105 x 105 x 31.5 mm / 270 g
Web: philips.com
PicoPix PPX3417W differs from many other pocket projectors by being a real multimedia machine. In addition to the HDMI input also supporting MHL which is important for getting picture from Android phones, it can also play video files directly from an SD card or USB memory.
A remote control is included, which simplifies use. Here is also the option to set brightness and choose between different image modes. Also «Bright mode», which provides extra bright images, which then reduces the battery life to from 2 to 1.5 hours.
Performance
The projector has a long throw distance, we had to place it about twice as far away from the wall as with the nearest, and had to 2.5 meters away to get a 60 inch image.
The image is brighter than the faintest, roughly on par with the Asus S1. This projector can be used in a room in the middle of the day if the curtains screen well. The pixel resolution in standard DVD quality is not impressive in itself, but you can live in movies and TV series here. The pictures are sharp, and the colors are lifelike.
The sound is ok but does not impress anyone. It is as one would expect from a 1 watt speaker.
The biggest cut in the sea with the PicoPix PPX3417W is slightly annoying fan noise.
Conclusion
There are few other projectors that can boast the same functionality as the Philips PicoPix PPX3417W. In addition to HDMi input, it can stream video wirelessly with an associated Wi-Fi dongle, and it also plays video files from USB memory and SD card. A remote control makes it easy to use.
The image quality is surprisingly good, the brightness is just inside to work well in most situations. The disadvantage is a very long throw distance in relation to the image size, which limits the use if space is tight. We also charge for fan noise.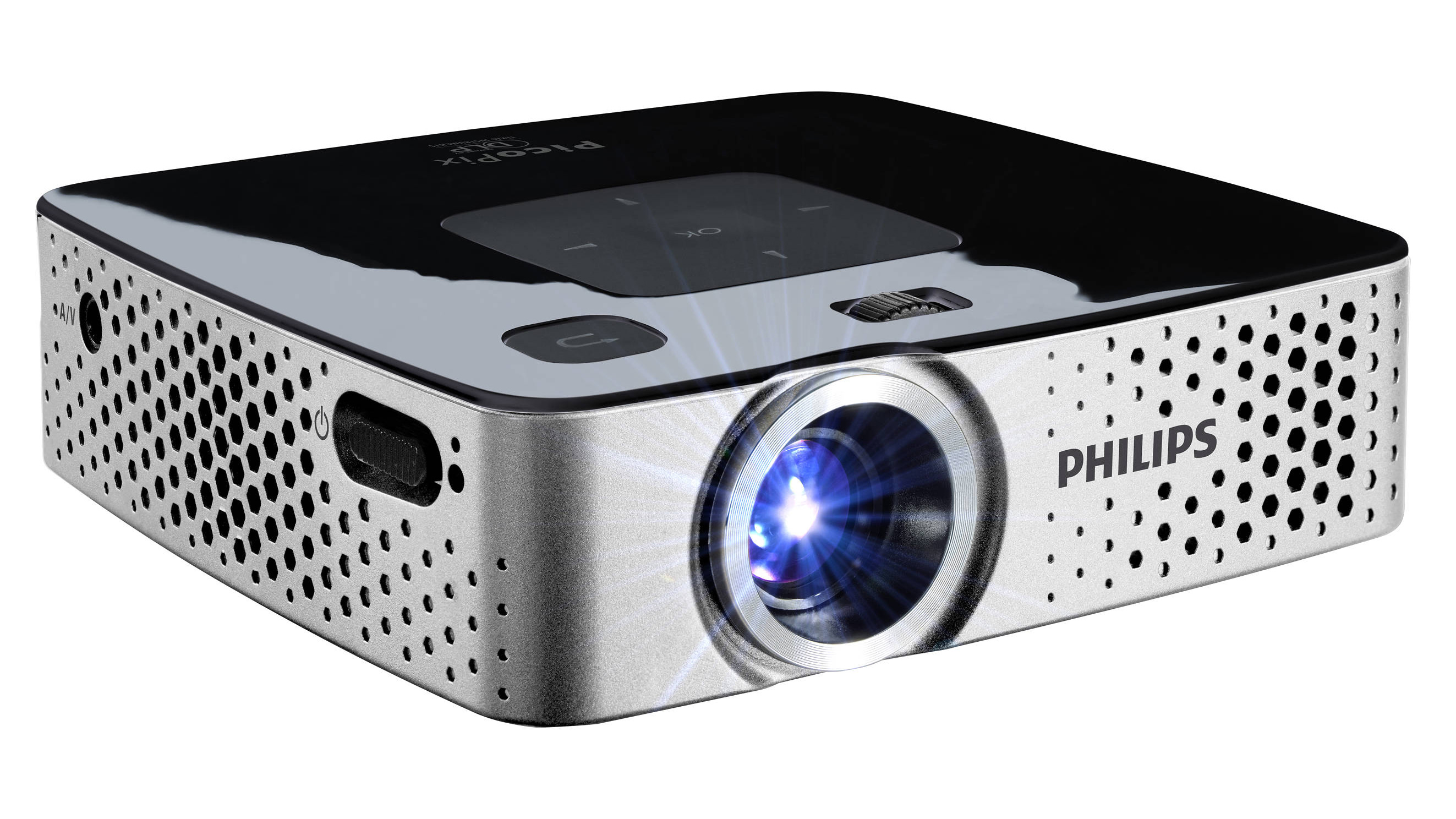 Also in this test
Philips PicoPix PPX5110
Entry ticket to mini projectors
Philips PicoPix PPX5110 super-compact mini projector can stream video wirelessly directly from your smartphone.
The projector is very light and compact, with powerful enough sound to work in many situations. Low mechanical noise.
Low brightness requires a dark room, and the image should be kept below 60 ". The colors seem supersaturated, with clear reddish faces.
Asus S1
Well-chosen compromise
Asus S1 has only one goal in mind: to provide the best picture quality for the money from a very compact format.
Good brightness and short throw distance make the projector usable in many contexts. Here you get a lot for your money!
The black level is limited, and what you get out of this resolution is limited. HDMI is the only connection.
Asus ZenBeam E1
Pocket cinema for the trip
The Asus ZenBeam E1 is no bigger than an old-fashioned Walkman, and it does for the home cinema what the portable cassette player once did for the stereo system.
Ultra-portable projector that can show movies and slideshows anywhere. Add an HDMI source and a white wall and you're up and running.
There really is not much brightness in it. And you miss the possibility of playback via Miracast or USB / SD media.
Philips PicoPix PPX4835
Just good on paper
We were expecting more from Philips PicoPix PPX4835, especially at this price.
Good brightness is combined with high pixel resolution, and with the ability to project fairly large images.
The image is never completely sharp, and the whole thing becomes quite flat and lifeless. Color banding is also a problem, and the fan is a bit noisy.
BenQ GS1
Watch movies wherever you want
BenQ GS1 is a Columbi egg of a projector, which makes it possible to take the great movie experiences out into the world.
Takes up less space than even a small TV, but provides a great image with a short projector distance. Can play directly from USB key or Android mobile, thanks to built-in Android media player.
It costs like a full-fledged projector. It is not possible to play all types of movies, and a mouse and keyboard are often required. The brightness is limited - but hey, it can run for three hours on batteries!