Jonas Ekelund
Published

2018-08-16 - 10:31 am
Available in five sober colours. Decorative around the neck. Good battery life.
Large ear pieces that are unpleasant in the ear. Mediocre sound quality.
Specifications
Element: not provided
Bluetooth: 4.1
Frequency range: not provided
Battery life: 12 hours
Remote control/microphone: yes/yes
Certification: –
Weight: 18.9 grams
Website: urbanears.com
Urbanears is famous for nice and colourful headphones at a decent price. Jakan is no exception and can be obtained in five sober colours. The ear pieces can be buttoned together with magnetic plates, turning it into what looks like a necklace. The remote control is smart, and has a small joystick instead of all the buttons that the competitors have. There is also a connection for charging that in two and a half hours gives 12 hours of listening. You don't need silicone tips since the pieces sit shallow in the ears.
The ear pieces are the biggest we've ever seen, and it poses a problem for the comfort level. You get sore ears with just 15 minutes of listening. If you are still interested, we recommend you try them first at the shop. The cords goes through the ear pieces, and the clamp that is formed is supposed to help keep them in place in the ear. It is a weird solution that does not work particularly well, in our opinion.
The problem of shallow fitting earbuds is that you do not get any seal in the ear canal, taking away a lot of the bass rendition. Jakan goes deep down in range, but loses energy on the way. They also have a slightly sharp treble. The big problem is actually the mid range. It provides no sense of presence. It's like keeping the earbuds a centimetre from your ear. You never get the feeling that the music is playing inside your head, but rather outside of it.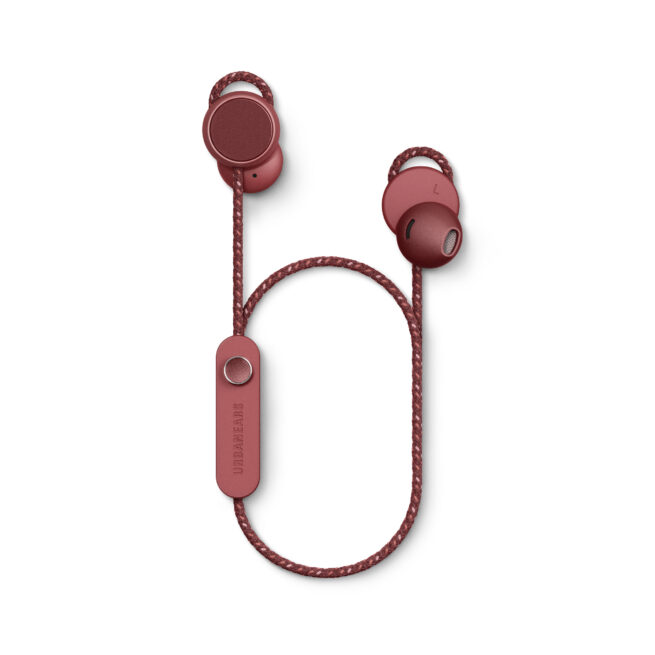 Conclusion
With its headphones, Urbanears has successfully found a good balance between design, price and sound quality. This recipe has not worked with the wireless Jakan ear pieces. There is nothing wrong with the price and appearance in itself, and they hang very decoratively around your neck, snapped together with magnetic locks. But the sound is tame and not engaging. However, the biggest problem is that the huge ear pieces are not comfortable to have in your ears. No matter what, that is a minimum requirement.
Also in this test
Supra Nero-X
More sporty and affordable
The low budget alternative to the award-winning Nitro-X is better for workouts and still sounds good.
Good battery life and rapid charging. Robust. Excellent sound quality.
Not as comfortable as its predecessor.
Sol Republic Shadow Wireless
Entertaining bass cannon
If you want the right heavy bass without completely destroying the music, Shadow is the answer.
Practical and lightweight earbuds. Easy handling. Powerful, but not indiscriminate bass.
Unrefined sound for acoustic music. Battery life is mediocre. No storage bag.
Sony MDR-XB70BT
Cumbersome and thunderous
Impractical design and excessive bass rendition make them uninteresting for most people.
Impressive bass for its size. The actual earbuds are light and comfortable.
Cumbersome and heavy design. Bass is too intrusive.
RHA MA650 Wireless
Neat and appealing
Practical earbuds where the sound is as attractive as the luxurious exterior.
Comfortable thanks to the selection of ear tips. Nice and sturdy. Clear sound.
A little harsh in the upper range. A certain amount of listening fatigue may occur.
Jays A-six Wireless
Large bass in small packaging
For the bass buff, they are a bargain, but they are less suited for a varied music taste.
Excellent battery life. Lightweight and comfortable to wear. Surprisingly precise and heavy bass.
Bulky battery on the wire. The bass dominates in slower music.
Marley Uplift 2 Wireless
Environmentally friendly but dull
An alternative for the one who wants to sit back with light music and a good conscience.
Manufactured from environmentally friendly materials. Good battery life. Balanced sound without exaggerations.
Bulky positioning of the battery. Tame bass and unengaging sound.
OnePlus Bullet Wireless
Magical first attempt
OnePlus does everything right with Bullet Wireless, their first wireless earbuds.
USB-C rapid charge. A certain water robustness. Engaging sound with few errors.
The sound becomes slightly strained at high volume.
Audiofly AF45W
Nice and bass heavy
Gorgeous earbuds with rock-hard bass, but disappointing battery life and treble.
Splash proof according to IPX4. Potent bass reproduction. Exclusive look and good accessories.
Short battery life. Harsh treble and sculpted sound.